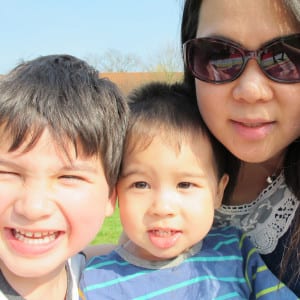 Hi! My name is Maria, I'm a 30-something working mum who lives in Surrey, UK with my husband and two boys. I blog about my day-to-day life juggling work, family and running a house.
Professionally, I'm a Web Designer working for The London Evening Standard. If you need help with wordpress, plugins etc give me a shout – I'd be more than happy to assist.
I enjoy reading, baking and am a sucker for new gadgets! I am fuelled by tea (earl grey), diet coke and the odd G&T.
My eldest (E born in 2010) started school recently so you will probably read about all the trials and tribulations of this new chapter in my life. He is mad about trains and dinosaurs and recently has taken a real interest in drawing but like a typical boy does not sit still for very long.
My youngest (M born in 2013) is a bit of a pickle who knows what he wants and likes to try and take me on by having tantrums when he doesn't get his own way! He currently LOVES and thinks he is a Minion!
If you want to find out more about our family – read my Knowing me, knowing you blog series. or find out Ten things about me here
If you want to get in touch for any reason please email me on hello@suburban-mum.com I'd love to hear from you!