Have you ever found yourself scrolling through Instagram or flipping through a glossy magazine, admiring those immaculate, designer kitchens, only to sigh and think about the astronomical costs of such a renovation? You're in good company. A recent HomeAdvisor report revealed that the average cost of kitchen remodels in the United States can set you back anywhere from $13,343 to $37,690. With such hefty price tags, it's no surprise that nearly 70% of homeowners put their kitchen makeover dreams on hold. The financial concerns are real, but that doesn't mean you have to give up on sprucing up your culinary sanctuary. Fear not, fellow kitchen enthusiasts! It's time to roll up your sleeves and get ready to explore ten clever and budget-friendly tips that will breathe new life into your kitchen without emptying your wallet. We've carefully curated these tried-and-tested hacks from experts, so you can cook, dine, and entertain in a space that is as beautiful as it is functional.
1. Paint your cabinets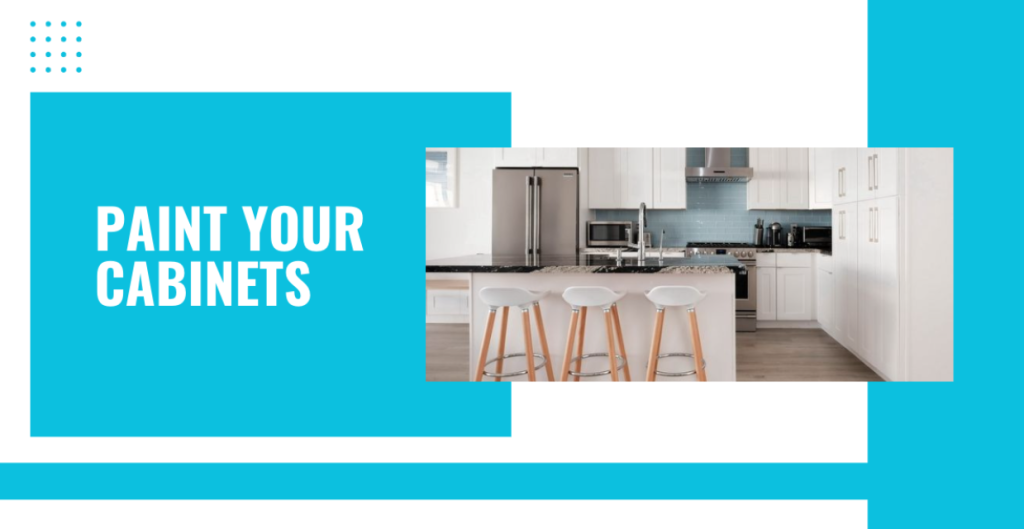 Sometimes, all it takes to give your kitchen a fresh, inviting look is a splash of colour. Painting your cabinets is an affordable and effective way to make an impact without a complete renovation. First, assess the current state of your cabinets. If they're in good shape but need a style update, you're in luck! Choose a paint colour that complements your kitchen's overall design, considering factors such as natural light, wall colour, and your personal taste. You can opt for neutral shades like white or grey to create a clean, timeless look or a bold statement with a vibrant hue like navy or emerald green. Before you begin, thoroughly clean and prep your cabinets by removing all hardware, doors, and drawers. Sand them down to create a smooth surface, and apply a coat of primer to ensure the paint adheres evenly. Once the primer is dry, you can paint your cabinets using multiple thin coats for a professional finish. This DIY project saves you money and allows you to express your creativity and make your kitchen truly unique.
2. Upgrade your lighting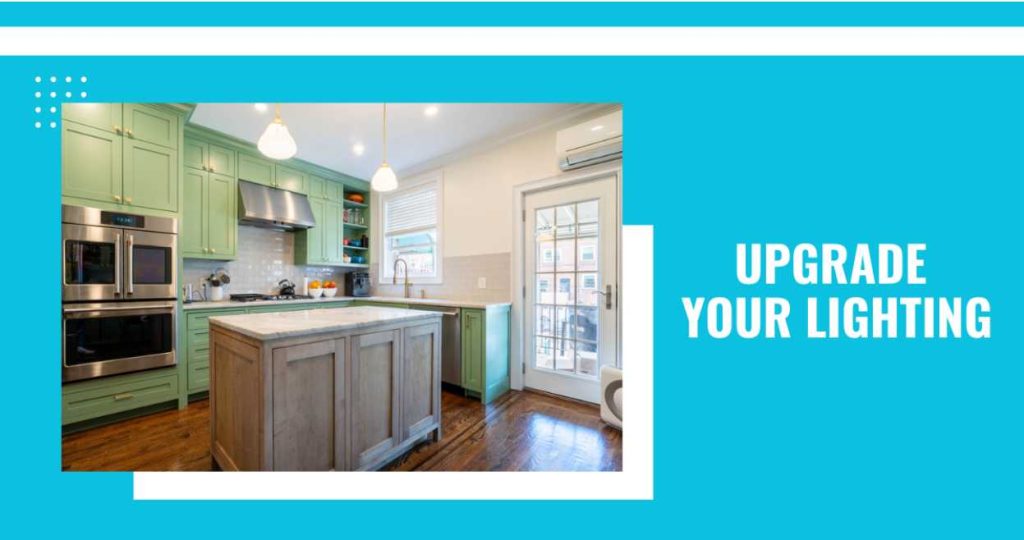 One of the most underrated aspects of any kitchen design is lighting. A well-lit kitchen not only enhances functionality but also elevates the overall ambience. You can transform your kitchen from a dimly lit space to a bright and inviting haven without breaking the bank with thoughtful tweaks. Here are some budget-friendly ideas to consider:
Outdated Swap Fixtures:
Replacing outdated fixtures with modern, energy-efficient ones can instantly freshen up your kitchen's appearance. Look for stylish pendant lights, semi-flush mounts, or even wall sconces that match your decor and won't burn a hole in your pocket.
Add Under-Cabinet Lighting:
Installing LED strip lights or puck lights beneath your cabinets can make a difference, particularly regarding food preparation and cleaning tasks. These simple additions will warmly light up your countertops, creating a cosy atmosphere.
Get Creative with Accent Lighting:
Accent lighting, such as a plug-in wall sconce or a table lamp, can add visual interest and make your kitchen feel more inviting. Position these fixtures strategically to highlight your favourite kitchen features or to brighten dark nooks. Remember, when upgrading your kitchen lighting, always prioritize energy-efficient bulbs to keep your electricity bills in check. With creativity and resourcefulness, you can light up your culinary space and create a welcoming atmosphere for cooking, dining, and entertaining.
Add a Backsplash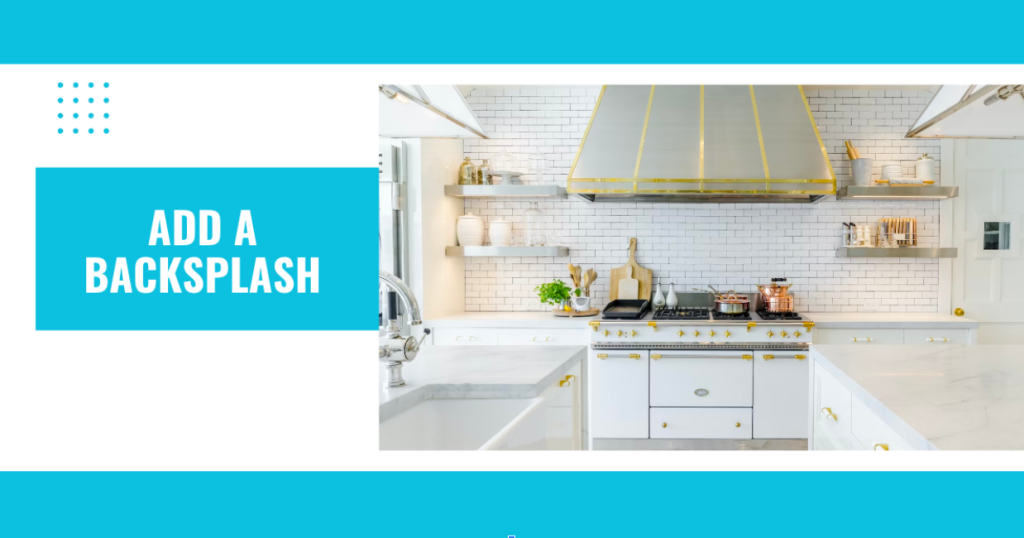 A backsplash is a practical way to shield your walls from cooking splatters and spills. It's also a fantastic opportunity to sprinkle charm and style into your kitchen. And guess what? You don't need deep pockets to create an eye-catching backsplash that complements your kitchen's vibe. Begin by figuring out your desired style and the materials you can afford. You'll find plenty of budget-friendly options, like peel-and-stick tiles, beadboard, or stencilled designs. Here are some ideas to make your backsplash pop without breaking the bank:
Peel-and-Stick Tiles:
If you're all about quick and easy DIY projects, peel-and-stick tiles are your go-to solution. With a vast array of colors, patterns, and finishes, you can achieve that upscale look without hiring a professional. Just measure your space, trim the tiles, and stick them to your walls for a fabulous upgrade.
Beadboard:
Think about using beadboard for your backsplash for a snug, cottage-style vibe. It's budget-friendly, simple to install, and a breeze to clean and maintain. Paint it to match your cabinetry, or choose a vibrant color to make it pop.
Stenciled Designs:
Channel your inner artist with a stenciled backsplash. Pick a stencil that mirrors your taste and color scheme. Use paint or even removable wallpaper to bring your vision to life. The best part? If you ever get bored with the pattern, you can effortlessly update it without splurging.With a dash of creativity and some elbow grease, adding a backsplash can give your kitchen that designer touch, all while keeping your wallet happy.
4. Replace cabinet hardware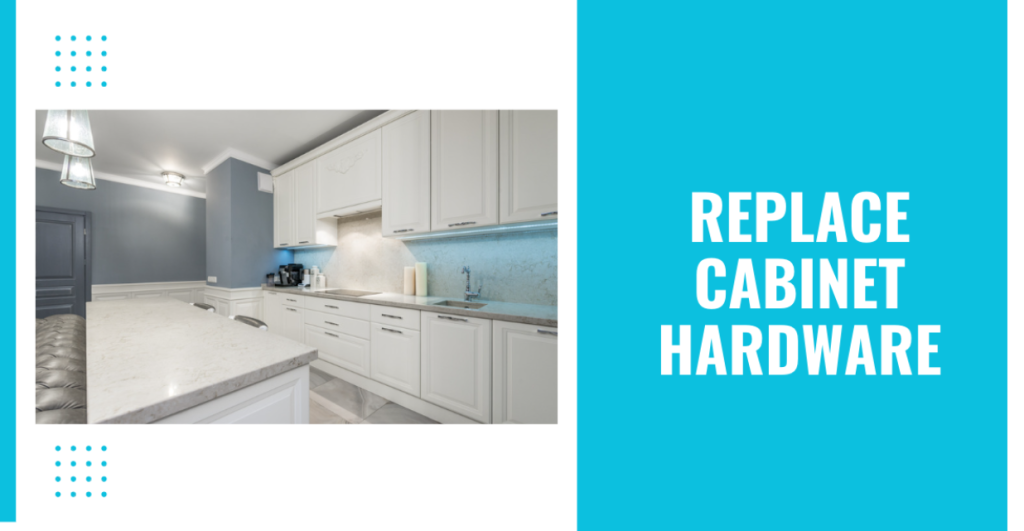 Often overlooked, cabinet hardware plays a vital role in your kitchen's overall look and feel. Swapping outdated knobs and pulls for fresh, modern ones can make a difference without costing you a fortune.To start, look at your current hardware and decide on the style and finish that best compliments your kitchen's aesthetic. From sleek and contemporary to vintage and rustic, a wide range of options suit every taste and budget. Here's how you can make a noticeable change to your cabinet hardware:
Mix and Match:
Who says you need to stick to one style? Feel free to mix and match different knobs and pulls for a more eclectic and personalized look. Just be sure to choose a unifying element, such as a consistent finish, to ensure a cohesive appearance.
Coordinate with Other Elements:
To create a harmonious and well-designed space, consider coordinating your new cabinet hardware with other fixtures in your kitchen, such as faucets, lighting, or appliances. This attention to detail can elevate the entire room without requiring a significant investment.
DIY Customisation:
If you're feeling particularly crafty, you can customize your hardware by painting or adding embellishments, like fabric or ribbon. This can be a fun and cost-effective way to create one-of-a-kind pieces that reflect your unique style.
5. Install open shelving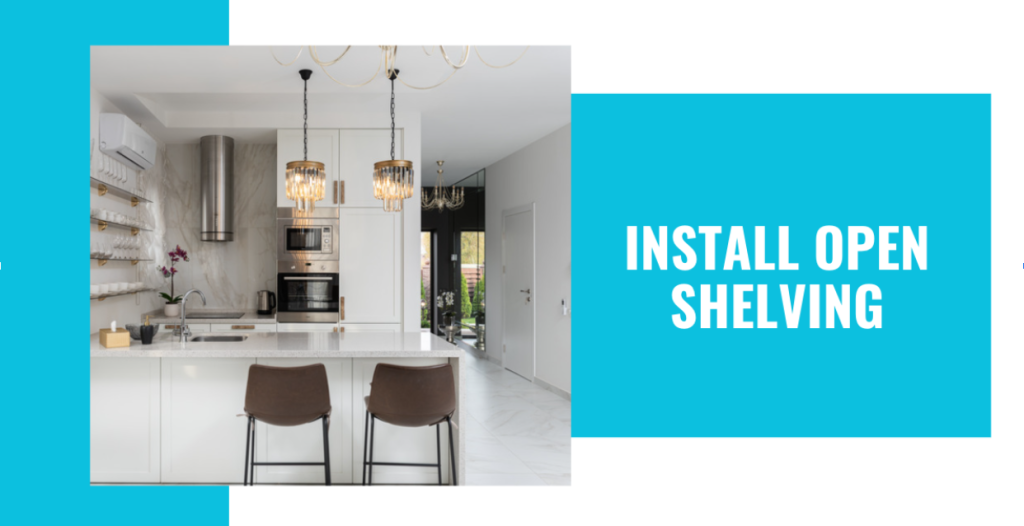 Open shelving is a stylish and functional way to showcase your favourite kitchen items while adding a touch of warmth and personality to your space. This versatile storage solution keeps your essentials within reach. It allows you to display your unique style without breaking the bank. Before diving in, assess your kitchen layout and identify areas where open shelves could be a practical and visually appealing addition. Once you've chosen the perfect spot, consider these tips to make the most of your new shelving:
Choose Your Material:
From rustic wooden planks to sleek metal brackets, the options for open shelving are endless. Pick a material that complements your kitchen's design and aligns with your budget. Feel free to get creative with repurposed or reclaimed materials for an eco-friendly, cost-effective solution.
Style with Purpose:
Open shelves can become cluttered if not thoughtfully arranged. Curate a mix of functional items, such as dishes, glasses, or cookbooks, and decorative pieces, like plants, artwork, or sentimental items, to create an eye-catching and practical display.
Organise with Ease:
Using baskets or containers to store smaller items to keep your open shelves tidy and visually appealing. This will not only maintain a clean appearance but also make it easier to locate items when you need them.
6. Add a rug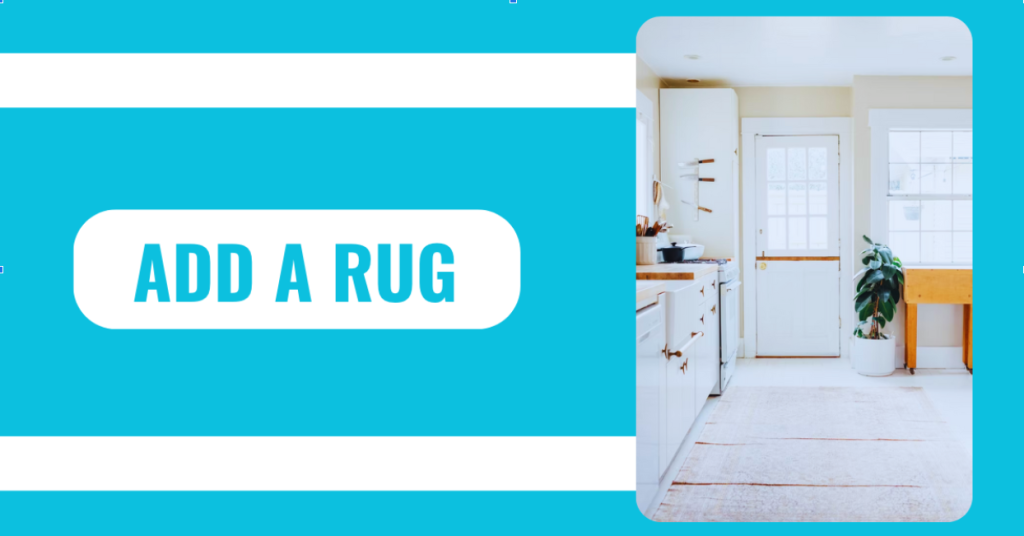 When it comes to kitchen upgrades, adding a rug might not be at the top of your list, but it's a secret weapon for injecting warmth, comfort, and style into your space. With a wide variety of options, you can find the perfect rug that complements your style without breaking the bank and transforms your kitchen into a welcoming oasis. Before choosing a rug, consider these essential tips to ensure a functional and stylish addition to your kitchen:
Size and Placement:
Start by deciding where to place the rug and measure the area for the best fit. Popular spots include in front of the sink, under the kitchen table, or along busy pathways. A well-sized rug can create a harmonious and balanced feel in any space.
Material Matters:
Your kitchen sees a lot of foot traffic, so picking a durable, easy-to-clean material that can handle spills and stains is essential. Opt for options like flatweave, indoor-outdoor, or washable rugs designed to withstand daily wear.
Complement Your Décor:
Find a rug that enhances your kitchen's color scheme and design aesthetic. You could make a statement with a vibrant pattern or choose a subtler design that adds texture and warmth without dominating the space.Introducing a rug to your kitchen is a simple, budget-conscious way to elevate style and comfort. By thoughtfully selecting the ideal size, material, and design, you'll create a cosy and visually appealing environment perfect for cooking, dining, and connecting with loved ones.
7. Organise your cabinets and drawers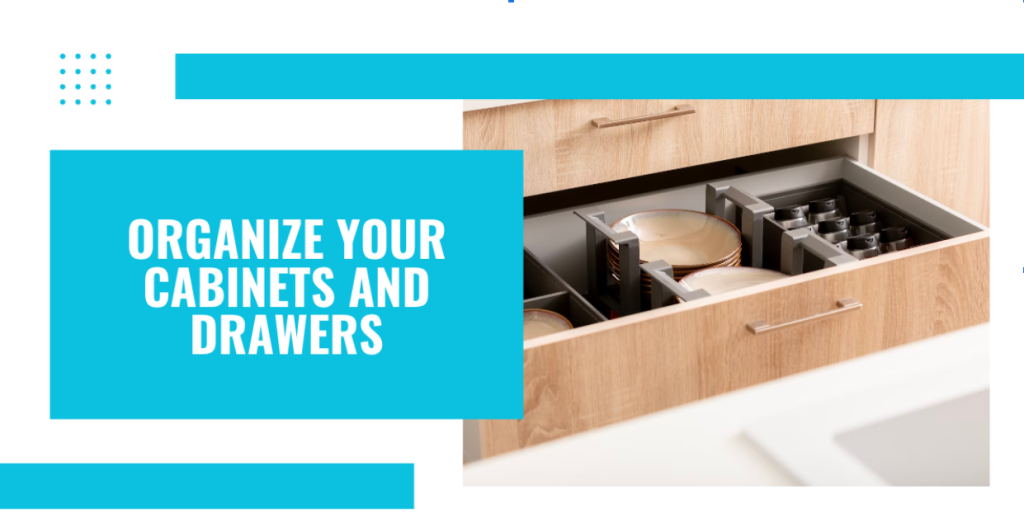 A tidy and well-organized kitchen can be a real game-changer when cooking and enjoying your space. By dedicating a little time and effort to organizing your cabinets and drawers, you'll create a functional and efficient kitchen that will make you feel at home. Considering new cabinetry? RTA kitchen cabinets are an affordable and flexible option to boost your kitchen's storage capabilities. Here are some tips to help you get the most out of your cabinets and drawers:
Declutter and Prioritise:
Kick things off by decluttering your cabinets and drawers, bidding farewell to items you no longer use or need. Next, prioritize your essentials and arrange them based on how often you reach for them. Keep frequently used items close at hand and stash less regularly used items in higher or harder-to-reach cabinets.
Embrace Storage Solutions:
Make the most of your storage by adding clever solutions like adjustable shelves, drawer dividers, or pull-out organizers. These nifty additions can significantly improve your kitchen's functionality, ensuring you can easily find what you need when you need it.
Go Vertical:
Pay attention to the vertical space inside your cabinets. Use shelf risers or stackable containers to optimize storage and make the most of every available nook and cranny.
8. Update your faucet
It might come as a surprise, but changing your kitchen faucet can impact your space's overall ambience. With countless styles and finishes at your fingertips, you can effortlessly find a faucet that matches your kitchen's design and works within your budget. When picking a new faucet, keep these pointers in mind to guarantee a chic and practical upgrade:
Assess Your Needs: 
Reflect on how you use your kitchen faucet daily. Do you require a high-arch spout for filling large pots or a pull-down sprayer for convenient cleaning? Identifying your needs helps you choose the ideal faucet tailored to your lifestyle.
Harmonise with Your Style:
Your new faucet should blend in with your kitchen's design aesthetic. From modern minimalism to rustic farmhouse charm, there's a faucet to suit every style and enhance your kitchen's overall look.
Select the Perfect Finish:
The finish of your faucet can drastically affect your kitchen's appearance. Choose a finish that coordinates with your cabinetry, lighting, and other fixtures for a unified and balanced space.
Installation Matters:
Remember that faucet installation can range in complexity. Some models may need a professional touch from a plumber, while others can be installed following the manufacturer's guidelines – factor in installation costs and requirements when making your final decision.
9. Use removable wallpaper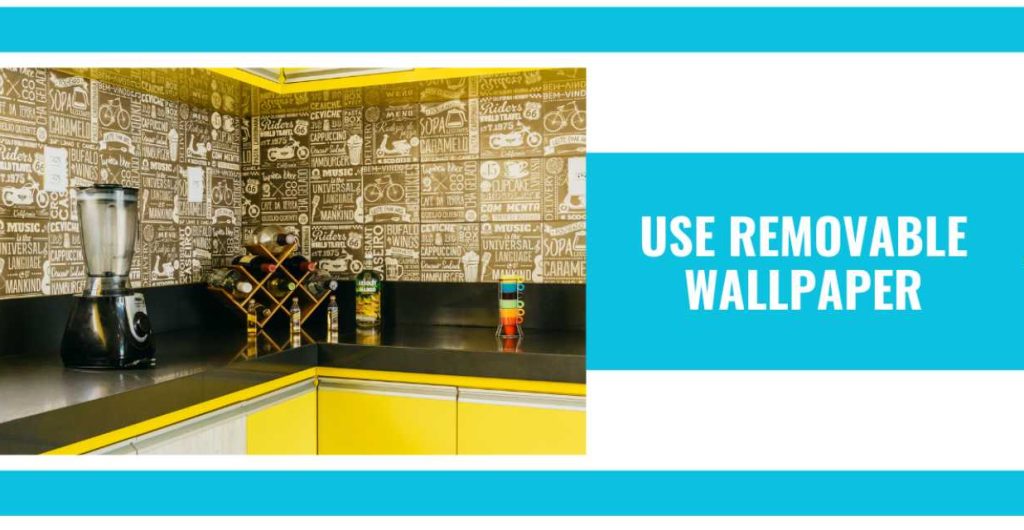 If you're looking for a quick and budget-friendly way to revamp your kitchen, removable wallpaper could be the answer. This peel-and-stick innovation allows you to make a bold statement or add a subtle touch of style without the commitment or expense of traditional wallpaper. Here are a few tips to help you choose and apply the perfect removable wallpaper for your kitchen:
Define Your Vision:
Start by determining the look and feel you want to create in your kitchen. Whether you're aiming for a vibrant accent wall or a more understated backdrop, having a clear vision will guide you in selecting the ideal wallpaper design.
Measure and Plan:
Accurately measure the area where you'd like to apply the wallpaper and calculate how many rolls you'll need. Keep in mind that it's always a good idea to order a little extra to account for any mistakes or future touch-ups.
Prep Your Surface:
To ensure a smooth application, clean and dry the wall before applying your removable wallpaper. Any dirt or moisture on the surface can interfere with the adhesive and affect the final result. Also, make sure to check if there are any cracks above windows, as they can also harm your efforts.
Take Your Time:
Patience is key when applying removable wallpaper. Carefully align the panels and smooth out any air bubbles as you go. If you encounter any issues, don't be afraid to peel back the wallpaper and reapply until you achieve a flawless finish.
10. DIY Projects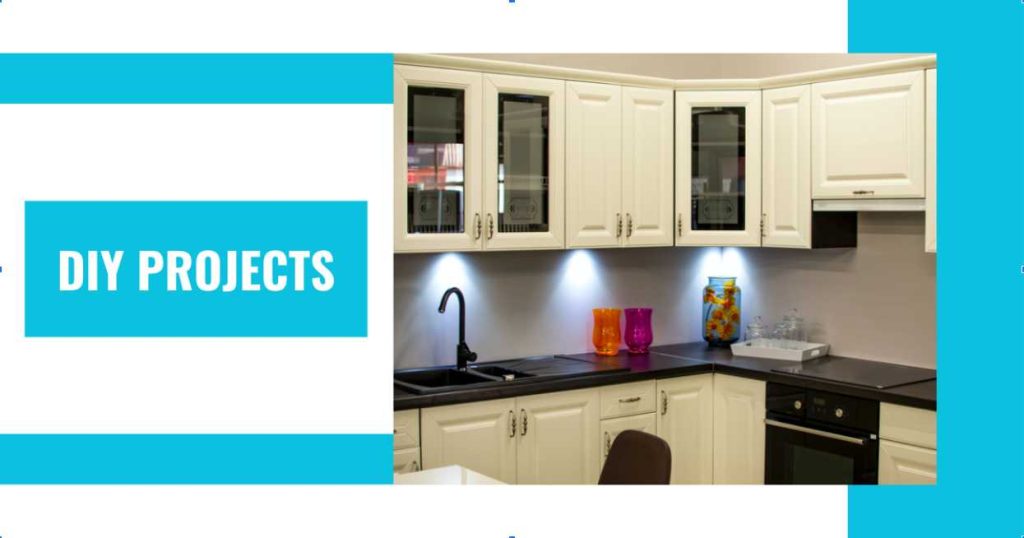 Diving into DIY projects is a wallet-friendly approach to upgrading your kitchen and a fantastic opportunity to unleash your creativity and add your personal touch. The sky's the limit when repurposing old furniture or crafting unique decorations. To get your creative juices flowing, consider these DIY ideas for your kitchen makeover:
Custom Chalkboard:
Turn a bare wall or cabinet door into a functional and fashionable chalkboard. With some chalkboard paint and imagination, you'll have a space for grocery lists, meal plans, or heartfelt messages.
DIY Shelves:
Create extra storage and display areas by building open shelves. A few essential tools and materials are all you need to showcase your favorite dishes, cookbooks, or décor items.
Reimagine Old Furniture:
Give old furniture a new lease on life by repurposing it for your kitchen. A forgotten dresser could become a trendy kitchen island, or an old bookcase might transform into an elegant pantry.
Handcrafted Décor:
Infuse your kitchen with personality by creating your décor. Handmade wall art, personalized storage jars, or DIY window treatments can significantly enhance your space's overall appearance and atmosphere. Embracing DIY projects in your kitchen is an enjoyable and cost-effective way to elevate your space, truly reflecting your style and needs. Ingenuity and elbow grease can turn your kitchen into a personalised sanctuary.
Conclusion
Giving your kitchen a stylish and functional makeover doesn't require a massive budget. With these ten cost-effective strategies, you can rejuvenate your space and design a kitchen that reflects your personality. Remember, even small alterations can make a big difference, and adding a personal touch will truly transform your kitchen into a welcoming and vibrant hub.If these tips have inspired and helped you, please feel free to share this blog with friends and family. Together, we can encourage more people to achieve their dream kitchens without overspending. After all, a beautiful and well-organised kitchen is a joy everyone should experience. Here's to your successful renovation journey!