Easter is just around the corner and I don't know about you, but I am really looking forward to being able to spend more time outdoors. I LOVE Spring, it means we finally have slightly longer days and *hopefully* with it sunnier ones too.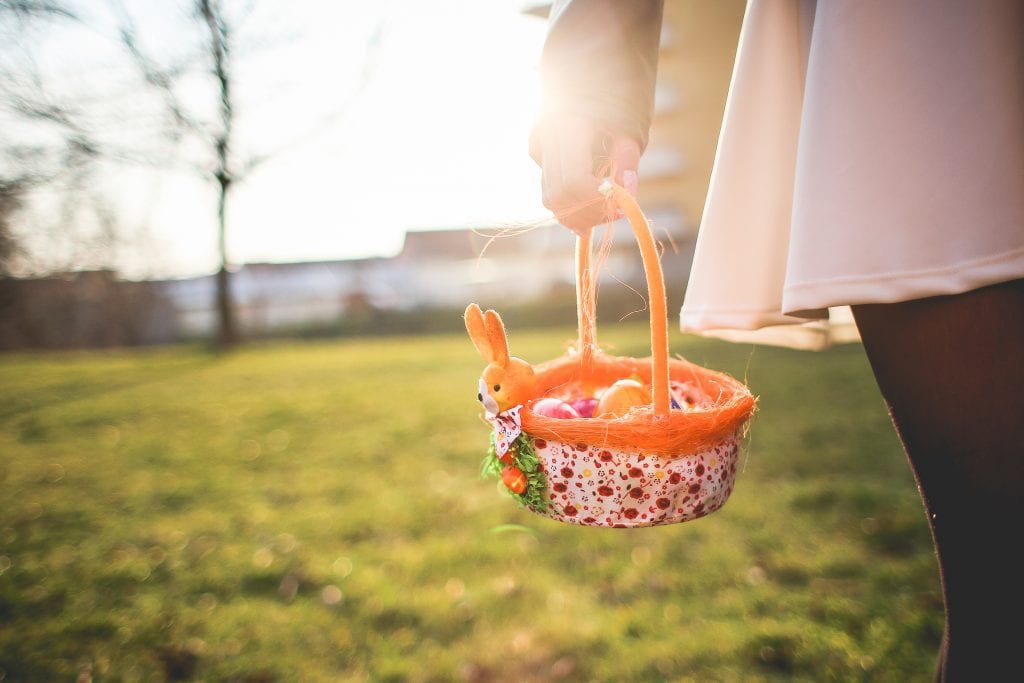 22 things to do over the Easter Holidays in Kingston and the surrounding areas
Some you may already know that  aside from my day job and this blog, I'm also a local editor for Bubele where I source local events and activities for children which is sent out in a fortnightly newsletter. The newsletter works side-by-side with the mobile app and enables parents to find activities for children whilst they are on the go.
I've done a bit of research and have found 22 things you can do over the Easter holidays in Kingston and the surrounding areas.
I hope you find this useful and if you'd like a fortnightly newsletter of local activities direct to your inbox please do sign up to my newsletter list.
From 18 March
The Gruffalo River Ride is new to Chessington this year! Splash down the lazy river and the story of The Gruffalo will magically unfold in front of your eyes with exciting twists and turns along the way. Dare you head into the deep dark wood?
Tickets from £28pp
---
28 March
Retro disco for children and their families. The Lucky Dip disco allows you to choose the records you want to be played. With Bubbles, lights and games.
Tickets £7 per child. £5 per adult.
---
1-18 April
This is one of our most favourite places to visit. It's lambing season over Easter so you get to meet and cuddle lots of baby lambs (over 400 newborn lambs are due to be born). We were lucky enough to see one being born on our last visit. There are baby chicks and bunnies to meet in the Animal Handling area as well as an Easter Quiz Trail too.
Admission applies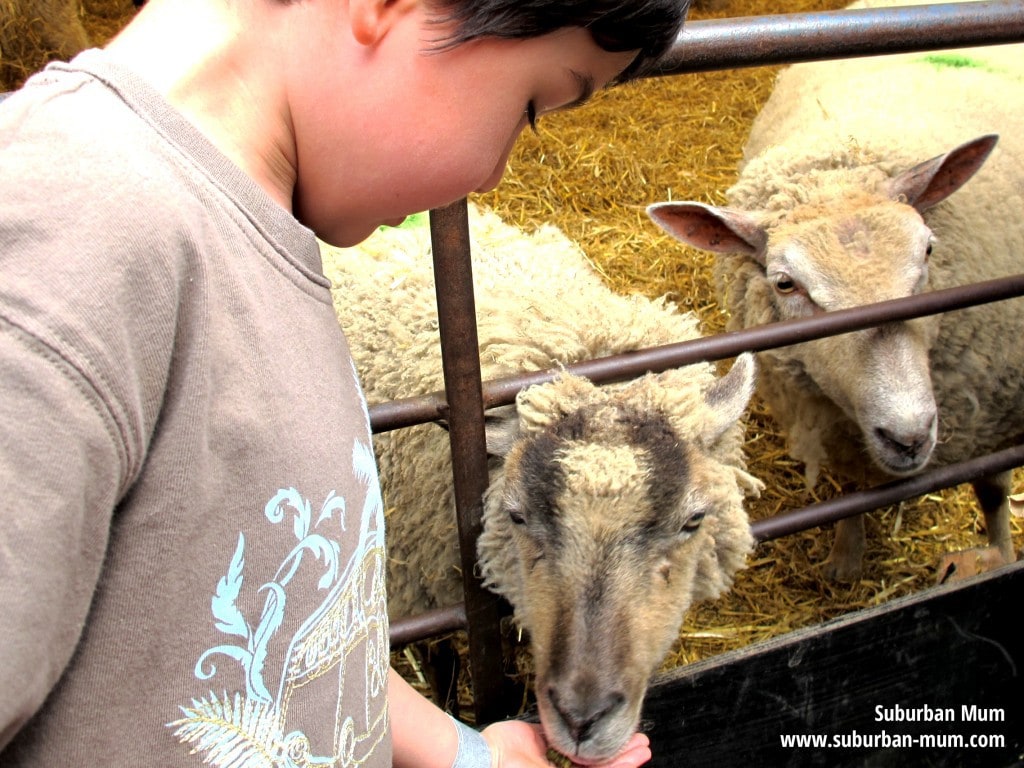 ---
1-17 April
Spend a family day at Wisley. There will be lots of arts & crafts sessions and activities. Follow the gold bunny around the garden and receive a chocolate treat at the end! The wonderful Birds of Prey display will be visiting on 8 and 9 April too.
We love Wisley at this time of year. There is so much open space for the boys to run around. Make a day of it and pack a picnic with you.
Normal garden admission applies. You can save 10% if you book ahead online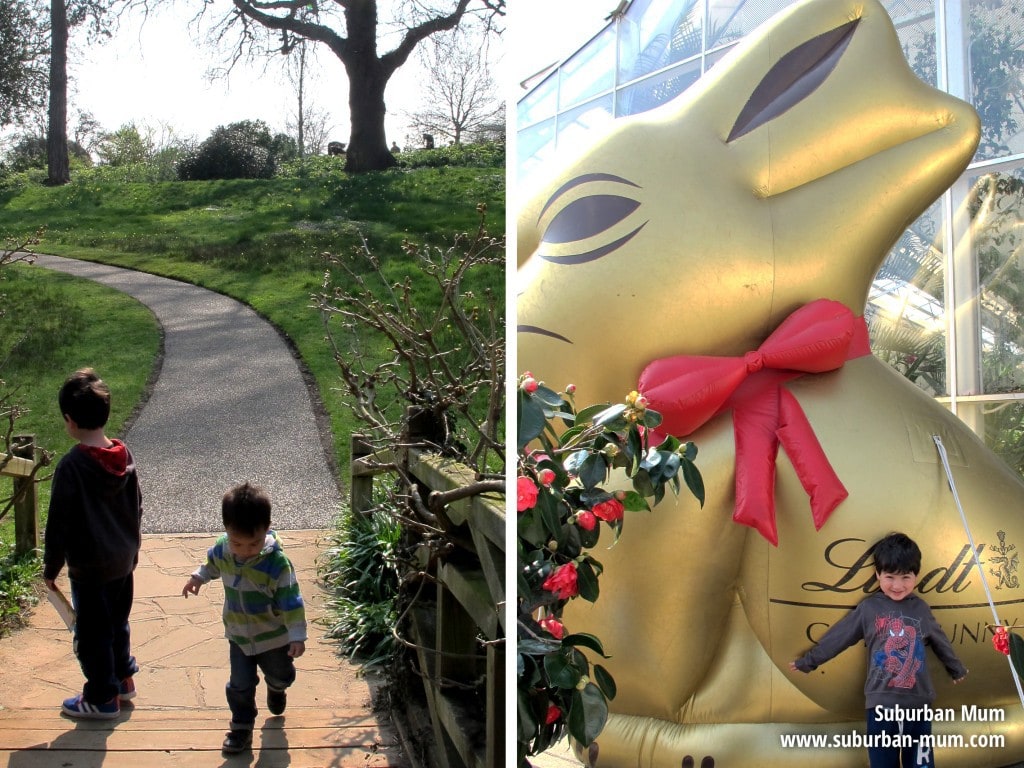 ---
1-17 April
Help find eight missing ducklings by following the Easter Giant Duck trail around the reserve. Find them all and you will receive a chocolate prize! There are also 14 celebrity Dusty Duck characters to spot, made with the help of Aardman Studios.
Trail £1 per person plus admission to the Centre
---
1-23 April
Meet the Easter Bunny for a delicious breakfast or tea. With cookie decorating, activity sheets and a bunny hunt. Children will also receive a cuddly toy gift.
We went to our local centre for breakfast last year and the boys had a lovely morning!
Tickets are £9.99 per child. Adults from £7.99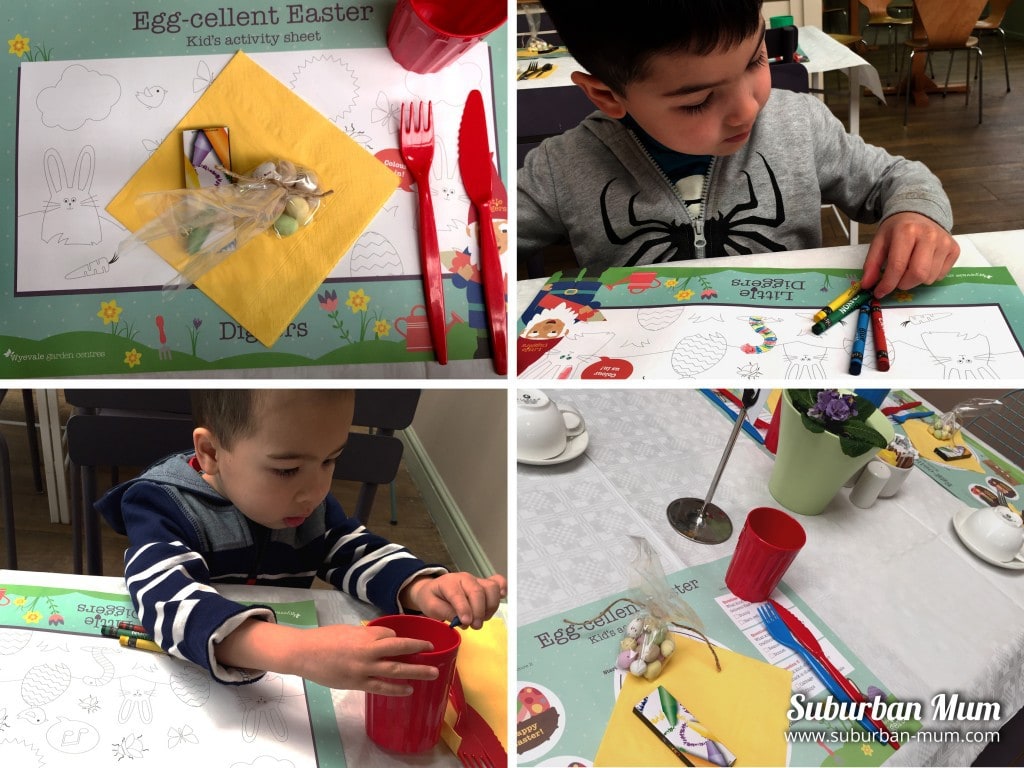 ---
2 – 17 April
Explore the gardens and follow the paw prints of Horace Walpole's cheeky pooch Patapan. Collect a chocolate treat and enter the postcard competition too.
£2 per child. No booking required
---
3-13 April
I love taking the boys to Squire's in the holidays as they always have some kind of activity to do. This Easter you can plant and decorate a container for £5.50. You can also pay £2 to do the Bunny Hunt around the centre where you receive a chocolate bunny on completion.
Available at your nearest Squire's Garden Centre
---
4-7 April
Create your own Easter Egg decorations inspired by those at the museum.
£4 per child. Booking essential
---
5-16 April
Roald Dahl's famous book The Twits has been adapted for theatre and you can catch the show over Easter at The Rose Theatre.
Tickets from £17 for and adult and £13 for a child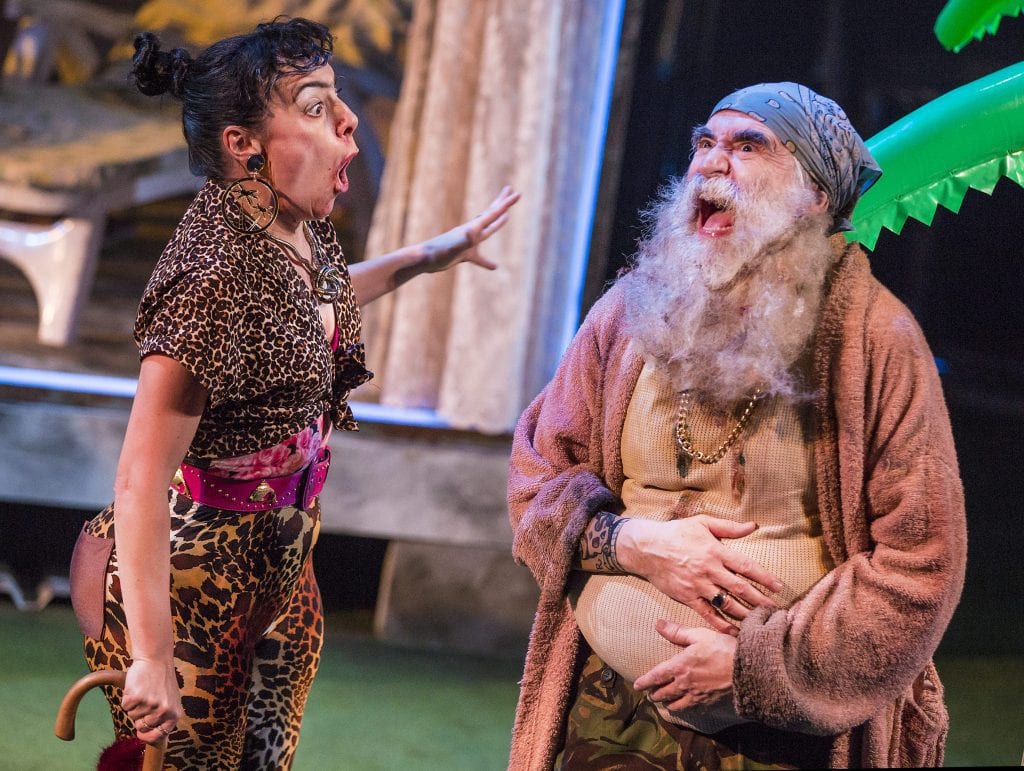 ---
6 April
Race rubber ducks down the river and see if yours is the fastest!
Admission to the park is free. Ducks cost £1.50 to borrow and race
---
6 and 13 April
You can always find something to do in Kingston Town Centre during the school holidays with Thumbs Up It's Thursday. There are many free activities across town from face painting to art and craft and storytelling. Many restaurants also offer Kids Eat Free options too.
---
6 and 13 April
Free travel for children 2-11 on a round-trip river cruise from Kingston to Hampton Court Palace. Depart Turk's Pier, Thames Side at Kingston Bridge behind John Lewis. The free trip is for a round trip or one-way only.
This is a lovely way to spend a morning. Previously, we have been on the 10.30am boat and took a return trip to Hampton Court and back. We then had lunch in Kingston before heading home.
Departs 10.30am & 11.13am. Adult ticket costs £7 single or £8.80 return
---
6 and 13 April
Celebrate the story of Alice and her adventures in Wonderland. Make a hat which competes with the Mad Hatter's or create a character mask. There is a costume competition on 13 April at 2.30 in the centre square. Winners will be picked by Alice and the Queen of Hearts and there will be a small gift for everyone in costume (whilst stocks last)
---
10-13 April
There is zooming good fun to be had at Brooklands Museum this Easter! Car rides are operating daily for transport lovers, you can even take a trip in a vintage-style car or ride on a traditional double decker bus. Hunt for clues around the museum on the Easter Egg trail and if that's not enough to keep the kids busy there are kids tours on Concorde.
Brooklands Museum is a fantastic day out for the whole family.
Adult tickets £11, children £6
---
12 April
Take your tiddlers to join Mr Bloom and the veggies! A Royal family member is paying them a visit so they are looking to get the allotment ready in time.
Adult ticket £14.50, under 16s £12.50
---
13-19 April
This used to be the highlight of my Easter holiday when I was a little girl. We loved going there as a family! Thursday 13th April is a charity day, buy a wristband for £2 and all rides (with some exceptions) are £1 each. Proceeds are donated to The Princess Alice Hospice. 18th April is half price day where all rides are half price.
Free entry to the fair, rides individually prices except on Charity Dat when all rides are £1 (with some exceptions)
---
14-16 April
Follow the trail around the gardens and win a Cadbury's Easter Bunny. There is also art activities and storytelling.
Admission applies
---
14-17 April
Help fund vital conservation work to protect special places by joining the Cadbury Egg Hunt at Claremont Gardens. Solve the clues around the gardens and be rewarded with a Cadbury's Easter Egg.
Normal garden admission applies. Egg hunt costs £3 per child.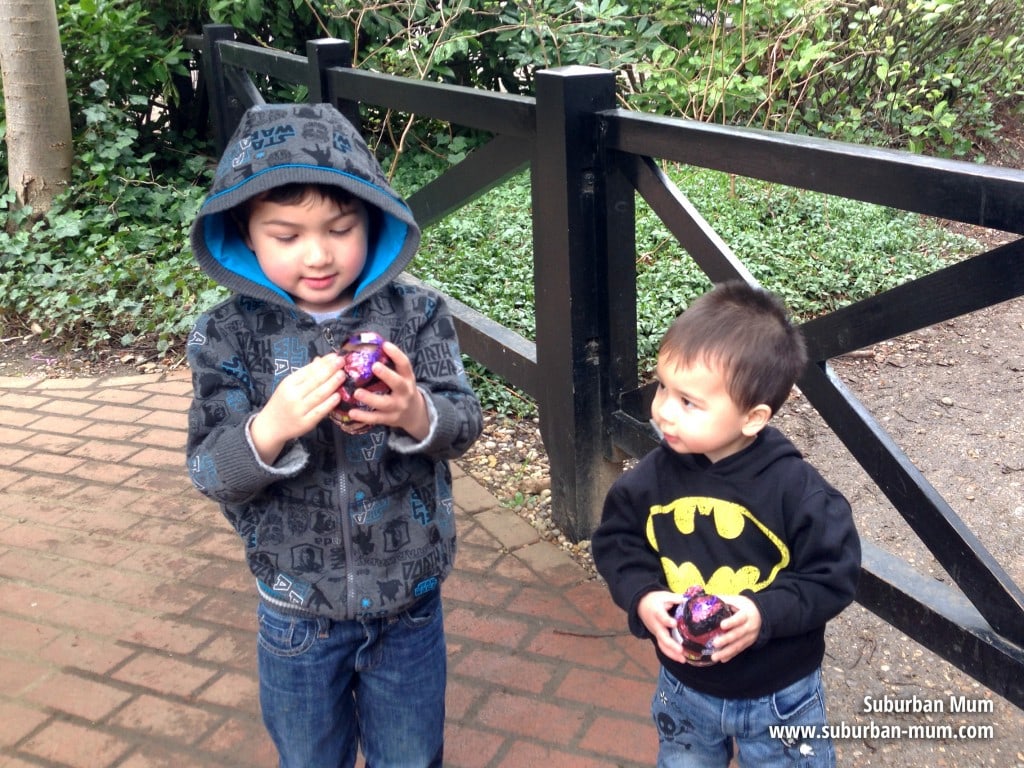 ---
14-17 April
As well as seeing a variety of steam engines at the museum you can also see live chicks hatch! Kids can make their own Easter mask and go on an Easter Egg hunt. The Splash Zone also provides interactive water fun.
Standard admission to the museum applies
---
16 April
Take a ride on the historic 2ft gauge railway line in a period coach pulled by 1903 steam locomotive. Go on a hunt among the steam trains at the vintage railway.
Adults £2.50, Children 5-16 £1, under 5s free. Family ticket £6
---
16-17 April
This is a great afternoon out for the whole family. Ride on lots of different miniature trains that are made to scale in great detail. You can even take a picnic and take advantage of watching the trains chugging along whilst you eat!
Admission from £2.25 for a single ride, Afternoon tickets £7.25, Family ticket £25.50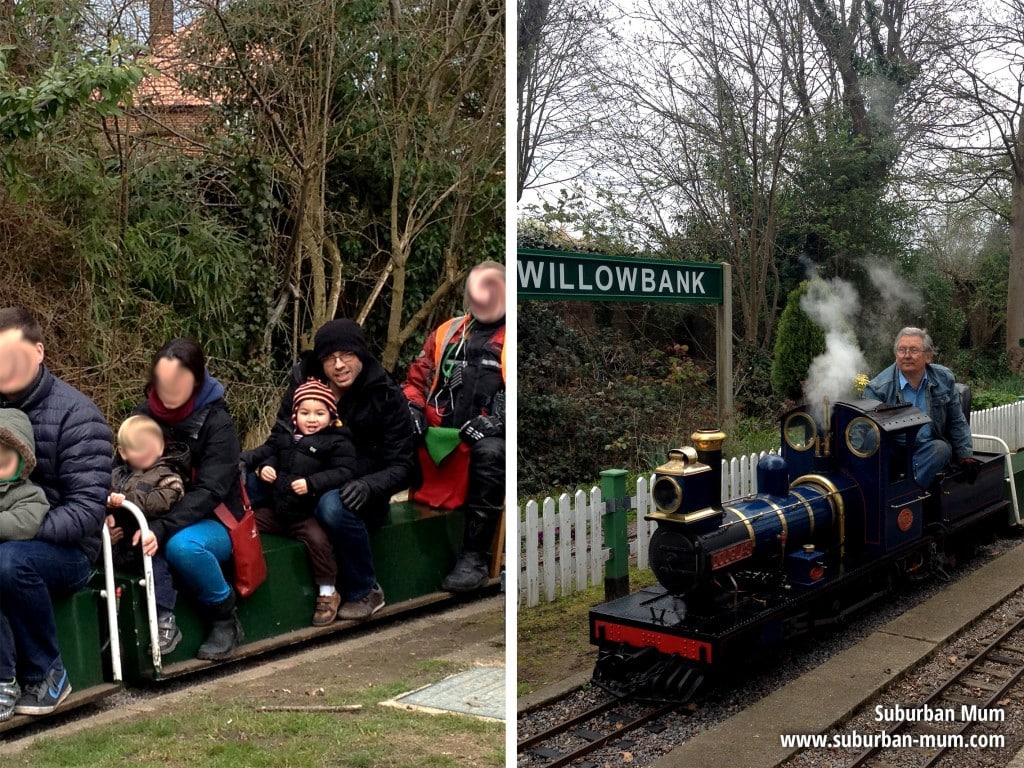 ---
If you found this useful….
If you enjoyed this post and would like to receive my fortnightly newsletter with local Kingston and surrounding areas activities direct to your inbox you can sign up to here. Alternatively you can sign up to via the Bubele website for your own local area.
Pin it for later: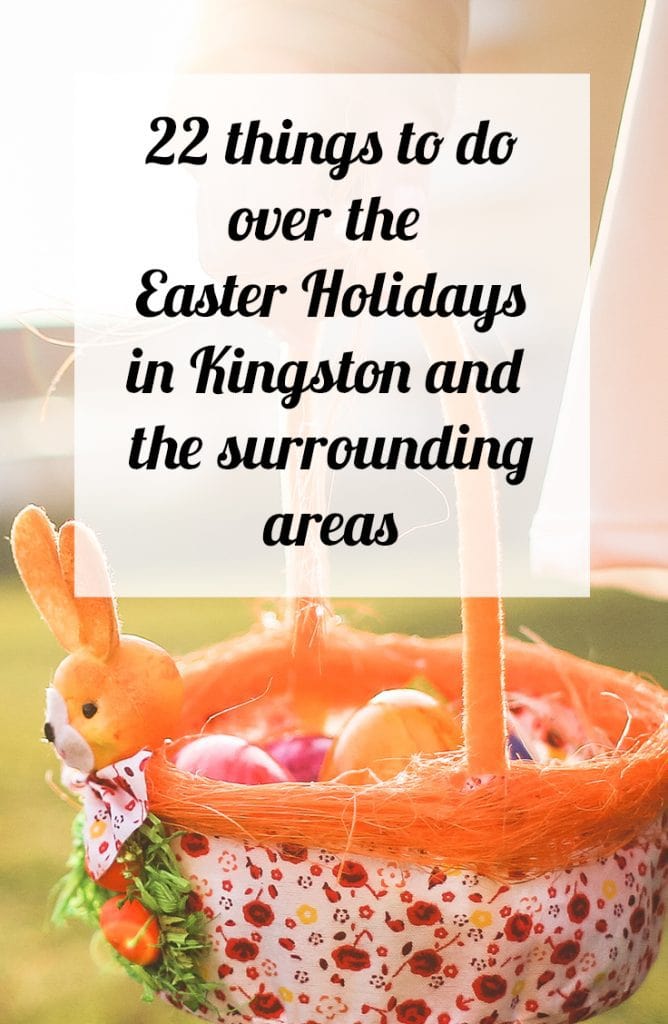 *I received no compensation for creating this post. I just wanted to compile a list of useful places to go to over the Easter Holidays