A silk scrunchie is a hair care must-have. Pure silk is far gentler on your hair than man-made or even other natural fabrics, and the natural sheen gives it a luxurious look, too.
If you want to rock your silk scrunchies as a fashion accessory, then you need to know how to work them. Whether it's for a day at the office, an outing with the girls or a hot date during the evening.
This post will give you some ideas about how to wear your scrunchies to ensure the wow factor.
Here are 6 of the best ways to wear a silk scrunchie.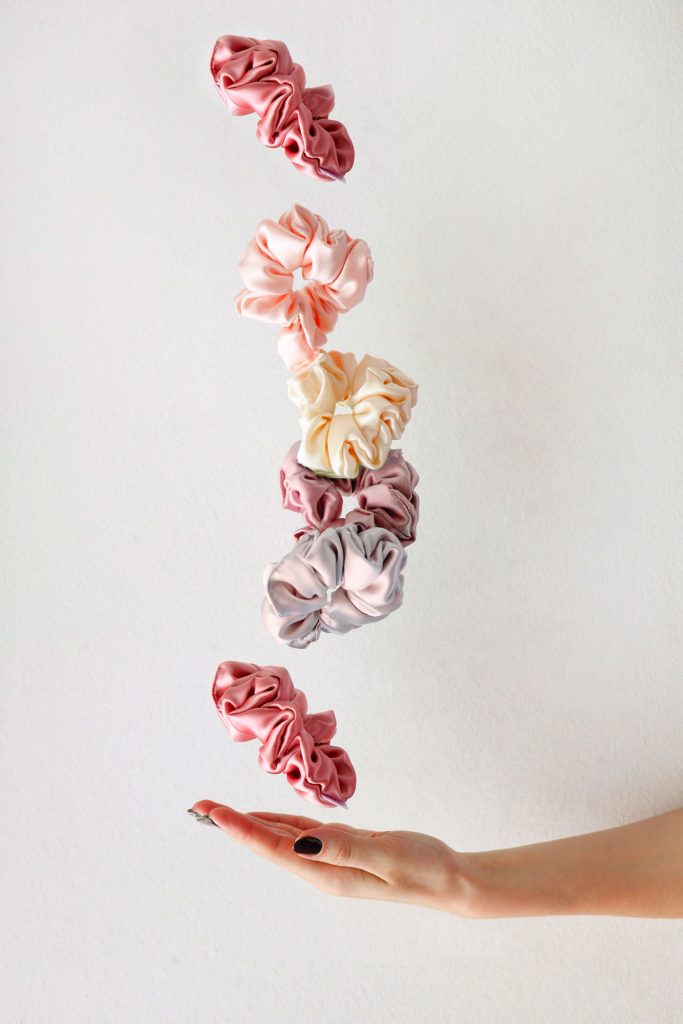 6 of the best ways to wear a silk scrunchie
1. A messy bun
Sometimes fashion classics are that for a reason. They never go out of style. And so it is with the messy bun – a go-anywhere look that suits the school run, a first date, a trip to the supermarket or even a day at the races. Here's how to build the perfect messy bun.
How to do a messy bun
Gather a hairbrush and a silk scrunchie. Simple.
If your tresses are freshly washed, add some dry shampoo to add volume and texture. You can skip this step if your hair hasn't been washed for a day or two.
Put your chosen scrunchie around before smoothing your hair towards the back with your hands. Gather together to create a ponytail where you want the messy bun to be, and loop the scrunchie around this.
When securing the scrunchie, you could make a loop of hair with the last twist of the scrunchie. Alternatively, twist the ponytail into a strip that you can wrap around the band. Tucking the loose ends under the scrunchie to finish.
Pulling some sections or strands of hair loose is de rigueur when creating a messy bun. If you don't want it to look too untidy, secure any stray sections with kirby grips.
2. A twisty ponytail
A high or low ponytail is a classic – but there are a few ways in which you can ring the changes here.
Here are a few ideas.
Ponytail + plait
Gather the top section of hair that frames your face as before. Plait this, so it lies at the centre behind your head, leaving the rest of your locks hanging loose. Fix the plait and ponytail combo into place with a single silk scrunchie.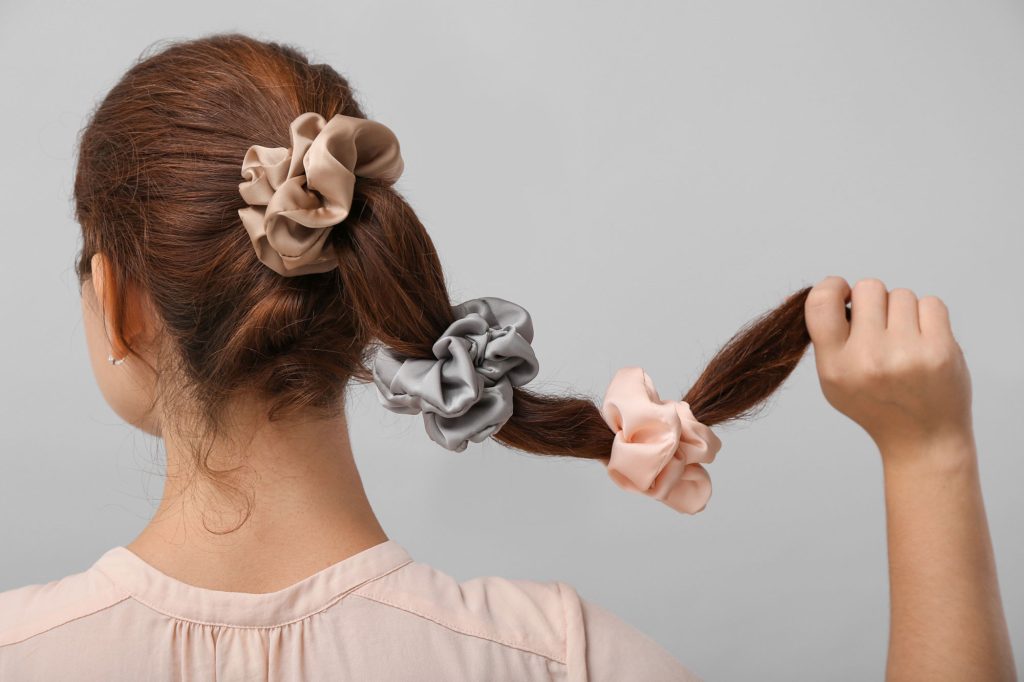 Low pigtails
Imagine you're making pigtails and divide your hair into two sections accordingly. Next, twist each section while you're guiding it towards the rear. Fix it into place with only one silk scrunchie.
Triple scrunchie
Why stick to just one scrunchie when you could use a trio? Begin by gathering an upper section in a half-up, half-down style. Next, secure this portion at the back of your head with one scrunchie. Then create a second 'layer' of hair from underneath this – use about half of the hair that's not yet tied up.
Join these top and middle sections together, again by using just one scrunchie. Lastly, do the same with the bottom layer of hair that remains, then add silk scrunchie number three.
3. Half up and half down
So many half-up, half-down hairstyles work well with a silk scrunchie. A section of hair from around your face will form the 'up' section here, while the rest can be left down. Here are a few variations on this popular theme.
Half up + 2 twists
Divide the up section of your hair into two. Twist each half as you place it behind your head., and secure each by using a silk scrunchie.
Half-up messy bun
Do as you did for the messy bun style, but use only the up section of your hair. Leave the down section in place after securing the top bun part with a scrunchie.
Half down + plaits
Split the hair into two sections as before, then plait each of these before securing it at the back.
4. Twin scrunchies
Is two silk scrunchies better than one? Find out by creating whatever sort of style you feel like. It begins with splitting your hair into two sections. The options then include two buns rather than one, a pair of pigtails, or plaits.
You can also pick whether to wear your chosen style high-up, low-down or somewhere in the middle.
5. On your wrist
The easiest style of all, of course, is not to bother with your hair at all. A silk scrunchie makes an ideal fashion accessory, for starters. Match a colour like pink, blue or gold to your outfit, or go for a neutral such as black or white. Or, for a change, why not mix things up with a couple in contrasting tones?
Wearing a silk scrunchie around your wrist doesn't only look good. It's also there whenever you need it. Whether you're having a bad hair day, are playing sports after work or simply get all hot and bothered in summer, your silk accessory is close at hand.
6. And so, to bed
A silk scrunchie isn't only the must-have accessory for daytime. It's also indispensable at night. Tying your hair back as you sleep can really help to keep it under control and can also ensure you keep your cool all night long.
Why wear a silk scrunchie?
Why silk? Pure mulberry silk is so much kinder to your hair than man-made fabrics. Or even, in fact, natural materials like cotton. Unlike satin, silk doesn't cause static – and we all know that spells bad news for your crowning glory.
The secret lies in silk's super smooth texture. As fine silk is so sleek, it doesn't cause friction in the way that cotton does. This means that there's less pulling as it runs over the surface of your hair – both by day and at night.
Those who use silk scrunchies will experience less damage, tangles, breakage, frizz and bedhead as a result. For the ultimate in overnight hair care, you can also team your silk scrunchie with a gorgeous mulberry silk pillowcase.
Take a look at a complete range of silk scrunchies here, including colourful tie-dye prints and plain shades.