My guest blogger for Behind the Lens this week is the lovely Kerry from Blissful Domestication. Kerry has two beautiful children – Isla and Oliver and today she shares a lovely captured moment of her daughter whilst they were on holiday.
---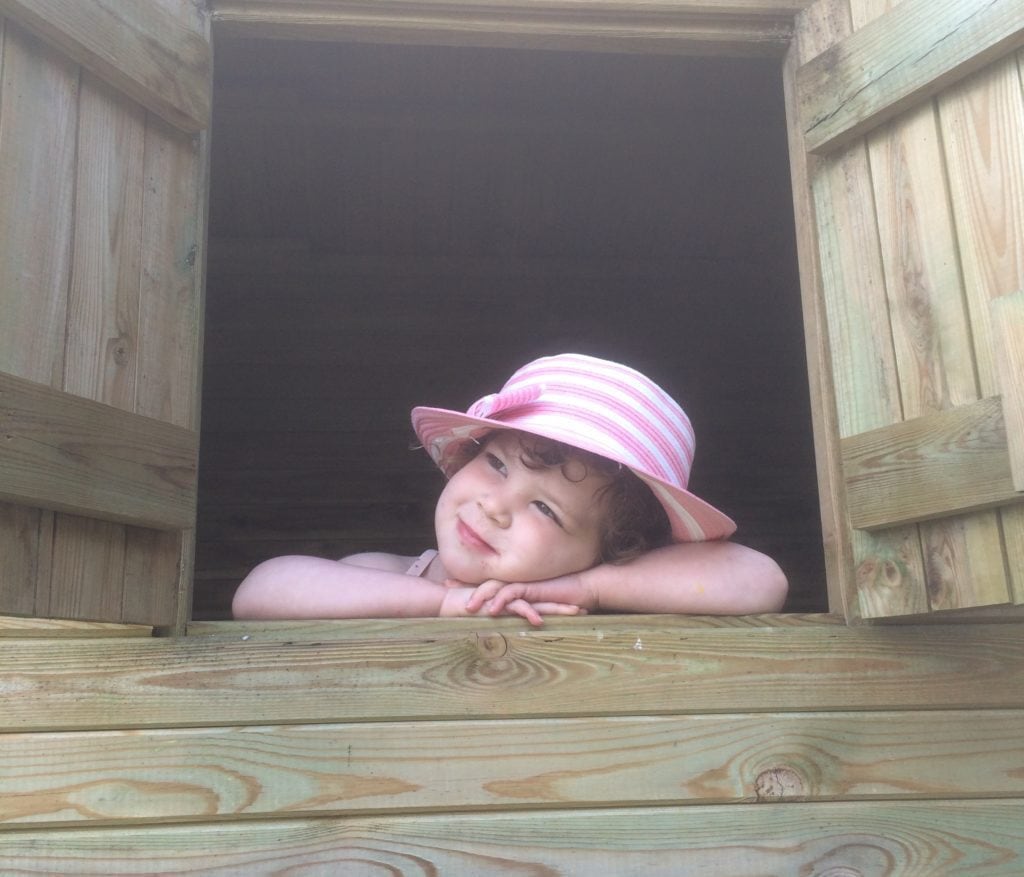 I love this photo, it is one of my favourite photos of Isla. It reminds me of a very peaceful relaxing time in our lives.
This photo was taken on our first holiday abroad with the children in May 2015, Isla would have been 3. The picture wasn't posed for, it's purely a captured moment when she was relaxed and lost in her own thoughts. She looks serene, content, happy, that's why I love it so much. We stayed at a gorgeous little family friendly gite complex called Lac de Maison near Poitier in France. It's catered for young families and had everything we needed for an amazing first family holiday.
The holiday didn't start so well though. The morning we were due to go I noticed a few spots on Isla's tummy. James took her to the doctors who confirmed it was Chicken Pox. We needed this holiday so badly and had been looking forward to it for ages, so we decided to still go as Isla seemed OK in herself. We travelled to the hotel where we were staying the night before going through the Eurotunnel the next day. When we woke the following morning she was covered in spots from head to toe. She didn't have a fever but was starting to get itchy and uncomfortable. Armed with Calpol and camomile lotion we set off on our way. The 6-hour drive when we arrived in France was tough. Tiredness, boredom soon overtook the excitement and the kids became very irritable. Isla, bless her was terribly uncomfortable and cried a lot of the time. I was upset and guilt-ridden and felt like a selfish mother. Did we do the right thing bringing her away? Perhaps we should have cancelled? I was also stressed about having a contagious toddler. I knew there would only be a maximum of two other families there, but I was stressing about whether anyone would be pregnant or have young babies with them.
We arrived at Lac de Maison late that evening, very weary and exhausted. The minute we arrived our hosts made us feel very welcome. I immediately explained about the chicken pox before we even got the kids out of the car. They put my mind at rest and assured me that there were no babies or pregnant people on the site, and kindly offered to tell the families in the other two gites. Fortunately, the other families were very understanding and were not at all concerned with Isla using the facilities and mixing with their children.
We stayed there the whole week, only venturing out on 1 day. Not because of the pox, but because we didn't need too, we had everything we needed. The kids were happy and content and had plenty to do, which meant we were happy and content. I remember feeling really relaxed for the first time in years.
Our gite opened up onto a large grass area at the back, and the kids couldn't wait to get their sandals on in the morning and go out and play. This photo was taken on one of those mornings. She had climbed into the little treehouse just as the morning sun was shining down, and there, she just rest her head on her hands and escaped into her own imagination, smiling as she did so. Despite the trauma of getting there a few days previous, she was truly happy. Any guilt I had about the journey melted away right there and then.
I am so happy that we were able to capture the moment. The picture takes pride of place on the living room wall, and it warms my heart when I look at it every day.
You can find Kerry online:
Blog | Twitter | Facebook | Instagram
---
Do you want to take part in the Behind the Lens series?
If you would like to take part in this guest series and would like some further information please drop me an email.
Posts will be scheduled on a first come first served basis and will run every Wednesday. All posts will be shared and promoted across my social media accounts (tagging you where possible).