I'm super excited to have Laura from Five Little Doves this week. Laura is mummy to five children (her little doves) and she writes beautifully and honestly about baby loss, mental health and parenting three children under three.
Today, she shares a very special photo of her eldest son Lewis and her beautiful girl Eva whom she had after the loss of her second son Joseph.
---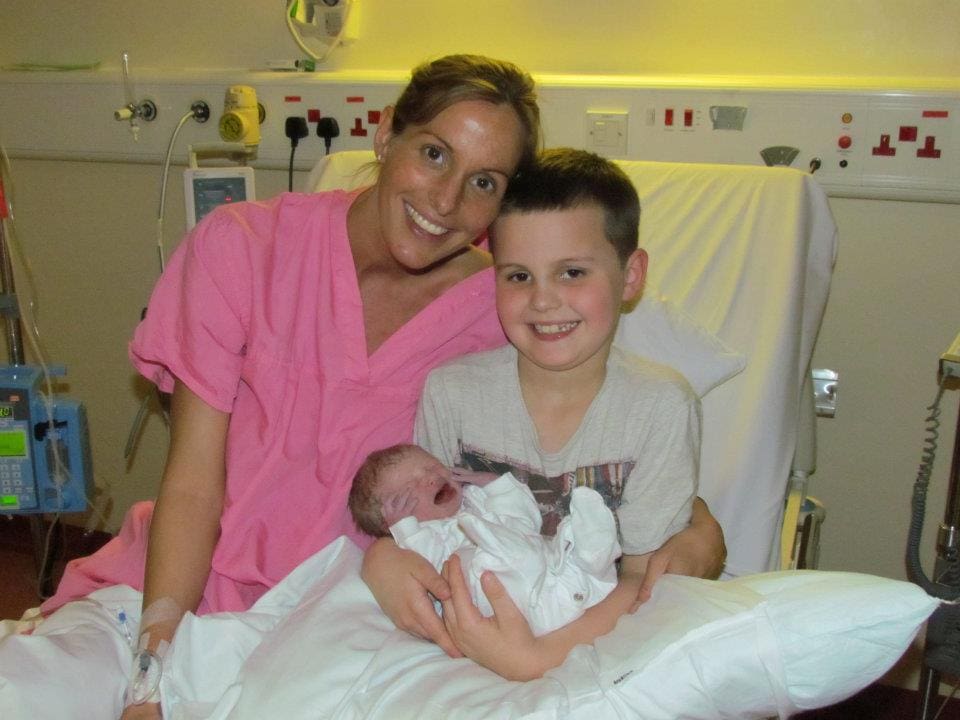 I can't even begin to guess how many photographs I must have taken over the last twenty years, the majority being of my children, and nor can I choose just one photo as my favourite. Each photo tells a story and takes me back to a moment in time, yet this photo is probably the one that will always instil the most emotion in me, the moment that I so desperately waited for, for eight long years.
Having lost our second son, Joseph, stillborn at full term, and fifteen babies to miscarriage over the course of the decade, our journey to parenthood had been far from easy. Although we were blessed with Lewis, my heart ached to give him the sibling that he so desperately wanted, to hold another baby in my arms, have them open their eyes, scream at the top of their lungs and heal my heart after so much sadness.
My pregnancy with Eva was by far the most worrying time of our lives. Not only did I worry for the first twelve weeks about miscarriage, but as my due date approached the threat of another stillbirth loomed over us. The hospital reassured us as much as possible, gave me fortnightly scans, extra monitoring and tests, and provided antenatal counselling to get me through the weeks. And as much as the scans reassured me temporarily, and hearing her heartbeat gave me some comfort, I still couldn't allow myself to believe that she would arrive safely, that we would ever be so lucky as to take her home and keep her forever. And the saddest part was, that nor could Lewis. "Promise me she won't die like Joseph did?" he used to ask me at night, as I tucked him up in bed, and I wondered, if the worst was to happen, how we would ever survive it all over again?
In February 2012, at 35 weeks pregnant, having woken to a massive bleed, I was rushed into hospital and immediately induced. Not only was I at the same hospital that I had given birth to Joseph, but I was in the same ward, in the same room, lay in the same bed where my son had come silently into the world and changed our lives forever.
After a 35 hour induction, at 7.45pm, our beautiful baby girl Eva Sienna, arrived safely into our arms, and I had watched in complete disbelief as she opened her eyes, screamed at the top of her voice, and proved to us all that miracles do happen. Just moments later Lewis burst into the room, his little face flushed with excitement to finally meet his baby sister, and he instantly fell in love with her, in much the same way as we all did.
There isn't a photograph on this planet that could fully portray how amazing that moment was, to see the two of them together, the proudest big brother in the whole wide world, and yet this photo is as close as it gets. I waited for such a long time for that moment, went to hell and back countless times, and yet right there and then, I knew that she was worth it, no doubt about it.
What I didn't know is that just fifteen months later we would be back in the same room welcoming Megan into the world. And just twelve months later, our little Harry…..
You can find Laura online:
Blog | Twitter | Facebook | Instagram
---
Do you want to take part in the Behind the Lens series?
If you would like to take part in this guest series and would like some further information please drop me an email.
Posts will be scheduled on a first come first served basis and will run every Wednesday. All posts will be shared and promoted across my social media accounts (tagging you where possible).