As a girl, my family always used to meet every weekend and bond over dim sum (or two). Now with a family of my own, we may not have dim sum as much as I'd like, but we do love nothing more than eating out and trying new places. The boys enjoy trying out different cuisines as much as we do which is great.
Over February half-term, we were invited down to try Bubba Gump Shrimp. I think it was safe to say that both Mr H and I were probably more excited about this than the boys. We LOVE seafood but don't tend to eat much of it at home and we'd been meaning to try Bubba Gump for ages so this was the perfect opportunity to get our shrimp on!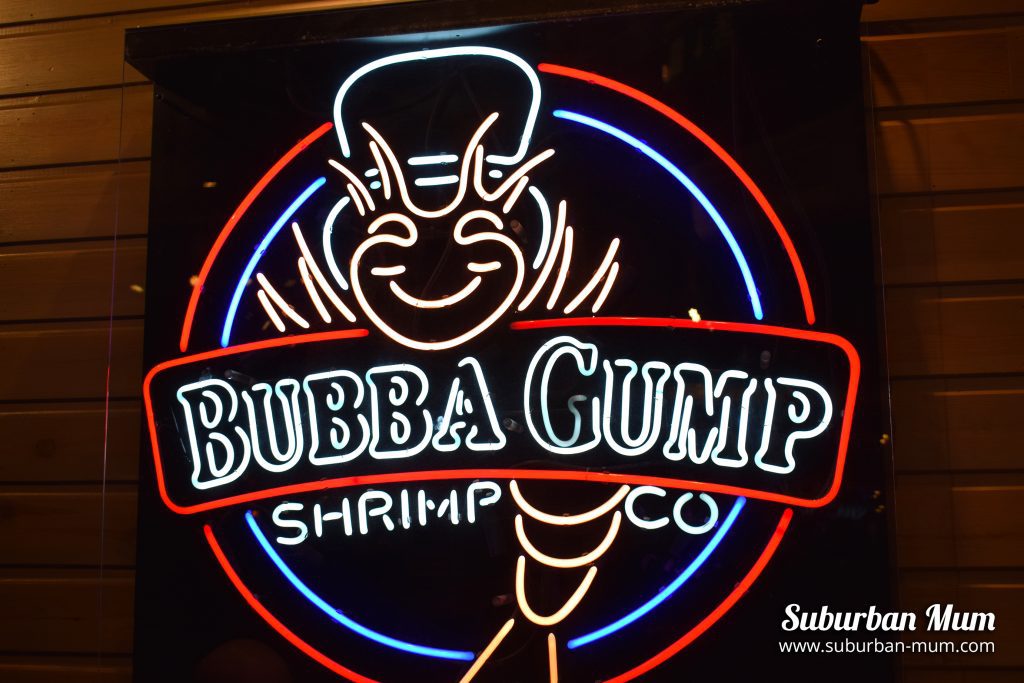 About Bubba Gump Shrimp
If you've ever watched the movie Forest Gump then you will know that Forest's best friend is Bubba – Bubba Gump. He is an aspiring shrimp boat captain who wants to get into the shrimp business with Forest.
The Bubba Gump Shrimp restaurants are a tribute to the movie and are located all over the world. The London restaurant is the first in Europe and is centrally located on Piccadilly Circus in London's Trocadero.
The restaurant
We were early for our booking so we sat down on the iconic bench from the movie whilst we were waiting to be seated (you know the one!) and had some photos taken. The restaurant is located on the first floor so the entrance is on the ground floor via the gift shop.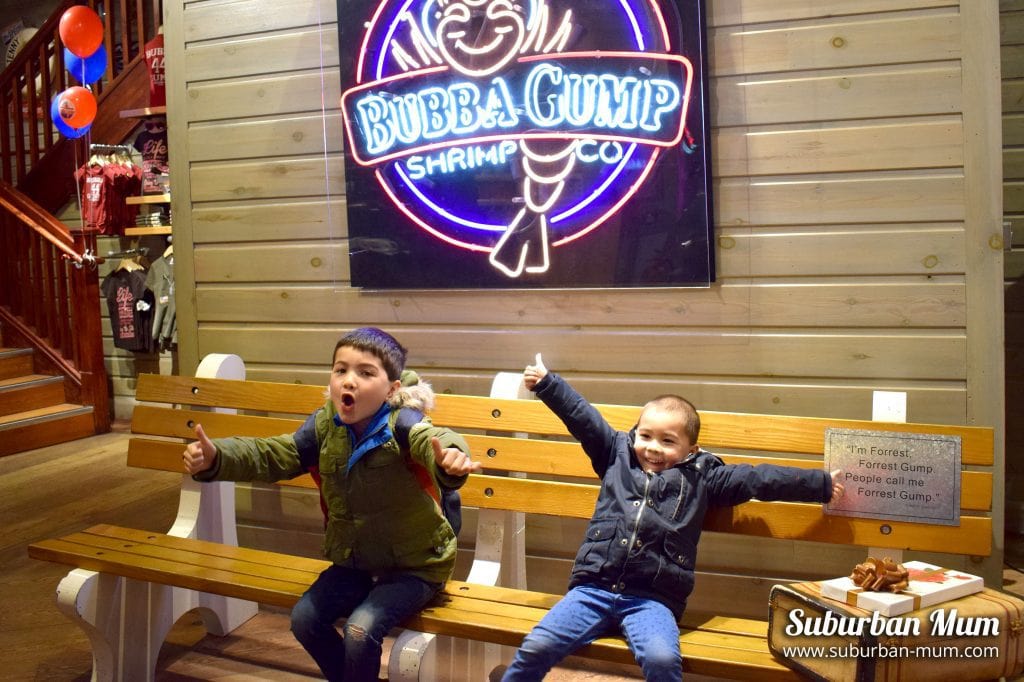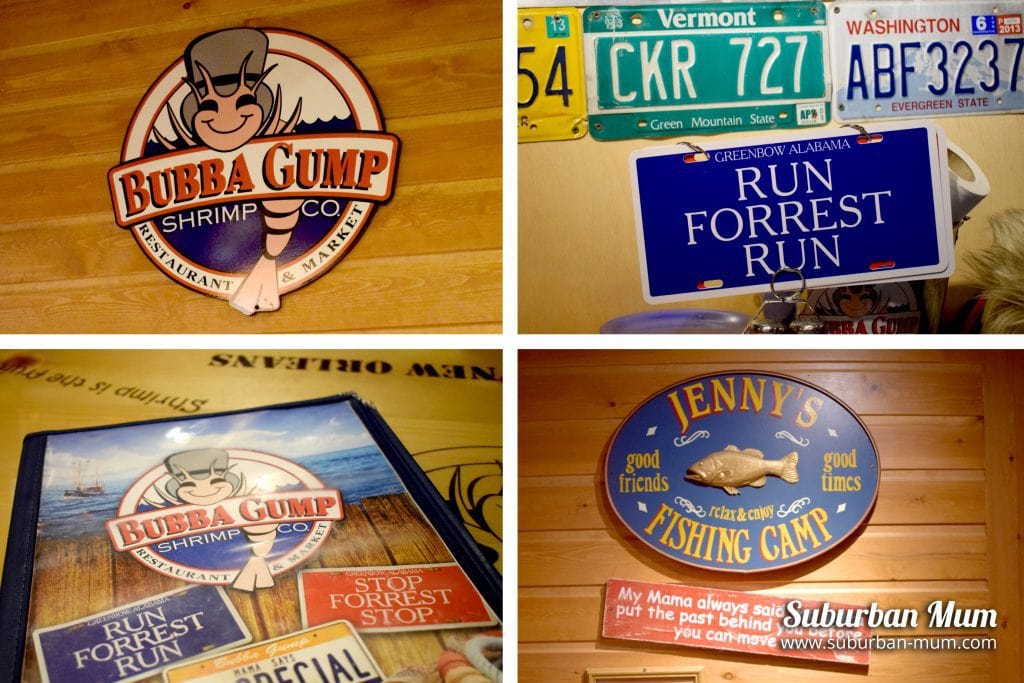 Like most theme restaurants, there was a bit of a buzz about the place. Being in the middle of Soho the restaurant can be a bit of a tourist attraction and visitors are there to relax, have fun and of course, enjoy their food.
As you come up the stairs there is a large bar area, followed by what felt like endless rows of tables and booths. The restaurant is decked out with lots of memorabilia from the film and other bits and bobs. Everywhere you looked you could see items that made you feel like you were in America.
We were seated comfortably in a booth by our waiter who walked us through the menu whilst we waited for Mr H to come and join us from work.
Drinks
We started off with ordering some drinks and the boys were most excited about their Oreo Cookie milkshakes (made from frozen yoghurt). My sister and I went for the Frozen Lemon-Ups, which are basically slushies. They came in a cute souvenir light-up glass which you get to take home which is a really nice touch. Finally, Mr H and our friend C had a beer each.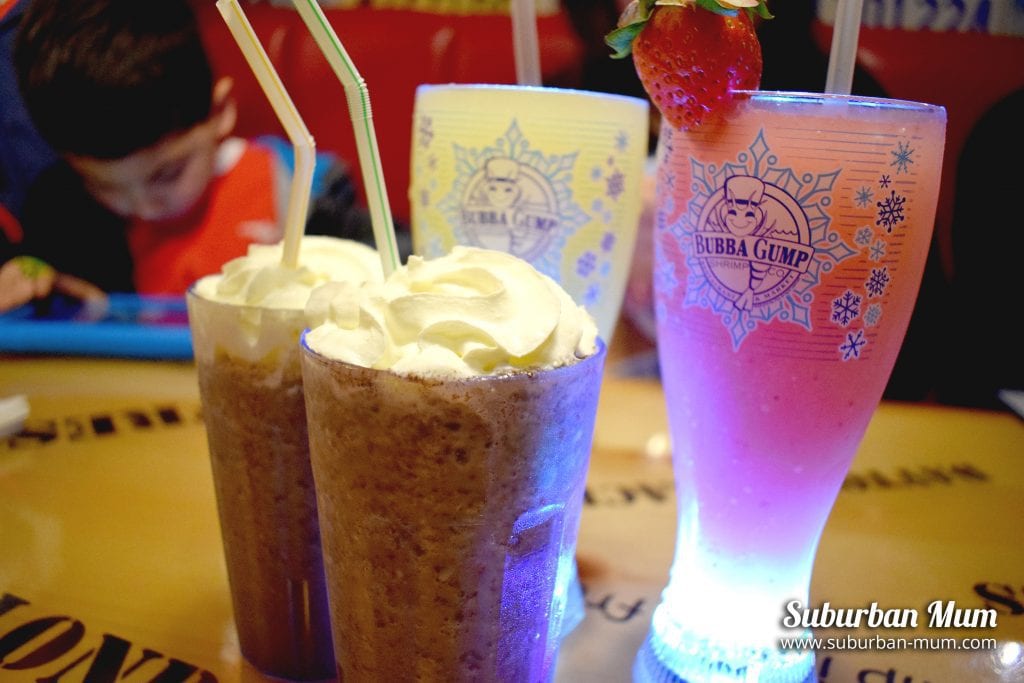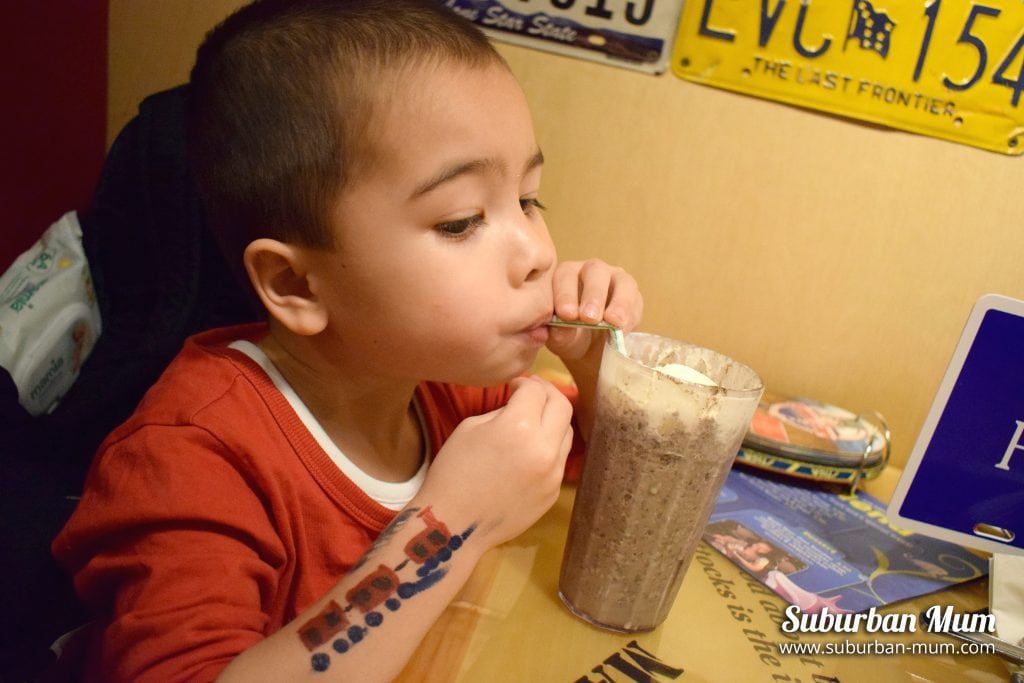 Starters
For starters between us, we shared the Crab Stuffed Mushrooms, Shrimp Shack Mac & Cheese, Traditional Shrimp Cocktail and Frizzled Onion Strings. I really enjoyed the mushrooms, they were quite rich but there was just enough for it not to be sickly.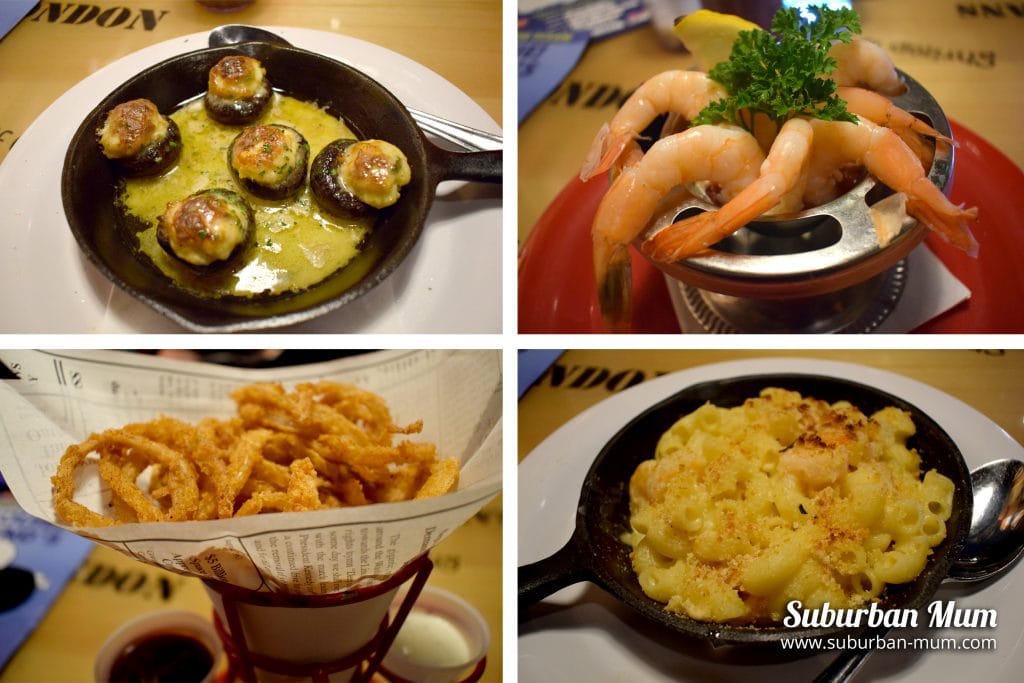 Mains
For our mains, I knew without a doubt I would be having Shrimp. There are over 20 different ways Bubba Gump serve their shrimp which is just amazing – no wonder it took me so long to choose! I opted for Shrimper's Heaven (who could resist?) which had Hand Breaded Coconut Shrimp (which I loved the crispiness of), Chilled Peel 'n' Eat Shrimp, Fried Shrimp and Tempura Shrimp with a portion of fries.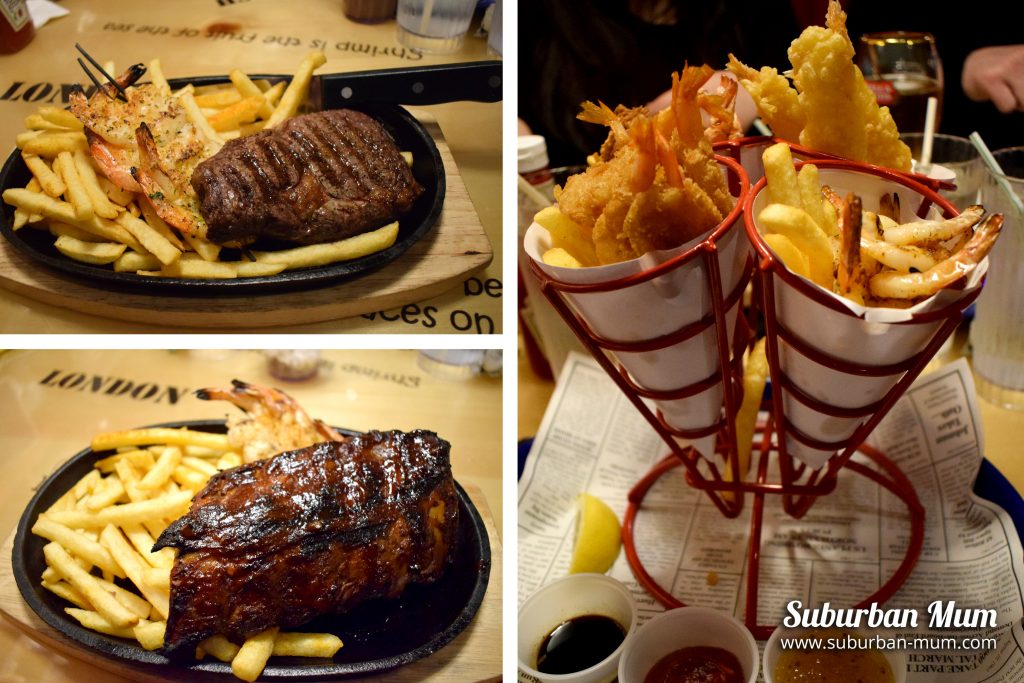 Mr H chose Forrest's Seafood Feast which according to the menu is "Forrest's favourite meal after a day on the boat". It had Hand Breaded Southern Fried Shrimp, Seafood Hush Pups and Fish served with fries.
My sister and C opted for the non-shrimp options, so although the menu is centred around shrimp there is something for everyone – even those who are not fish/seafood lovers. They chose to have the Chargrilled Rib-Eye Steak and the Lt. Dan's Surf & Turf.
Kids Menu
For the boy's mains, E chose to have the Hubba Bubba Popcorn Shrimp and M had the Mama Gump's Chicken Strips. They came served in really cute cardboard boats – something the boys had never seen before. They came with a side of fries, a piece of fruit and a small pot of jelly.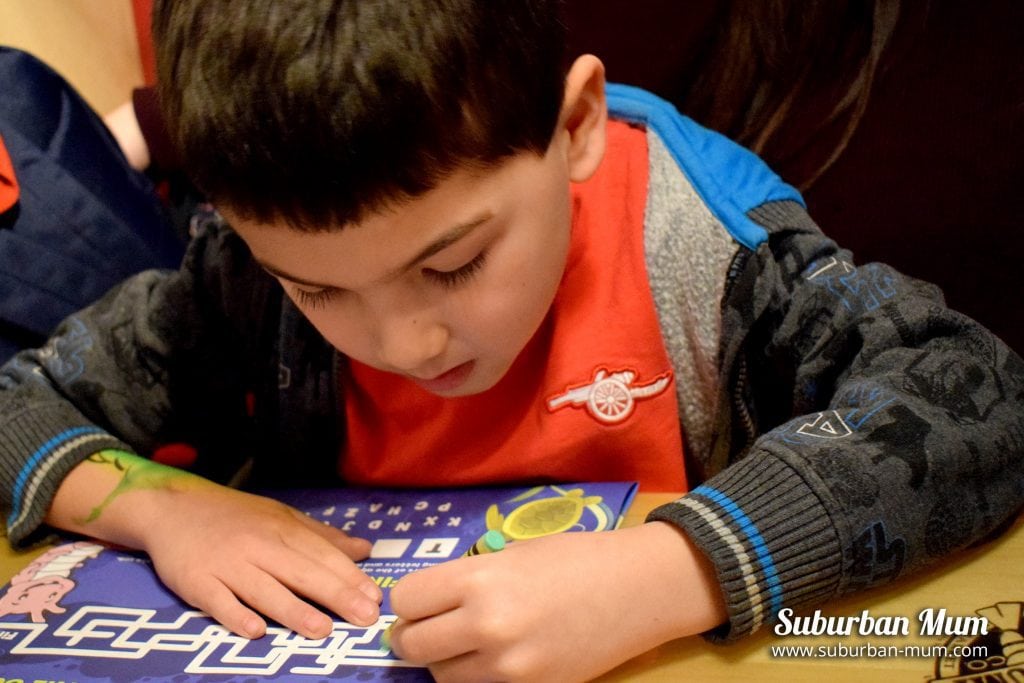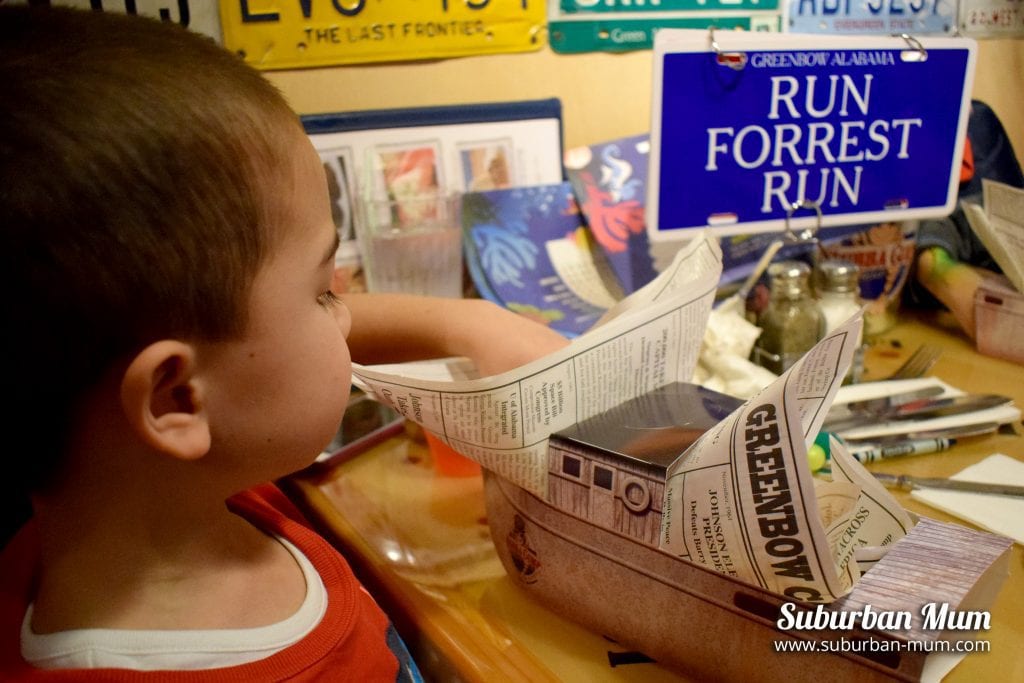 Desserts
You'd have thought that after all the food we had eaten we would be too full for desserts. However, it wouldn't make for a thorough review if we didn't try them out right?
Between the adults, we had Mama's Best Strawberry Shortcake, Chocolate Chip Cookie Sundae and the Best of the Best Sampler which had a smaller version of the Strawberry Shortcake, Chocolate Chip Cookie Sundae and Mama's Cinnamon Bread Pudding.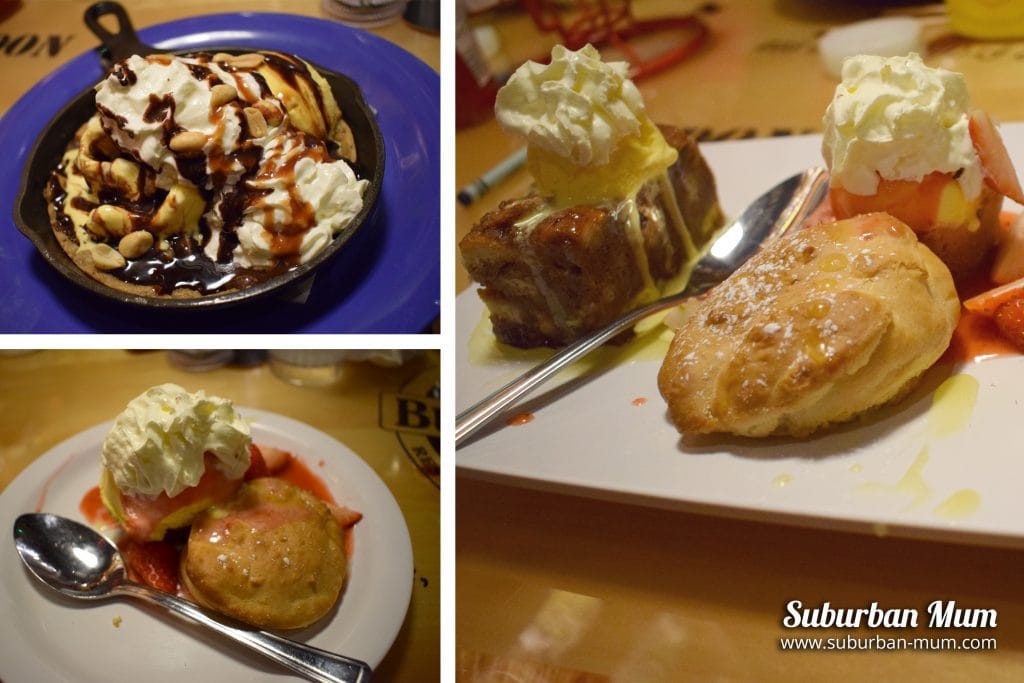 The service
The staff were really friendly and helpful and our waiter for the evening couldn't do enough for us. He even offered to take a group photo for us!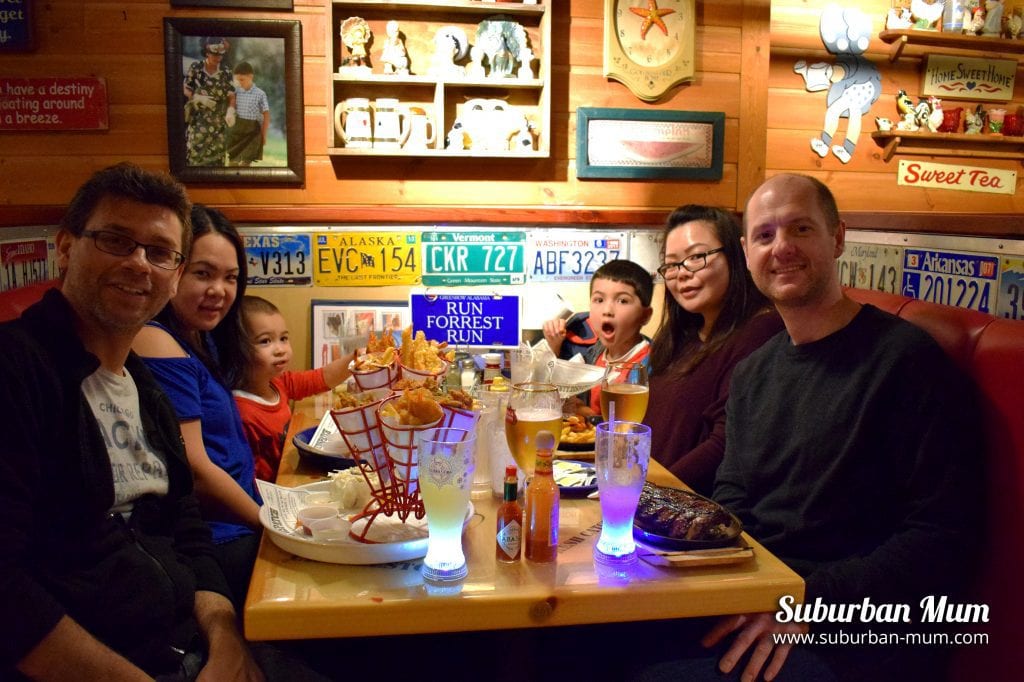 We didn't have to wait long for our food to arrive which is a huge plus when you are dining with children. Our waiter even tested us on our Forrest Gump knowledge too by asking a couple of questions about the movie.
Overall
We absolutely loved our visit to Bubba Gump. We were very well looked after by the staff and the food for me is just what you would expect from a themed restaurant. I was impressed by the huge variety available on the menu.
It's a great place to visit if you are in the area and very child-friendly. I can definitely see us returning again – we loved being in shrimp heaven!
Pin it for later: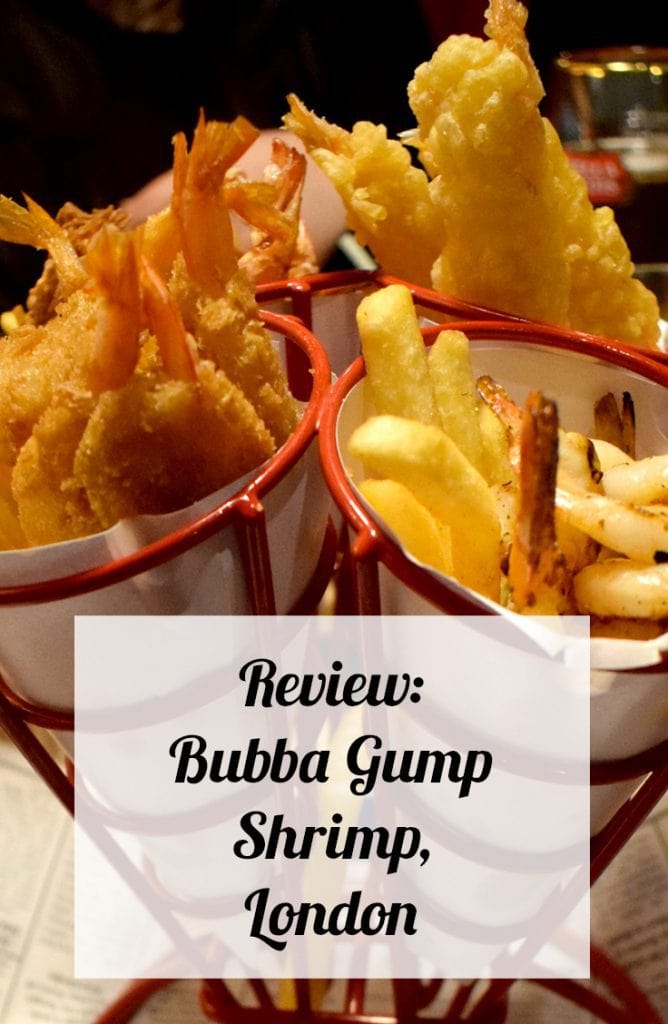 *We were invited to Bubba Gump Shrimp for the purpose of this review. All opinions expressed are entirely my own
You might also like: