A few weeks ago, we were invited along to check out modern Indian cuisine Cinnamon Kitchen, Battersea. We've not really ventured over Battersea way on our travels before, but it was easy enough for us to hop on the train to get to.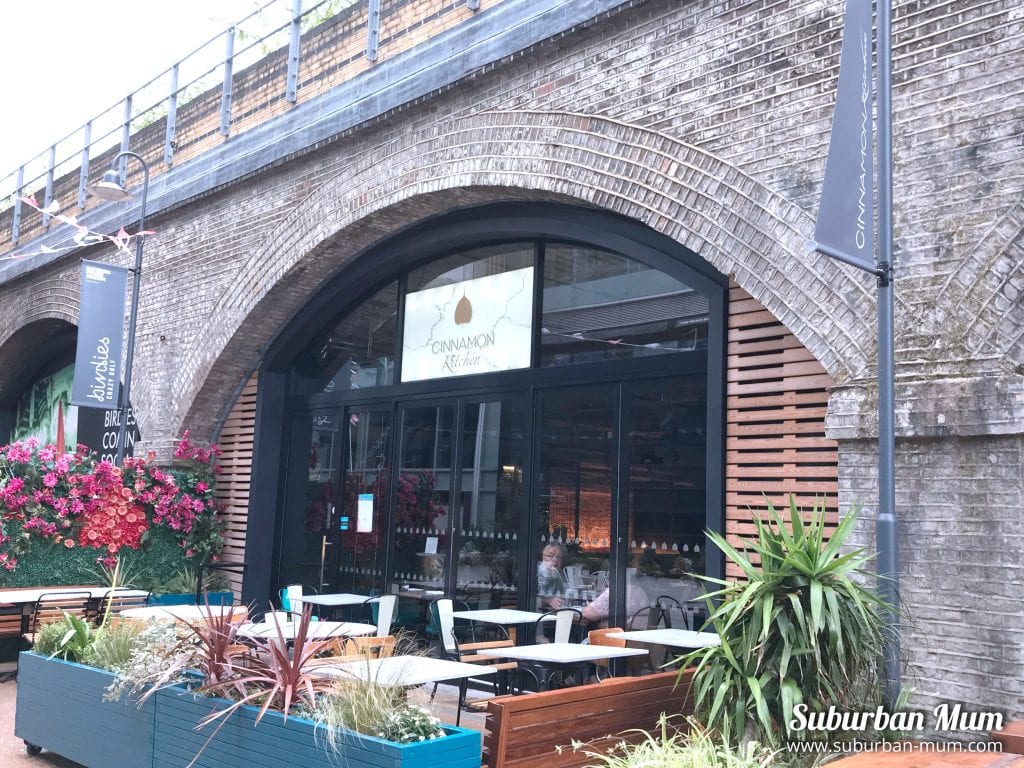 Cinnamon Kitchen is located by Battersea Power Station which has been undergoing some major development work. The site is due to be fully completed by 2025, but you can already see the potential it has to become a great neighbourhood to visit whether you're a local or a tourist.
Much to my boy's delight, Cinnamon Kitchen is positioned underneath the railway arches. We visited on a Sunday afternoon and chose to dine from the Set Lunch menu, which was very reasonable at £14.50 for 2 courses or £18 for 3 courses. There is also a Junior menu available for children aged 8 and under which is £9 for two courses and includes a drink. E who's 9 and loves trying new food also decided to try the set lunch menu with us. This worked out really well as there were three dishes to choose from in each course, so we had one of each to share.
For our starters, we shared some Chargrilled Pork Ribs that were in a chilli honey glaze, Tandoori Chicken Tikka and a Railway Style Vegetable cake. We loved the flavour of the Vegetable cake which had beetroot, raisin and mustard; it was very moreish. I don't think I've seen ribs on the menu at an Indian restaurant before, but these were packed full of flavour, and the chilli honey glaze had a real kick to it. Surprisingly, the boys really enjoyed these.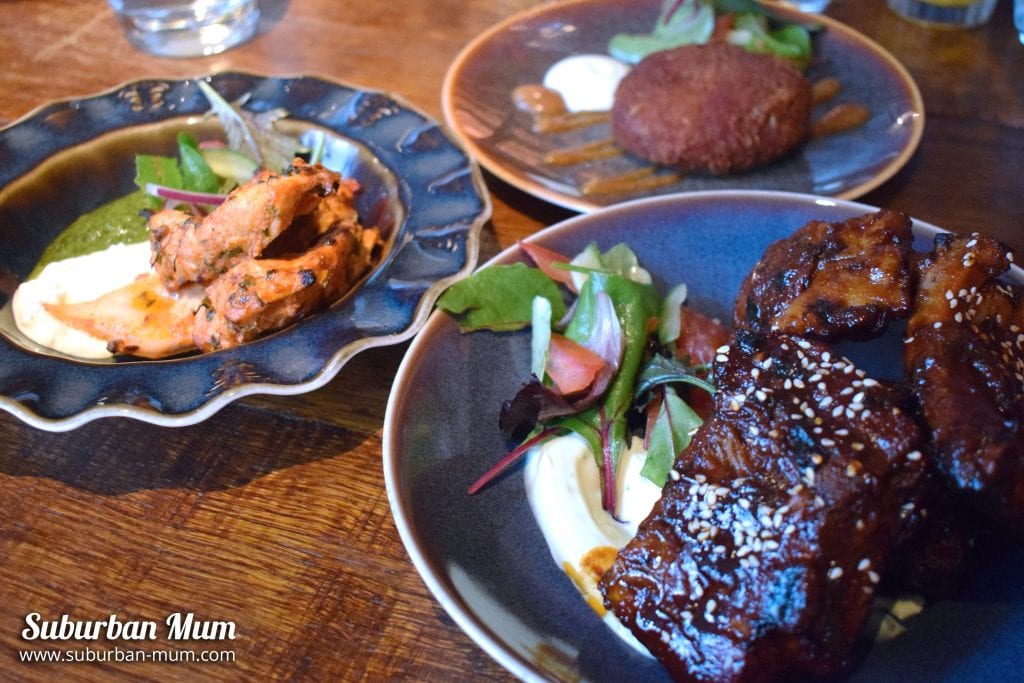 For our mains, Mr H, E and I shared Chargrilled Pollock with lentils, Hyderabadi style Baby Aubergine and Laal Maas (a fiery lamb curry). The Pollock was a little bland compared to the other two dishes and could have done with a little more seasoning, but the real highlight for us was the Hyderabadi style Baby Aubergine. It was so tasty we could have eaten it all over again!
As M had the Junior menu, he had a smaller portion of the Pollock with Daal. His palate is not as adventurous as E's, but he was quite happy with his dish, which was portioned just right for him.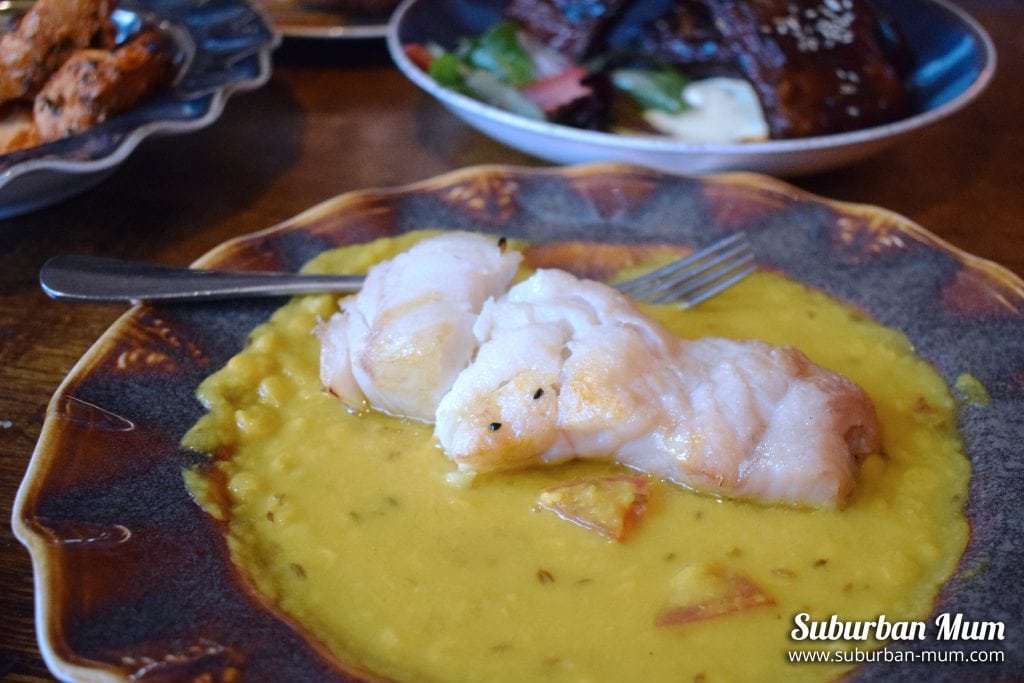 Then it was time for desserts – our most favourite part of any meal! We shared a sorbet, a sticky ginger toffee pudding and a Lassi Panna Cotta while M had a scoop of ice cream.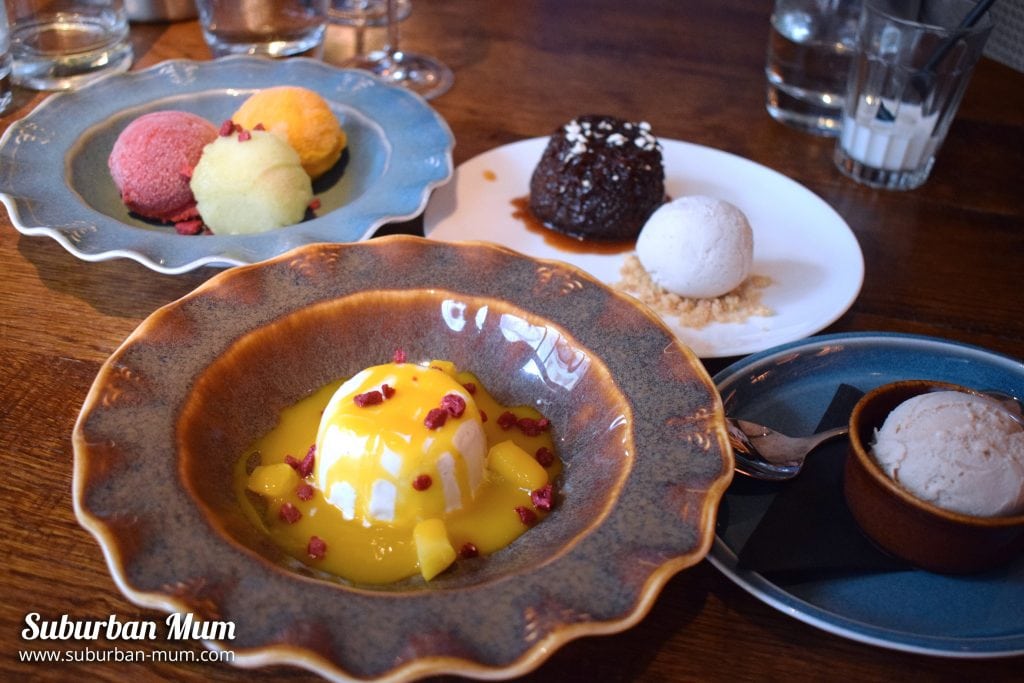 We really enjoyed our meal at Cinnamon Kitchen. E particularly loved the flavours of new dishes he got to try and have a newfound love of Aubergine curry, and I now want to try and recreate myself at home.
Cinnamon Kitchen would make a great place to visit for lunch, I think the set menu is excellent value, and it's definitely somewhere we would want to visit again.
You can find out more about Cinnamon Kitchen Battersea on their website.
Pin it for later: