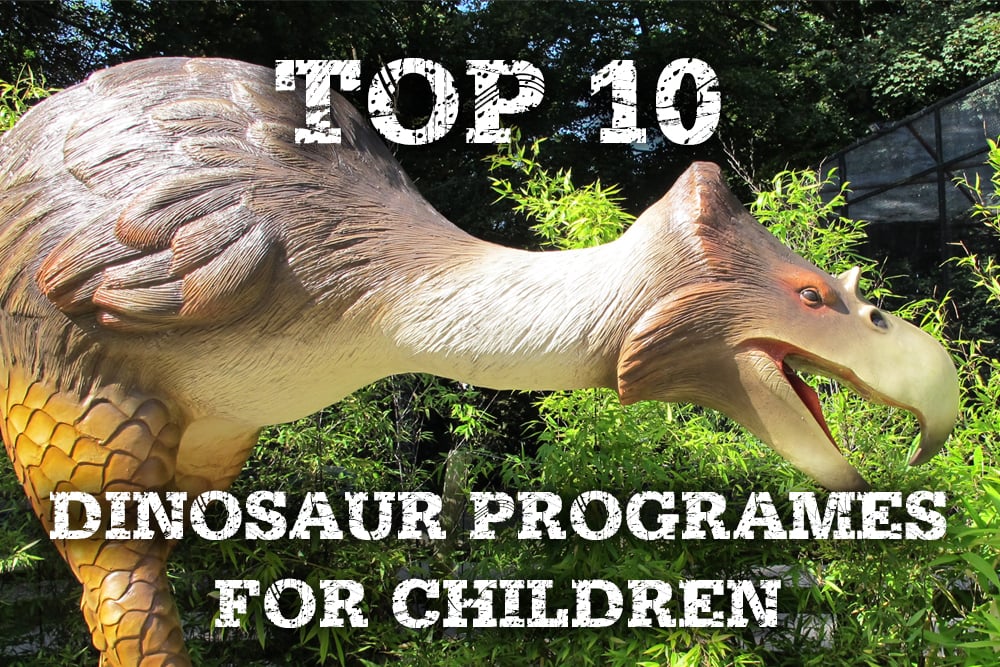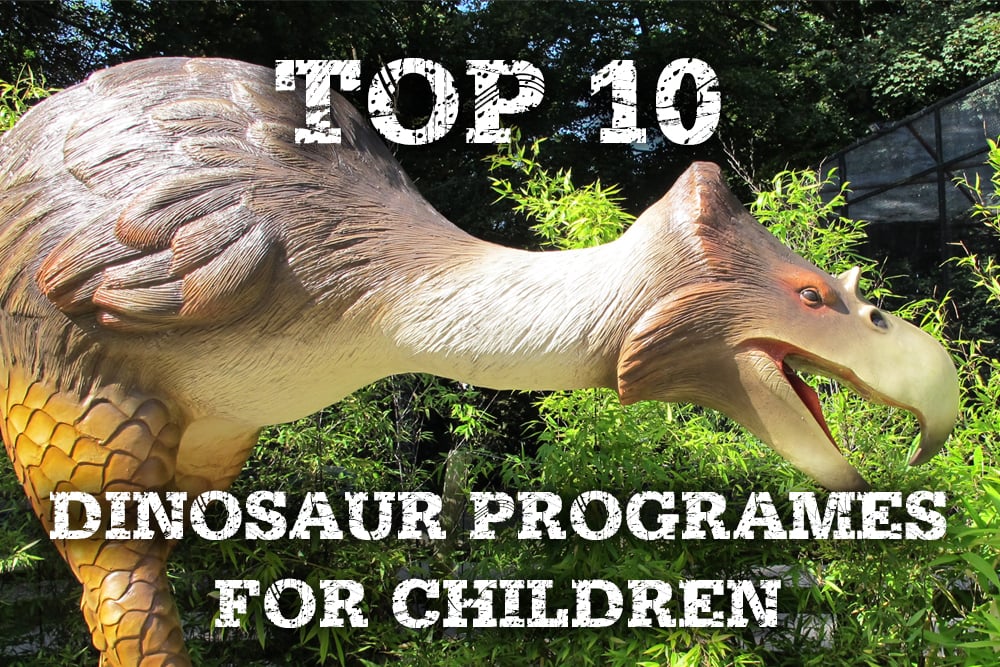 If you have dinosaur-mad children like mine, you will most probably know that the Jurassic Park series's latest instalment – Jurassic World is out on 11th June. The movie itself is rated 12A so although we know that E would love to see it, at only 5 we feel he is probably too young to go and watch this at the cinema. We will wait until it comes out on DVD to watch it at home where he will no doubt want to whiz past all the talking bits anyway and get right to the dinosaur action!
Dinosaur programmes we Have been watching
It's also been Jurassic Week on the National Geographic channel, and I'm not sure our Virgin box has quite known what's hit it with the number of dino programmes we have recorded for E to watch. The T.Rex autopsy – although too gory for E, was just fascinating. They re-created a life-size T-Rex to look inside. Mr H and I were mesmerised watching it.
We also watched Top 10 Biggest Beasts Ever, which included many animals like deadly snakes and sharks – right up E's street. He thoroughly enjoyed this on catch up.
So, in honour of the new Jurassic World movie being released I thought I would put together my top 10 must-watch dinosaur programmes for children. I have put down a very rough age range for each of them, but you as parents will be the best judge for what you deem suitable for your own children.
Top 10 dinosaur programmes for children
1. Jurassic Park trilogy
Simply a must-have for any dinosaur fan. The brilliant Steven Spielberg trilogy where dinosaurs a re-created using DNA from a mosquito and put in a theme park – I mean what could go wrong
Suitable for ages 5+

2. Planet Dinosaur
This stunning series re-creates the creatures, their habitats and how they lived, from analysing their bones to watching them fight to the death.
Suitable for ages 3+

3. Walking with Dinosaurs (boxset)
A great collection for any dino-mad children. Here the BBC bring to life these pre-historic animals using state of the art computer graphics.
Suitable for ages 3+

4. Pre-historic Park
What if we could bring back dinosaurs to the modern-day? Wildlife adventurer Nigel Marven travels back in time to bring them back to the sanctuary of the present.
Suitable for ages 3+

5. Dinosaur King
Popular animated series about Max and his friend Rex who discovers a set if dinosaur cards and magic stones which were left by dinosaurs as a call for help. Max and Rex must try and collect all the missing cards before the evil Dr Z and his gang find them.
Suitable for ages 3+

6. Dinosaurs
Another one that hubby and I remember from our childhood! We have been watching these with the boys on YouTube. The show follows the life of a family of dinosaurs living in a modern world. The only humans around are cavemen, who are viewed as pets and wild animals.
Suitable for ages 3+
7. Dinosaur train
A great introduction to dinosaurs for pre-schoolers and if your children also love trains then it's a win-win as they learn about life science, natural history and palaeontology.
Suitable for ages 3+

8. The Land Before Time
I remember watching this when I was a kid and loved the animation and soundtrack.
The movie is about a young orphaned dinosaur – Littlefoot who has to make his way to the paradise of the Great Valley to survive. He makes friends with other dinos along the way and has plenty of adventures.
Suitable for ages 3+

9. Ice Age 3: Dawn of the Dinosaurs
The herd from the first two instalments of the Ice Age movies are back. This time they are roaming a newly discovered lost world beneath the ice and Sid uncovers 3 eggs which turn out to be baby T-rexes!
Suitable for ages 3+

10.Dinosaur (movie)
Aladar, an iguanodon dinosaur is raised by a family of lemurs. Their world is turned upside-down when meteors strike turning their green world into a desert wasteland. They team up with another herd to try to find the "nesting ground" where water and vegetation is bountiful.. but with carnivores behind them, it doesn't look promising!
Suitable for ages 3+

Are there any dinosaur programs/movies I have missed? What would be in your Top 10 Dinosaur Programmes for Children list?
Pin it for later: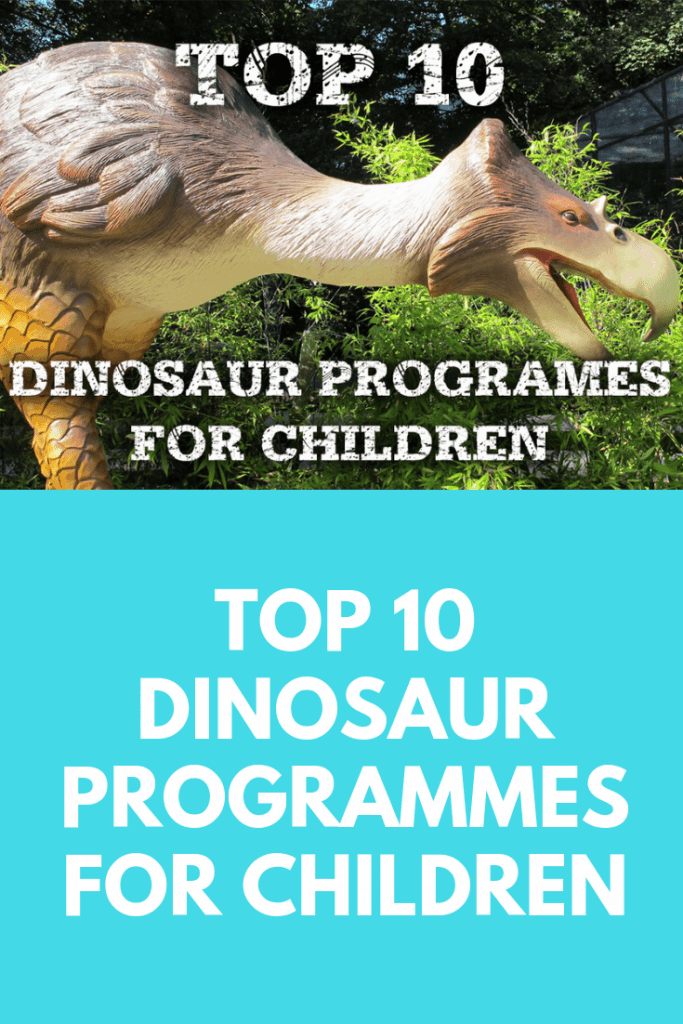 You might also like: