Has Spring finally sprung now? Who can tell with the weather we've been having lately. Either way…Easter is not far away which means looking for activities to entertain the kids for two weeks. I've put together a list of Easter things to do in Surrey.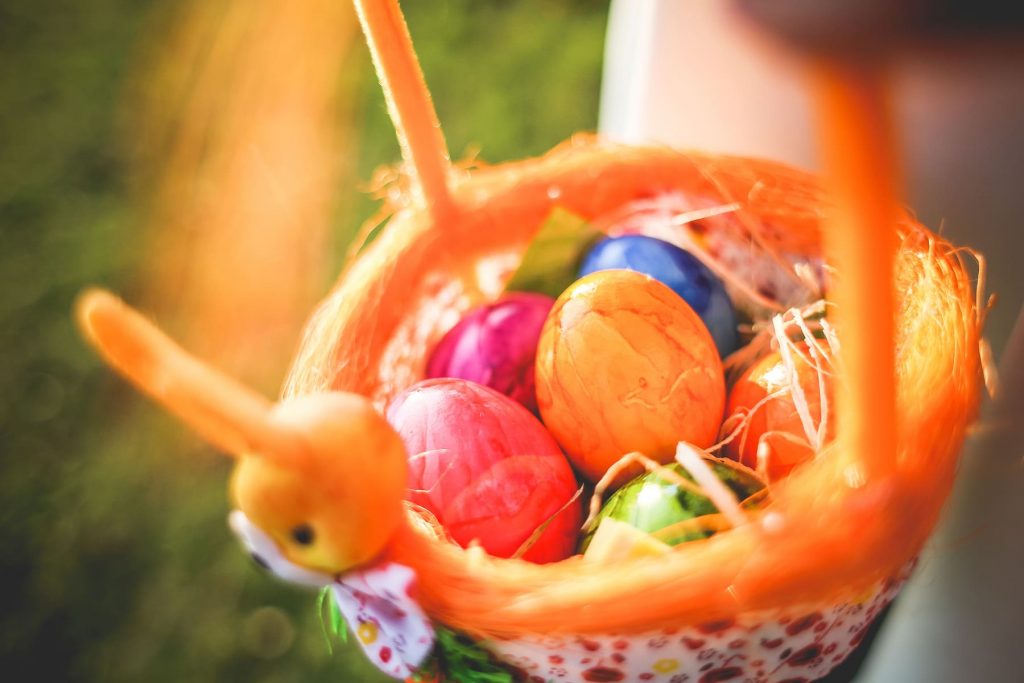 Easter things to do in Surrey
28 March – 7 April
Based on the much-loved book by Dr. Seuss that has captivated generations, Cat in the Hat has been adapted and brought to life on stage and will be at The Rose Theatre, Kingston this Easter.
Tickets from £15 for an adult and £10 for a child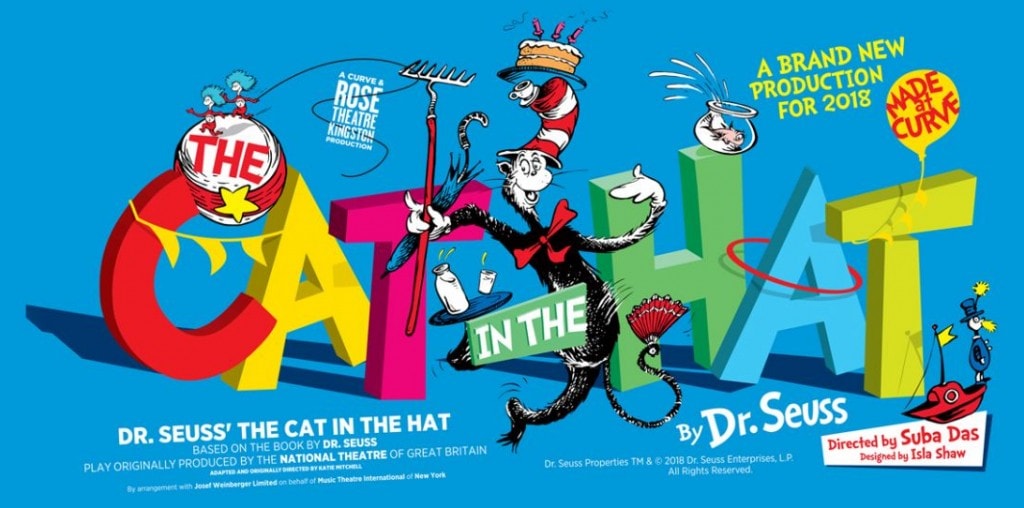 ---
5 April
Have tea and meet Peppa at Piglets, Hersham. There is also face painting and pony experiences throughout the Easter break.
Booking required.
---
Breakfast or Tea with the Easter Bunny at Wyvale Garden Centre
5 – 28 April
Meet the Easter Bunny for a delicious breakfast or tea. With cookie decorating, activity sheets and a bunny hunt. Children will also receive a cuddly toy gift.
We went to our local centre for breakfast a couple of years ago and the boys had a lovely morning!
Tickets are £10.95 per child. Adults from £8.50
Read the review of our experience here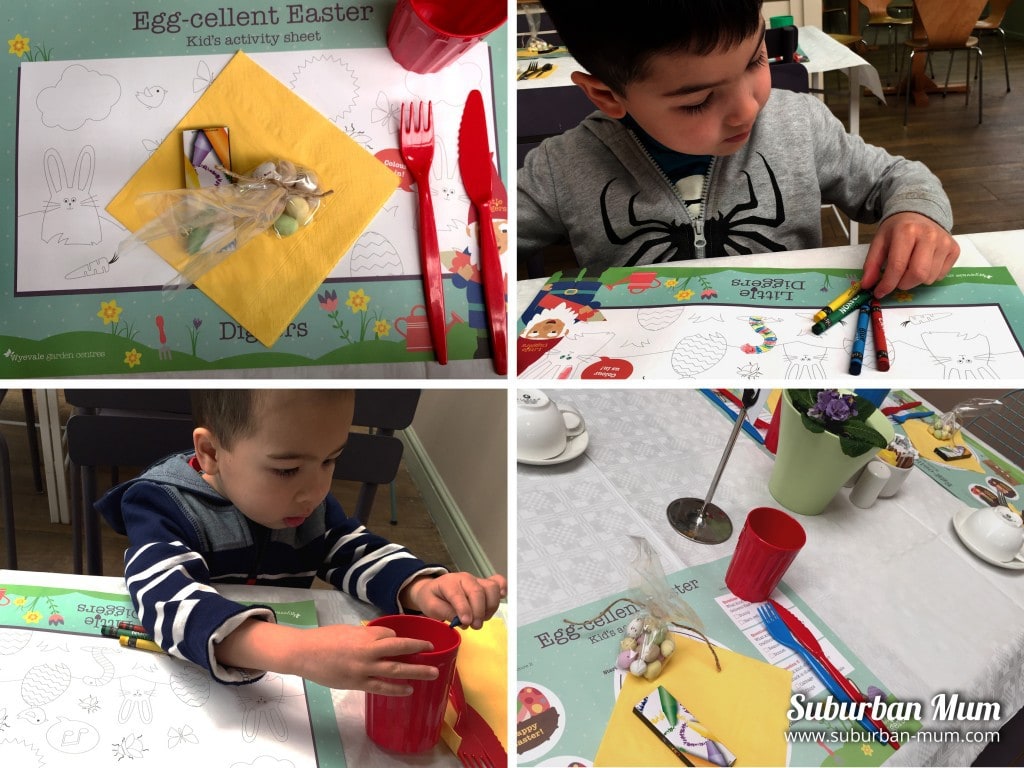 ---
6-22 April
The Polesden Lacy animals have had a spring-clean and made a load of mess. Find the different ways they've reinvented their rubbish in the family trail and see if you can solve the clues to win a chocolate prize.
---
6- 22 April
With Creative workshops, Woodland Walk, Log Trail and more, there's plenty of activities for the kids this Easter.
Adults £16.50, Children aged 4-16 £4.50, under 4s are free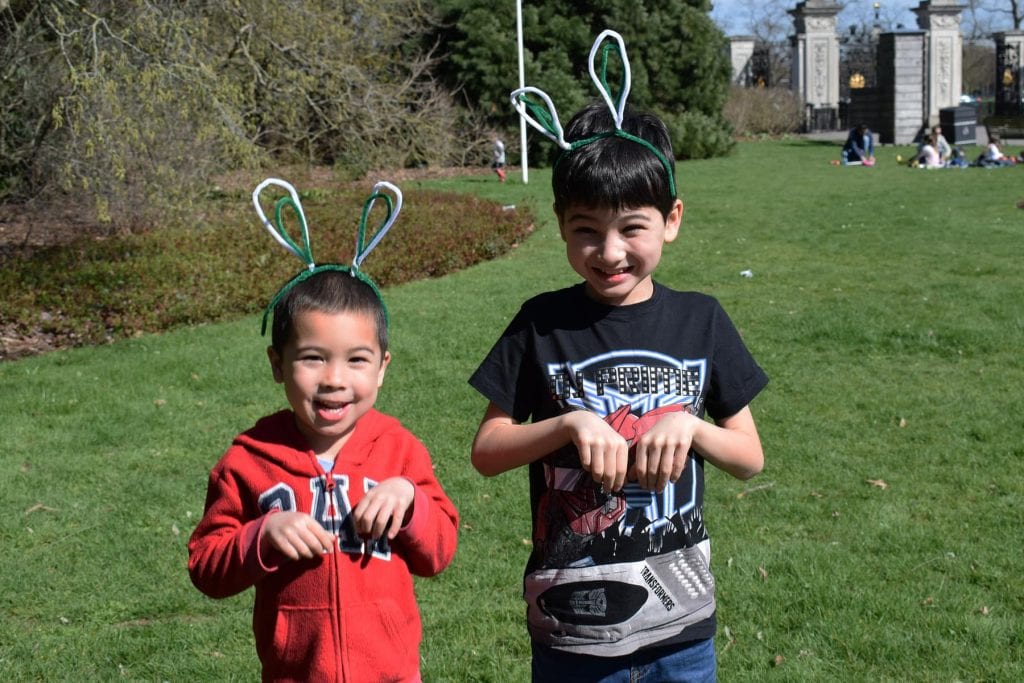 ---
6 – 22 April
Follow the trail around the reserve to see where the giant ducks are hiding. Find them all and you will receive a chocolate prize! Other activities such as Pond Dipping, Build a Giant Nest and Animal Track Detectives also available.
Trail £1 per person plus admission to the Centre. 
---
6 – 23 April
This is one of our most favourite places to visit. It's lambing season over Easter so you get to meet and cuddle lots of baby lambs (over 400 newborn lambs are due to be born). We were lucky enough to see one being born on our last visit. There are baby chicks and bunnies to meet in the Animal Handling area as well as an Easter Quiz Trail too.
Admission applies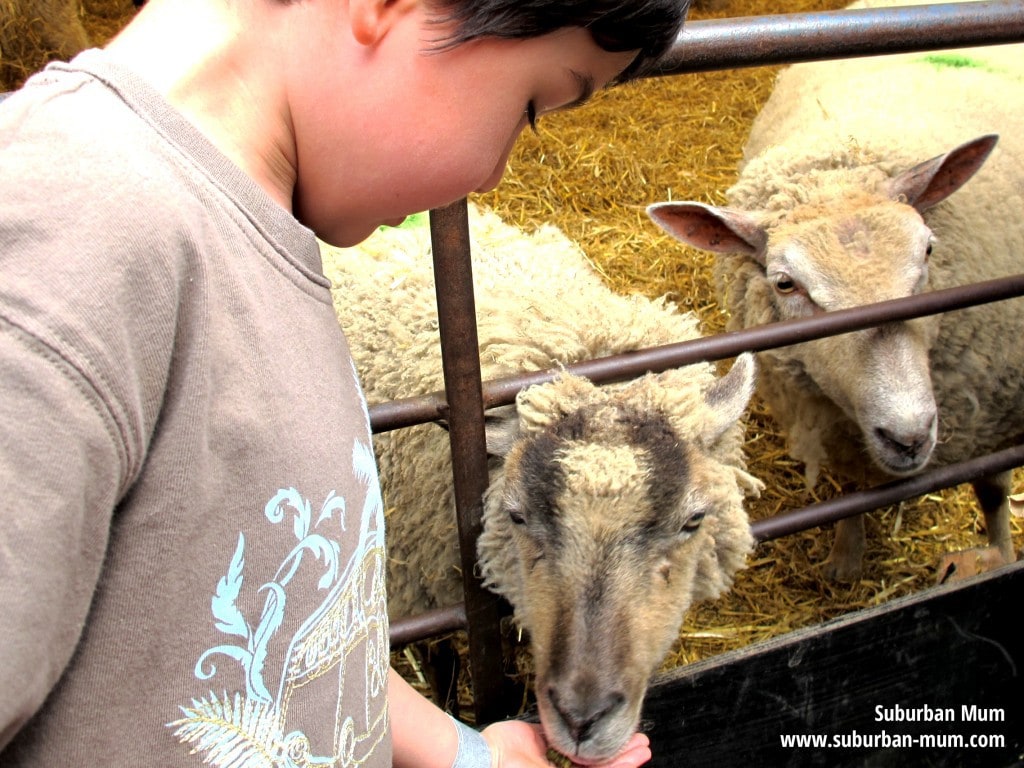 ---
6 – 23 April
Discover some hidden secrets about the museum and find out why the museum is famous. Make engines come alive at the craft table, join in with storytime and you can also ride on the Waterworks Railway and see the Steam Fire Engine in action.
Standard admission to the museum applies. Book online in advance and save 10%
---
6 – 22 April
Spend a family day out at Wisley. There's plenty to do over the Easter break with a Rhyming Rabbit Easter Trail, Storytelling and Arts & Crafts. You can also plant 'Bunny Tail' seeds to take home and t he wonderful Birds of Prey display will be visiting on 21 April too.
We love Wisley at this time of year. There is so much open space for the boys to run around. Make a day of it and pack a picnic with you.
Normal garden admission applies. You can save 10% if you book ahead online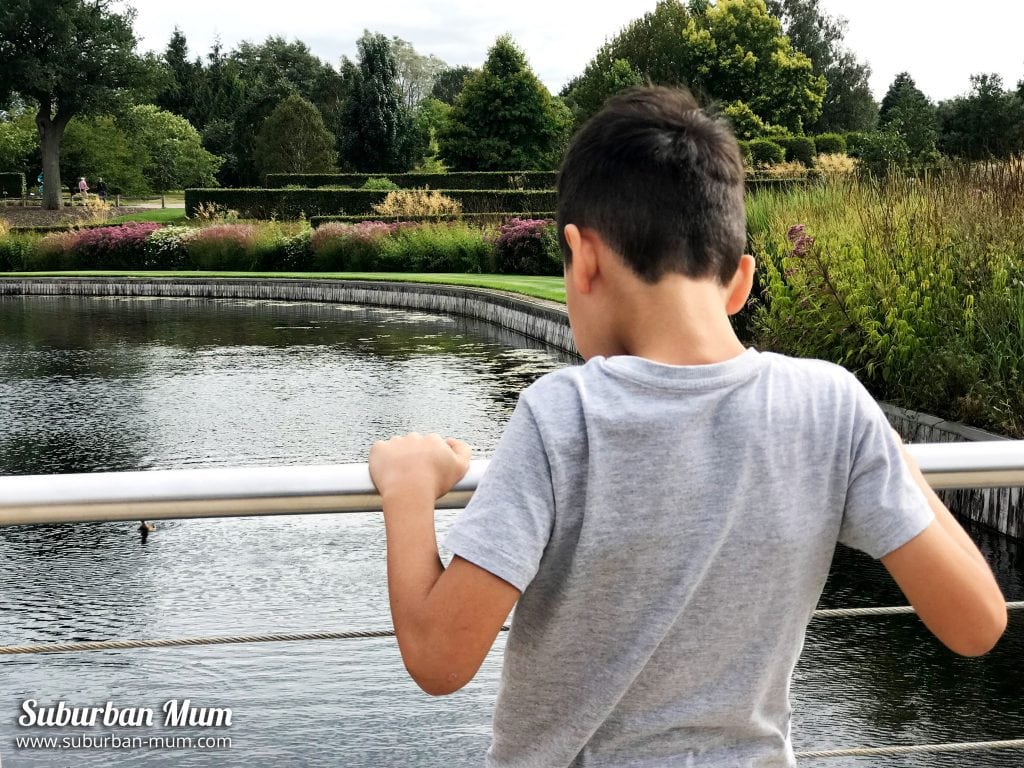 ---
6 – 22 April
Hunt for the 10 lost bird feathers around the garden and be rewarded with an Easter egg. You can also enjoy an egg and spoon race in the gardens and arts and crafts in the Education Room.
£3 per hunt inc. egg Admission applies
---
6 – 22 April
Solve the clues around the gardens and be rewarded with a Cadbury's Easter Egg. Two trails available, one for under 5's and one for over 5's.
Normal garden admission applies. Egg hunt costs £3 per child.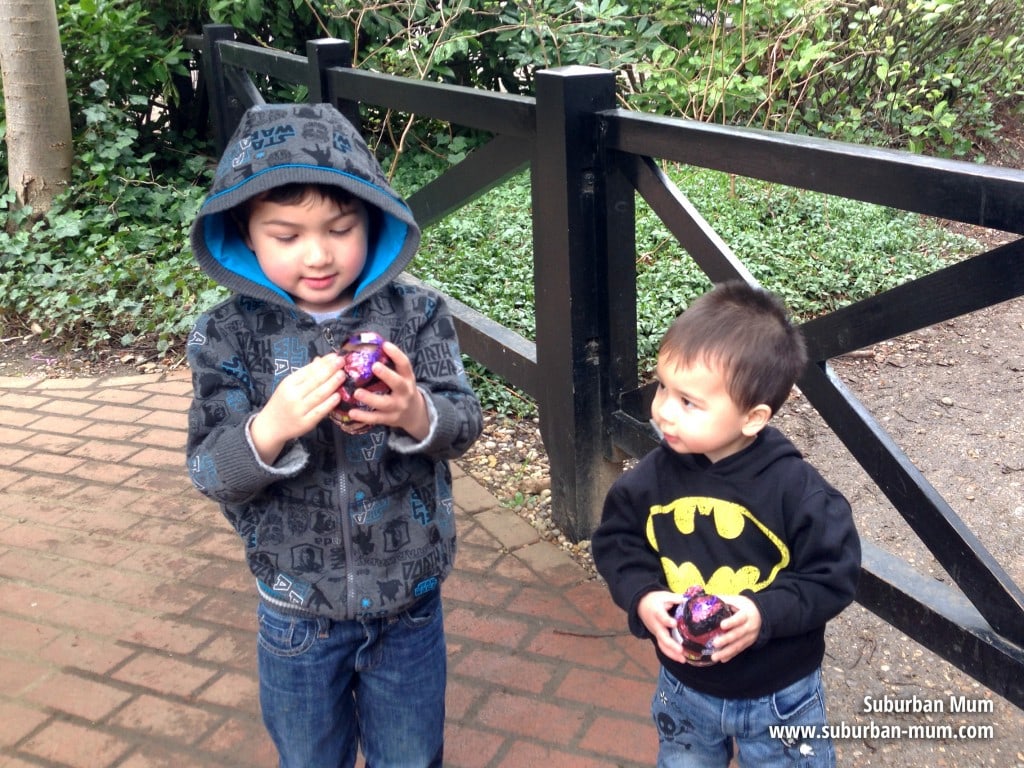 ---
8 – 18 April
I love taking the boys to Squire's in the holidays as they always have some kind of activity to do. This Easter you can plant a stylish bucket or watering can with plants and decorate with stickers for £6. You can also pay £2 to take part in the Spring Hunt around the centre where look for clues to find the magical word. You'll be rewarded with a chocolate pizza slice for your efforts!
Available at your nearest Squire's Garden Centre
---
8-12 April
There is zooming good fun to be had at Brooklands Museum this Easter! Car rides are operating daily for transport lovers, you can even take a trip in a vintage-style car or ride on a traditional double-decker bus. Hunt for clues around the museum on the Easter Egg trail and if that's not enough to keep the kids busy there are kids tours on Concorde.
Brooklands Museum is a fantastic day out for the whole family.
Adult tickets £14.50, children £8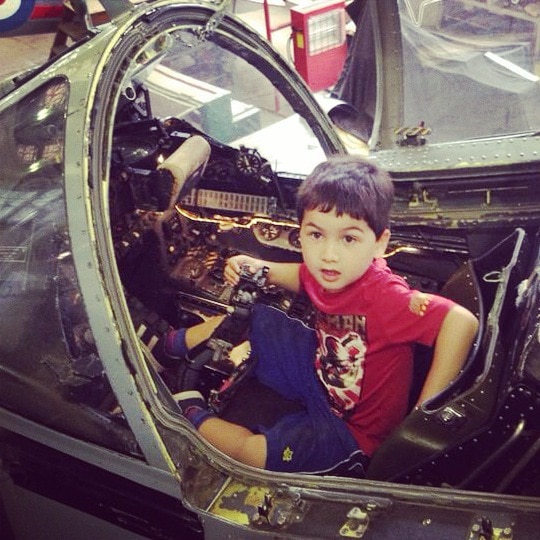 8-11 and 15-18 April
For children who love nature and the outdoors. With Wild Play Days they'll be exploring the woods, building shelters, creating woodland art and more.
£30-£35 for the day. Suitable for children aged 7-11
---
8 – 23 April and Easter weekend
With daily puppet shows, traditional games and art activities. You can also join in family Easter Egg Hunt over Easter weekend.
Save 20% if you book online in advance.
Adults £11.20, Children age 2+ £12.00, Under 2's are free.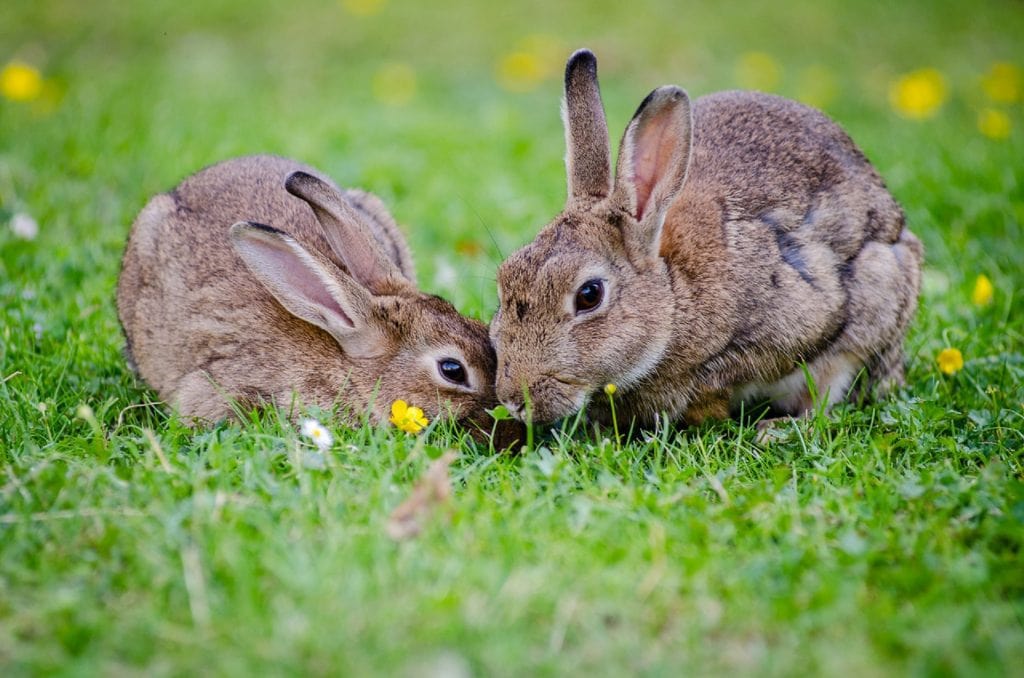 ---
9 April
Let the kids try something unique and spellbinding. Play the infamous magical game of Quidditch the muggle way. Score goals with the Quaffle, disrupt opponents with a Bludger and try and catch the golden snitch!  All Witches, Wizards and Muggles are welcome.
£12.50 per child, suitable for children aged 7-12
---
Robot Workshop, Bourne Hall, Ewell
10 April
Learn to make and create your own robot from scratch.
£8 per child, £1 sibling discount. Booking required.
---
11 and 18 April
Free travel for children aged 2-11 on a round-trip river cruise from Kingston to Hampton Court Palace. Depart Turk's Pier, Thames Side at Kingston Bridge behind John Lewis. The free trip is for a round trip or one-way only.
This is a lovely way to spend a morning. Previously, we have been on the 10.30am boat and took a return trip to Hampton Court and back. We then had lunch in Kingston before heading home.
Departs 10.30am and 11.15am. Adult ticket costs £7 single or £8.80 return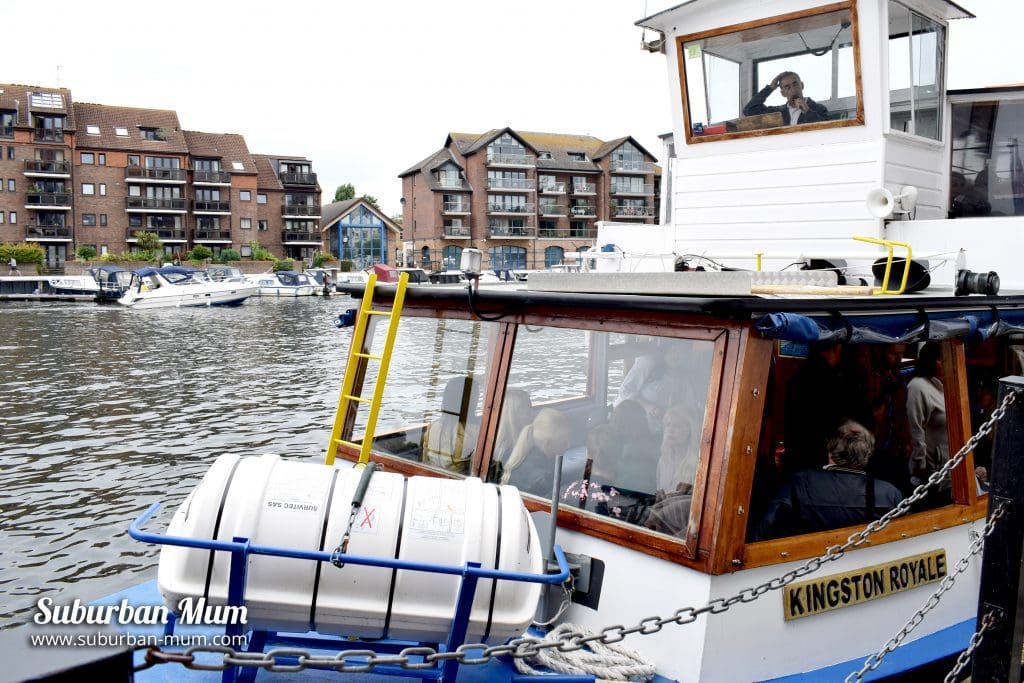 ---
11 April
Learn all there is to know about trees, shrubs and flowering plants with a gardening expert. Take part in an Easter Treasure Trail around the woodland, wetland and apothecary garden. There's also a chance to decorate recycled planters to take home too.
---
11 and 18 April
You can always find something to do in Kingston Town Centre during the school holidays with Thumbs Up It's Thursday. There are many free activities across town from face painting to art and craft and storytelling. Many restaurants also offer Kids Eat Free options too.
---
11-12 April
A yearly tradition at Morden Hall, hire a duck for £2 and race it down the river to see if yours will be the fastest. You can also make a flag to cheer your duck on.
---
15 April
Plenty of fun to be had with activities such as a mini-farm, bouncy castle and face painting at Royal Windsor Racecourse's first ever Easter Eggstravaganza. All entertainment is free and adult ticket cost £14 (or £19 on the gate), kids go free.
---
15-19 April
Join the performance workshop over the Easter Holidays with all-singing and all-dancing rehearsals where you will perform at the end of the in front of your family.
---
18 April
A jam-packed community day of fun at The Sutton Life Centre with an inflatable obstacle course, glow in the dark Easter Egg Hunt, Sports sessions, LEGO building and more.
£5 per child. Accompanying adults and babies are free.
---
19 – 23 April
This used to be the highlight of my Easter holiday when I was a little girl. We loved going there as a family! Tuesday 23 April is a charity day, buy a wristband for £2 and all rides (with some exceptions) are £1 each. Proceeds are donated to The Princess Alice Hospice.
Free entry to the fair, rides individually priced except on Charity Day when all rides are £1 (with some exceptions)
---
19 and 22 April
Enjoy a tasty Afternoon Tea alongside a fun craft activity. You can create your own Easter basket and decorate edible eggs.
Adults £16, Children under 12 £8.50 Advance booking required.
---
19-22 April
Explore Morden Park and search for clues to win a prize.
£4.50 per hunt, you can get 50p off if you travel to the park by bike
---
20 April
A family rave for kids and grown-ups alike. With face painting, UV lights, bubbles and more!
Adults £12, Children £10. You can save £2 with Early Bird prices.
---
20 April
Meet baby farm animals at the petting zoo, take part in the Easter Egg trail and try your luck in the raffle/tombolas. There's also games and activities and an Easter shopping market.
£3 per person, under 3s are free. The Easter Egg Trail is an additional £4.50 per person.
---
21 – 22 April
Search for Walpole's lost treasure hidden around the garden and be rewarded with a chocolate egg.
£2 per child
---
Activity Camps are a great way to keep your kids active. Fit For Sport run camps across Surrey in schools and leisure centres. Take a packed lunch, bottle of water and snacks and they'll be set for the day.
Sessions start from £22 per child for a standard day (9.30-4.30) Extended days and half days are also available.
Read our review of Fit for Sport here
---
21-22 April
This is a great afternoon out for the whole family. Ride on lots of different miniature trains that are made to scale in great detail. You can even take a picnic and take advantage of watching the trains chugging along whilst you eat!
Admission from £2.50 for a single ride, Afternoon tickets £7.50, Family ticket £27.50