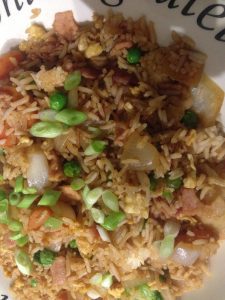 This easy fried rice dish started out years ago because I had to rustle something together with leftovers from the fridge and freezer. It's now become a firm
favourite in our household! All quantities are approximate I'm afraid as I do this by eye.
I use rice from a rice cooker but you can cheat and use Uncle Ben's or cook up your own. You will also need a frying pan and wok.
The quantities below should easily serve 4.
Easy Fried Rice
Ingredients
2 cloves of garlic (crushed)
Inch cube of ginger (grated or chopped)
2-3 eggs (whisked in a bowl)
Pre-cooked white rice for 4
1 onion (chopped)
Pack of unsmoked bacon (optional)
2-3 handfuls of frozen veg (I use farmhouse vegetables as it's nice and chunky)
A handful of frozen peas
Soy sauce (2-3 tablespoons/or enough to suit your taste)
Olive oil
Spring onions (chopped)
Method

Firstly, cook up your eggs in your frying pan so they are scrambled and leave to one side.
Then put a splash of olive oil into your pan and fry up your bacon or any other meat (if using) drain away any fat and then add in the chopped onions and fry for 5 minutes. Add in the garlic, ginger frozen veg, peas and soy sauce. Cook until the veg starts to soften (about 10 mins or so)
Whilst you are waiting for this to happen, take out your wok and add in a splash of olive oil. Make sure the wok is hot and put a quarter of the cooked rice in and also a quarter of the scrambled egg.
Fry for a few mins before adding in a quarter of the veg mix from the frying pan and mix it all through.
Repeat this process three more time times with the rest of the egg, rice and veg mix until everything is mixed together.
Cook until the veg is cooked through and everything is hot/ Dish up into plates/bowls and garnish with spring onions and serve.
Enjoy!
Pin it for later: