Being outnumbered by boys in my household you can well imagine the type of toys we have. They evolve around "transport" a lot. Trains (SO many trains), Fire Engines, Aeroplanes and their current favourite Racing Cars!
I first heard about Anki OVERDRIVE when Mr H sent me a YouTube video telling me that we "had" to buy it when it was released in the UK. After watching the video I was in agreement because it looked awesome and so much fun! We both loved slot car racing when we were children and Anki looked to have updated it for the modern day.
Fast forward to the Summer holidays and we were very lucky to not only be invited along to a pop-up event at Westfield London to check out this amazing racing game first hand, but we were also sent the Anki OVERDRIVE Family bundle to review too.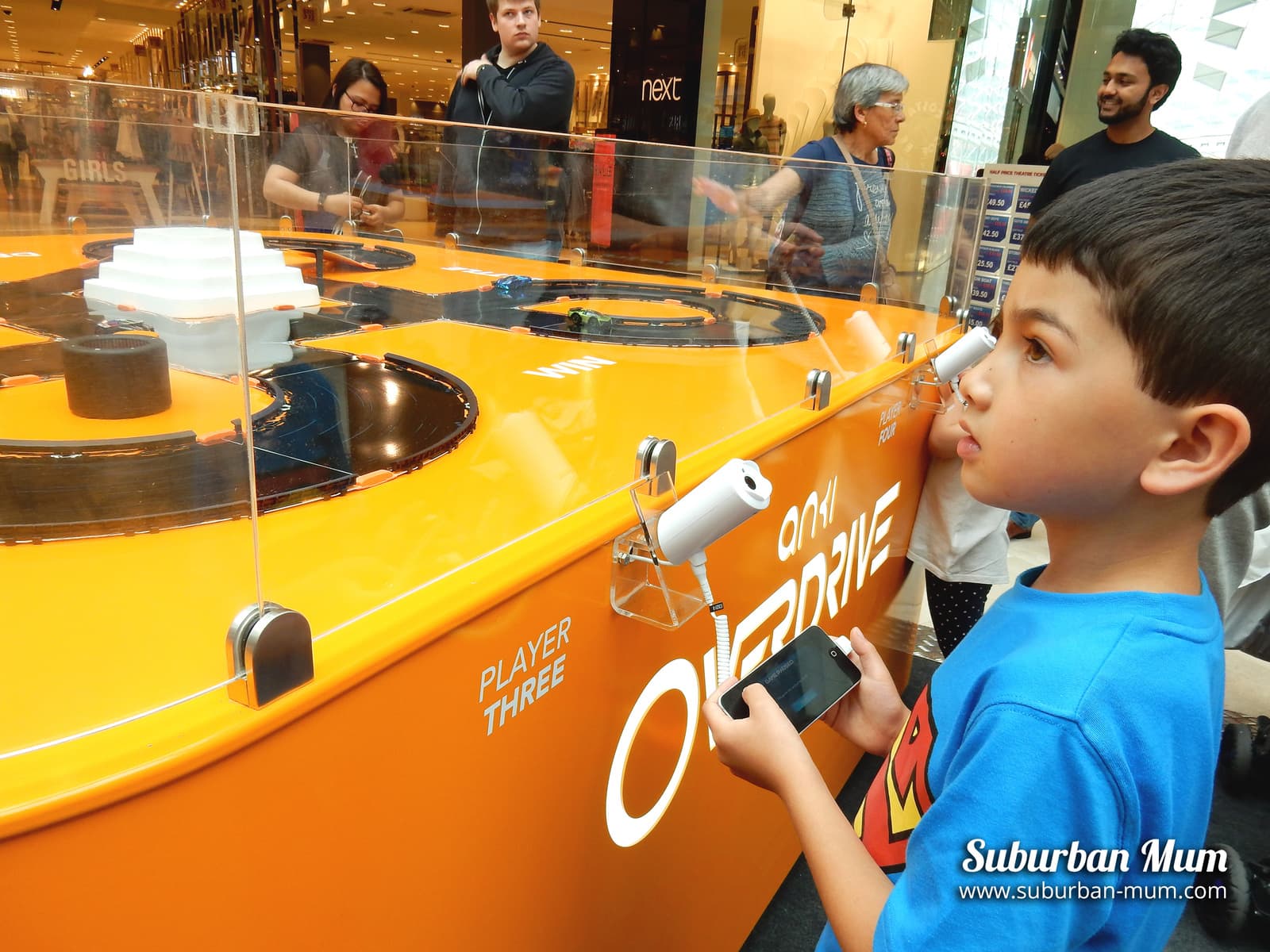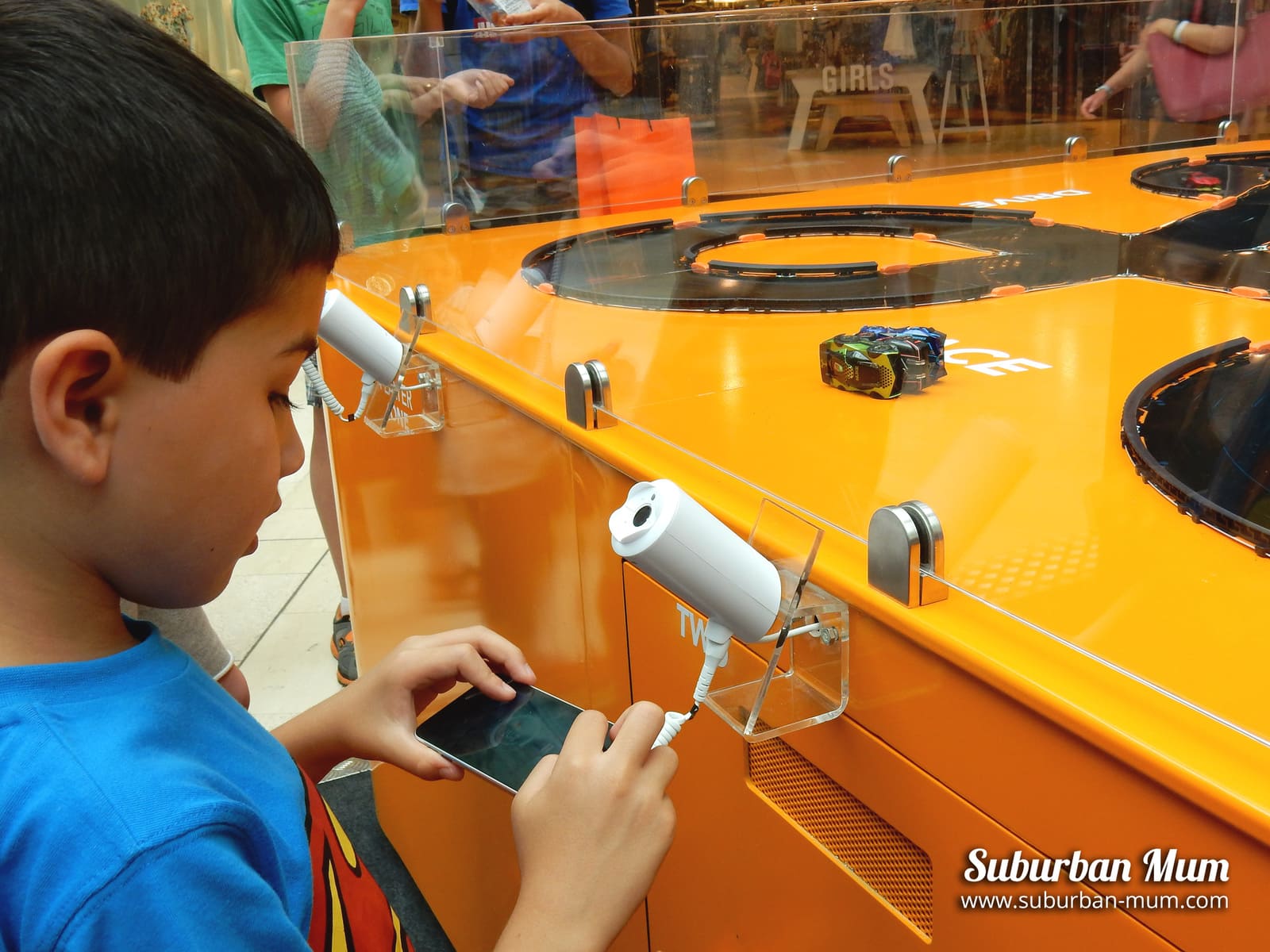 What is it?
Anki OVERDRIVE is essentially a super cool racing game where you can race either against the "computer" or with each other on track pieces that are held together magnetically.
What's in the box?
The family bundle comes with the following:
Starter Kit (4 straight pieces, 6 corner pieces, 2 cars, 3 accessories)
Corner kit (2 corner pieces)
Speed Kit (2 straight pieces)
Launch Kit (2 cars: Thermo and Nuke)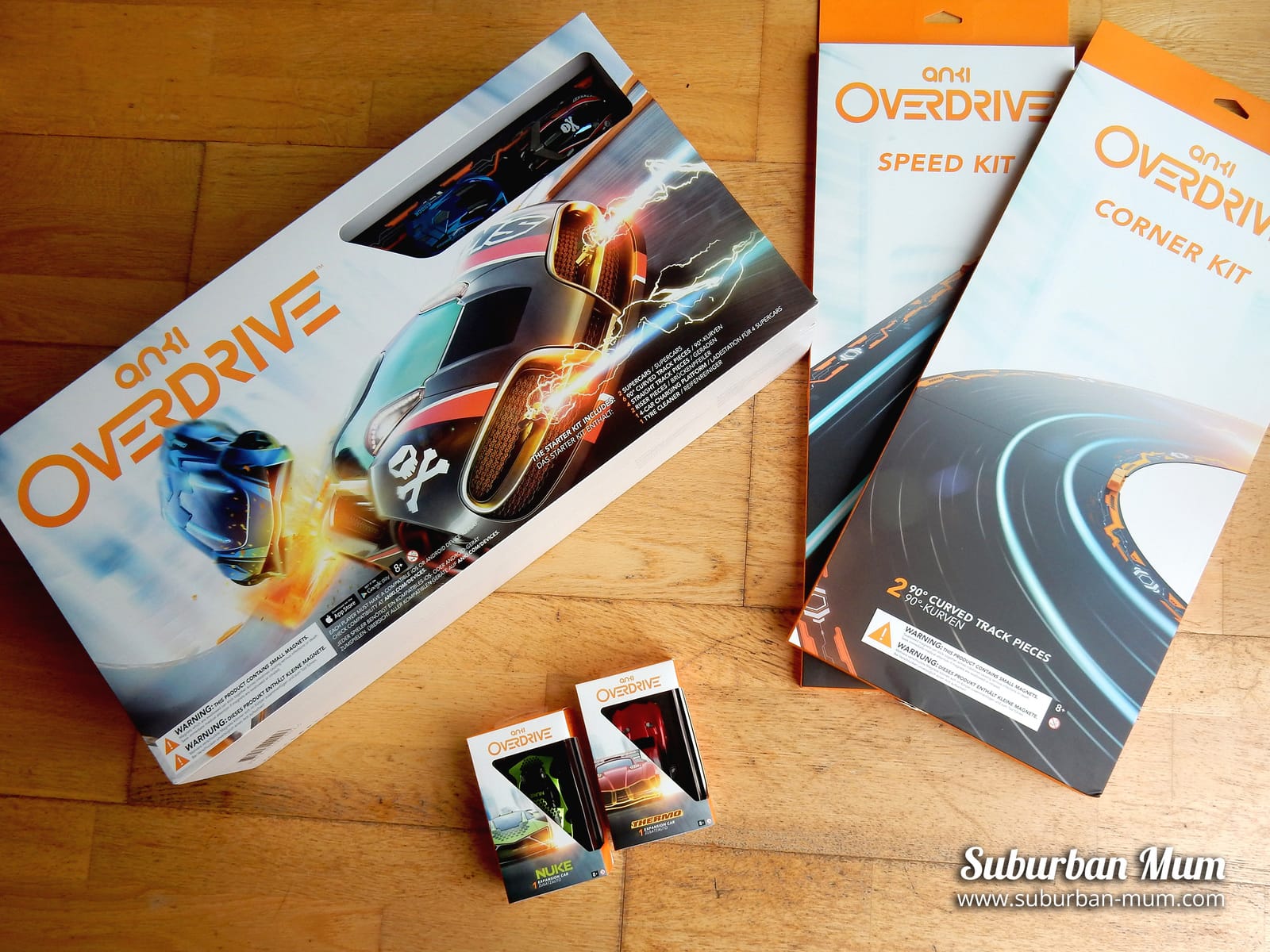 How does it work?
The interchangeable track has infrared technology that each car scans before the start of each race. This means you can create a racetrack in any shape or size to suit the size of room you are in. Cars are controlled via an app either on your smartphone or tablet (the app is available both for iOs and Android) where you tilt your screen to move the car from left to right on the track. After downloading the app you can customise the look of your "commander". You can then match them to a car of your choice. Each car has their own personality and driving style and when matched with different commanders creates a unique style of driving.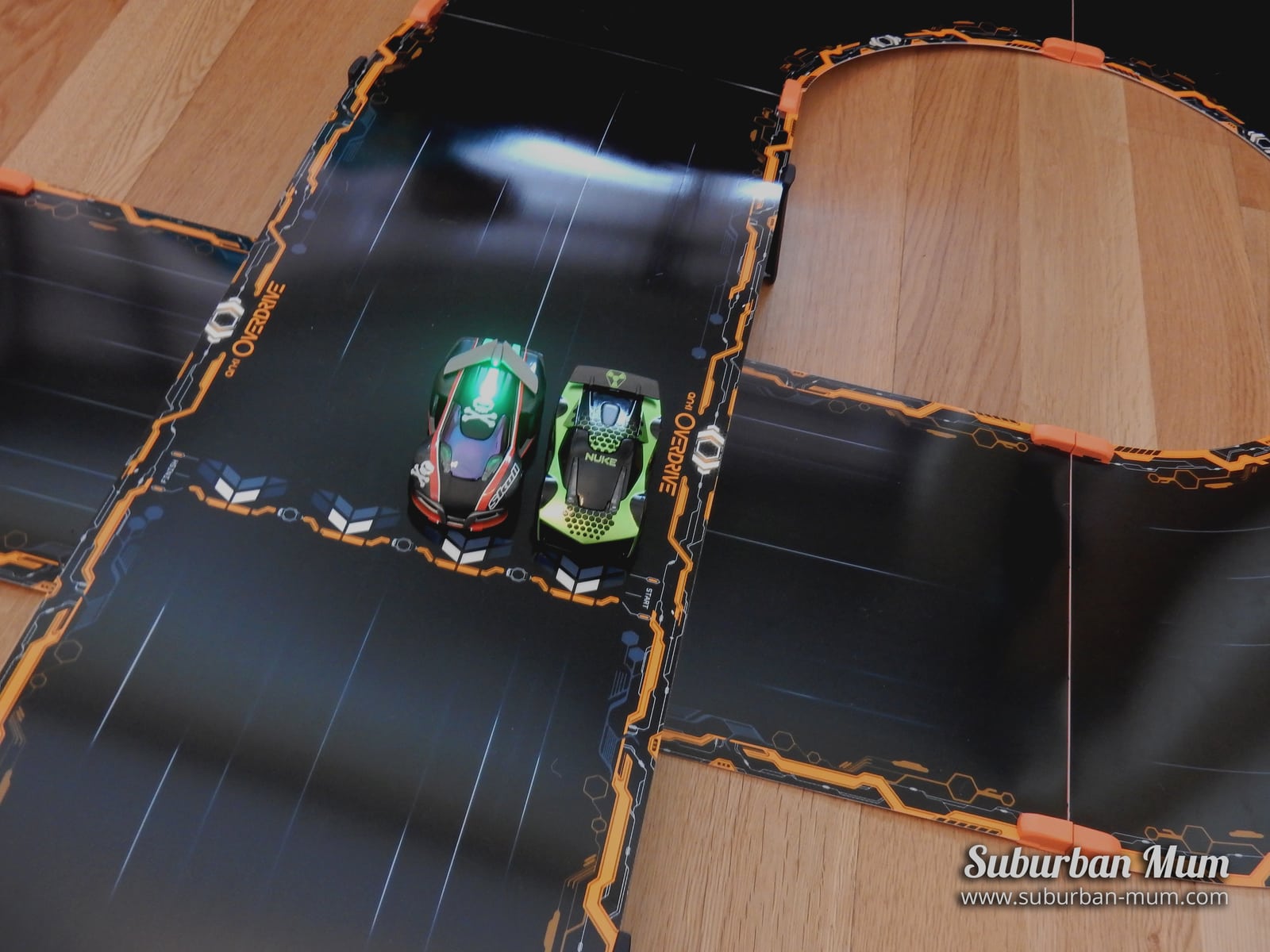 Gameplay
There are currently four different modes of play – Race, Battle, King of the Hill and Time Trial. The beauty of it being an app is that it can be updated and added to at any point. The app allows you to earn bonuses through racing so you can earn powerups and weapons for your car too.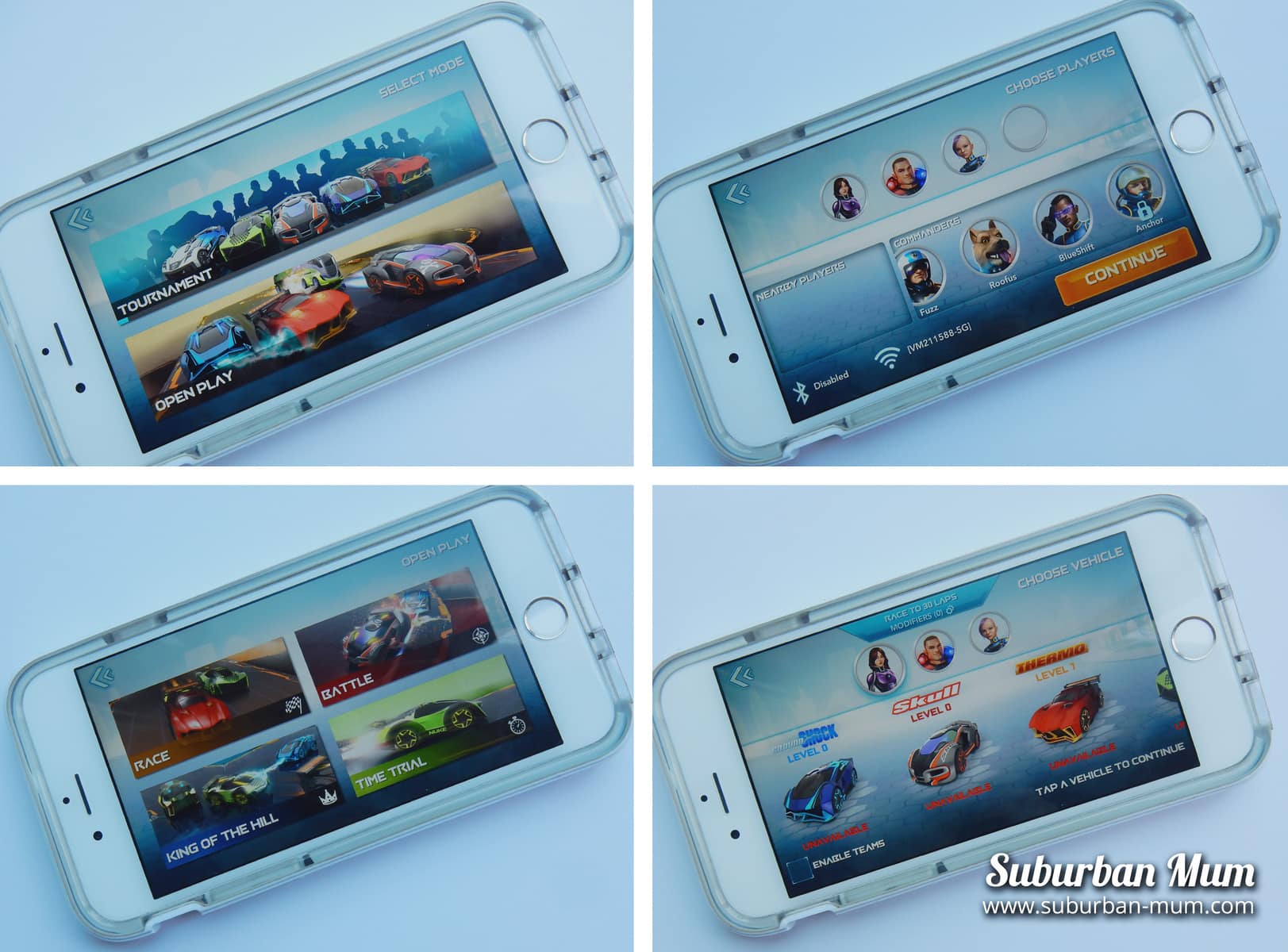 The boys were only interested in the Racing mode so this was our most popular option when playing. The cars need to be pre-charged before you use them, it takes around 5-10 minutes to fully charge them and they last around 20 minutes before needing to be charged before use again.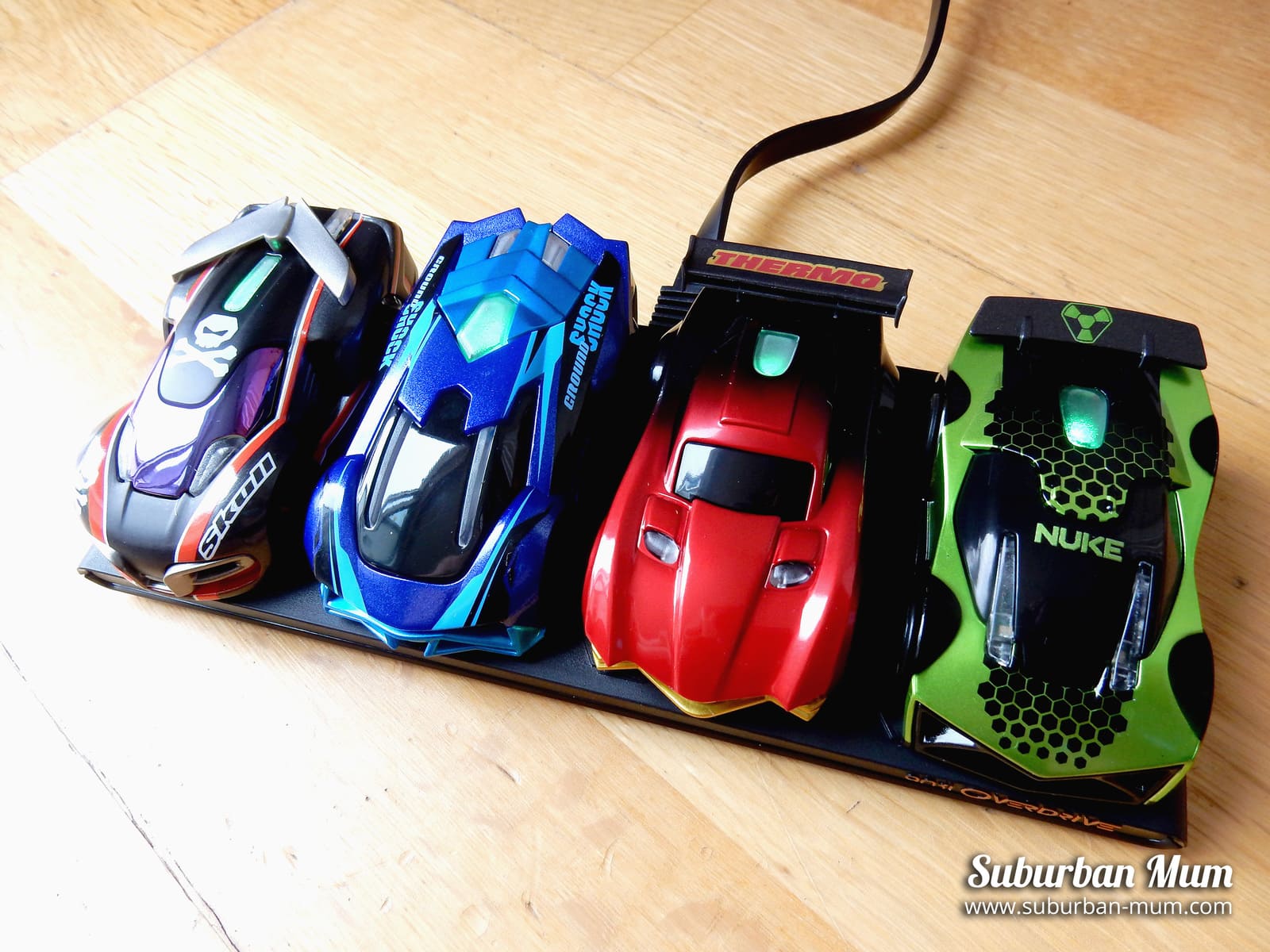 What did we think?
We absolutely LOVE Anki OVERDRIVE. As a family, we are all hooked on it. It's one of those games where you can really get competitive about winning. We have spent many a Sunday afternoon setting up a track and racing against each other and have literally had hours of fun with it. E has really gotten into racing cars recently so this has just fuelled his passion for it even more.
Things we loved
Racing four cars in one go
Using sneaky tactics to "knock" other racers of the track
The freedom to create any combination off race course
The design and look of the cars
Check out the video we made and see the track in action
The Anki OVERDRIVE Family Bundle costs £299 and although it is expensive I think it is worth every penny. (The starter kit is priced at £149.99 and comes with two cars and 8 track layouts) Adults are set to enjoy it as much (if not more) than the children and I do think it would make a fantastic gift for a birthday or Christmas. This could be something a family could club together money for. If you love slot car racing I do not think you will be disappointed.
Anki OVERDRIVE is available to purchase on the Anki website.
*We received the Anki OVERDRIVE Family Bundle in exchange for this review. All opinion are honest and my own.