Christmas is simply not Christmas without a visit to see Father Christmas when you have kids. We've been to our local garden centre, Chessington World of Adventures, Painshill Park as well as the infamous Lapland UK too. Each brought a different experience.
This year, we were invited to the Santa Spectacular at Willows Activity Farm in Hertfordshire. I've heard so many good things about Willows Farm and had been meaning to visit for ages so what better a time to go than to see the big man in red.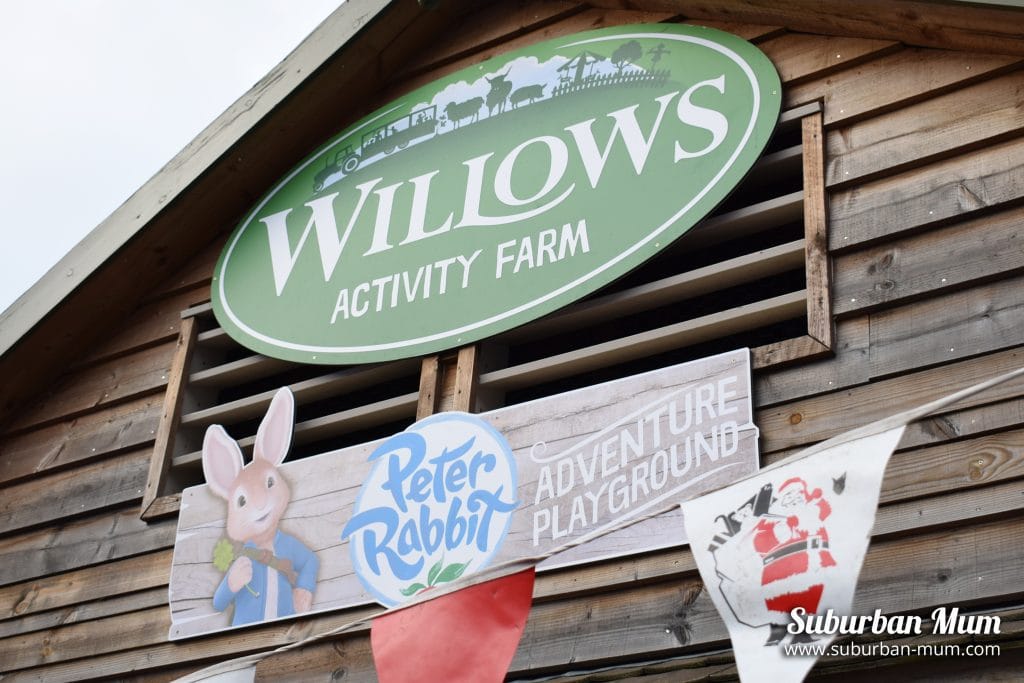 Willow Activity Farm is about an hours drive from South West London and is super easy to get to via the M25. We arrived shortly after midday on probably the busiest weekend before Christmas. The boys were super excited and had brought their letters along with them to give to Santa.
On arrival, you're given a map, a list of the Christmas activities at Willows Farm that are on during the day and tokens for seeing Father Christmas and for the Create-a-Cuddle workshop. The boys also received an Elf passport each where they could get stamps for completing activities.
Tristan the Runaway Tractor
After having a quick walk around, the boys decided they wanted to hop on the Runaway Tractor in the Festive Wood. You're given bells as you board and get to sing-along to Christmas songs as you go through the woods. It really got us all in a Christmassy mood!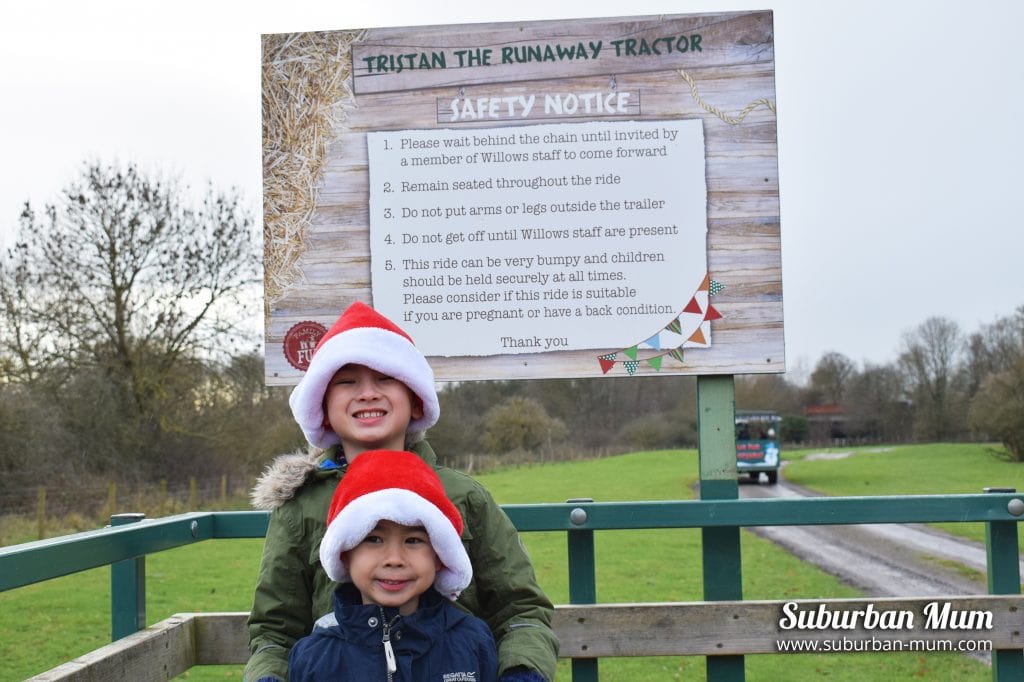 Food
Food was next on our agenda as lunch was calling. The Cafe sold hot food such as burgers and chips, as well as sandwiches and drinks. We bought lunch for the four of us for just under £30 which I think was very reasonable.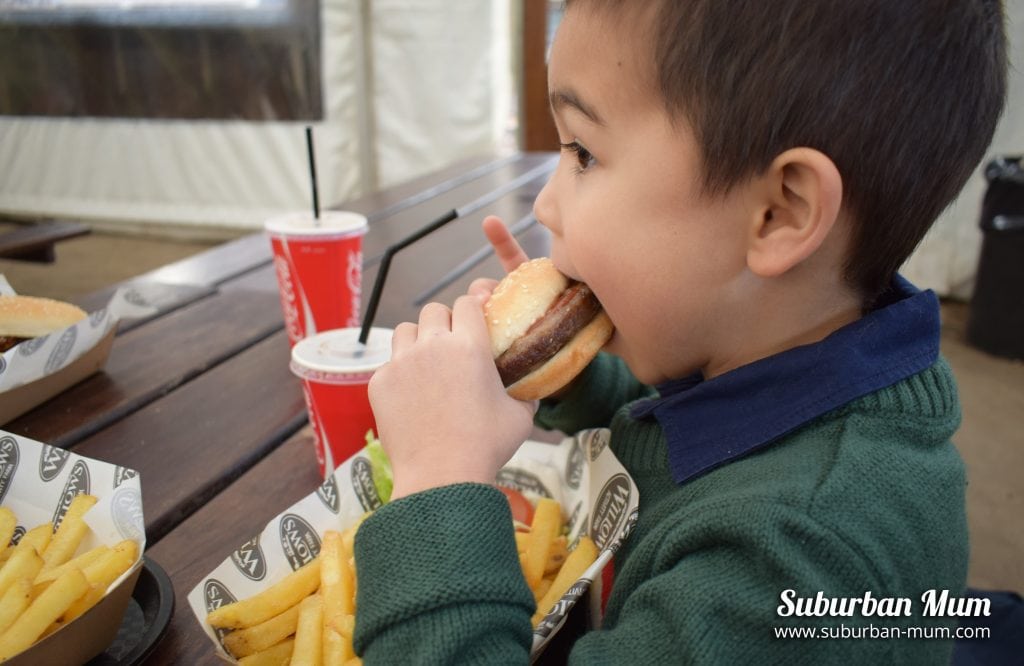 It began raining a little after lunch, so we decided to walk over to the 3D Film section. It was a short Christmas themed show which had presents jumping out thanks to our 3D glasses – the boys seemed to really enjoy this.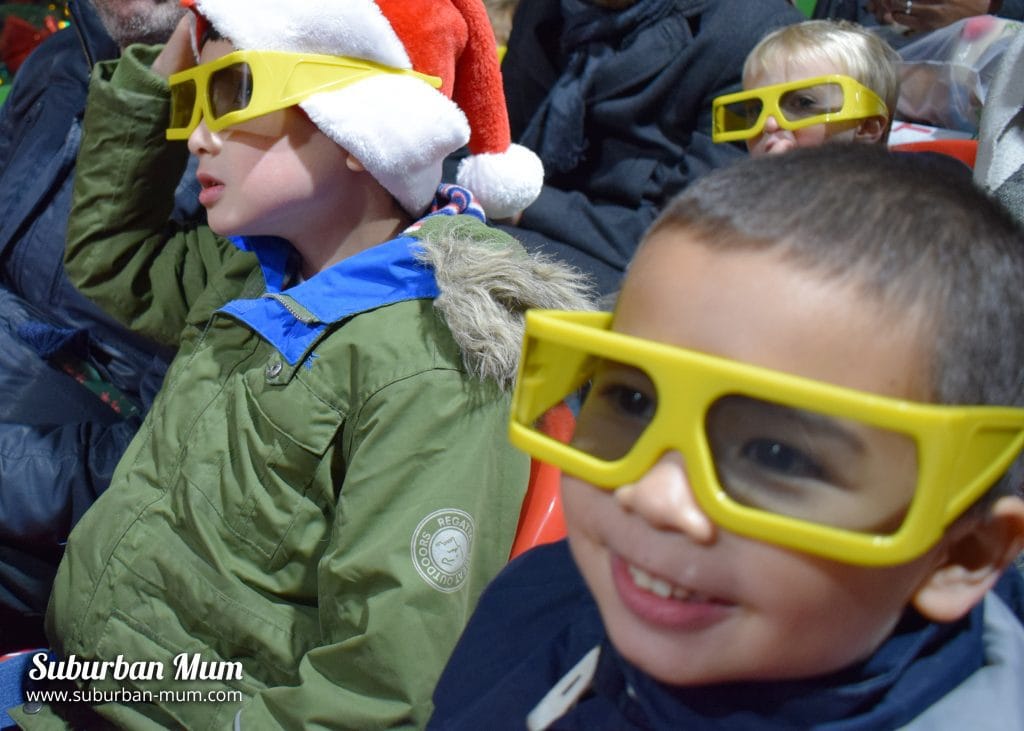 Visiting Father Christmas
Unlike other places, when you book tickets online for the Santa Spectacular you can't choose a time slot. You simply join the queue and wait your turn.
There was a rather big queue when we arrived so we decided to do some other activities first and rejoined the queue when it was a little quieter.
The route to see Santa is decked out beautifully with festive displays. There's also a shop en route where you can buy snacks and drinks. We took advantage of this and ordered hot chocolates to warm our tummies whilst we waited.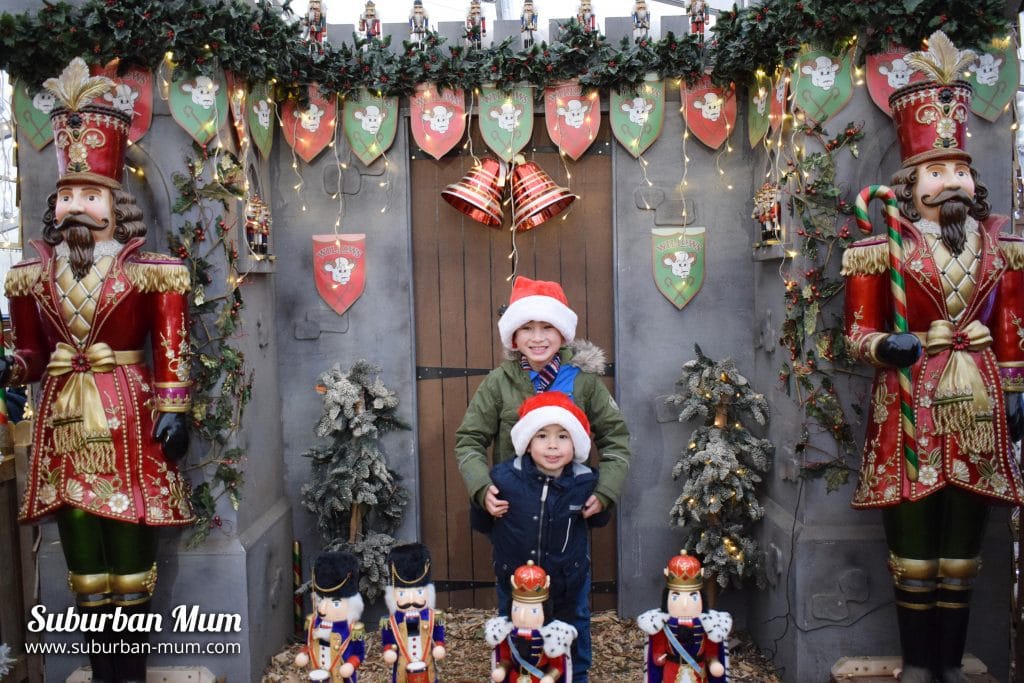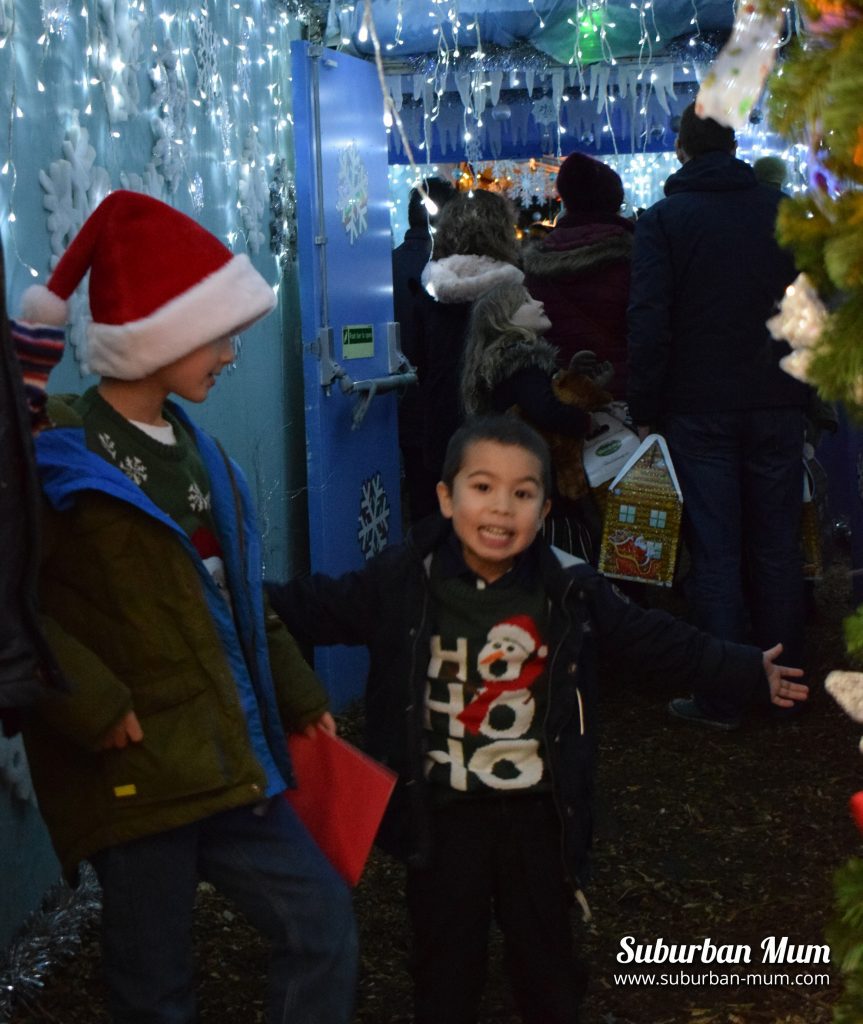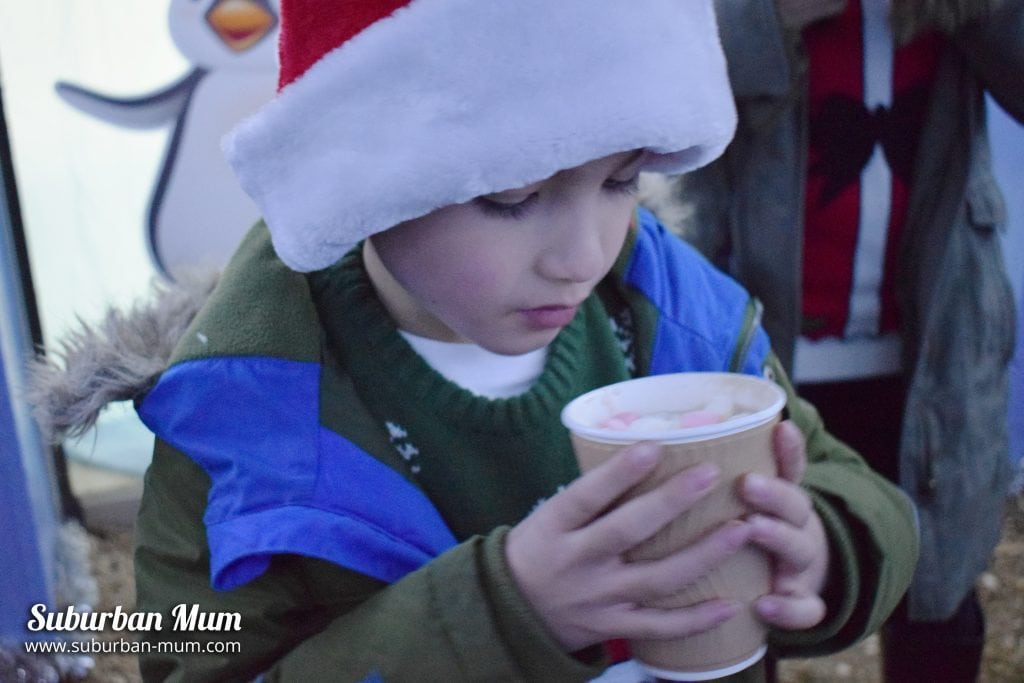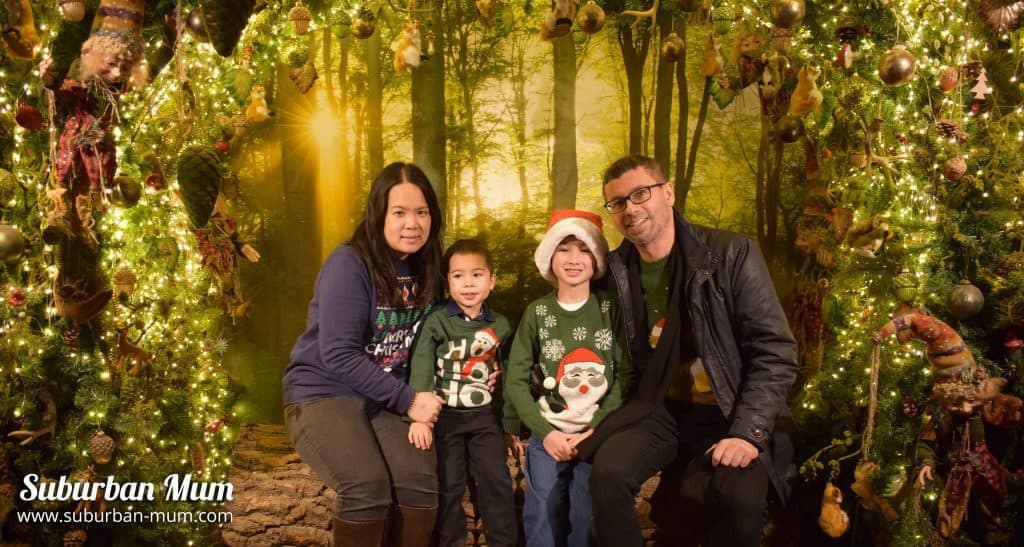 Before we knew it, it was our turn to see Father Christmas. The boys had a good old chat with him and handed him their letters, promising to leave him a mince pie and glass of milk on Christmas Eve. As they both made the nice list, they were given a special key to his toy workshop where they could choose any item of their choice.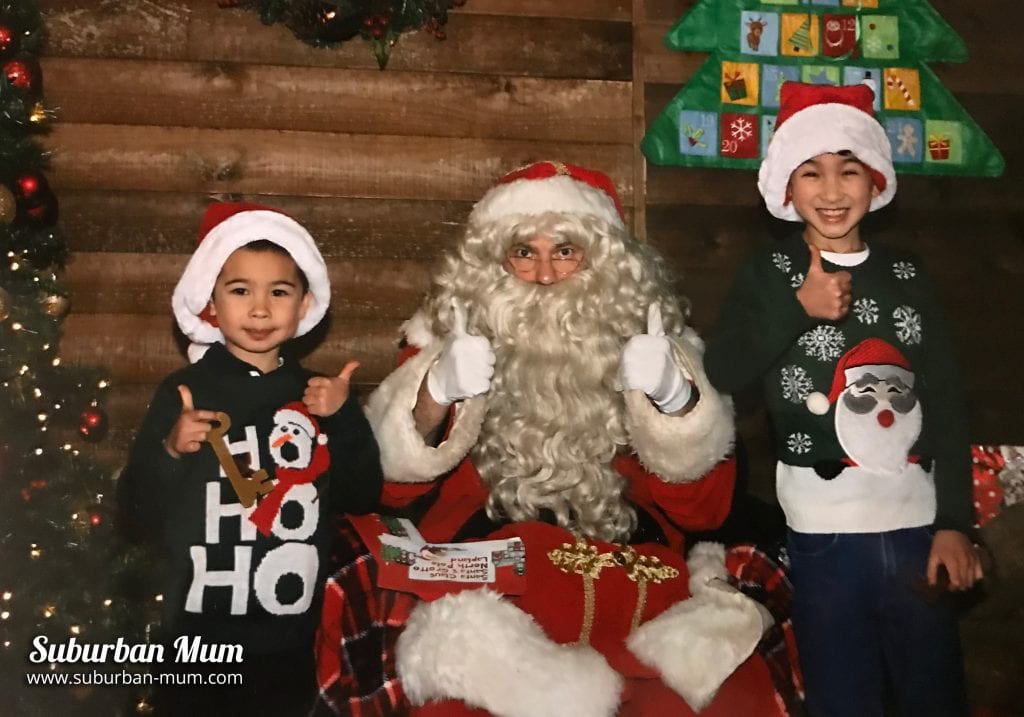 The boys informed me that this was the best part of their day, There were so many toys to choose from that they took a while deciding what they'd like, but they loved the fact they had the pick of the toy workshop. It beats being given a present that they might not like any day.
Create-a-Cuddle Workshop
Next up, we headed over to the Create-a-Cuddle workshop where the boys were given their own reindeer soft toy to stuff and take home. After having just been given a present from Father Christmas they were overjoyed when they found out the reindeers were for them to keep too.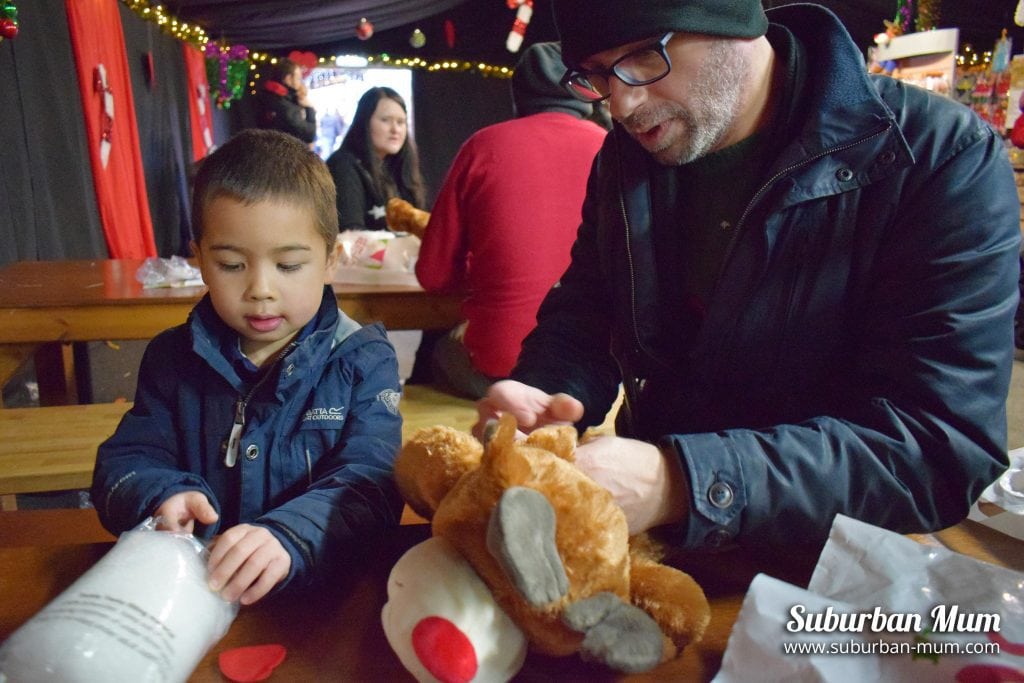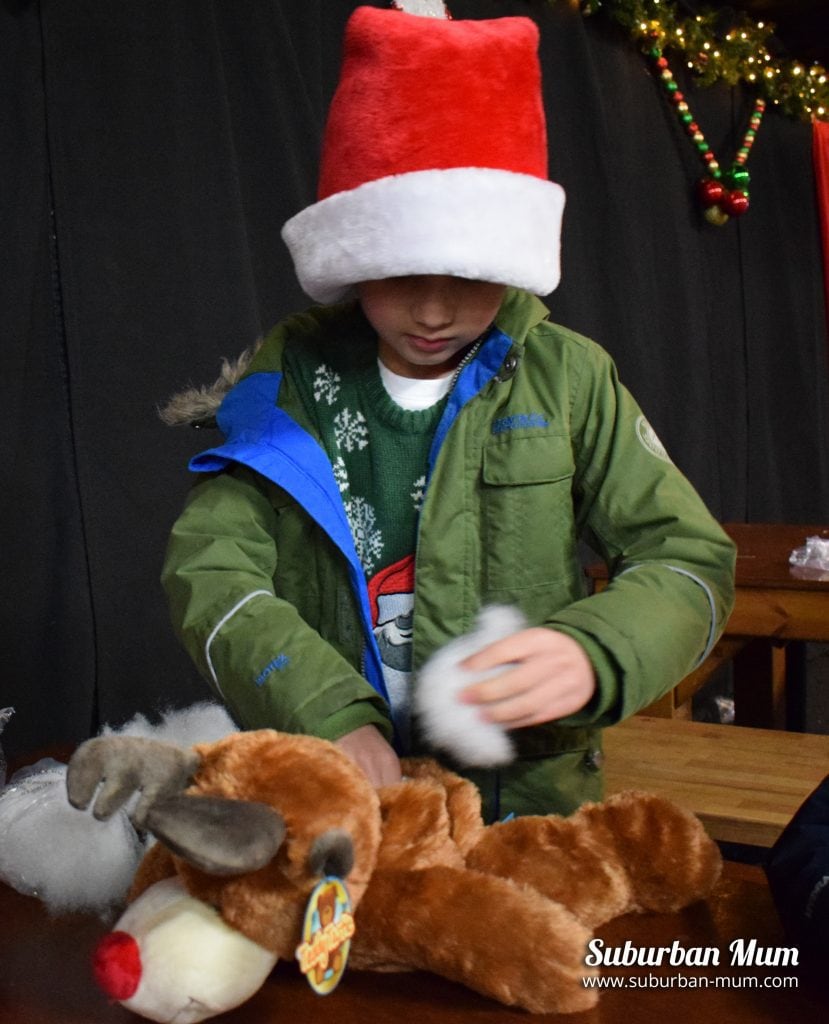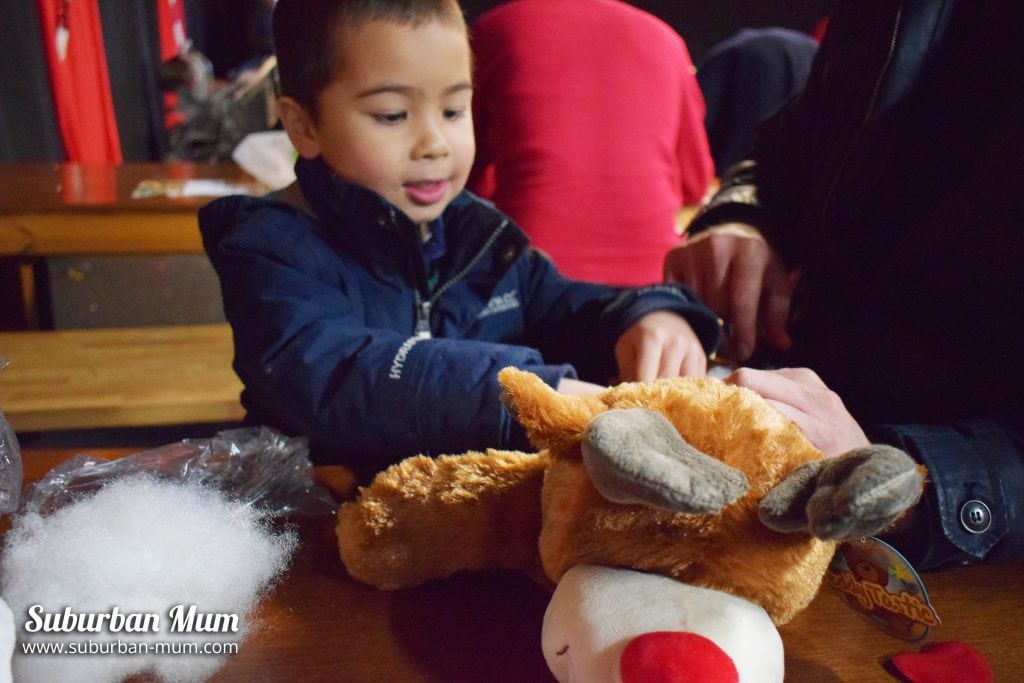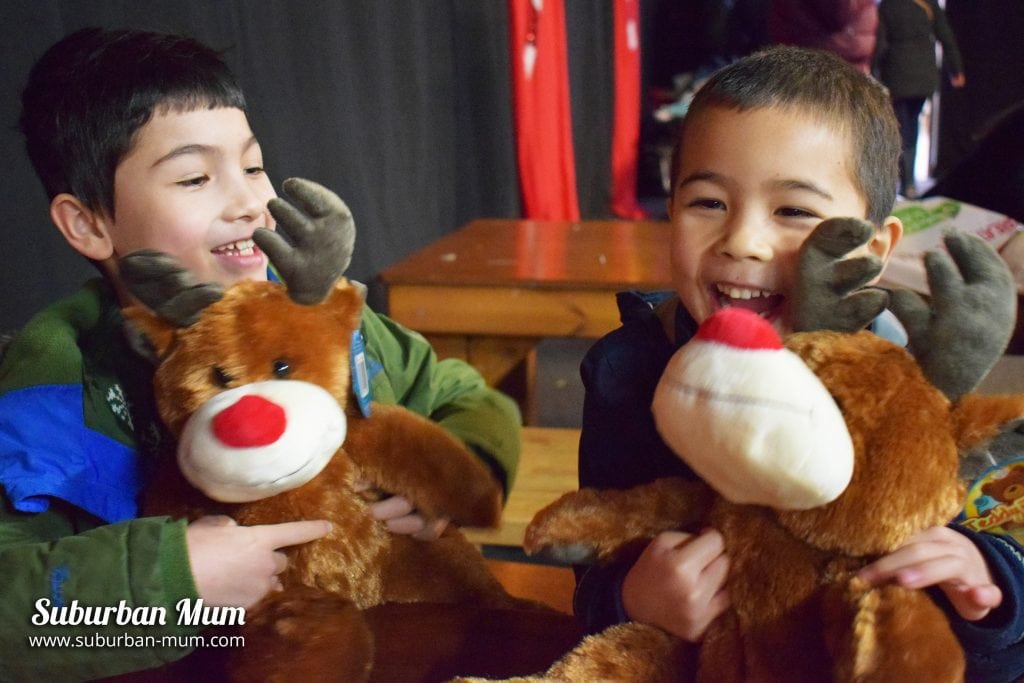 I loved the fact that this was included in the price of the ticket as the Reindeer toys were worth around £15 alone. They came with a naming certificate and a gift box to put them into too.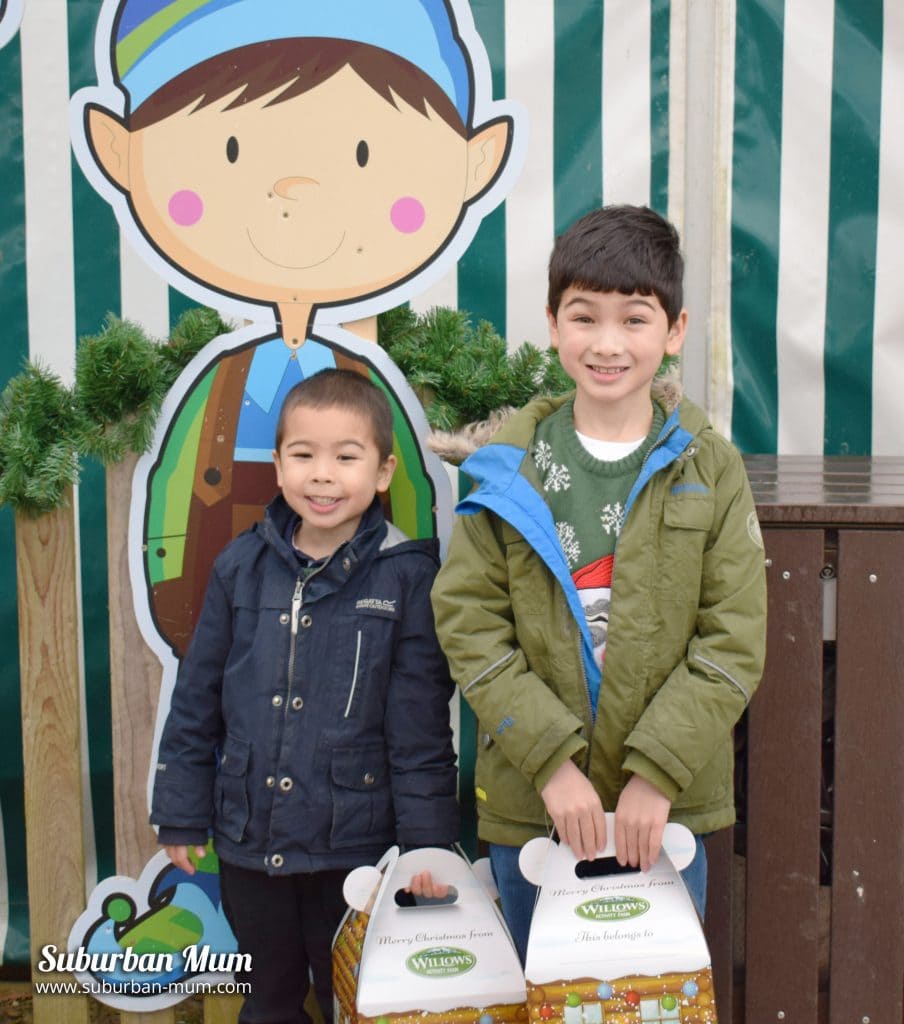 Overall, we had a fantastic day at Willows Farm. There were so many activities to do that we didn't get around to all of them.
I'd have liked to have given ice skating a go but we did have time to see the reindeer, have a go on the festive funfair rides and the adventure playground before heading home.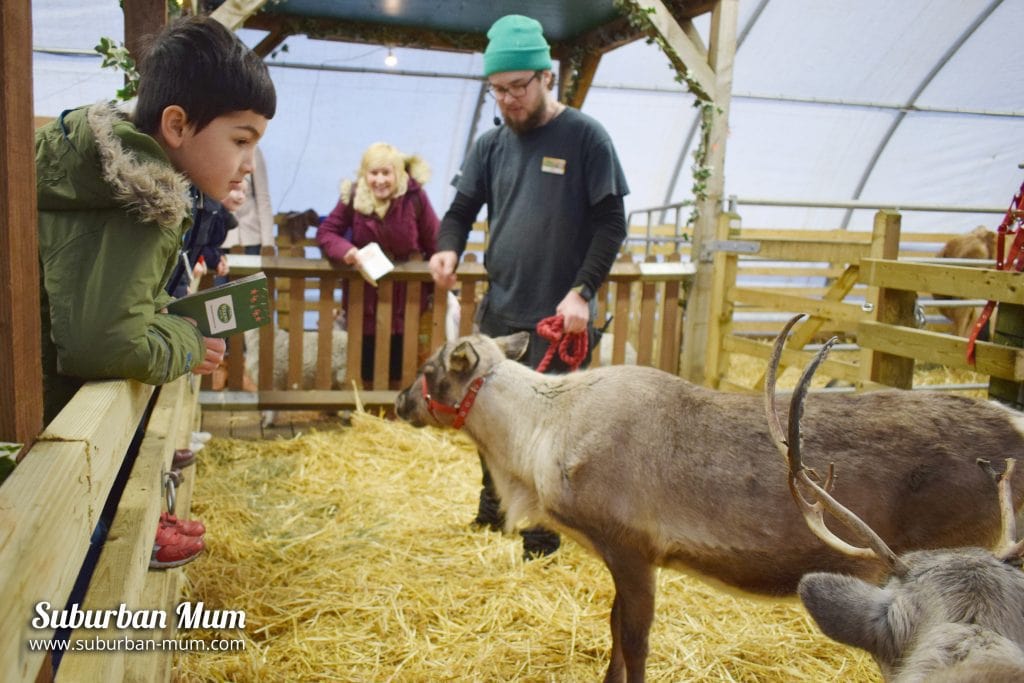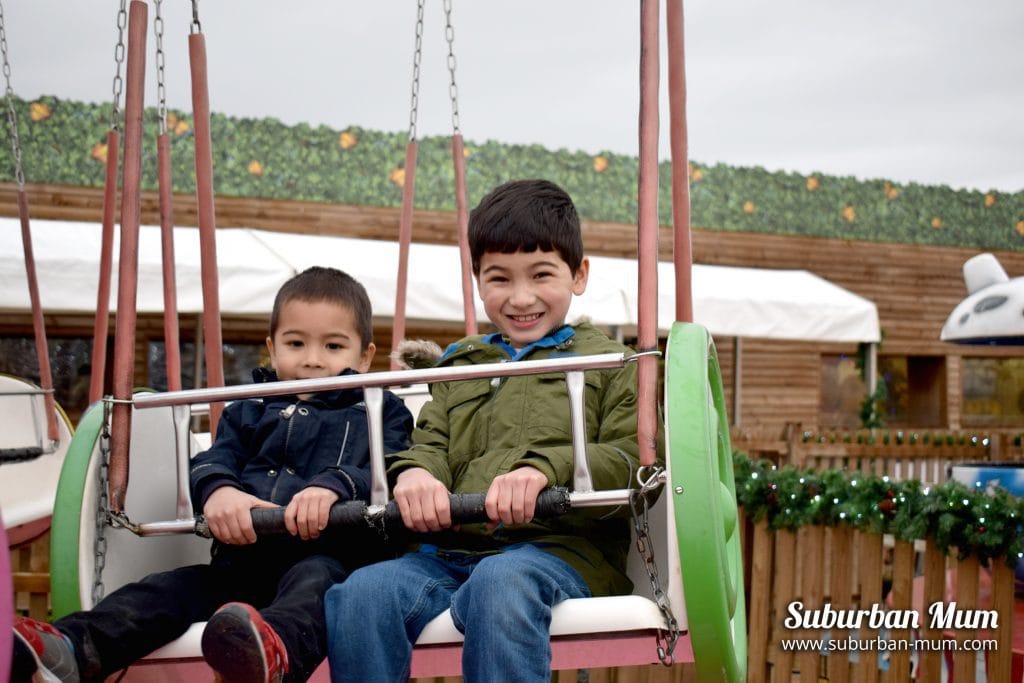 We thoroughly enjoyed our first Willows Farm experience and cannot wait go to back. The Santa Spectacular is on until 24th December and you can still book your tickets online or turn up and purchase on the day. It costs just over £100 for a family of four but apart from food, all activities such as the fairground rides, ice skating, present from Santa, 3D cinema and the cuddly toy from the Create-a-Cuddle workshop is included in the price.
If you've already been on your annual visit to see Father Christmas this year, it's well worth bearing this in mind for 2018. We LOVED it and can't wait to go back.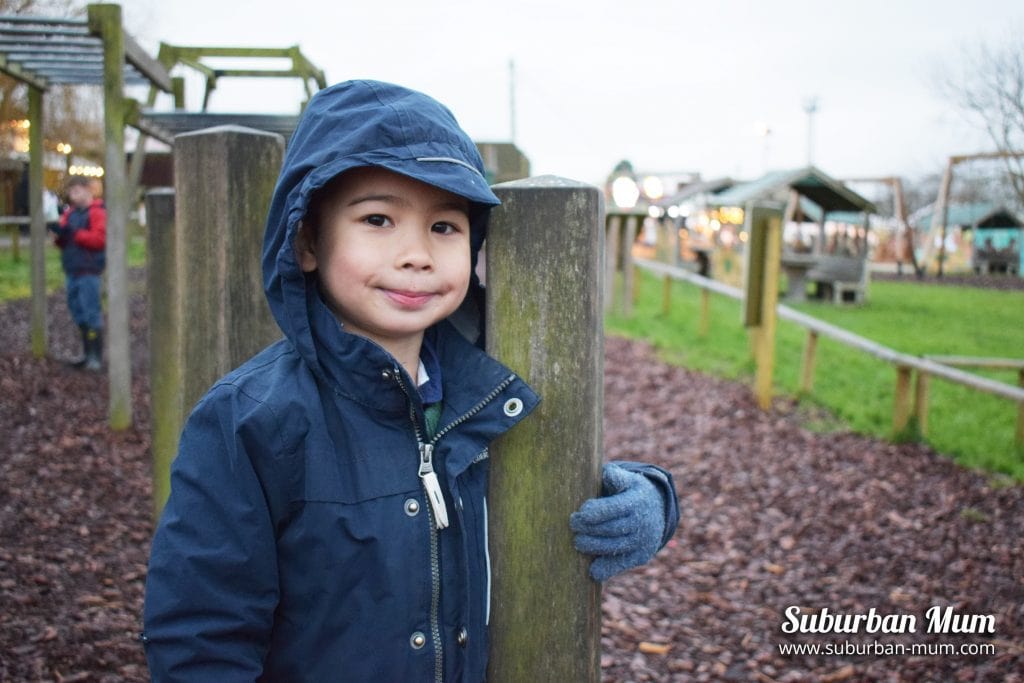 *We were invited to the Willows Farm Santa Spectacular for the purpose of this review