When you have kids, before Halloween is even over they are talking about Christmas. SO.MANY.QUESTIONS. How long until they get their advent calendars. When do the elves come to visit and so on and so on. Then there's the talk of all the things they would like for Christmas and having to remember to take note of the correct products. It's hard to keep up when their list changes on a daily basis.
If you are still looking for inspiration and ideas on what to buy for the kids – take a look at my gift guide below.
Board Game Fun
If your family is anything like mine, board games will feature quite heavily over the Christmas break.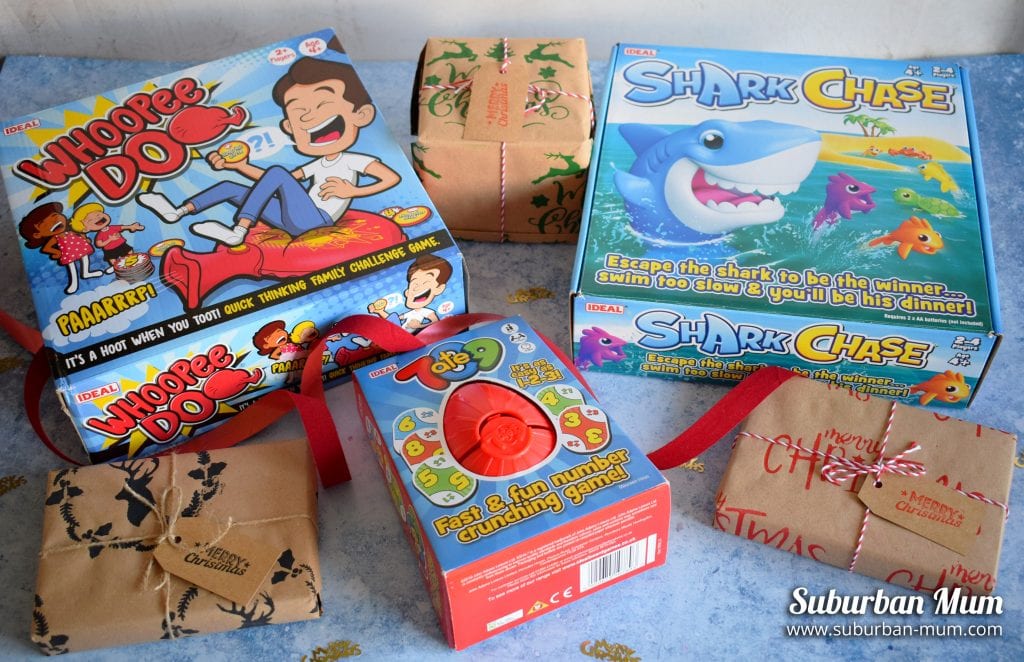 Mine (being boys) love a bit of toilet humour. Whoopee Doo is a quick-thinking challenge game where a whoopee cushion is passed around while you answer questions. If time runs out and you're not quick enough you'll be trumping! Shark Chase is also a race against time where you need to roll the correct colour to move your sea creatures to safety otherwise they will be gobbled up by the shark. 7 ate 9 is all about who can get rid of their cards first. Add or subtract 1,2 or 3 to the number shown in the card pile and if you have that card, you can get rid of your card.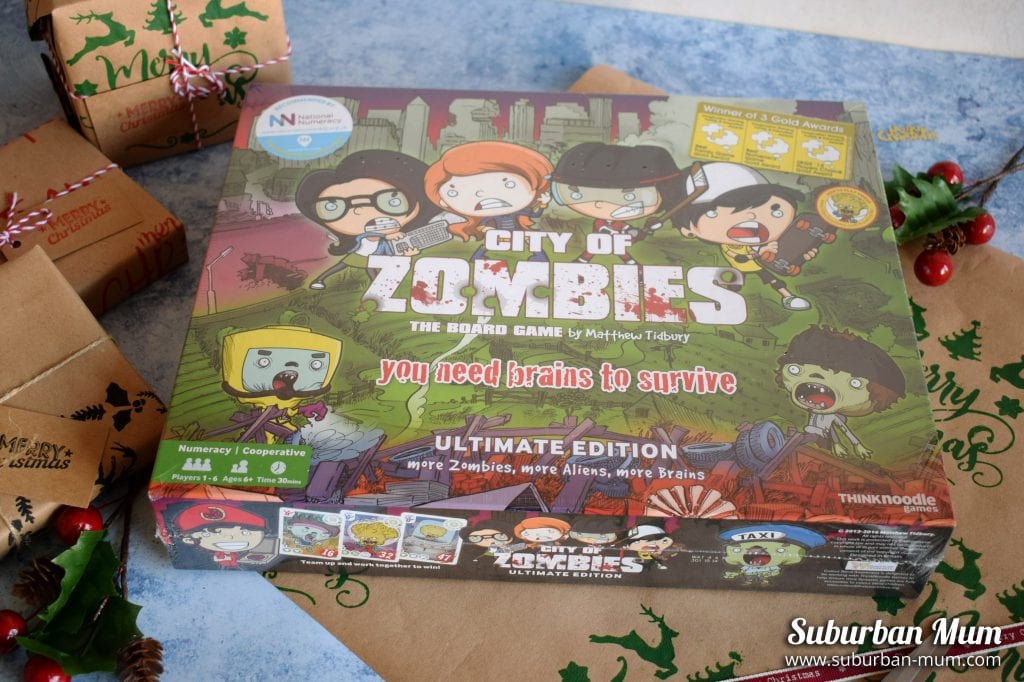 City of Zombies is an award-winning Maths game where you have to use your brain in order to win. It's a great STEM Board game that is both fun and educational at the same time.
Creative Gifts
Arts & Crafts always go down well in my household and I am all for it if – especially if it means they are having less screen time.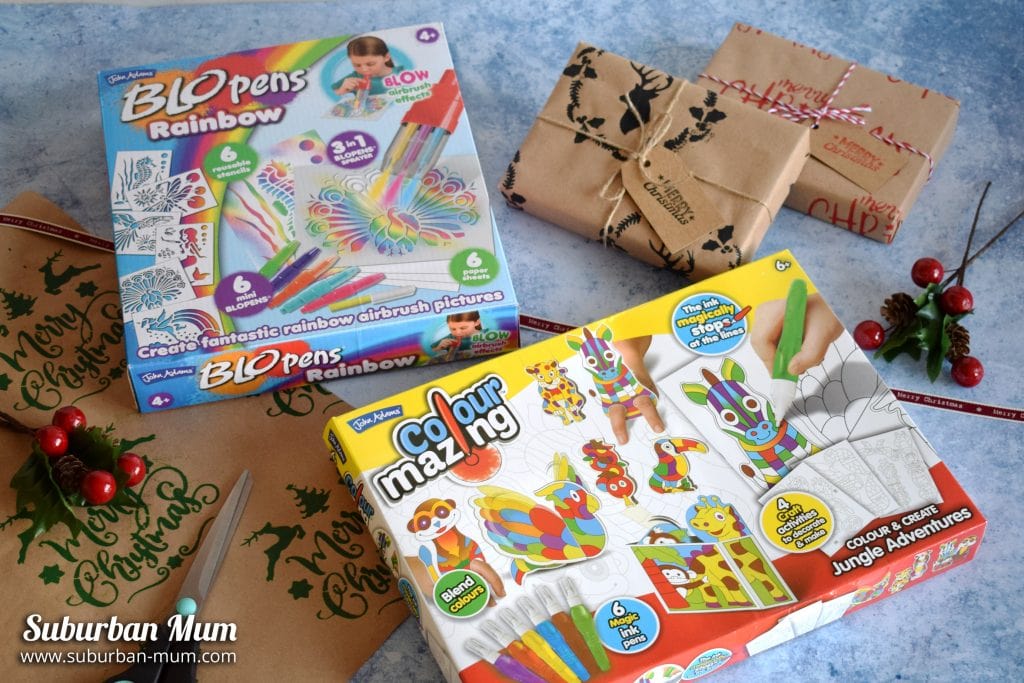 My boys can spend hours drawing and colouring. Blo Pens is a fun and different way to colour in. With the rainbow set, you can combine three colours into one pen to create a rainbow effect. For younger kids who are still learning to colour, the colour magically stops at the lines leaving you with a neatly coloured in drawing with Colour Mazing.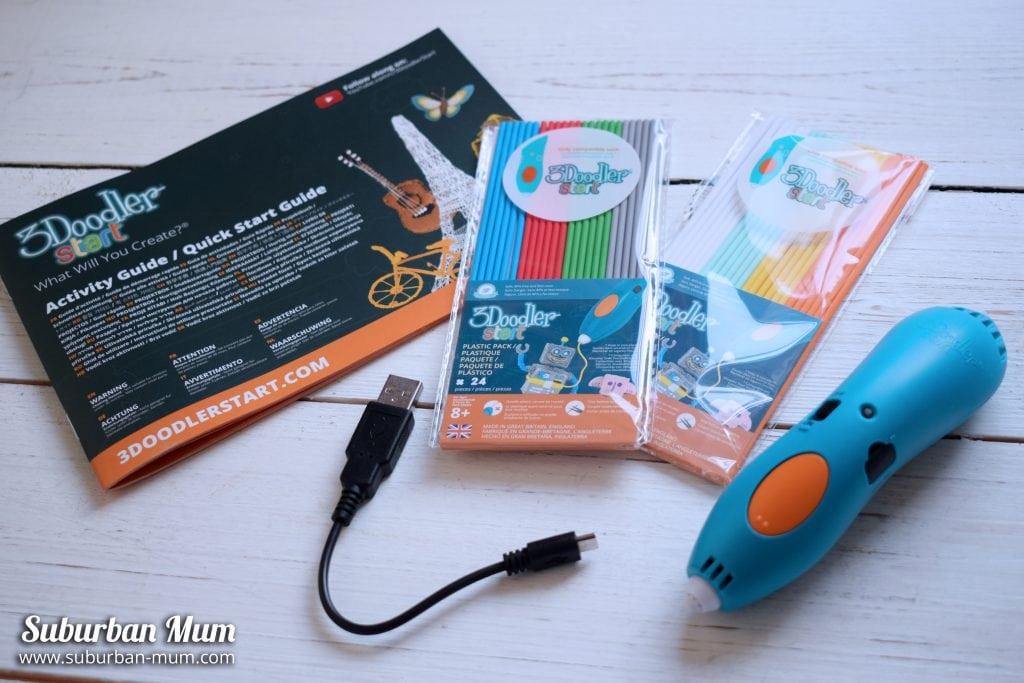 This 3D Pen from 3Doodler allows kids to unleash their creativity and bring their drawings to life. It's a great way to let them freely create whatever they desire.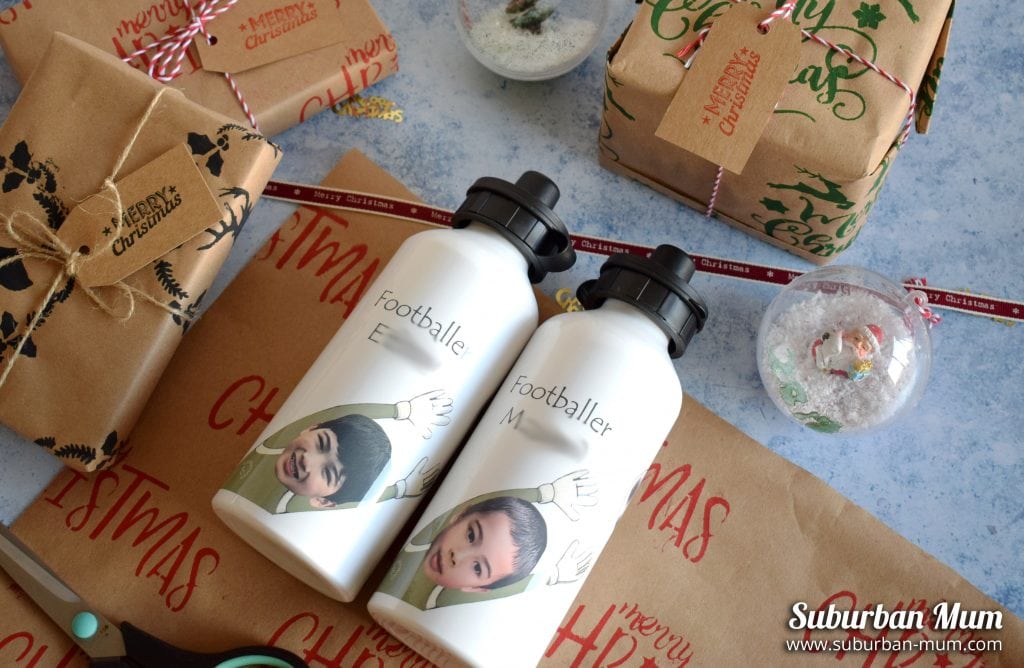 I'm not sure if it's just our house, but we own a ridiculous amount of water bottles. The boys use them for school and clubs and they also take one to have by their bed at night too. These personalised water bottles from It's Your Story would make a great stocking filler for kids. Not only can you personalise with their name, but you also have a choice of designs to choose from, ranging from Superheroes, Princesses to Footballer and Popstar.
STEAM Toys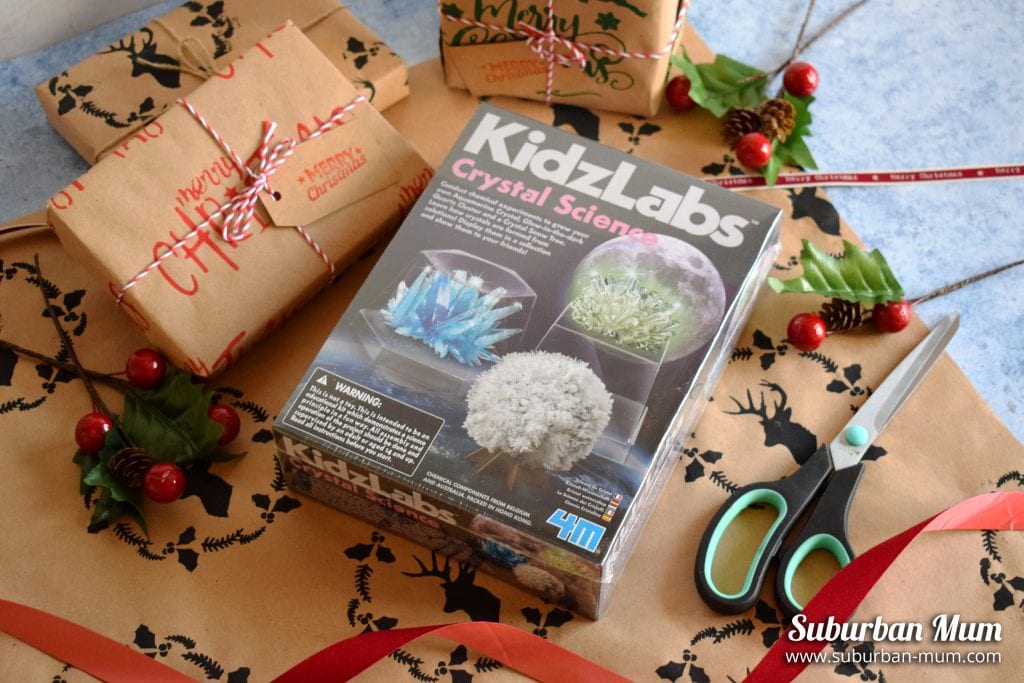 For budding little Scientists, this Crystal Science set from KidzLabs allows them to grow their very own Crystals as well as learn how they're formed.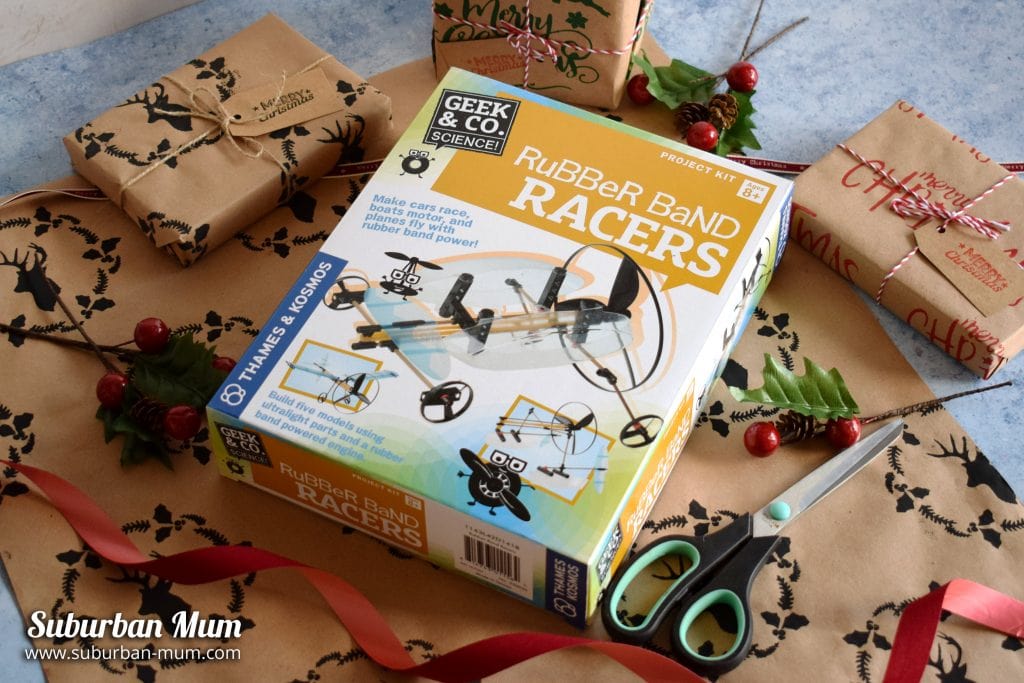 For Engineers in the making, we have a kit to build Rubber Band Racers in the form of a helicopter, boat, aeroplane, car and catamaran which I think will guarantee hours of fun.
Both KidzLabs Crystal Science and the Rubber Band Racers are available from the Bright Minds website that specialises in STEAM Toys.
Wooden Railway sets are always a very welcome gift in my house. My boys have been obsessed with trains ever since they were tiny and even now they are older, they still love playing with them. We've accumulated lots of accessories over the years and BigJigs is one of our favourite brands. This Railway Station would make a great addition to any wooden train set, adding more imaginative play.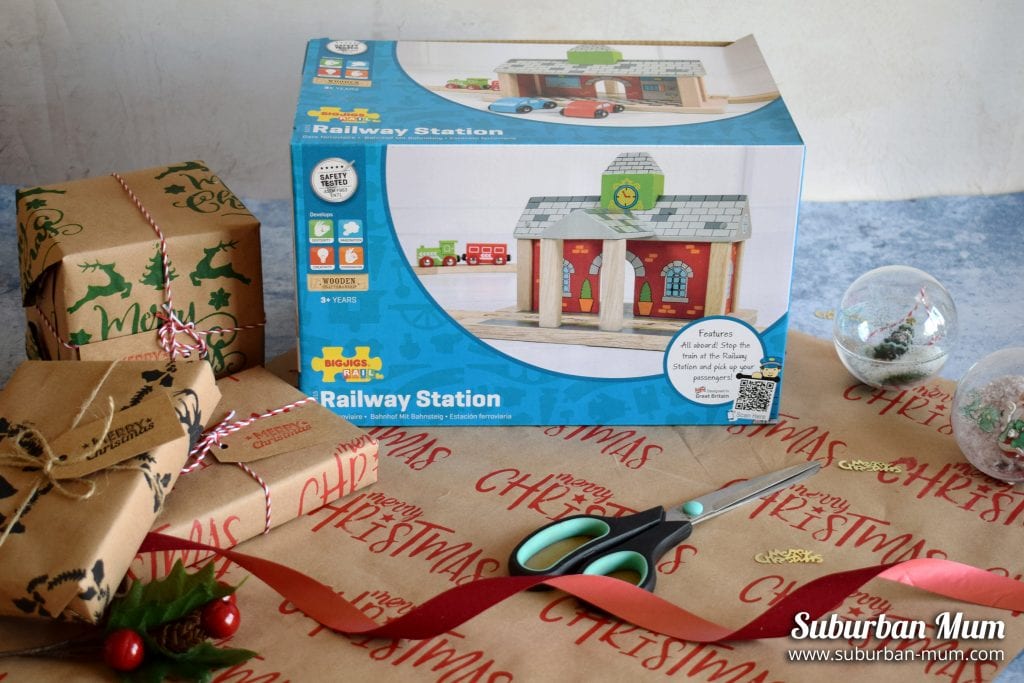 Probably one of the most sought after toys this Christmas, Owleez is an interactive baby owl that you can teach how to fly. She's super cute and you can pet and feed her to.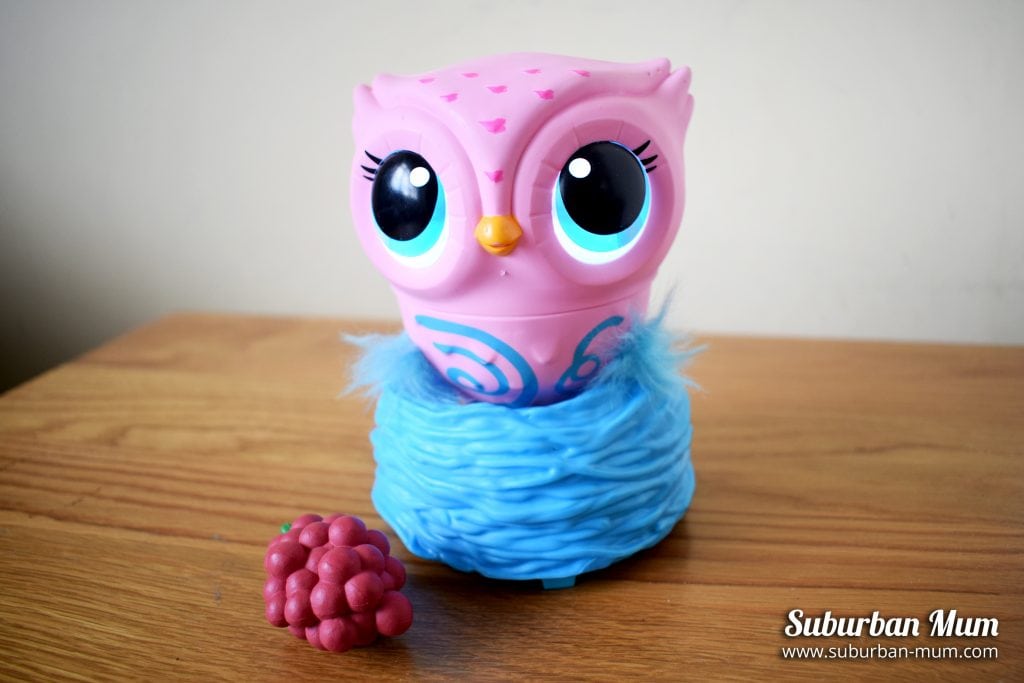 For Pokemon fans, there are lots of themed merchandise available even with the pop-up store now closed. Pikachu is always a favourite, you can snuggle up to a Pikachu plush or take him on the go with the Clip 'N' Go Pikachu.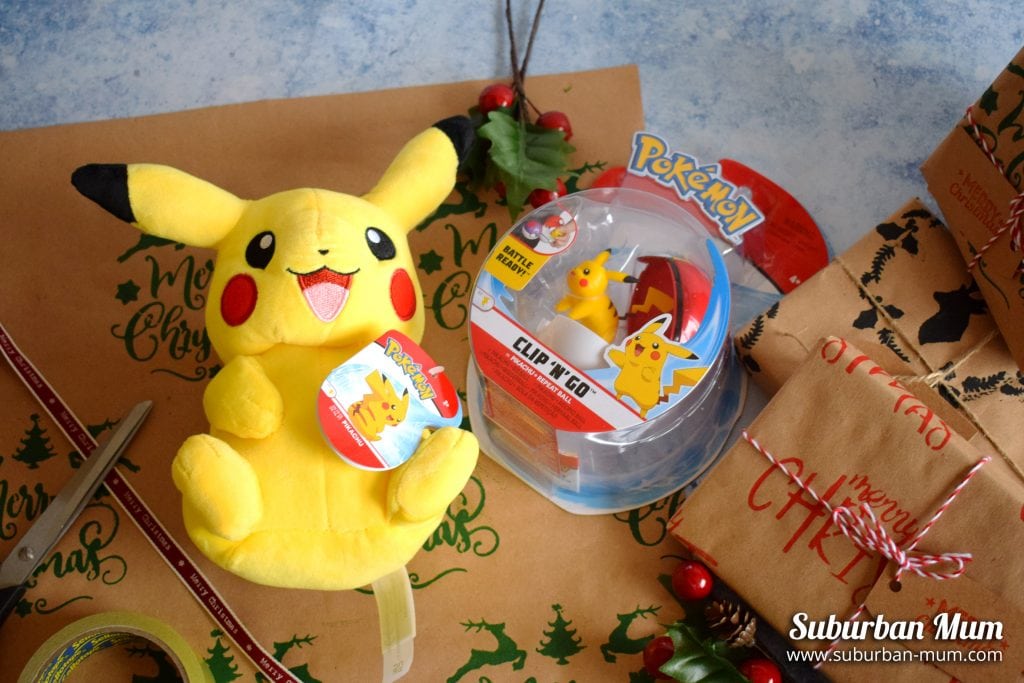 My children are absolutely desperate for a pet – more specifically, they would love to have a dog. While that won't be possible this year I think this cute little Robo Dash remote control dog will provide hours of fun. Robo Dash follows your gestures and commands, performing tricks. He'll also play fetch using the ball-shaped remote control.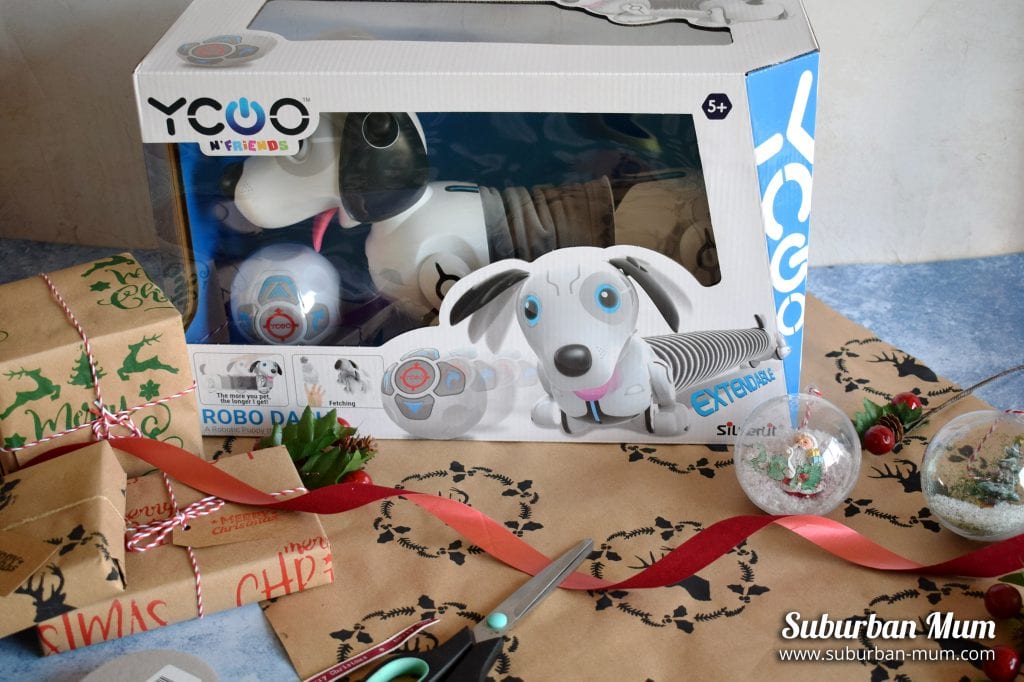 Based on the popular CBeebies character, this Bing plush is 30cm tall. Push the button on his chest to hear him talk and giggle. This would make a lovely gift for little ones who are Bing fans.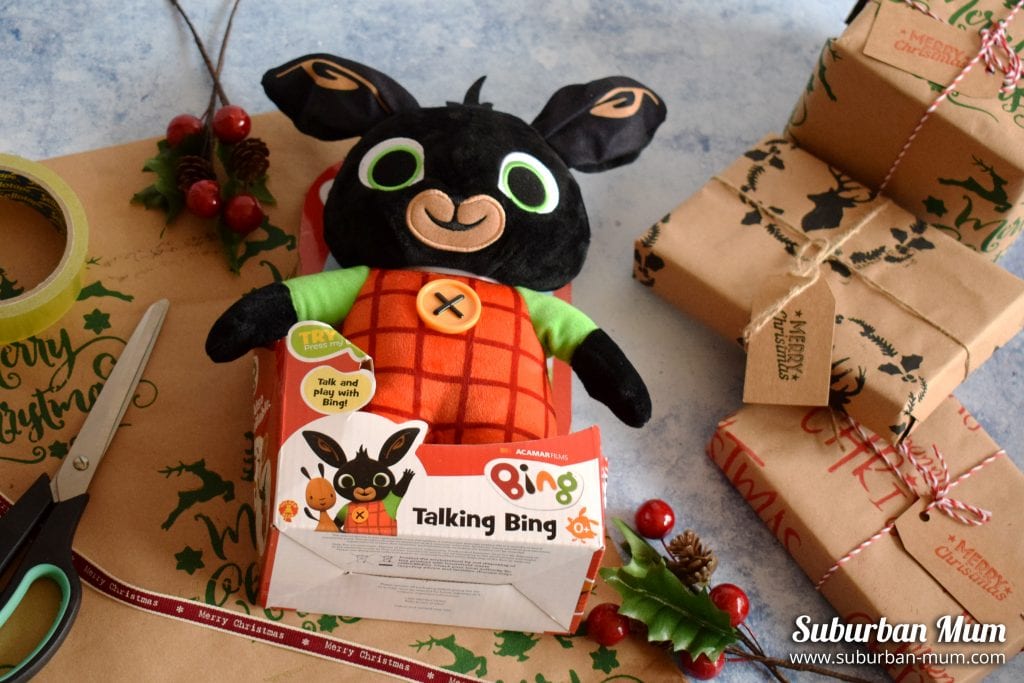 Zimpli Kids have a range of products that would make fab Stocking Fillers. For bath time fun, Gelli Baff turns your bath water into coloured goo. It's non-irritant and environmentally friendly. There's also Crackle Baff which you can sprinkle into the bath to hear the water crackle and pop. SnoBall Play allows you to create your own snowballs by simply adding water. Last but not least, the Chocolate Emoji Maker comes with everything you need to create two bars of Emoji chocolate.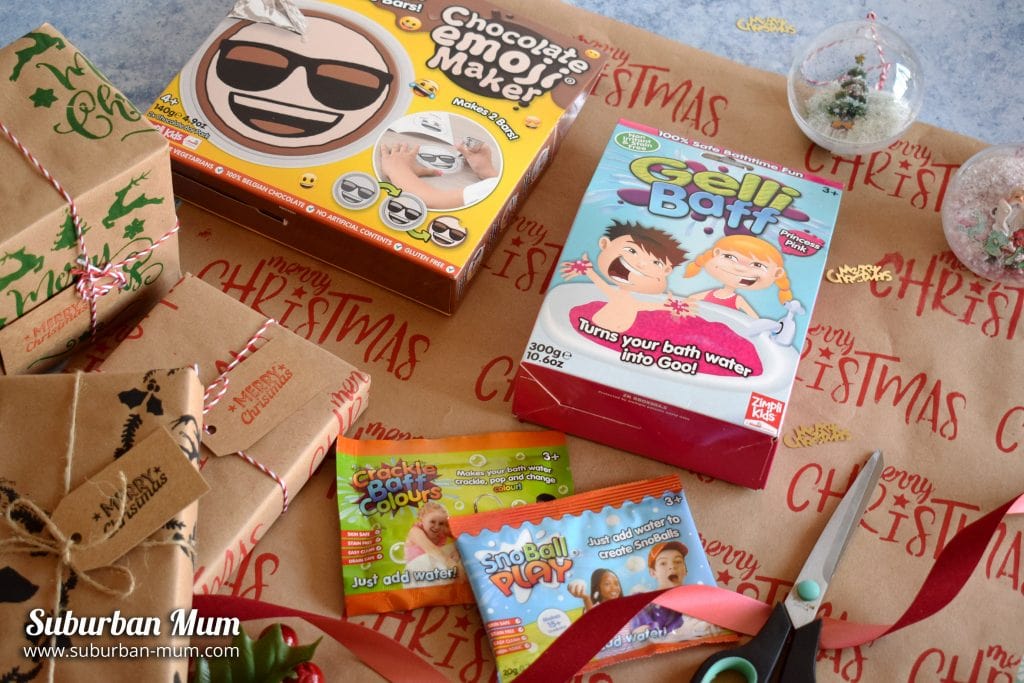 Every kid loves chocolate and Christmas time is time for indulging after all. Thorntons have a cute range of characters, especially for the festive season. Crafted with Thorntons delicious chocolate these can also be personalised to add that extra special touch. They would make a lovely stocking filler.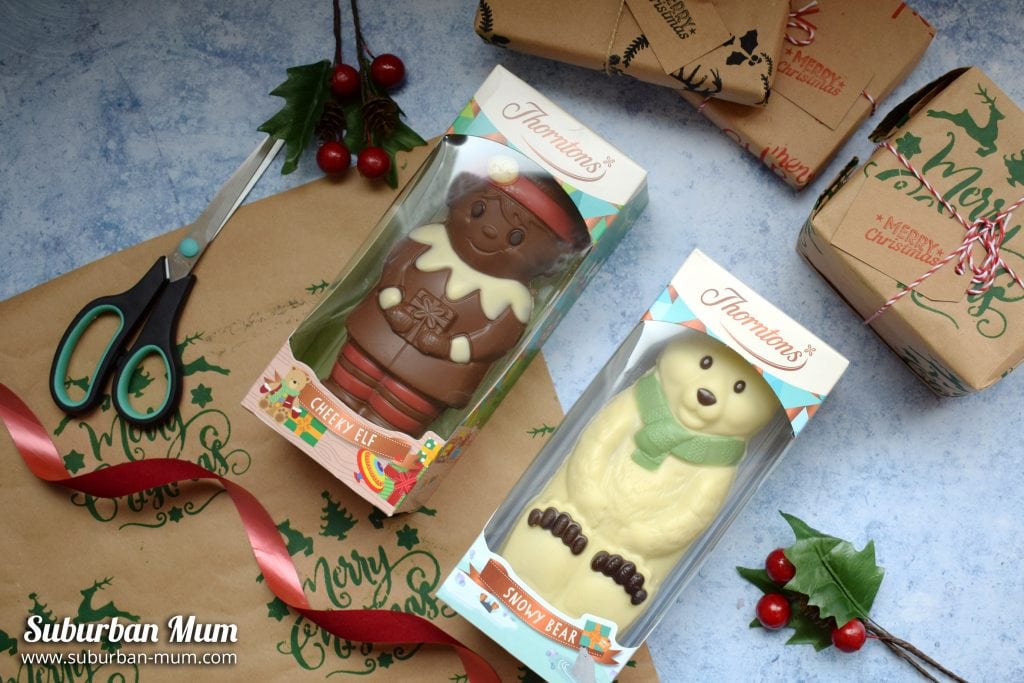 The best part of the Christmas break (aside from all the overindulging) is bingewatching your favourite movies. The Ultimate Holiday Collection is packed with 9 Christmas favourites featuring characters from Trolls, Shrek and Kung Fu Panda. Family favourite Secret Life of Pets has now released a special boxset of both movies with bonus features and deleted scenes.
What is it about slime that kids love? They will be sure to have hours of fun with this Slime Soaker game from Very and if that's not enough, they can also get in on the action with hyper blasters that can shoot slime up to a distance od 7 metres!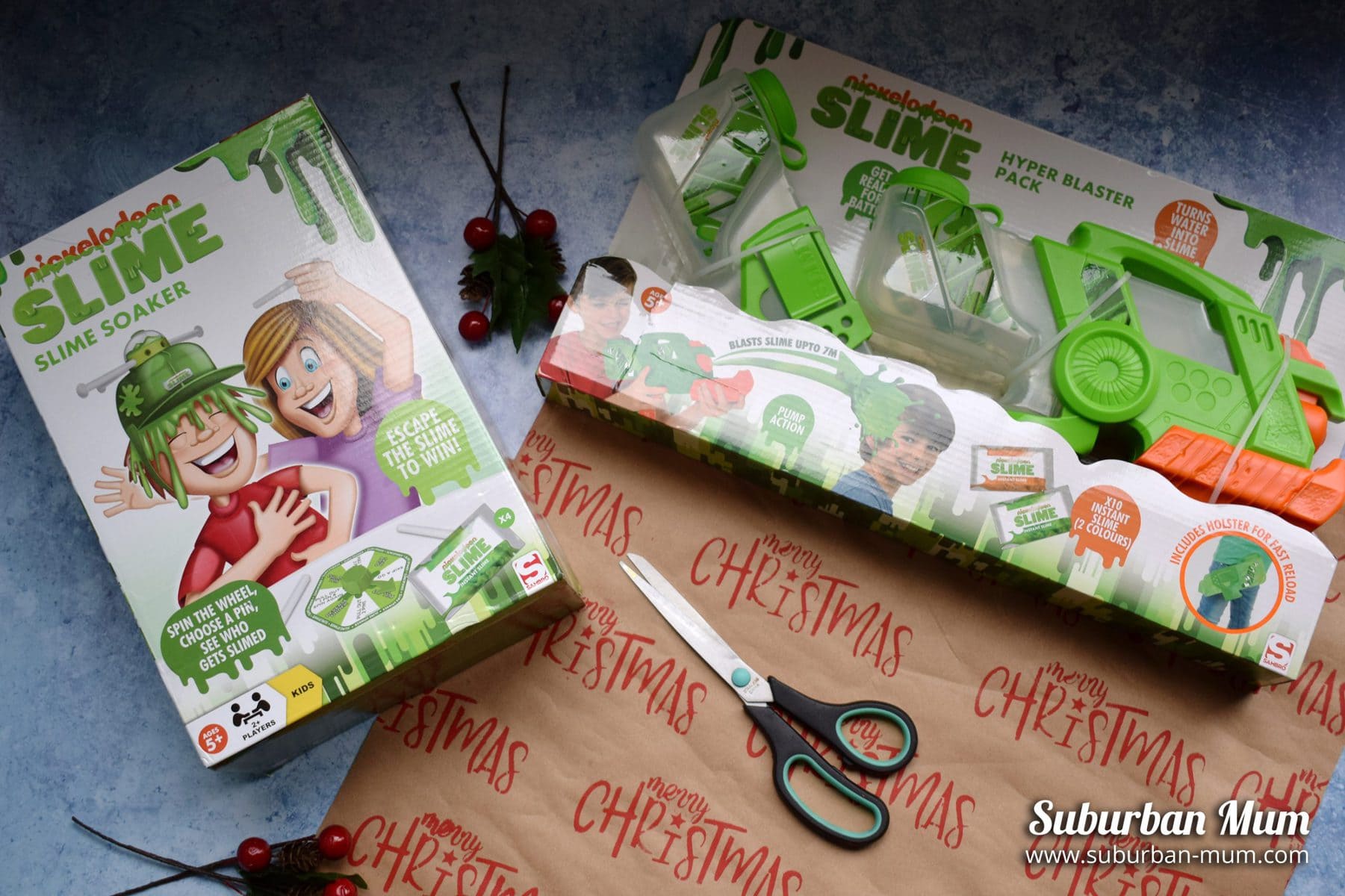 If they're big fans of Star Wars then you can't go wrong with this Imperial Patrol Battle pack that comes with four mini figures, an imperial recruitment officer, imperial emigration officer and two imperial patrol troopers.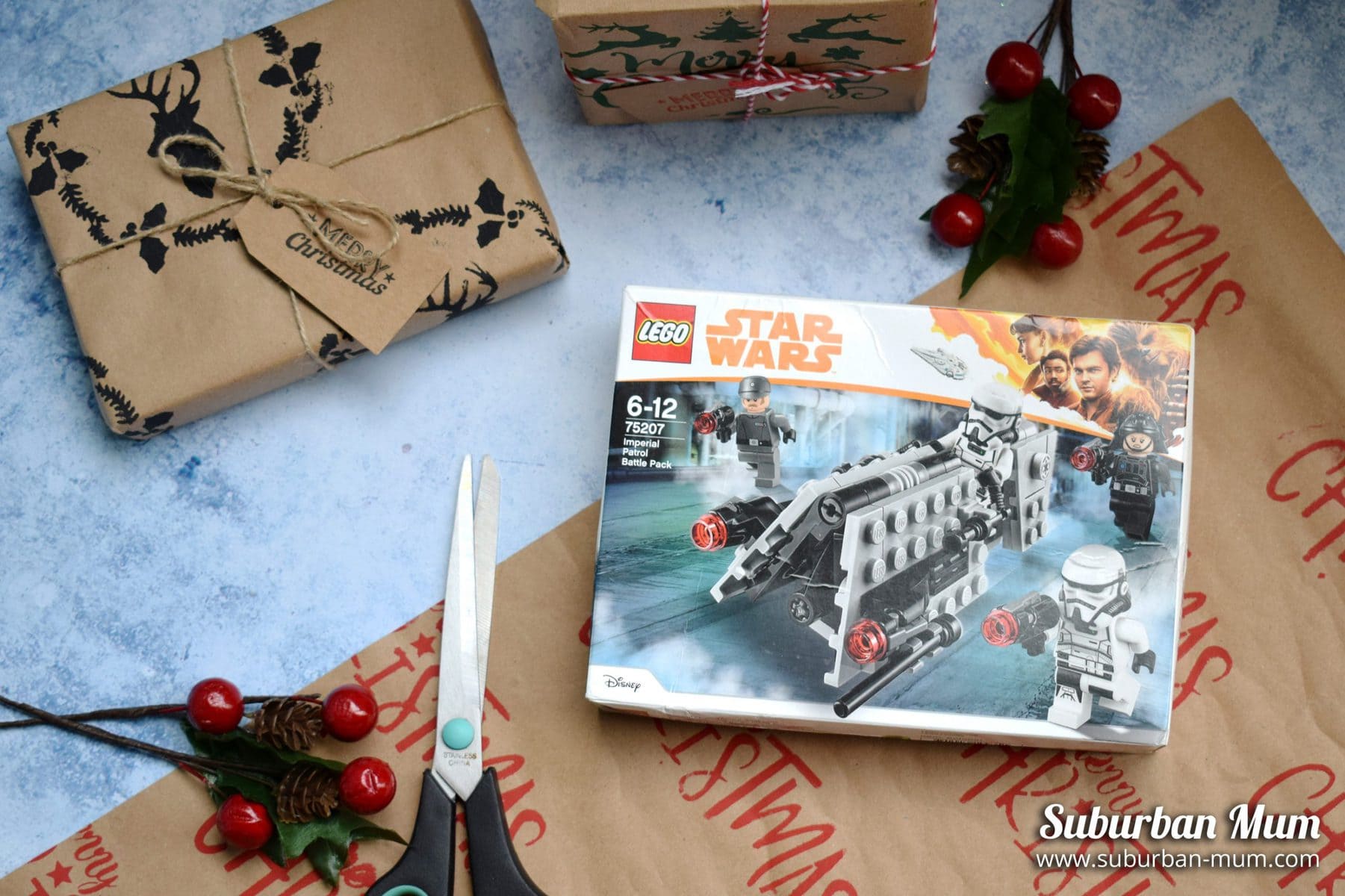 You might also like: