Sassy Bloom is a specially handpicked box of goodies for your little ones that is tailored to your baby's age, stage of development and gender. Our box for M, (who is 20 months) arrived just before we were going away to Hong Kong which was perfect timing as it meant that I was able to take a lot of "new" toys with us to keep him entertained on holiday!
See the unveiling of our box here:
Each box has a minimum recommended retail price of £40 and our box did work out to be around this amount, so considering I would have paid £29 for the box (which includes delivery) it's pretty good value.
What's in the box?
Melissa & Doug Rainbow Caterpillar (RRP £10)
I'm big fan of Melissa & Doug and it seemed the bright colours of this caught M's attention straight away. However, out of all the items we were sent, this one seemed to keep him entertained the least. Possibly because he may be a little old for it – or just because he preferred the other toys on offer, I'm not really sure. After removing the cogs and putting them back a few times and turning them for a bit he quickly lost interest which I was surprised about.
Mocc ons (RRP £9.99)
These were perfect for wearing on our flights to and from Hong Kong as they kept M's feet nice and warm. I would have just used socks otherwise but the mocc ons were lovely and thick and the sock part pulled right up to his leg which guaranteed them not falling off and kept part of his leg warm too. He walked a bit funny when he first had them on which was hilarious. We now use these as slippers around the house.
Janod Wooden Camera (RRP £8.00)
Again – this was great timing for our hols. M loves saying "cheese" for a picture so it was really nice to see him do the same with his own camera (even if it was a little too close to my face for my liking!) The wooden camera is very sturdy and a good size for little hands. The click button also makes a sound when you press it so its great for interaction too. I'd not heard of this brand before so will definitely be investigating further items as possible Christmas gifts for friends.
Wow Toys Ace The Racecar (RRP £5.99)
I LOVE Wow toys, we already have a toy boat for the bath which both boys love playing with and M was bought a Wow pull back car for his 1st birthday. This was instant hit with M and it was all he wanted to play with for ages!
The Little Raindrop book (RRP £5.99)
This is a lovely little book and when looking it up online,I found it was a finalist for The People's Book prize in 2013. M's concentration on books is not quite there yet with storybooks like this but he did love looking at the pictures. My eldest, E was actually more suited to this book as it is aimed at Key Stage 1 so I'm sure in time M will enjoy it just as much.
Membership options
Membership starts from only £22.15 p/m for yearly membership £24.65 p/m for bi-yearly members £26 p/m for quarterly members and £29 p/m for monthly members. There's also a gifting option available In summary, I think the Sassy Bloom box is a great idea – M thoroughly enjoyed his items and I it definitely caters for under 2's very well. For me, I wouldn't subscribe to the monthly subscription. Being a mother of two I have a pretty good knowledge of the toys and items my boys would like/use, plus M approaching the cut off age for this box. However, that being said, I think it is a great idea for mums-to-be and new mums and parents and I can see how beneficial this would be for them.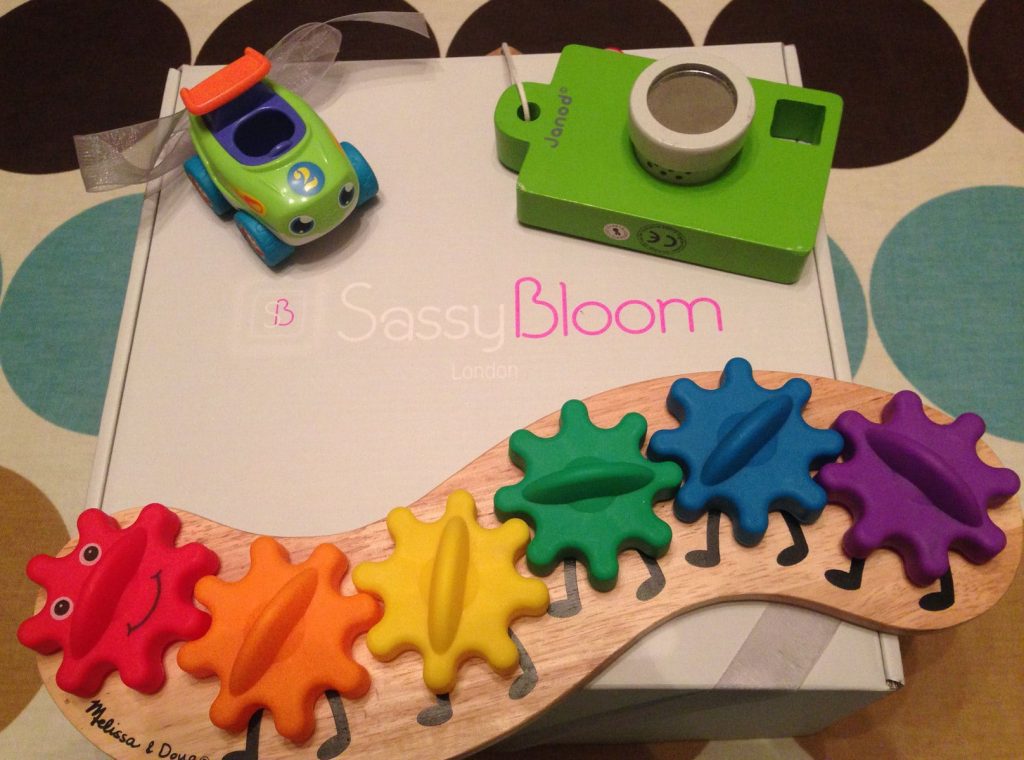 I think I would be more suited to the gifting option and I will most definitely be purchasing a couple of boxes for friends who are expecting their first bundle of joy in the New Year.
Fancy giving Sassy Bloom a try? You can get £10 off your first box – just click on the banner below!
NOTE: The Sassy Bloom box was sent to me with the purpose of writing an honest product review in exchange for the product. All images and opinions are my own.
Linked up to Tried & Tested