We cooked this in the oven the first time around but we then used the remaining paste for a second batch on the barbecue. I think this is going to be one of my favourite things to make over the summer. E is such a huge fan of meat on the bone – drumsticks are his favourite and he loved these even though they were a little spicy!
The recipe serves 4.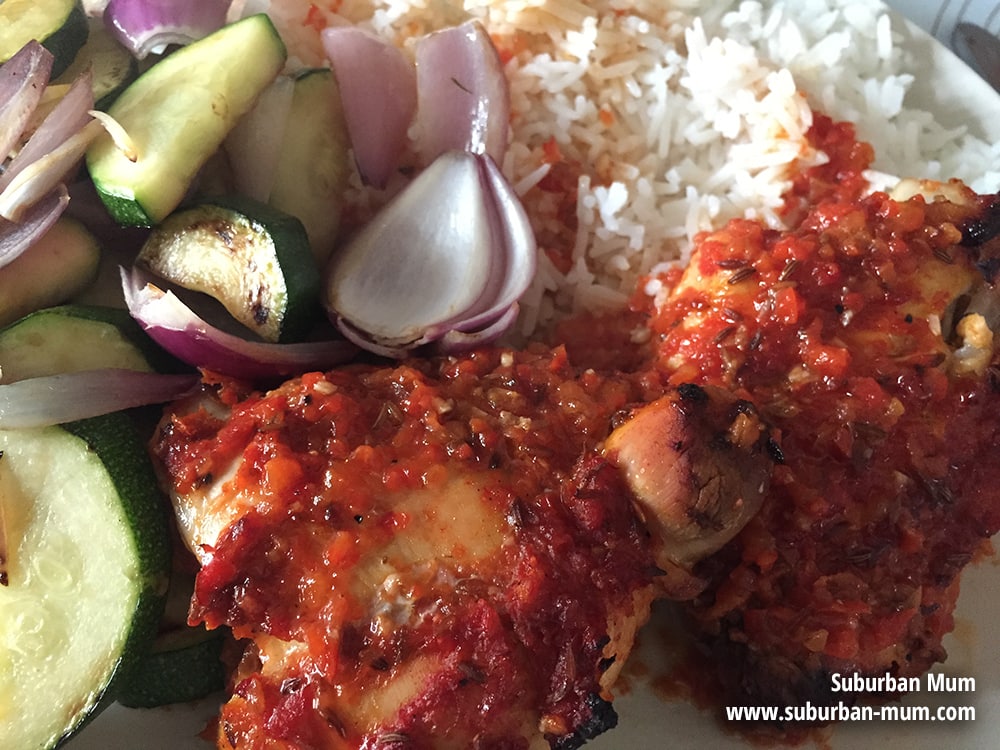 To make the paste:
3 tsp caraway seeds
3 tsp cumin seeds
4 garlic cloves, peeled
2 red chillies, halved and deseeded (use less for milder flavour)
pinch of sea salt
1 bottled roasted red pepper in brine, drained
4tsp passata
4 tsp red wine vinegar
juice of two lemons
2 tsp smoked paprika
Grind the spice sees and garlic using a pestle and mortar (or rolling pin) and put the mixture into a food processor along with the chillies, sea salt, red pepper, passata and vinegar. Blend until smooth and transfer to a mixing bowl.
Add the lemon juice and paprika ans stir well. Season with more salt to balance the vinegar, if necessary, and spoon into a clean screwtop jar. It will keep in the fridge for up to a week.
Harissa chicken
Ingredients:
4 chicken drumsticks
4 skinless chicken thighs
8 tbsp harissa paste (as above)
Method
Preheat the oven to 200° C/Fan 180°C / Gas 6
Skin each drumstick by pulling the skin over the bony end (using a piece of kitchen paper will help you get a good grip). With a sharp knife, make a few slashes in each chicken drumstick and put them in a non-stick roasting tin along with the chicken thighs.
Rub the harissa over the chicken piece, making sure to get plenty into the cuts. (If you have time, leave the chicken to marinate for 30 minutes to deepen the flavour) Roast for 35-40 minutes or until cooked through.
Serve the chicken hot on a bed of rocket leaves with your favourite vegetables.
Check out my other Slimming World recipes: