Last week, we were chosen to be part of a special team of bloggers that got to have a first look at the NEW Hatchimals Surprise in anticipation of their launch for Hatchimals Day on Friday.
Hatchimals, by SpinMaster, were the must-have toy for Christmas last year but this year they have changed things up a little with a big surprise.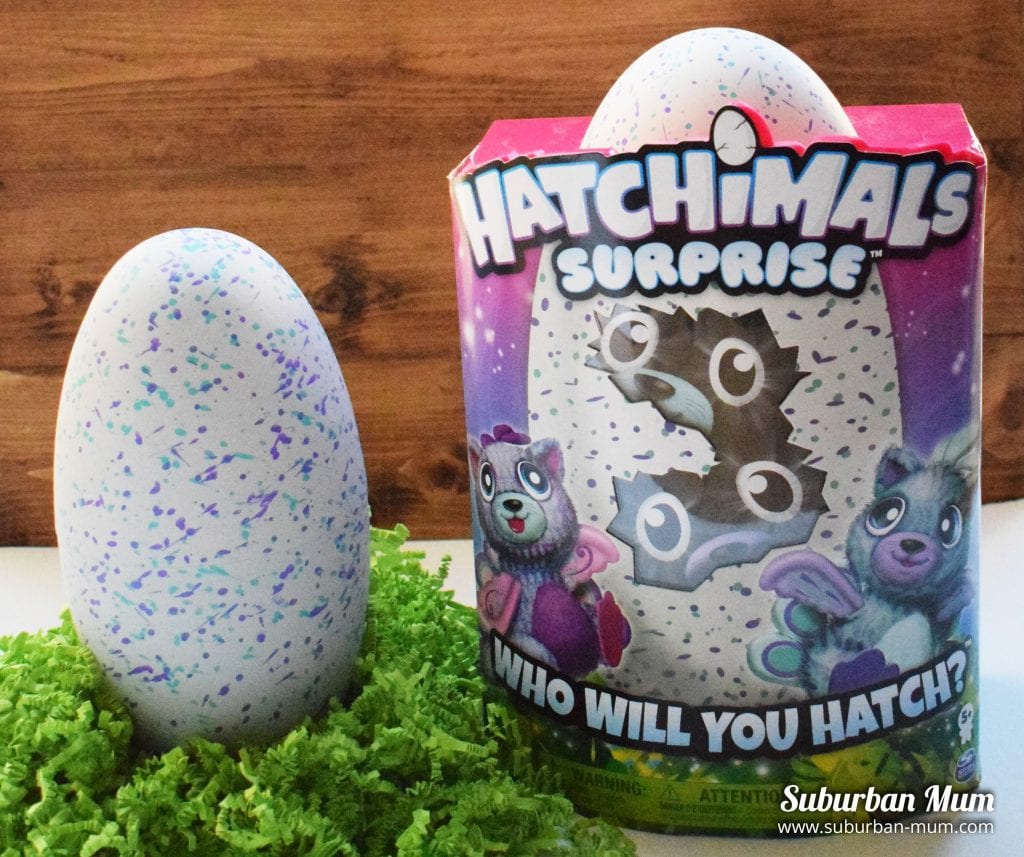 I'm not sure who was more excited at the thought of getting their hands on the new Hatchimals but we certainly couldn't wait to hatch our egg to see what was inside!
If you've not heard of Hatchimals before – where have you been?! Hatchimals start off as eggs that hatch once they've been nurtured and out pops an animal that you can interact with!
Take a look at our video below to see what we hatched.
As you can see from the video, Hatchimals Surprise is TWINS and aren't they just adorable?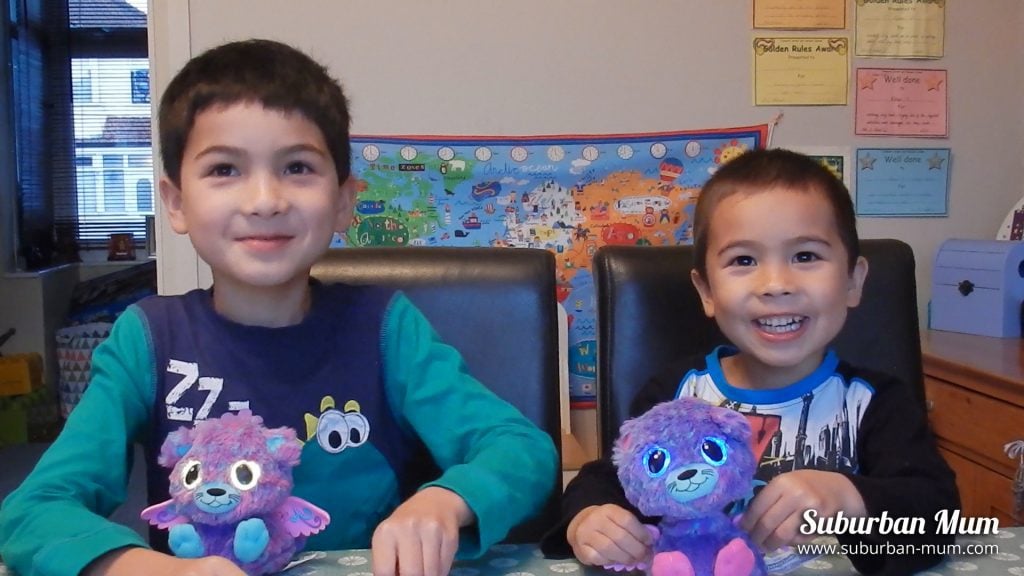 I loved the fact that E decided they were twin sisters because of their colour. I have to admit I half expected them to think the Hatchimals were "for girls" as they tend to do that with a lot of other toys. However, they really loved the hatching process and were overjoyed to find out they could have one each to look after and not have to share.
The hatching process didn't take as long as expected (around 5 minutes) but I think this was largely down to the fact that the boys were simply too excited to wait for the egg to hatch by themselves and gave them a helping hand.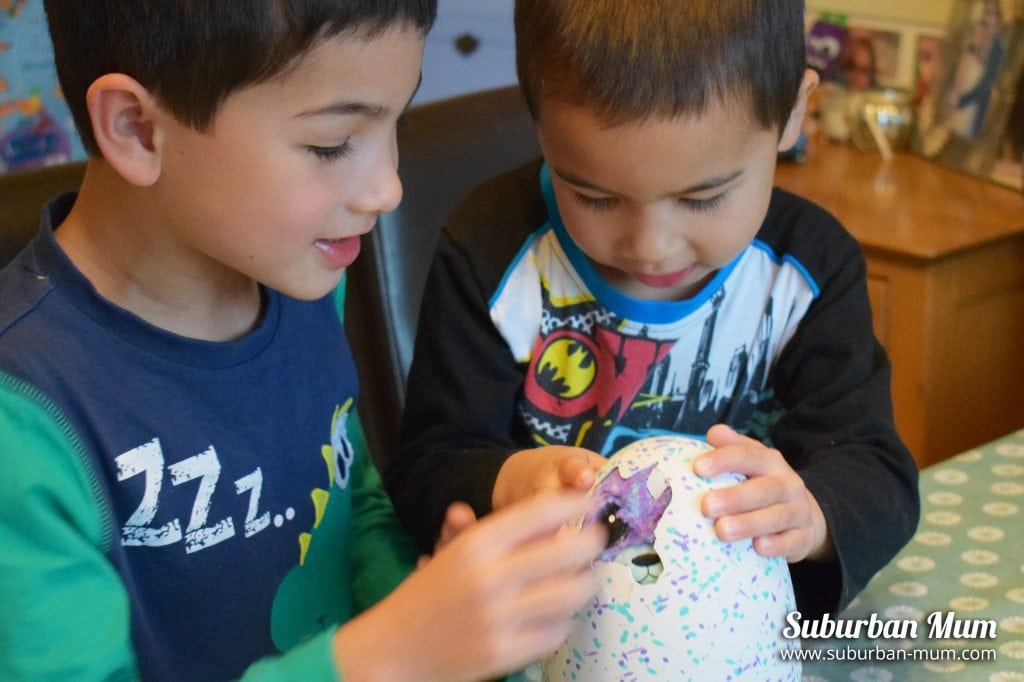 During this process, you are encouraged to nurture the egg by rubbing and tapping it, as well as kissing and cuddling it. We heard lots of noises coming from our egg which really built up the boys anticipation.
As soon as you see rainbow eyes light up it means the egg is ready to hatch! We missed seeing this part as we were in a bright room so I'd recommend drawing the curtains or hatching in a dimmed room if you can.
Hatchimals Surprise comes in two different types of creatures – Giravens or Peacats and they are available in a variety of colour combinations too. Each Hatchimal has its own unique personality and being twins, they can sense and respond to each other as well as dance and play games.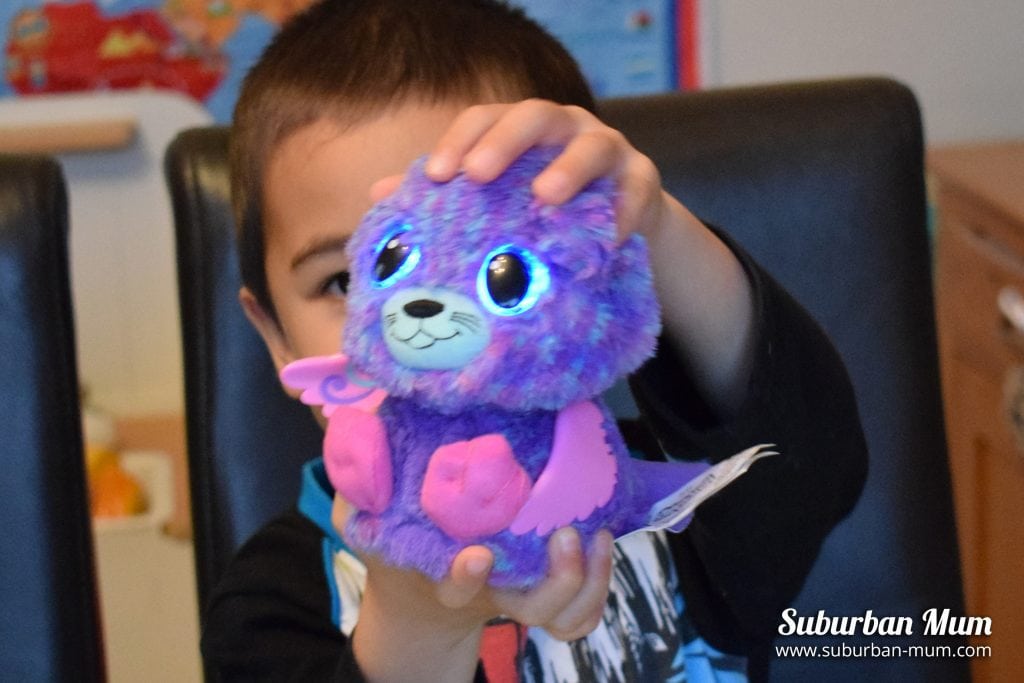 Hatchimals start off as babies and need looking after with care and lots of cuddles. The twins are known as Twin A and Twin B. Twin A's head tilts from side to side whilst Twin B's head can be pushed up and down, both of them have eyes that light up in different colours which can tell you what sort of mood they are in. There are also buttons on their heads and noses that you can press to activate different modes.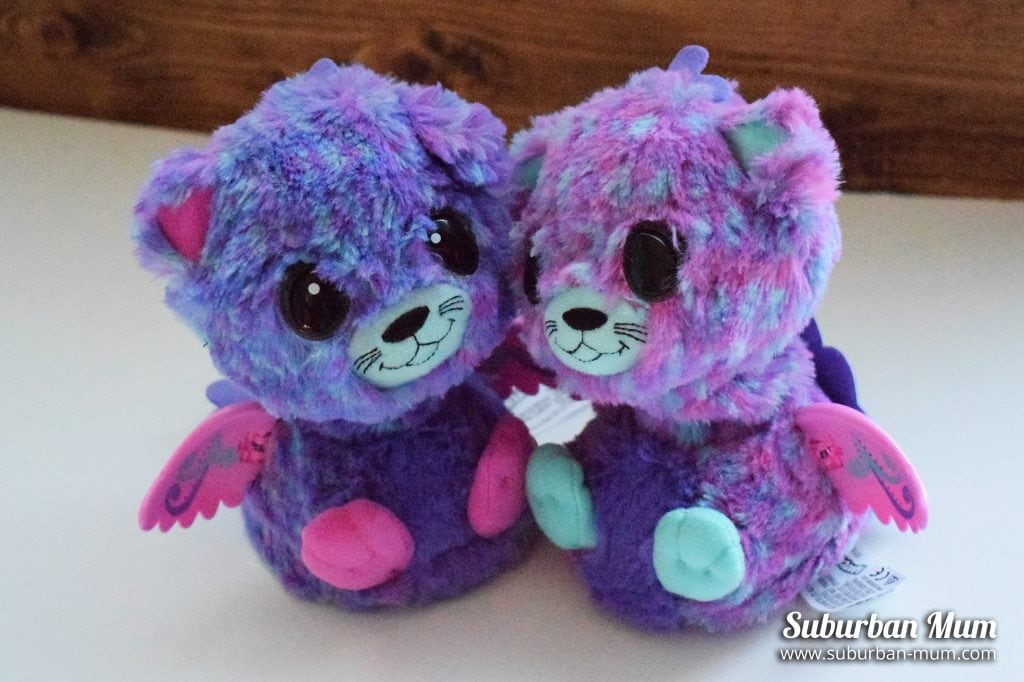 The boys have really taken to their role as parents raising babies seriously and love playing with the Hatchimals that they've named Bedor and Pinky. I think Hatchimals Surprise will be another must-have toy this Christmas. Children will love the anticipation of seeing the egg hatching to find out what's inside, as well as being able to interact with them and raising them from babies to kids.
I think the £74.99 is good value for money as you are getting two Hatchimals in one egg which would be perfect for siblings.
*We were sent a Hatchimals Surprise for the purpose of this review.
You might also like: