Whilst the weather has been rather up and down this summer, we've certainly tried to make the most of it. It's been tough juggling working from home with the boys. When we've not been working, we've tried to plan lots of fun activities to do.
We've popped to London a few times, had picnics outdoor where the rain managed to hold off until after we ate (yay!), had play dates and had a couple of weekends away too.
One of those weekends, we were invited to check out The Holiday Inn Express, Southampton. They were interested in finding out the boys' opinions of their hotel. My boys love a hotel stay, so much so – they even role play this at home (don't ask me why!) so I knew they would be up to the challenge!
The Holiday Inn Express, Southampton
Southampton is just over an hour's drive for us. The Holiday Inn Express, Southampton is just off the M27 and is right next to The Ageas Bowl. There are some retails parks nearby as well as some well-known fast-food chains – very handy for grabbing a bite to eat.
The hotel has a total of 182 rooms across four floors and there is free parking on site. It's handily situated six miles from Southampton Docks and a 5-minute drive to Southampton Airport.
It's also a great location if you're looking to visit either Spinnaker Tower in Portsmouth or Paulton's Park – home to Peppa Pig World. Both are just a half hour drive away. Can you guess where we chose to spend the day after our stay at the Holiday Inn Express?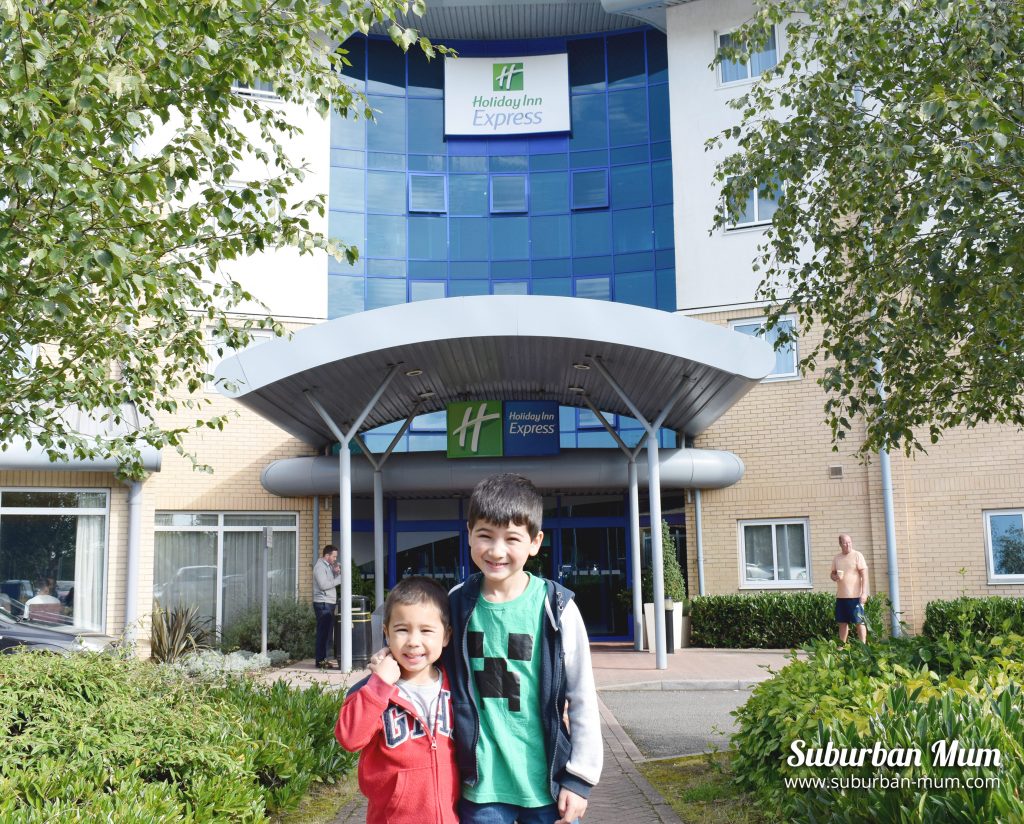 Check-in
We arrived on a Saturday afternoon and had no problem finding a car park space. The reception desk is to the left as you walk through the entrance. We waited no more than 5-10 minutes to be checked-in. We were then shown where the bar/restaurant was and were taken to the room we'd be staying in for the night.
The room
We had a family room with a double bed and a pull out sofa bed for the boys. The room was an adequate size and had everything we needed for an overnight stay.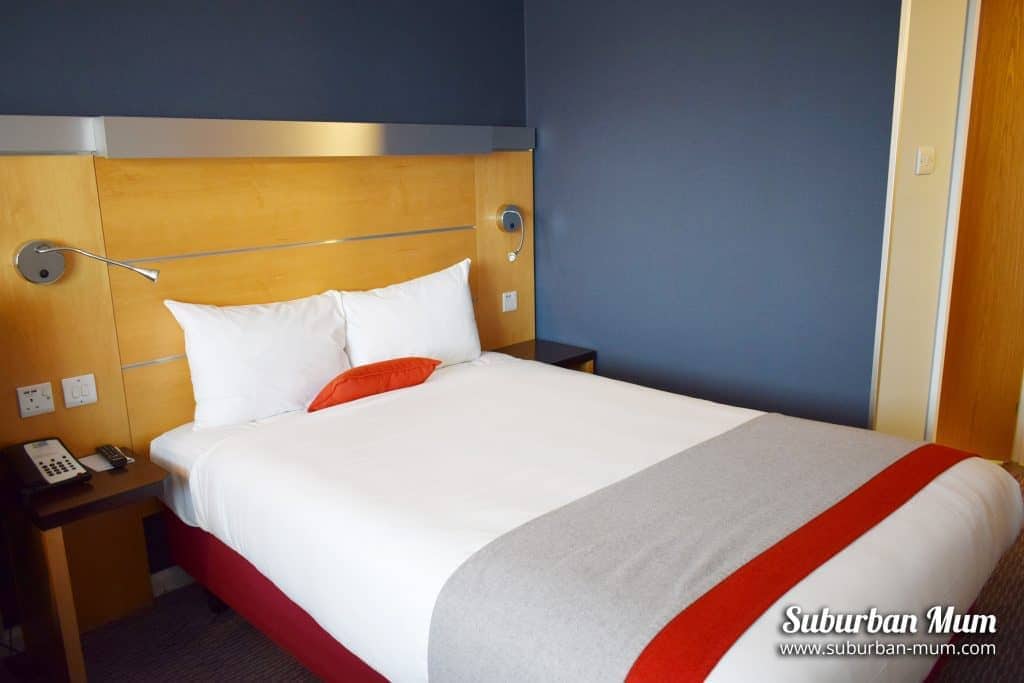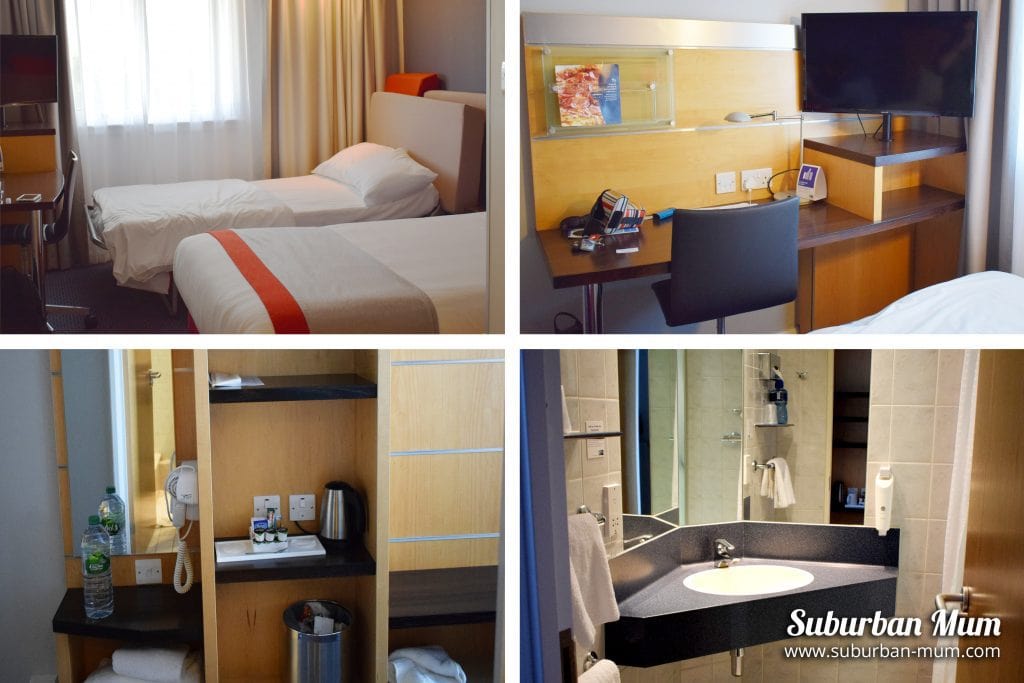 I liked the fact there was an ironing board and iron in the room, as well as a full-sized hair dryer. There's nothing worse than having to use the tiny ones that are provided in bathrooms that take forever to actually dry your hair!
Another bonus was the full-size shower gel and soap in the bathroom It meant no faffing around with tiny miniatures – they are never enough for a family of four, are they?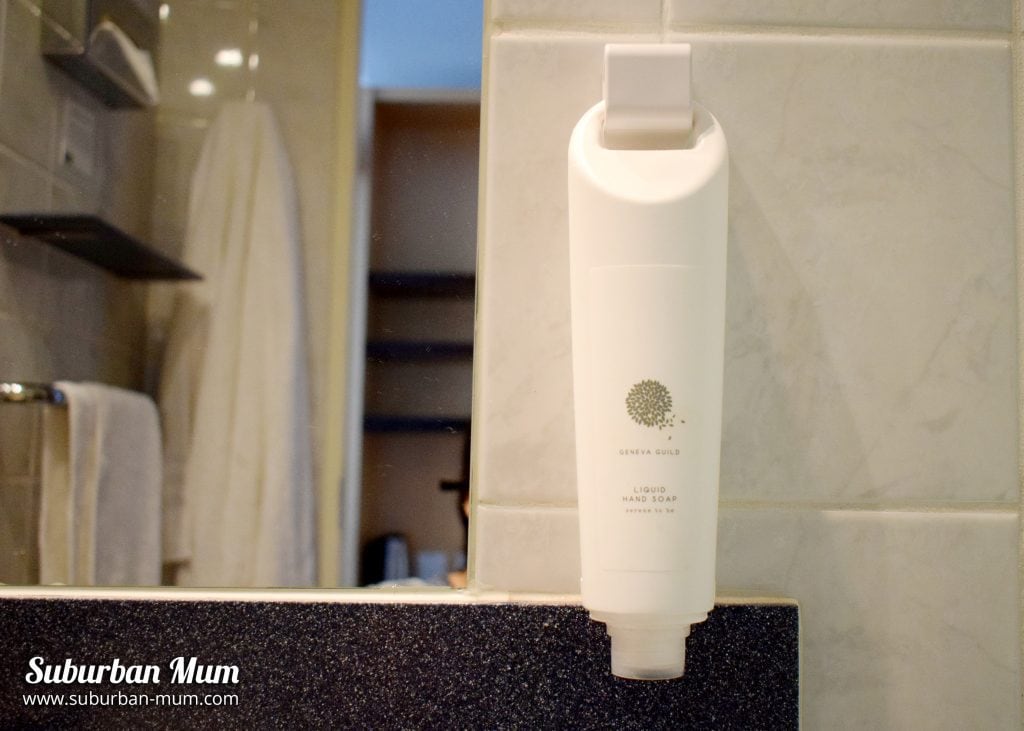 The thing that Mr H and I loved the most though? The USB charger in the power sockets – total game changer and so handy. I want to have some put in our house!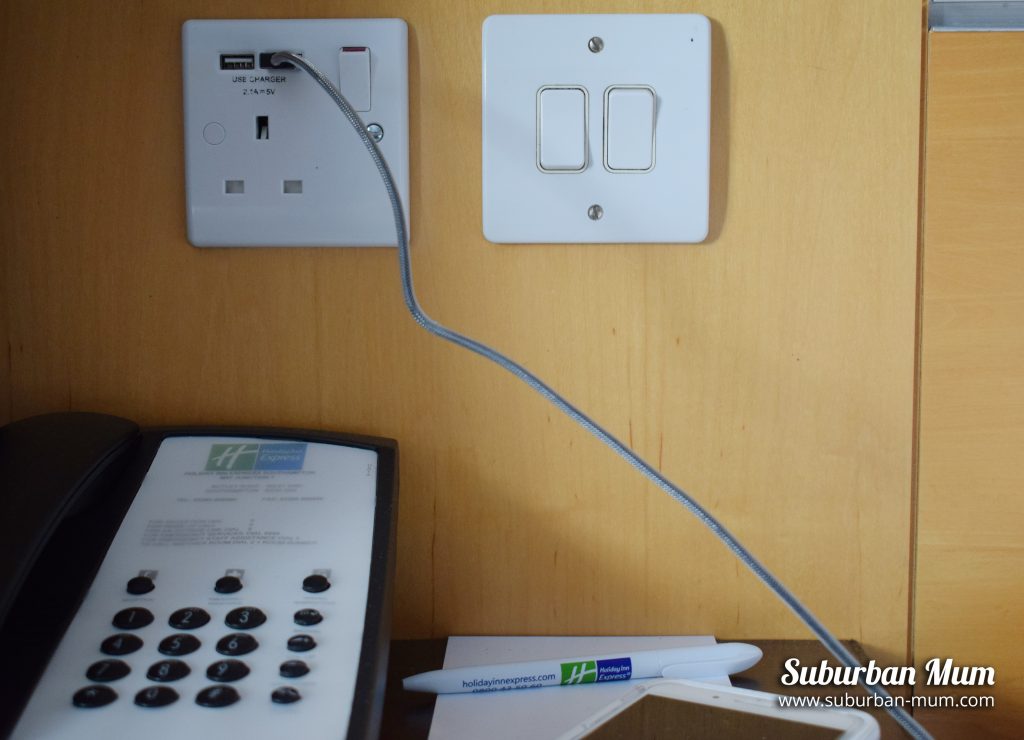 After taking our things to our room we decided to venture out on foot to the Retail Park for a spot of retail therapy for a couple of hours before heading back to The Holiday Inn Express for dinner.
Restaurant
With it being the summer holidays, the restaurant was filled with families with children (young and old). We didn't have a problem finding a table and were pleased to see there was a good choice of food available.
The restaurant area is light and spacious and there were high chairs readily available for those with younger children.
The boys were kept occupied with their newly acquired wooden trains (from shopping earlier) along with some activity sheets provided by the staff. It's always nice to have these available for kids as it's not much fun having to sit and wait for your food.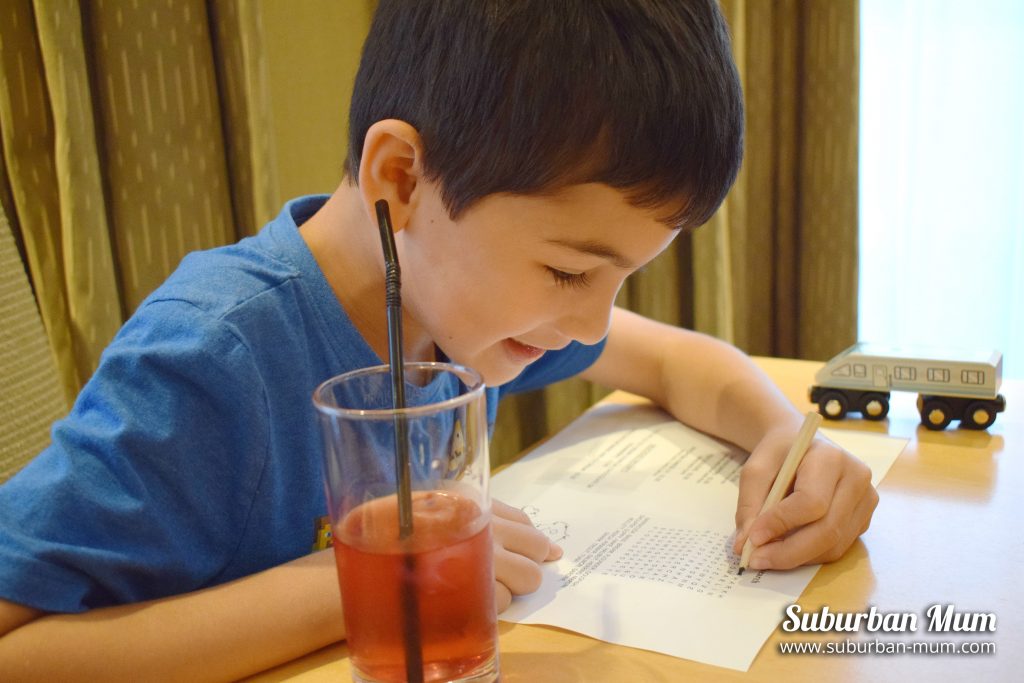 Thankfully, we didn't have to wait too long for ours to arrive.
The boys had Garlic Bread, and Tomato Soup to start followed by Fish Fingers/Chicken Strips for their main. The portions were very generous and they went down a treat.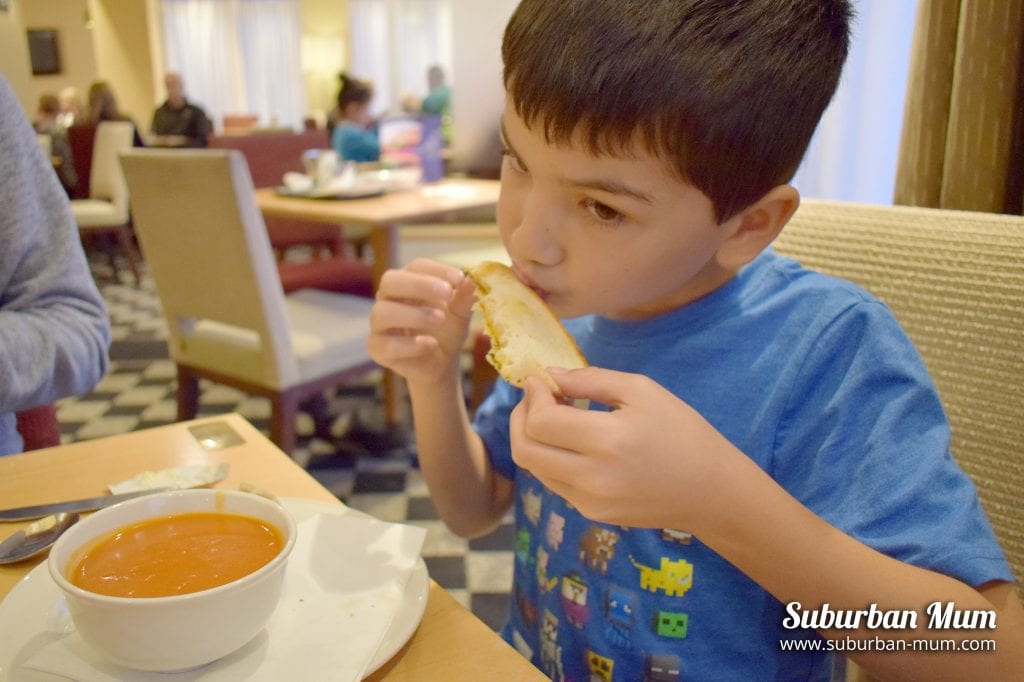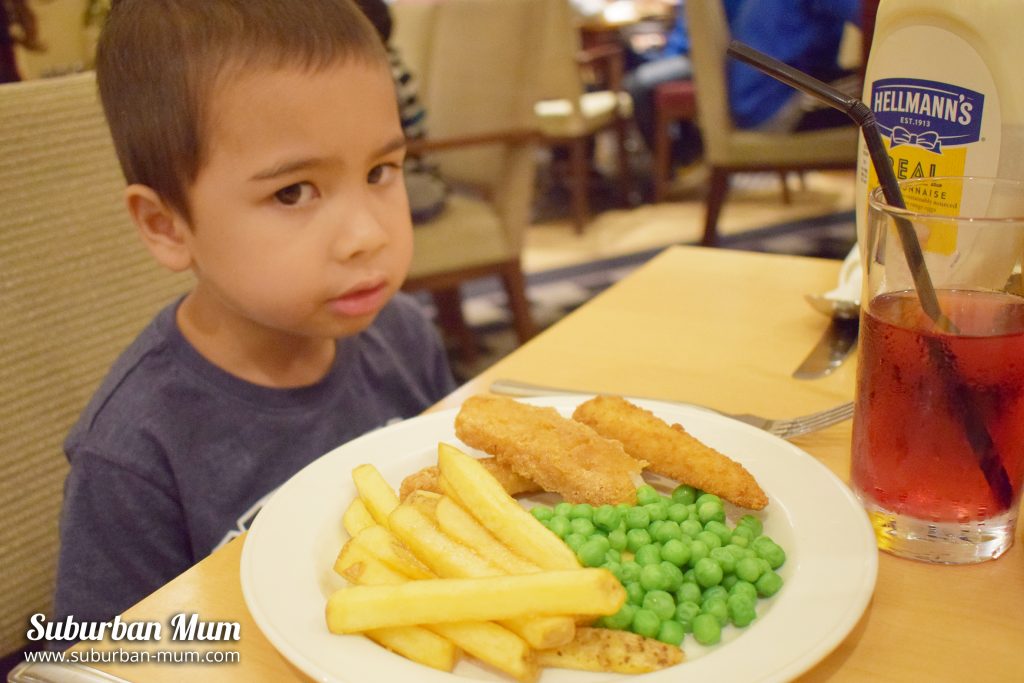 We chose to have Tempura Prawns and Macaroni Bites to start followed by a curry for Mr H and a lasagne for me for our mains.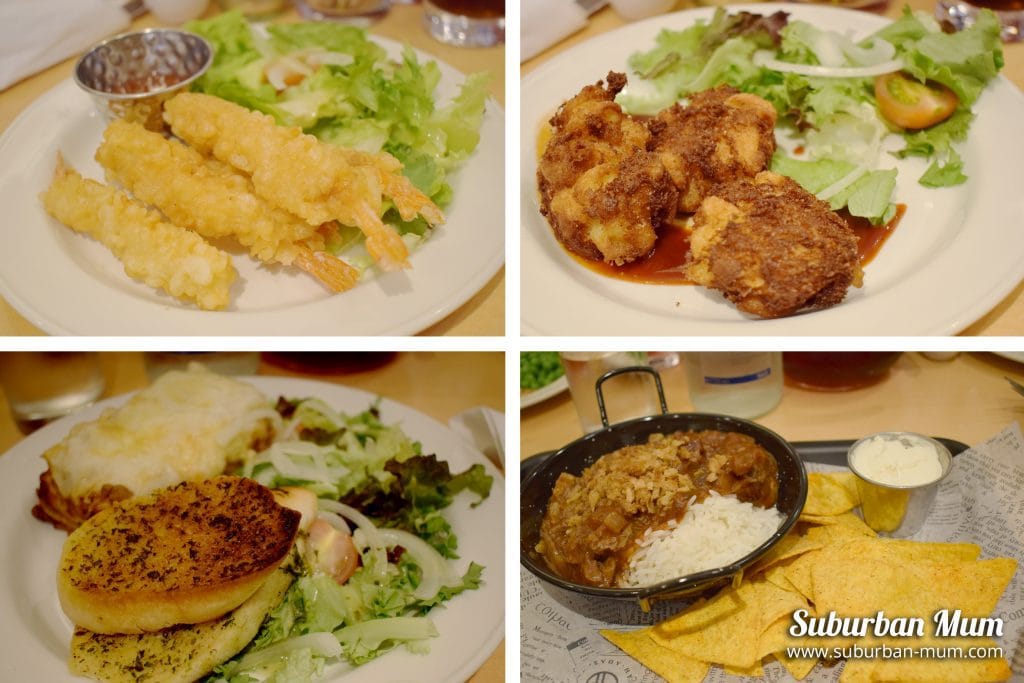 The food was of a good standard and the staff were very friendly and happily attended to our needs.
Unfortunately, we couldn't stay for pudding as M had a bit of a turn and wasn't feeling too well, so we retreated back to our room for the night.
Night Cap
The boys were sent some hot chocolate and cookies up to the room which was a lovely touch and made up for them missing pudding. They happily had these in bed whilst watching SSpider-Manon TV. I don't think they could have had a nicer way to end their evening!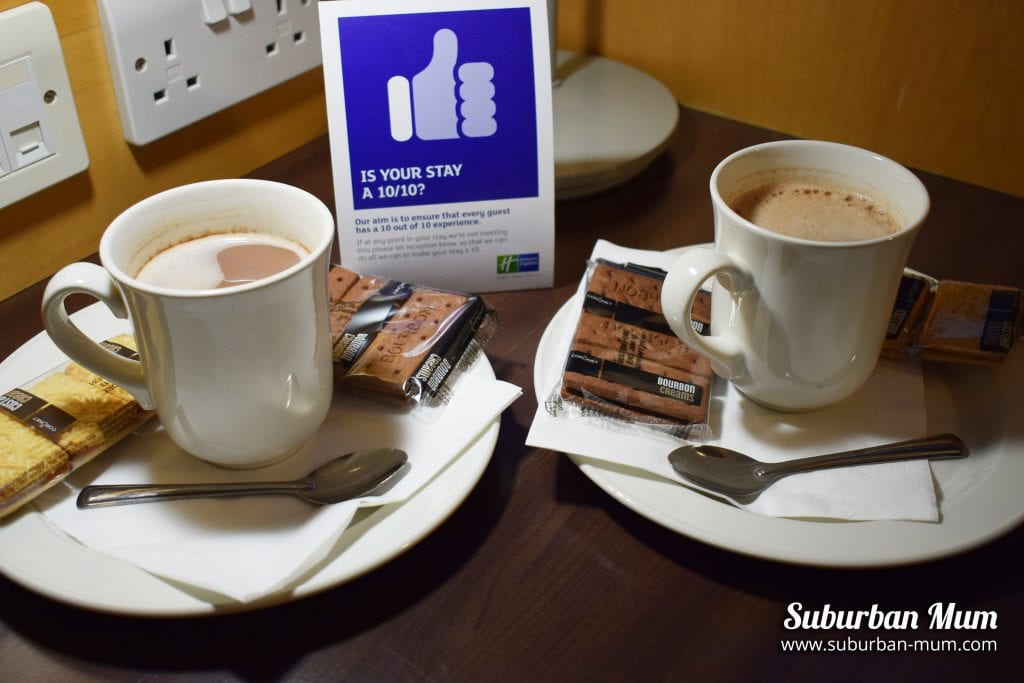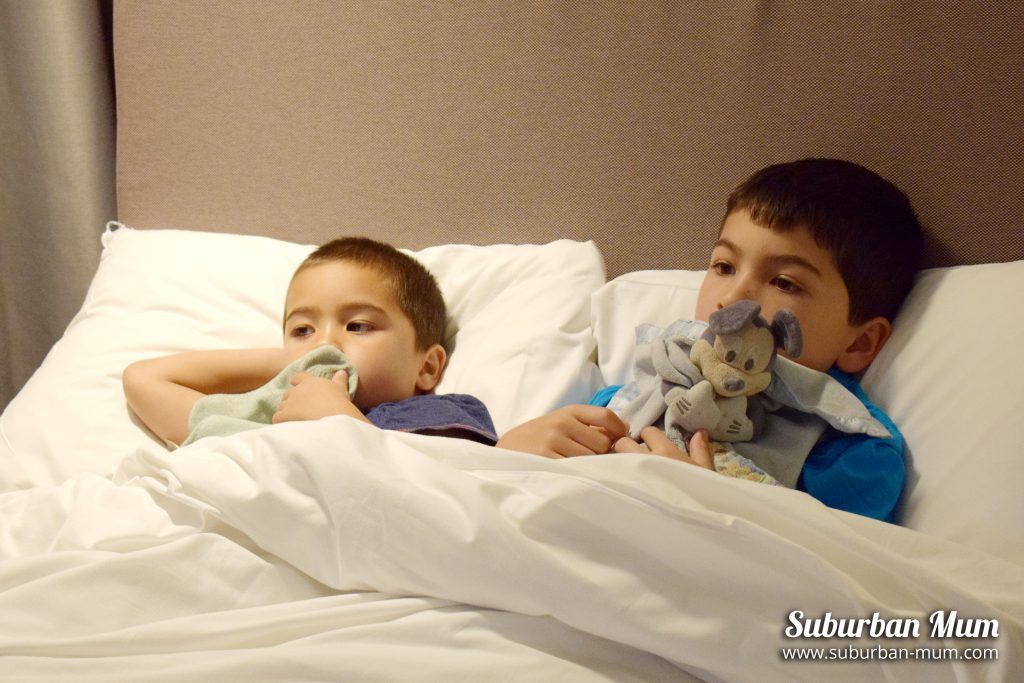 Breakfast
The following morning we were up early as we were checking out to head to Paulton's Park for the day .
Breakfast is served from 7-11am at the weekends and is buffet style and served in the restaurant area where we dined the previous evening.
As you can imagine, it was very busy and trying to grab your breakfast items from the small breakfast area where there are lots of hungry guests was a little chaotic.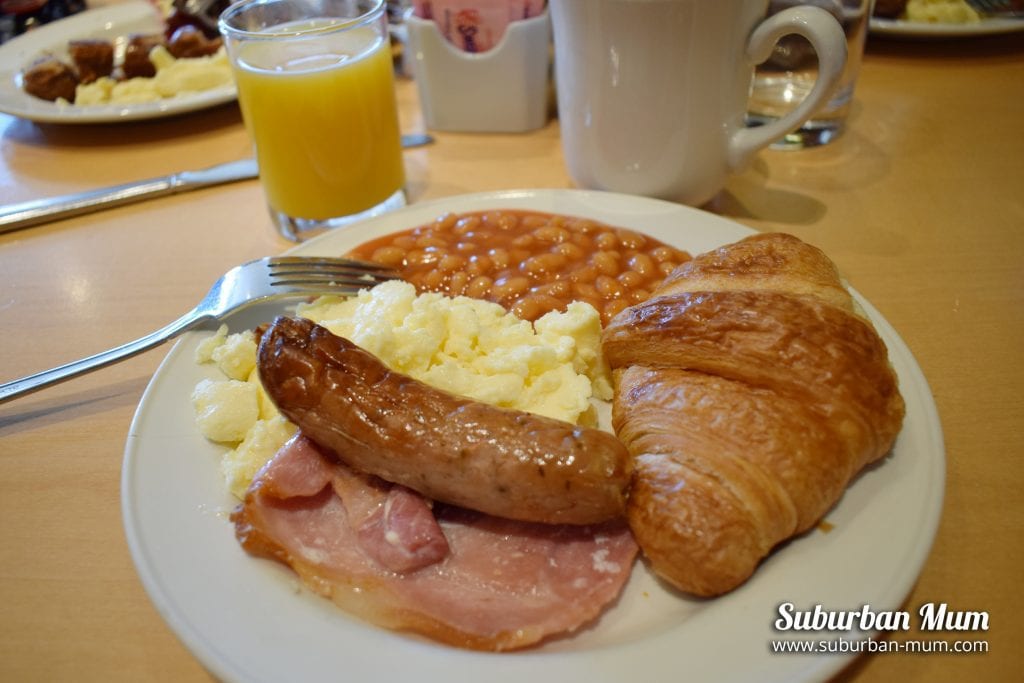 There was a good selection of pastries, jams, spreads, yoghurt and fruit as well as hot breakfast items such as bacon, sausages, scrambled eggs and beans. A variety of teas were also available as well as a coffee machine and juices.
Any items that were running low were replenished by the staff quickly. We found that once the initial mayhem died down a bit we were able to select what we needed to refuel – it was just what we needed for our busy day ahead.
Kids Advisor opinions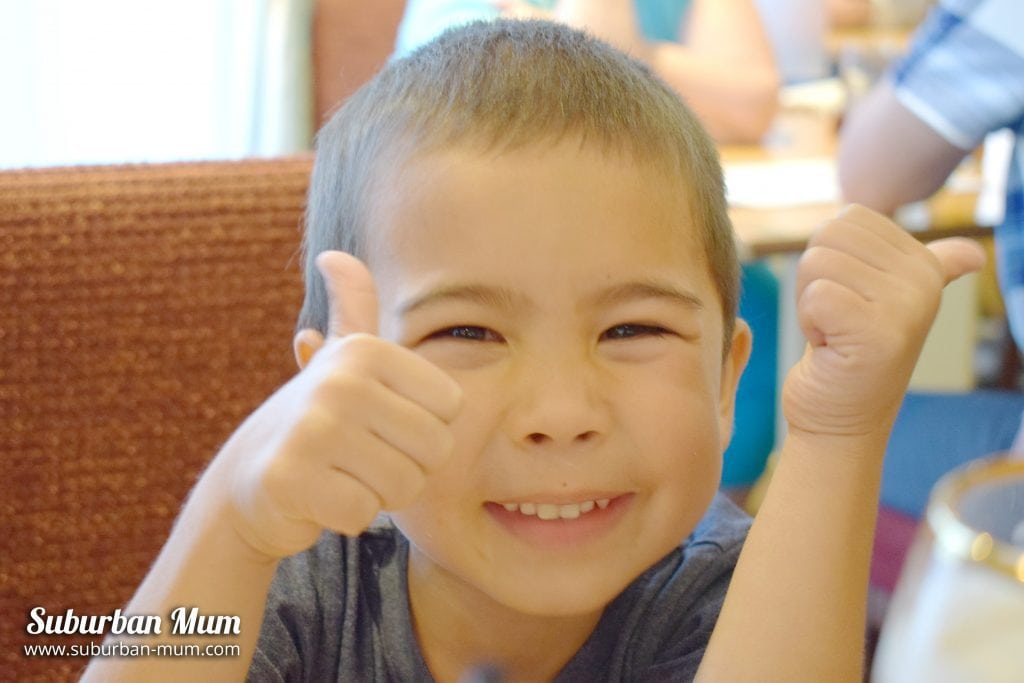 Things the boys loved
The buffet breakfast
Having hot chocolate and cookies in bed
Comfy sofa bed
Things that could be improved
TV wasn't big enough – E suggested a movie screen in the rooms
Adding a Kids Area with toys and a movie area with popcorn
The boys wanted a swimming pool!
Watch the video we made of the boys enjoying their stay:
Overall
The Holiday Inn Express, Southampton generally caters well as a place for families to stay. As the boys mentioned above, it would be nice to have a Kid's Zone where they could perhaps have a TV that showed movies in the evening and some toys for them to play with so parents could enjoy a drink or two before or after dinner.
We enjoyed our stay, the rooms are clean, beds are comfy and the staff are attentive and friendly and will happily help you with any queries you might have. We were made to feel very welcome and definitely would look to book a stay at a Holiday Inn again.
*We were invited to The Holiday Inn Express, Southampton for the purpose of this review.
Pin it for later: