For a number of years now, my boys have been desperate to get a dog but we have always been hesitant due to my husband's allergies. Pet dander can cause havoc with his skin as well as his breathing (he suffers from both asthma and eczema). We know that there are breeds out there that are more suitable for those who suffer from allergies as there are dogs that are hypoallergenic and don't shed but it will also mean I will need to up our cleaning routine to minimise any flare-ups.
We were recently sent the Pet model of the Hoover Upright 300 vacuum cleaner to review so I was really interested to see how this compared to our cordless vacuum. Our cordless vacuum is really handy to get out and with two messy boys, you can imagine how many times it needs to be used a day to clear up dirt and crumbs! However, the battery life isn't great and doesn't last long enough for me to vacuum both the upstairs and downstairs of our house in one go which can be a little annoying.
Read on to find out how we got on with the Hoover Upright 300.
Hoover Upright 300 Pets – what's in the box?
The HU300 comes with:
Handle & tube
Dust bin
Bagless Upright Vacuum cleaner
3-in-1 dusting brush, Upholstery and crevice tool
Mini Pets Turbo Brush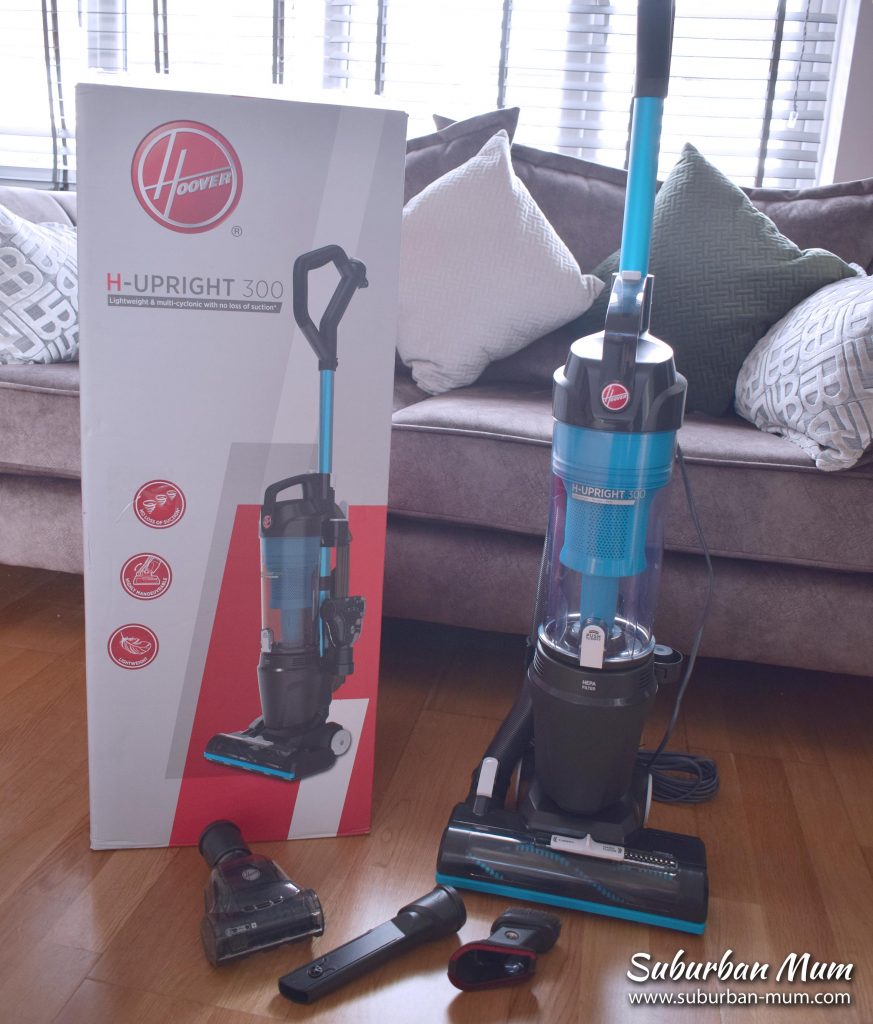 The Pets version comes in blue but it's also available in Red and Green. The hoover is easy enough to clip the handle into place (took me less than 2 minutes) and the accessories can be docked into the accessory holder on the main body of the hoover. Simply plug into the mains and you are ready to go.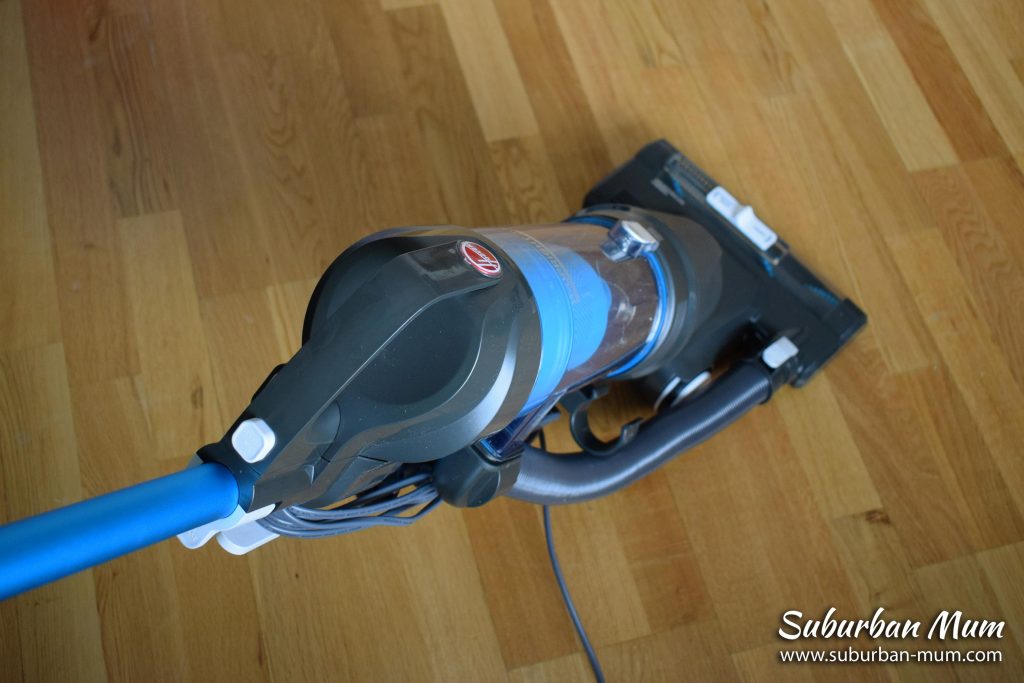 Hoover Upright 300
Weighing less than 5kg, the Upright 300 is one of Hoover's lightest vacuums to date. As well as being lightweight, it's also easy to steer and manoeuvre – allowing you to swivel around 80 degrees. The main hoover head gives you the option to choose between two settings, one for hard floor and one for carpets. You can also choose to turn the brushbar on and off at the touch of a button.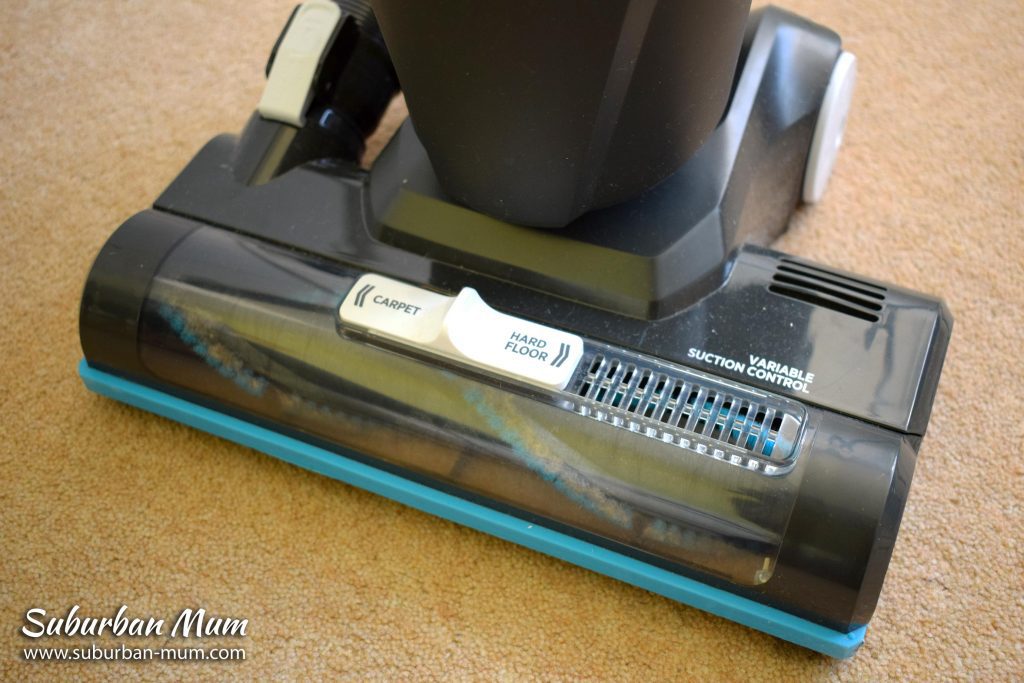 The Upright 300 vacuumed my floors with ease, being used to a cordless I did find the long power cord got in the way but I am sure this is something I will get used to in time. It did mean that I only had to plug it in one place though as it was long enough for me to vacuum upstairs without having to plug in elsewhere. The Upright 300 also comes with a hose on the side that you can use for getting to those hard to reach areas with the 3-in-1 dusting brush. You can also attach the turbo brush to the hose and vacuum the stairs. This attachment was great for vacuuming pet hairs as we happened to be dog-sitting our friend's labrador over the weekend.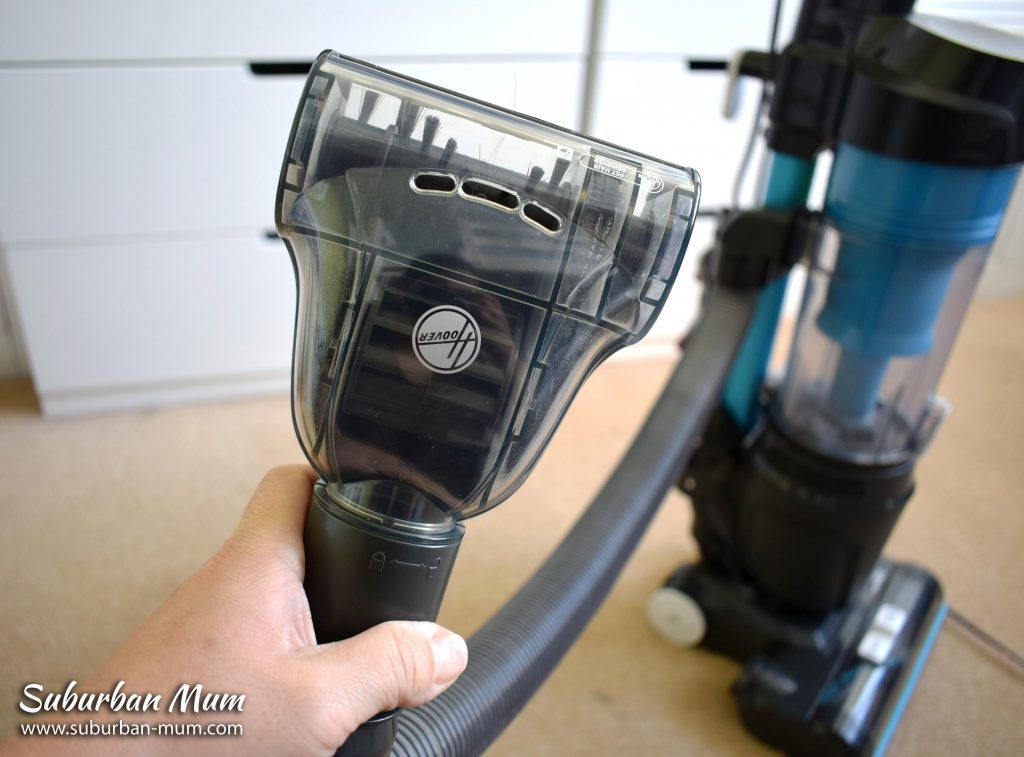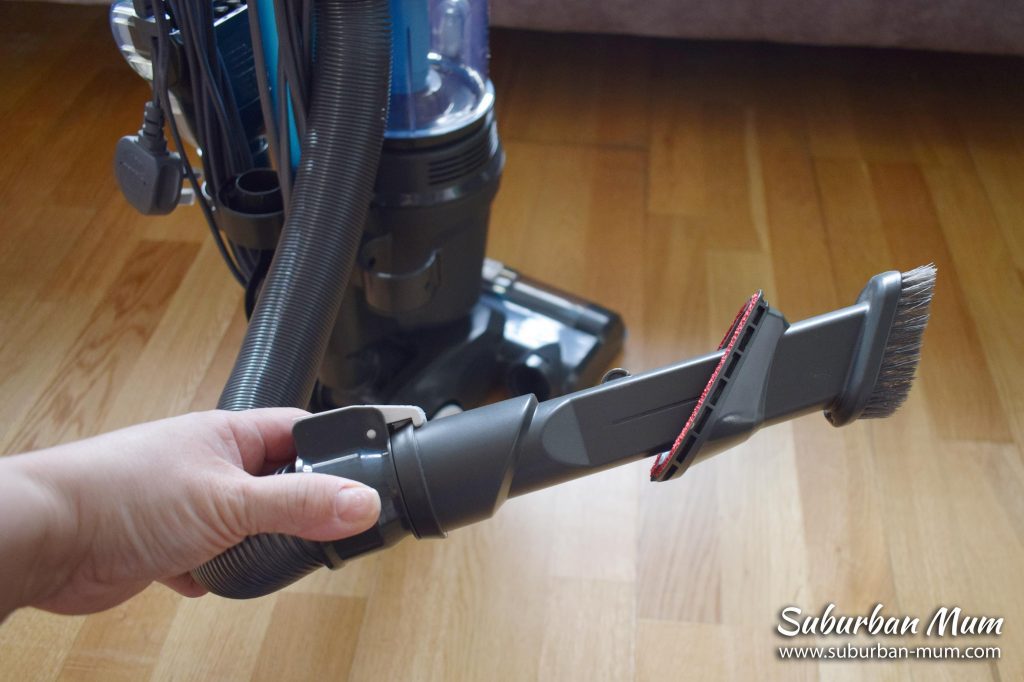 One thing I was pleasantly surprised with was the considerable difference in the pile of our carpet when using the brushbar and it picked up dirt and debris easily, the carpets definitely felt and looked much cleaner.
Anti-Allergy H13 HEPA Filter
The Hoover Upright 300 comes with a washable H13 HEPA filter, making it especially beneficial for those who suffer from allergies. The filter traps allergens as well as helps purify and improve the air quality in your home. It also features multi-cyclonic technology whereby the dust is pushed away from the filter, helping it stay cleaner for longer. There's a large capacity easy-to-release bin (1.5 litres) with one click emptying for convenience too.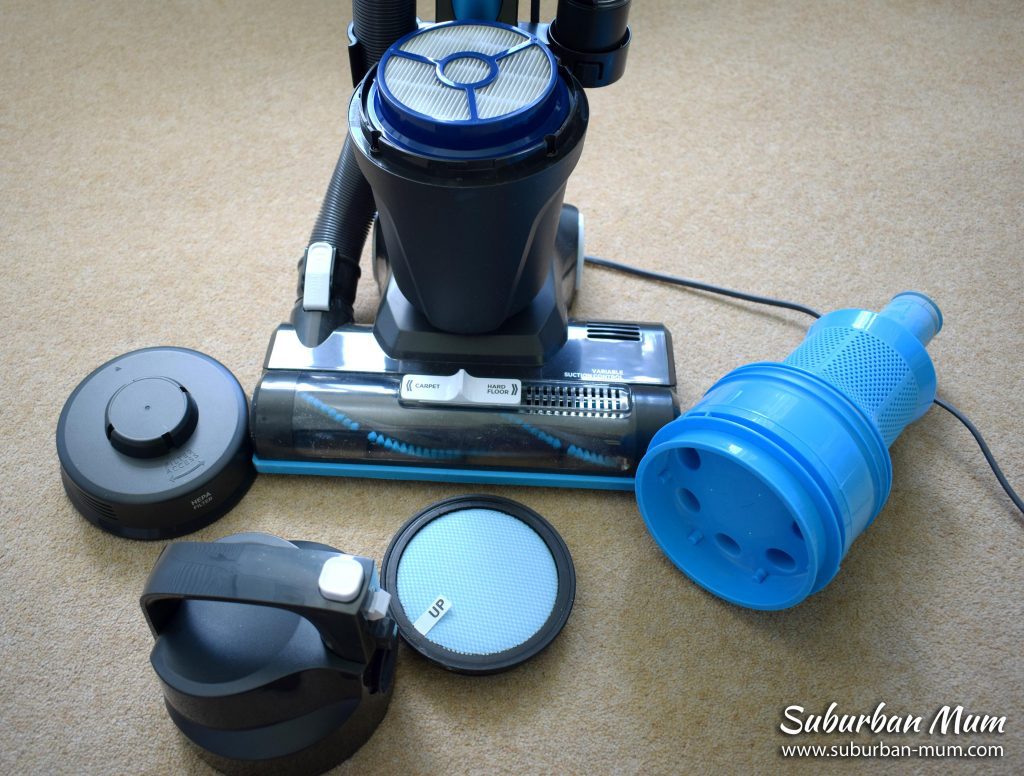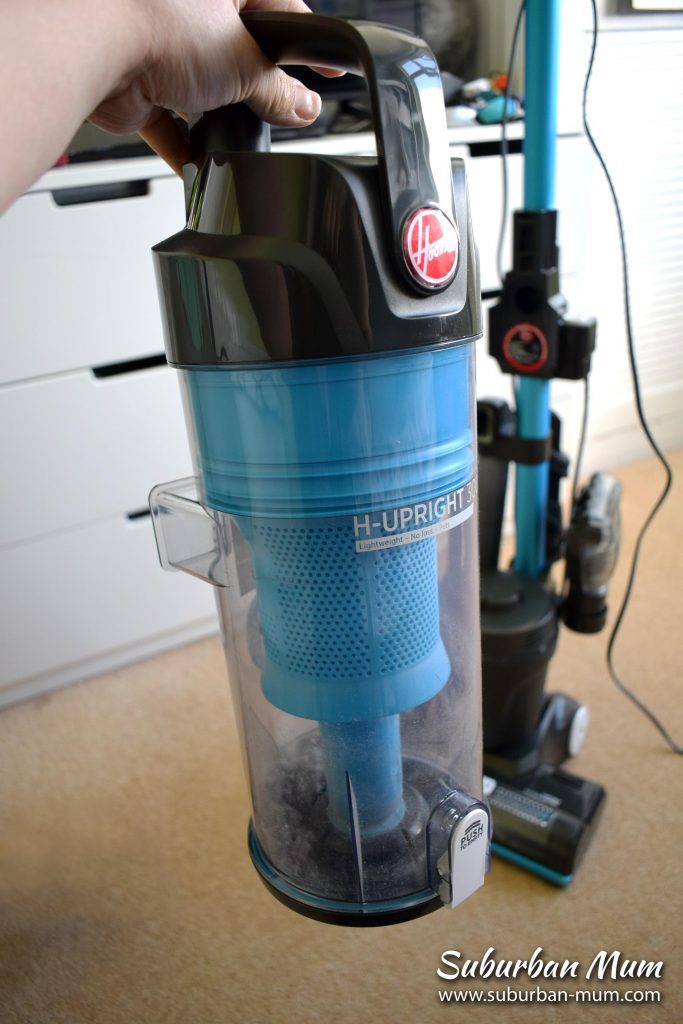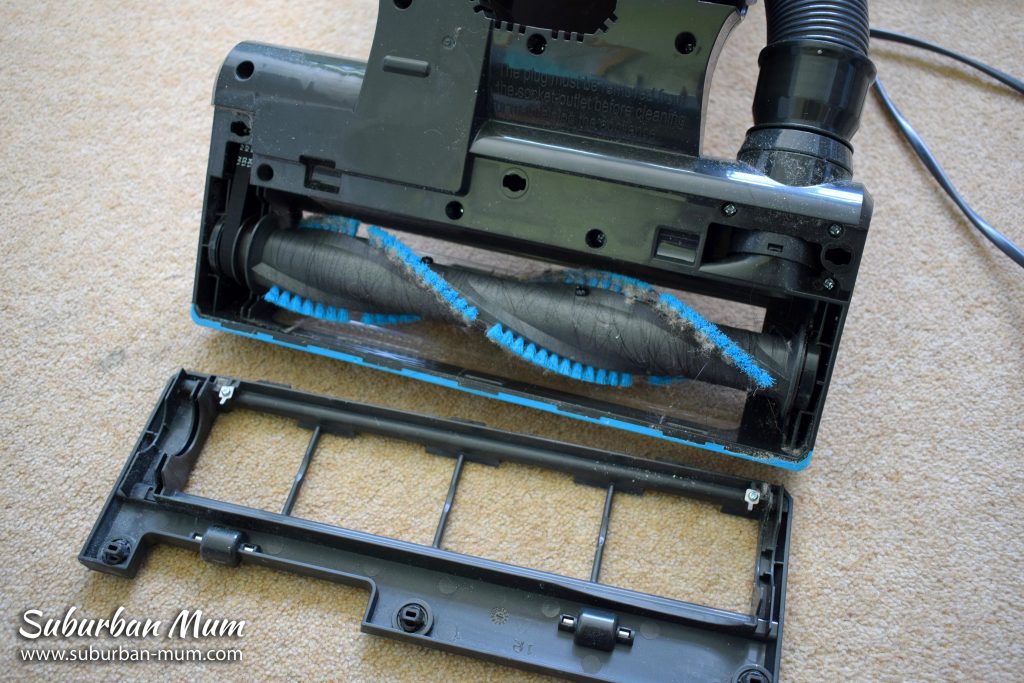 The HEPA filter comes as standard on all of Hoover's Upright Collection making it a good choice for allergy sufferers and pet owners alike.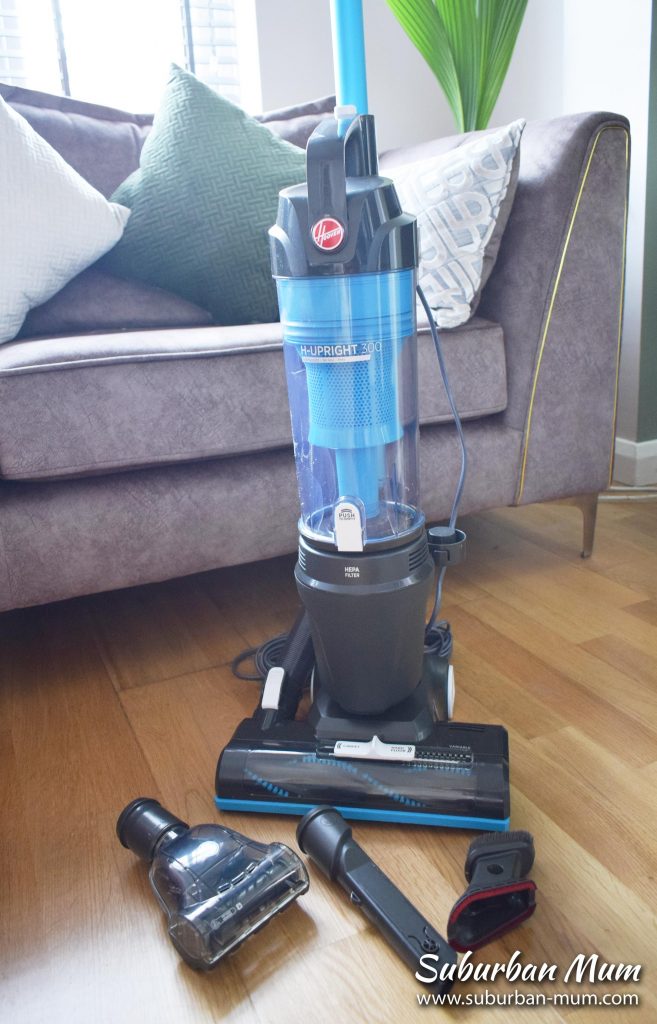 Overall thoughts
I am impressed with the Hoover Upright 300 as it's quiet, light and easy to manoeuvre. It's handy to have the option to turn the rotating brushbar on and off as I know that the fibre of some rugs can be damaged when the brush bar is on. I also love that I can combine the handle with the active hose to clean those hard to reach areas above door frames and ceilings. I'm confident that with the HEPA filter, multi-cyclonic technology and the mini Pets Turbo Brush we can keep on top of both my son's and my husband's allergies.
 Save 20% off EVERYTHING on Hoover Direct
The Hoover Upright 300 currently retails at £199 from Hoover Direct but you can currently save £70 off the retail price as it's on offer for £129. However, if you use my discount code as well you can get another 20% off the offer price bringing the cost down to just £103.20! The 20% discount code will work on everything on the Hoover Direct website – so gran yourself a bargain!
Simply enter the code SUBURBAN20 at checkout
I was sent the Hoover Upright 300 Petts from Hoover Direct for the purpose of this review.