And… another month down!
We are so close to the end of the school year now and I think the boys are ready for the break. I'll definitely be looking forward to spending some lazy mornings with them without the mad dash to school in the mornings. I count myself lucky I only have to take them myself twice a week!
Here's what we got up to in June.
Thorpe Park
We started the month with a trip to Thorpe Park for Inset Day. We've never been before but it's safe to say that the boys absolutely LOVED it. Their most favourite ride was a kiddy rollercoaster called The Flying Fish.
Check out our review where I've listed some of the kid-friendly rides that are on offer there. We're planning another visit over the Summer and hoping the boys will want to try a few more rides.
Future YouTube Star?
I don't tend to make many Vlogs or videos but over recent months I have enjoyed dabbling in it a little more. The boys have somehow picked up on this and are now obsessed with filming their own little videos on my phone.
It's hilarious watching them back as you can see fingers over the lens and shots of their feet! Their commentary also makes me laugh too.
Do you think they'd cut it as YouTubers?
Football Goal
When one of our friends offered us a Football Goal for the garden Mr H said yes straight away. E is always wanted to have a kickabout outside so it was perfect. What we didn't quite realise was how big it would actually be.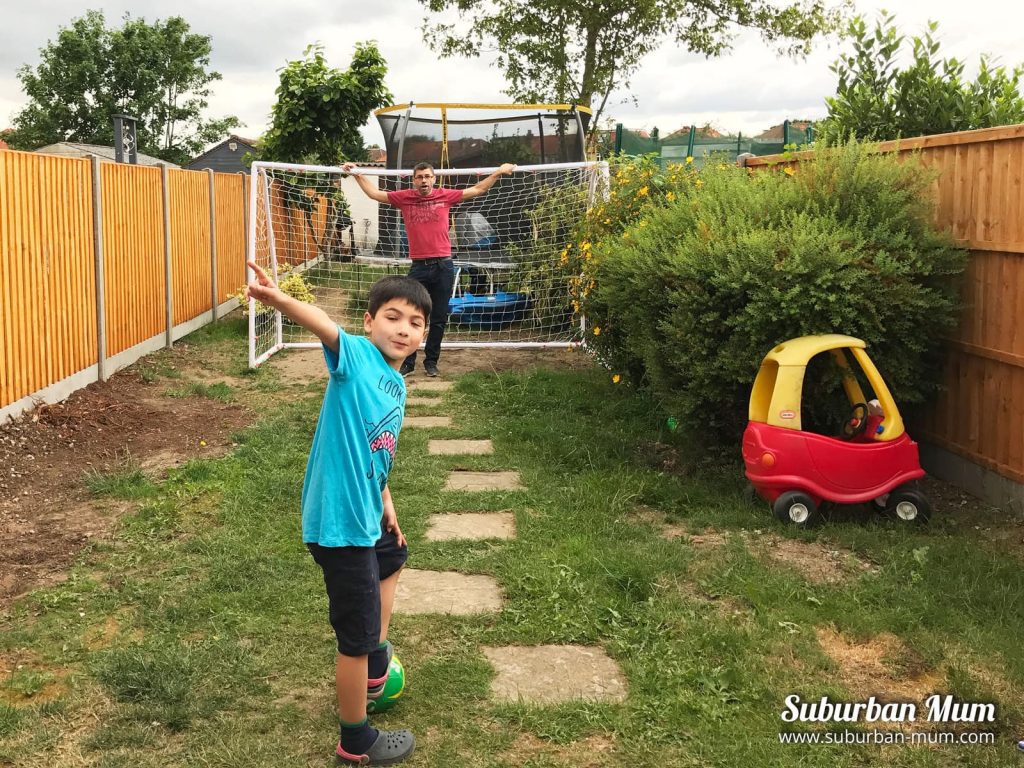 It's currently taking up A LOT of space in our garden! I think we might chop it down a bit in time but as expected E loves it.
First Barbecue of the year
We had our first Barbecue of the year at our house on probably one of the hottest weekends in June. I'd conveniently bought Mr H a new Barbecue for Father's Day so he got to put it to good use that weekend. We've previously had Gas Barbecues before but fancied a change so we've gone back to good old charcoal.
Gas or Charcoal doesn't really bother me. Either way it means Mr H is cooking instead of me so I'm happy!
Kidzania
I mentioned dabbling in videos a little more above and we were given the perfect opportunity to film a day out at Kidzania for 365 Tickets.
We went on Father's Day so Mr H got involved in a footy game at the Kidzania arena so it was a fun day out for all.
You can see what the boys got up to in the video below.
What did you get up to in June?