Welcome to my new guest series – My London, where my fellow bloggers share their favourite things about London.
Kicking off the series this week we have Jodie from Maidenhead Mum sharing her favourite places and memories of London.
---
What do you love most about London?
I love the architecture. The grand sweeping streets like Regents Street and the terraces around Regents Park. And the undisputable whiff of history that's everywhere you go. I lived in New York for 6 months and I really missed being surrounded by history.
What's your most favourite memory of London?
I used to live in Camden in a shared a penthouse apartment right on Camden Lock. There was a roof garden and we sat outside on bonfire night watching fireworks go off all across the city while we sat drinking a beer. A lovely London moment.
If you had to pick one iconic building in London what would it be?
St Pancras Station. It's just beautiful inside and out. The gothic brickwork is outstanding and if you take the time to go to any of the bars, restaurants or the hotel, you'll see exquisite detail everywhere you look. The tiles, the grand staircase…even the door handles are beautiful. We got married just over the road from there and our wedding photos have the station as the backdrop. I've even stayed in the clock tower: you can rent the apartment on Airbnb!
If you could recommend one place that's off the beaten track and away from the hotspots for someone out of town to visit where would it be?
Stroll around Shoreditch wearing something bright and take a camera and a friend. There are some fantastic graffiti walls and it's lots of fun walking around and finding a wall to match your outfit! If you end up on Brick Lane you'll find cool independent shops selling everything from rainbow bagels to a breakfast cereal café!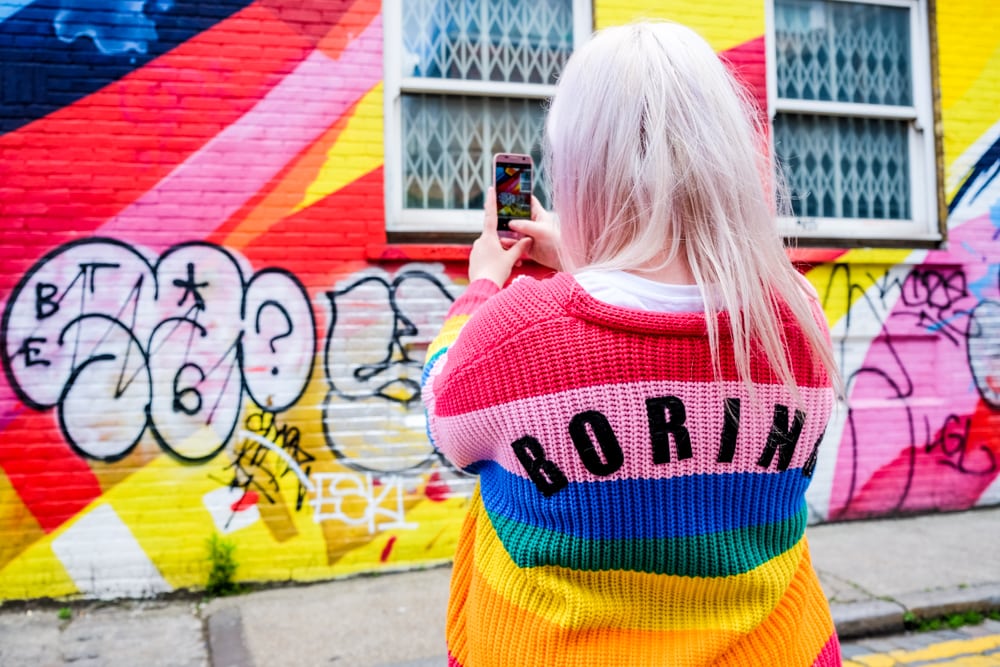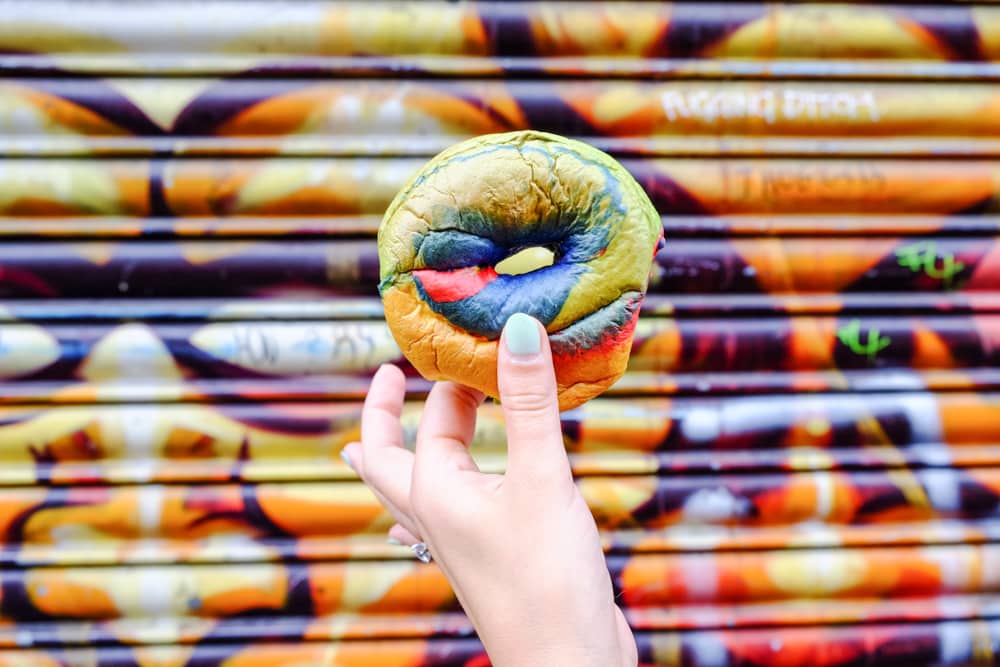 Best place you've eaten in?
I'm dairy free so eating out can be a bit of a challenge. I LOVED Dishoom at Kings Cross though. First time I've ever been to a restaurant and have been given an actual dairy-free menu to look at, not just an excel spreadsheet showing allergens. They serve Bombay street food and every dish is quirky and tasty. On top of that, it's in an awesome converted building, with plenty to see in the surrounding area too.
The last theatre productions/show or concert you went to or would like to see?
I went to see a Radio Two live orchestra performance at the London Coliseum which is the home of the English National Opera. The concert was Queen: 'Friday Night at the Opera' and it saw the music of Queen bought to life by 4 amazing singers, a full rock band and an orchestra. Epic doesn't even come close!
Favourite place to visit on a night out and why?
I love Gordons Wine bar next to Embankment. It's a cosy candlelit cellar bar that serves wine and port. It's really atmospheric: you feel just like you've stepped into a Charles Dickens novel! I went one New Year's Eve and you can nip outside to the terrace and watch the fireworks over the river at London Eye.
If you live in London, how long have you lived there for? If not, what makes you visit time and time again?
I lived in London as a young professional but a career change meant that I moved out to Maidenhead. It's only 23 miles from Maidenhead to Charing Cross but it's quite a different pace of life! I've lived here for 7 years and now have a 5-year-old and a two-year-old. We like to nip onto the train and visit London whenever we can: my daughter is obsessed with history and the monarchy so it's a real delight seeing her learn as we explore. It's less of a delight having the two-year-old with us and navigating the underground with a buggy… but that won't be forever!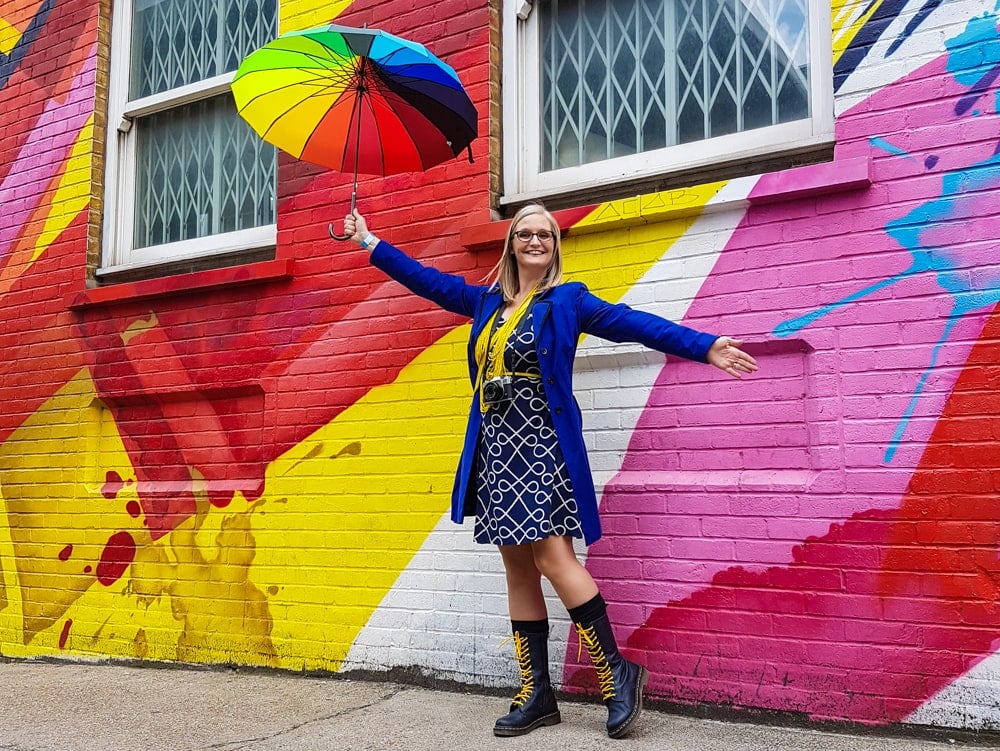 And finally a bit of fun – write the first thing that pops into your head!
(these were quite hard!)
L is for….. London Transport Museum
O is for…. Observatory at Greenwich
N is for… Notting Hill Gate
D is for… Diana Princess of Wales Playground
O is for… Open House (when you can go into buildings for free)
N is for… Natural History Museum
---
Jodie is a photographer and blogger living in Maidenhead with her husband and two children. Although she now lives in the Royal Borough of Windsor and Maidenhead, she is a city girl at heart and often nips into London with the kids or on her own to make the most of what London has to offer.
You can find her online: