So following from my "Juggling work, school and family" post I have been making more of an organised effort with cooking dinner.
I don't know about anyone else, but invariably I always end up cooking the same dinners for my boys. Week by week they will have things like jacket potato, pasta, salmon and broccoli that kind of thing…
I was flicking through my WeightWatchers "family cooking" recipe book the other day and came across a Weight Watchers mini toad in the hole recipe which I thought the boys would love and apparently only took 15 mins to prepare and 20 mins to cook.
They were a huge hit with the boys and E even asked for seconds and thirds! I think this may well become a new regular on the menu, and if your hubby isn't fussy like mine and doesn't like toad in the hole (what's not to like?) then its enough to serve a family of four AND as its a WW recipe so you can't go wrong right?
Here's the recipe – the book says it serves 4 adults, I would say it easily serves 6 kiddies if they have 2 each or will serve 3 kiddies if they are piggies like mine and have 3 helpings! As you can see from the pic I served mine with broccoli and mash and gravy
I couldn't resist having one myself when the boys sat down to eat.
Enjoy!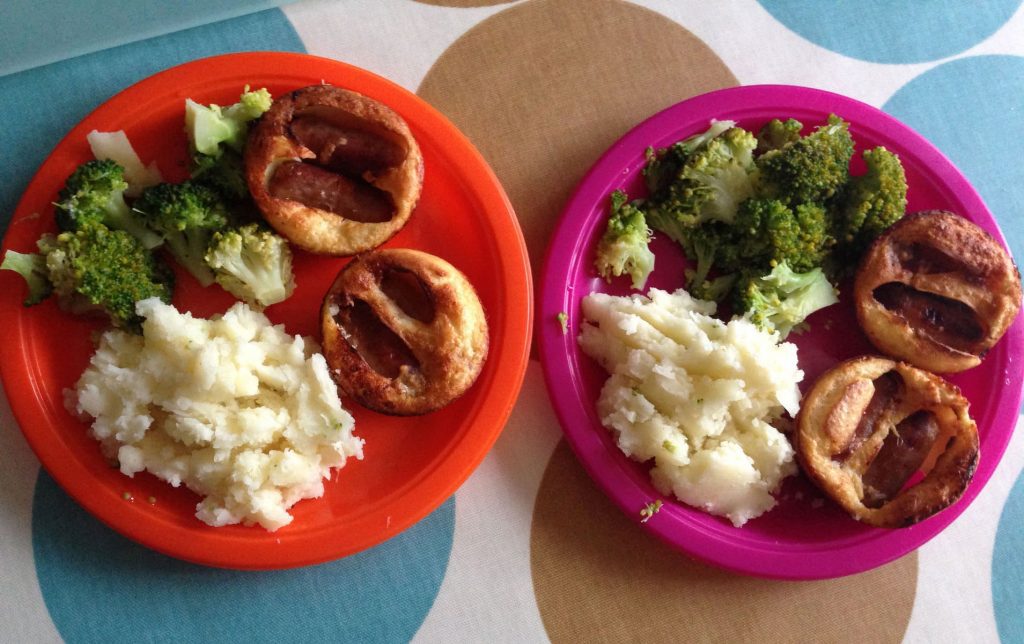 Weight Watchers Mini Toad in the Hole recipe
Ingredients
1 tablespoon sunflower oil
12 thin sausages (I used chipolatas)
1 large onion (I omitted this from mine)
125g plain flour
1 egg
300ml skimmed milk (I used full fat)
Salt and pepper to taste
Method
Pre-heat the oven to Gas Mark 7/220°/fan oven 200°
Divide the oil between the hollows in a 12 hole tin (1/4 teaspoon in each) and heat in the oven for 2 minutes
Twist each of the sausages in half to form two cocktail sized sausages and snip to separate
Place two sausages (and some onion if you are using) in each hollow and cook in the oven for 8 minutes until lightly browned
Meanwhile, sift the flour into a bowl and season. Make a well in the centre, break in the egg. and gradually whisk in the milk to give a smooth batter. Transfer to a jug
When the sausages (and onions) are browned, pour in the batter, dividing it equally between the hollows. Return to the oven and cook for 18-20 minutes until the batter has risen, crisp and a rich golden brown.Serve two to three puddings per person
Pin it for later: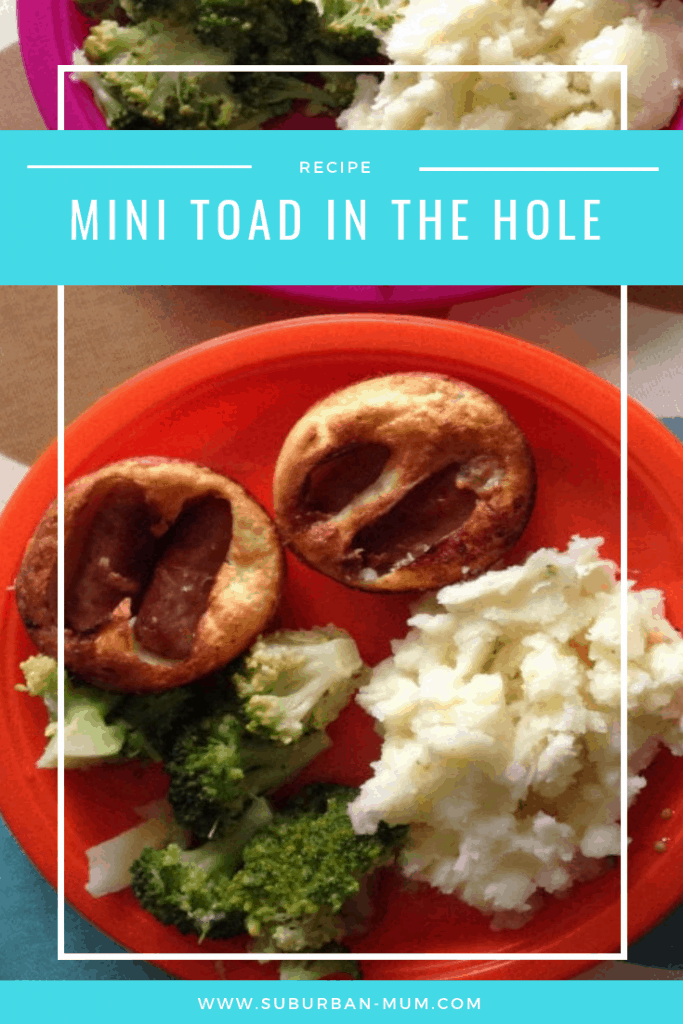 You might also like: