Ever since the first Nerf gun was released in the late 1980s, the foam bullet toys have become increasingly popular with kids and parents alike. Over the years, the range has expanded from the first two products to include different style Nerf guns, foam bullets and even arrow and water-based toys.
There's little wonder that you can now book Nerf parties thanks to the popularity of the toy. Nerf gun parties are great fun for all kids with a love for this outdoor toy and can be a great alternative to traditional parties.
What are Nerf parties?
Nerf parties can come in two different formats. You can book a Nerf party for kids at a specially designed venue exclusively for Nerf parties. Or you can hire a venue and book a company to set up a Nerf gun experience if a venue isn't local to you.
At a Nerf party, you will typically be provided with the Nerf gun, ammo, safety glasses, tactical gear and equipment you might need for gameplay. The location will then be set up with barriers, bunkers, sandbags, tunnels and more for an exciting gameplay that resembles a paintball party. Please note the exact equipment provided and set up will vary from venue to venue or depend on the mobile provider you use if you host a Nerf gun party at a location of your choice.
Nerf gun parties can be hosted both indoors and outdoors, and this can change depending on the provider you use for your party or the Nerf gun party venue itself.
Nerf Parties usually consist of 60 minutes of gameplay with a safety and set-up period required too. The exact gameplay time will depend on the package you choose, and Nerf party providers and parties can be longer or shorter. Always clarify this prior to booking, so you know exactly how long the entire party will be.
Is there an age limit for Nerf parties?
While there is no age limit on buying Nerf guns for your kids, it is generally assumed that those under 5 might have difficulty using the toys. For this reason, many Nerf party venues have a minimum age of 5 or 6 for players. There is no upper age limit for kids' parties, with some venues hosting parties for ages 15+.
You should be aware that smaller or younger children might experience difficulties getting around or using the Nerf guns, which might detract from their overall enjoyment of the party.
If you are interested in booking a Nerf gun party for your child, below are some popular providers of Nerf parties or venues that cater for Nerf gun parties on-site.
How much do Nerf parties cost?
Nerf parties can be held for different-sized parties, although there is usually a minimum limit of 10 kids per party. You may need to make a special booking for larger group bookings to see if your group can be accommodated. Due to the nature of Nerf gun parties, it isn't always possible to add additional children to gameplay on the day unless you have no shows, so bear that in mind. The exact group size, again dependent on the venue party provider.
Prices for Nerf parties can start from around £220 per party of 14 children, for example, with each additional child at £13 per head. Other examples include £225 for up to 20 children with 60 minutes of gameplay and unlimited bullets.

Nerf Party venues in London/Surrey
Multiple venues across Surrey, including:
New Malden Leisure Centre
Spectrum Guildford
Tolworth Leisure Centre
Tooting Leisure Centre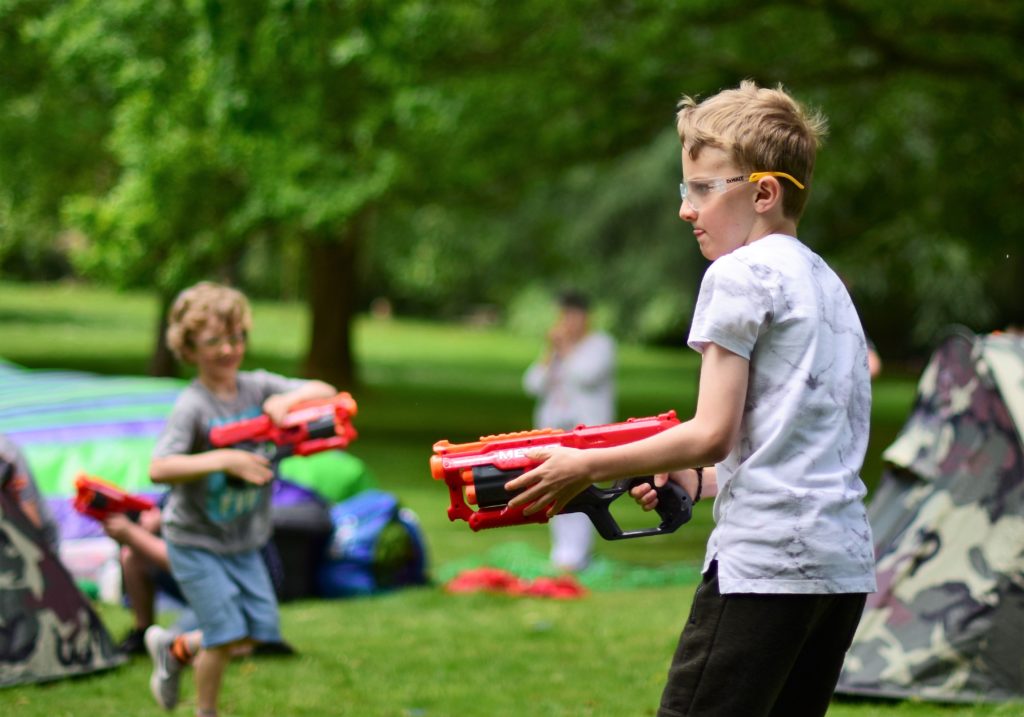 Sutton Green Garden Centre
Whitmoor Lane
Woking
GU4 7QB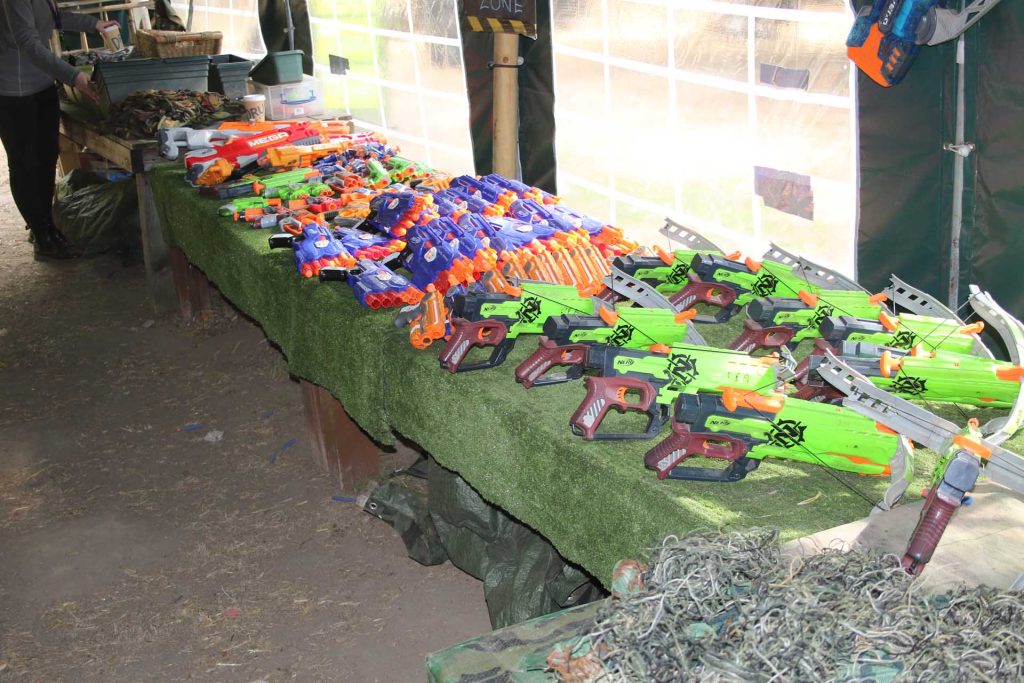 Chessington
Castle Hill Primary School
Chessington
KT9 1JE
Wimbledon
West Wimbledon Primary School
Bodnant Garden's
London
SW20 0BZ
All Saint's Primary School
78 Victory Road
South Wimbledon
SW19 1HN
Esher
Cranmere Primary School
Arran Way
Esher
KT10 8BE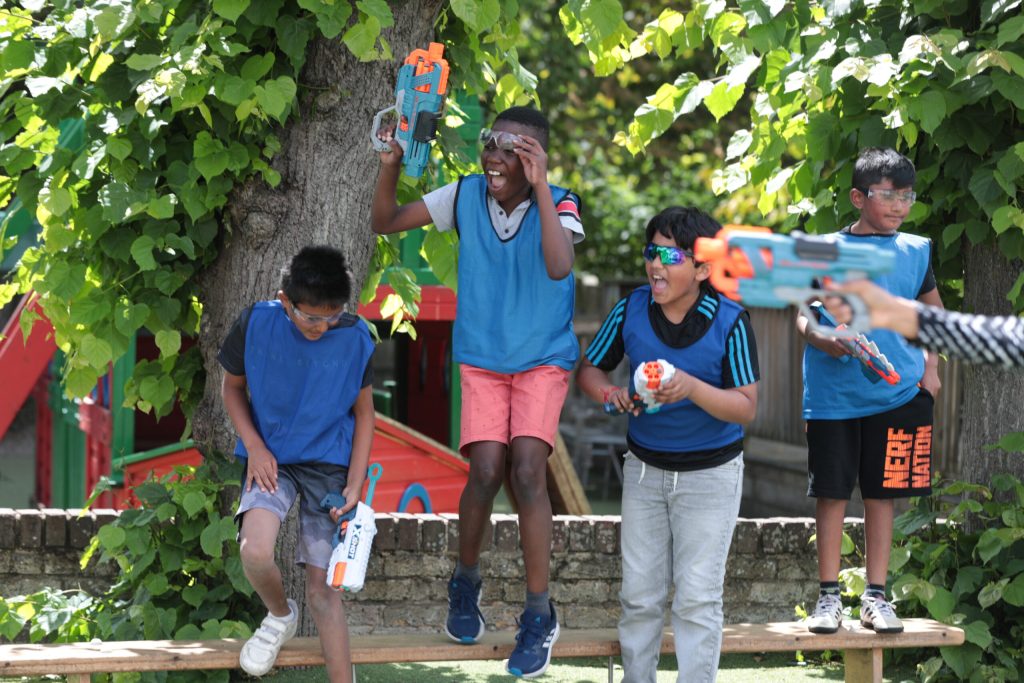 Multiple venues across Surrey, including (and many more):
Kingston University
Surbiton Town Sports Club
Chessington Sports Centre
Tiffin Sports Centre
Raynes Park High School Sport Hall
All England Club Community Sports Ground
Surbiton High School Oaken Lane Sports Ground
Multiple venues across Surrey, including:
Kingston Grammar School
GOALS Tolworth
Surbiton High School
Kingsmeado Fitness Centre
GOALS Wimbledon
Multiple venues across Weybridge, Shepperton, Esher and Staines, including:
Oatlands Village Hall
Shepperton Village Hall
St Peters Church Hall, Staines
Ashford Community Centre, Staines
Jubilee Centre, Shepperton
Henfold Lakes
Henfold Lane
Dorking
Surrey
RH5 4RW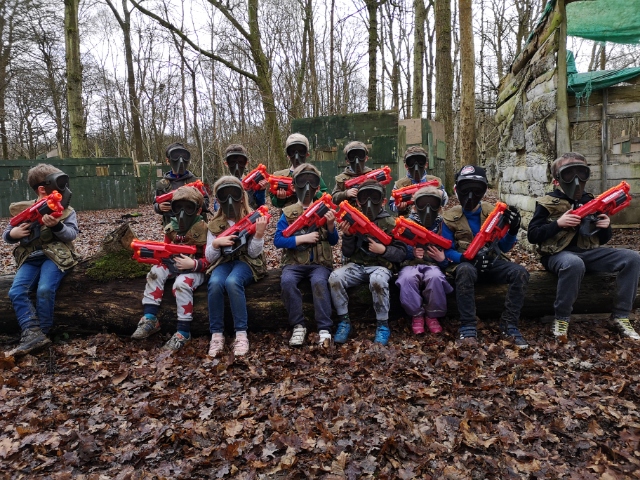 Smallfield Road
Horley
Conclusion
When booking your Nerf party, always ensure you know the rules and what will happen on the day, from age limits to party sizes, venue access, length of gameplay and any additional extra such as catering. This can help to ensure your party goes off without a hitch.