Each month I will list five things that my family and I have been into –  be it a favourite song/band, new programme on tv, item of food, gadget place(s) we have visited etc…
You are very welcome to join in and do the same OR post any five of your own favourites.
Linky rules
Please grab my badge (below) and add to your post, or link to me via a text link
Post your link at the bottom of this page
Use the hashtag #OurFavouriteFive on twitter and tweet me @suburb4nmum with the url of your linked up blog post and I will RT
Leave me a comment and I will comment on each post linked up
The linky will run at the end of each month
I will feature my favourites from the past month
That's it – enjoy! I hope you find some new things to try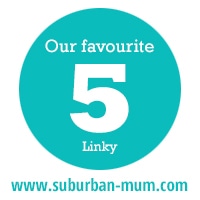 Copy and paste this HTML code onto your blog post:
It's been a crazily busy month for us in the Suburban Mum household with three birthdays to celebrate. I still can't quite believe that E is now the grand age of 5 – how did that happen so quickly?
I've not had much of a chance to promote this linky either but am hoping to be able to give it more attention this month. This month has turned out to be a bit product based as I have genuinely found some great new gadgets that have made my home life a little bit easier.
1. Dyson Cordless V6 animal
One of my birthday gifts from hubby and I have to say it has changed my life!! No more sweeping the floors after the boys dinner, no more lugging around our old heavy Dyson. This new cordless Dyson is just SO light, easy to whip out and can also be used as a handheld. I will be looking to write up a full review in the next few weeks because I love it that much but it has instantly made my house look cleaner and I have already used it every day already!

2. PurSteam Fabric Travel steamer
Before E started school I avoided ironing at all costs. The only ocassions the iron was let out was if we had somewhere posh and swanky to go to where we needed to iron shirts and trousers. Since E started school however it meant a weekly ironing of school uniform on a sunday night which swiftly reminded me of the days when I lived back at home and was lumbered with ironing not only mine but both my brother and sisters uniforms (this is probably why I avoid it wherever possible) This month however I have found a new solution – the PurSteam Fabric travel steamer! I can't believe I never knew about these before – I can now easily go through the pile of school uniform in less than 20 minutes using this steamer. It takes about a minute for this to heat up and away you go. The iron and ironing board has been banished to the back of the cupboard again and I can now enjoy my sunday nights much more.
3. Aldi
Aldi has become our new favourite place to do the weekly shop. Although it's not as convenient as online shopping we have found that we are saving around 30% compared to our usual weekly shop in Tescos. We have been shopping here since a new store opened nearby and every time we go the car park is packed. We had a birthday barbecue back at our house after E's birthday party last weekend and usually we would easily spend around £50 on food for this. Shopping at Aldi though, I spent £67 and that included buying bread and fillings for the sandwiches I was making for 30 hungry children at E's party aswell as a couple of dinners and snacks. There are a few things we will still need to pop to our Tesco's or Sainsburys for (like Heinz Beans and Ketchup) but other than that its really not bad going and being able to save some pennies is a real WIN for us.
4. iWave Power Bank
I picked up one of these power banks in TK Max as invariably my almost 2 year old iPhone now struggles to last all day without charging. It's so handy when you are running out of juice when you are out and about. All you have to do is make sure the power bank has been pre-charged and pop it into your bag along with you phone charger cable and voila! You can charge your phone on the go!
5. The Island with Bear Grylls
Apart from The Walking Dead there aren't many programs that hubby and I watch together. Of an evening he is usually watching something that for me, is just on in the background whilst I catch up on things to do at home or the blog (or sometimes work) We both got into watching The Island with Bear Grylls in the last month though and really enjoyed watching both the men and the women and seeing how they both coped with life on an island where they had to learn to be self sufficient.
So thats me for May – what were your favourites? If you have any new gadgets you can't do without let me know!

[inlinkz_linkup id=531203 mode=1]