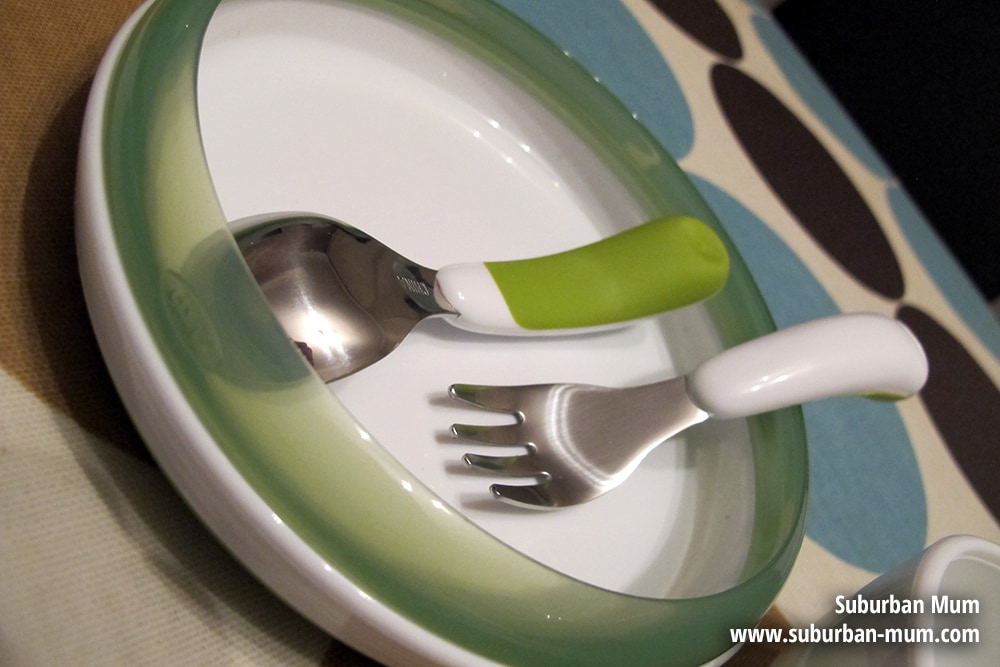 When you have children they are always hungry – fact. So in our household it means we have ridiculous amounts of plastic plates and cutlery and cups (don't get me started on the number of beakers we have – that is another post all in itself!) We were very kindly sent the OXO 4 Piece Feeding set to review which M was the perfect candidate for testing out.
I knew OXO made cooking and household items/storage solutions as we own a few, but I didn't realise they also had a whole Baby and Toddler range. Aside from the feeding set they offer a good range of other things such as cups, highchairs and pottys.
However, lets get back to the feeding set. Both the plate and bowl feature non-slip bases and the plate has a removable curved ring to help keep food in. The bowl also comes with a lid which means any left overs can be saved easily and put into the fridge, and the fork and spoon have non slip handles which makes it easier for your little one to hold.
I loved how sturdy this set was and out of all the plastic bowls and plates we have – this has become M's favourite to use. You can really tell it's good quality as the plastic is lovely and thick making the set very sturdy (which it needs to be for messy toddlers!)
This a great starter set and I wish I had known these existed when M started weaning. We have been using the set for a good couple of weeks now and it still looks new.
The set is suitable from 12 months plus and retails at around £16 but I would say you could definitely use this from weaning age and introduce the cutlery later when your child is ready.
Why don't you check out the whole OXO Tot range here or visit their Facebook or Twitter pages?
NOTE: The OXO Tot 4 Piece Feeding Set was sent to me with the purpose of writing an honest review in exchange for the item. All images and opinions are my own.
Linked up to Tried & Tested