I love Friday's. I work four days a week, so for me, Fridays are the start of my weekend.
On Fridays, our usual routine goes out of the window. We don't worry about homework or reading, and the boys will have chosen a treat of some sort for their pudding that evening. They will also get into their pyjamas early so they can watch a movie while waiting for daddy to come home.
Sometimes, we have playdates over or meet with friends and on others, (usually around payday!) the boys get treated to dinner out. This saves me from having to cook and leaves the house cleaner for just that little bit longer.
The Friday before half term was one of these occasions. Pizza Express remains one of our most favourite place to go, and we were very lucky to be invited along to try out their new Autumn/Winter menu.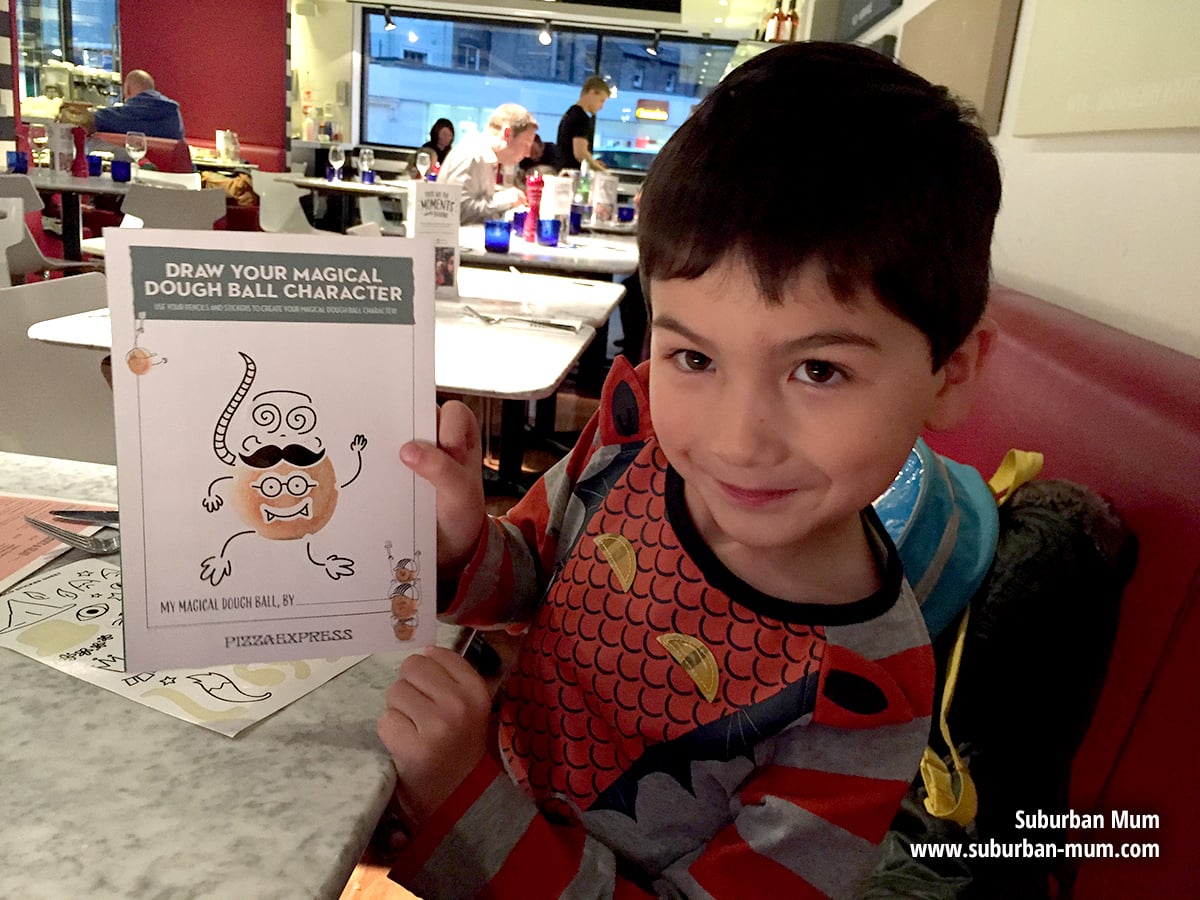 Family-friendly with freshly cooked food – it's everything you would want when eating out with children. Our local branch even let the children make their own dough balls which as you can imagine is a real hit!
The Surbiton branch is right by a train station, so the boys were in absolute train heaven. Mr H met us straight from work so we could all enjoy our "official start to the weekend" meal together.
The children's menu remains largely the same (why change something that works right?), so we knew right away what the boys were going to have. Their choice is always dough balls followed by a pepperoni pizza, chocolate brownie for dessert washed down with a bambinoccino.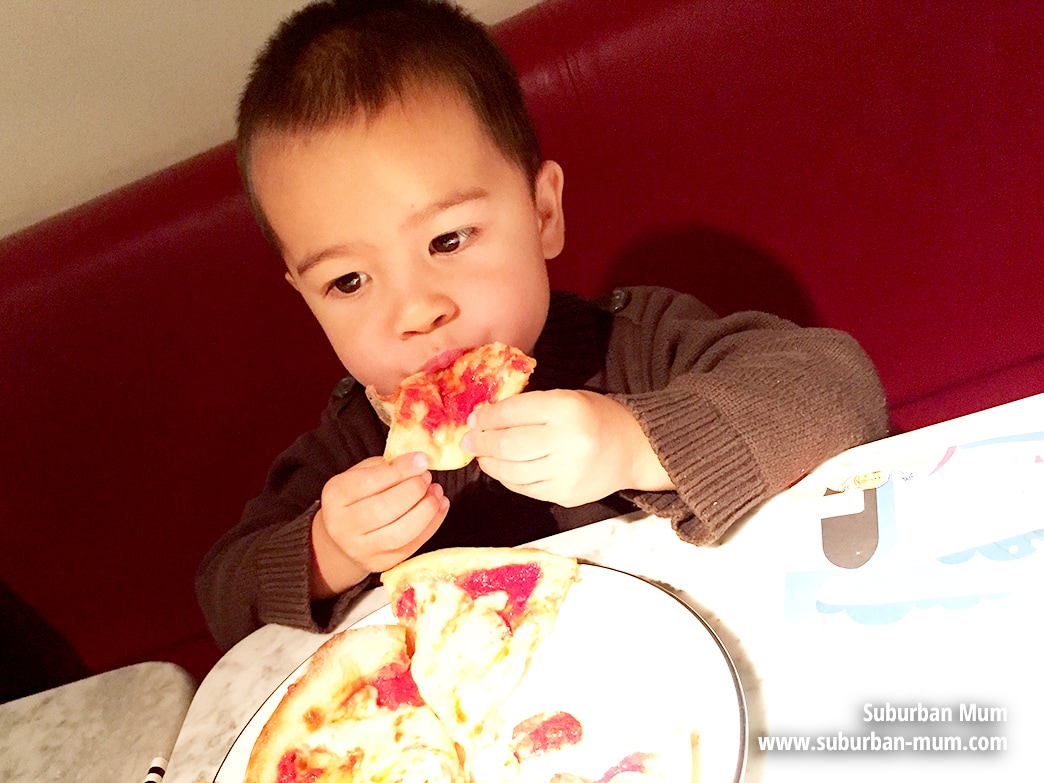 Hubby and I chose some new starters off the menu. He had Noci (spicy almonds, cashew nuts and caramelised chickpeas). They went down an absolute storm with the boys even though they were spicy; I'm not entirely sure if hubby managed to eat them in peace! I opted for the calamari which I am usually a little wary of ordering as sometimes it can be quite rubbery and hard to chew. I needn't have worried though as these were succulent, delicious and fresh.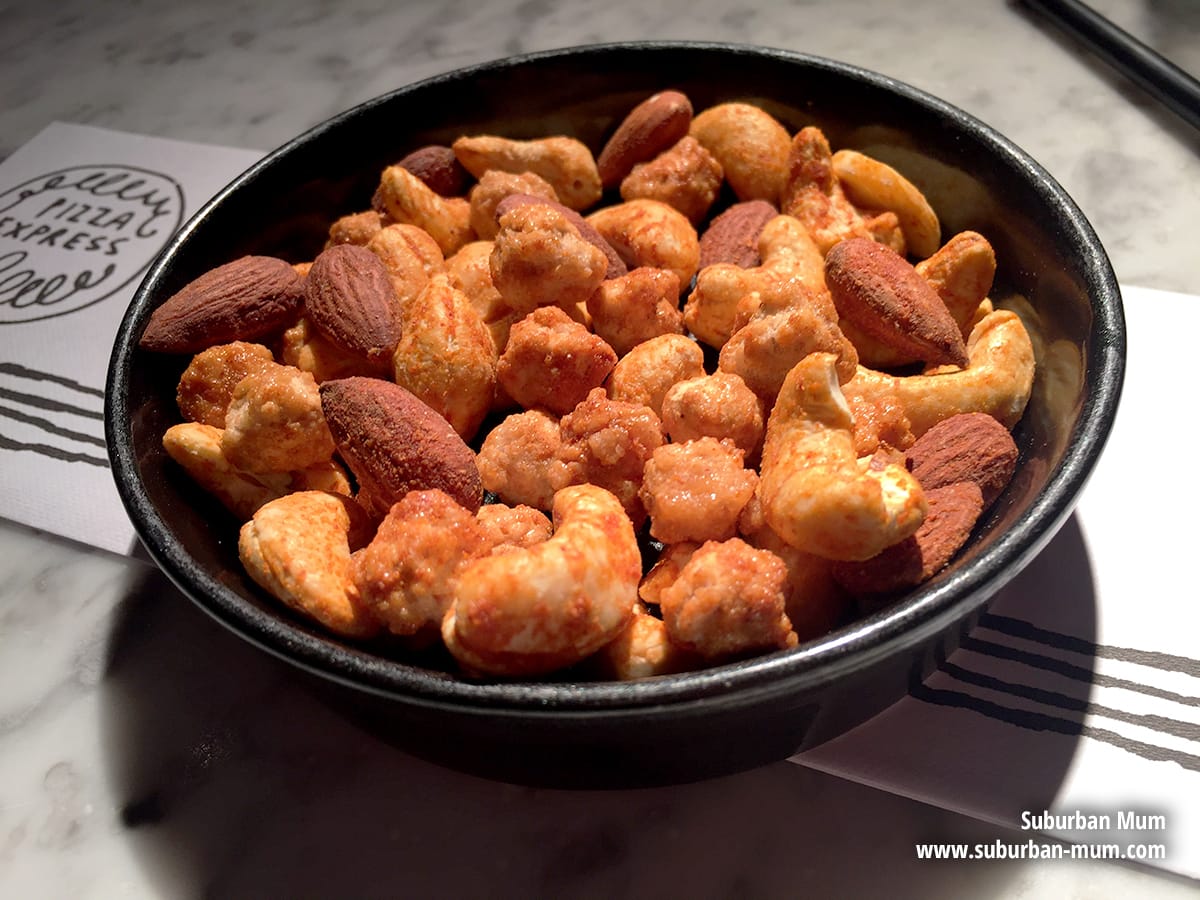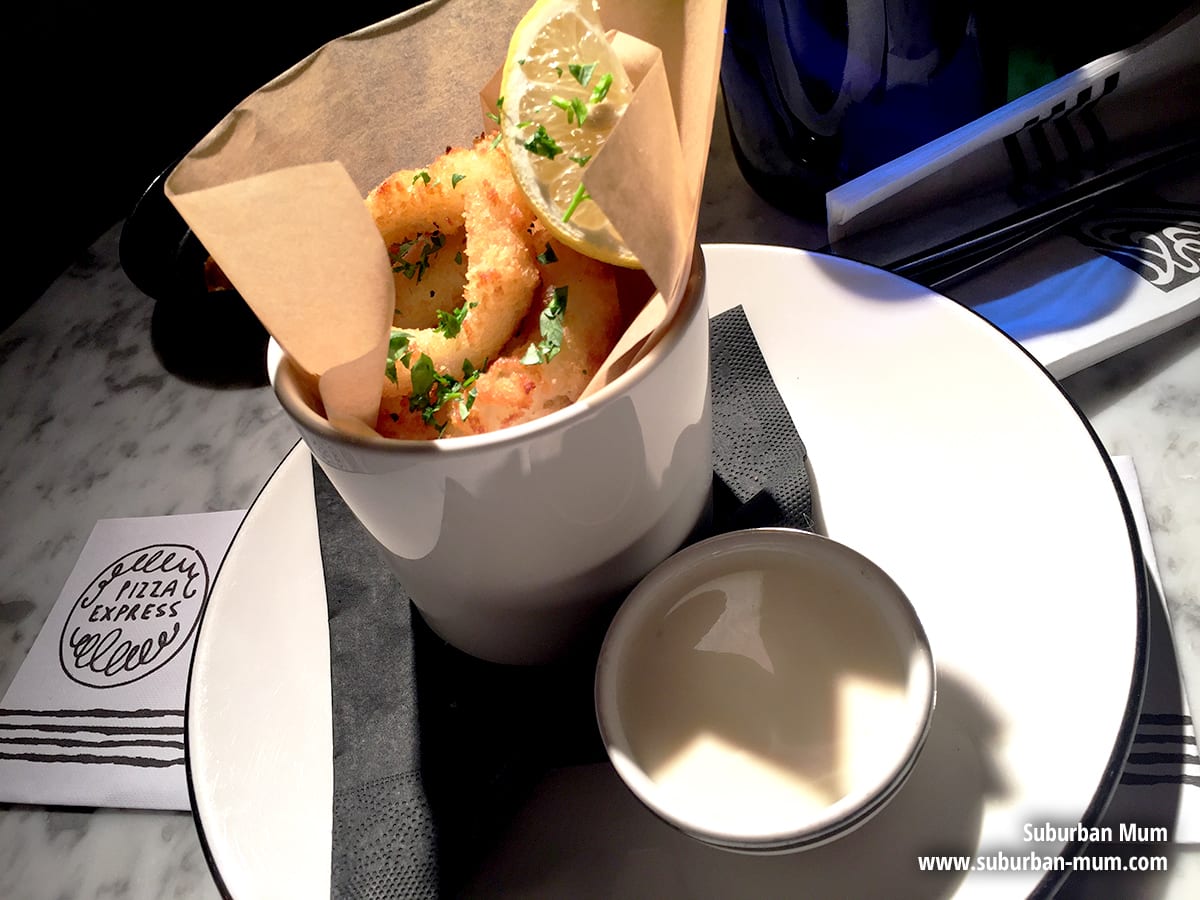 Usually for our mains, hubby tends to opt for the American Hot, but he tried the Napoletana (Anchovies, surfine capers, chopped black & green olives, tomato and garlic oil, finished with torn buffalo mozzarella and fresh parsley) Judging by how quickly it disappeared I think it was a hit!
I usually choose the Pollo salad but decided as we were here to try items from the new menu I would go for the Calzone Classico which had four meats inside! (Coppa, Finocchiona, Milano and pepperoni with light mozzarella, tomatoes, fresh parsley, fresh basil, garlic oil, spinach and Gran Milano cheese). It was very filling, and both E and M had a taste of it too. You could tell it was freshly made and was full of flavour — definitely something I would choose to have again.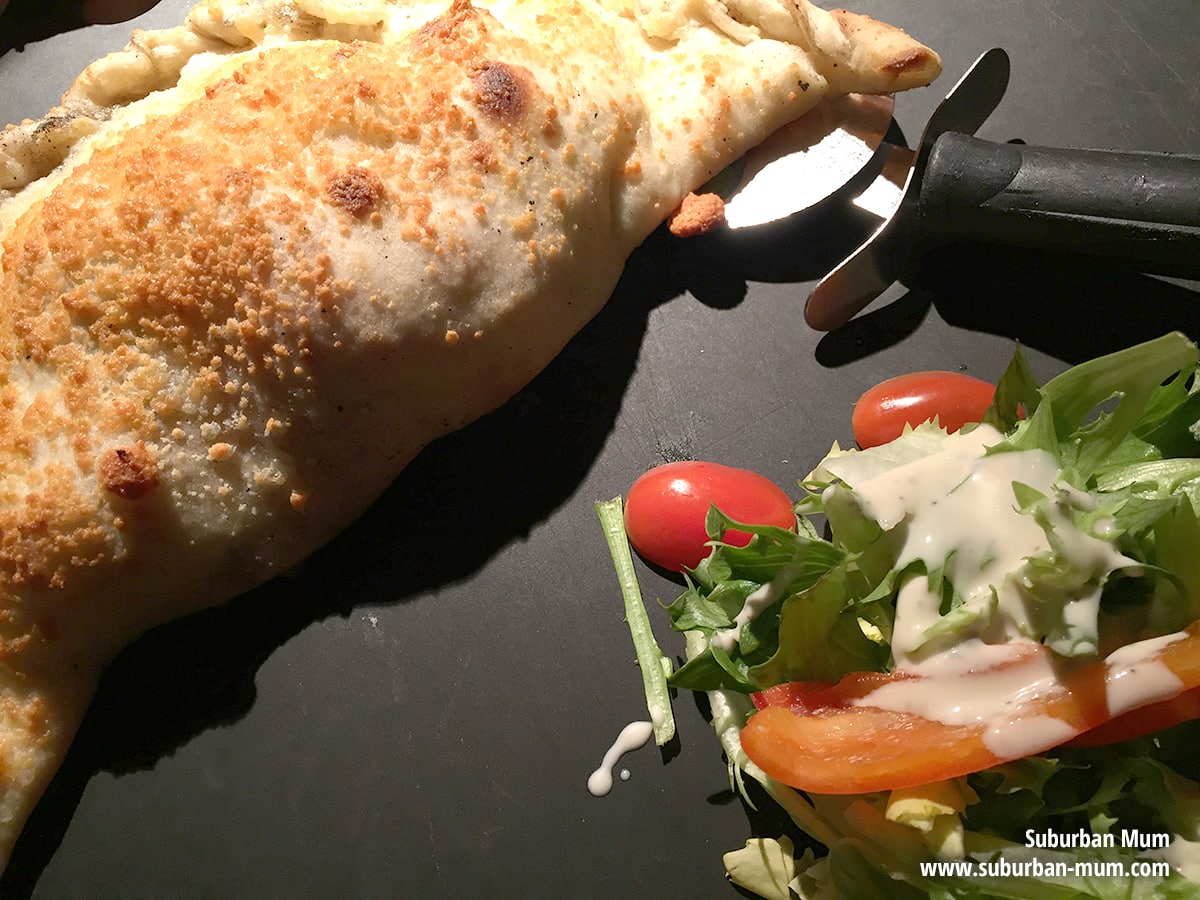 Next up – it was time for desserts! Both hubby and I have a rather sweet tooth so opting out of this was never an option!
Hubby had bombolini (warm Italian-style miniature doughnuts filled with strawberry jam, served with creamy vanilla gelato and finished with icing sugar and fresh mint) and I had salted caramel and gelato which had crunchy toffee pieces. It was divine! I LOVE salted caramel at the best of times, but the gelato was really creamy and just lovely.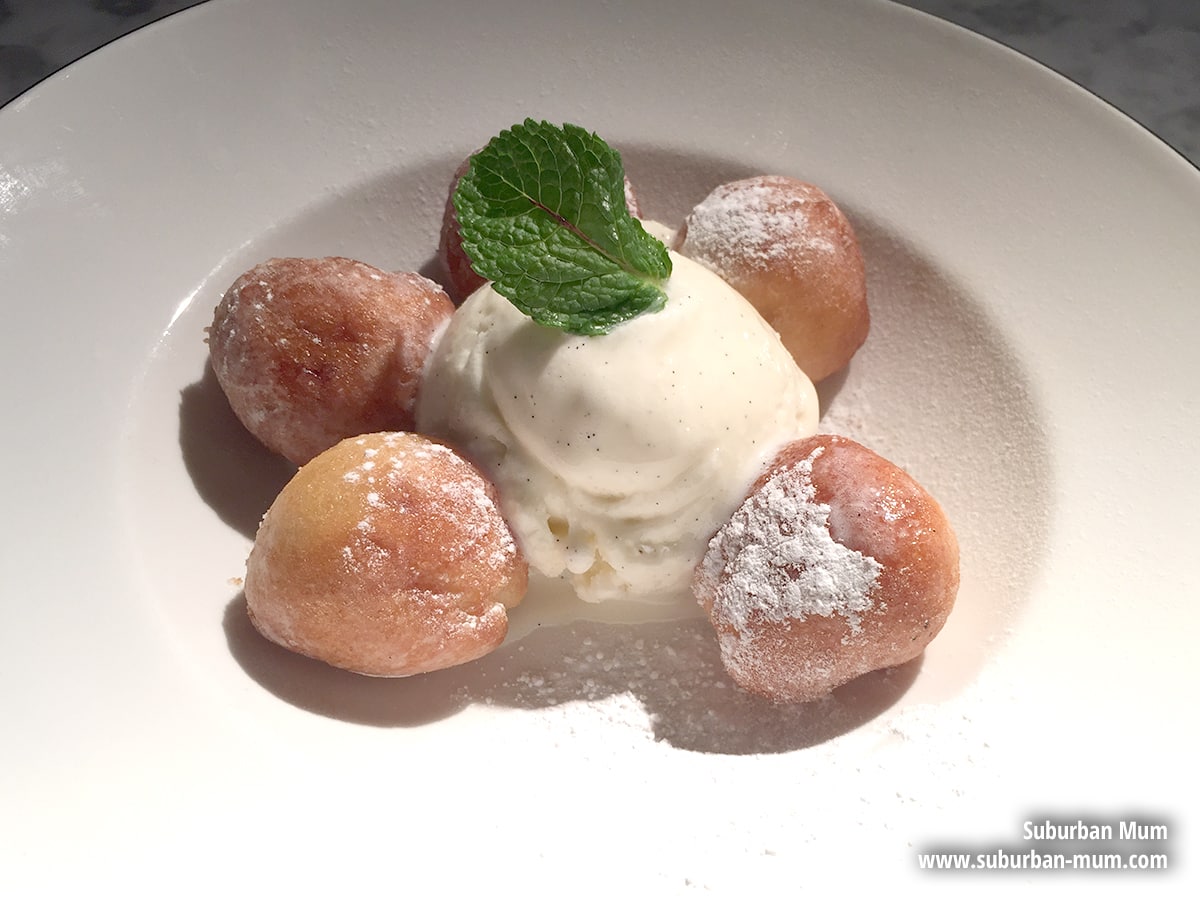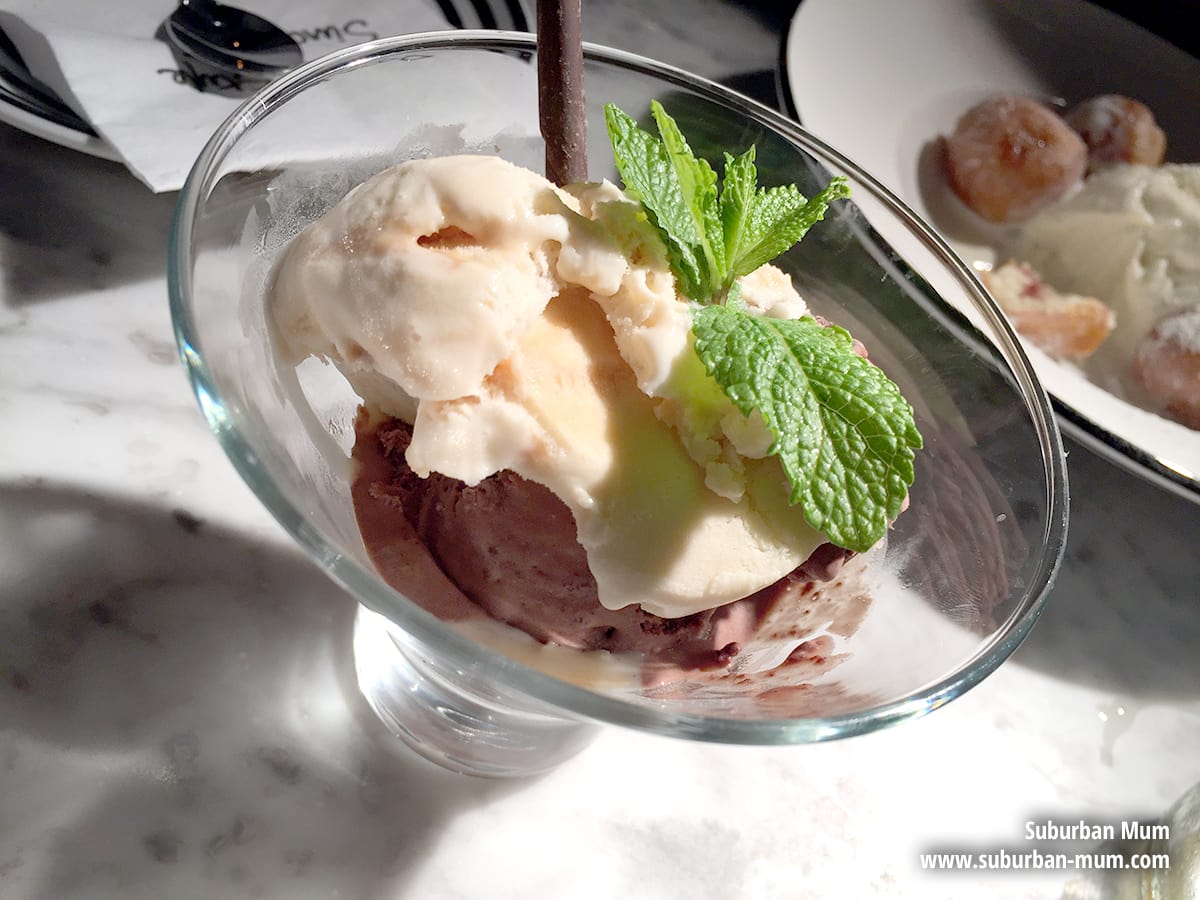 With our bellies full we retreated home we had the perfect Friday evening….
If you like the sound of the food we had – check out the rest of the Autumn/Winter Pizza Express menu
Thank you to Pizza Express for treating us to a lovely family meal. I am in no doubt that you will see us (with train-loving boys in tow) again soon!