Back at the beginning of June, we spent a lovely weekend in Windsor. We were taking the boys to LEGOLAND on the Monday to hopefully take advantage of a quieter crowd because E had an Inset day following on from half-term.
We've been to LEGOLAND numerous times before and each time went, we would always comment that we should visit Windsor town and the Castle itself. So this time, we decided to do just that.


Beaumont Estate very kindly offered us a complimentary nights' stay which meant we could have a mooch around Windsor on Sunday before heading to LEGOLAND on Monday.
The hotel is part of the PH Hotels chain and is very conveniently located. It's around 10 minutes from Windsor town and 15 minutes to LEGOLAND.
We arrived after having spent a lovely afternoon along the river and the first thing that surprised us was the sheer size of the place! It's set on 40 acres of land and has over 400 rooms, 2 restaurants and bars, a gym and a swimming pool!
We parked in the main car park near the hotel reception. There are notices here advising you to leave your luggage in the car until you have checked in. This is so that you can drive to the nearest car park where your room is located.
As we entered the lobby we were greeted at the reception desk with cookies – what a welcome! The boys didn't need asking twice and dived straight in, and I couldn't resist having one myself, they were delicious!
Check-in was hassle free, and we were given key cards to our room within a few minutes as well as two children's activity packs for the boys which was lovely and even though we were only staying for one night it easily felt like we were on holiday. Afterwards, we returned to the car to drive closer to our room so we could unload our luggage.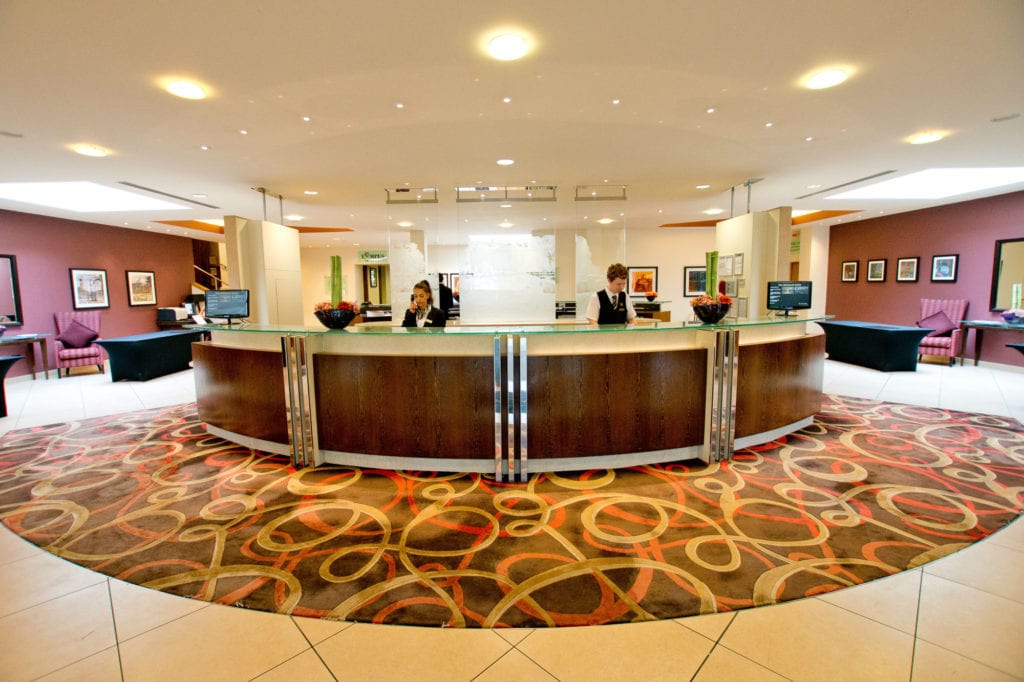 The Room
We were staying in a family room which had a double bed for Mr H and I and a pull out bed for the boys. Although the boys currently share a bedroom they hadn't shared a bed before so it was interesting to see how they would get on.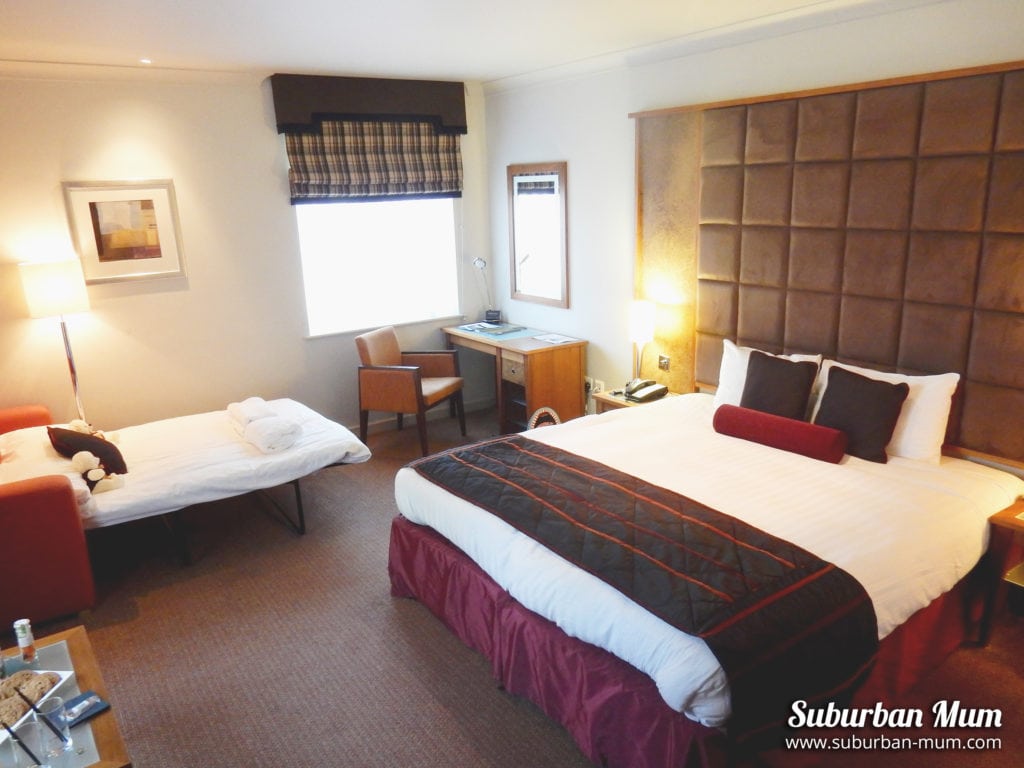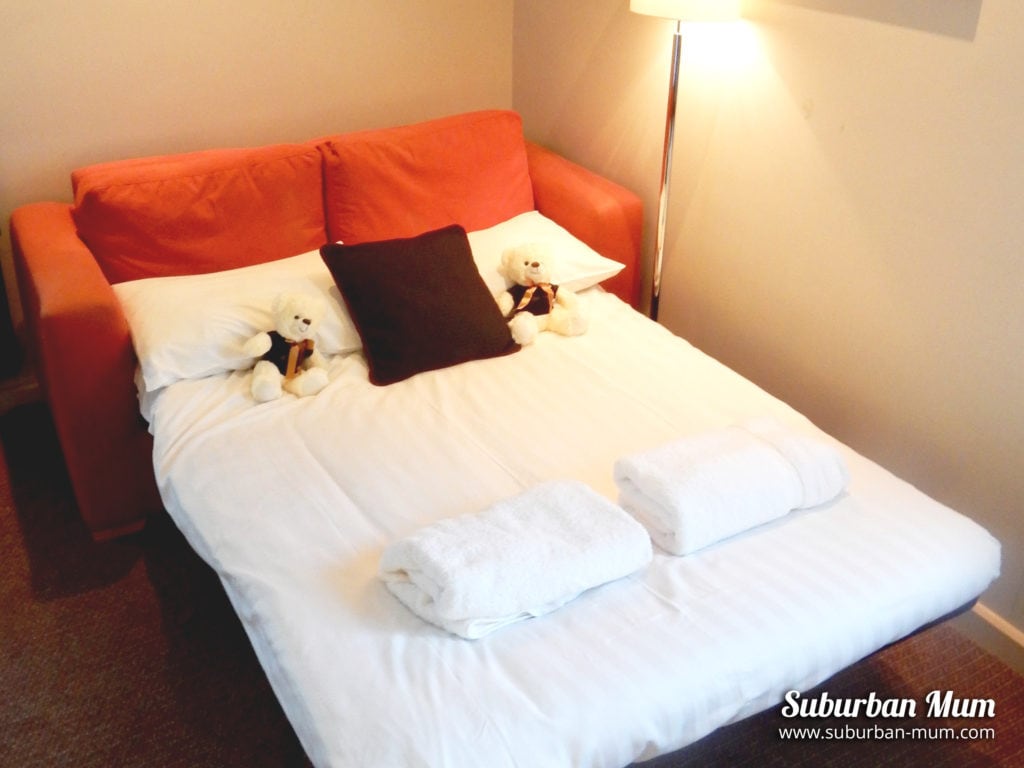 On entering the room, we were greeted with more delicious cookies (the boys may have had another one whilst I was busy trying to take photos) as well as some complimentary bottles of J2O, a bottle of wine and some jellybeans (more sugar for the boys to gorge themselves on – more on that later!)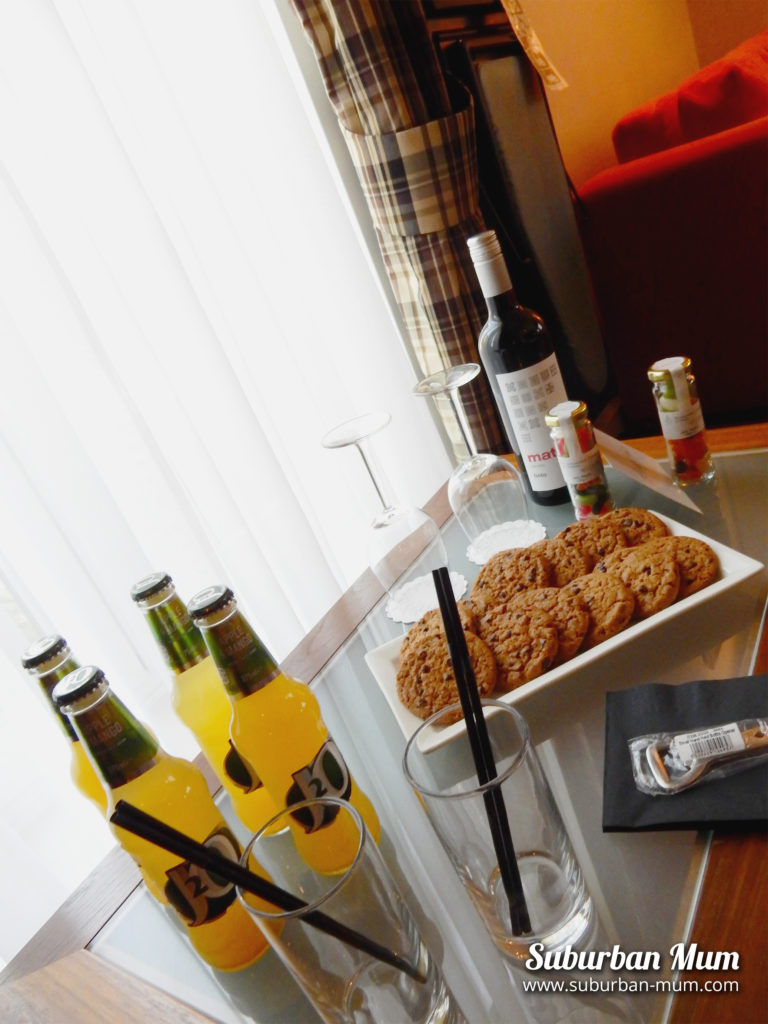 The room was spacious and more than accommodated the four of us. Mr H's priority was to check out the TV – he was a little disappointed by the size of it, but I pointed out that we were not there to watch TV AND we were only staying for one night!
There were some super cute Beaumont Estate teddy bears that were left on the boy's pull-out bed which they got to keep which was a really lovely touch. It meant they had a little memento of their stay and they have been sleeping with them in their beds ever since we got back.
The bathroom was clean and contained everything we needed for our night's stay. There was also a desk in the corner, and I was very pleased to see that the drawer included a full-sized hair dryer. So many hotels seem to have those travel ones or the ones which are attached to the bathroom wall which, with my thick hair takes an age to blow dry.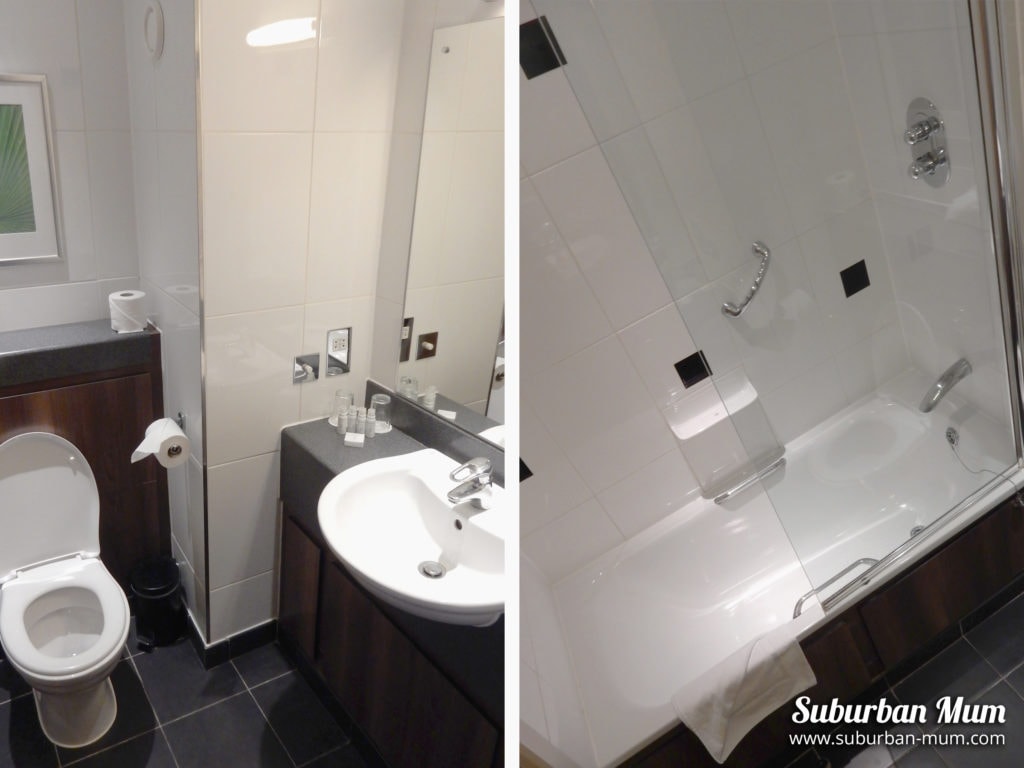 The Pool
After having a good old nosey of our room, we decided to head to the pool (it was around 4ish). We've been fortunate that there has been a swimming pool in the last few places we have stayed at. The downside to this though is that the boys (E particularly!) see it as one of the main requirements when we go away!
The pool was busy with lots of families, having had the same idea about having a swim before dinner but this did not spoil our fun in any way. I did have a bit of a fright about the "shallow" end though because it was still a metre deep and too deep for E to be able to stand up in. Luckily we had brought along his SwimFin so he was fine, but it's worth noting that if you don't have confident swimmers or toddlers to bring floats. There were swimming aids available for children to use that were dotted around the pool, though.
The dressing rooms were a really good size too with plenty of room to get changed in and lots of lockers to keep your valuables safe.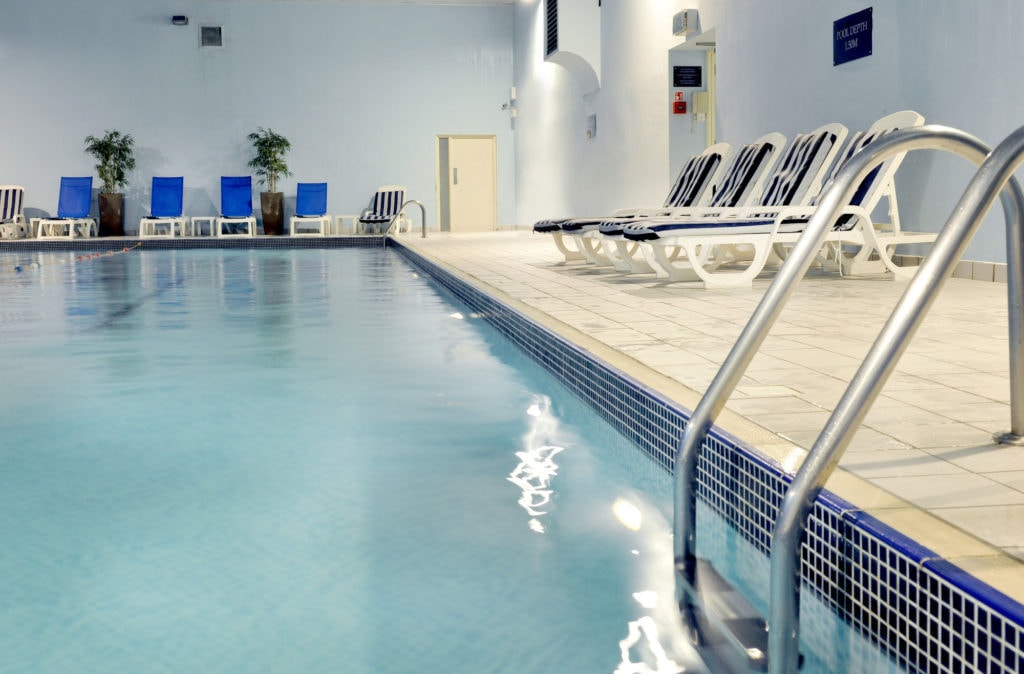 We decided against dining in the restaurant at Beaumont Estate because we had spied a local Harvester earlier on that day and it was within a 10-minute walk from the hotel, so we headed over there for our evening meal having been organised and pre-booked a table, so we didn't have to wait. We were lucky we did because the place was heaving!
A good night's sleep?
After dinner, we returned to the hotel and proceeded to attempt an early night as we knew we had a packed day of fun in store. M was completely zonked out pretty much as soon as we put him to bed. E however, had other ideas….
We're not quite sure why but he had a restless night's sleep which in turn meant we did too. It could have been down the amount of sugar that he had consumed that day (I mentioned the cookies earlier right?) and we also allowed him to have fizzy drinks with dinner for the first time that evening too so that probably wasn't a good combination. He tossed and turned for the first part of the night, and I thought it may have been due to the fact the mattress on the pull-out bed was uncomfortable as when I felt it, it was rather thin. We let him into bed with us thinking that, that would do the trick, but he was just as fidgety! In the end, we sent him back to his bed, and eventually, he nodded off.
We had no complaints about our bed though and found it comfy. We managed to enjoy it better when we were finally allowed to sleep!
Breakfast
In the morning, we were invited to The White House for breakfast. The White House is an executive wing which oozes luxury. I'm not too sure as a family we quite fit in there (we were in a private dining room) and I was a little worried about the boys making too much noise.
The hotel is also used for conferences and events and so when we turned up for breakfast the room was rather quiet and there was only one other lady present, who I presume was a businesswoman.
Aside from that, there was a vast choice for breakfast. You could help yourself to a cooked breakfast which consisted of sausages, beans, scrambled eggs and toast. There was also fresh fruit, pastries, cereals and yoghurt. We were so spoilt for choice and could help ourselves to as much as we liked.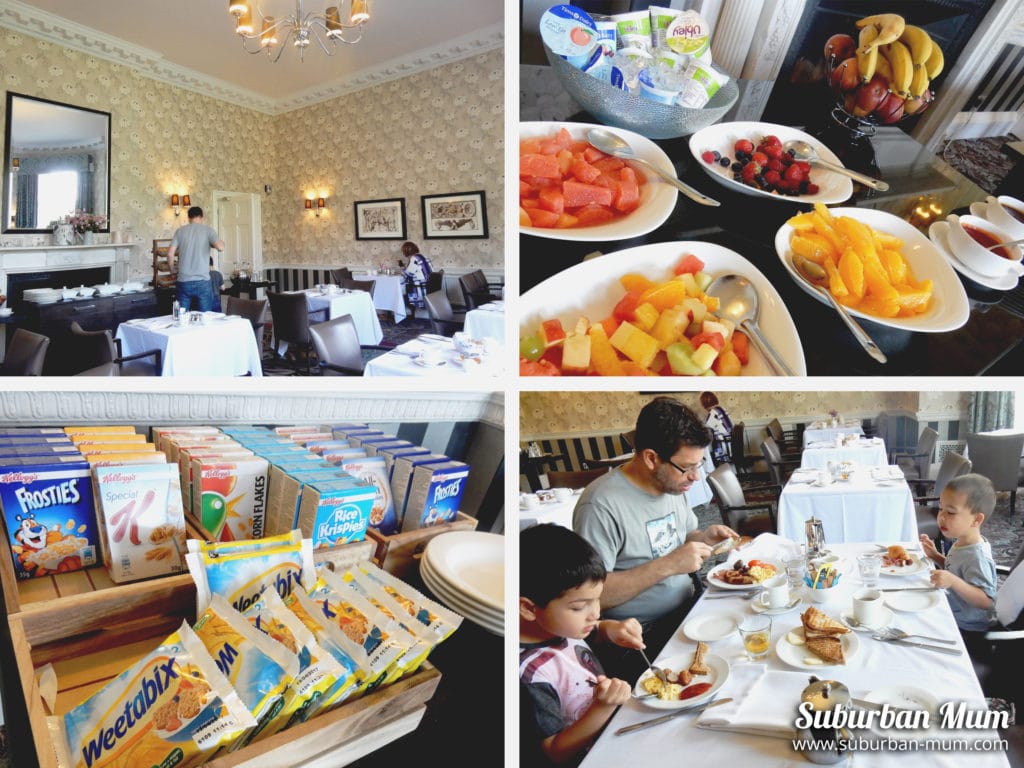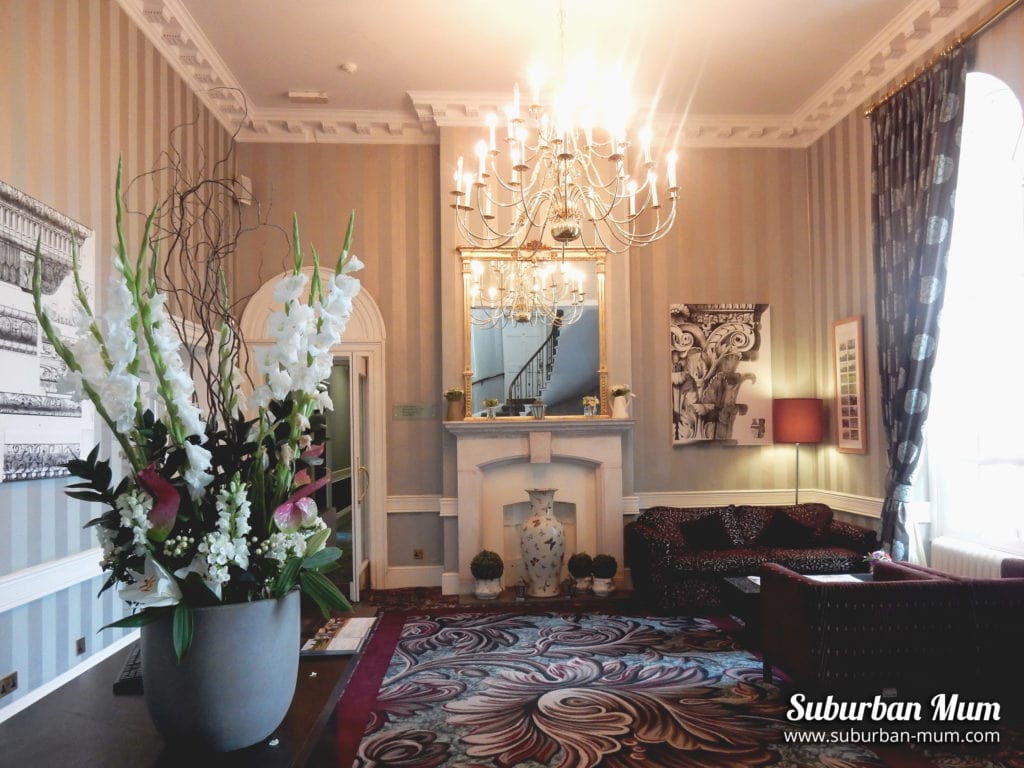 Hotel Facilities
As we only stayed one night, unfortunately, we didn't have enough time to try out some of the other hotel facilities. The grounds of Beaumont Estate are stunning; children could have hours of fun running around exploring as well as enjoying the very well equipped play area, tennis court, football pitch and nature trails. The hotel also offers a Kid's Club aptly named Beaumont Bears with what looked like a pretty packed activity schedule with a movie hour both in the morning and in the evenings. They even had a teen movie available later in the evening as well as Pool and fusball.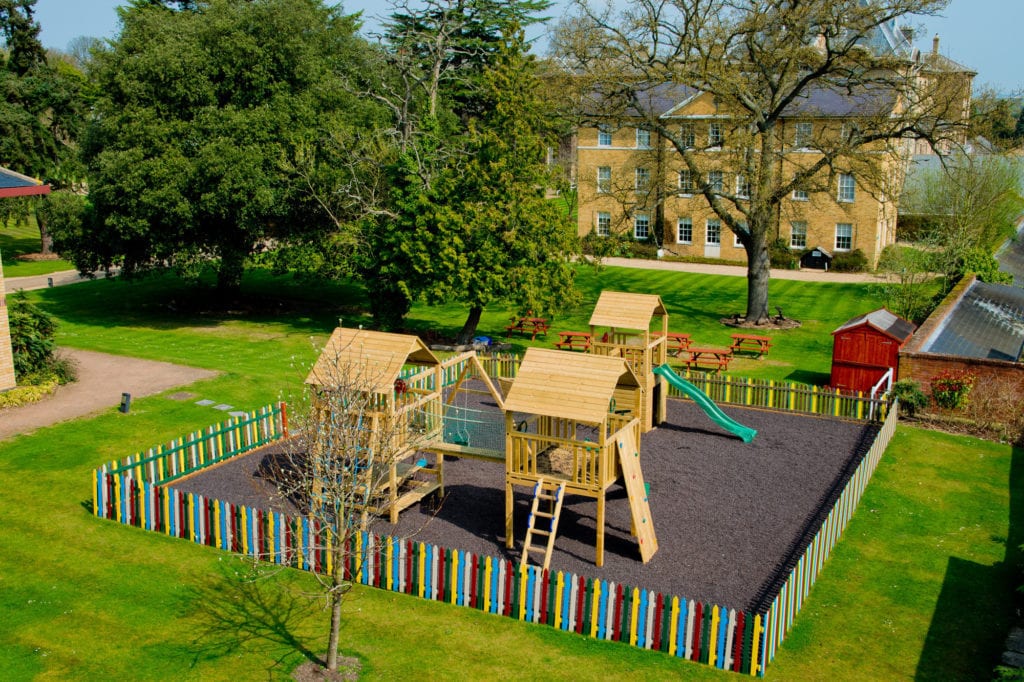 If you are looking for a family-friendly hotel to stay in while visiting Windsor and LEGOLAND, then you need to look no further. Beaumont Estate has everything you need – and much much more.
We will most definitely be coming back again!
Pin it for later: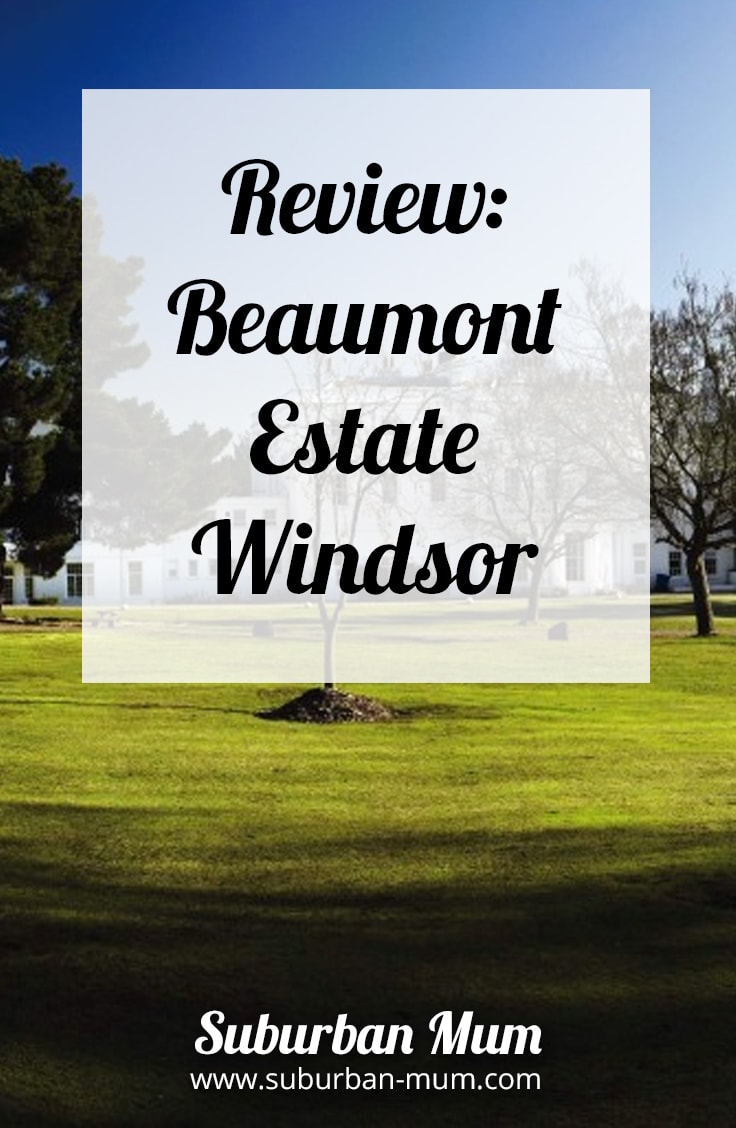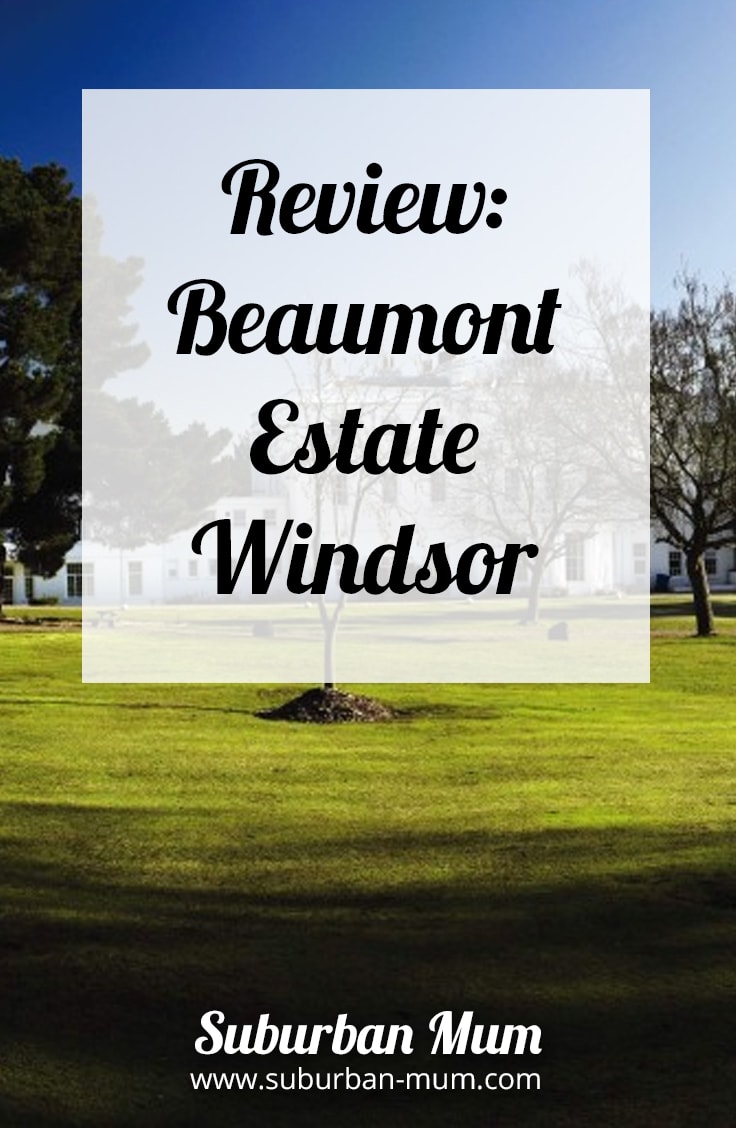 *We received one night's complimentary stay at The Beaumont Estate in return for this review; all opinions are my own and honest.
You might also like: