I've mentioned before that Woking is our new favourite place to go shopping. For us, it has everything under one roof, some of our favourite shops – Debenhams,TK Max and Deichmann to name but a few, restaurants, a cinema and even a theatre!
We were invited to review a restaurant of our choice within Woking shopping so we had a look through the options and decided on Ed's Easy Diner.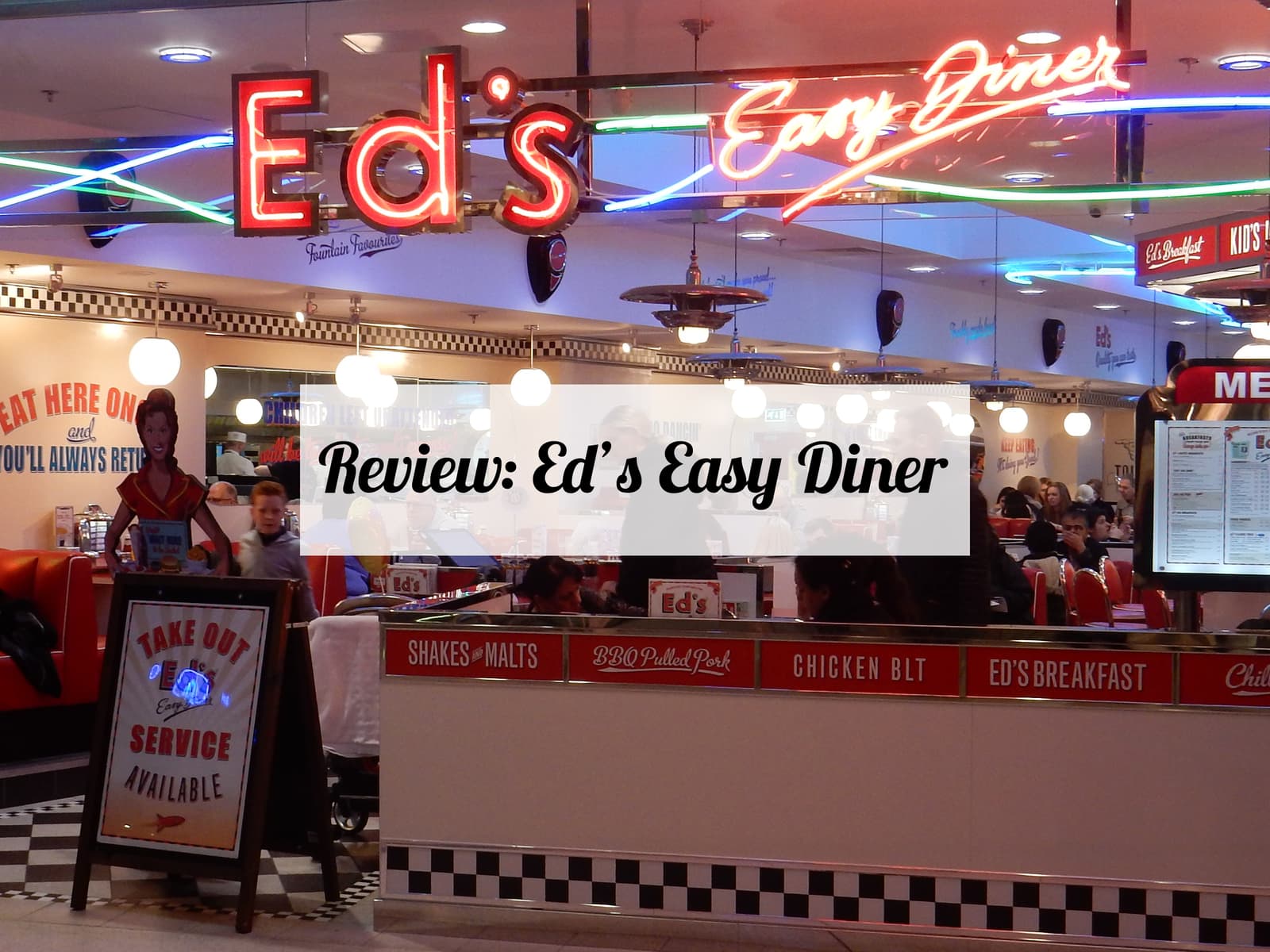 Ed's Easy Diner is a 50s American themed diner that serves burgers, fries and milkshakes. Having never visited one before we were excited to see what it was like. The Woking branch is very conveniently located on the second floor of the shopping centre next to Debenhams.
On arrival, the boys were fascinated by the bright lights and the dukebox in the booth we were shown. Being in an American style diner it would have been rude not to try the milkshakes so we ordered those before taking a closer look at what the menu had to offer.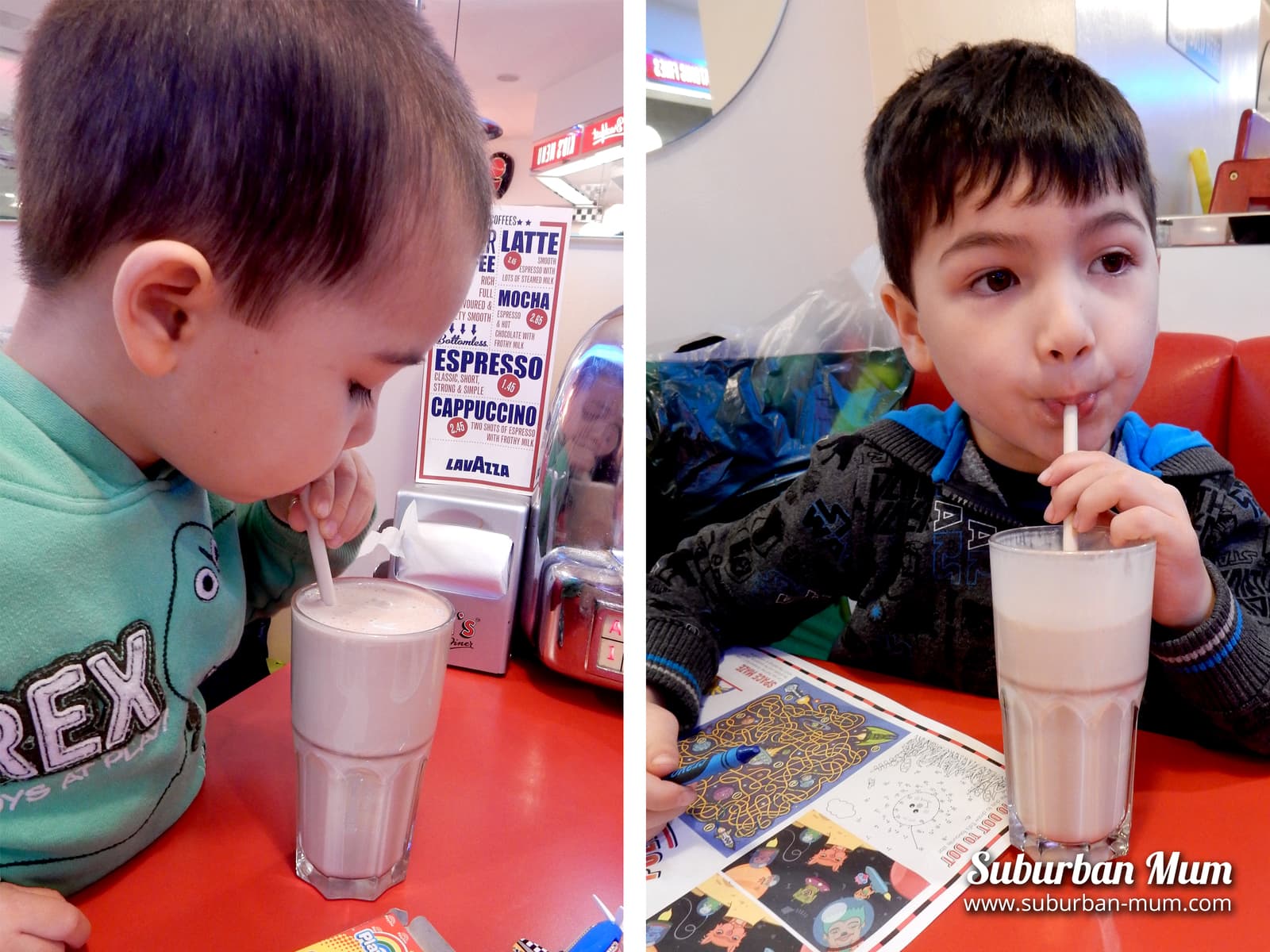 Junior Menu
As with most child-friendly restaurants the menu came on an activity sheet which had colouring-in and puzzles to keep them entertained whilst we waited for our food. The Junior Menu consisted of three options, a burger (either beef or veggie), puppy dog or chicken tenders with fries and a mini side salad. All were priced reasonably at £4.65
Both boys  (who are 3 and 5) chose to have the puppy dog. The menu states that it is suitable for children aged 10 and under but having seen the portion size of the puppy dog I would say it's more suitable for children aged 5 and under. I believe an older child would more than likely need a bigger portion. The boys enjoyed their mains and washed them down with chocolate milkshakes which were yummy (I may have snuck a taste!)
For their dessert, they had the Junior Sundae with chocolate sauce. (£1.95)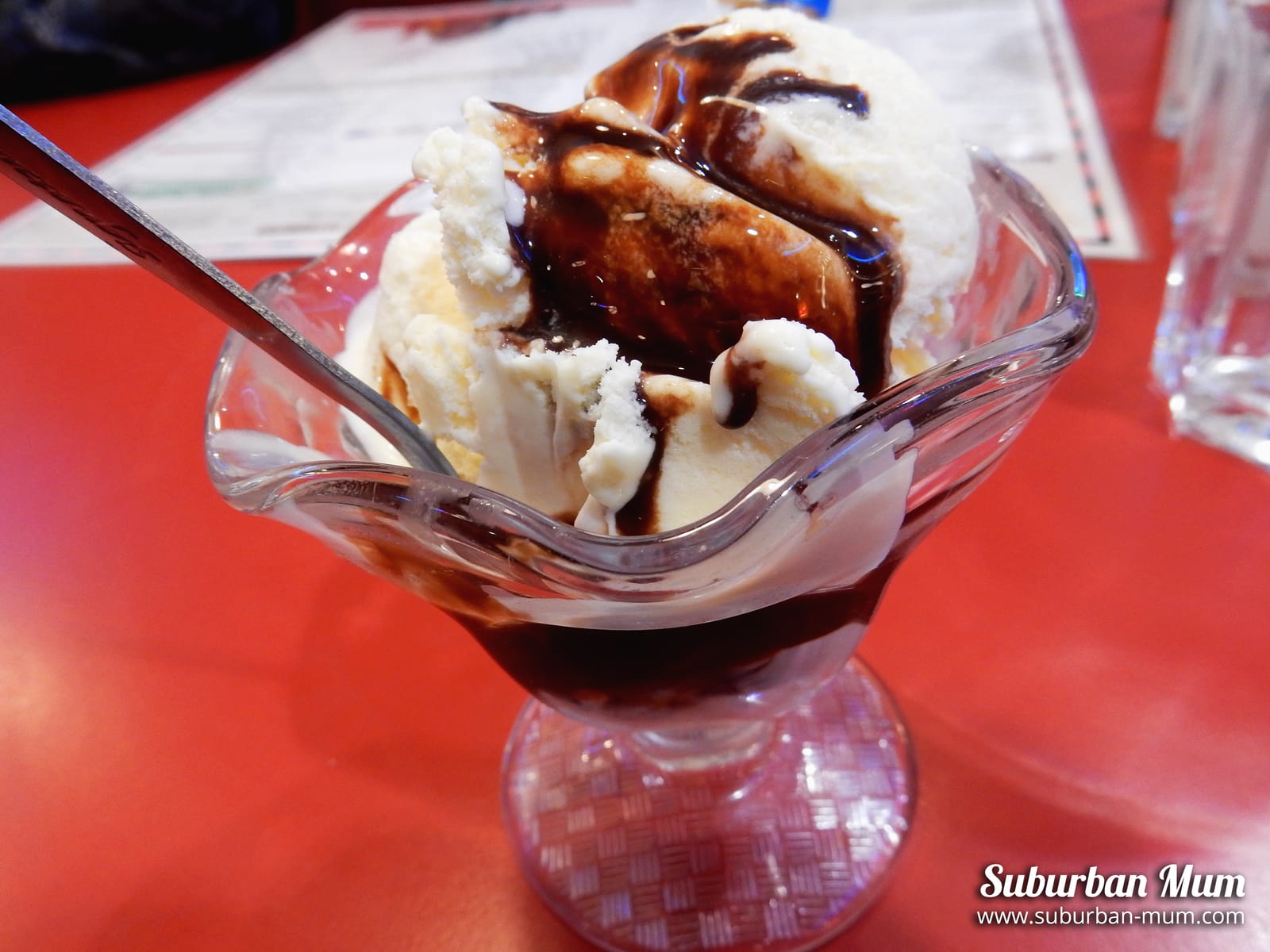 Main Menu
It took a while for Mr H and I to decide what to eat – there were so many different variations of burgers to choose from! In the end, I went with the Smoky Joe's Burger (Ed's Plate – £11.60) which was a burger with cheddar cheese and onions and came with fries, onion rings and coleslaw.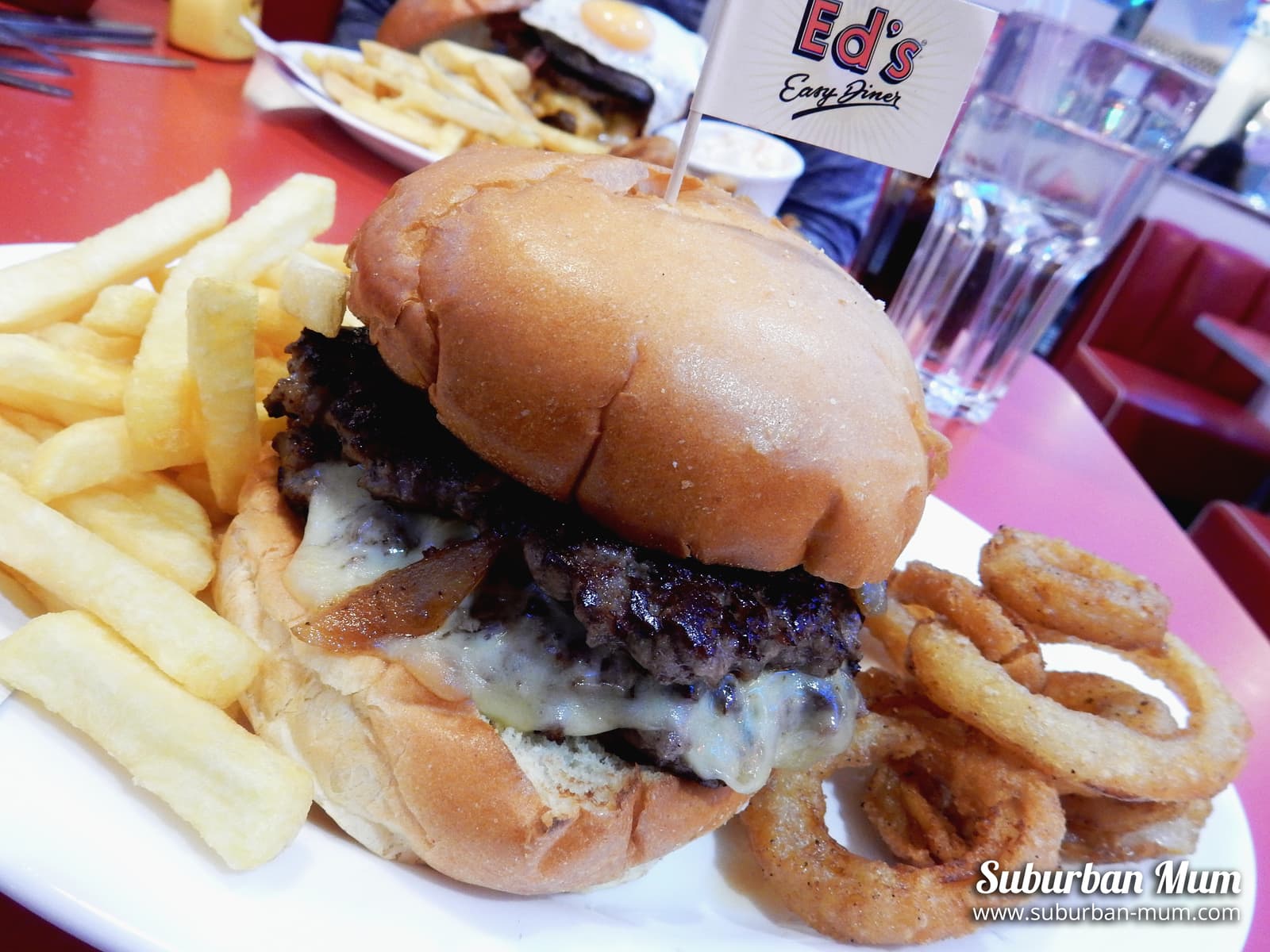 Mr H went with the All Day Breakfast Burger (Ed's Plate – £12.60) with hash brown, egg, mushrooms, American cheese and bacon.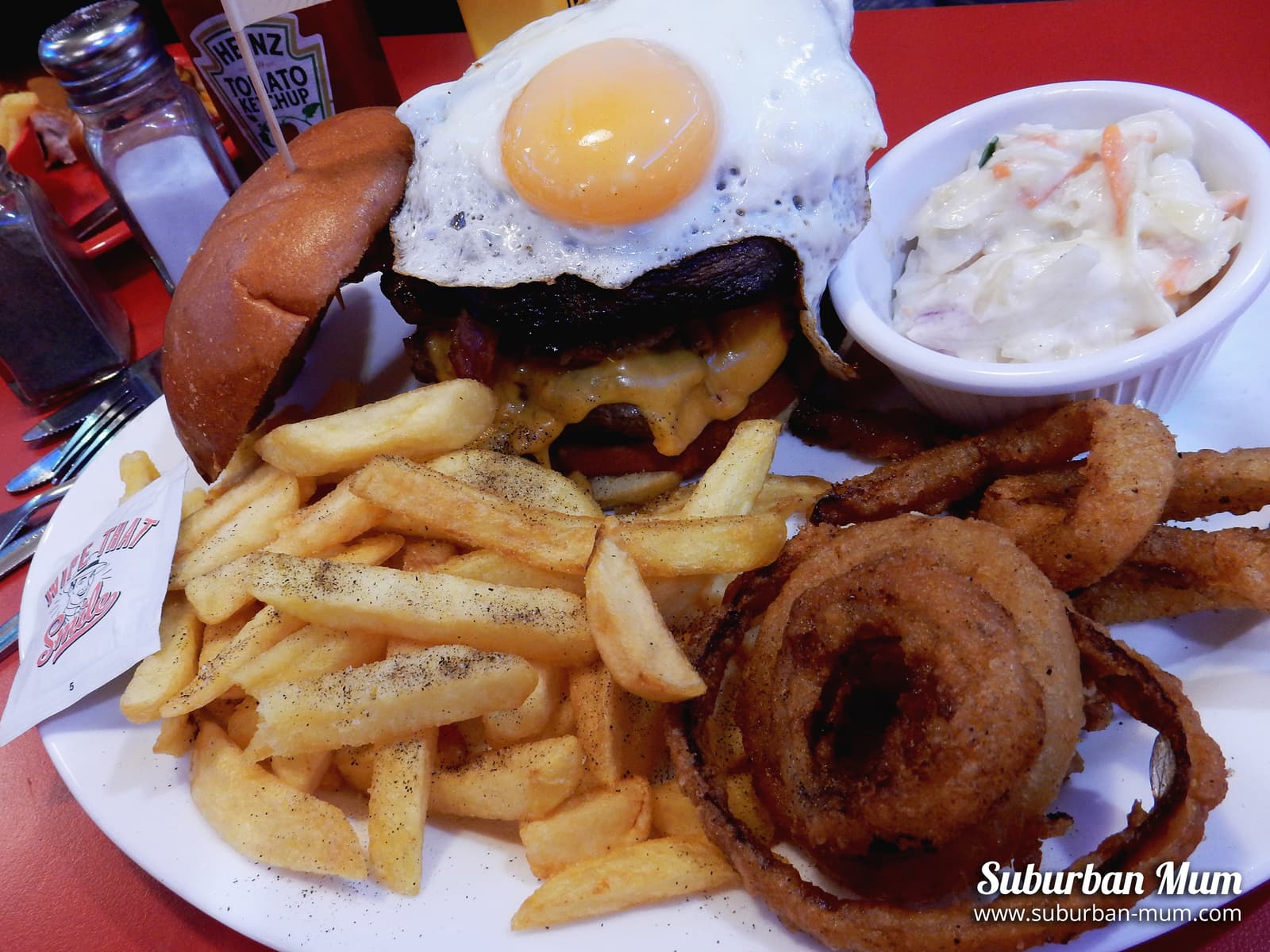 The burgers we delicious and the beef patties were so tender and succulent. We both agreed that it was probably one of the best burgers we have had. The Ed's Plate option is a really generous portion, so much so that we were both stuffed!
Desserts
Although we were really really full we decided to share a dessert for the purpose of the review. I'm sure our readers would want to know what they are like. (the things we have to do for the blog eh?)
We chose the Say Cheese American Style New York Cheesecake which came with a berry coulis and ice cream. It was delicious! The biscuit base was nice and crunchy (I hate ordering a cheesecake and having a soggy base) and the cheesecake was full of flavour.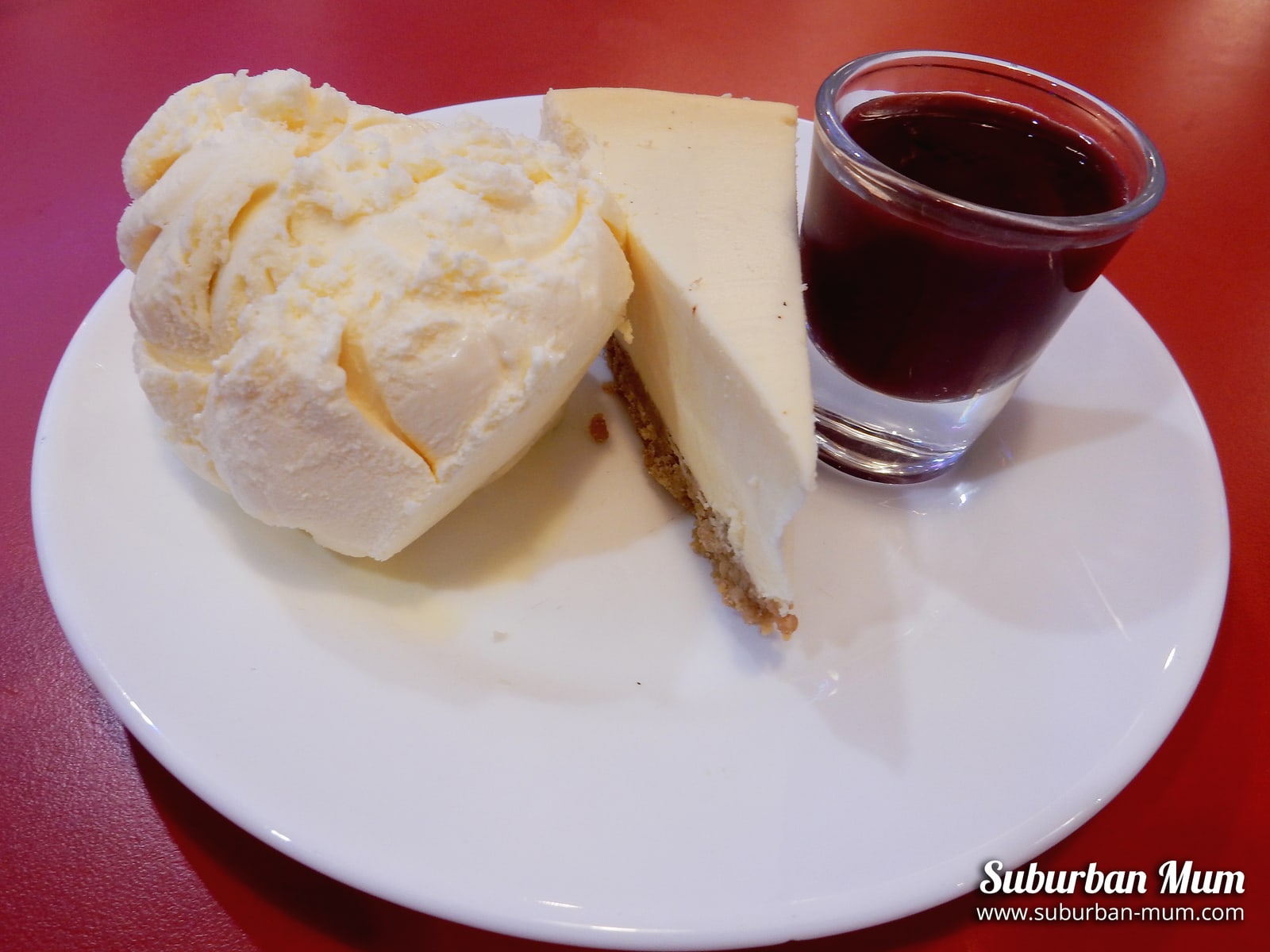 Verdict
Ed's Easy Diner is a great place to grab a bite to eat. It caters well for children, my only gripe would be the seemingly limited menu choice for children. It would be really nice to be able to offer them a bit more variety of mains and desserts. M wasn't a fan of the ice cream though so had some of our cheesecake instead. Having said that, my boys were generally happy with their food – especially the milkshakes, they went down a real treat!
Overall, the decor of the place is fab and you really do feel like you are in an American diner. The dukebox in each booth is a really nice touch. Unfortunately, they were not working on the day we visited so we couldn't give them a try. The food arrived in good time and judging by how busy the restaurant was when we left – its obviously a popular choice for shoppers to grab a bite to eat after a day's shopping.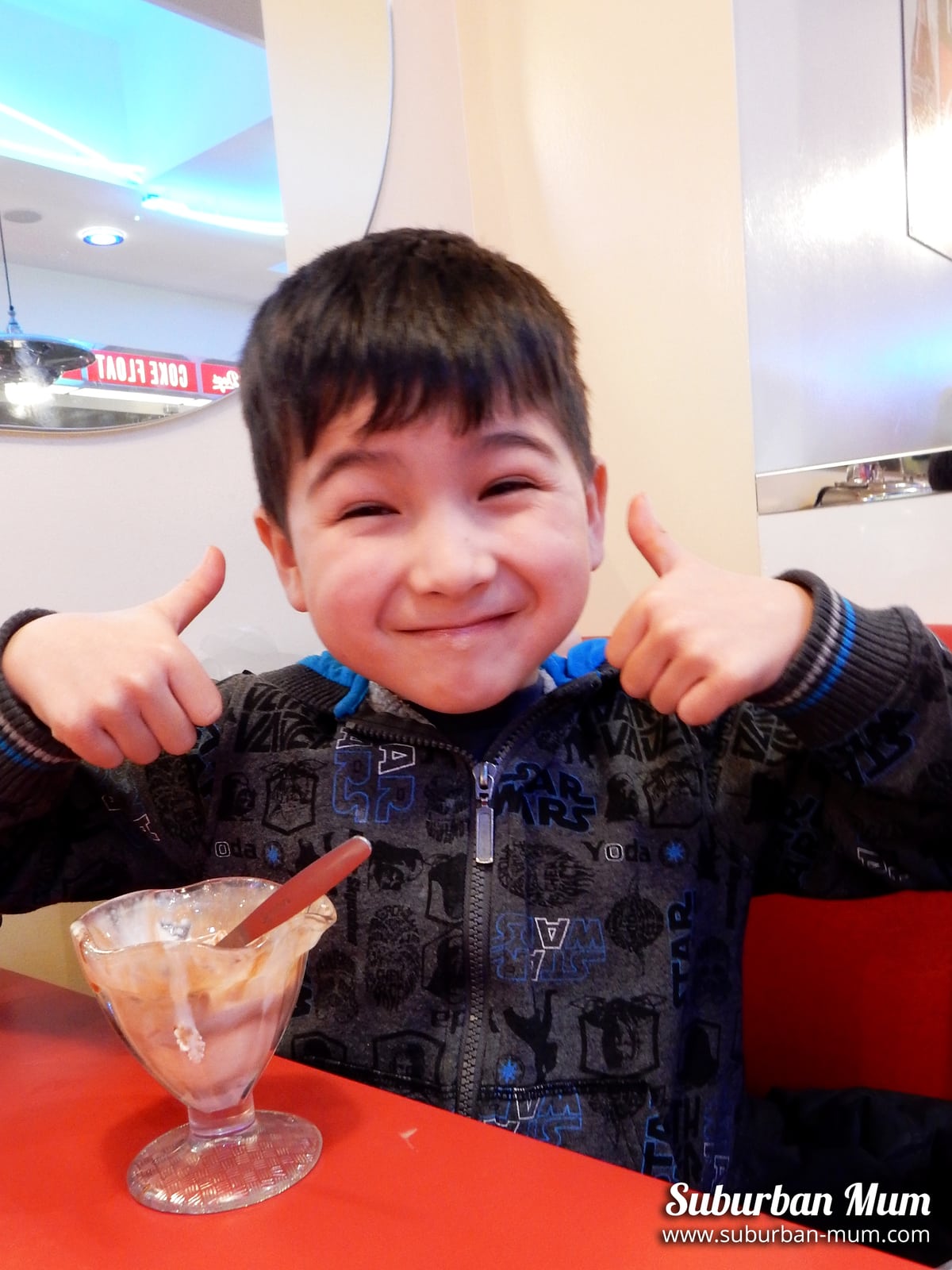 As you can see from this photo it's a big thumbs up to Ed's Easy Diner – we will most certainly be back again!
Have you been to an Ed's Diner before – what did you think of it?
 * We received two complimentary meals and drinks in exchange for this post. We paid for the children's meals and desserts ourselves. As always, opinions are honest and my own.