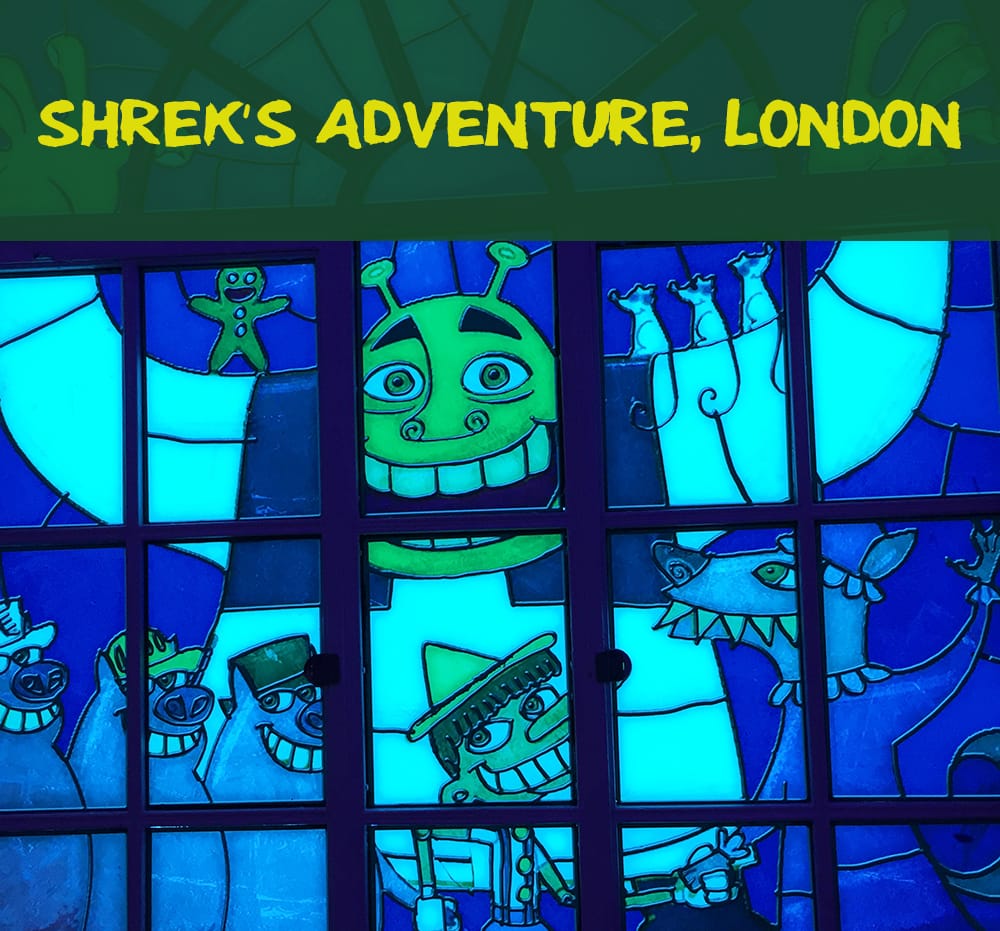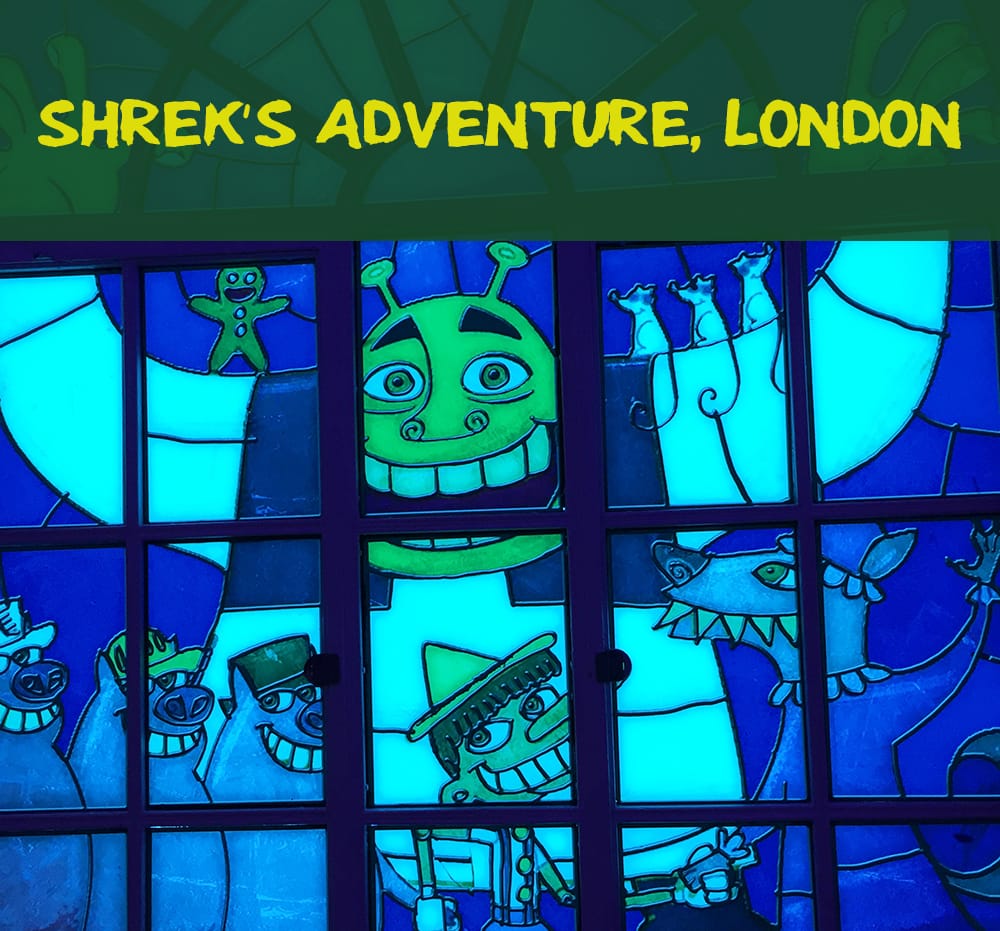 Living just outside London we are very lucky to be a short train ride away from lots of London attractions. Last weekend, we took the boys to a new addition along Southbank in the form of Shrek's Adventure.
Shreks Adventure London opened at the beginning of July takes you to the Kingdom of Far Far Away. Your journey starts at the departure gates where you wait to start your adventure onboard a magical 4D bus that transports you to the magical Kingdom. Along the way through, you accidentally kill one of Rumpelstiltskin's favourite witch, so he is after you for revenge!
Once you arrive in Far Far Away you walk through a series of "live shows" such as The Poison Apple Pub, Shrek's Swamp and Drury Lane encountering many of the characters in the movie (Cinderella, Puss in Boots, The Gingerbread Man, Pinocchio to name but a few and of course Rumpelstiltskin and Shrek), before ending up in a dungeon. What to do? Who will help you escape I wonder?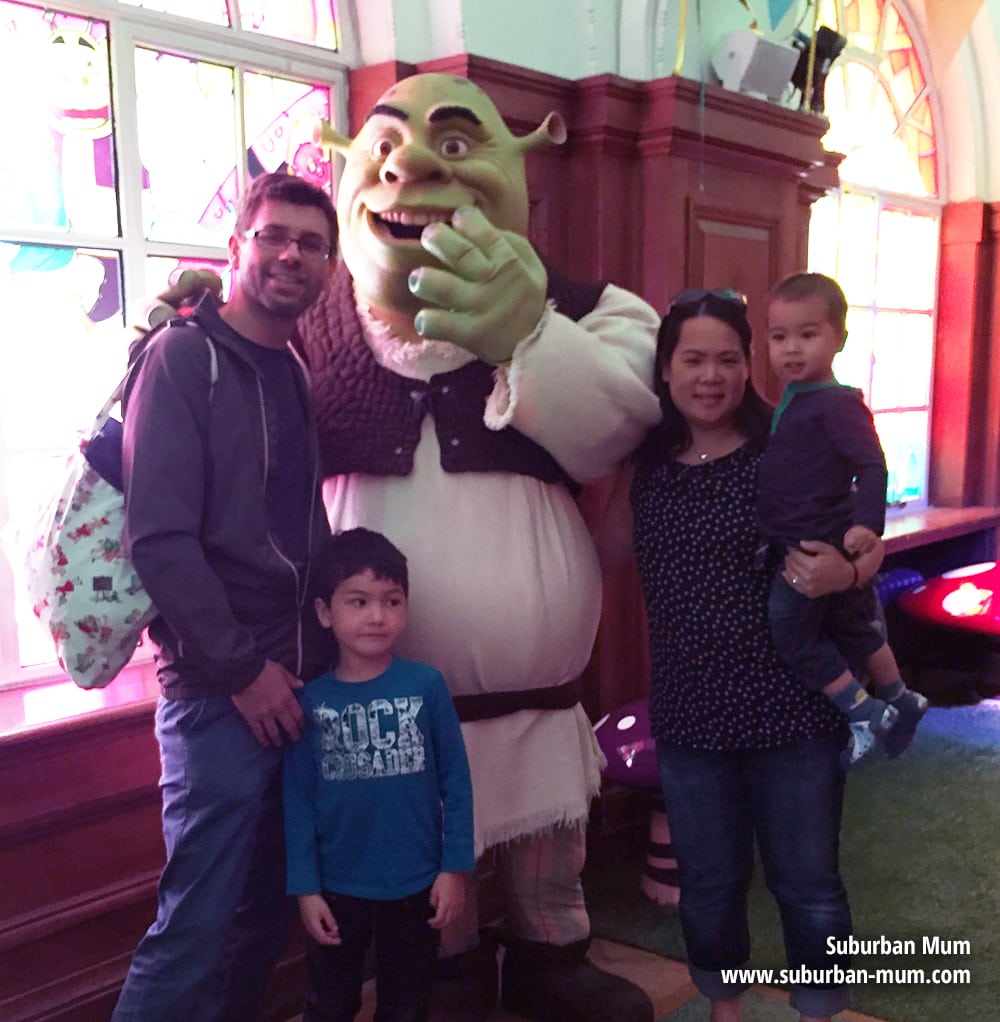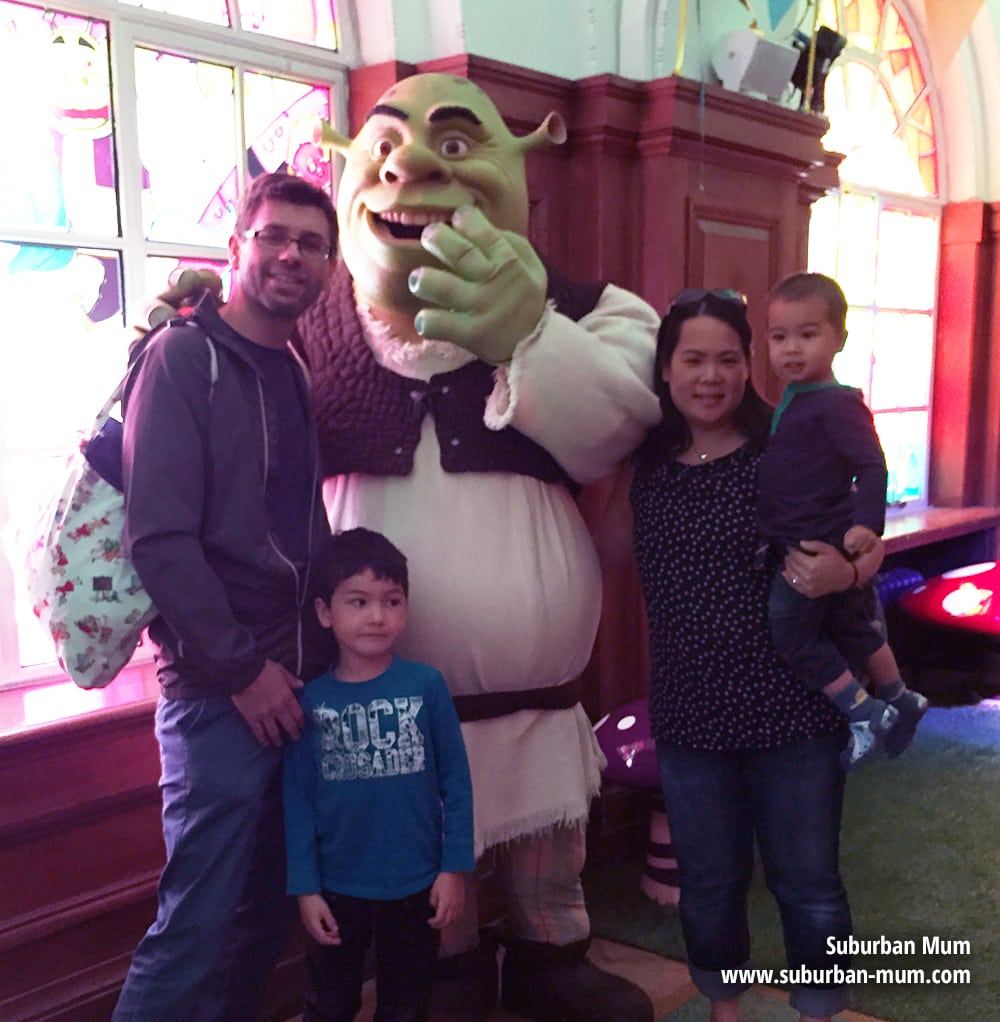 Value for money
Tickets start from £23.40 for an adult and £18.72 for a child if you pre-book online (under 3's go free). For a family of four, two adults and two children over three would cost you around £85. For us, it would have been around the £65 mark. The tour lasts around 1 hour and 15 minutes so price wise for me I do think its on the expensive side considering it's only for about an hour. We are lucky as we have Merlin passes so we went to the London Aquarium afterwards, but for families who are looking for a whole day out in London after visiting Shrek's Adventure it is worth bearing this in mind and check to see what other events are happening in and around Southbank before your visit. There is always usually something going on in the school holidays and most weekends.
Tips
Children under 3
If you are bringing children under three be aware that your child has to be 90cm or more to be able to enjoy the Magical 4D Bus. If this is the case, I believe you get taken into a separate room to enjoy the experience minus the bus and the 4D parts. Luckily, M is 90cm exactly so we were able to board the bus (he would have been very upset and disappointed otherwise)
If you are bringing a buggy, you also need to know that you have to leave the buggy in the departures section. You then pick it up at the end of the tour at the arrivals hall. This wouldn't have been too much of a problem for me if M walked, but he decided he didn't want to use his legs the whole way around the tour, so I ended up carrying him which was most inconvenient! I would suggest if you have younger babies to bring a baby carrier with you as you do a lot of walking/standing around while watching the live shows.
Photos
A wristband is given to you at the beginning with a barcode – this holds all the photos that are taken of you as you go round. When you come to arrivals hall you have the opportunity to have your photo taken with Shrek (there is an attendant who is happy to take snaps using your phones/cameras) You are escorted to a member of staff that brings you a lovely photo album of your tour which is great memento BUT be warned that the photo album costs £25. I did feel this last part was a little pushy and no price was mentioned until the end. Luckily my boys were not fussed about the album, so we politely declined this purchase.
Our thoughts on Shrek's Adventure! London
Overall the whole experience is very well done, and they have put great effort into each "live show". It's very entertaining and funny. However, I think my boys (aged 2 and 5) were possibly a little too young to fully enjoy it because there was a lot of standing which M was bored with (E was also moody most of the way around). So I would say it would be more suitable for children aged six plus. We were in a group with older children who seemed enthralled by it all. The best part for my boys was the Magical Bus and the Dreamworks arrivals hall at the end where they got to meet characters from Kung Fu Panda, Madagascar and How to Train Your Dragon.
Visit
Shrek's Adventure! London is open daily 10am – 6pm (Thursdays 11am – 6pm)
Riverside Building
County Hall
Westminster Bridge Road
London
SE1 7PB
Book your Shrek's Adventure! London tickets here
NOTE: We were sent a family ticket to Shrek's Adventure in exchange for this review.  All images/videos and opinions are my own.