With the clocks going forward last week it's great that we are having lighter evenings but one of the downsides is that it also gets lighter earlier in the mornings too. This inevitably means that the boys are waking up a little earlier than usual.
Now I can't really complain because they have never been 5/6am wakers. Usually, it's more 7-8am but with the clocks going forward, M automatically wakes up and assumes it's time to start the day. I've tried explaining to him that it's not quite time to get up yet and to go back to bed but he proceeds to ask LOTS of questions as to why it's not morning yet when the sun is out. I definitely don't want to engage in conversation with him any longer than I have to so this is where the Sleep Tight All Night Teddy Bear comes to the rescue.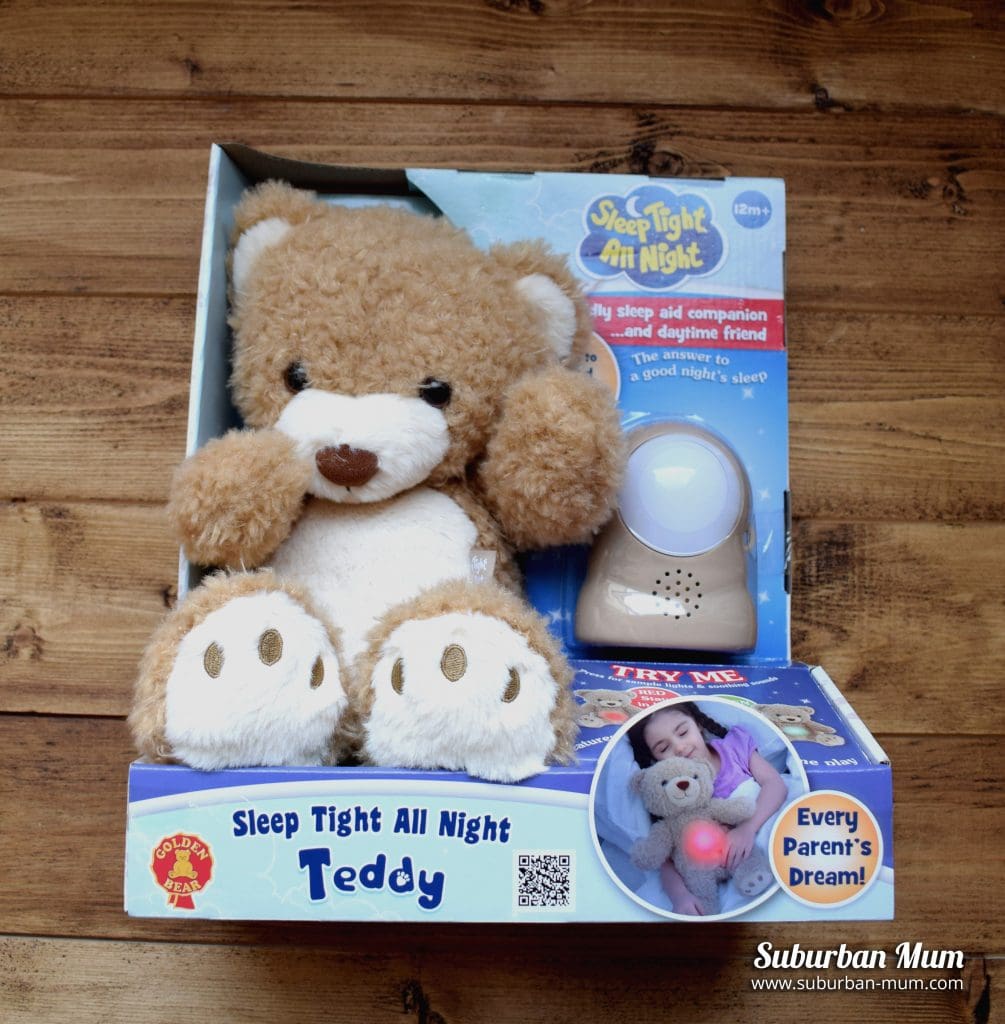 What is it?
The Sleep Tight All Night teddy is a sleeping aid designed to teach children when it's time to sleep and when it's time to wake up. It also helps children get back to sleep easier if they wake up in the middle of the night.
How does it work?
The teddy has a timer inside his tummy which you can easily set the number of hours you'd like your child to sleep for. It jumps up in 30-minute increments so is very handy if you wanted to use it for naps as well as bedtime.
Once set, the teddy's tummy glows red and will remain red until the pre-designated time is up by which point teddy's tummy will turn green.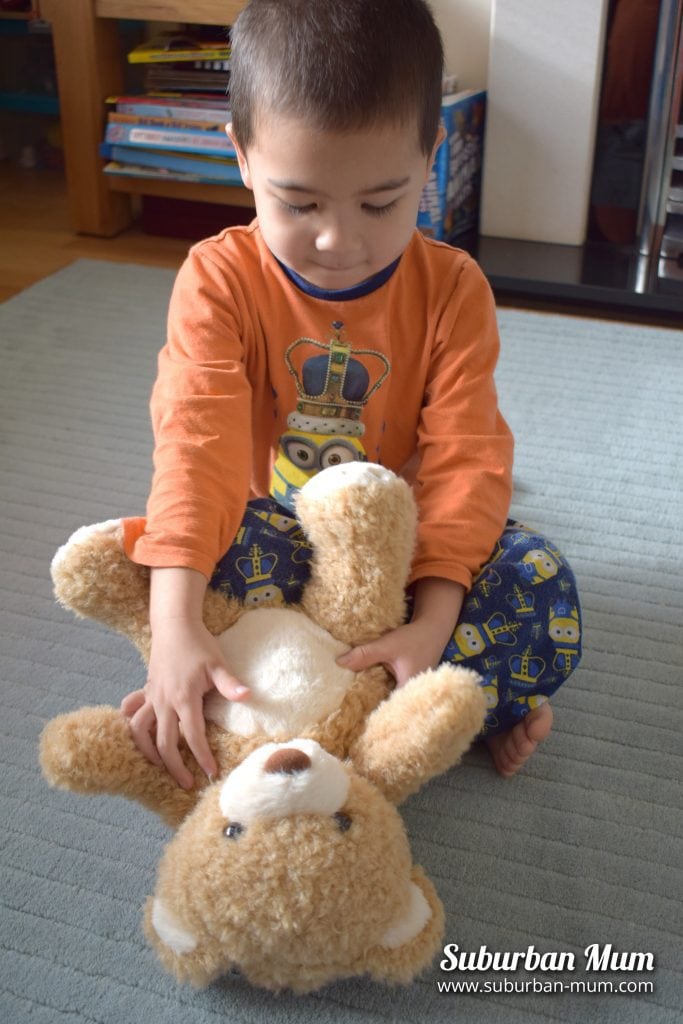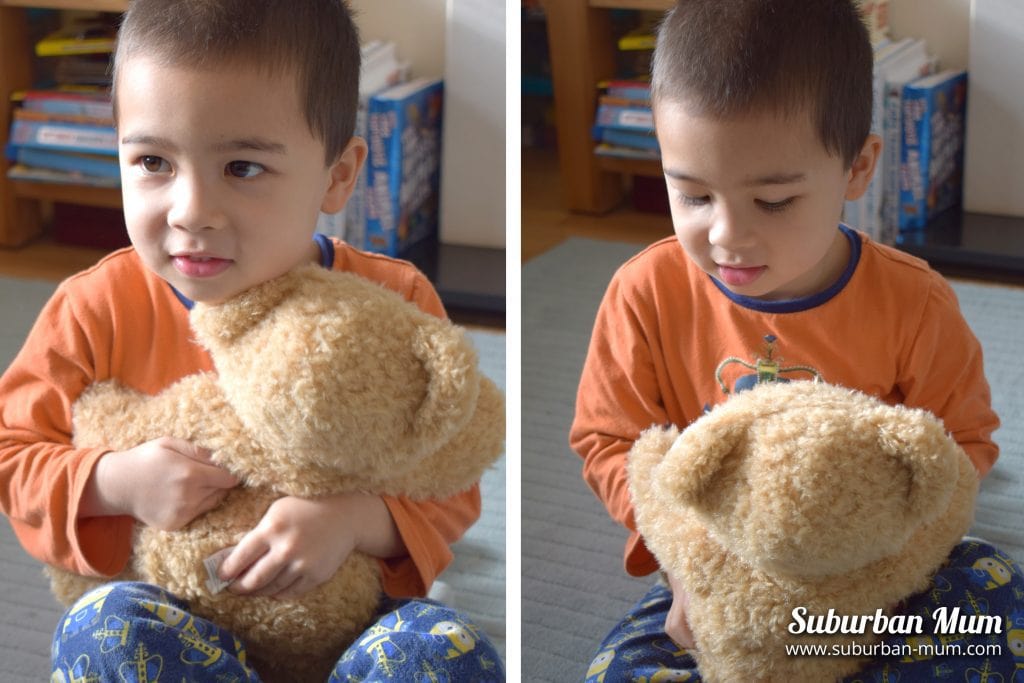 Features
There is both a day and night mode. The day mode allows the teddy to interact with your child using some preset character phrases.
At night, there is a choice of five soothing sounds to help your child drift off to sleep. They vary from raindrops, heartbeat and waterfall to crickets and soothing surf. You can also switch this function off if you prefer. There are also two volume settings as well as a parent lock so that the preset times can't be accidentally changed by your child.
Our thoughts
M has been really taken to the teddy and always makes sure it is in bed with him at night. Although it's not stopped him getting out of bed completely, it has made it easier for him to go back to bed because he either checks himself to see if teddy is green or we ask him to check when he comes into our room. I tucked him in one evening where he woke briefly to have a drink of water and he automatically pressed the teddy's tummy, saw it was red and went straight back to sleep!
I think the Sleep Tight All Night bear is a great sleeping aid for toddlers which helps them self-soothe if they wake up at night. For me, it's a bonus if they stay in bed a little longer in the morning too!
The Sleep Tight All Night bear is available from most toy stores and retails at the very reasonable price of £29.99.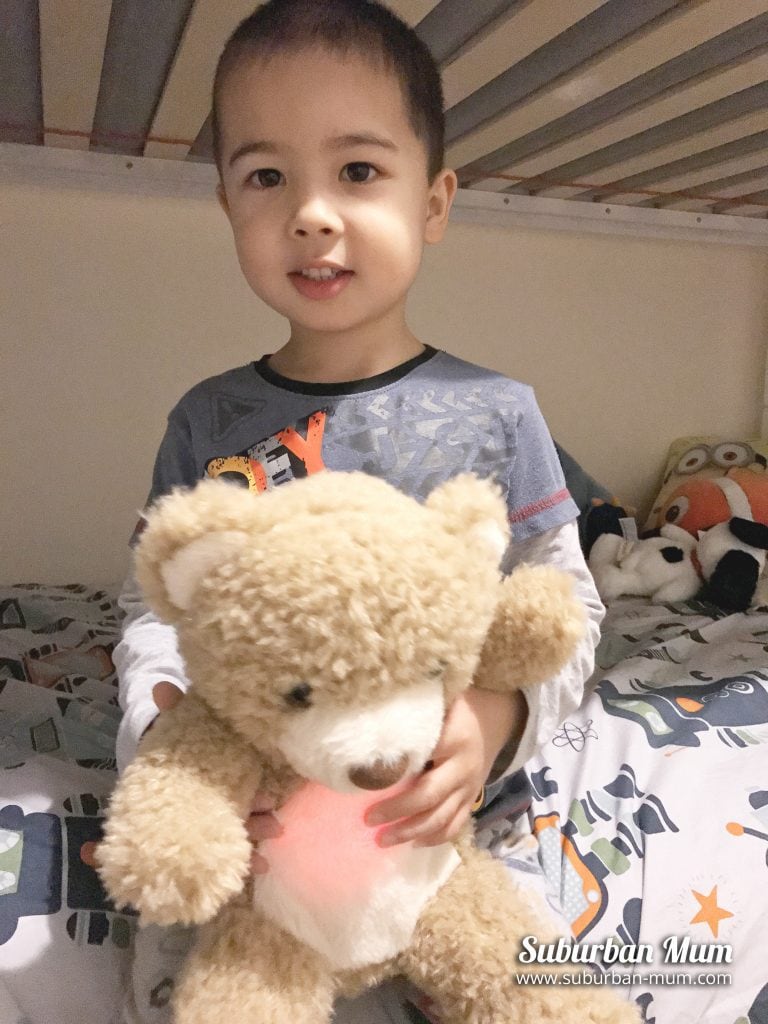 *We received the Sleep Tight All Night for the purpose of this review. All opinions are honest and my own. This post contains affiliate links.
Pin it for later: