From games of catch to beach days to bike rides around our childhood neighbourhoods, all of us have fond memories of playing outside as children. If you're now grown up and have kids of your own, you undoubtedly want them to have just as many similarly precious experiences—and with good reason. Outdoor play can benefit children in all sorts of ways. It doesn't just improve their physical health, but also gives them opportunities to practice their social skills and enrich their imaginations.
Outdoor play is generally safe, as long as you make the right preparations. Teach your children basic safety tips like not talking to strangers and wearing protective clothing or sunscreen on hot days. If your kids are especially prone to respiratory allergies or other similar ailments, which can act up in spring and summer, consider buying antimicrobial face masks with neck loop to keep them extra protected.
Furthermore, one of the best things about playing outside is that it can be as structured or as unstructured as you want it to be. If you're strapped for ideas about how to spend quality outdoor time with your family, the following activities can provide you with hours of fun:
Go for a Bike ride
Biking is an excellent way to appreciate the outdoors while also getting in some exercise, and it's also an activity your whole family can engage in. If your kids are only just learning to ride, picking out their first bike can be a fun and exciting bonding opportunity in itself. Take them to the store with you and ask for their input on the bike's size, appearance, and other features. The chance to learn more about bikes and to choose one of their very own may make them all the more excited to finally hit the road.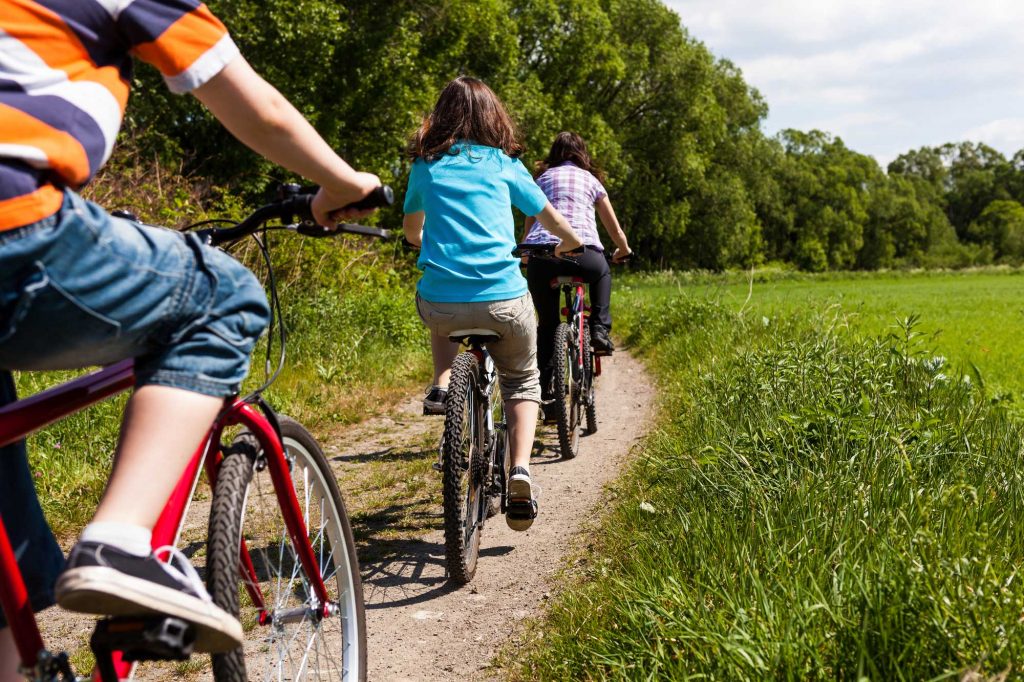 If you have younger children who aren't quite ready to ride on their own, never fear. There are a couple of ways to give them a ride on your own bike. Front-mounted seats can be attached just below your bike's handlebars and are appropriate for smaller kids between the ages of 9 months and 3 years. Rear-mounted seats, meanwhile, can accommodate children up to 6 years of age. These seats attach to your bike's rear frame or rack and can usually bear more weight than front-mounted seats.
Older children may be most comfortable riding in wheeled bike trailers, which are also known as chariots. These bike attachments connect to the rear end of your bike with a hitch. They're also usually hooded, which can come in handy on especially sunny days or in the event of sudden rain. Some bike trailers are even large enough to seat more than one child.
Take a hike
If you can find appropriate hiking trails for your children, hiking together is a great bonding opportunity for families. Going on a hike will feed your children's sense of adventure and heighten their appreciation for nature, as it gives them an opportunity to interact with the world beyond your immediate neighbourhood.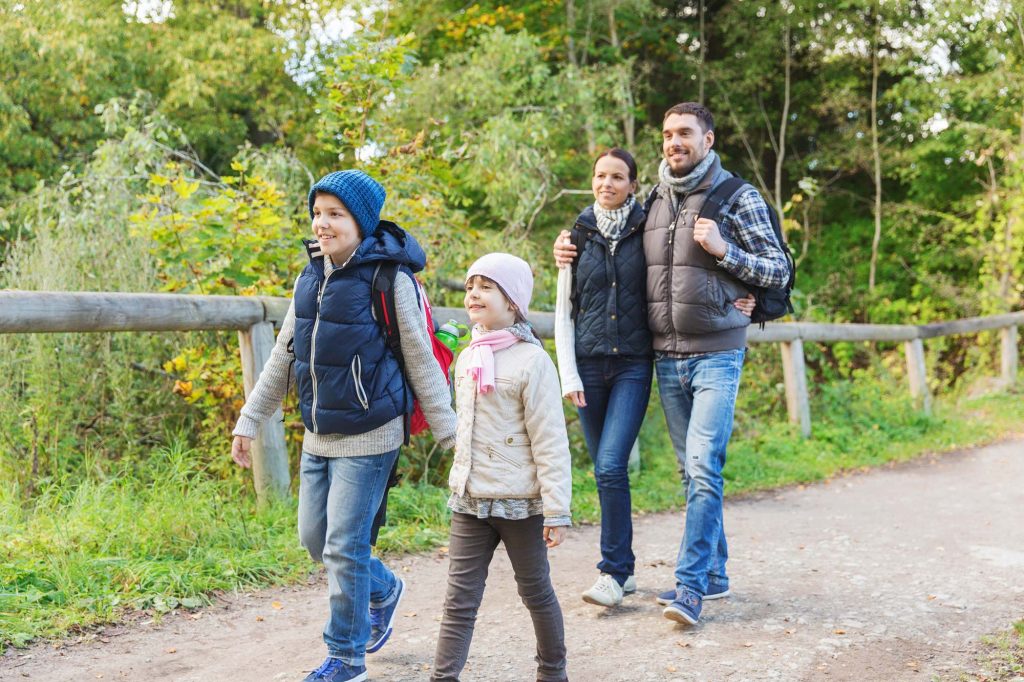 If you're worried about your kids getting tired, bored, or cranky on a hike, rest assured that there are plenty of ways to keep them interested in the trail. Take the time to point out interesting plants, bugs, and other wildlife that you encounter as you go. Activities like trail bingo or scavenger hunts are also good for keeping kids energized and entertained, so consider working these in at checkpoints or during the hike itself.
Try Camping
Camping as a family offers a much-needed opportunity to disengage from your devices and daily routines and focus on spending time together. Though it might seem intimidating to take your kids on a camping trip, careful preparation is all you need to guarantee a safe and fun-filled experience. Stock up on essential camping equipment and be sure to educate your kids on the basics of campsite safety. You'll also want to bring plenty of food, snacks, interactive toys and games for entertainment.
If your family isn't quite ready to rough it out in the woods, you can always camp out in your own backyard hassle-free. That way, you can introduce your kids to the experience of camping without the risk of them getting scared or homesick in an unfamiliar place. You'll also have all the conveniences of home in close reach when you need them.
Have a Beach day
Families who love the water can get their fix with a day at the beach. One of the best things about beaches is that they always have something for everyone. Your family members will be able to enjoy the seaside in whatever way they enjoy most, whether they want to go swimming, build sandcastles, engage in watersports, or simply laze around in the sun. Just don't forget your beach essentials, like water, snacks, and sunscreen.
Today's fast-paced, busy, increasingly digital world can make it difficult to schedule quality outdoor time, but it's important to find ways to do so regardless. Spending time together outdoors will do wonders for your family's physical and mental well-being, and it can also be a much-needed opportunity to bond.