What do you think of when you hear the words "Virtual Reality?" For me, it reminds me of the movie Total Recall, where Arnold Schwarzenegger's character visits a virtual reality entertainment service that will implant false memories for fun. Since then, many films like Ready Player One have depicted Virtual Reality and its game-changing technology. Being able to enter a digital space where everything you see and hear stimulates your senses in a way that you wouldn't get from any other medium is pretty amazing.
VR has really come on and steadily risen in popularity over the last few years. Not only can you fully immerse yourself in playing games, but you can also exercise, explore the world, use it as a training tool to learn new skills, and much more.
We were recently sent the Meta Quest 2 (previously known as Oculus) to find out how VR can benefit the whole family.
What is VR?

What you need to know about the Meta Quest 2
The Meta Quest 2 is a standalone VR system that doesn't require any other hardware to run. It features a high-resolution display and a built-in computer. It doesn't use a cable to connect to a PC like some VR headsets do: instead, it uses a wireless connection which means that you don't have to worry about tripping over long wires or having it get in the way of your movement. You can get the Meta Quest 2 in two sizes, either 128GB or 256GB. The one we are reviewing is the 128GB version.
Every element of the Quest 2 has been designed to allow virtual worlds to adjust to your motions, giving you an unmatched degree of flexibility as you explore mind-blowing games and experiences. No console or PC is needed. The display has 50% more pixels than the original Quest, so you can utilise next-generation visuals and lightning-fast performance to make the most of every moment.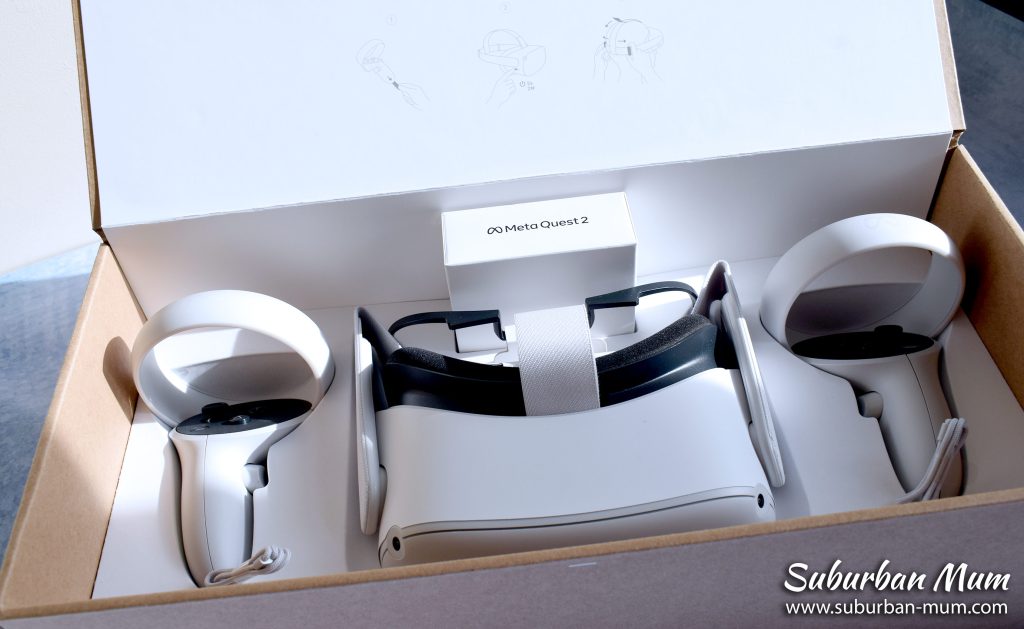 What's in the box?
The Meta Quest 2 has everything you need to set up and start easily.
VR Headset
2 Touch controllers
Charging cable
2 x AA batteries (for the Touch controllers)
Power Adapter
Glasses Spacer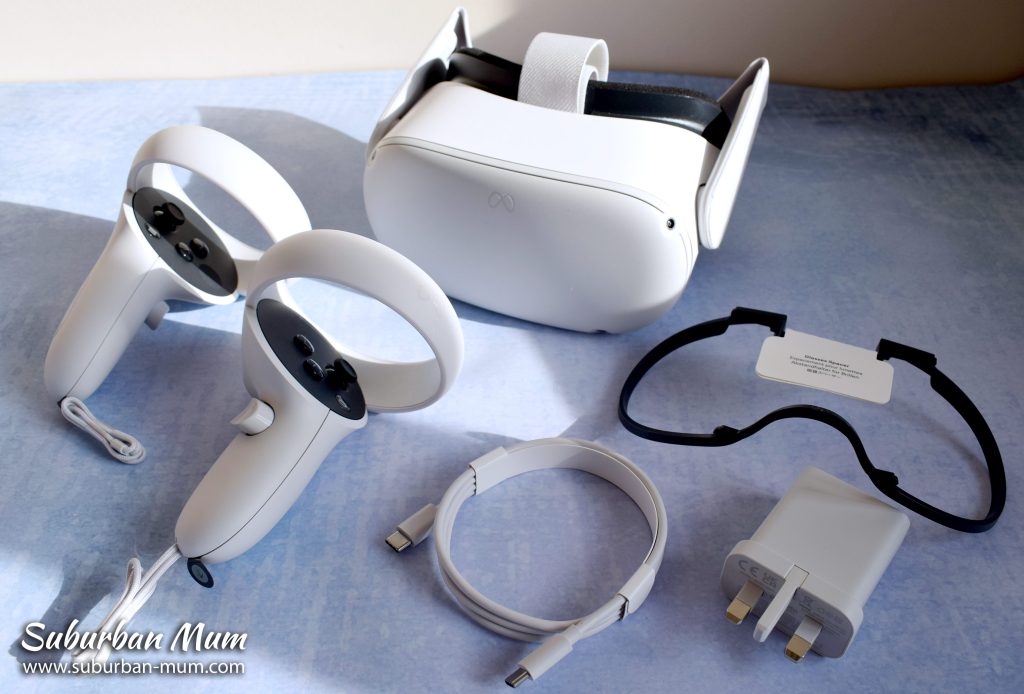 How to set up the Meta Quest 2
Before setting up, it's worth fully charging the Meta Quest headset before use. A light on the headset's side will turn green once it is fully charged.
You will then need to turn on the Quest controllers as well as the headset to pair them with each other. Once this is done, pop the headset on and use the controller to connect to your wi-fi network.
You will need your mobile phone to download the Meta Quest app (available on Google Play for Android phones and the App Store for iPhones.) To use the Meta Quest VR, and if you don't already have one, you will also need to create a Facebook (Meta) account. The Meta Quest app allows you to control your Quest experience when not using the VR as well as set parental controls. It also allows you to access the store where you can purchase games. These are then synced with the headset when it's switched on.
How to use the Meta Quest 2
As mentioned above, you can download apps and games either through the Quest app on your phone or when you have the VR headset on. Popping on the VR headset should be relatively straightforward. Simply place the headset over your eyes and pull the strap onto the back of your head; you may need to adjust the velcro along the top by tightening or loosening it so that it fits comfortably and doesn't move around when on. The image through the headset should be clear; if it's blurry, you will need to adjust the lenses' position by moving them further apart or closer together. It's a bit of trial and error to work out what works best for you.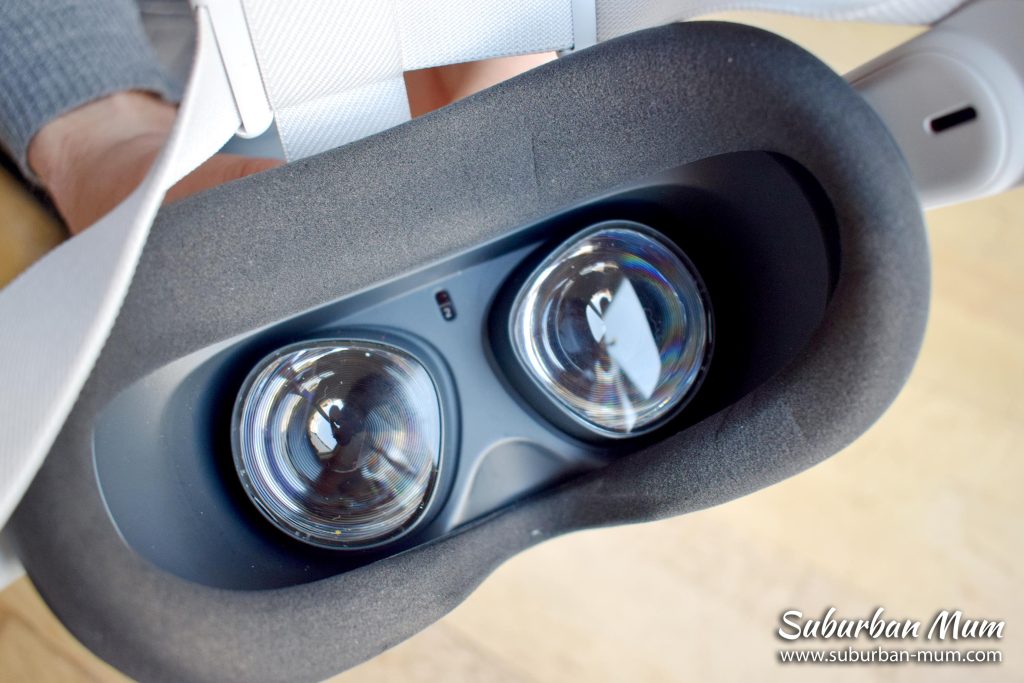 The Meta Quest 2 All-in-One VR Headset allows you to move, dance or dodge around your play area. You need to set up a safe boundary in order to do this. Pick somewhere in your house that has an adequate amount of space to play, you'll then need to look around with the headset on so it can work out your grid area. Using your controllers, you can draw out your boundary/safe area.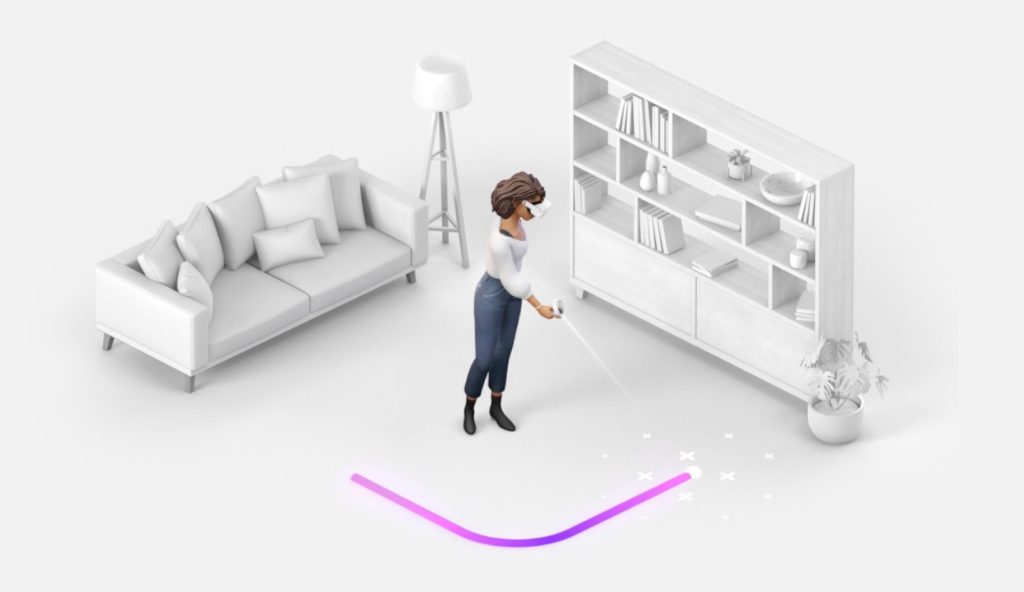 The headset will show the virtual world of the Quest 2 interface as long as you stay within the safe area. If you do come close to the boundary, the grid will appear as a warning. To prevent you from accidentally bumping into or tripping over objects in the real world, the virtual environment will be replaced if you continue to go past the grid with a grayscale image of your room.
If you are limited on space, you can use the Quest 2 in stationary mode, where you are either seated or standing still.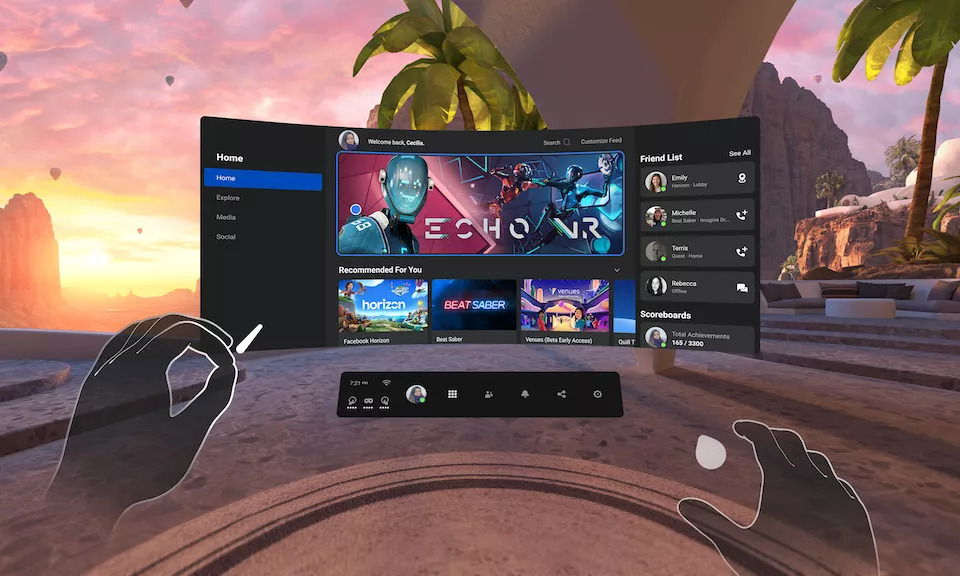 Our review of the Meta Quest 2
I cannot tell you how excited Mr H and I were to try this out, the headset does take a little while to get used to, and it is advised that you gradually build up the time you use it to avoid motion sickness. Once the Quest 2 was set up, our first point of call was to play the "First Steps for Quest 2" demo to familiarise ourselves with how to use the controllers to pick up, shoot and throw, and push things over and more.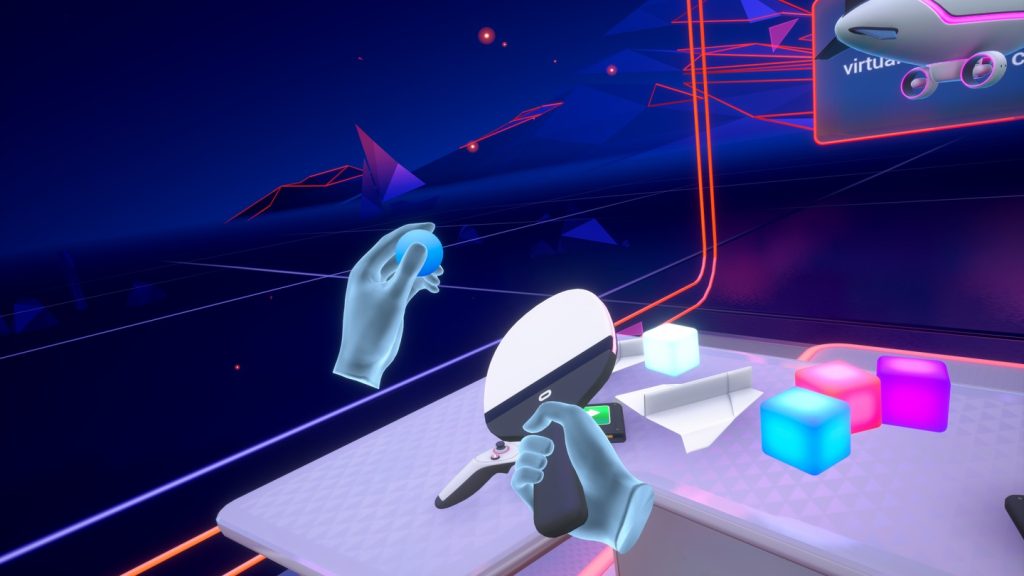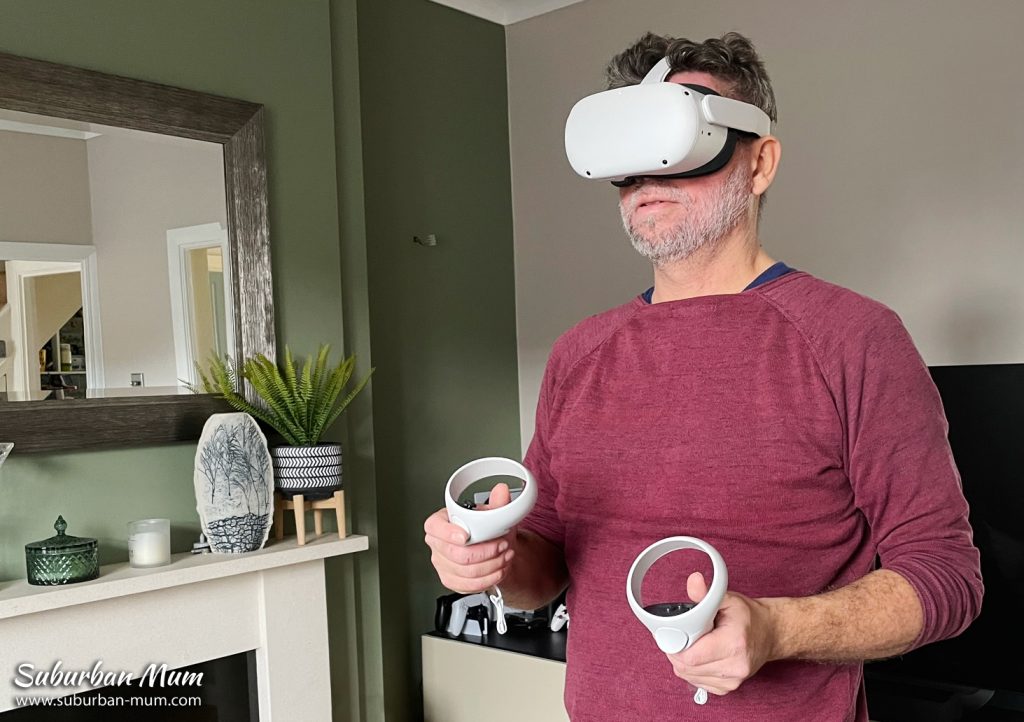 The Quest 2 currently comes with a copy of Beat Saber (offer only available until 31 December 2022), so once we felt confident with using the controllers, we gave this a whirl. Beat Saber is a VR rhythm game where you slice the beats of music as they fly towards you. You also have to dodge and duck them as it increases in speed.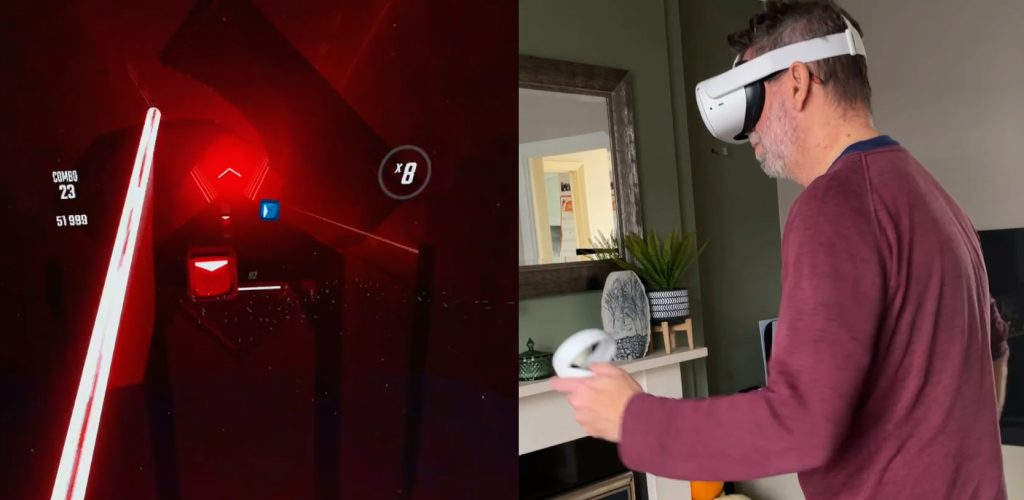 To begin with, we both played separately as we hadn't worked out how to share the game you are playing so that non-players can see. There is a cast button you can use that is either on the headset or within the Quest app where you can cast what is on the headset to your phone, computer or TV. I was able to do this very easily on my iPhone, although I haven't figured out how to cast it to our LG TV yet.
Overall, we have only just scratched the surface of the capabilities of the Quest 2. However, we are really impressed with it so far. There's so much to explore, and I can already see it being really beneficial to us as a family.
The benefits of VR
Why you need the Meta Quest 2 for your family
We enjoy gaming together anyway, and I think the Meta Quest 2 will bring a new way of having game nights together as well as being used for educational purposes. There are VR experiences that you can download, allowing you to virtually explore the world, inspiring kids to be imaginative and creative through VR. I've seen that National Geographic have experiences on the Quest store where you can explore Antartica. You can even tour Anne Franks house in the comfort of your home. I know that one of the things the boys will most definitely want to check out is the virtual rollercoasters.
As for adults, we can enjoy all the above and perhaps even decide to learn a new skill like golf, tennis or even surfing! The Quest app has hundreds of titles in its library, so you will not have a problem finding something to suit your tastes. From puzzle games, shoot-em-ups, sports games and more, you can also watch films and TV through apps and feel as though you're in the cinema.
The Meta Quest 2 has opened up a whole new VR world of possibilities for us, and we are super excited to be a part of it.
You might also like: