VR is currently taking the world by storm, and many different VR experiences are popping up across the country. We recently received a VR headset for us to try as a family, and we all absolutely love it, so looking at the best VR experiences London for us would be a great way to explore this fun technology even more.
But before you book in to see what all the hype is about, it is worth discovering more about VR and why it can be an excellent way for your family to have some fun together.

What Is VR?
VR, or virtual reality, is an artificial experience that takes users into an artificial world that is fully immersive. Using 3D near-eye displays and pose tracking, users can explore different worlds and experiences without leaving home or their current location. It is basically like being inside your favourite computer game, like simulators you can try for other experiences such as flying or roller coasters. Except instead of watching on a screen, you can enter by wearing the goggles.
The best VR experiences London use the latest in VR technology so people can enjoy this immersive world and take advantage of the experience with family and friends for a fun day out. You can try many different experiences, which are a huge source of fun for everyone, whether they're participating or just watching.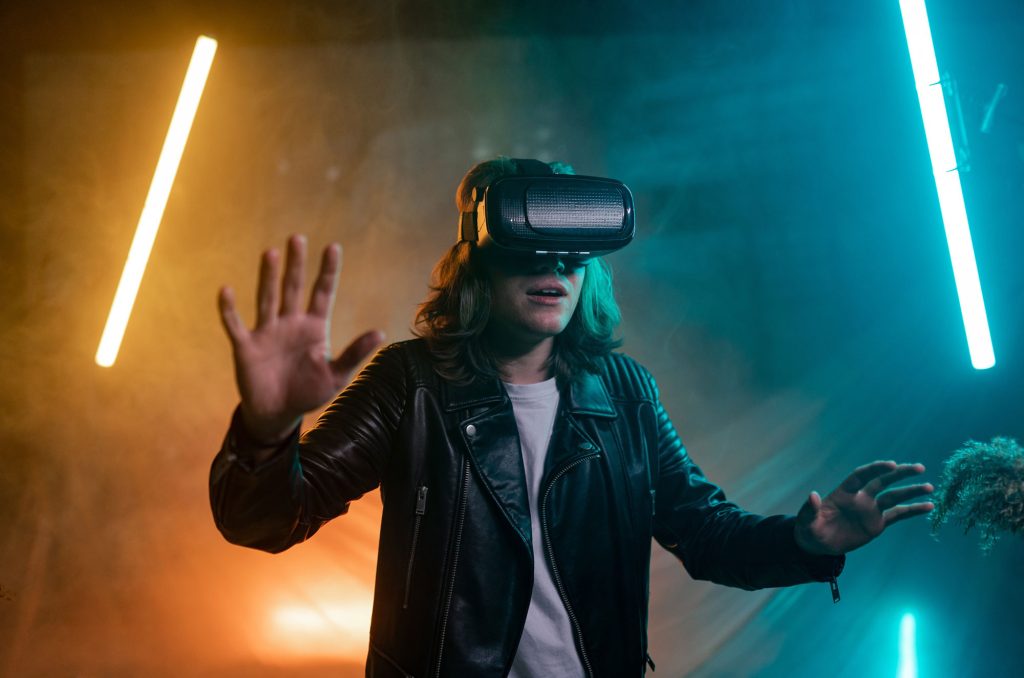 How does VR Work?
If you're unfamiliar with VR, you access this technological world via a headset. You then enter your chosen world and let your imagination run free! In VR attractions, you can play in a room with others, in a private space to connect with others in the venue or just in your group spending on the type of play and world you enter into.
An important point is to arrive early for your session as you will need a quick demo in gameplay and to be kitted out before you start. Typically this is 15-20 minutes prior to your booking start time. Failure to arrive early may result in the loss of your slot, this will depend on the venue you are playing at.
VR FAQS
How does it work?
Typically these sessions can accommodate single players and multiplayer of around 10 people, although this can vary from venue to venue. Depending on the type of experience you choose, you might be placed in a booth on your own or in a room together, but you will all be able to interact with each other if you go in a group and aren't playing as a single player. The VR experiences usually last up to an hour, and you can choose the experience you want to try, and all players will then be able to access this together via the use of the VR headsets.
How much do VR experiences cost?
Prices can vary from venue to venue and differ by experience. Some experiences can cost as little as £13 for 40 minutes up to £55 per hour. Some venues offer large groups, or you can play during off-peak hours for less.
What are VR age limits?
Typically VR experiences can be accessed by players aged 7 and over, mainly due to the size of the headsets. Each VR experience may have its own age limits for specific experiences, so it is worth checking before you book to ensure all your players are old enough, especially if hosting a birthday party.
Who can play?
Due to the nature of VR, many venues stipulate that players need to have full body movement and those who are in a wheelchair, or use mobility aids are not currently able to play. This can vary from venue to venue with some looking into making gameplay more accessible but it is worth checking with the individual venue before booking.
If you fancy trying the best VR experiences London, read on for information on the different venues.

The Best VR Experiences London
DNAVR has 4 different rooms; VR Arcade. VR Escape Room, Premium Free Roaming and Ubisoft VR Escape Room. Prices are determined by the time of day you go and the number of players. Prices start from £24 per person per session time.
All three venues are open 7 days a week at the following times:
Monday to Friday, 3 pm to 9 pm
Saturday and Sunday, 10.30 am to 10 pm
It is advisable to book online to ensure there is space to accommodate your party to avoid disappointment. DNAVR accepts players of all ages however recommended play for people aged 7 and upwards due to the equipment size.
Battersea Power Station
18 Arches Lane
London
SW11 8AB
Hammersmith
Assembly, Unit A, 77 Fulham Palace Road
London
W6 8JA
Camden
Units 1&2, 400-404 York Way
London
N7 9LR
Otherworld is a private island retreat you enter to access all third-party games and experiences. On top of this, the island has 4 different seasons and 16 different VR experiences. It is recommended first timers play in spring to build their confidence, while in winter are more experienced players.
Otherworld is open for players 16 and over or 12 and above when accompanied by an adult. You can play solo or multiplayer and interact with others via the headset while in your virtual reality world. You can book 40, 55 or 70-minute sessions, and it is advised to book ahead to avoid disappointment when arriving; however, they do accept walk-ins if there is space.
Sessions can be booked at both locations in London from 10 am to 9.45 pm on weekdays and 9 am to 9.45 pm at weekends. Friday and Saturday last sessions are 10.45 pm.
Otherworld – Hackney
336 Acton Mews
Haggerston
Hackney
E8 4EA
Otherworld – Victoria
85 Buckingham Palace Road
London
SW1W 0QJ
Red Wolf Vr is a virtual reality gaming experience in London with VR games, a PS4 gaming room, an arcade and a bar. Available to book for individual sessions or whole venue private hire, and it has a mix of activities to suit every gamer and a place to relax once you leave the virtual world.
The pricing structure is slightly different to other venues in which you are charged per table. For 4 guests for a 2-hour slot, it is £50. Additional guests are £10 extra per person with a maximum of 8 guests. You get a space close to a pool table for exclusive use for one hour. After this hour, you can use the other games and facilities for the remainder of your time.
For more than 8 guests, you need to book a group pass which is £70 for 9 people for 2 hours. Additional guests are £10 per person to a maximum of 20. for the same package as above.
Red Wolf VR is open from Wednesday to Saturday, from 3 pm to 10 pm. Booking is advised online. Then there is an option for private hire, giving you exclusive use of the venue or semi-private use, which can be arranged upon consultation.
Red Wolf VR
2nd Floor
The Red Wolf House
5-10 Bolton Street
London
W1J 8BA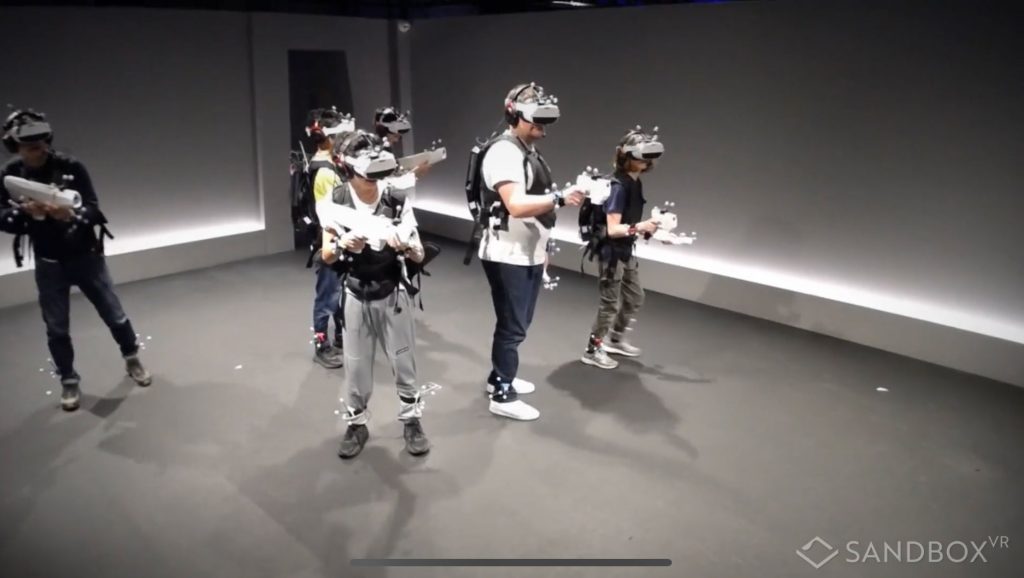 For those who want a more realistic and immersive experience, Sandbox VR uses cutting-edge technology to allow your whole body to be transported into the game as if you are actually in it. It isn't only one of the best VR experiences London but in the world!
Each game is for up to 6 people, and you can see and interact with everyone in your game regardless of group size. There are 6 different games to choose from, and Sandbox VR gives you a futuristic experience like no other in your individual Holodeck.
Each experience lasts an hour with 30 minutes of gameplay. Once your game is complete, you can stick around to have a drink made by Toni, the robotic bartender!
Prices start from £35 per person, and games are for 2-6 players. Opening hours are;
Monday to Friday, 10.30 am to 11.30 pm
Saturday 10am to 12am
Sunday 10 am to 11 pm
Sandbox VR
The Post Building
Museum Street
London
WC1A 1PB
Hyper Reality VR is a community VR world that lets you connect with other players. From their gameplay to their chill lounge, it is about bringing people together through their love of gameplay. The recommended age at Hyper Reality is 12+ due to the content, but they have games suitable for younger players too.
One to four players can play each game, and no strangers will be allowed to join your booking. Despite its community vibe, you only play with those in your booking.
Pricing is slightly different at Hyper Reality VR, with the average cost at around £1 per minute, although this can vary depending on the game you play.
The "Place with No Name" Experiences- £12 and up (age 7+)
The Arena Experiences- £8 and up (age 7+)
Rollercoaster Experiences- £3 and up
VR Go-Kart Experience – £6.5 per person per race
Sessions run back to back, so booking online and arriving 15 minutes before your slot is advisable, as latecomers may miss their slot. Gameplay can vary design on the experience you book as they have different names you can play and packages you can book.
Opening hours are:
Sunday: 11 am–9 pm
Monday: Closed
Tuesday: 3–11 pm
Wednesday: 3–11 pm
Thursday: 3–11 pm
Friday: 3–11 pm
Saturday: 11 am–11 pm
Hyper Reality
67 Mile End Road
London
E1 4TT
Supercharged VR isn't like all the other VR experiences London. It is dedicated to racing and putting your skills to the test on the track. As a safer alternative to getting into a go-kart or undertaking motorsports, VR racing is done safely using only the most sophisticated technology to bring your racing experience to life. You choose from a variety of real-life races and different tracks from around the world.
It is worth noting that Supercharged VR doesn't accept walk-ins, so advance booking is required. Adults need to sign waivers for those under 18s but aren't required to stay with them for the duration if they are not participating. There are also height restrictions in place of 4ft 10in to 6 ft 3in and a weight limit of 130kg for full motion simulators. Prices from £17.99 for a 20-minute race.
Opening hours are:
Friday : 3 pm – 10:30 pm
Saturday: 12 pm – 10 pm
Sunday: 12 pm – 9 pm
Supercharged VR
Arch 148
Tilbury Road
Leyton
London
E10 6RE
If free-roam VR experiences are what you are looking for, then Omescape is the place for you. All rooms are live escape rooms and host 2-8 players and are themed in the following;
Sci-fi
Steampunk
Apocalyptic survival
Fantasy
All the games are fully immersive and use the latest in headset and earpiece technology; players can use their movements in real-time to bring the game to life. It's as if you are actually in the environment.
Due to the nature of the games and the requirement of solving puzzles, the gameplay is recommended that players are 12 and above, as it might be too challenging for some younger players. Prices cost from £20 per person, and Omescape is open 7 days a week from 10 am to 10 pm. Booking is recommended.
Omescape
1st Floor, 75 Greenfield Road
London
E1 1EJ
Navrtar is a co-op VR gaming experience that allows you to play with up to 6 people in your group. You can choose from 4 games as well as AR darts. All games are recommended for ages 13 and upwards due to the graphics and scenarios in the gameplay, and under-18s need to be accompanied by an adult (they don't have to play).
Gameplay is 30 mins from 24th Feb 2023 (demos are discontinued from 19th Feb 2023). Dynamic pricing is in play, so basically, the earlier you book, the cheaper it is. All gameplay is from £24 per person. Be aware if you book a game for fewer than 6 people, you may be paired with other players. However, you can tick a box on the booking page to not have this happen on your booking if you wish.
Opening hours are:
Mon – Fri – 2 pm to 10 pm
Saturday – 10 am to 10 pm
Sunday 10 am to 9 pm
Navrtar
Dickens Yard
Longfield Avenue
Ealing
London
W5 2UQ
When it comes to the choice of experiences, Immotion VR has a wide selection of games you can play. From racing to swimming with humpback whales to sports games, arcade games and much more.
Depending on the game and the machines available, games can be multiplayer or solo. Gameplay is for over 8 years of age, and spectators do not need to pay to attend. This is due to the size of the equipment used, as smaller children might be unable to wear it comfortably.
It is £25 for a variety pass at the o2 giving you 30 mins of play (other pricing applicable to other locations). Innovation is open at the following times;
Monday to Thursday:- 12:00 to 18:00
Friday and Saturday:- 12:00 to 20:00
Sunday:- 12:00 to 18:00
Immotion VR
The O2 London
SE10 0DX
At MeetspaceVR, there are ways to enjoy the VR world; you can choose from;
Zero Latency – free-roaming, untethered multiplayer VR
VR Escape rooms – Immersive standing-only VR gameplay for multiplayer
VR Arcade – a fast-paced mix-and-match gameplay for solo players
Immersive Playzone – a digital wall and mini free-roam area for the whole family.
MeetspaceVR is strictly for ages 12+ and under 16s and must be accompanied by an adult. However, a couple of experiences are suitable for over 10's. Each different experience has limits for the gameplay, with Zero Latency being up to 8 players for a 45-minute (30 minutes in the game) experience. Prices start from £10 per person and vary depending on the activity you choose to do.
MeetspaceVR is open from 12 pm to 10 pm Monday, Tuesday, Thursday and Friday. 5 pm to 10 pm on Wednesdays and 12 pm to 9 pm Sundays.
MeetspaceVR (also locations in Guildford and Reading)
Box Park, Olympic Way
Wembley Park
Wembley
HA9 0JT
At Divr Labs London, you can play one of 2 different games, The Lost Lab and Meet The Dinosaurs.
Meet The Dinosaurs is a family-friendly game for players aged 7 and upwards for up to 4 players. While The Lost Lab has a more futurist aspect for 4 players aged 10 and up. The whole experience is 40 minutes long, with 25 minutes of actual gameplay.
For bigger groups, times are staggered by 5 minutes to ensure you don't bump into others, not in your game or other players. Prices from £24,45 per person, and Divr Labs London is open from 10 am to 9 pm Monday to Saturday and 12 pm to 6 pm Sunday.
Divr Labs London
Ariel Way
London
W12 7GF
I hope you found this list of the best VR experiences London helpful. All information is up to date and correct at the time of publishing, and prices, opening times and other restrictions may be subject to change at the discretion of each individual venue. Please check online before booking for up-to-date information. Alternatively, you may want to look into buying your own VR headset – there are lots of different brands available but one of the most popular is the Meta Quest 2 which is the one we reviewed recently.
You might also like: