A garden: your own paradise behind the house. A garden comes in every shape and size. Will you go for a low-maintenance garden or a green oasis? It's important to think about what suits you best. Do you want to spend a lot of time in your garden, or do you have other priorities? For every lifestyle, you have a suitable garden. But what should you pay attention to when you want to build your own dream garden?
South-facing Garden
Everyone's garden is different. For instance, one garden faces south, and other faces north. It is important to know how the sun faces your garden. This is because some plants like a lot of sunlight – and others cannot stand it at all. Many people find a south-facing garden the most favourable: when your garden faces south, you always have sun in your garden. Both in summer and in winter, the sun shines its full path past your garden. But a south-facing garden also has its disadvantages: if you have turf in your garden, you will soon notice that the soil and grass dry out quickly and show bare patches. So, with a south-facing garden, you will have some work to do on your garden.
Using hedgeplants for privacy
Another thing to think about is whether you consider privacy important in your garden. For many people, privacy is important in their garden. A fence can provide this, but you can also use plants. In this article, we discuss which hedgeplants we like and why, so you can get some inspiration and hopefully make your decision a little easier.
Personally, we love hedge plants that stay green in winter, are low-maintenance and don't make a fuss about where to plant them. Our choices, therefore, fell on a couple of sturdy plants.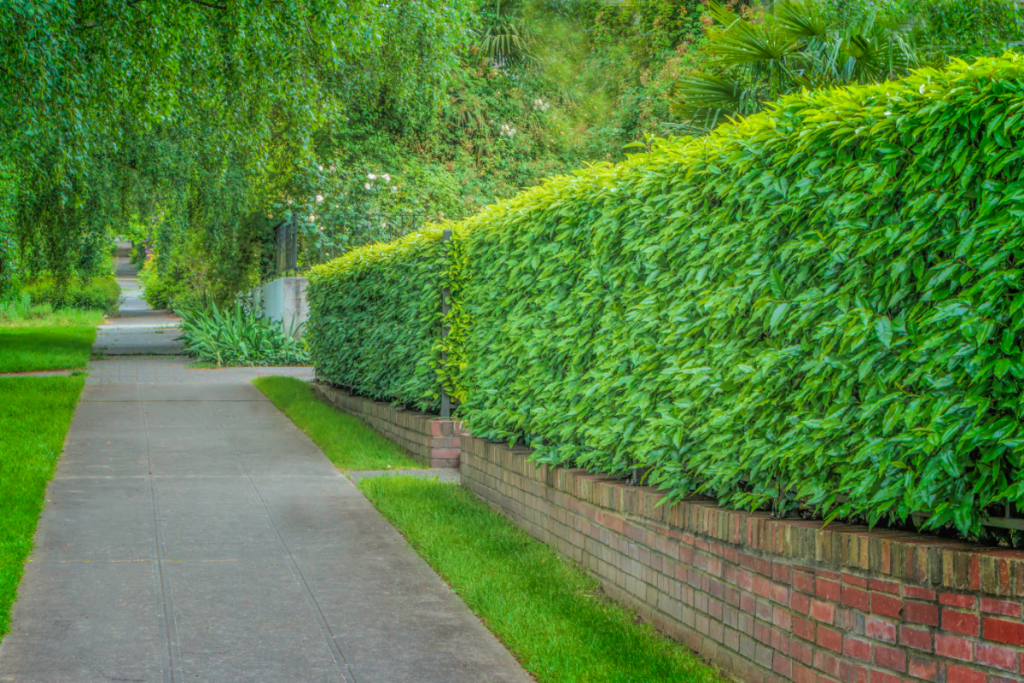 The beautiful holly hedges
The first plant we love is Ilex meserveae, or holly hedge. The holly has a beautiful shiny, dark green leaf cover. The female holly produces cute red berries when pollinated by a male pollinator. This plant has a beautiful, classic look and has a dense evergreen cover: this provides a lot of privacy. The plant is low-maintenance, and the plant is in tip-top shape even when you prune it only once a year. The plant further keeps intruders at bay through its pointy leaves. But birds love this plant: the red berries are considered a real delicacy by little birds.
Before the Ilex gets its red berries, it further has the seasonal characteristic of producing small flowers in spring, which remain throughout the summer. Super cute!
An all-green hedge with the yew
If you are looking for a decorative evergreen hedge plant, the yew might be it for you. The yew is a very hardy plant, which stays green in winter, does not lose its leaves and is resistant to frost. Yew hedges are very strong plants with a long lifespan, so they can form a beautiful hedge for many years, which you will enjoy. Yew is easy to prune back and comes in many varieties. Some yew varieties only need to be pruned once a year, while others, such as Taxus Baccata, need to be pruned twice a year. Yew is a hedge that can take a beating: it is sturdy and grows up to 20 metres tall. However, yew is toxic to humans and animals because it has red berries, just like the holly hedge. Nevertheless, birds are only too happy to (safely) snack on the berries!