Although we don't live far from Thorpe Park, (it's located in Staines which is a half hour drive from where we live) we had the opportunity to stay at the onsite hotel. The boys love a hotel stay so we couldn't say no. It also meant we'd be able to access the park early the next day (full review will be on the blog soon). So we arranged to check-in on the Sunday after May half-term to take advantage of a quieter Monday (the boys had an inset day at school)
We parked up in The Thorpe Park car park (parking is free to guests of the hotel) and headed to check-in.
The boys were already buzzing as they'd spotted roller coasters on our way in but their mouths dropped open when they saw the entrance to the hotel.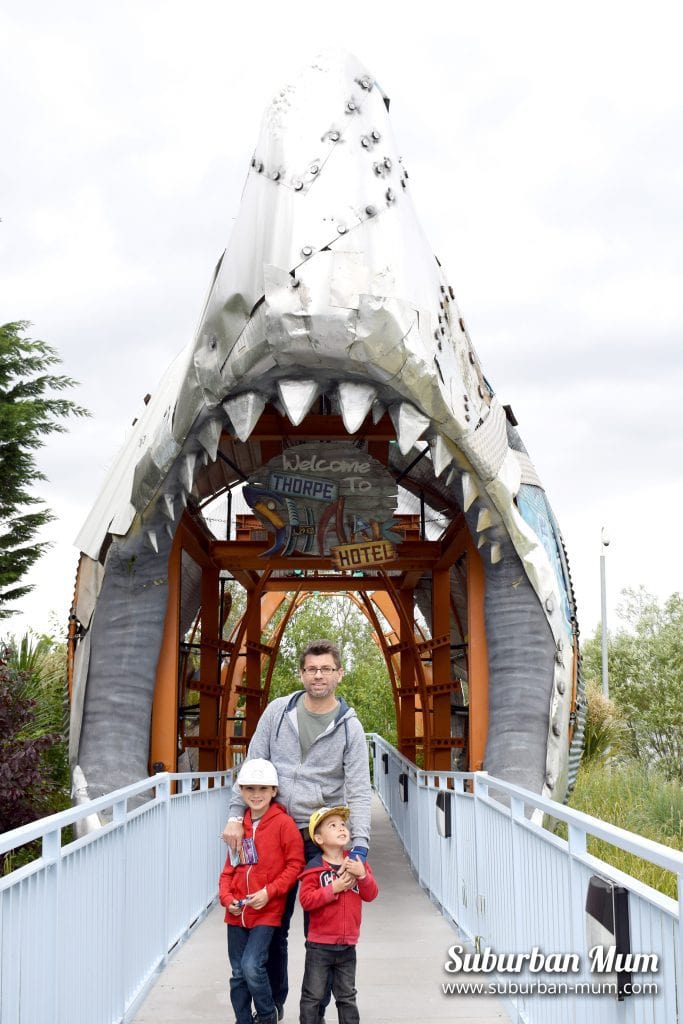 E went through an obsession with sharks a few years back and still hold them, dear. He was rather impressed by the model shark that had been made out of junk and thought it was super cool that you had to walk through its mouth to get to our room!
Checking-in
Checking-in took less than 10 minutes. The reception staff already had our booking to hand and after a brief run-down on breakfast times, how to use the air-con in the room we were handed our entry card for our room for the night.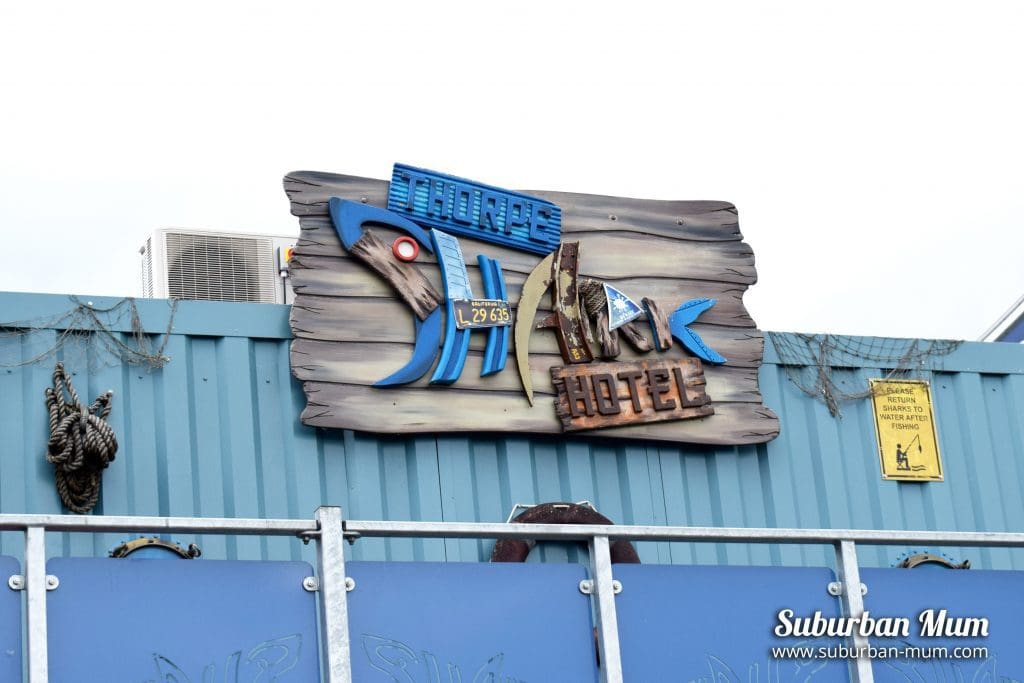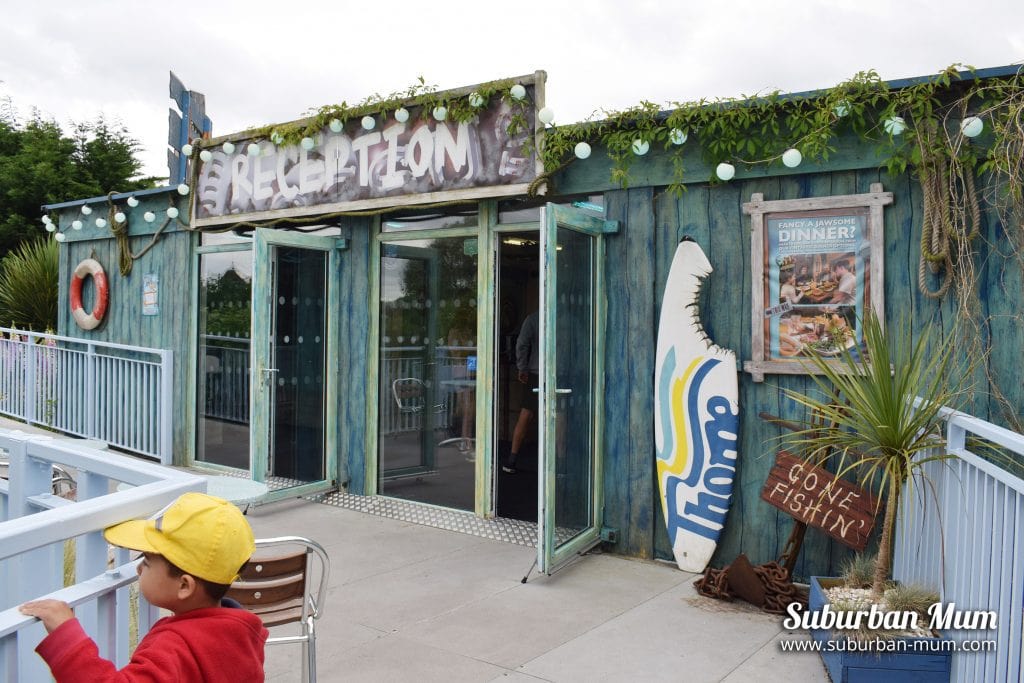 Hotel with a difference
The hotel is just a short distance from the park itself and is made up of two floors. It sits on a beautiful lake with some lovely views. It's not a conventional hotel as the rooms have been converted from blue shipping containers with a nautical theme. The boys found it rather exciting that they were staying in a "container" Mr H and I had previously seen some photos of the rooms online and were a little concerned that it was going to be a very tight squeeze for a family of four.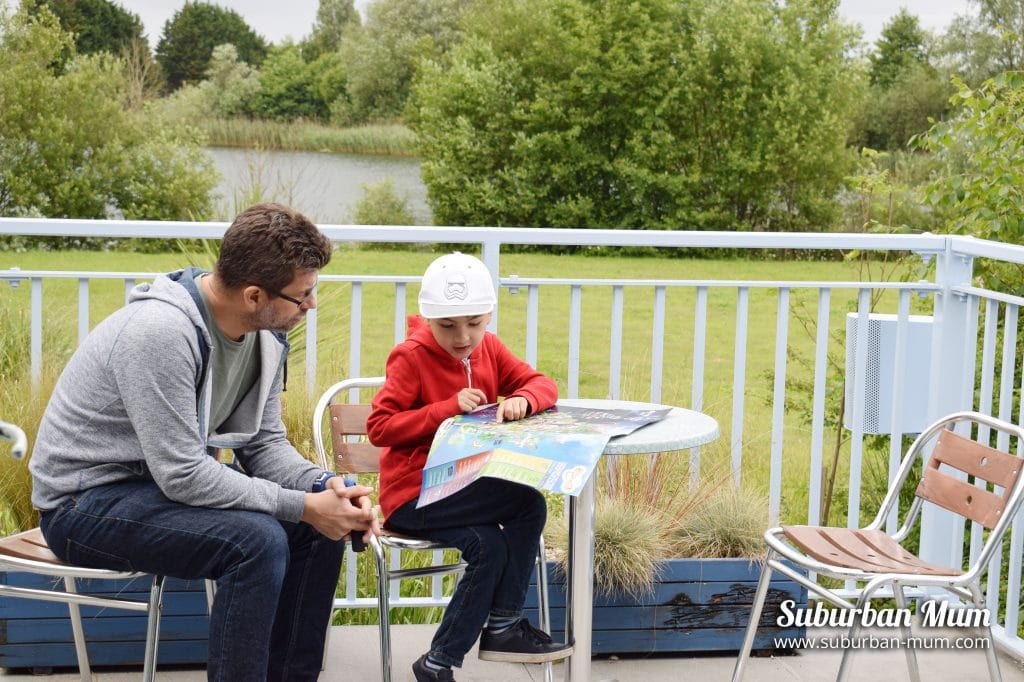 The room
I won't lie, it's quite small (it is a shipping container after all) but it does have everything you need for a night's stay.
All rooms are designed to sleep up to four people. They have Bunk beds, a double bed with a TV mounted on the wall, a table with a mirror, some drawers and storage space for suitcases. A kettle is provided as well as tea and coffee and bottles of water.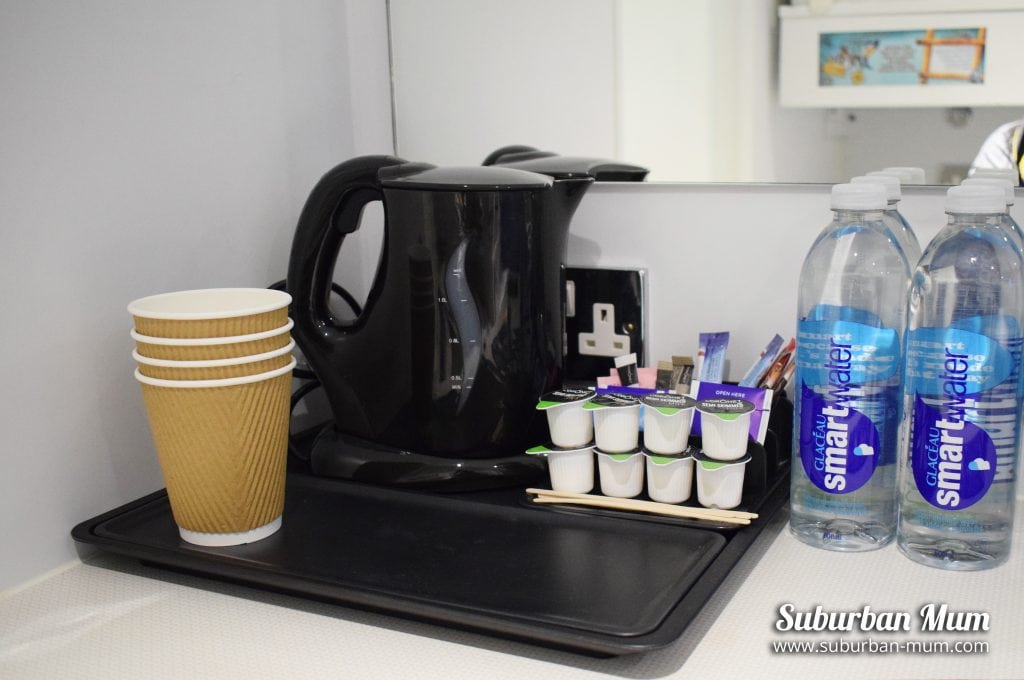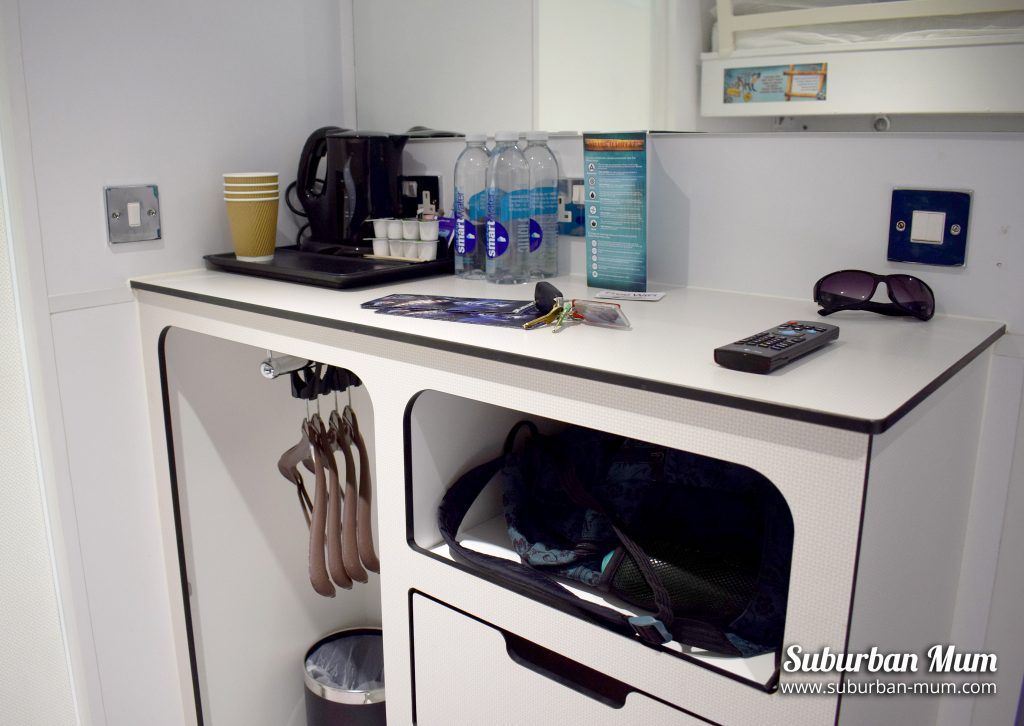 The wetroom has a toilet, sink and a shower.
The beds were clean and comfy. Each had its own light which was handy for the boys.
There are no windows in the room apart from a porthole in the door, but even then, you aren't able to open that to let some air in.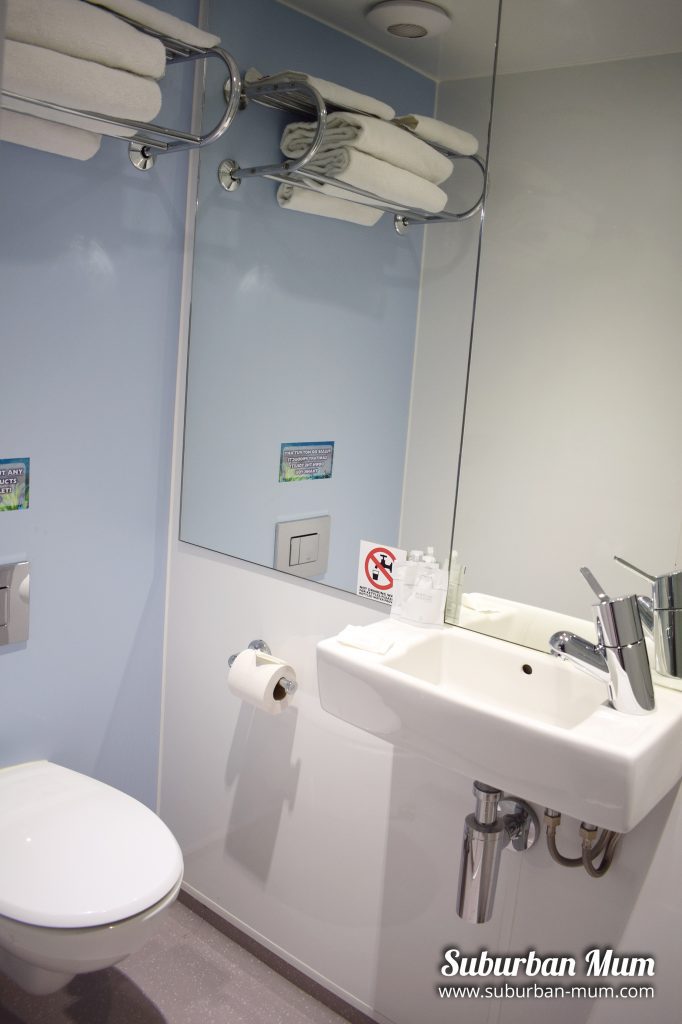 We made the mistake of all showering that evening before bedtime and even though the room is air-conditioned the wet room remained wet and in the morning some of our clothes were damp from the moisture.
A top tip would be to shower in the morning before you check out as this would avoid this problem we encountered.
Breakfast
Breakfast is served in Fin's Bar and Grill which is a short walk away in The Dome just before you head into the main resort.
They also serve lunch and dinner here too but we only visited for breakfast.
Breakfast is buffet style and is included in the price of your stay. There is a good selection of pastries, cereals, yoghurts and fruit as well as the traditional English Breakfast.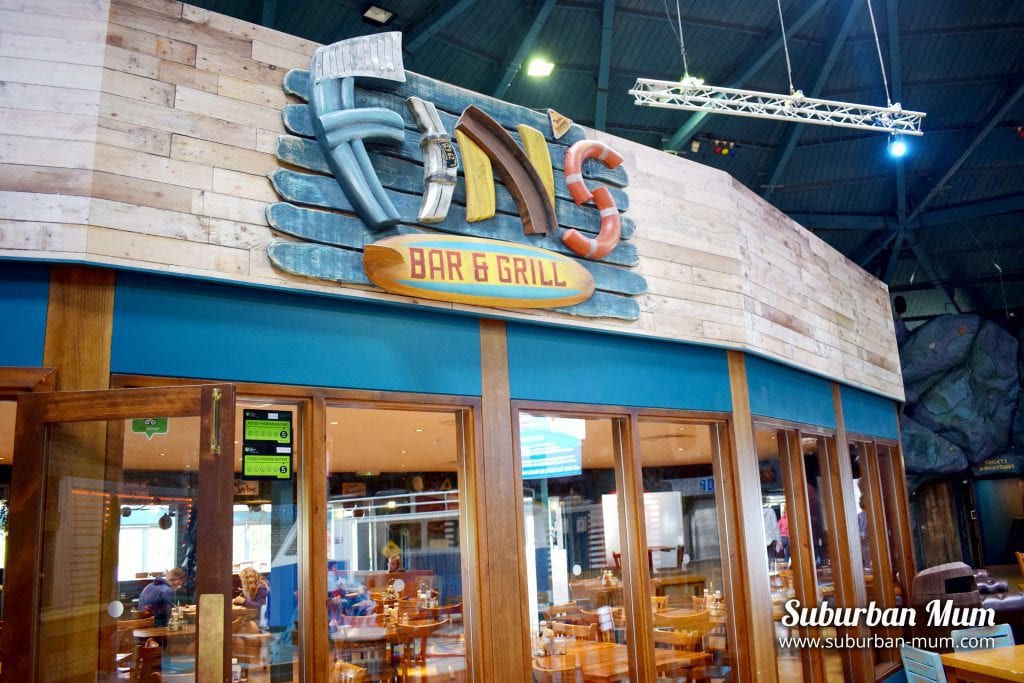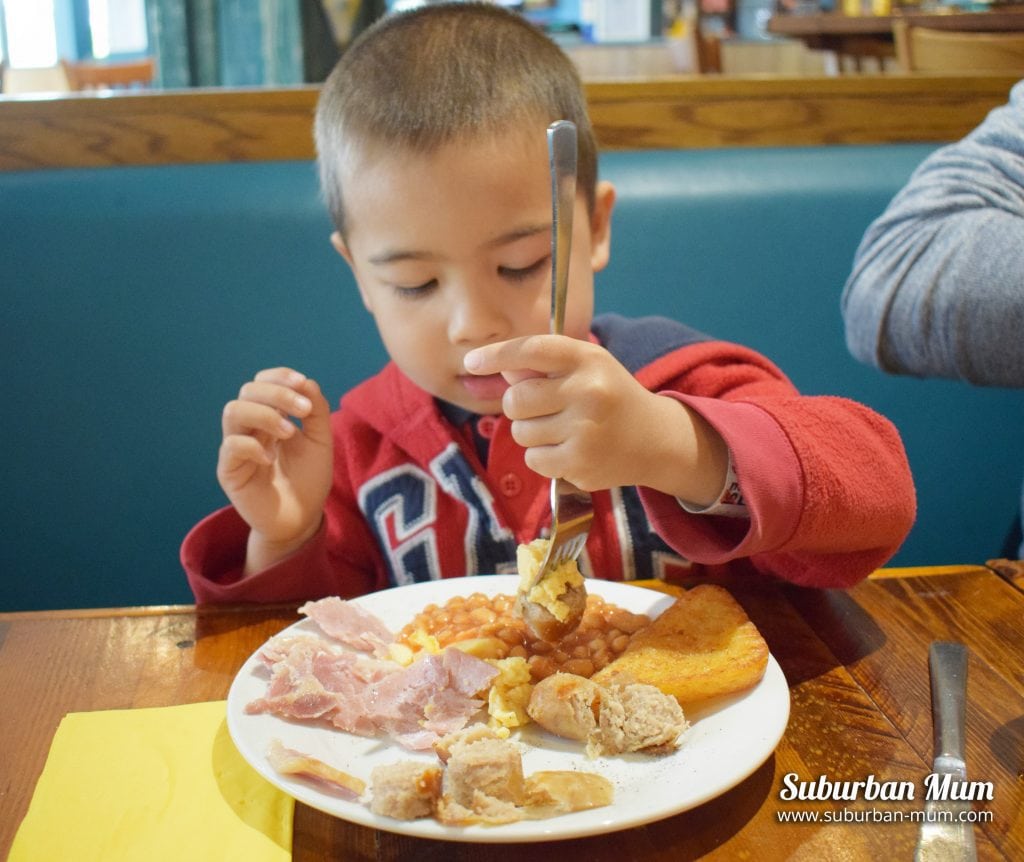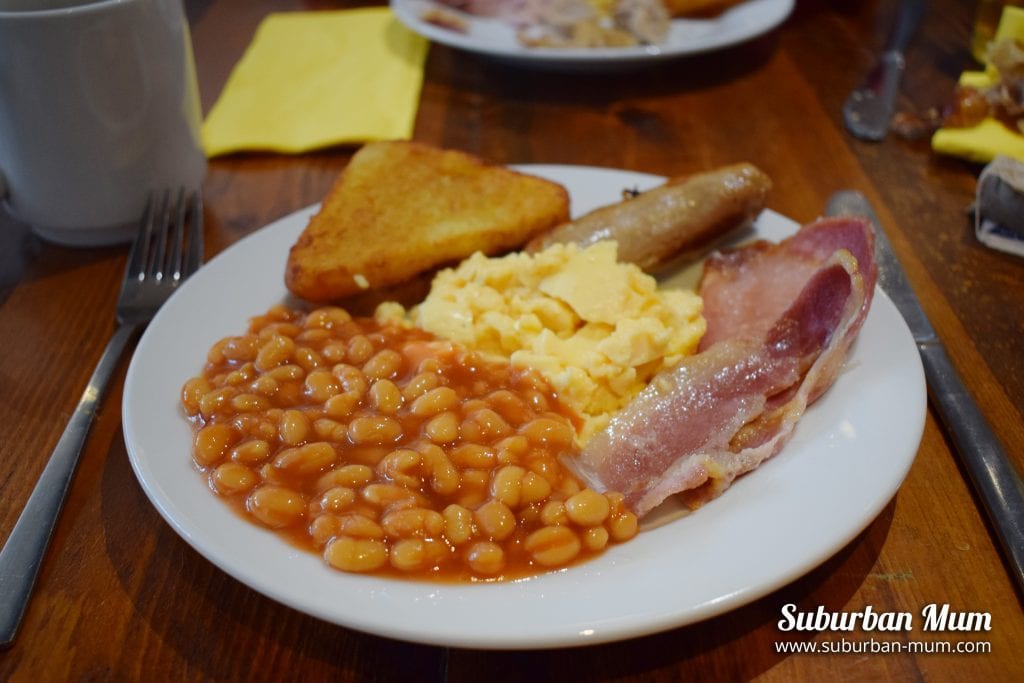 Worth the stay?
I do think that the room is small for a family of four. I think it would be adequate for a couple sharing, but for a family of four, it is a bit of a squeeze. It would also really benefit from having a window. That being said – the boys loved the fact they got to stay in a shipping container for the night and we were well rested, ready for a full day of fun at Thorpe Park.
Prices for a room at the Thorpe Shark Hotel start from £58pp, this includes free wifi and parking, entry to the park (you get your second day free), breakfast, unlimited fast track until 11am.
As we live so close we probably wouldn't look to stay again. However, if you are travelling a fair distance and want somewhere to crash for the night then the Thorpe Shark Hotel would fit the bill. The resort also offers the same deal with 2 nights entry to the park for local hotels too, so if you are wanting a few more home comforts and space this could well be the better option.
Check out the video we made to give you more of an idea of what the room is like
Pin it for later: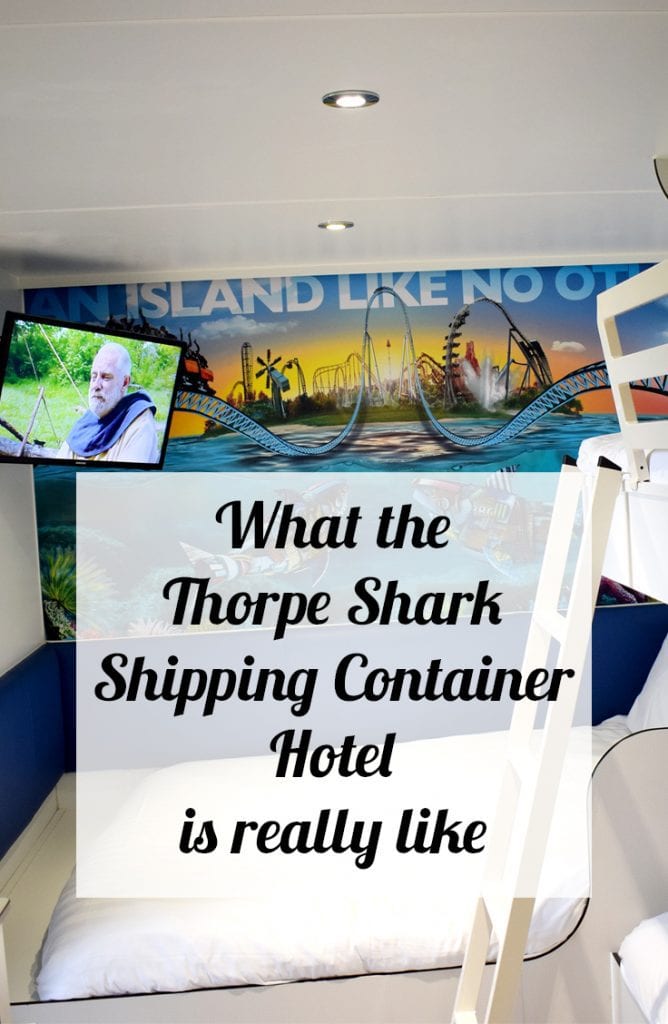 *We received a complimentary night's stay at The Thorpe Shark Hotel for the purpose of this review.
You might also like: