This May, I will have had my bumpy caesarean scar for seven years. It's a scar I never expected to have but am so grateful for. It meant that my baby boy was delivered safely into the world.
I've previously guest posted on my VBAC birth with M but have never really written about my birth experience with E. So with April being Caesarean Awareness month it seemed quite apt to cast my mind back.
I don't have any photos with me and E in hospital after my c-section. In fact, I don't think I have many photos of us at all in those early days. I felt completely broken and a failure after I had him. An emergency c-section was not how I imagined I would be welcoming my first baby into the world.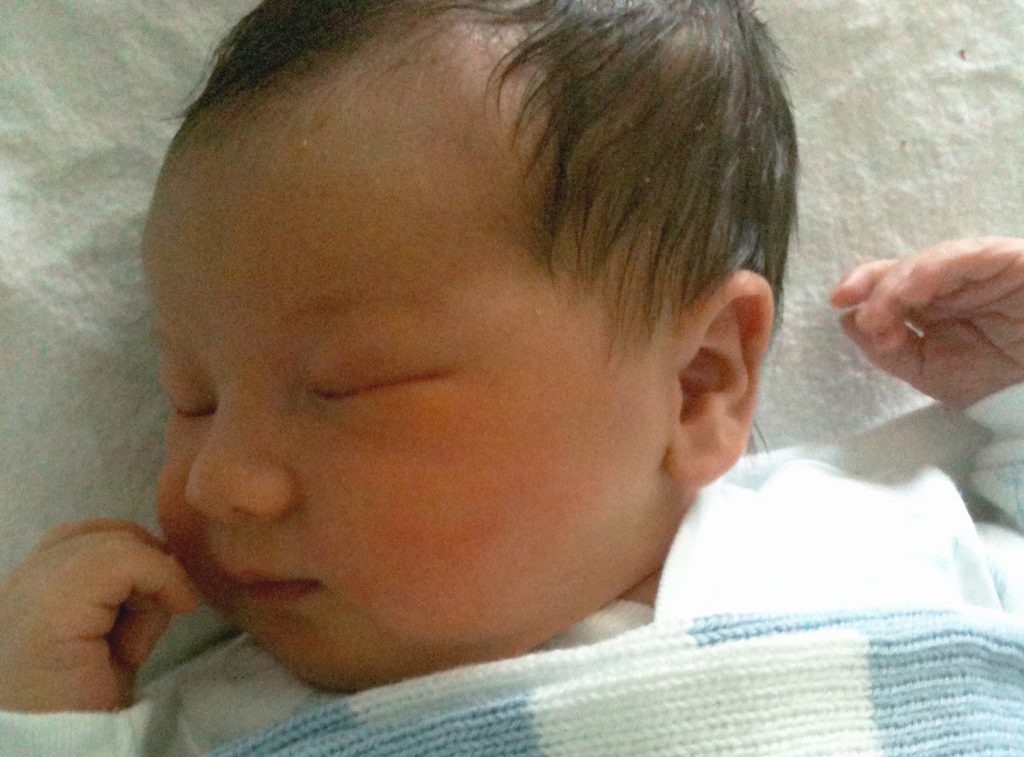 Things had started so smoothly at first, my waters broke and soon after contractions started. I laboured for over 20 odd hours but just couldn't dilate to the magic 10cm and was stuck between 7 and 8cm.
I lost count of the number or midwives and health professionals who came and went during that time.
I remember….
…begging to wait a couple more hours to see if I would dilate because I desperately wanted the chance to have a natural birth. I didn't want to be wheeled off to theatre
…tears stinging my eyes whilst signing the consent form for surgery
… crying over the phone to my mum because everything had gone wrong and telling her that I was going to have to be cut open
…being scared but grateful that Mr H was by my side every step of the way holding my hand
…lying on the theatre table feeling absolutely petrified but also apprehensive at being able to finally meet my baby
I will never forget the moment E came out of my tummy. I didn't know that babies don't cry straight away and instantly thought that something was wrong. The paediatrician took him to one side to check him over and that was when we heard a loud wail and both Mr H and I visibly relaxed.
Unlike my VBAC with M, I couldn't hold E straight away but it meant that Daddy got to have first cuddles whilst I was being stitched up.
I couldn't stop shaking and was so emotionally exhausted that I fought hard to keep my eyes open to soak every detail of my new baby boy in.
As much as I loved my baby I really felt like I'd been through the mill. My body didn't feel like it was mine and I had a ridiculous rose-tinted vision of how I would be bringing my baby home. The stark reality was, I was a new mum who didn't even know how to buckle my baby up properly in his car seat.
I cried that first night I came home – they should have been tears of joy but they were all for me, for what I had put my body through.
I felt like a failure for such a long time after having E. I was the only one in my NCT group to have had a c-section, the only one that couldn't get on with breastfeeding. No one judged me as harshly as I judged myself.
It took a long time to get over and recover from it all but focusing on my baby was my priority now.
I was his whole world and that was all that mattered. My body will never ever be the same again but what I gained by having an emergency c-section – like many other women before and after me is completely worth it.
Nothing beats holding your newborn for the very first time and I would do it all over again in a heartbeat.