We've been in our house for over ten years now and we keep talking about redecorating. It's in dire need of updating and needs a new lick of paint everywhere.
E accidentally knocked our TV while getting toys out back in October, which meant we had to pay out for a new one. Our aim was to find some decent storage to contain the toys and keep them away from the new 8K TV – this was the perfect opportunity to also smarten up the living room.
We ended up going with the Besta storage range from IKEA where we could mix and match a number of storage combinations to suit our needs. The unit not only houses the TV it's also perfect for hiding toys as well as game consoles, DVDs and Tivo box.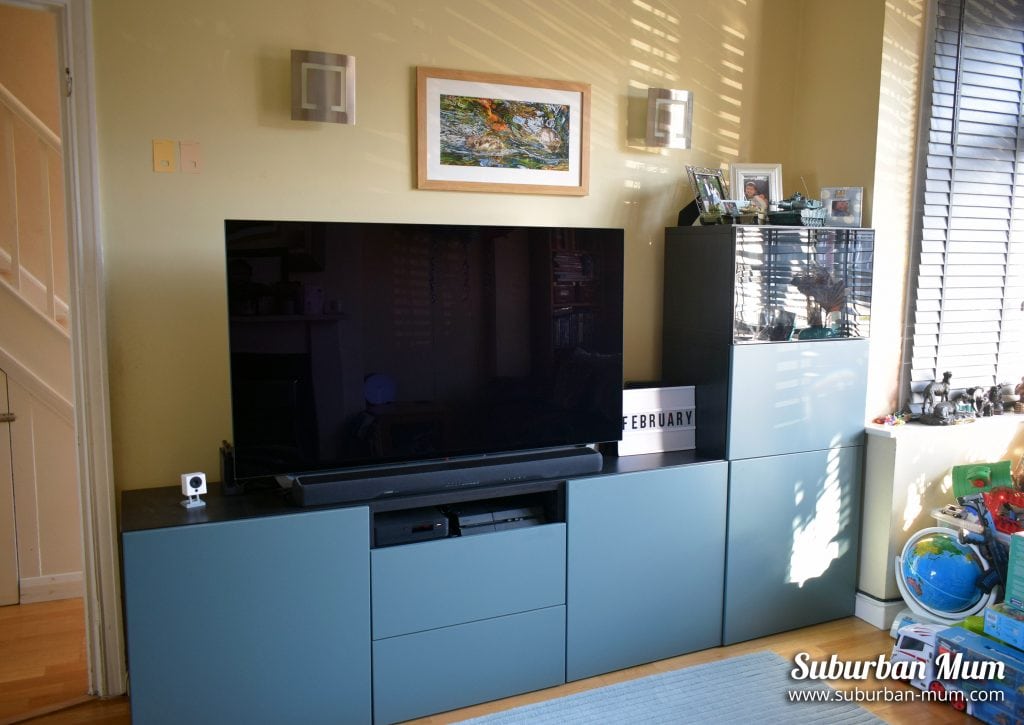 As well as the new storage unit, we also replaced our venetian blinds with ones that have bigger slats and have gone from brown to grey, instantly making the living room lighter. I want to splash out on proper wooden shutters in a few years but for now, we're pleased with the ones we bought from B&Q.
We are struggling with colour options for the walls at the moment. I would love to have shades of blue/grey to compliment the blinds and the Besta storage unit, but Mr H thinks it will make the room too cold and not warm and inviting enough. I have a feeling it will take a while for us to agree on colours so we'll be going back and forth a fair bit with plenty of tester posts.
In the meantime, we're looking to update the rest of our living room furniture, and I've been looking at the Fishpools website for some style inspiration. They are a large furniture store based in the South East that have a wide range of sofas, furniture and accessories to choose from. Eventually, once we have sorted out our rear extension, our current living room will become the boy's playroom/guest bedroom. With this in mind, we're looking at different options for a sofa bed for the living room along with cushions and some new lighting too. I would love to have a corner sofa bed, but I don't think we have a big enough living room to accommodate one. I can imagine the boys making themselves very comfy on whatever sofabed we end up choosing to laze around watching TV!
Once we complete our living room update, I want to have our carpets cleaned. Companies like ProLux Carpet Cleaning offer a professional carpet cleaning service which is definitely something we need to spruce up our carpets. We are then hoping to move onto our bathroom. I think I'll definitely be heading over to Pinterest to get some inspiration first. The thing I am most looking forward to though is a proper power shower and depending if budget allows a walk-in wet room would be the dream!
What would you do to update your living room? I'd love to know!
*This is a paid partnership written in collaboration with Fishpools
You might also like: