We have had our VAX Steam Mop for a good few years now. It's one of our trusty weekly gadgets to help us keep the house clean. Vax have recently introduced a brand new product, the VAX ONEPWR Glide Hard Floor cleaner which we were very kindly sent to review.
VAX ONEPWR Glide Hard Floor Cleaner review
The VAX Glide is cordless and powered by a removable ONEPWR battery. It can clean a number of different hard floor surfaces which is a big plus for me as I have a mixture of wooden flooring and tiles in our downstairs living area as well as tiled flooring in the bathroom upstairs too. It can also be used to clean laminate, lino, vinyl and stone.
What's in the box?
The box comes with the VAX ONEPWR Glide, a 250ml bottle of ONEPWR multi-floor solution, a 4.0Ah Battery, ONEPWR Charger and a set of instructions.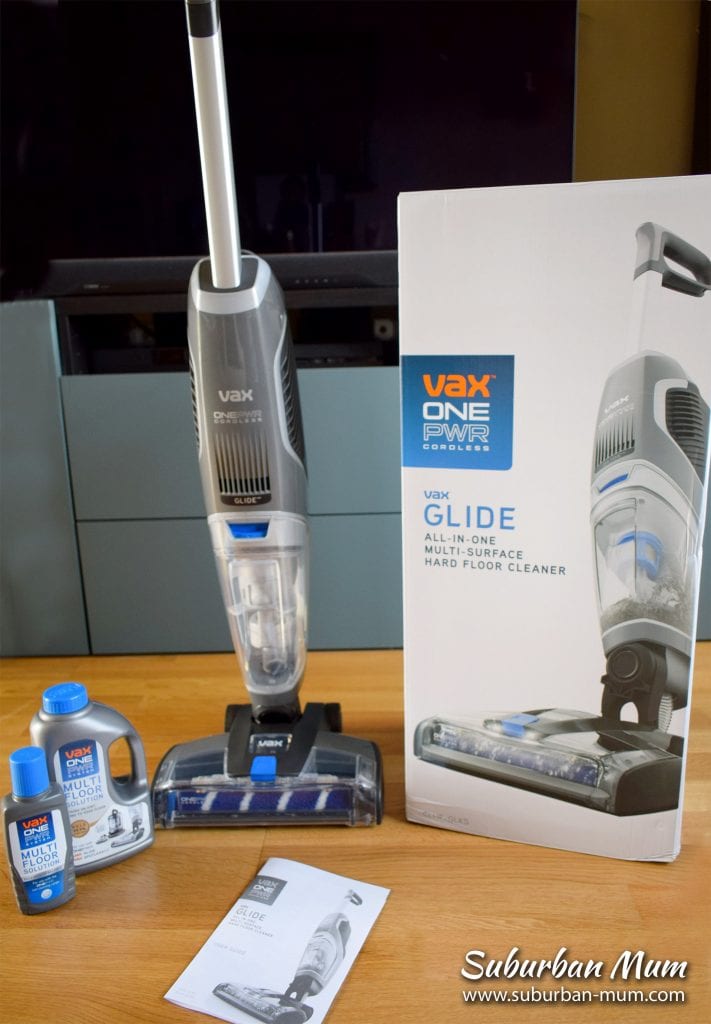 Using the VAX ONEPWR Glide Hard Floor Cleaner
Firstly, the VAX Glide can vacuum, clean and dry your floor all at the same time. Saving you precious time when cleaning – this is a real bonus! The battery took a few hours to charge up (do bare this in mind before use) and easily slots into the top of the machine.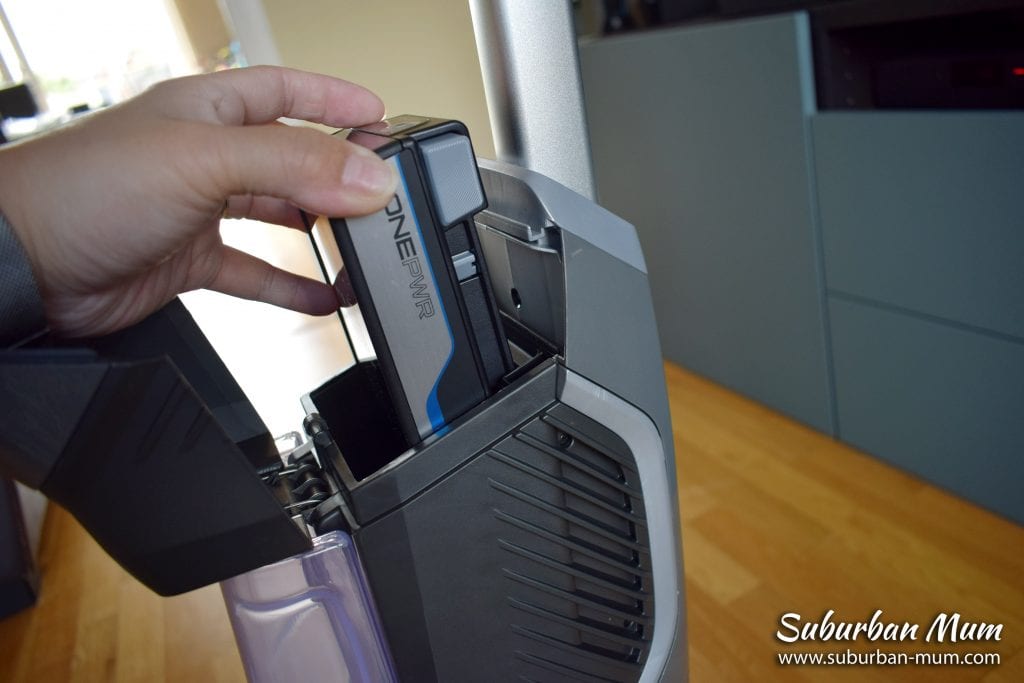 Next, I took out the water tank which is next to the battery compartment and filled that up with warm water (they suggest using warm water that is no hotter than 40 degrees) and the multi-floor solution. There are markers on the tank to indicate where you need to fill for either a small or large area. I filled ours to the large area marker and this was enough to clean all of the floors in our downstairs on eco mode. There's also a high mode for tackling stubborn stains.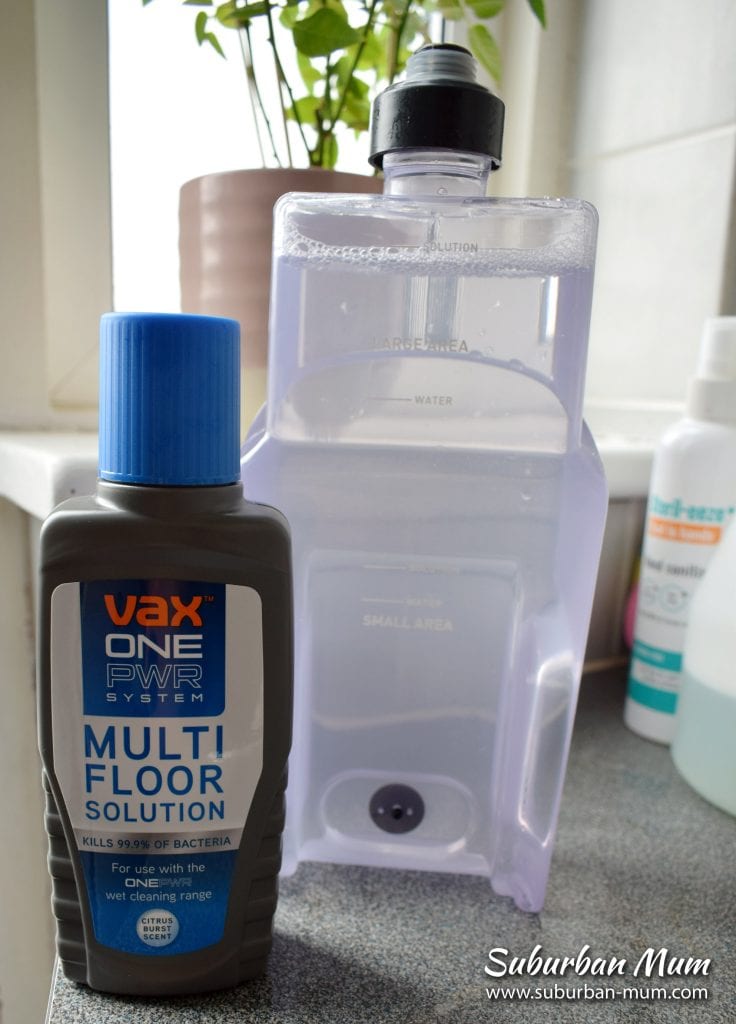 The VAX Glide is really easy to use. Once you've popped the battery in and added in your water/solution, you simply press the button on the handle to power on. There's also a trigger on the underside of the handle that you press to release the solution as you glide forward, this cleans and vacuums the floor. You then release as you pull back and this dries the area you've just cleaned.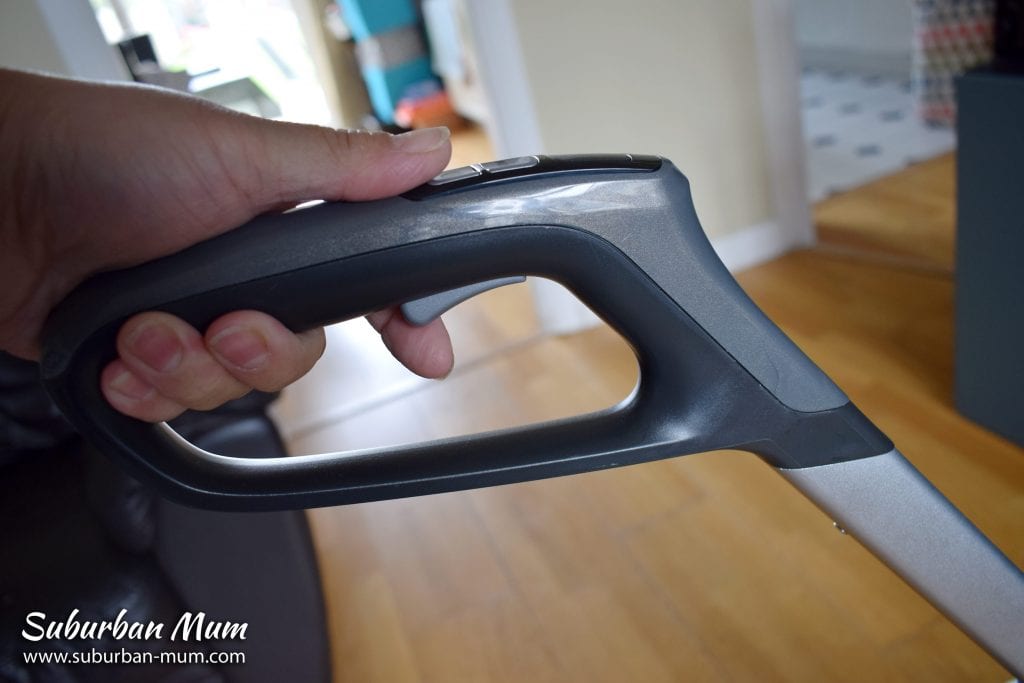 There are two tanks in the VAXGlide (Twin Tank technology), one for clean water and one that stores your dirty water so you are safe in the knowledge that you are never spreading dirty water around your floors and you're only cleaning with clean water and a solution that can kill 99.9% of germs and bacteria. I couldn't believe the colour of the dirty water on first use!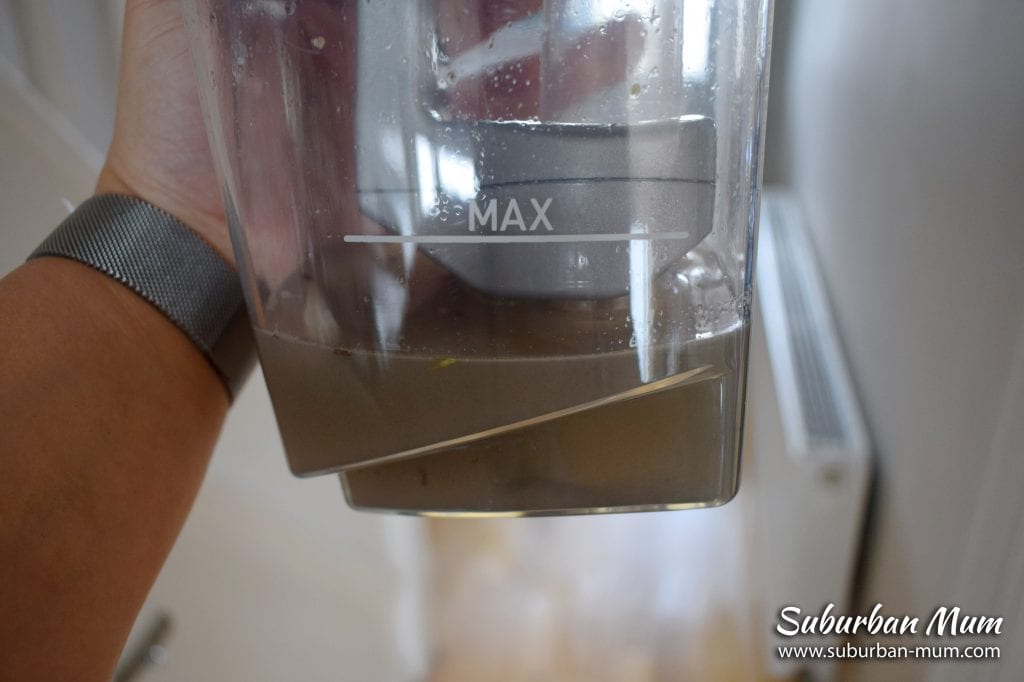 There is a max level marker on the dirty water tank and when it reaches this level, you'll notice that VAX Glide is noisier, alerting you to the fact that the dirty tank needs to be emptied. I had to empty this a few times while cleaning downstairs. Emptying the dirty water tank is really simple, there's a clip that you press to lift out the tank so you can empty the dirty water away.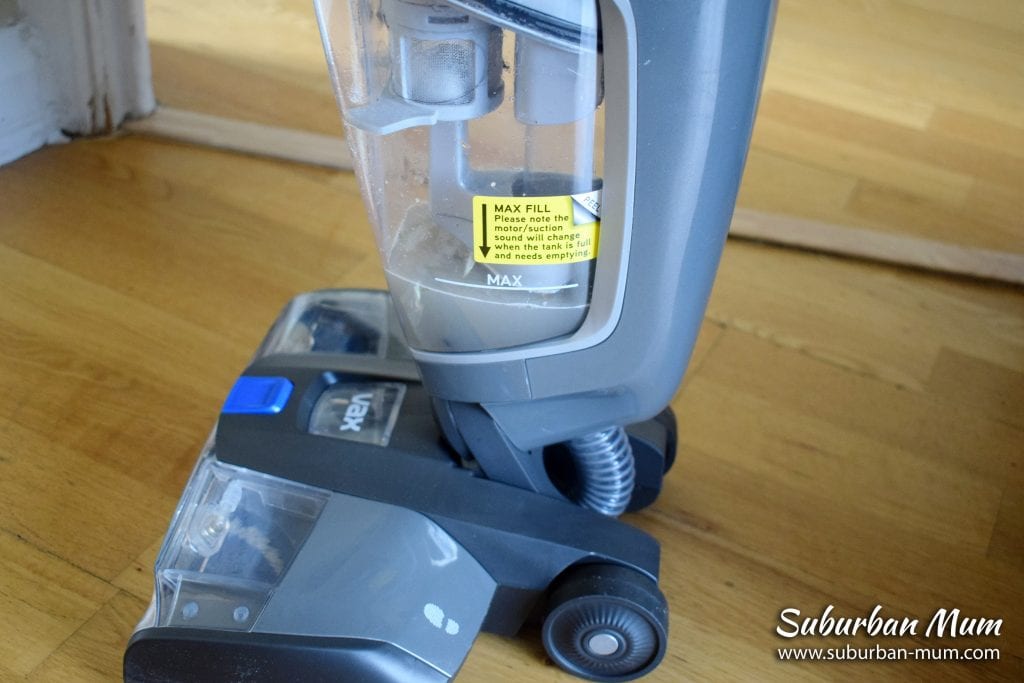 I found the machine easy to manoeuvre. Weighing 4.9kg (around 10lbs) it's relatively lightweight and I could carry it with ease to clean our bathroom floor upstairs. I really like the fact there are no cords to have to contend with so it's effortless to move around from room to room.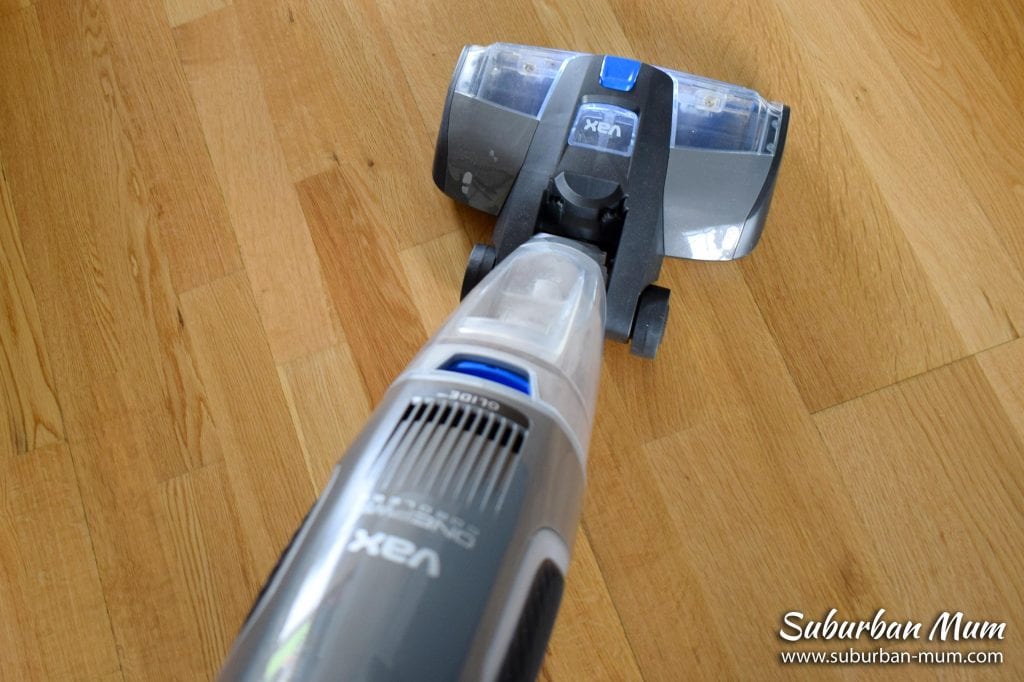 Auto clean system
Once your floors are clean it's recommended that you rinse the machine and clean the brush roll (this pops out easily) after each use. Simply dock the VAX Glide into the provided storage tray and fill up the tank with warm water. You then switch on the machine and recline so the brushes rotate. Press the trigger regularly to release water onto the brush roll. This will auto clean and remove any dirt and debris.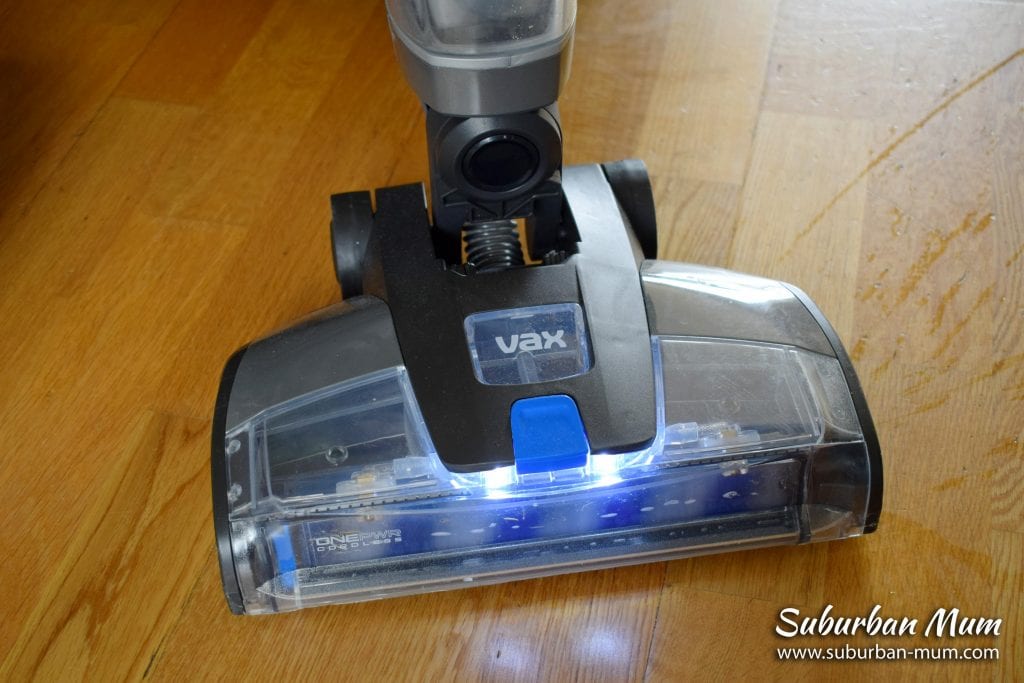 Overall, I am really impressed with the VAX ONEPWR Glide Hard Floor Cleaner. It does a really good job of cleaning our hard floors and I have noticed the difference in how much cleaner the floors look and feel. The ONEPWR solution that is mixed in with water also gives off a nice subtle scent too.
As we have carpets upstairs, in an ideal world I would love to have one machine that could do both hard floors and carpets to save on space. Maybe VAX are working on something like that already?
VAX ONEPWR Glide Hard Floor Cleaner summary
Time-saving – vacuums and cleans floors at the same time
Kills 99.9% of germs and bacteria
Cordless for ease of use around the home
Uses ONEPWR battery that can also be used in other vax products and lasts for around 30 mins
Auto-cleans
The VAX ONEPWR Glide Hard Floor Cleaner retails at £249.99 and you can purchase directly from the VAX website. They are currently offering a free 1L solution and an additional brush roll worth over £30.