I think it's safe to say that we all can't wait to see the back of 2020 – it's been a bit of a rollercoaster, hasn't it? There's certainly not much we've had to look forward to but fear not, Christmas is around the corner and that is certainly one reason to fully embrace the festive season.
With lockdown 2.0, we aren't able to head to the shops, so ff you're looking for some gift ideas I've put together a gift guide that's suitable for the whole family.
Christmas gift ideas for the whole family
For Her
Ted Baker Gift Sets (from £4 or 3 for 2 from Boots)
At present, we're unable to see friends or family for Christmas, but that doesn't mean we can't spoil them with gifts. These Ted Baker Gift Sets would be ideal as a stocking filler or a gift to pop in the post.
The Gift Sets contain miniatures such as  Body Spray, Blush and Bronze Duo and Lip Crayon and Lip Gloss.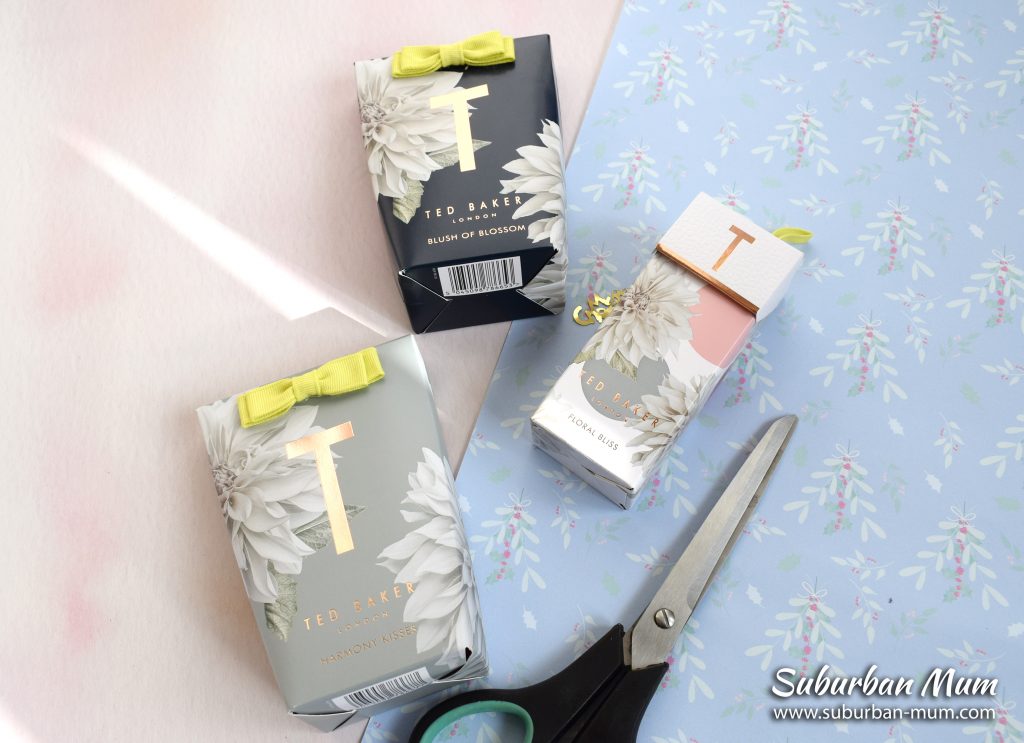 Woods of Windsor True Rose Moisturising Hand Wash & Nourishing Hand Cream (£10)
This set has an elegant rose petal scent that combines crisp green violet leaves with rose otto and a warmed damask rose. I think this Rose moisturising hand wash and hand cream collection would make a lovely gift.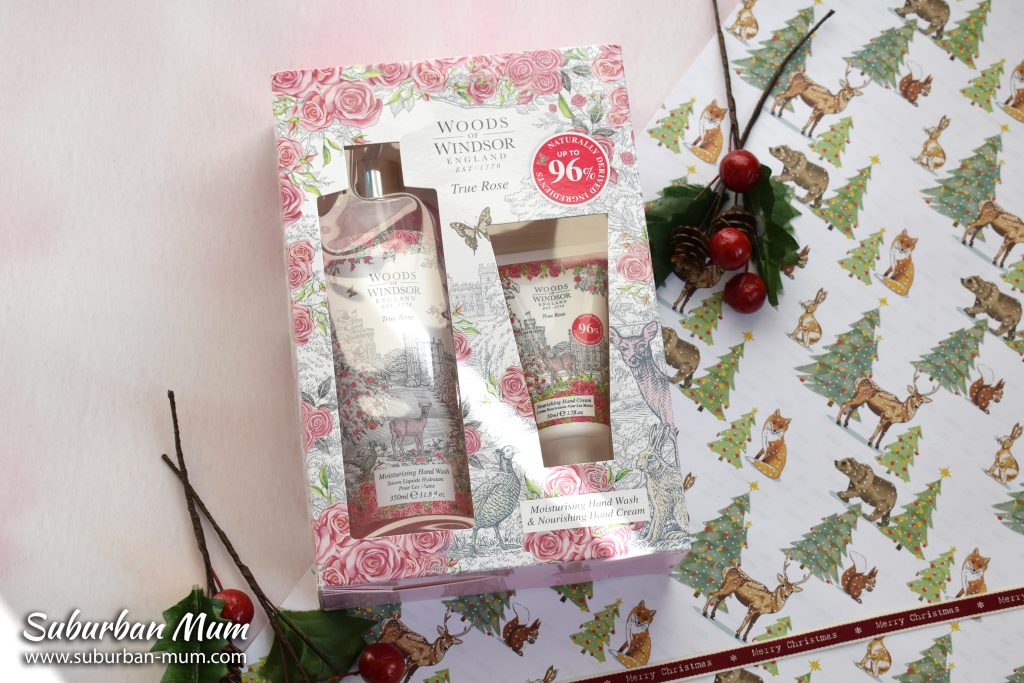 Sugar Coated Waxing Pack (£20)
This Sugar Waxing Kit is vegan and comes with talc, sugar-coated wax and a soothing mist. It would make a very useful stocking filler for those that haven't managed to get to the salon during COVID-19.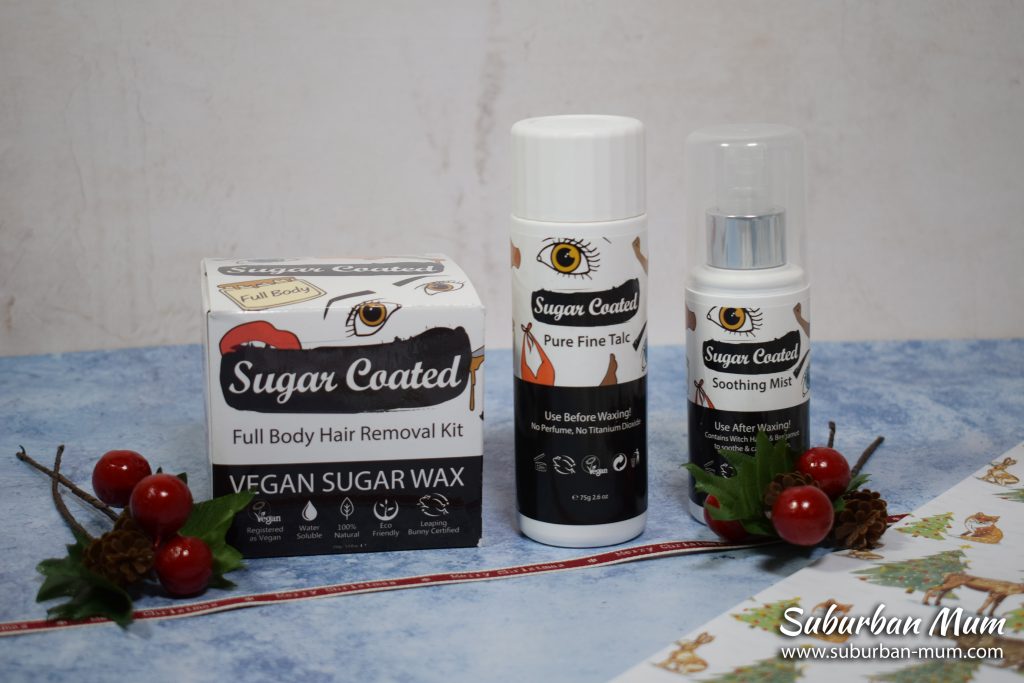 Yardley Bath & Body Collection (from £12)
Yardley Bath & Body Collections are cruelty-free, suitable for vegans and paraben-free. The sets come in a plastic-free gift box and come with Body Wash, Body Lotion and Hand Cream.
Yardley English Lavender Bath & Body Collection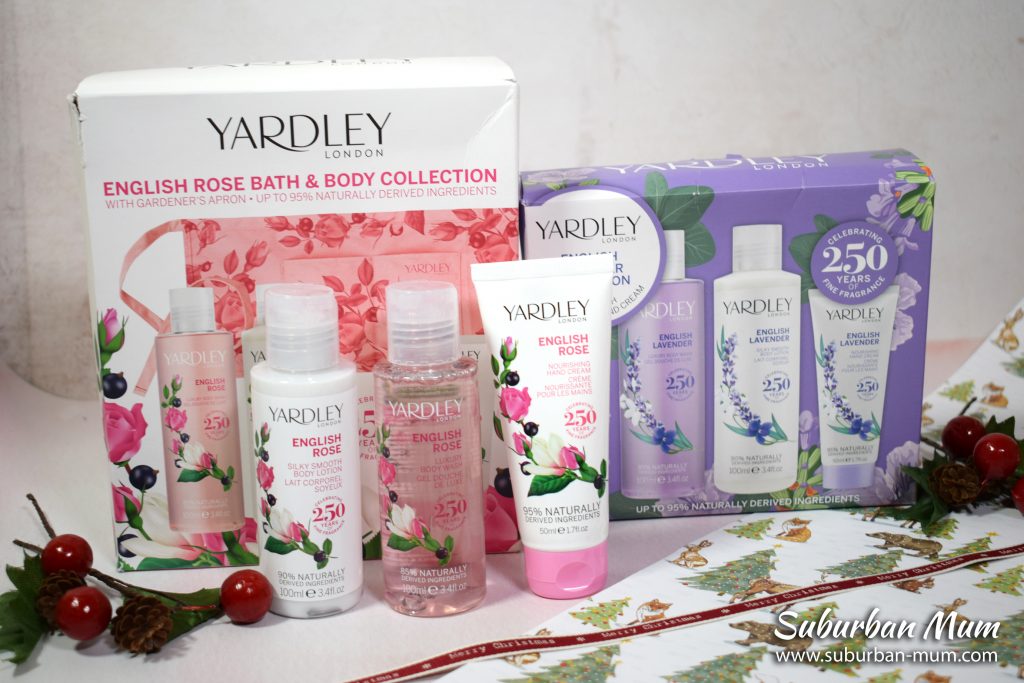 Muru Jewellery
Muru jewellery have beautiful statement pieces that promote positivity and wellbeing. Each piece is wrapped beautifully and comes with a card that lets the recipient know the meaning behind their gift.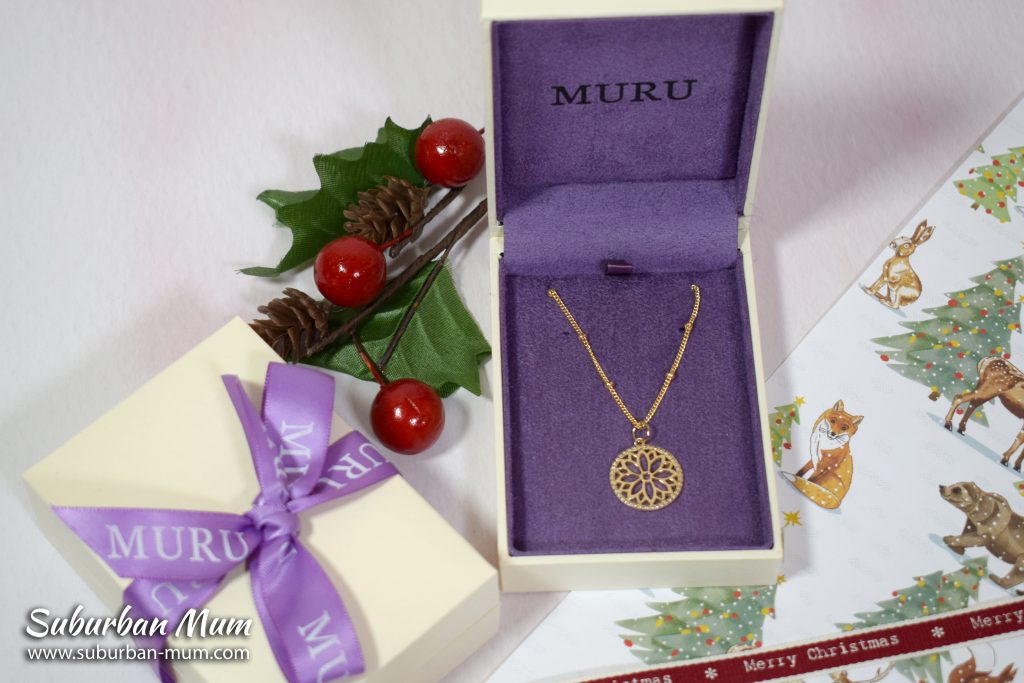 Louby Lou Magic Word Bracelet (from £15)
Magic Word bracelets are hand stamped with meaningfulness and magic, designed to inspire and encourage you. Each one is unique to you as you will be given steps to choose your own magic word.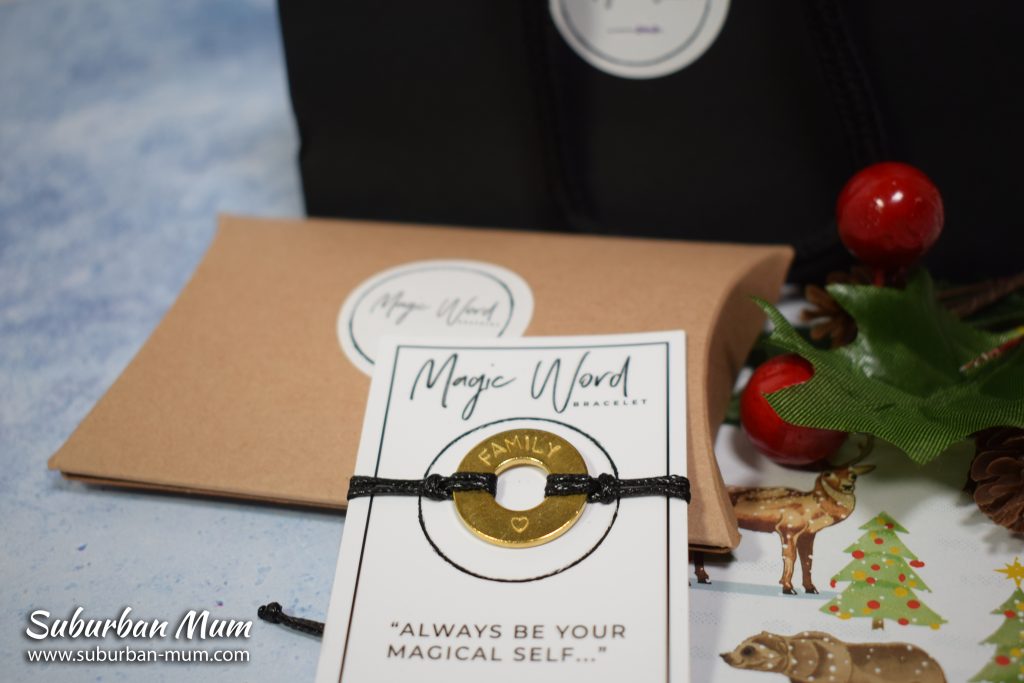 Sensica Sensilight Pro (£179.00)
Life is always busy and more often than not, you forget to look after yourself (especially if you're a mum). This means beauty regimes can slip, especially now with lockdown we're unable to visit beauty salons. Step in the Sensica Sensilight Pro which reduces the growth of unwanted body hair and has been designed to be used in the comfort of your own home. There's now no need for hair removal appointments as the Sensilight Pro can do the job for you in just 10 minutes, twice a week using Reactive Pulse Light (RPL™) technology.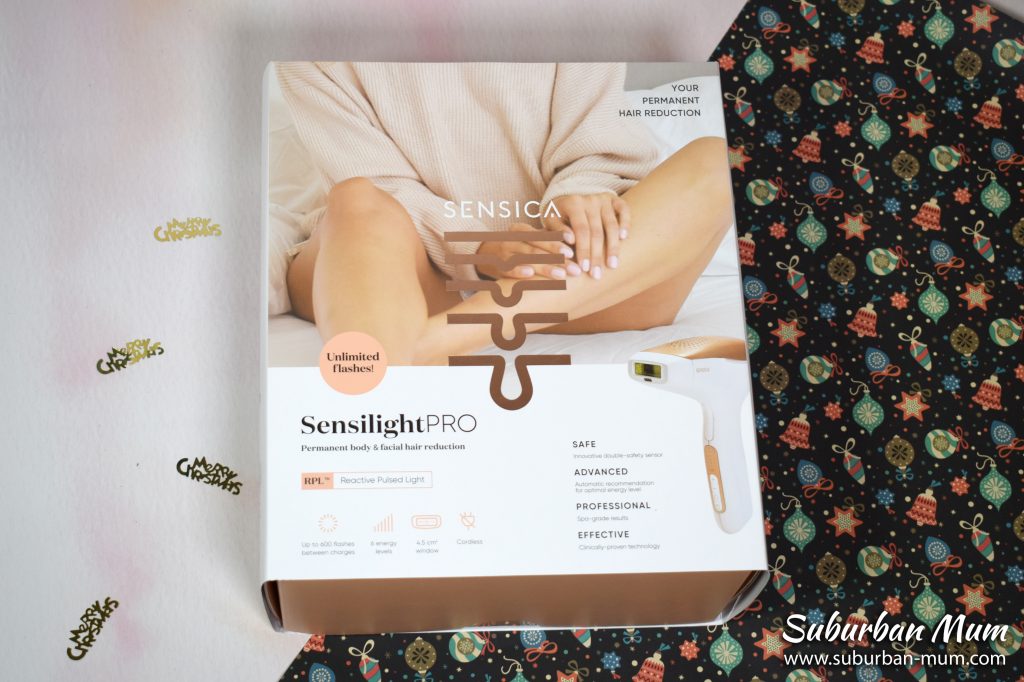 Baylis & Harding Gift Sets (from £6)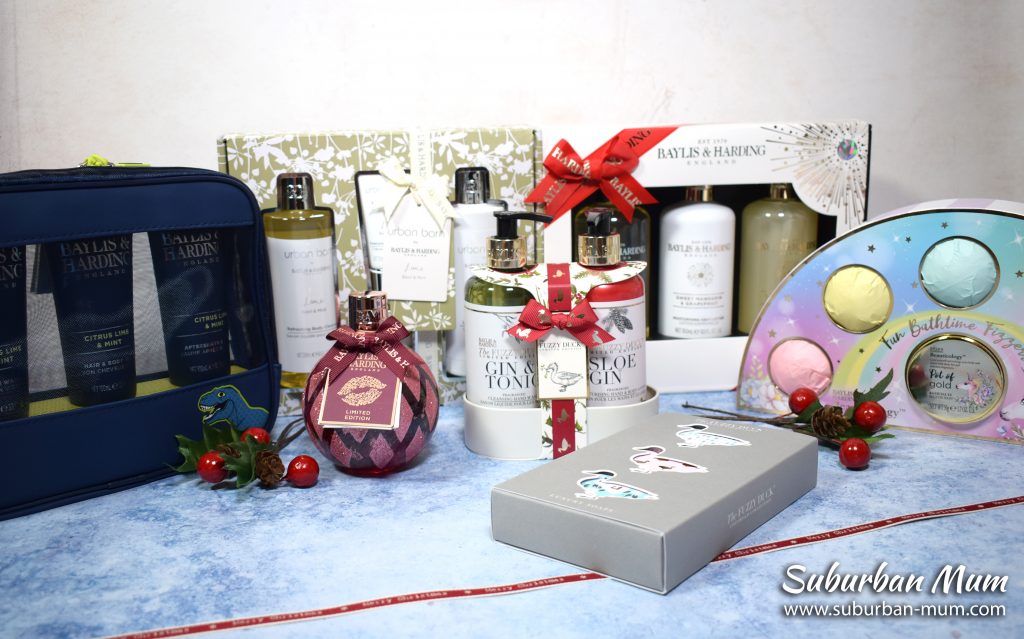 If you're a regular reader of my blog then you will already know how much I love Baylis & Harding. They have a wide range of products and some beautiful gift sets, here are just some of the gift sets below. I think they would all make lovely gifts.
Urban Barn Lime, Basil & Mint Candle Giftset (£18)
This is the ultimate pampering gift set for creating a spa experience in your home. It comes with a body cleanser and cream wash, body cream, hand cream and a scented candle.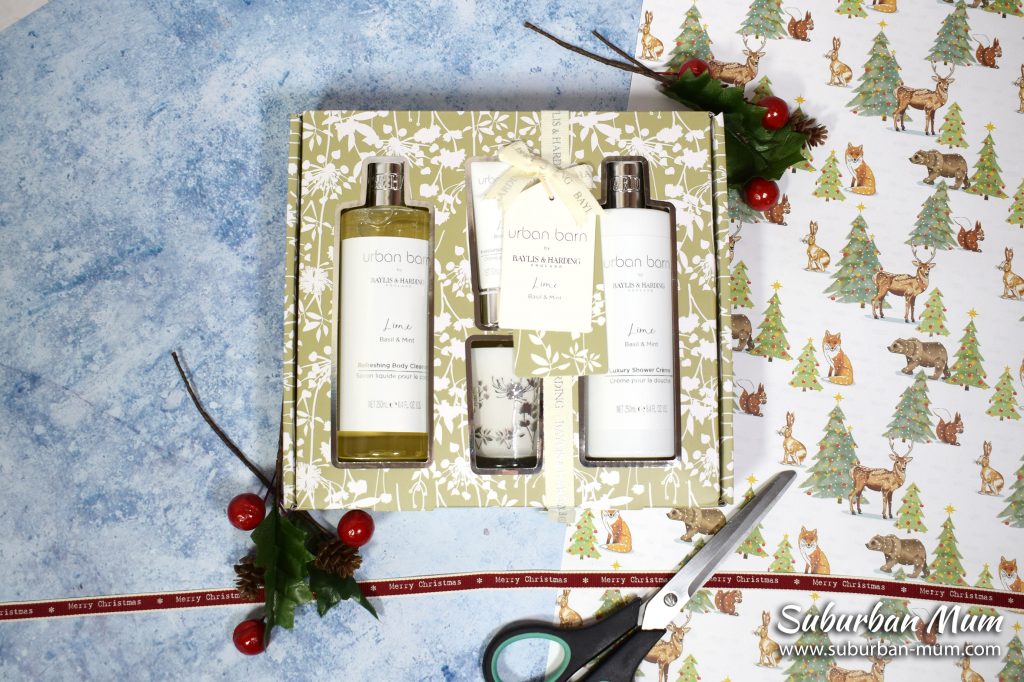 Cranberry Martini Festive Bauble Bath Bubbles Giftset (£6)
This gift (see below) containing cranberry and martini fragrance bath bubbles in a Christmas bauble would make a great stocking filler.
Beauticology Unicorn Rainbow Fizzers Giftset (£15)
Ideal for hiding away and having some "me time" this set comes with five unicorn rainbow fizzers and 50g of bath salts (see above). If you know someone that is craving some pamper time, this is for them.
The Fuzzy Duck Cotwold Floral Wrapped Soap Giftset (£6)
We've all spent the last 9 months or so constantly hands haven't we? These floral wrapped soaps (see above) come in three 100g bars with fragrances including Wild Flower Meado and Woodland Bluebell. They are animal cruelty-free and also suitable for vegans.
Sweet Mandarin & Grapefruit Bathing Treats Giftset (£8)
Another lovely giftset, this one comes with shower gel, hand & body lotion and a cleansing shower crème.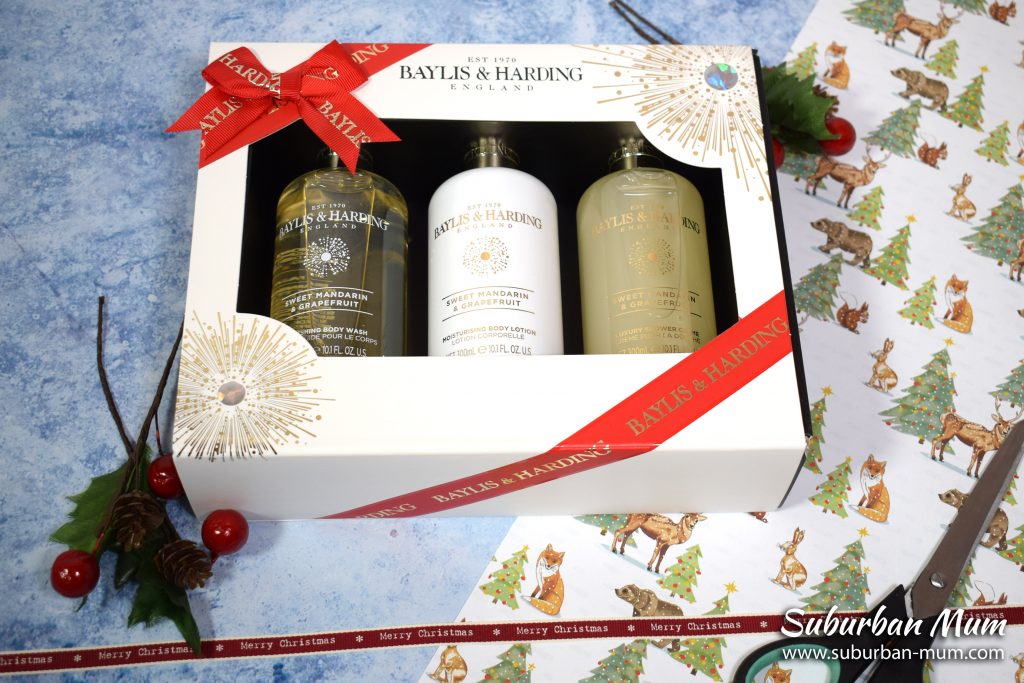 Citrus Lime & Mint Bag (£7.99)
This wash bag set comes with hair and body wash, a facewash and an aftershave balm.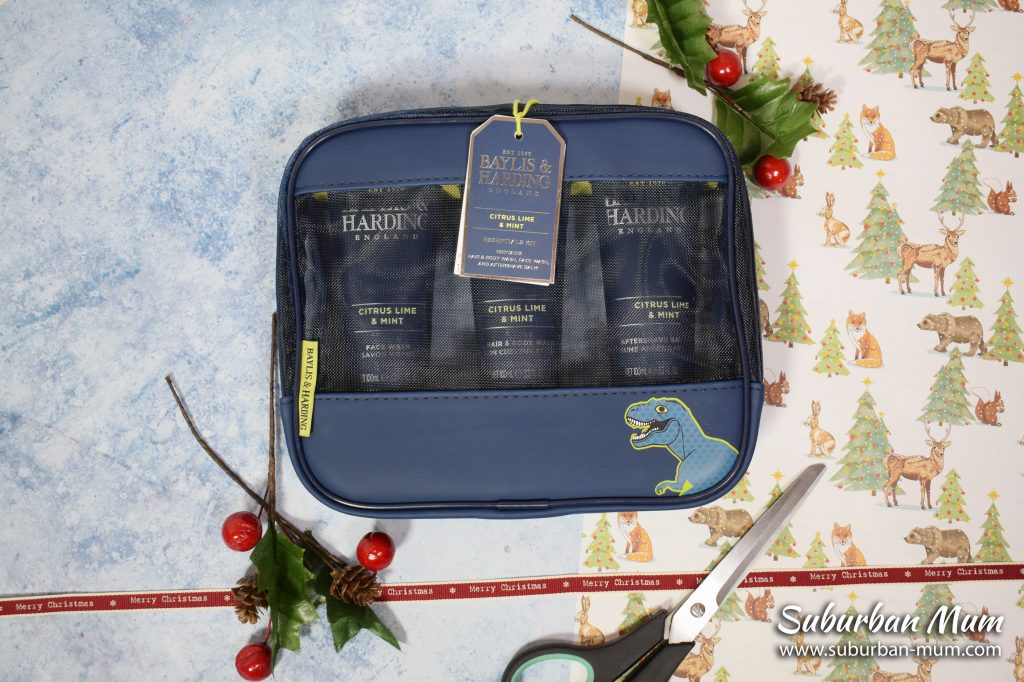 Fuzzy Duck Handwash Set (£10)
Perfect for gin lovers, this luxury handwash set comes with hand wash and a body lotion. Both are based on festive gin and slow gin fragrances.
Carfume (£12)
Carfume would make a lovely stocking filler. They have a limited edition of exclusive scents for the festive season that include Christmas Tree, Gingerbread and Christmas Spice.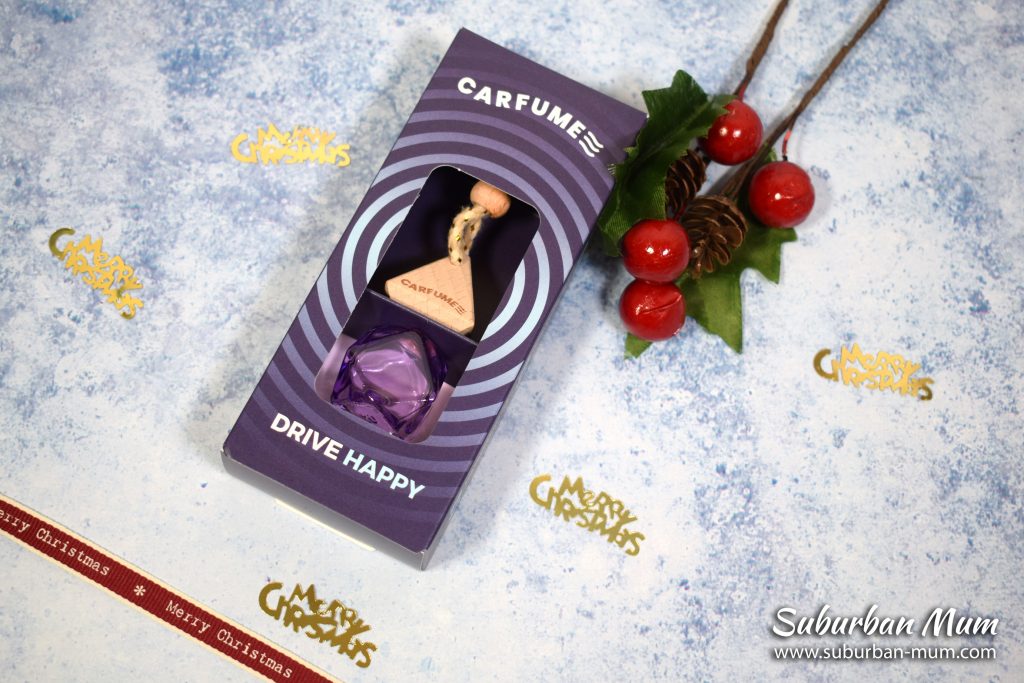 For Mums to be/new Mums
Sleepy Mama Birthing Essentials Kit (£20)
Developed by midwives and aromatherapists, this Sleepy Mama Birthing Essentials Kit comes with everything you need to support you during your birthing journey.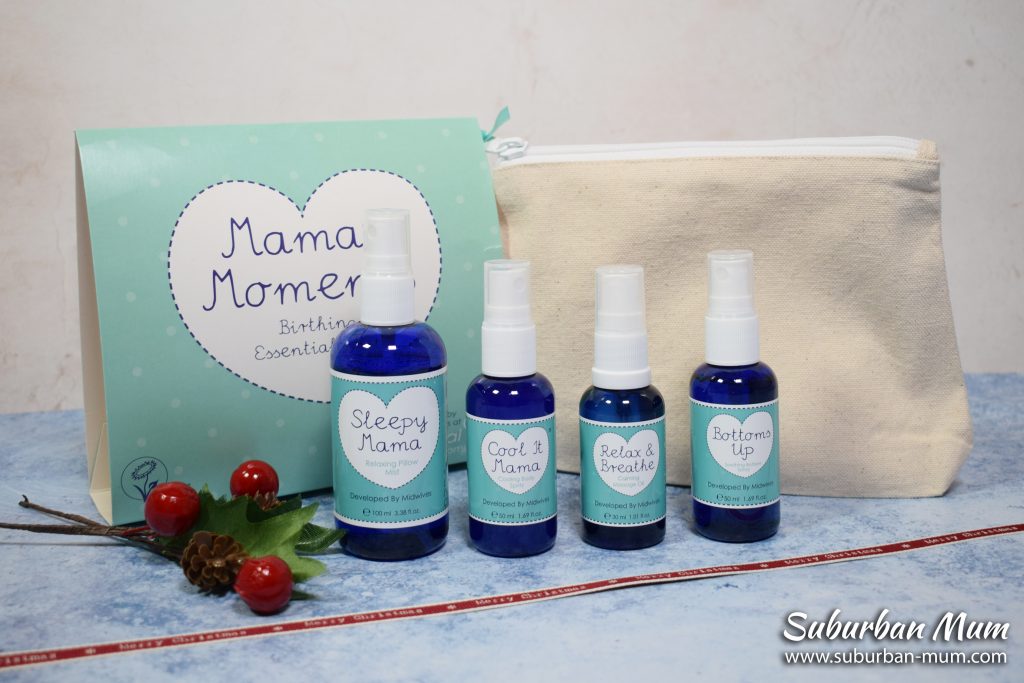 Aveeno Mum & Baby giftset (£20)
We have used Aveeno in the past as its great for those suffering from eczema. This Mum & Baby gift set would make a lovely gift for a new mum. It comes with a moisturising lotion for mum, a baby hair and body wash as well as a baby moisturising lotion.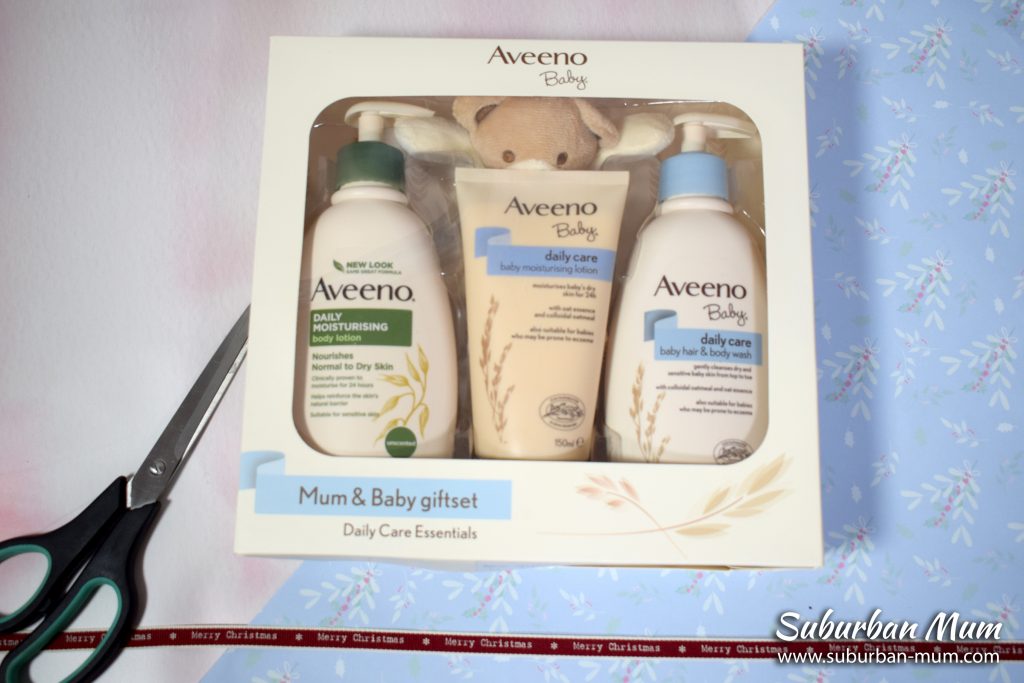 For Kids
Light-up & Glow Astronaut (£10)
Great night light for kids bedrooms, this Light-up & Glow Astronaut can be hung on to the wall or can stand alone on a bedside table. It has a 30-minute auto shut off to preserve battery life and the light then glows in the dark.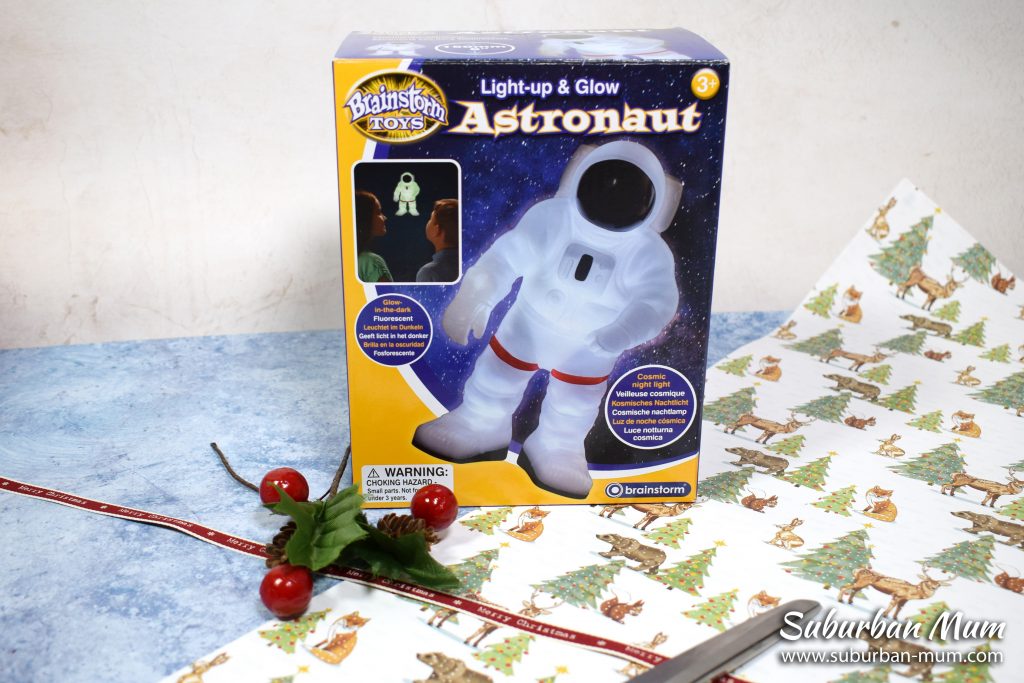 Build Your Own Telescope (£20)
Kids are inquisitive and love exploring the world around them – they can do just that with the Build Your Own Telescope. Made from sustainable cardboard, this kit is suitable for children aged 8+ There's no glue needed as the pieces slot easily together. Once built, the telescope comes with a glass optic lens that has 16x magnification.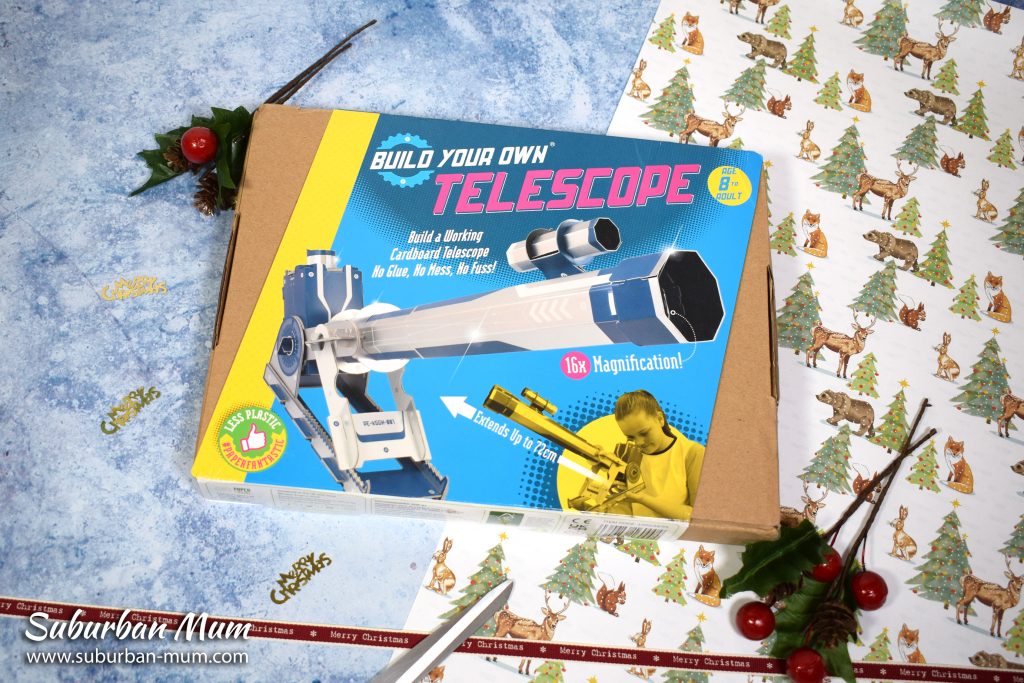 So Sand DIY (£25)
Creative fun with So Sand DIY. You can create over 30 sensory sand experiences with the sand studio. Cut, shape, slice and crush – the opportunities to have fun are endless. I find there's something very relaxing about cutting and slicing sand!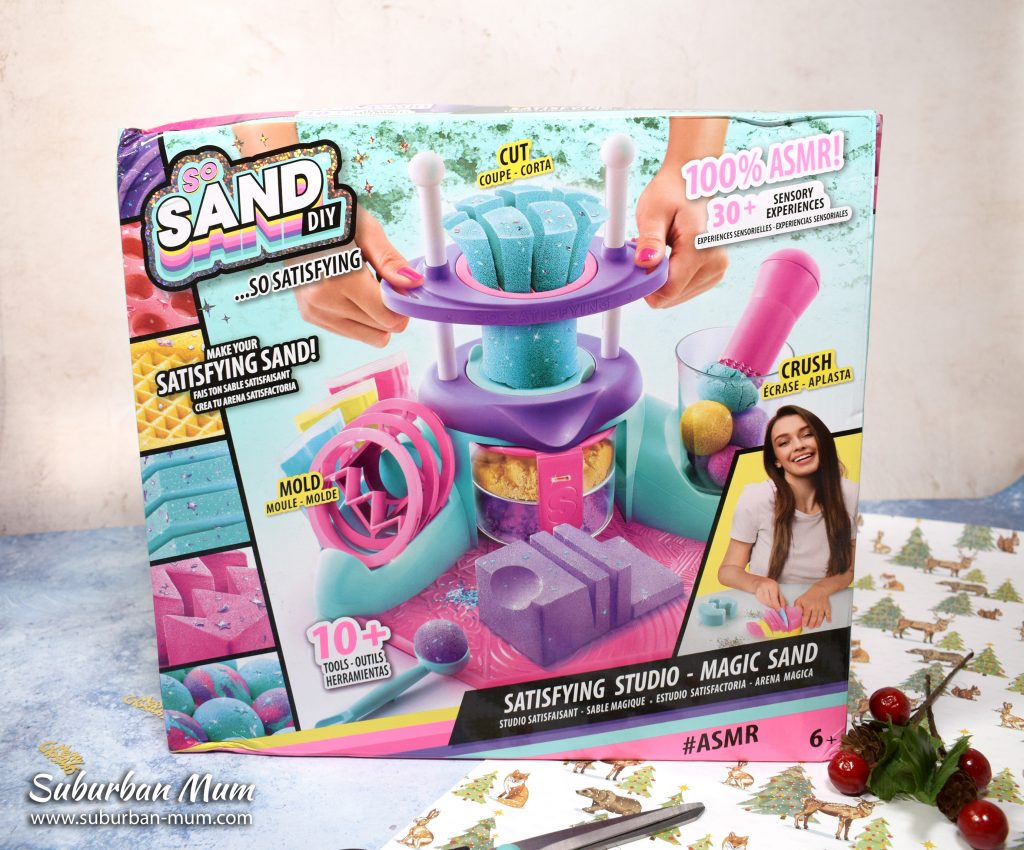 So Bomb DIY (£25)
With So Bomb DIY, you can create 10 of your own crystal geode bath bombs by mixing the powders with water and adding bath crystals. Once ready, enjoy them by relaxing in the bath.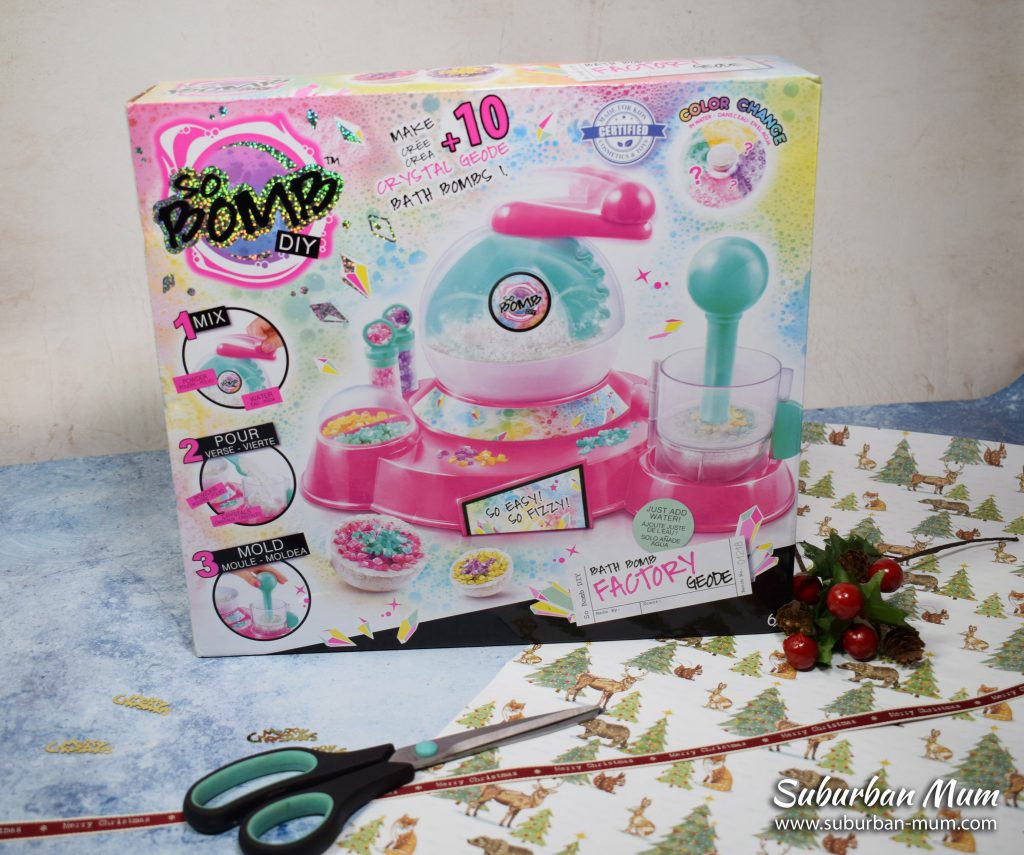 Glow Art Drawing Boards (£20)
If you have kids that love to draw then a kid's drawing board that lights up and glows would make a fantastic gift. The set comes with four pens and some templates to get you started.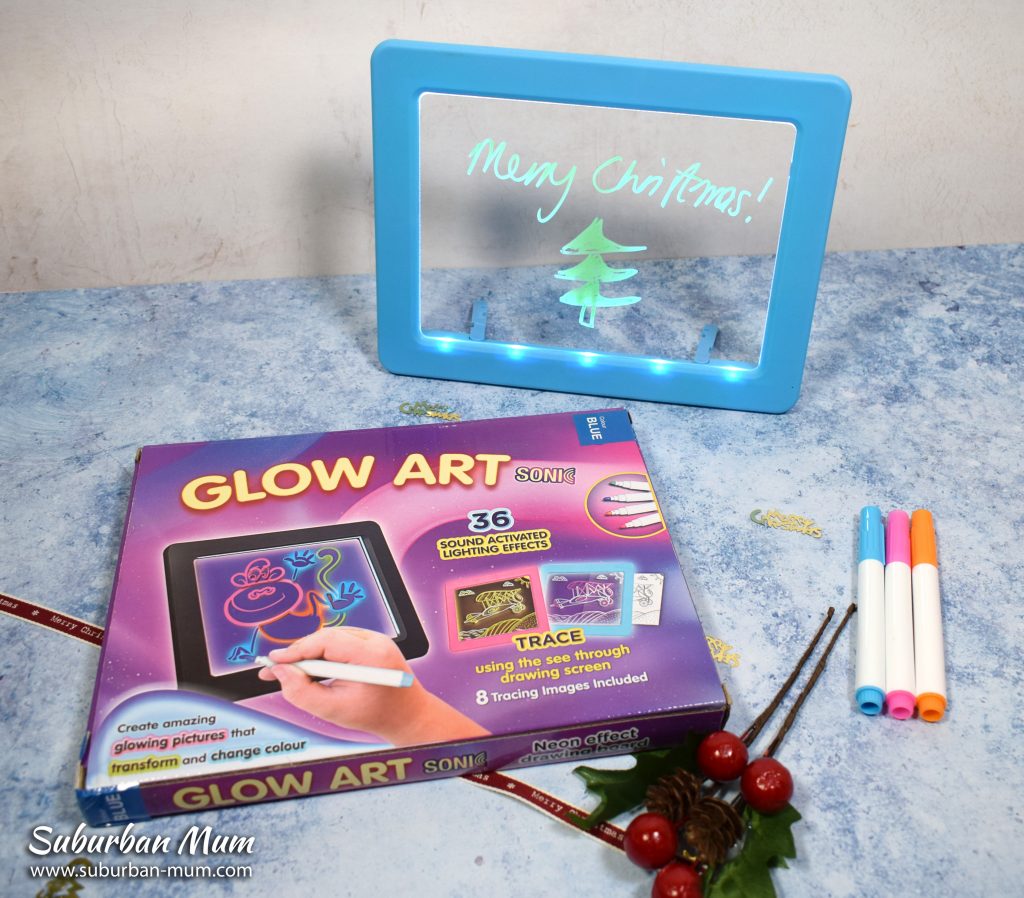 Hubelino Marble Run (£79.99)
With 123 pieces the Hubelino Marble Run comes with all you need to build various marble run designs. Included are base plates, knobs, run element, building blocks and marbles. With endless marble run combinations, this will provide hours of fun.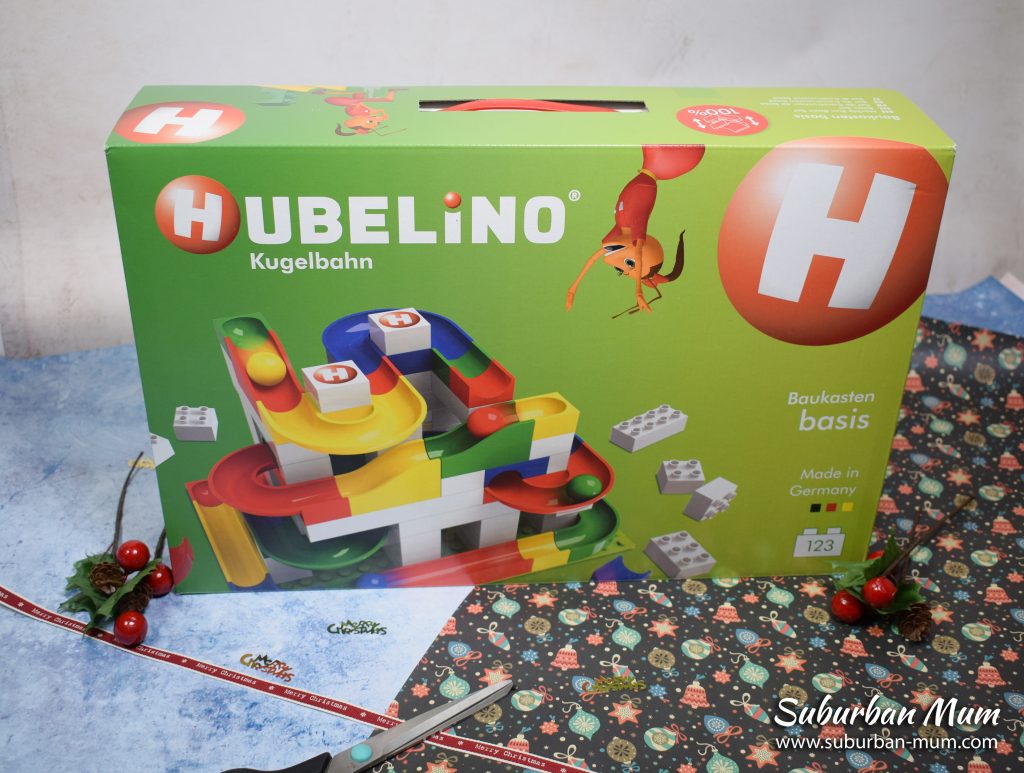 HEXBUG Nano Flash Nanoplex (£40)
Build your own nano habitat and watch the critters scurry, bounce and flip around. The HEXBUG Nano Flash Nanoplex comes with 65 pieces, including jelly walls, connectors, tracks, arches, nanos and more.  The nano Flash's slender redesign optimizes agility through your intricate course and its newly integrated LED lights will illuminate track.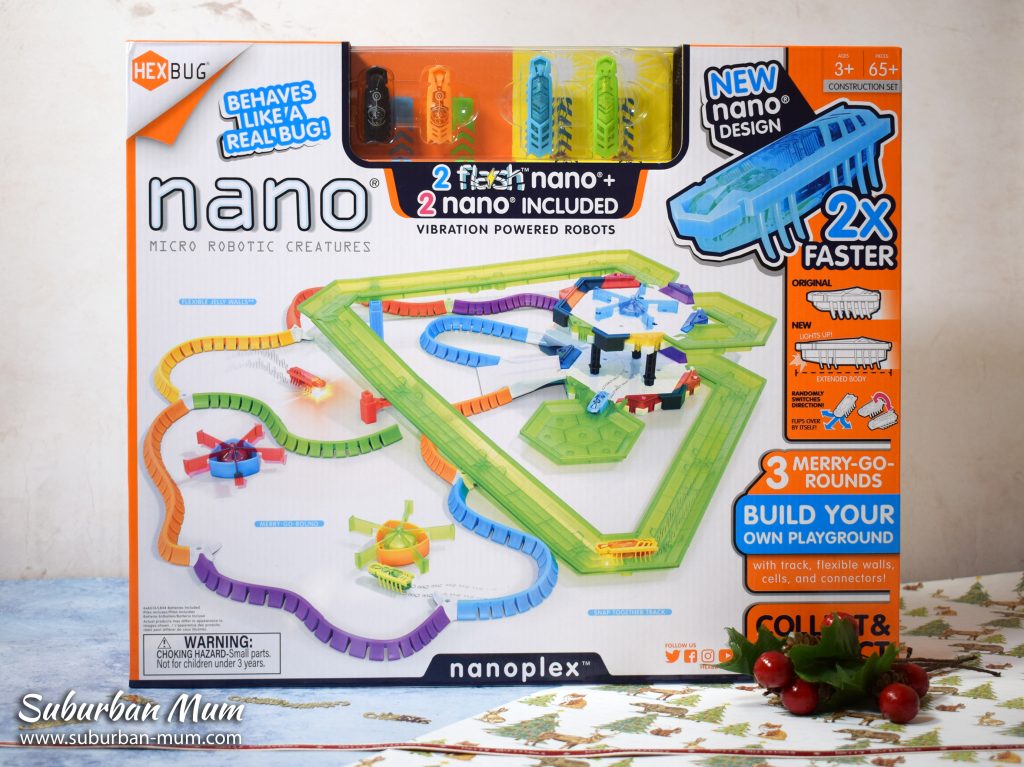 Snakebyte Seat Mount
Ideal for gamers on the go, the Snakebyte Seat Mount includes a headrest mount for the Nintendo Switch allowing you to enjoy your favourite games whilst in the car. With adjustable angles, the seat mount can also be used for any 7-10″ tablet or smartphone. It's also suitable for most standard car seats and is easy to install.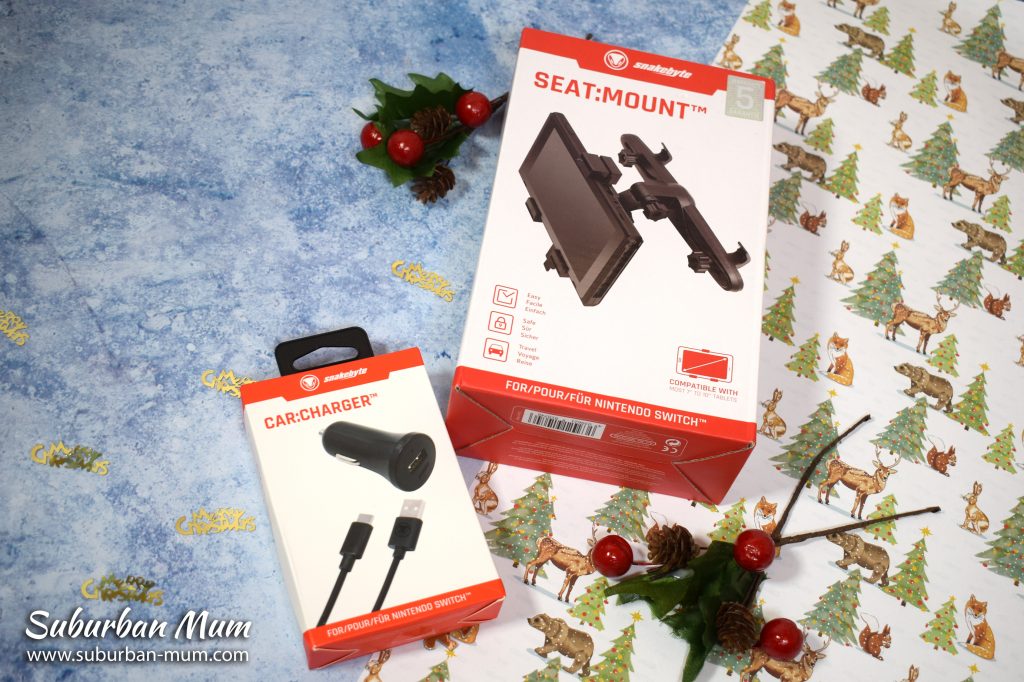 Ben 10: Power Trip (£35)
The popular cartoon series Ben 10 has released a brand new co-op open-world video game adventure – Ben 10: Power Trip. Available on Playstation 4, Nintendo Switch, Xbox One and PC Steam. If you have Ben 10 fans, this one is for them.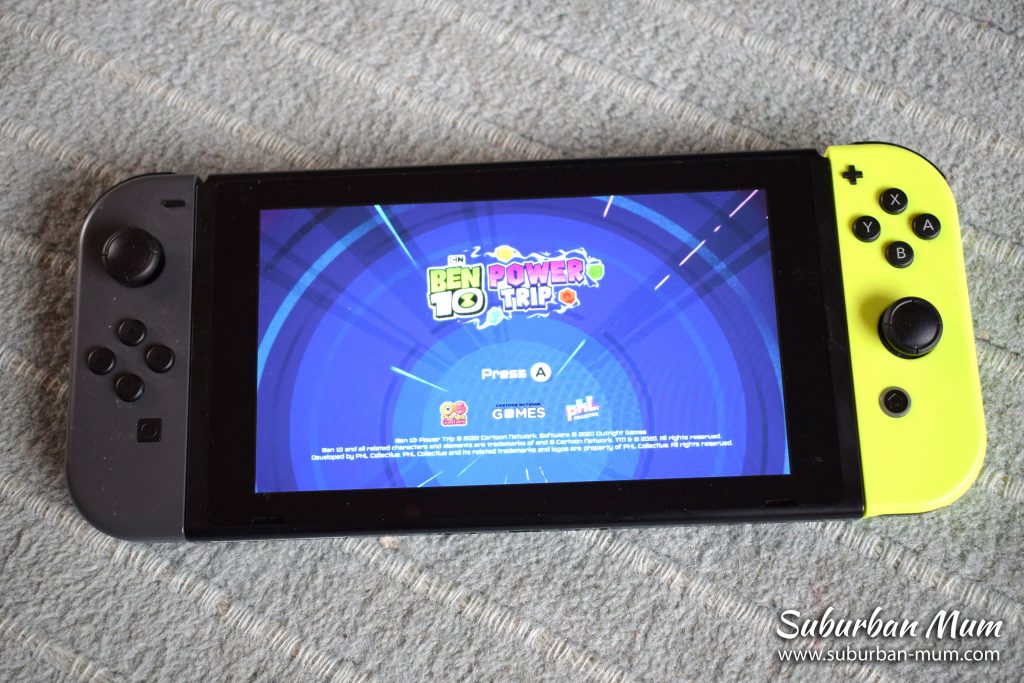 Family Fun
Board Games
Christmas is the time to kick back, relax and enjoy time with our family. It's the ideal time to spend some quality family time playing games. Check out some of these board games below that you may want to add to your collection.
The Logo Board Game (£23)
The all-new Logo Board game features new questions for families to compete against each other to see who can identify logos, brands, packaging, flavours and more. Suitable for 12+ and for 2-6 players.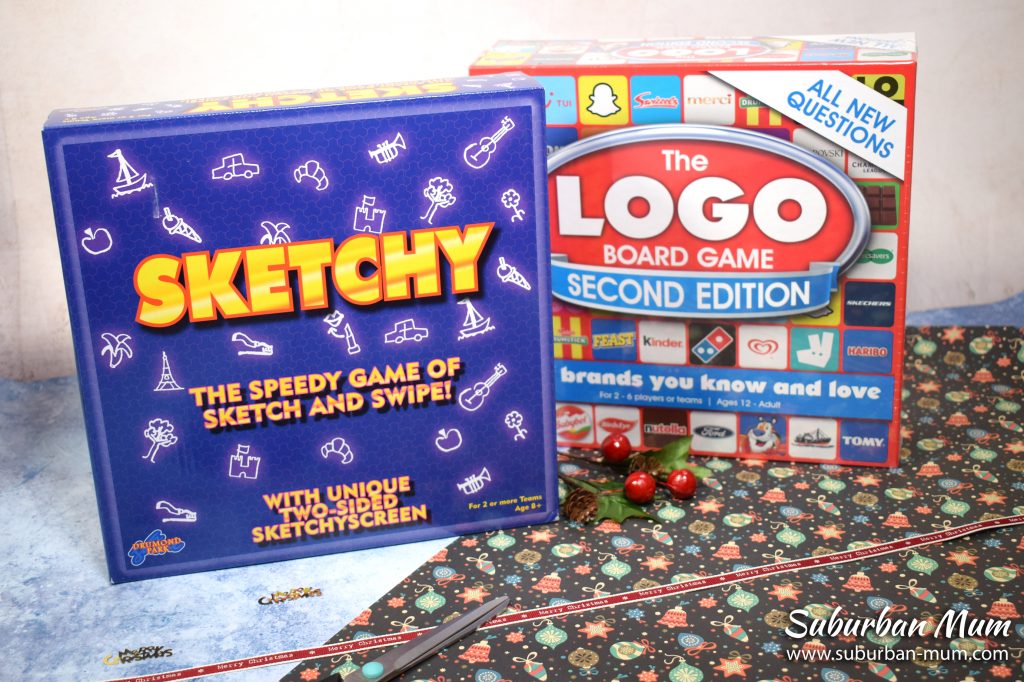 Sketchy (£22)
A game of speed, Sketchy is all about drawing quick, simple pictures for your teammates to guess what they are. I can see this being very popular with the boys this Christmas. Suitable for 8+.
Munchin Monkey (£20)
Charlie the monkey loves to eat, so much so he doesn't know when to stop. The aim of Munchin Monkey is to roll the dice and feed Charlie his favourite coconuts and water. His nappy will get fuller and fuller until it bursts. Suitable for children aged 4+ and for 2-4 players.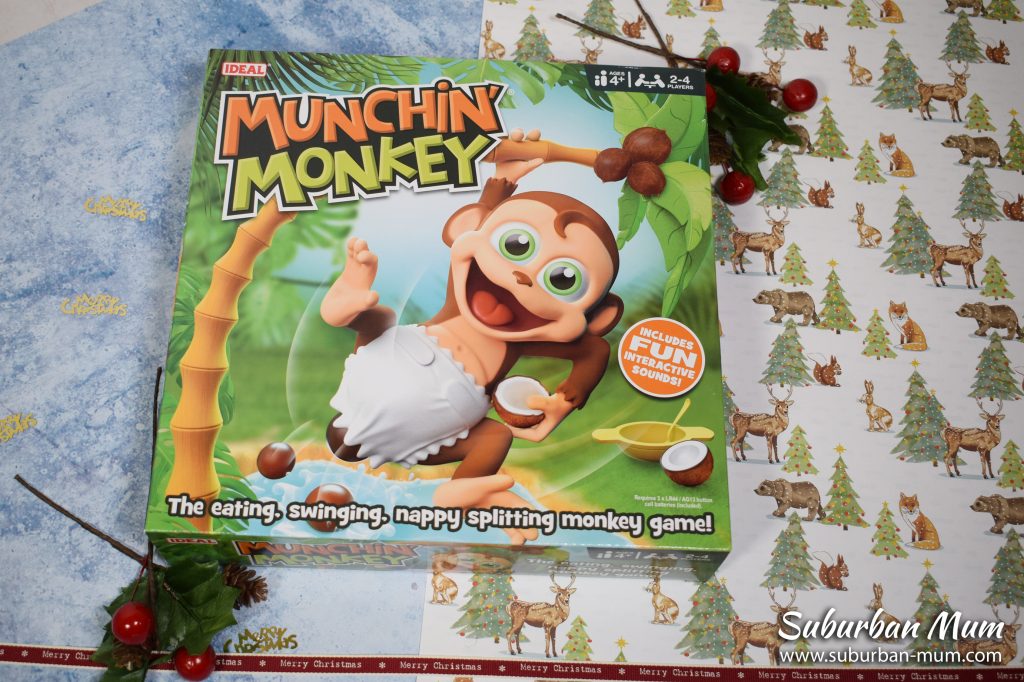 Pokémon TCG: Battle Academy (£20)
If you're a regular follower, you will know just how much my boys are into Pokémon. With the Pokémon TCG: Battle Academy, you join the Pokémon trainers at the Battle Academy ready for a Pokémon battle. The game includes everything two players need to play. Suitable for age 6+ and for two players.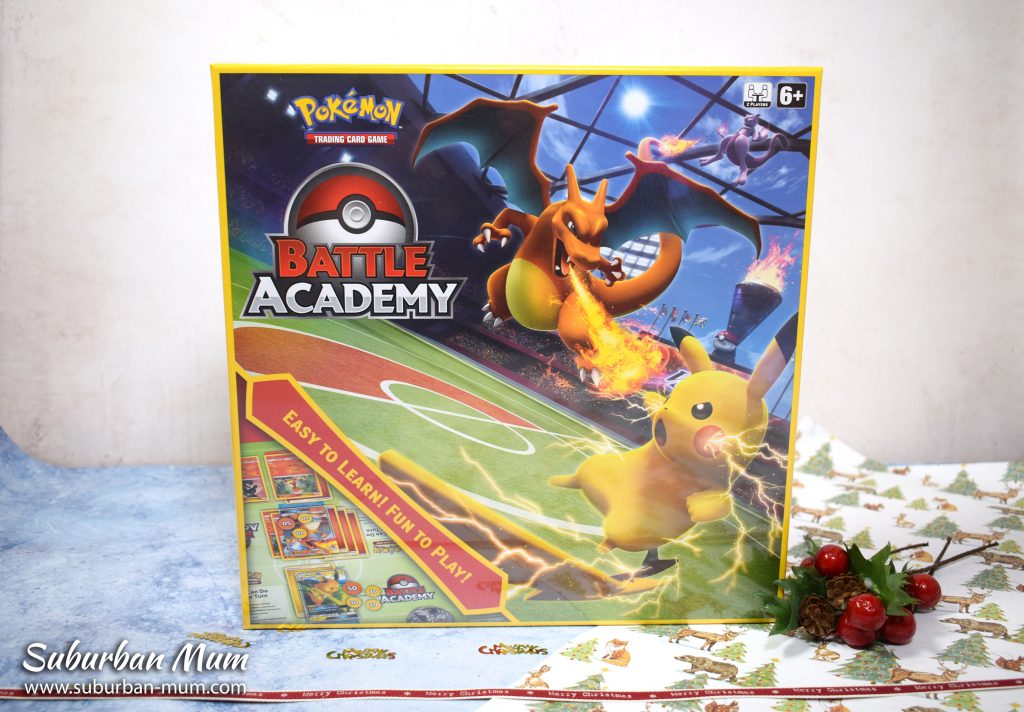 Taskmaster (£20)
If you've watched the show, you'll know what to expect from the Taskmaster board game. You need to complete a series of tasks to earn as many points as you can. The person with the most points wins. The game comes with a gameboard, rules sheet, scoreboard playing pieces, 200 task cards and of course, the Taskmaster Trophy. Suitable for 8+ and for 3 or more players.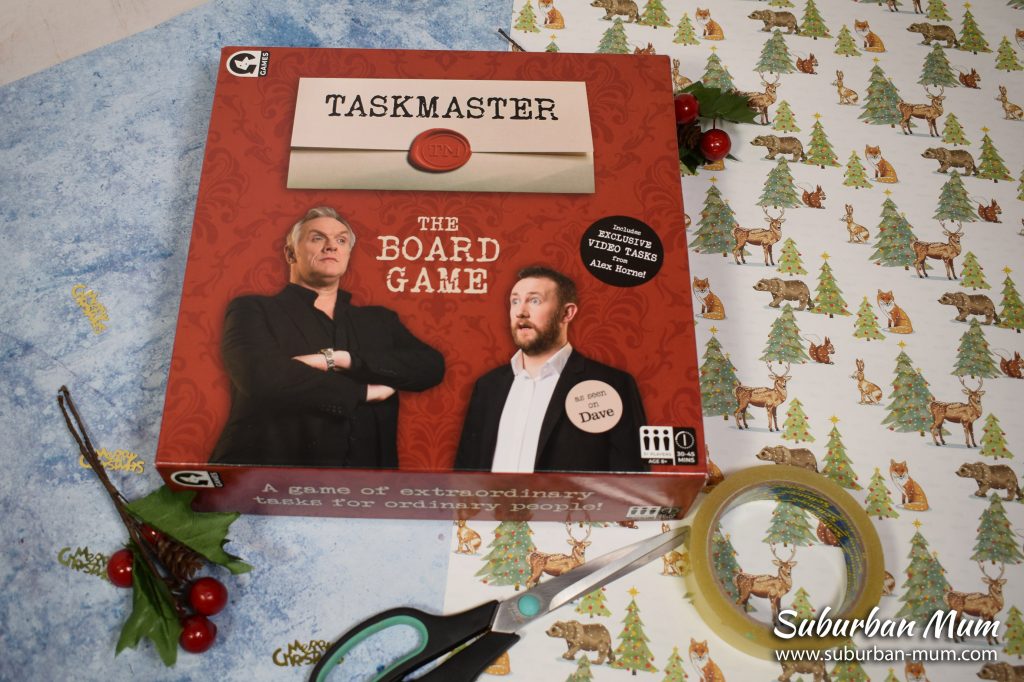 Puzzle Crazy
Puzzles have become increasingly popular this year due to the pandemic. What better way to spend time with your family completing a stunning scenic puzzle. Puzzle Crazy have a wide range of puzzles featuring artist's work including, landscapes, nature & animals, and much more.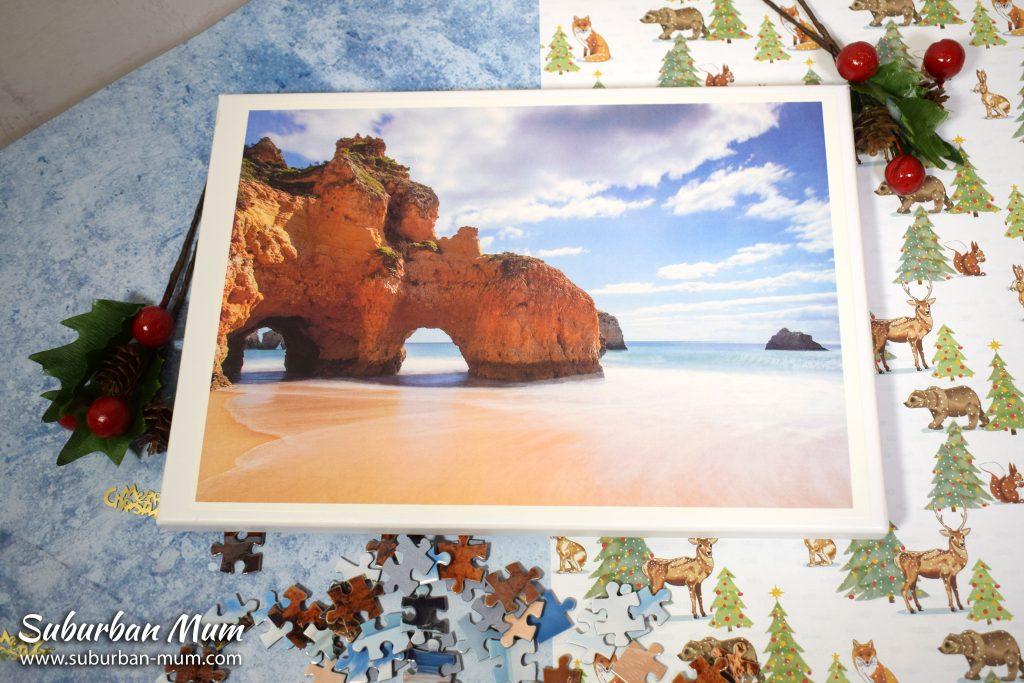 Shinesty Pyjamas
Christmas is the perfect time to relax and spend time with your family and what better way to do that than lounging in some Christmas pajamas? Shinesty, who we worked with last year have a great range of Christmas pajamas, onesies and even Christmas outfits. I love that they have matching pajamas for the whole family too.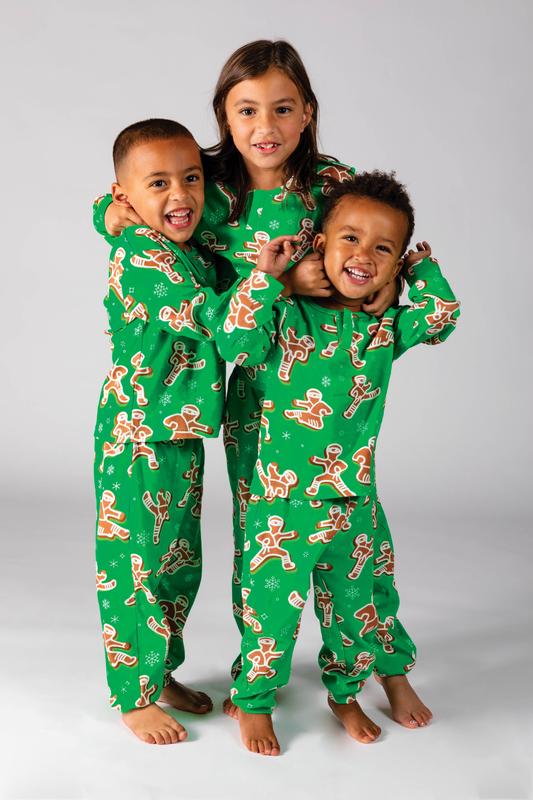 German Nutcracker £79
This beautiful German nutcracker from Cuckoo Clocks will add that extra sparkle to your Christmas decor. It's hand-carved and painted and is beautifully made.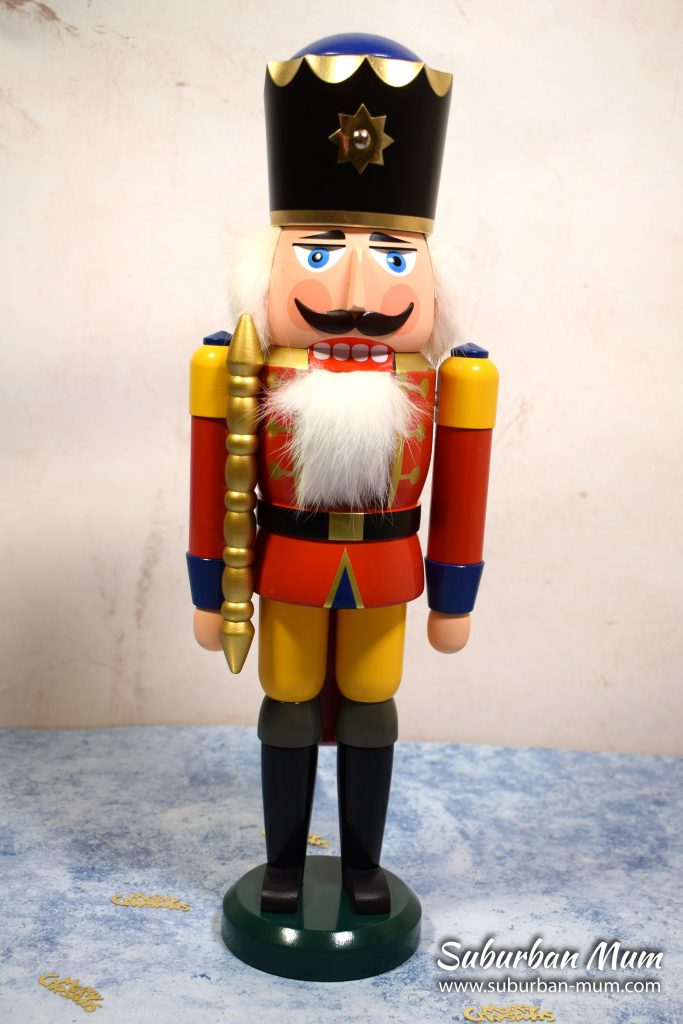 Food & Drink
Bradfords Hampers (from £17.90)
Christmas is all about indulging in delicious food. Bradfords have a wide range of hampers that are ideal for gifting to friends and family. Everyone wants to treat themselves at Christmas. This Farmhouse Larder Gift Tower comes with a lovely selection ranging from cheese, chutney, pickles pate, cake and much more.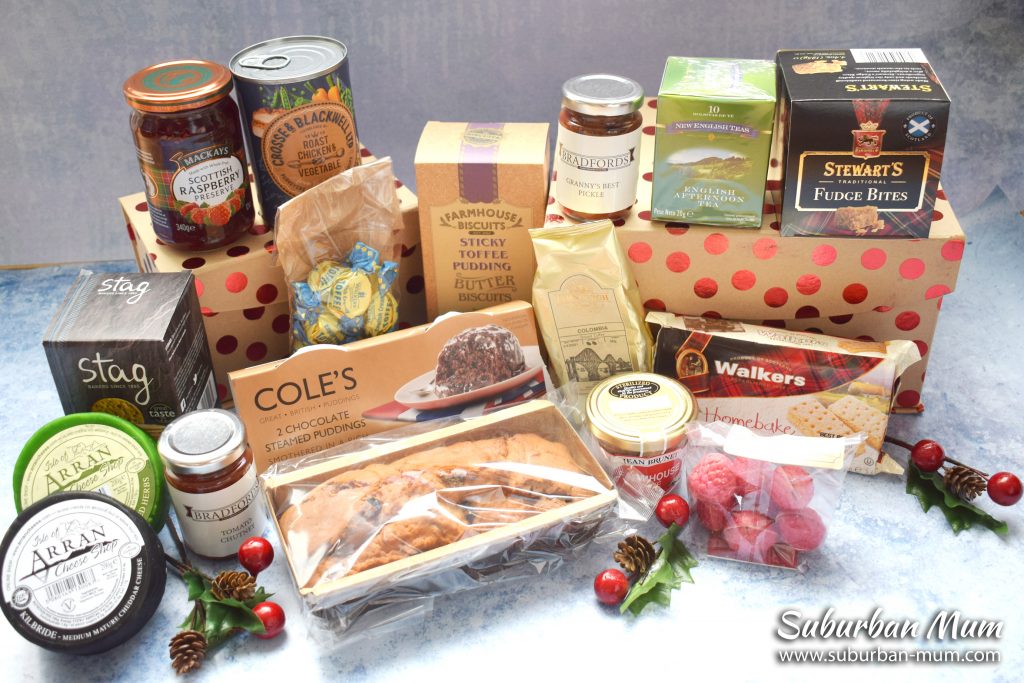 Luxury Indian Spice Tin (£35)
For all foodies out there who enjoy cooking, this Luxury Indian Spice Tin from Spice Pots would make a lovely gift. The tin comes with an Indian Cookbook filled with authentic Indian recipes, 6 spice pots and a cook candle for neutralising cooking odours.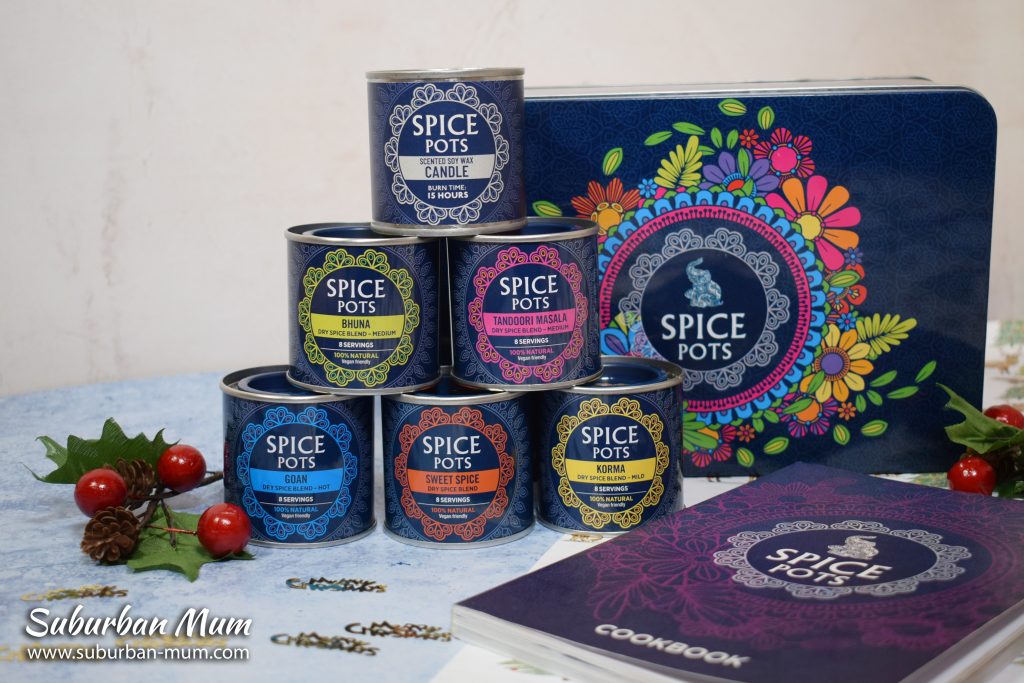 Jackpot Peanut Butter (from £5)
For those that can't get enough of peanut butter, Jackpot Peanut Butter can be personalised for your recipient with the brand slogan inspired by obscure 70s rock song "Peener Budder Mudder Fugger" with 'Jackpot Motherfu**ing Peanut Butter. Each Jackpot pot, also features a quote taken from a movie.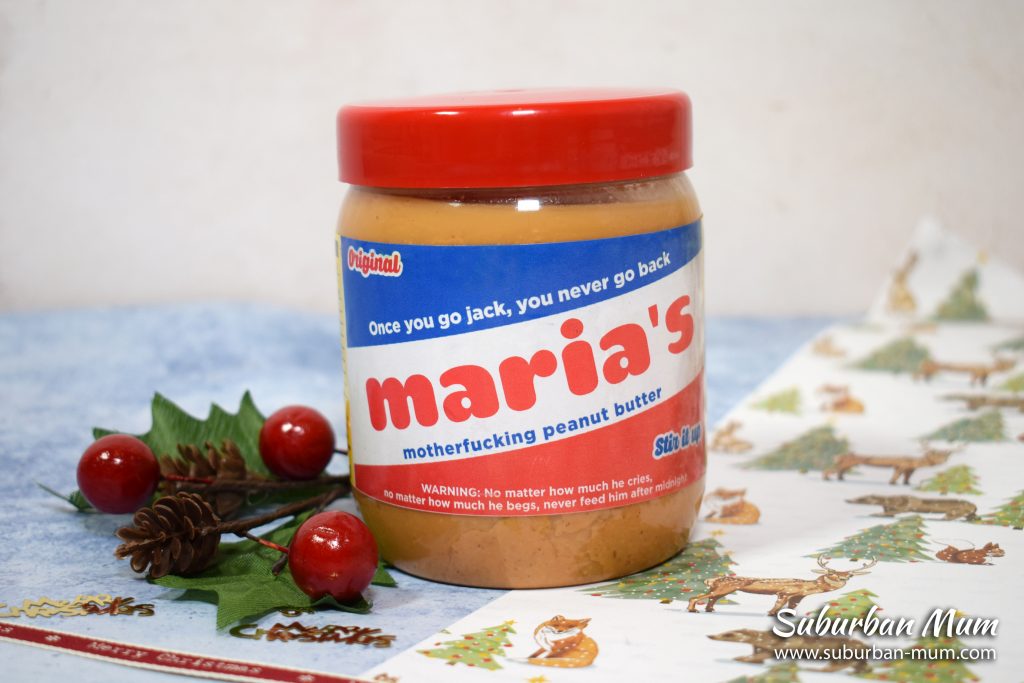 If you have friends and family that love beef jerky, then https://awesomegifts.com/ is worth looking at for some fantastic beef jerky gifts, they also do bacon too!
Mermaid Salt Vodka (£40)
Made with sea salt, this Mermaid Salt Vodka from the Isle of Wight Distillery is environmentally friendly and plastic-free with a biodegradable seal. Alcohol always goes down well as a gift so if you're looking for something a little out of the ordinary, this is it.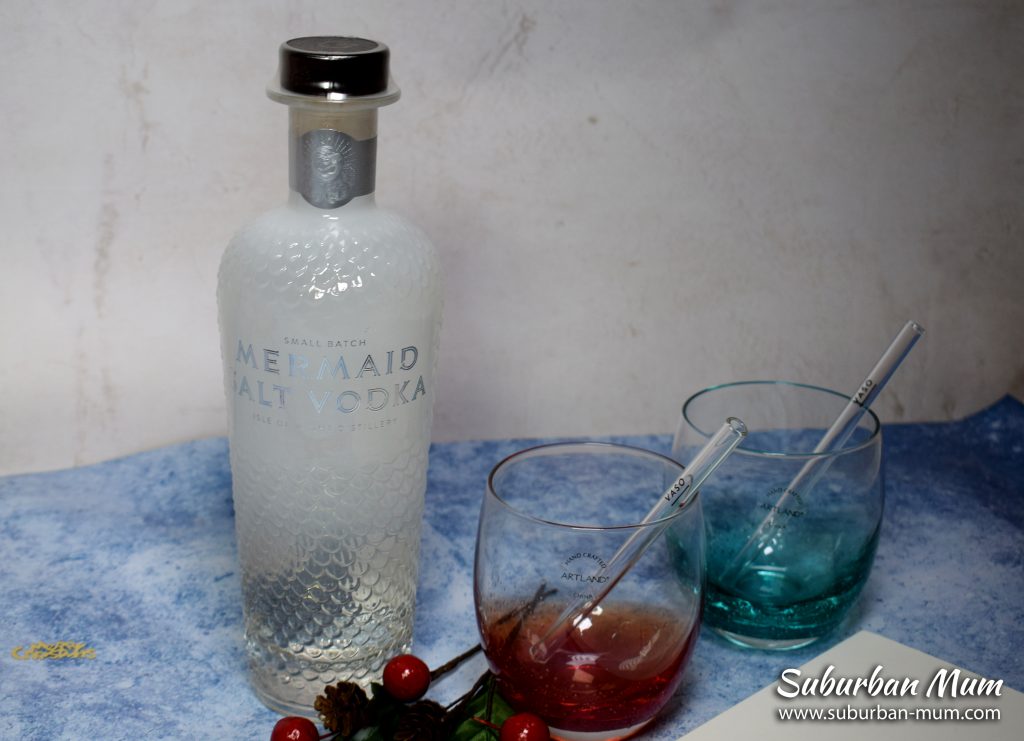 VASO Glass straws (from £12)
We're all conscious of being more eco-friendly and with the government ban on single-use plastics straws, glass straws from VASO make a great alternative. VASO glass straws are reusable, environmentally friendly and sustainable and there are no BPA or toxins.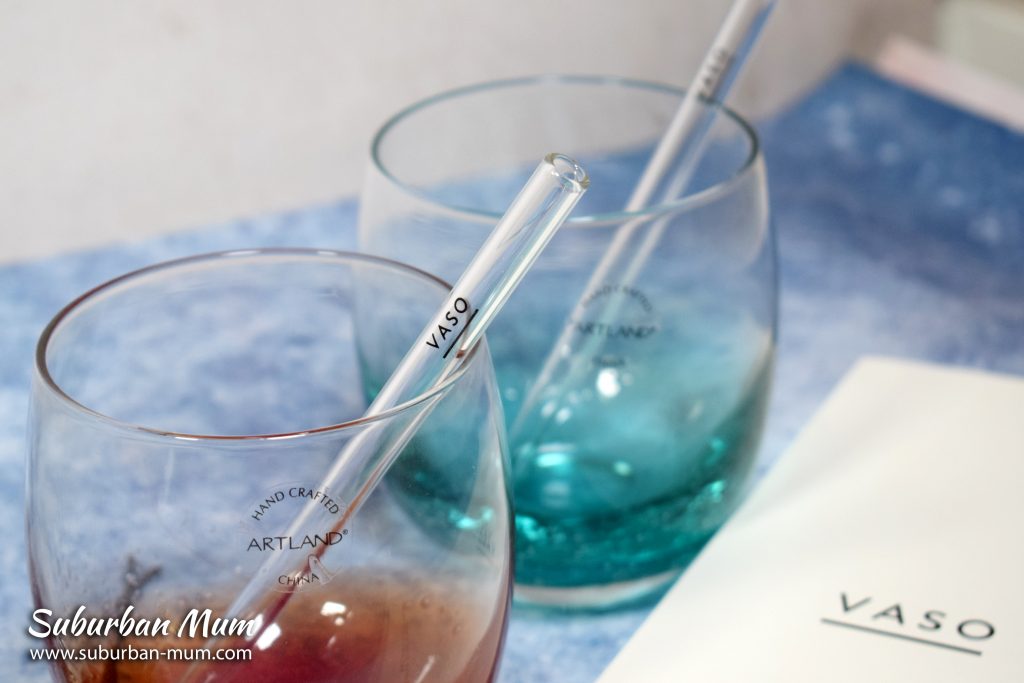 For the home
Yubikey (from £16)
If you like gadgets, you'll love this. The Yubikey is the answer to all your password dilemmas, it physically protects your accounts at every login whether that's via USB insertion or just tapping it against a mobile phone. It can be used across all of your devices without the need for you to have to remember the many different passwords for your apps and accounts. Plus, it's convenient to use and is water-resistant, crushproof and doesn't require batteries.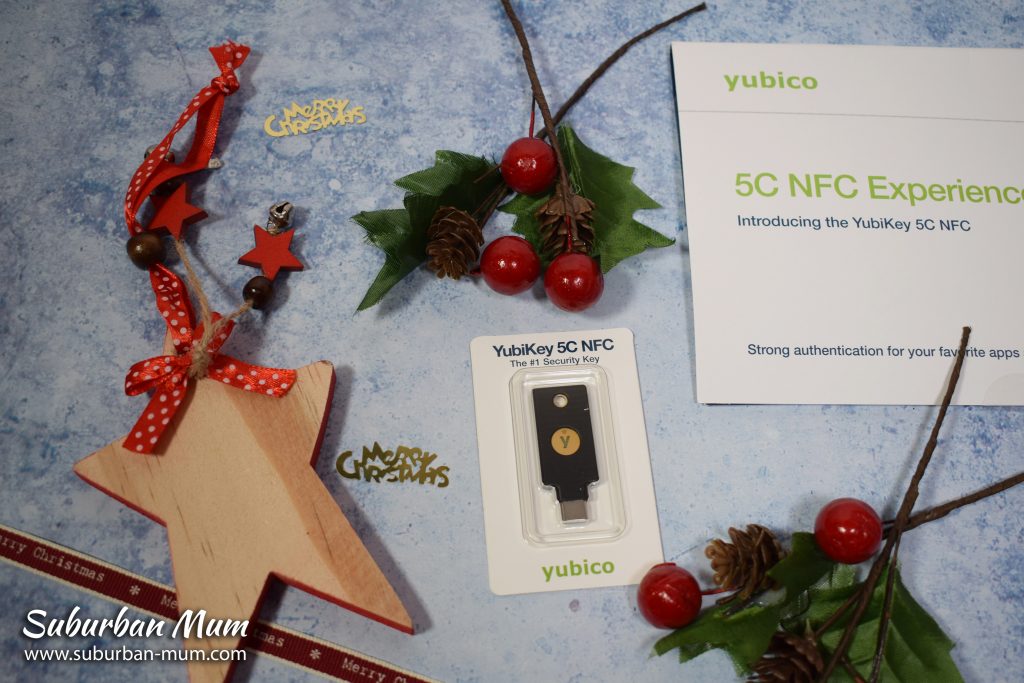 Fiskars Multi-head tool system (from £15)
With interchangeable heads and handles that are quick to click and connect, the Fiskars Multi-head tool system would make a great gift for avid gardeners. Not only does it save space, but it means you're able to perform garden tasks with less tools. There's a wide range of tools such as rakes, cultivators, brooms and trowels.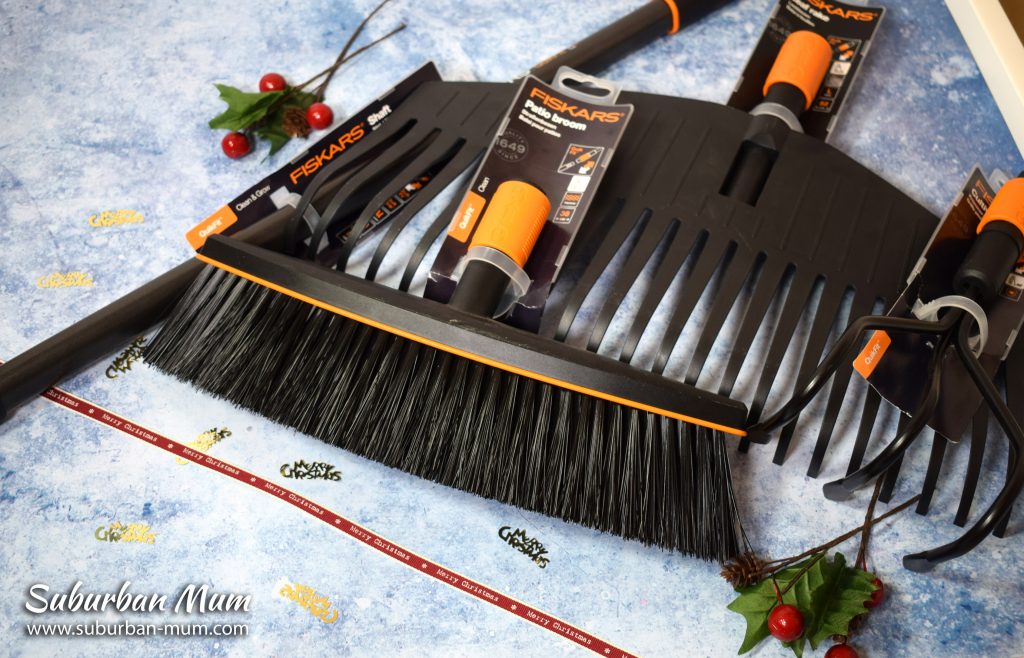 Kindred Fires personalised candle (from £16)
Scented candles are a must for creating a comfy and cosy atmosphere in your home. Kindred Fires have a lovely range of Christmas candles that can be personalised. The candle features a wreath design of trees and whimsical rabbits and you can choose from a range of scents too.