I had been invited to a food and wine tasting event at the newly refurbished Café Rouge at Kew Bridge last month. Unfortunately, due to a busy work schedule, I was unable to make it. However, the lovely people over at Café Rouge invited us to visit and test out the food anyway.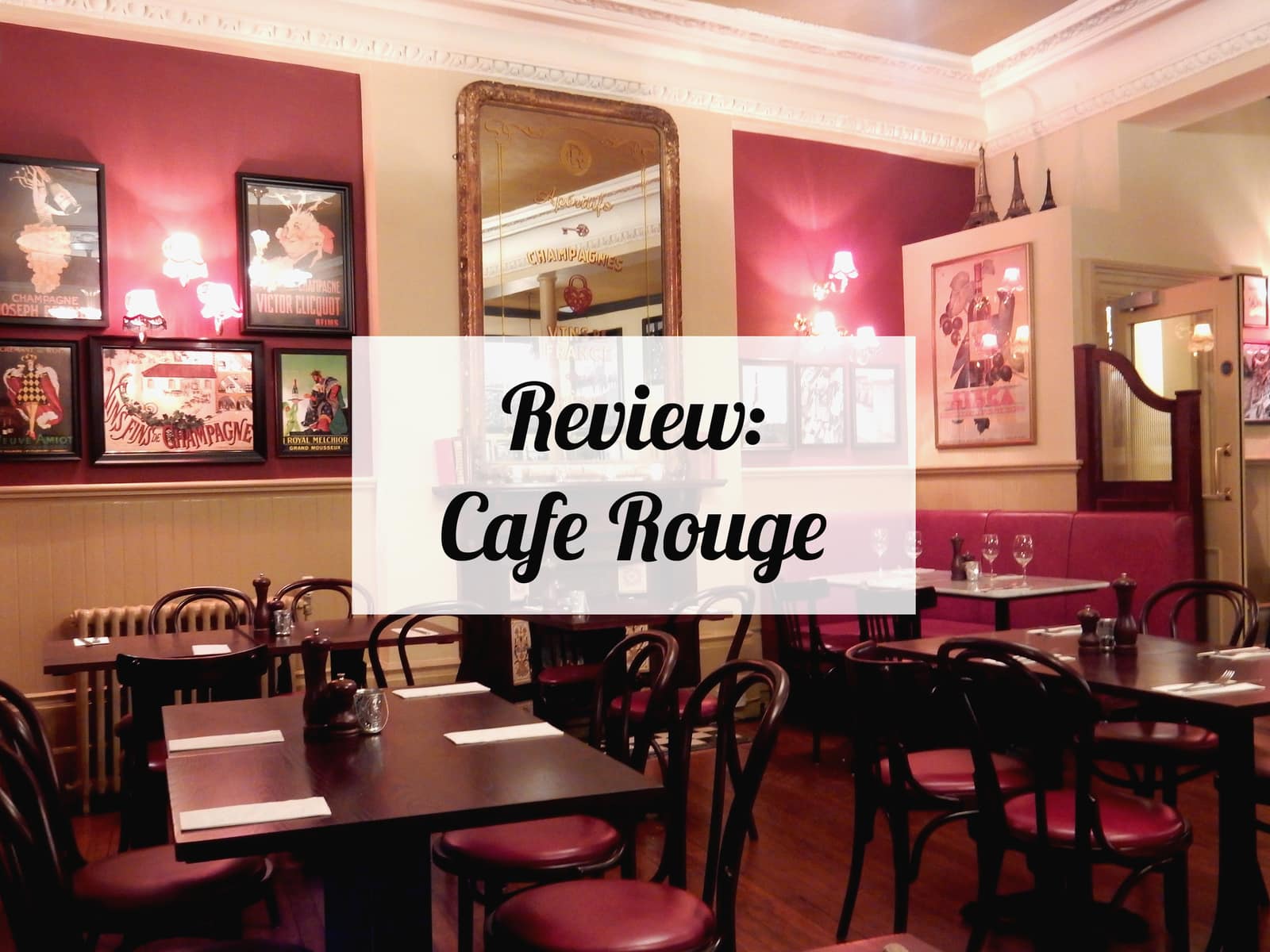 Although Mr H and I had been to Café Rouge before, it was pre-children  – you know back in the day when you could just eat out at the last minute on a whim? This was our first visit as a family, so I was interested to see what they had on offer from a family dining point of view.
Café Rouge Kew Bridge is in a lovely location just around the corner from Kew Gardens. It overlooks great views of the river Thames too! The restaurant itself has been re-designed to reflect an authentic Parisian Bistro, and it certainly had that feel when we visited.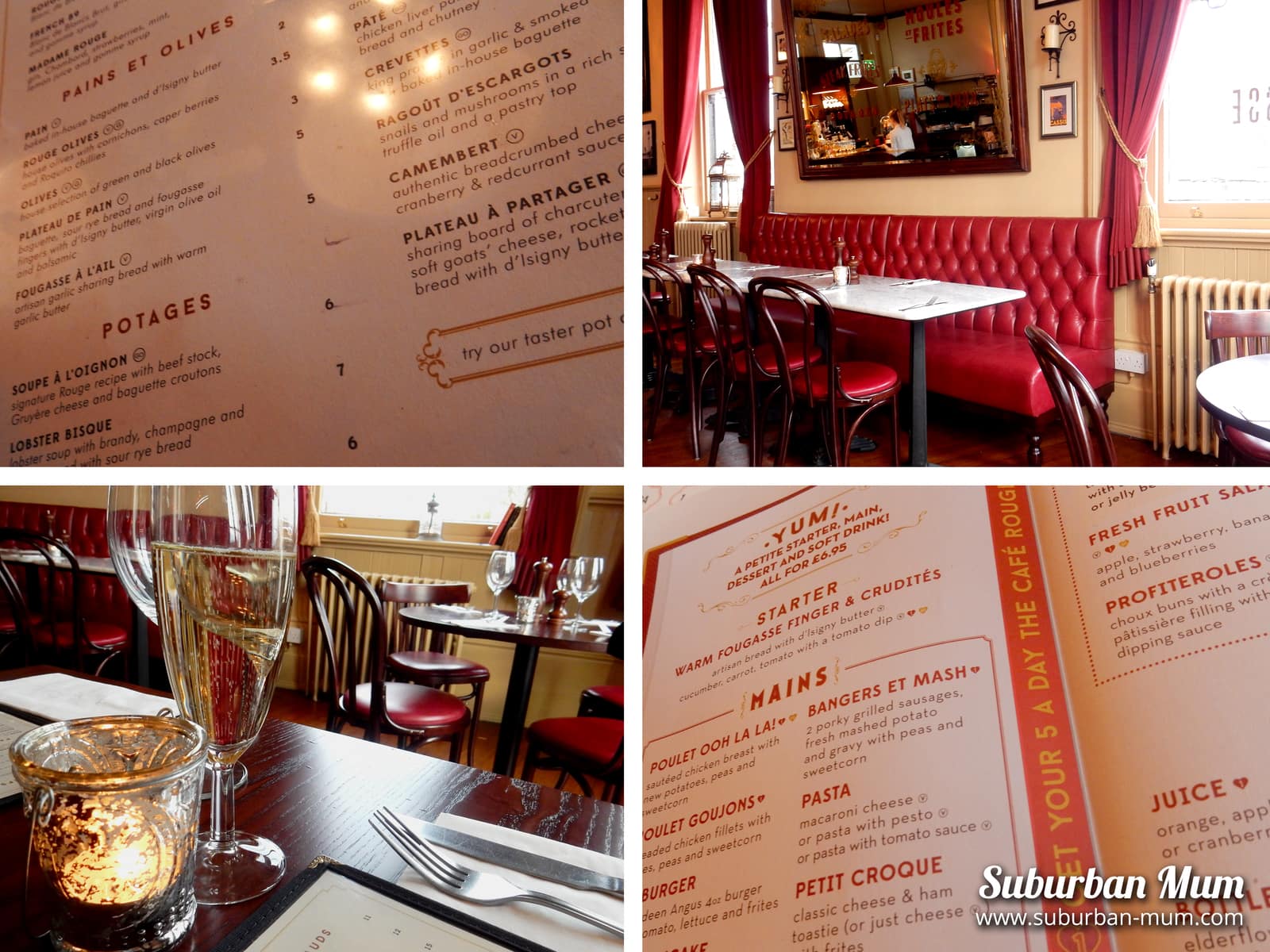 Kids Menu
The Kids menu included a starter, main, dessert and a drink for £6.95 which was very reasonable. The fougasse finger (mini baguette) that was part of the starter was deliciously warm, and the boys enjoyed attempting to cut this up themselves.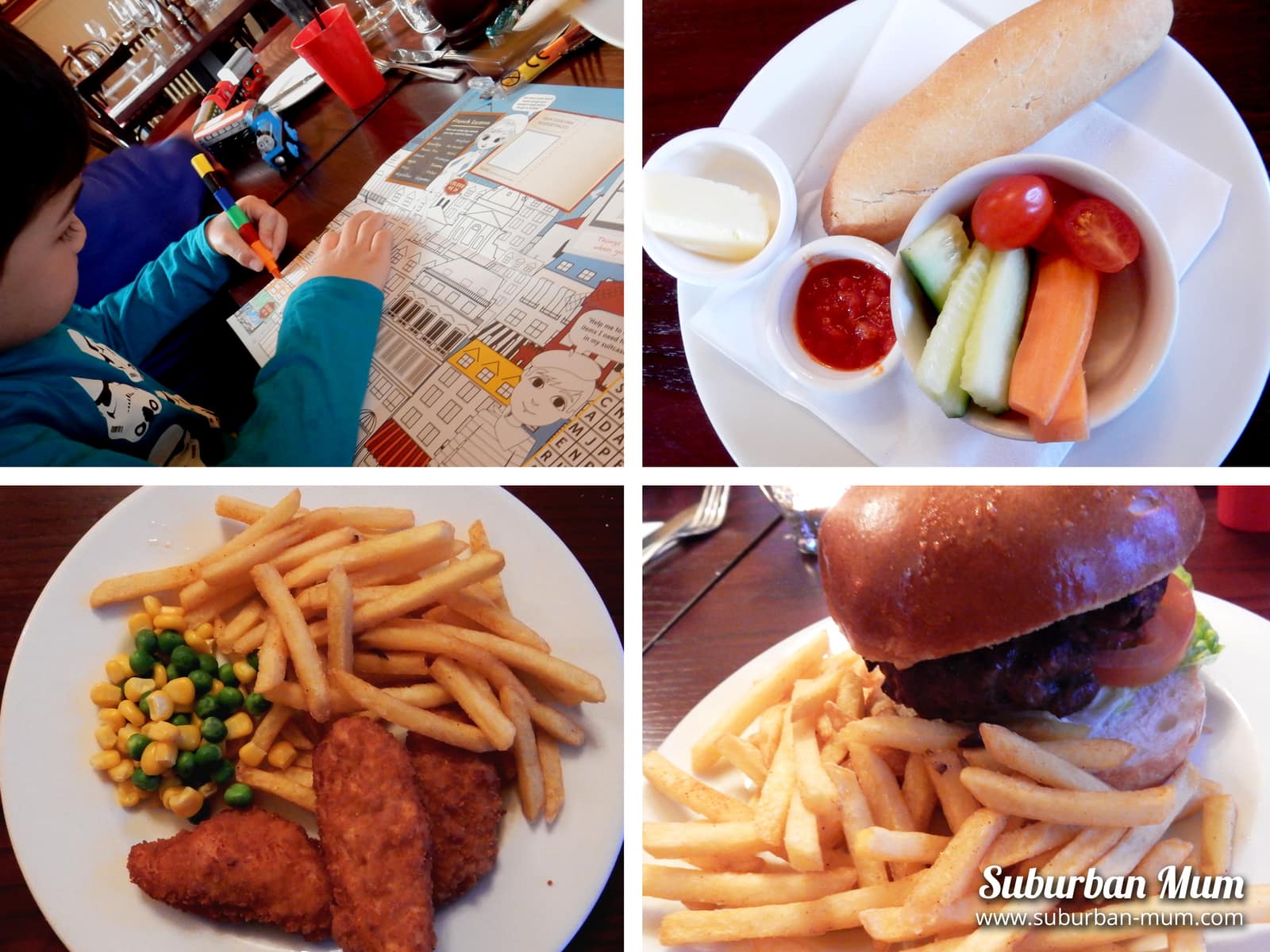 There was a good variety of options to choose from on the Kids menu which also had things like beef, chicken, fish, pasta or sausages. E chose the Poulet Goujons (chicken to you and me!) which came with fries, peas and sweetcorn and M chose Le Burger (no translation needed!) Both dishes were really good portions, so much so that they couldn't finish it all.
What was really nice to see on the Kids Menu is that as well as the mains, there is also a good selection of desserts to choose from. I find that some restaurants only seem to offer ice cream, but this was definitely not the case with Café Rouge. The boys could choose from fruit salad, ice cream, crepes, ice lolly or profiteroles.
M is not really a fan of ice cream when we eat out – not sure why because he eats it happily at home, so he chose the Fruit Ice Lolly and E chose the Chocolate Crépe that was served with ice cream and drizzled in chocolate sauce.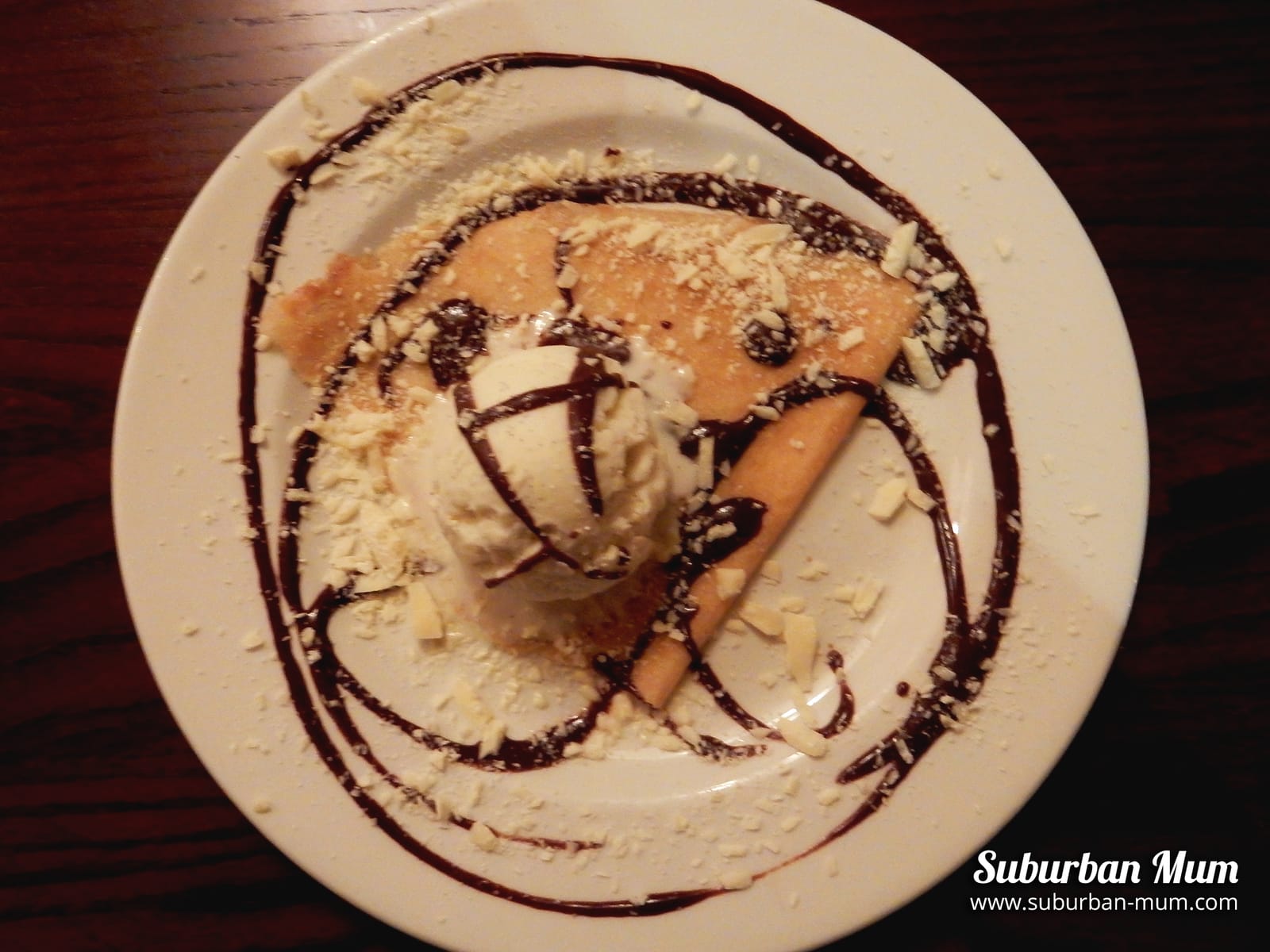 I don't think you can go wrong with a Chocolate Crépe right?
Starters
The adults (Mr H, Mother-in-law and I) started off with some olives and bread while we were deciding what to choose to eat from the menu. For starters, we chose Crevettes  (king prawns in garlic & smoked chilli butter with in-house baked baguette), Lobster Bisque (lobster soup with brandy, champagne and cream served with sour rye bread) and Tempura Moules (crisp mussels with smoked garlic & lemon aioli)
All the dishes were well presented, the lobster bisque (which was my choice) was creamy and full of flavour. I tried both the king prawns and the mussels too, and they both tasted very fresh and the prawns, in particular, were succulent and very tasty!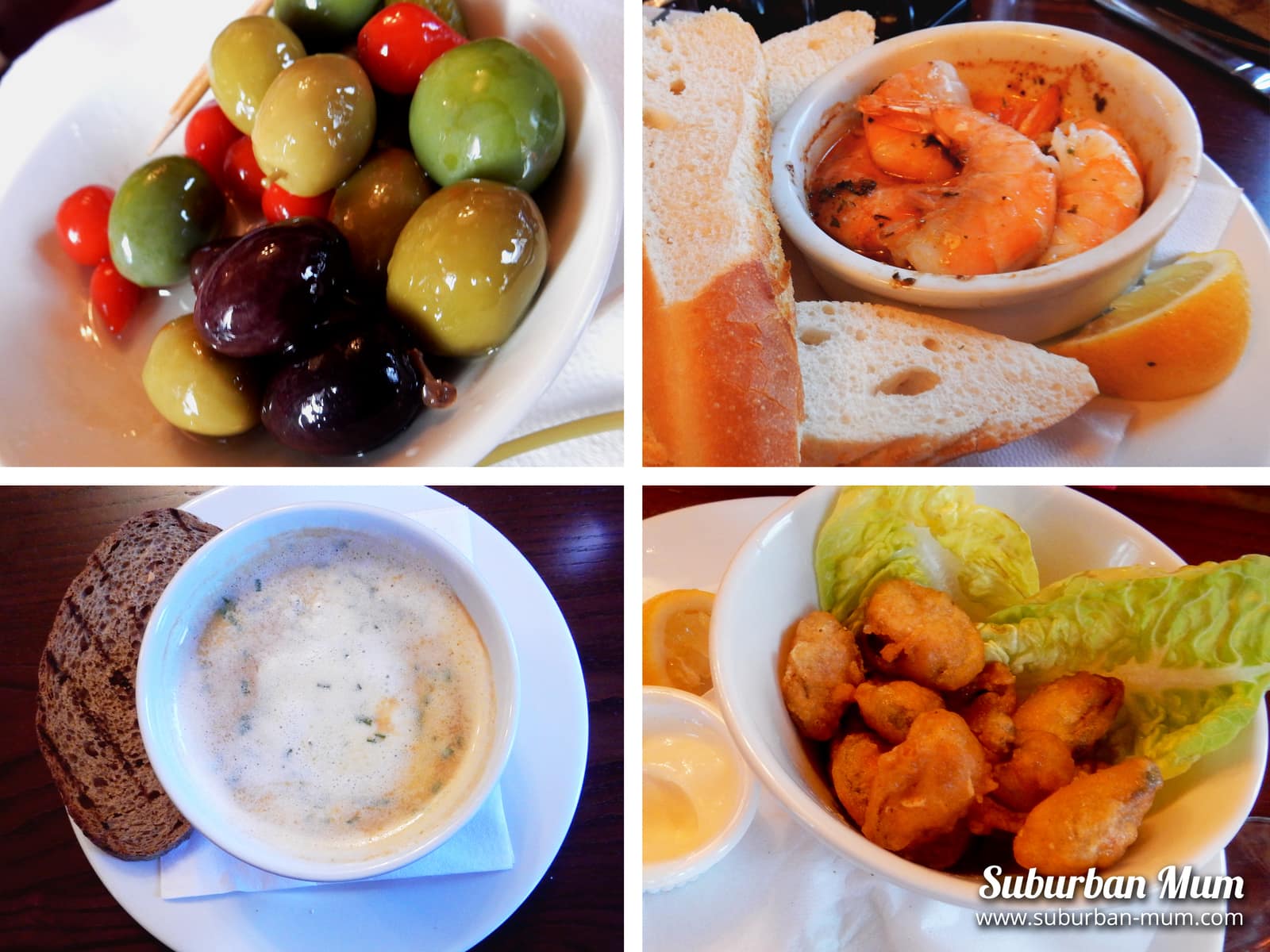 Mains
Whenever we eat out, I always tend to choose dishes that we don't usually have at home. We mainly eat chicken and beef at home, so any time there is duck or pork on the menu it's pretty much guaranteed that I will choose one of these dishes!
This time round – duck won, and I chose the Confit De Canard which came with french beans, dauphinoise potatoes and cherry sauce. The duck was super crispy, and the cherry sauce complemented it really well, I just wished there was more of it (but that might just be me) the dauphinoise potatoes were also spot on.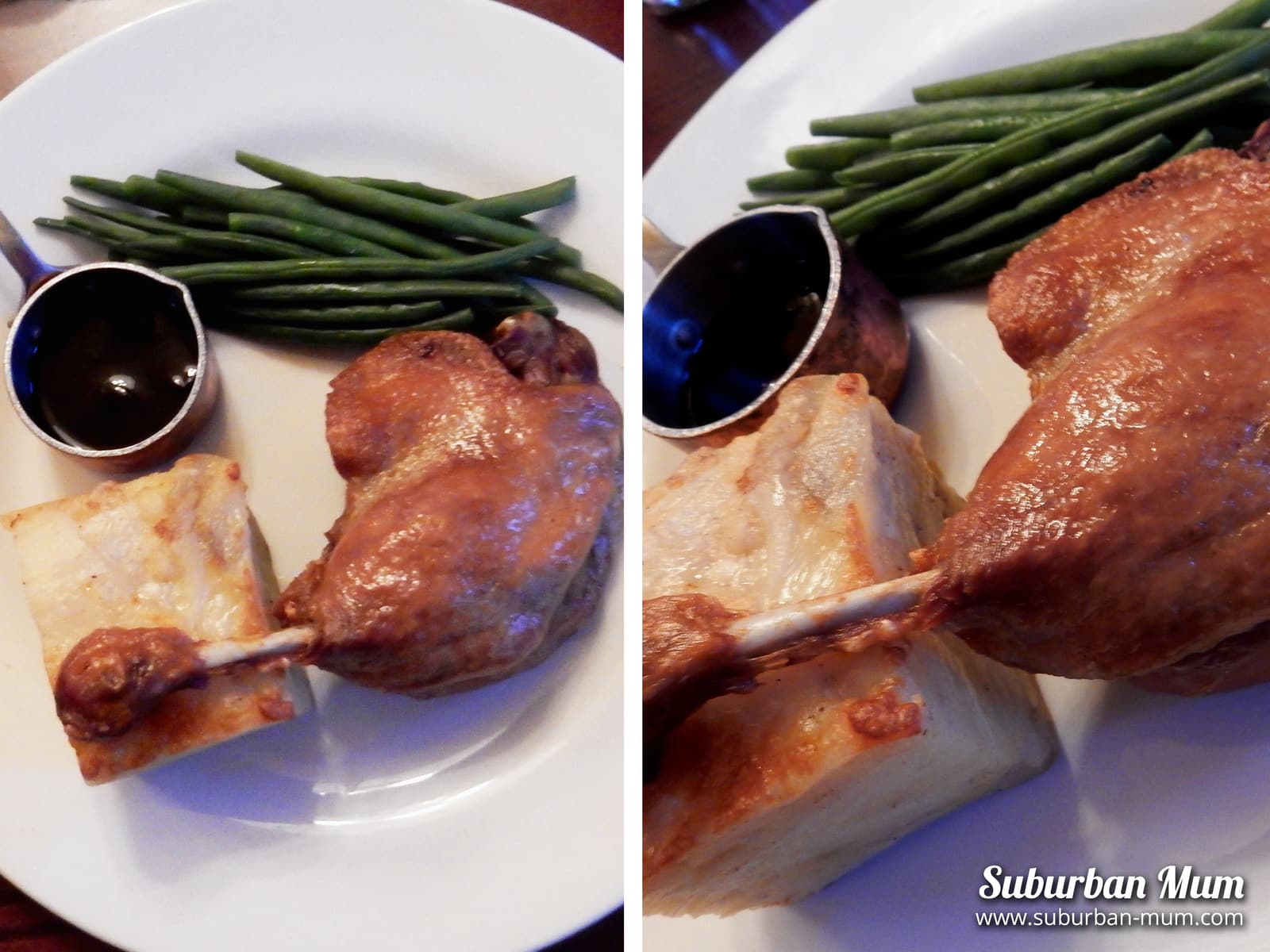 My Mother-in-law chose the Seabass 'En Papillote which was a steamed butterfly filleted sea bass served in parchment with leeks, piperade and a lobster & dill butter she also ordered a side dish of mash to go with this. She said the fish had been cooked perfectly and thoroughly enjoyed it.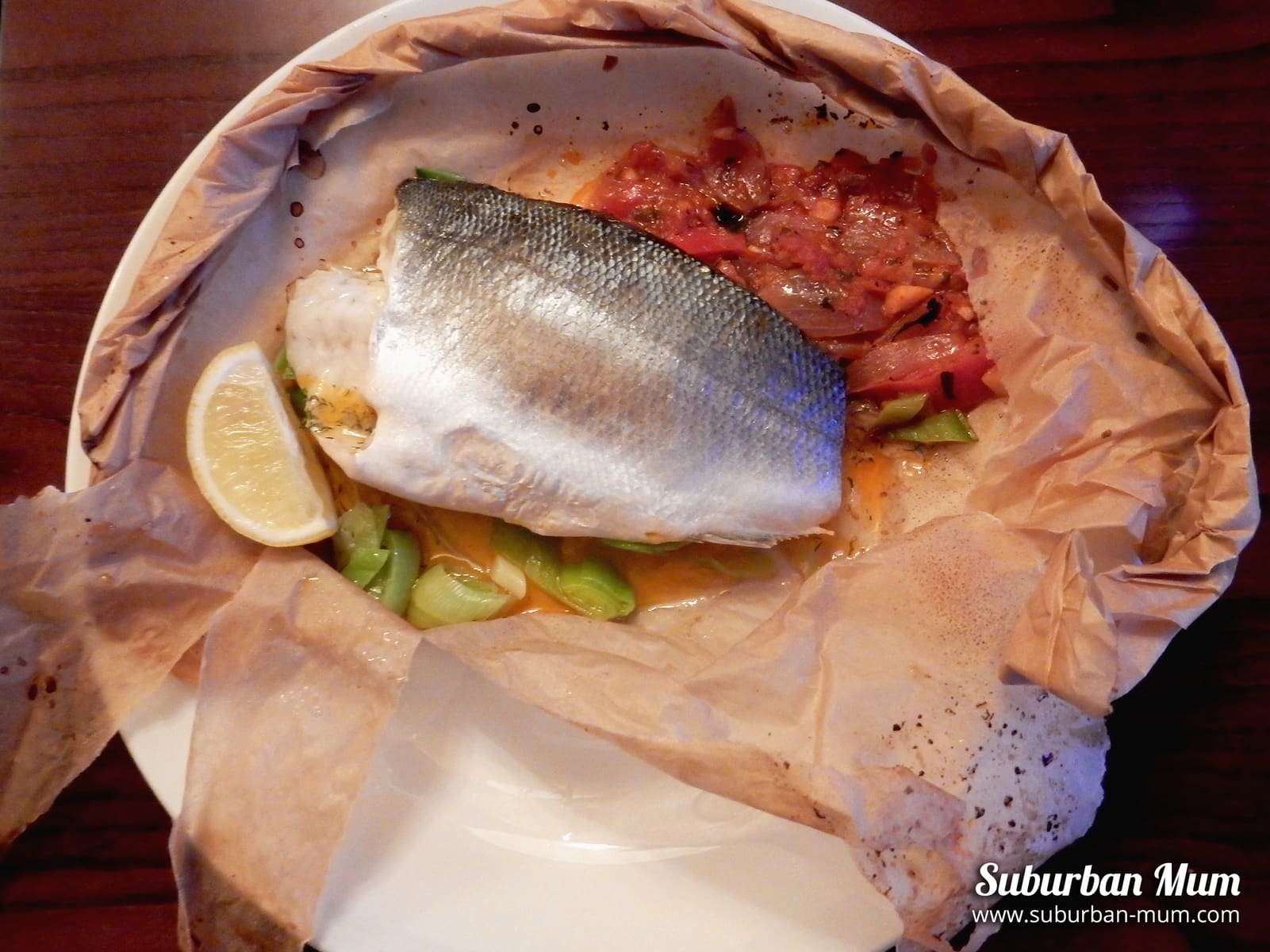 Mr H went for the French classic of Steak Frites which was served with fries and came with a garlic butter. I usually have my steak medium, and he has his medium rare so I didn't get to have a taste but he assures me it was cooked to his liking and judging by how quickly it was eaten I think it's safe to assume it was good!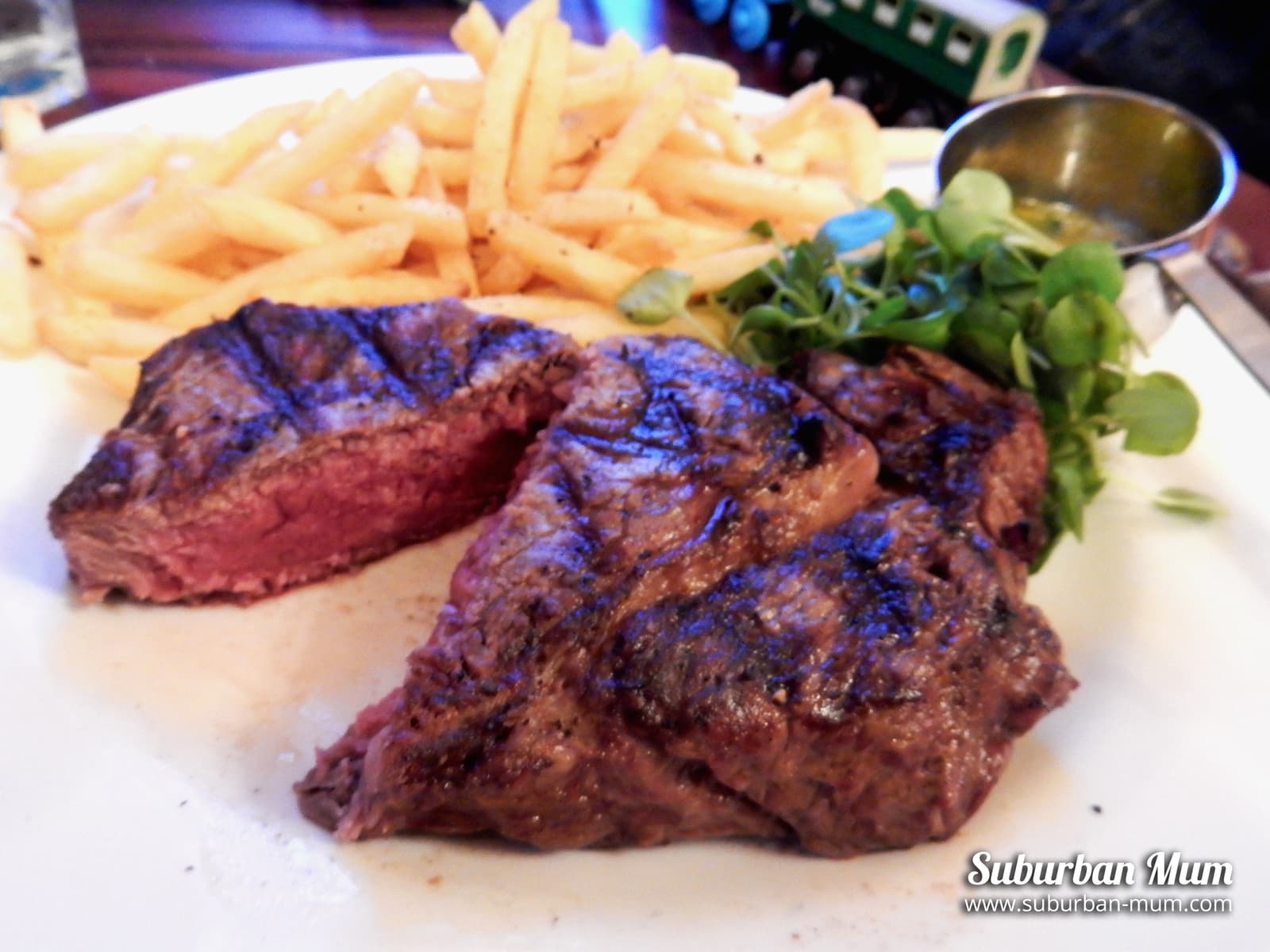 Desserts
For dessert, I chose the chocolate, banana & praline Tort which came with salted caramel ice cream and dark chocolate sauce. Oh my goodness it was just delicious! Salted caramel ice cream is one of my favourites let alone when it is teamed with chocolate cake AND chocolate sauce! Heaven!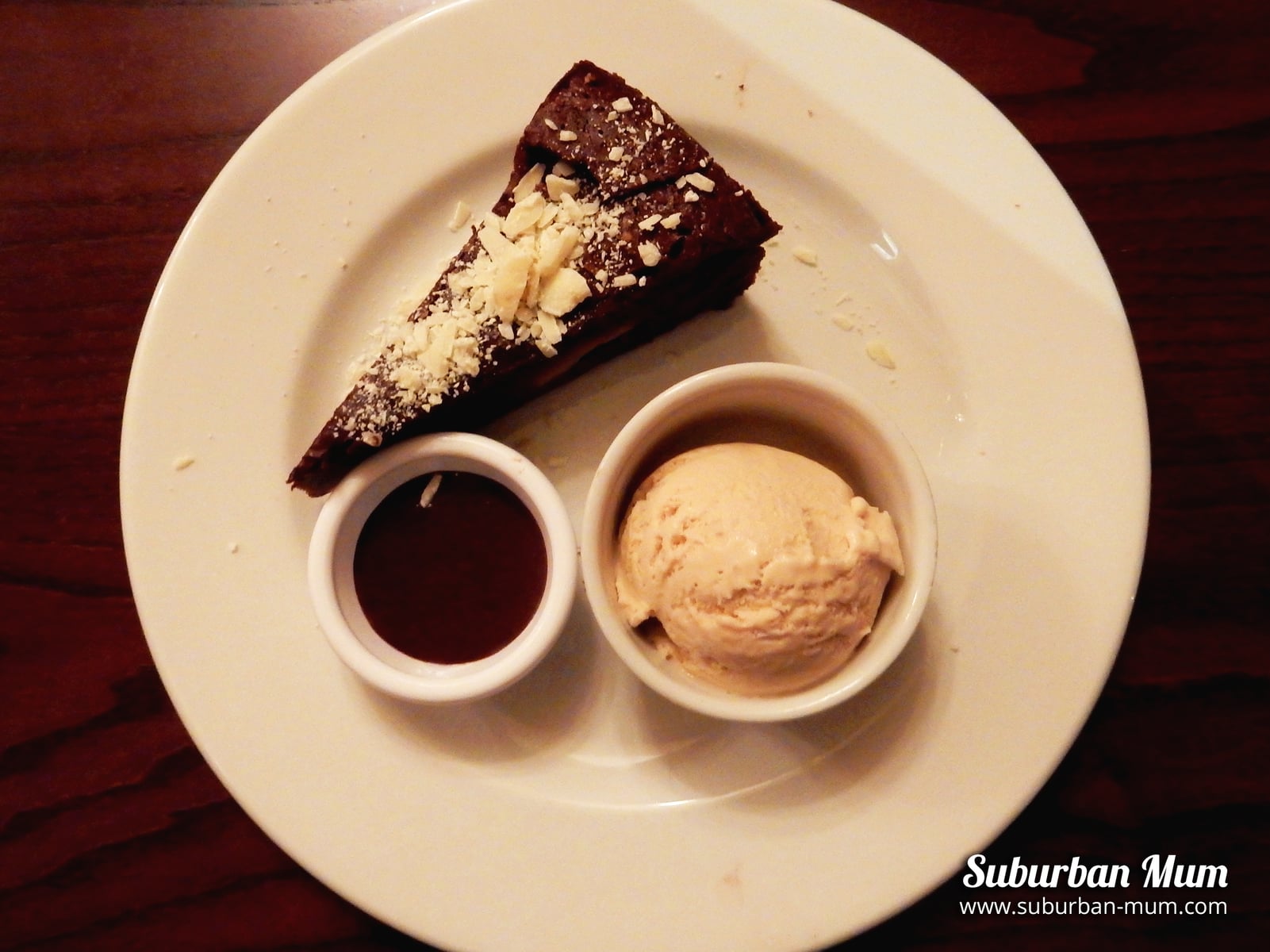 My Mother-in-law went with the Crepé Aux Chocolat Blanc et Banane which was a baked pancake with raspberries, banana, warm white chocolate and tarte tatin ice cream. She said it was so nice that she could have eaten it all again.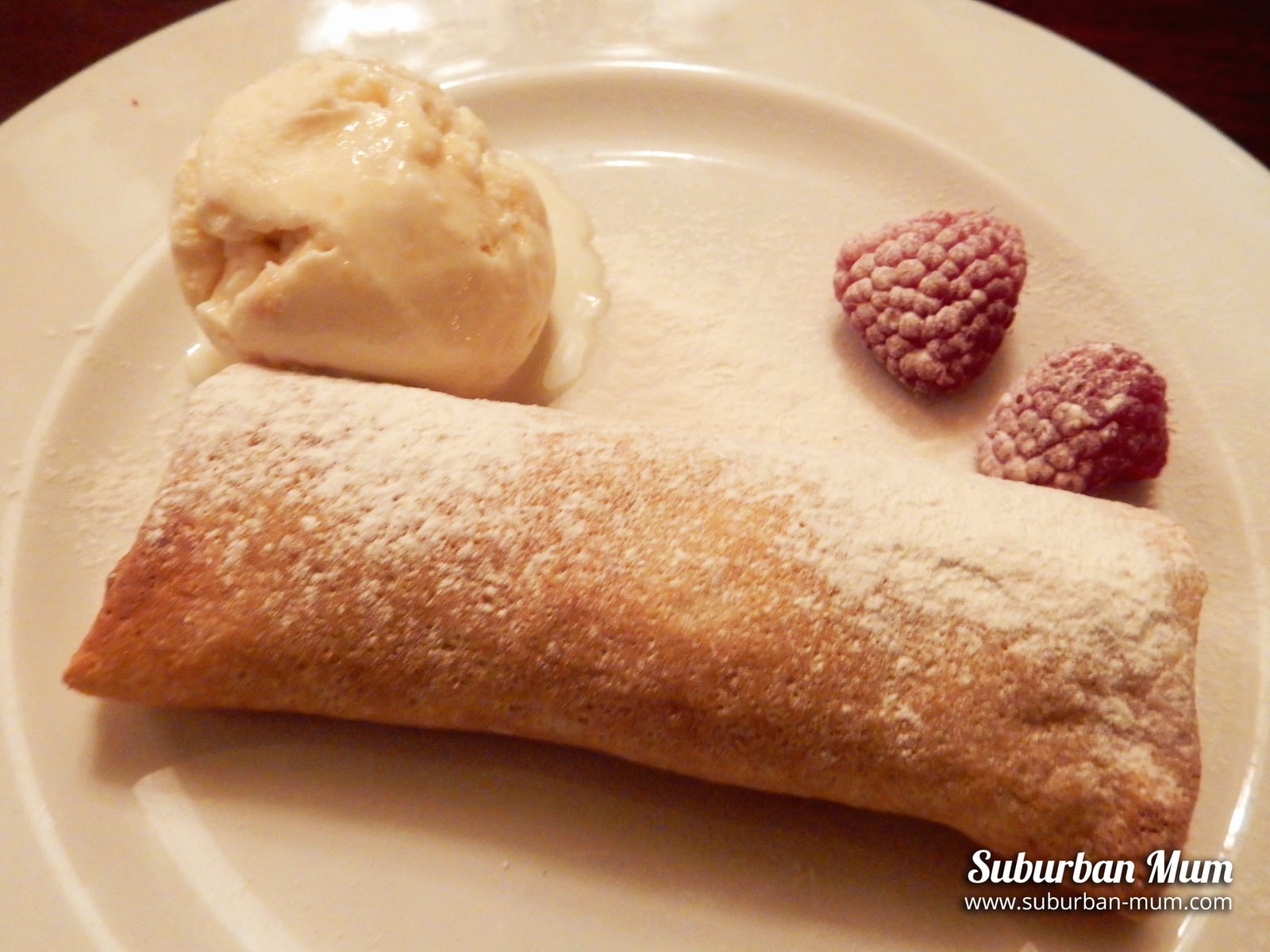 Mr H chose the Fondant Aux Chocolats which was a hot chocolate fondant with a melting chocolate centre and chocolate & raspberry fondant ice cream. As usual, I didn't get a look in- he does not share desserts that man!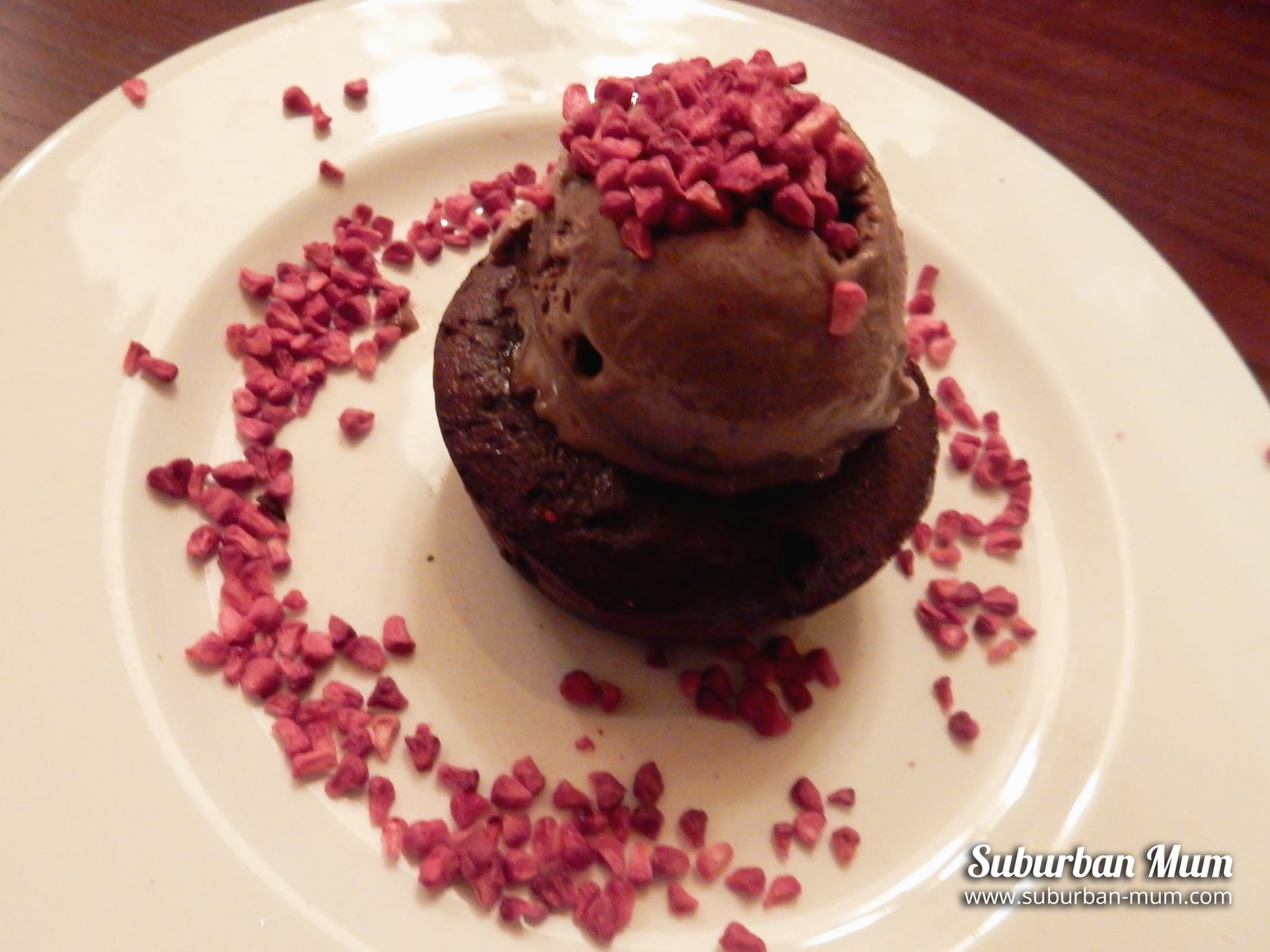 Verdict
Overall, we were very impressed with the quality of the food at Café Rouge. We found the staff to be attentive and the food arrived quickly. The restaurant had a few families with young children who were enjoying their dinner, and it is certainly somewhere I would take the boys to again. Next time I'd like to try out their lunch menus when we visit, and can already see us going there on a lazy weekend morning for breakfast!
Thank you Café Rouge for having us!
* We were kindly invited for a meal at Café Rouge in return of this review, however, all thoughts and opinions are my own.