We love eating out as a family, especially now the boys are older. We enjoy trying new places to see how family friendly they are, but one place we'd not previously visited as a family is Wagamama.
Pre-children, Mr H and I used to go to Wagamamas quite regularly. I always found it hard to choose between the Katsu Curry and the Yaki Soba! (Katsu curry would usually win!) The boys have previously visited for a quick lunch before but over the summer we had the opportunity to check out the newly refurbished Wagamama in Guildford, watch a cooking demonstration and taste some of Wagamama's dishes.
Wagamama Guildford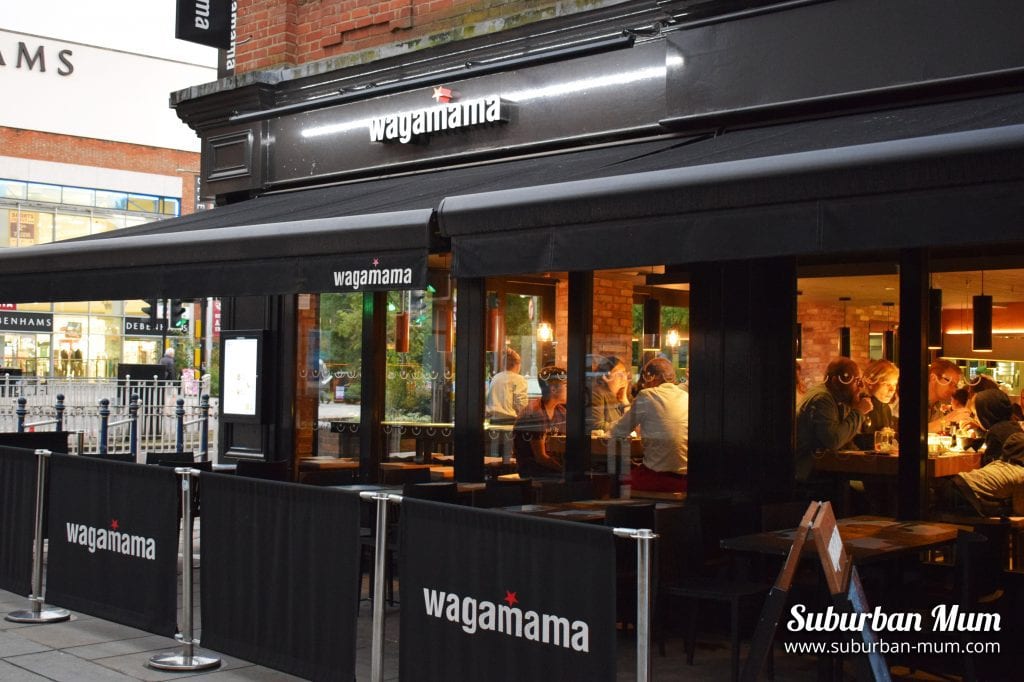 The Guildford branch has recently had a bit of a makeover. It's bright and modern and I particularly like the exposed brickwork which gave it a really nice touch. Their signature bench seating remains so be prepared to share the table with others! There is the option of individual tables upstairs too.
The evening started off with a cooking demonstration from Karl Thompson, Wagamama's Development Chef. It was really interesting hearing him explain why dishes come out at different times. It's because there are four different sections in the kitchen including a Wok, Ramen (noodle soup), Tepan (flat grill) area and so food is served up when the dishes are ready.
No microwaves are used at Wagamama and all food is freshly prepared as well as the noodles which are handmade and delivered daily too.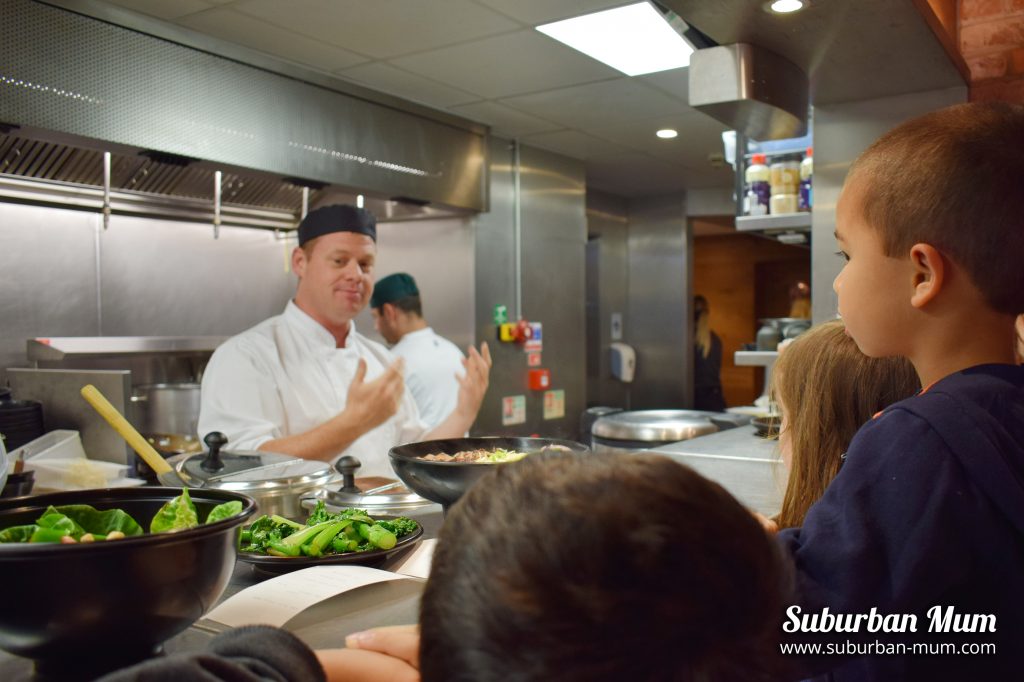 The Ko Club
It's always great when there are colouring/activity sheets available for children as waiting for food isn't the most fun thing to do – especially when you are hungry. Wagamama's Ko Club goes the extra mile with providing kids with an activity pack where they can use their imagination to create their very own Wagamama dish. They can also make their own origami monster and there's also a colouring competition and word search too.
The Food
The children's menu consists of smaller portions from the adult menu and it's really nice to see that there's a good variety of dishes available.
Being half Chinese, my boys certainly are no strangers to rice and noodles! M decided to have the Cod Cubes with Amai Sauce which he polished off rather quickly.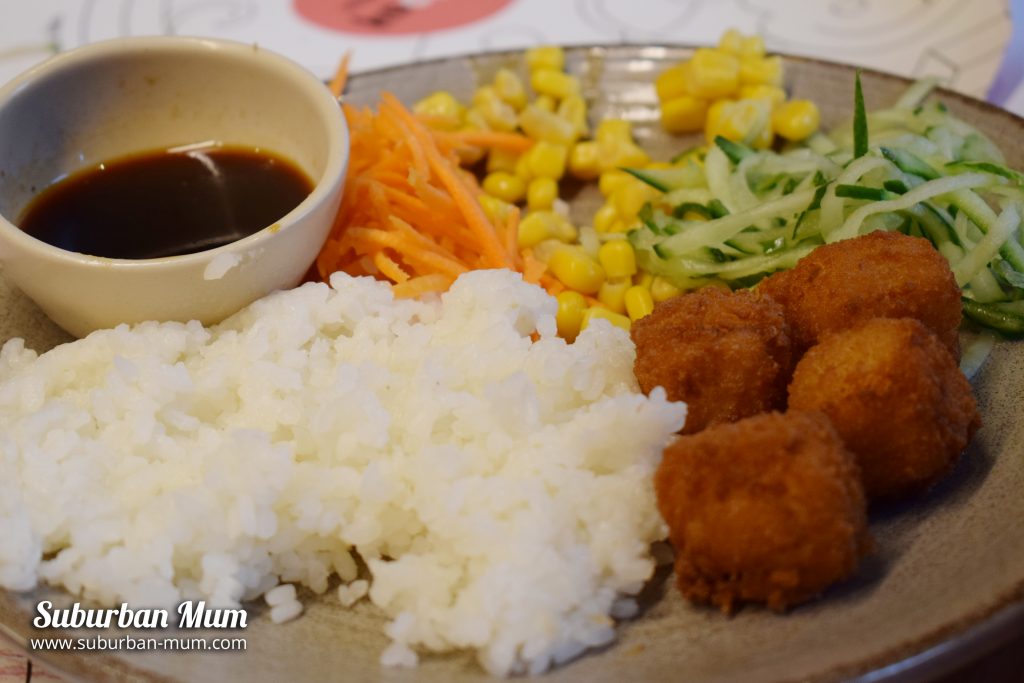 E decided to try something different and chose to have the Mini Chicken Ramen which he really enjoyed.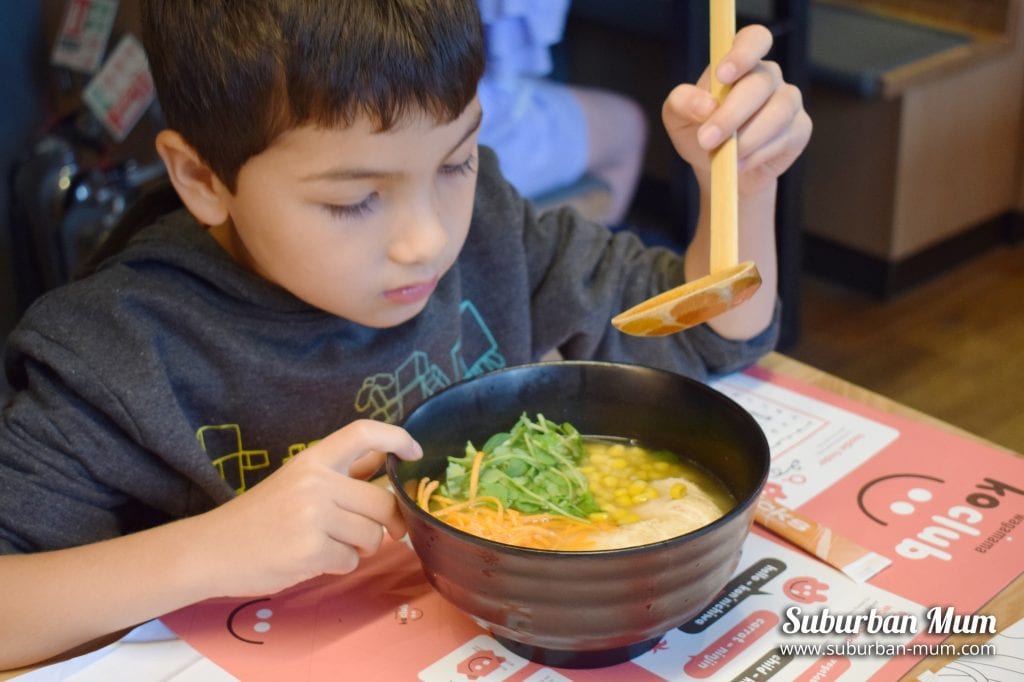 They loved using their wooden chopsticks – they are actually a lot easier to use than the kid size ones we have at home because they are connected at the top which helps hold the chopsticks together.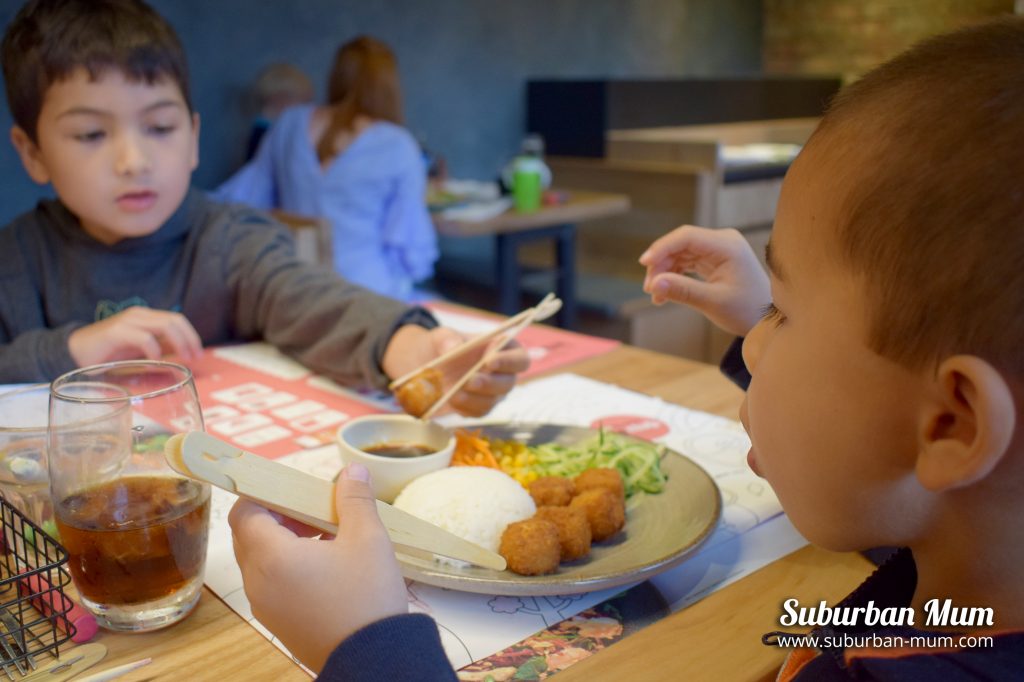 Mr H and I started off with a couple of sides. We chose our old trusty favourite, the Duck Gyoza as well as the Pork Ribs. Both were delicious and the ribs were really tender.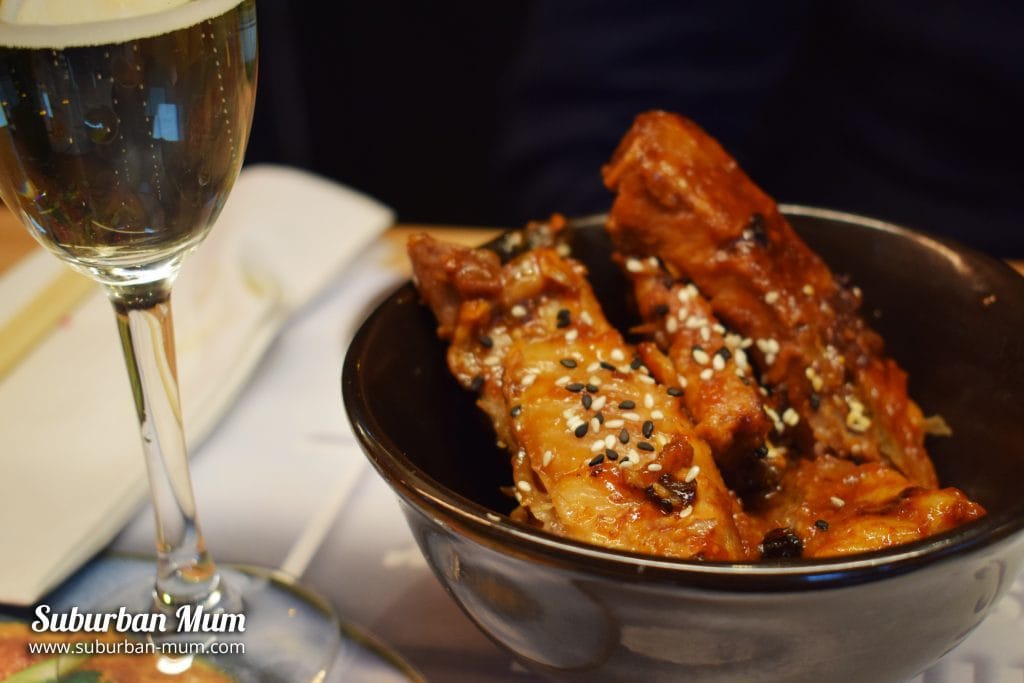 For our mains, we were both keen to try some of the new dishes on the menu. Mr H went for the Chicken Samla Curry and I had the Teriyaki Lamb.
Mr H said his curry was loaded with veg and packed with flavour so a definite thumbs up from him.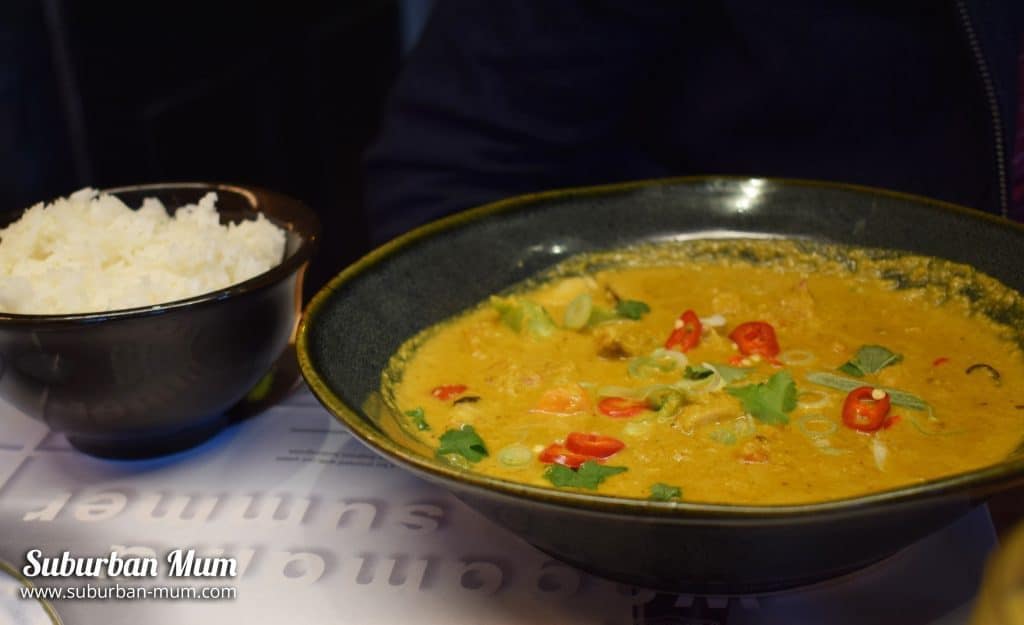 I also thoroughly enjoyed my dish. It's the first time I've had lamb at Wagamama's and it was very tasty and moreish.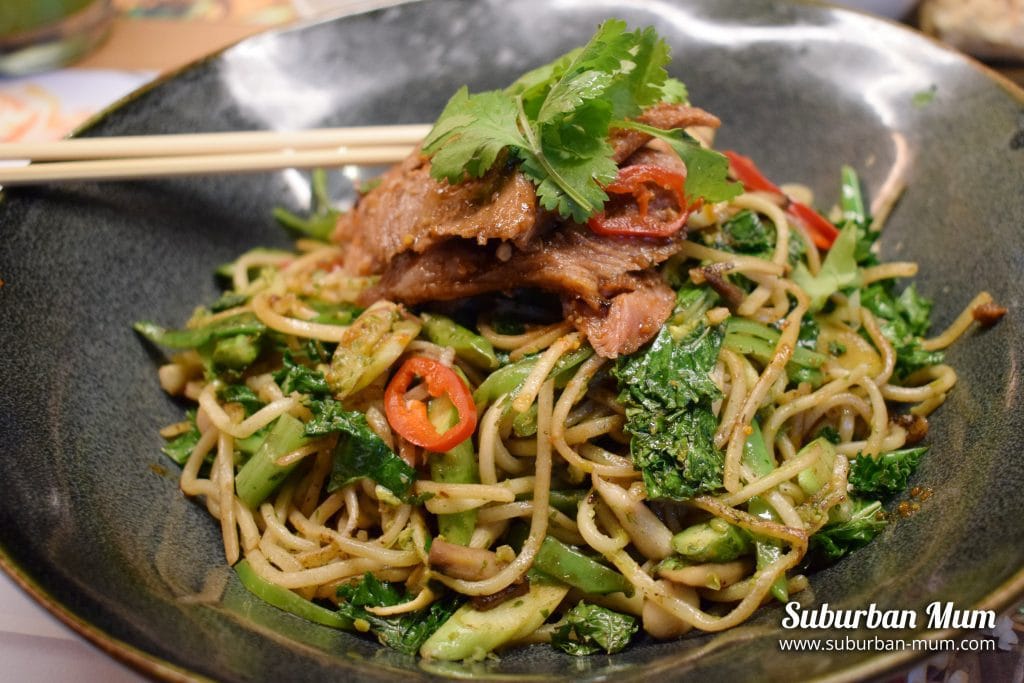 We always know a meal is a success when there's silence when we eat. We most certainly managed to achieve that at Wagamama's.
I love the fact that the kid's meals are mini portions of dishes from the main menu. It means they get the full Wagamama experience. We've been to restaurants where the kid's meals have been lacking with not much choice so it's really refreshing to see that this is not the case here and that the dishes are loaded with vegetables too.
Wagamama's is a great place for taking the family to dine. You know you'll be getting freshly prepared food that's nutritious for everyone. The atmosphere is relaxed and the staff are very friendly. If your kids aren't happy about the dish they've ordered you can simply choose another at no extra cost.
Now that is what I call great customer service!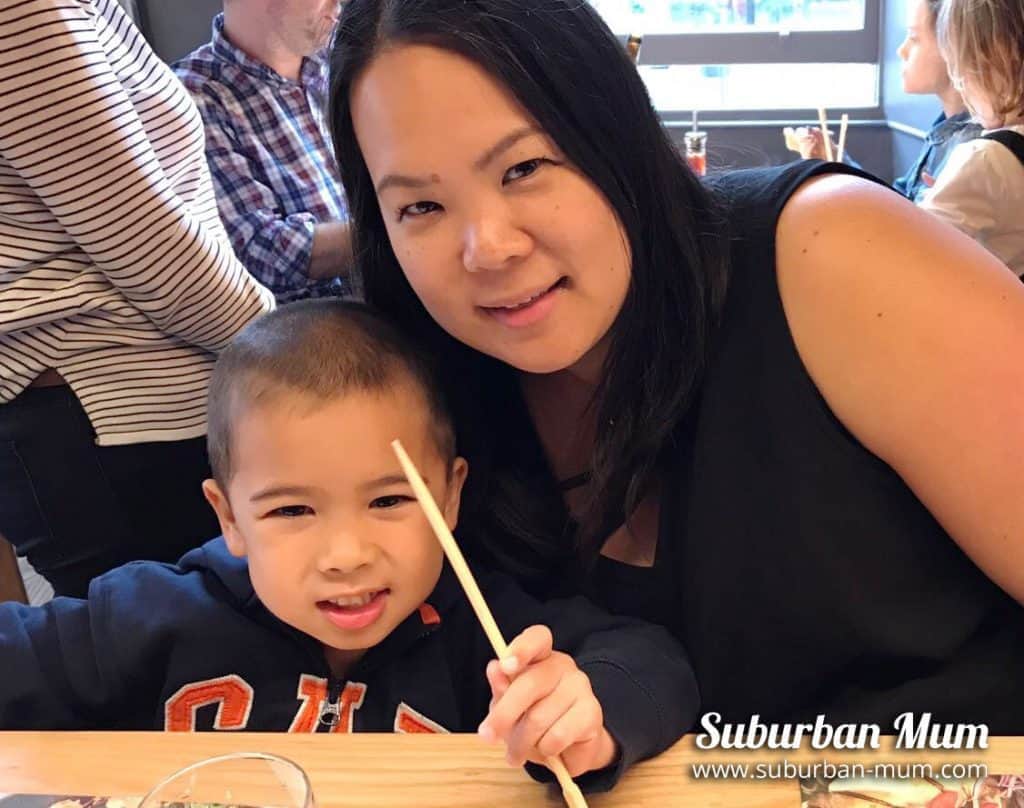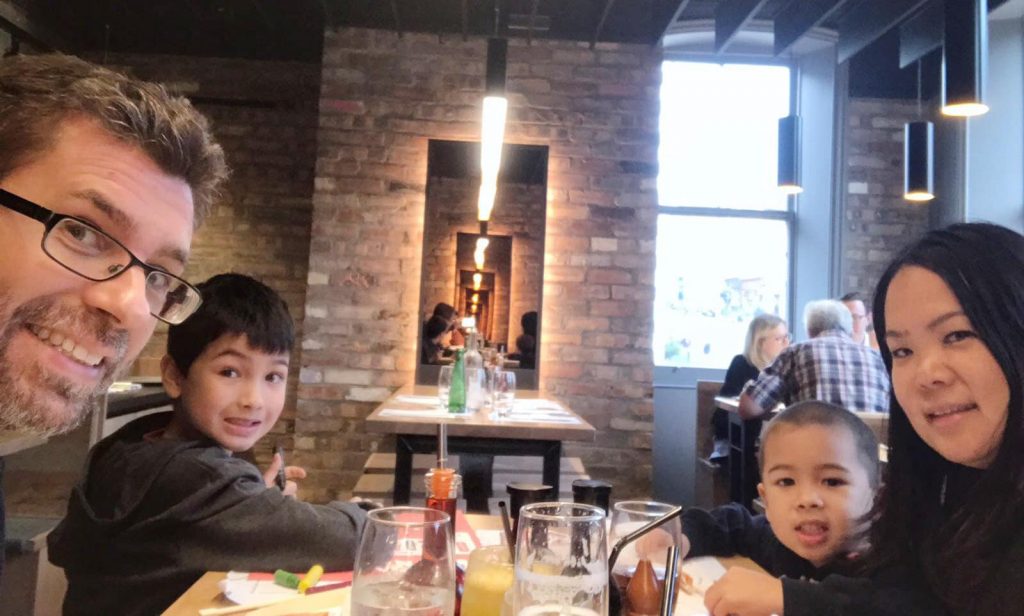 * We were invited to Wagamama Guildford and received a complimentary meal for the purpose of this review.
You might also like: