Behind the Lens is a weekly guest series where some of my fellow bloggers choose to share the story and memories behind some of their photos. This week I have the lovely Natalie from Crazy Little Thing Called Love who is sharing a selection of photos from a holiday with her kids to Devon.
---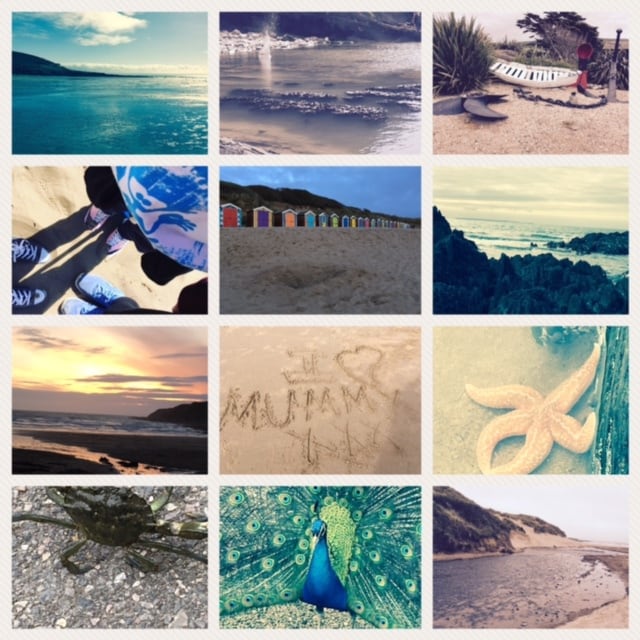 My collection of photos are from a fantastic holiday we were lucky enough to go on in April 2017.
We went to the very beautiful part of Devon – Croyde Bay. I've been to Devon lots of times but never to this area. It was absolutely stunning and as soon as we arrived the children were keen to head straight to the beach.
Fortunately, it was just a short stroll away and within minutes we arrived at one of the most beautiful beaches I've set foot on in a while.
The look of joy on the children's faces as they took off socks and shoes and just ran happily across the soft sand towards the sea was just lovely to see. It had been a reasonably long journey almost 5 hours luckily it was straight forward and problem free. We had met my parents there and together we strolled across the beach, stopping to find somewhere to sit and put our things down.
Once we had found a suitable spot, we admired the view and sat enjoying the warm air and laughter which carried on the wind. The children found a small stream of water and were happily jumping from one side to the other, paddling through the wider parts.
Soon they turned their attention to the beautiful sand dunes that surrounded us and it didn't take long for them to climb up them and run down, quickly gathering speed.
I simply had to join in and we had lots of fun going up and down, I soon discovered how hard it can be running through the sand whilst they made it look effortless.
Having my parents there was great as it gave us all opportunity to spend quality time together.
Watching the children play on the beach transported me back to my childhood, enjoying the same fun times, building sand castles and splashing in the sea.
I hope that one day my children will look back with fondness on these times we have shared and that they will be memories that last them a lifetime.❤
You can find Natalie online:
Blog | Twitter | Facebook | Instagram
---
Do you want to take part in the Behind the Lens series?
If you would like to take part in this guest series and would like some further information please drop me an email.
Posts will be scheduled on a first come first served basis and will run every Wednesday. All posts will be shared and promoted across my social media accounts (tagging you where possible).