The Behind the Lens is a weekly guest series that allows bloggers to share a story behind their photos. This week I have Hayley from Devon Mama. Hayley is mama to a gorgeous little boy and can be usually found either attempting to cook, Googling everything or embracing the strange new world of parenting.
Today she shares the story behind this beautiful capture of her son and her Grandpa.
---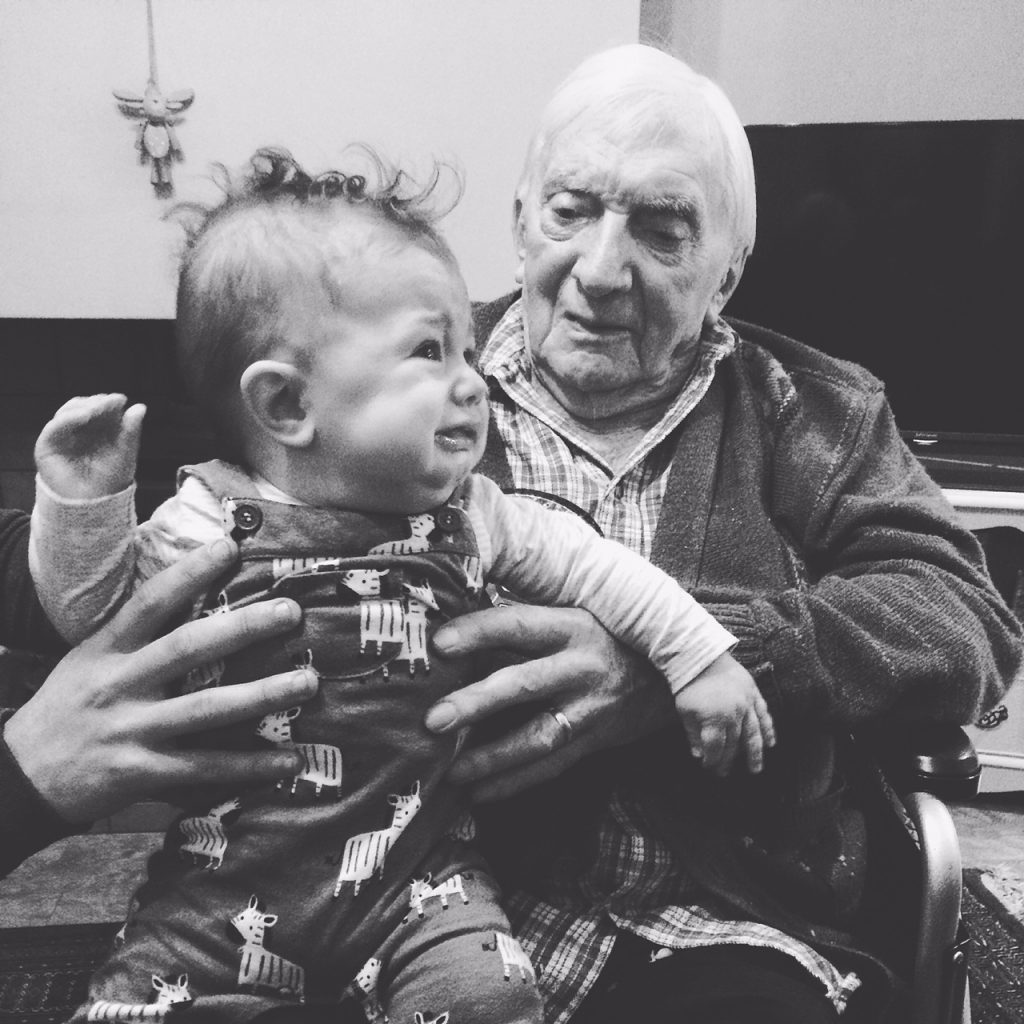 I love this photo. It's a little blurred, neither of them are looking at the camera and the face my son's pulling is horrific, but I love it. It's a culmination of two of my favourite men in my life, two of the men who have helped make me who I am today and two of the men who I didn't think would ever meet; my grandpa and my son.
I've always had a close affinity with my grandpa. From as young as I can remember, I would spend weekends over with my grandparents. I am the oldest of three children and my parents run their own business; weekends were never really weekends, they were a day of working, catching up with jobs at home or continuing to build our house. To give my mum some free time to cope with my brother and sister, I would spend my Saturdays at my grandparent's house; a place that holds a huge amount of memories for me. I would paint my grandma's nails (badly), help my grandpa with the gardening and we'd trundle off into town, shopping trolley in hand, to buy the groceries for the week. They were my closest relations aside from my parents and when my grandma died in 1997, I cried for weeks.
Over the years my grandpa re-married and I, obviously, grew up. The time we spent together was less and less but I continued to enjoy his company. He's funny, always on hand with a quick wit, a flirt with the ladies and permanently singing. To me, he was and still is, a font of all knowledge. He never seemed to grow older, he never changed and he was always a comfort. In the last few years, however, he's taken a turn for the worse. His second wife died leaving him alone in the house and without the interaction that had helped keep him young. Three years ago he got into a car accident and drove his car into a wall, he was airlifted to hospital and we were told to expect the worse, but back he came… not that it was ever in doubt; he's a tough old thing. Since then he's dealt with the frustration of barely being able to move, battled various infections and given us more than enough scares but he never gives up, he never loses his humour, he never stops flirting and most of all, he never forgets me.
When my son was born, I wanted to do something that honoured that person in my life. Family names aren't big on my husband's side so we agreed to continue the family name that's traditional from my side. It's come all the way down from my great-grandfather, my grandpa, my dad, my cousin, my brother and now my son. To me, that was a way of linking my favourite people together. When we told him about the link, he was overjoyed (as was my father!), another link from the past to the future. Another way of remembering the important people that helped bring my son into existence.
This photo was taken on my grandpa's 90th birthday. We didn't think he'd make it to that age. I didn't think he'd get to hold my baby like this, regardless of him crying the minute we put him down. I'm not sure how much longer they'll get to spend together but I'm so grateful to have these memories. I hope my son gets to have the same relationship with his grandpa!
You can find Hayley online:
Blog | Twitter | Facebook | Instagram
---
Do you want to take part in the Behind the Lens series?
If you would like to take part in this guest series and would like some further information please drop me an email.
Posts will be scheduled on a first come first served basis and will run every Wednesday. All posts will be shared and promoted across my social media accounts (tagging you where possible).