This week we are going Behind the Lens with Cécile from The Frenchie Mummy. Cécile is a first-time mum to Baba. I love Cécile's humour and I was delighted when she agreed to take part in this series. She shares a sweet snap of her and Baba when he was just three weeks old.
Enjoy!
---
I could have shared many pics as we took so many of them over the last months with Baba. But I am just going to bore you to tears talking about one shot.
Seulement un, but a very important one to me.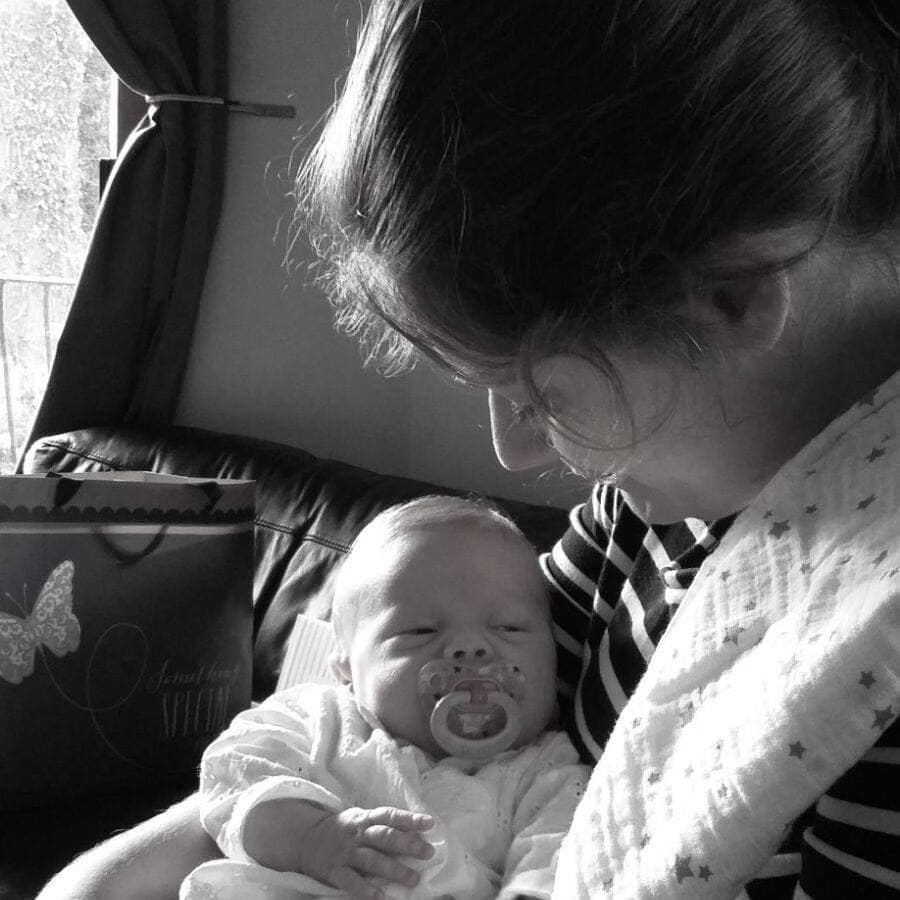 This photo was taken last year on Valentine's Day.
I remember it very clearly because it was not a romantic day whatsoever.
I was still recovering from Baba's birth. Both Grumpy Boyfriend and I were knackered because of the lack of sleep.
The landlord had to come in with an electrician to fix something (and it took them forever!)
Usually, we go away around this period as it's also our anniversary the same week. But not that time. I had booked some tickets to go to the Baby Show.
Baba was just born when I ordered them. I was very much in a 'mummy mode' and I thought it would have been a fab day out as a family.
But we didn't make it. Grumpy Boyfriend had too much work to catch up on.
My friend came around and we just stuffed our face with cakes and coffee while the landlord was telling us stories about his youth.
Probably the worst Valentine's Day I had with Grumpy Boyfriend. I even vaguely remember going to the local shop some days before and grabbing the first Valentine's card I could see. At the time, I was totally in the zone.
Le bébé was the only thing that mattered! I didn't fancy doing much but staying at home and gazing at Baba. I was still too much in pain. And quite frankly a bit astonished that this little thing in my arms was mine!
This picture is one of my favourites because it's me at my early stage as a maman. You can see how cautious I am holding Baba. Looking at him with admiration and very proud to show him up to my friend, I was clearly in my bubble!
I didn't even think about it. My friend took her camera out and snapped. Done, caught in the act of musing.
And Baba… Well, look at him! He is well chilled out! He is barely three weeks old on this snap but he is clearly loving the attention already! Half asleep, in mummy's arms, he is just enjoying it. Two Frenchie ladies (my friend is also française) contemplating him: le rêve!
He knows it and is playing cool… 'Check me out with my fab dummy in the face!'
Bien sûr, I have many other fancy photos about our fabulous days out and holidays abroad and I could have shared those with you. But who wants to see those! A Frenchie baby just being cute is always the best. Non?
You can find Cécile online:
Blog | Twitter | Facebook | Instagram
---
Do you want to take part in the Behind the Lens series?
If you would like to take part in this guest series and would like some further information please drop me an email.
Posts will be scheduled on a first come first served basis and will run every Wednesday. All posts will be shared and promoted across my social media accounts (tagging you where possible).