With Christmas just around the corner no doubt we are all frantically preparing for the big day. With gifts to buy and wrap, food to order and most importantly ensuring the right presents are under the tree!
It's a magical time if you have kids and each year as my boys grow older the excitement levels seem to rise. One item that is guaranteed to be under the tree is a game of some sort. In previous years we've had Doggy Doo, Gooey Louie and Frustration. This year is the first year M has gotten into games and he's asked for Pig Goes Pop from Father Christmas. I really like the fact that games are a big part of our Christmas without the need to be reliant on technology all the time.
Crayola may be well-known for their crayons and art supplies but they have recently ventured games too and have launched their Crayola Games Collection. We were sent Scribble Scramble to try out.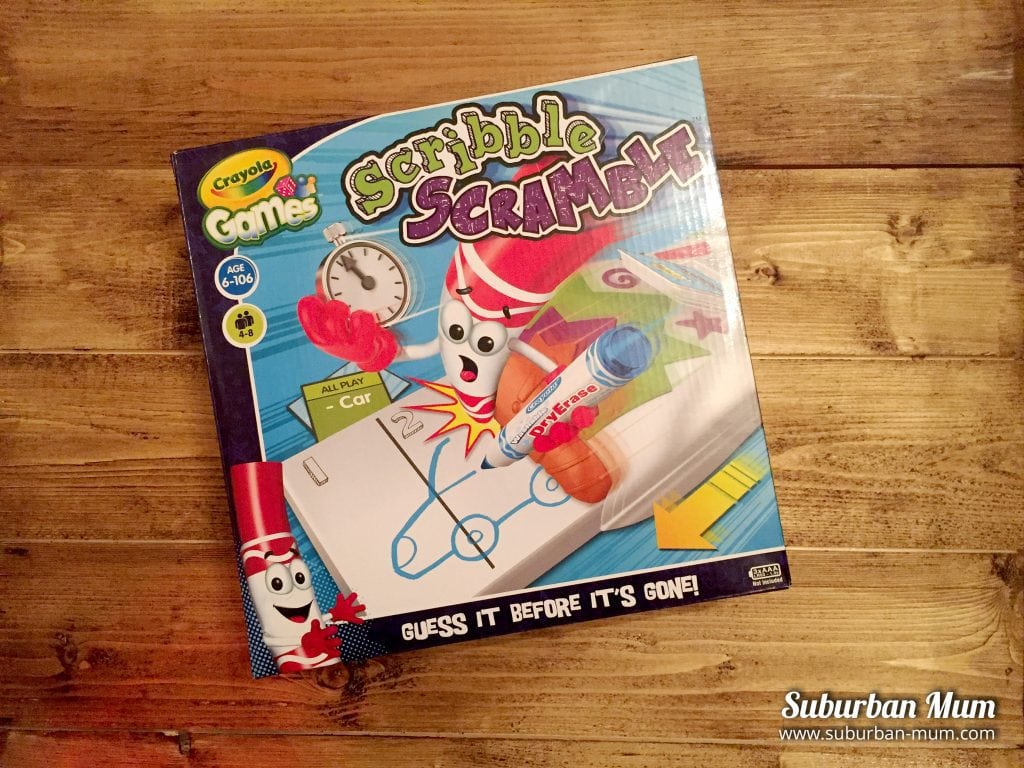 The aim of the Scribble Scramble game is to team up (minimum of 2 per team) and try to guess each others doodles based on what is on your Challenge card. You must draw on the Scribble Scramble board before the board disappears. The quicker you guess – the more points for your team. You can choose either a short, medium or long game whereby a short game is the first team to 5 points, medium is 10 points and long is 15 points.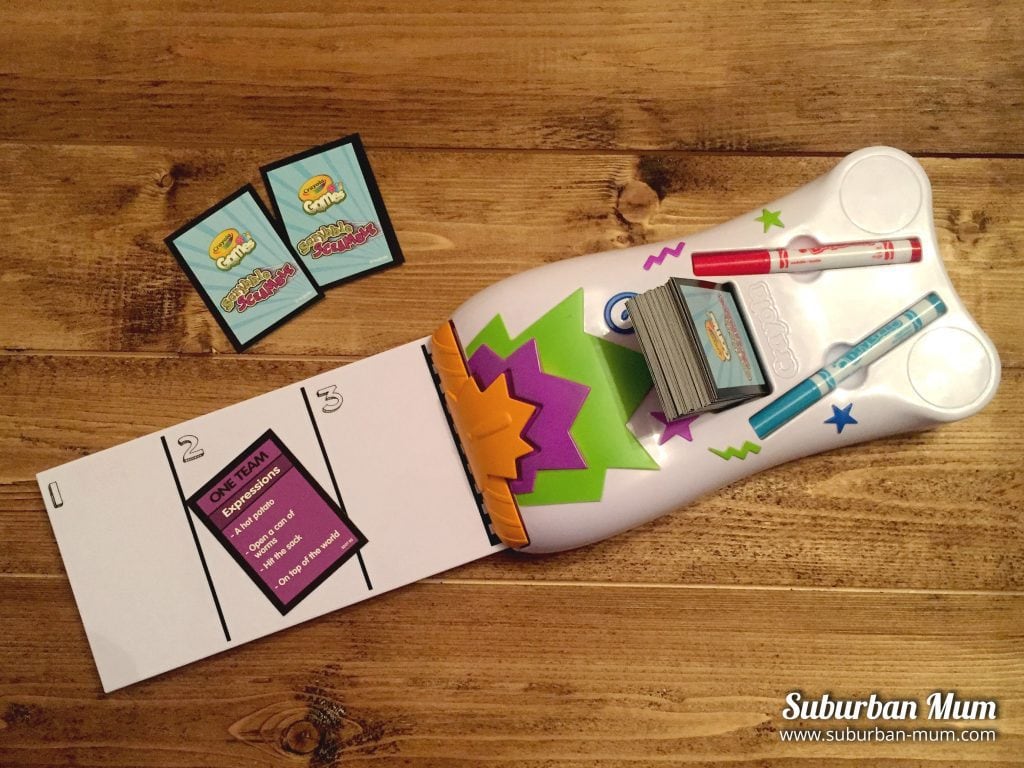 What's in the box
Scribble Scramble unit (requires 3 AAA batteries which are not supplied)
65 Challenge cards
2 Markers
We were quite excited at the idea of this game and I figured E would love it because a) it was a game and b) it involved drawing. (which he loves)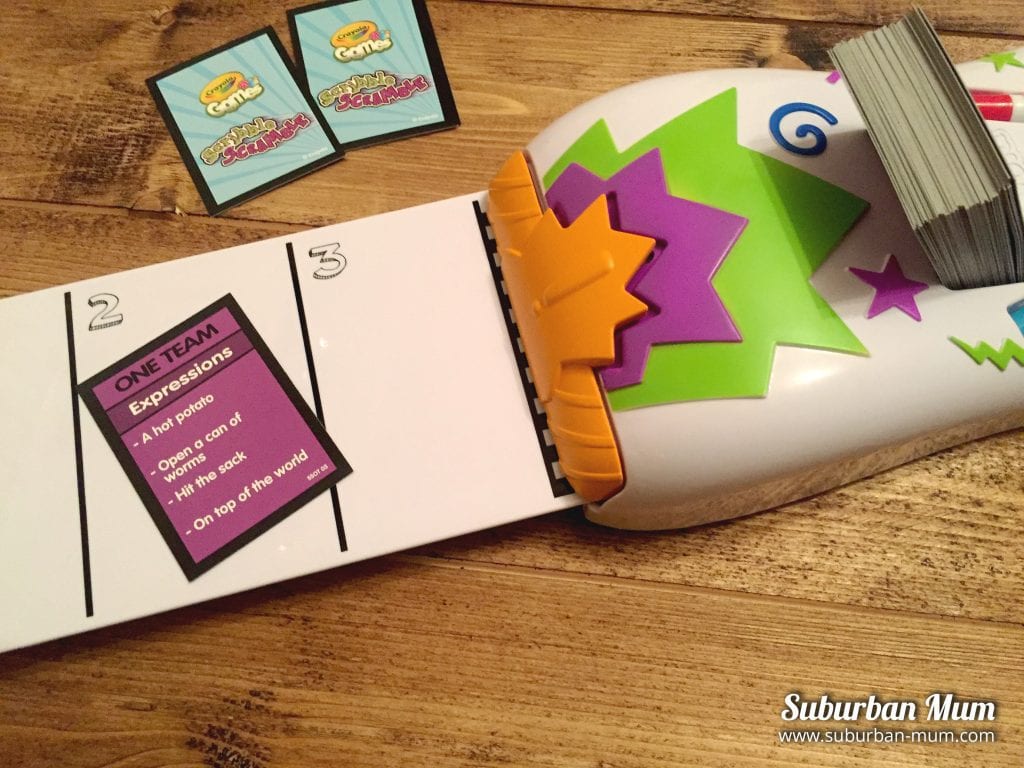 I hadn't realised that you needed a minimum of four players to be able to play beforehand though so we just tested out the game between the two of us with M shouting (unhelpfully) in the background. I also found it very hard not to speak or gesture either!
Check out our video on how the game (kind of) works below:
Our thoughts
I think this would make a great family game and we definitely need to get Daddy involved. Scribble Scramble is suitable for children aged 6+ so whilst M is too young to draw he could certainly join in on guessing. One thing I have to mention is that some of the cards have quite a difficult description for a 6-year-old to attempt to draw. For example, you'll see in the video that E's phrased was "a good egg" which he didn't really know how to convey. I'm sure with a bit of practice playing it more he will start learning to think laterally about how and what to draw.
The Crayola Games: Scribble Scramble retails at £19.99 but it's currently on offer (at the time of writing) over at Amazon* for the bargain price of £13.59 and would make a great addition to any family games you have over Christmas!
Do you love playing games over Christmas – what is your favourite?
Pin it for later: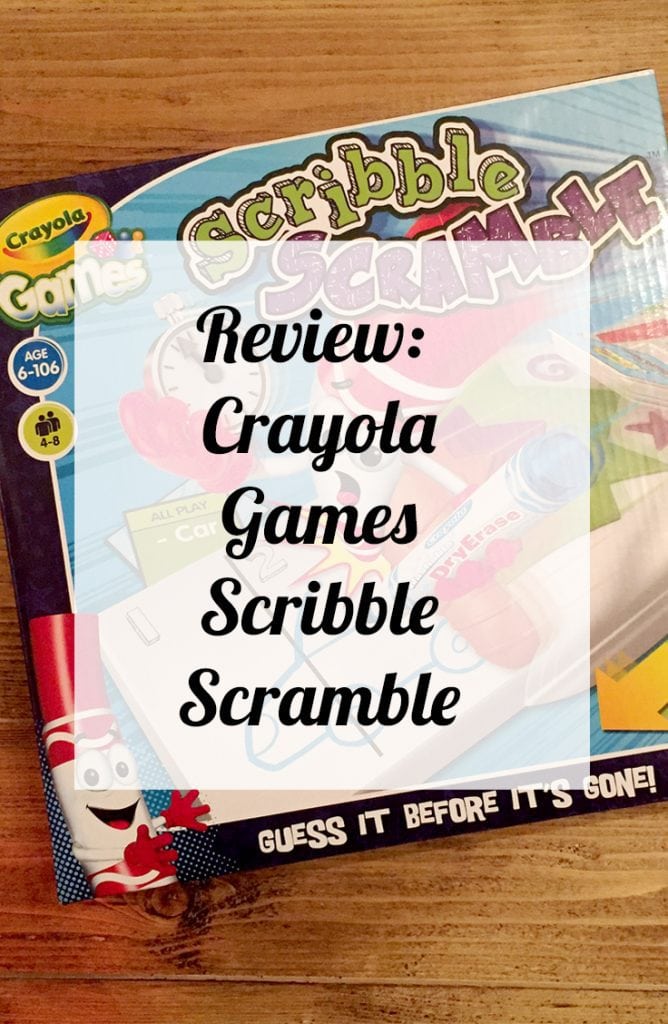 * We were sent Crayola Games Scribble Scramble to review but all thoughts and opinions are my own. The link to Amazon is an affiliate link whereby I earn a few pennies should you purchase through it. All prices are correct at the time of publishing.