I'm lucky that my boys generally eat quite well. Ever since they were babies, I gave them a mixture of puree and finger food and tried to introduce a variety of flavours and textures to their meals. Since then, they've been pretty open to trying new foods at least once to see if they like it. E is by far my child who has a more adventurous palate. He loves seafood and food that has a bit of spice. M, on the other hand, tends to play it safe. He's not a big fan of sauce (unless its gravy) and will always choose to have a more straightforward dish compare to E.
We were recently lucky enough to be sent a copy of fellow blogger Emily Leary's new book – Get Your Kids To Eat Anything which has been billed as an achievable 'how-to' for parents in the battle to overcome picky eating and 'make new the norm'.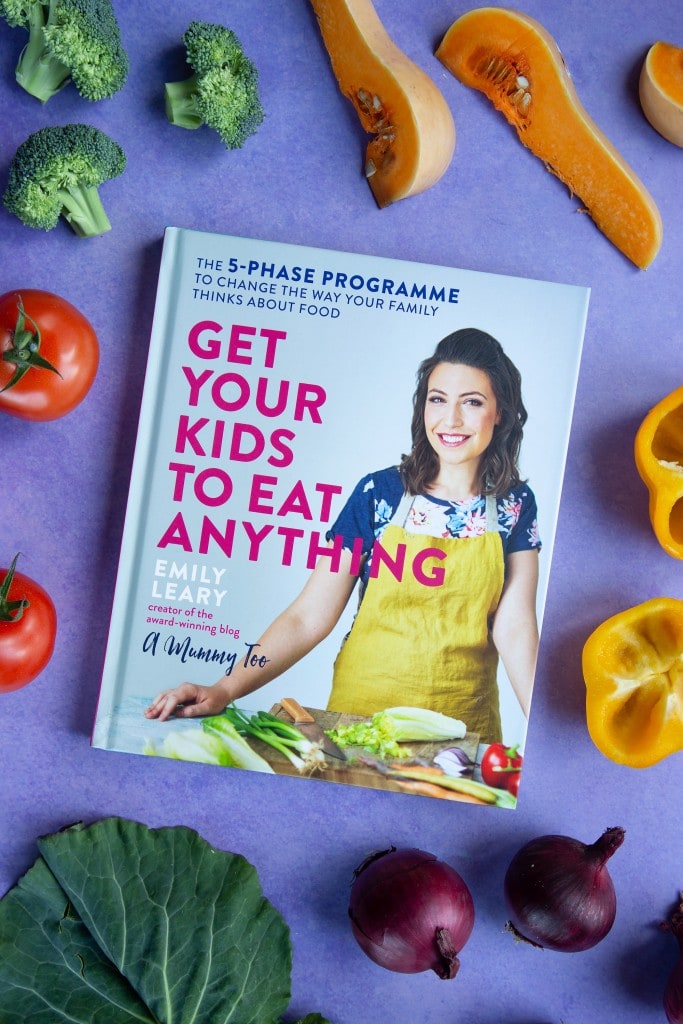 Get Your Kids To Eat Anything
I'm always on the lookout for new meal inspiration to feed the boys as I always end up rotating the same dishes, so I was looking forward to trying out some of Emily's recipes.
If you've not heard of Emily Leary before, she's a multi-award winning writer, presenter, blogger and vlogger. Her blog, A Mummy Too is an excellent resource for recipes ideas for busy parents.
Her new book isn't just a recipe book; it's a 5-phase programme that delves into the issue of fussy eating and helps you look at food in a new way to bring a healthier variety into your meals.
The 5 phases consist of:
Phase 1: Unfamiliar into the familiar. Introducing unfamiliar colour, flavour or texture into familiar favourites.
Phase 2: Educate. Experimenting with food, and understanding where it comes from and why it's important.
Phase 3: Fun. Putting the fun back into food and building enthusiasm for food variety.
Phase 4: Into the unknown. Discovering new ingredients and flavour combinations.
Phase 5: Cementing variety. Learning techniques to keep your family meals varied long-term.
Throughout the book, there are areas where you can write down your journey as you follow the 5-phase program. Jotting down what worked and didn't work so you can go back and adapt the recipes next time around.
The book contains 70 recipes which you can try by working through the 5-phrase programme and if you're worried that these recipes will take up too much time – they don't. Many of the recipes are ready in less than 30 minutes, and they aren't just for kids either – they can be for the whole family to enjoy.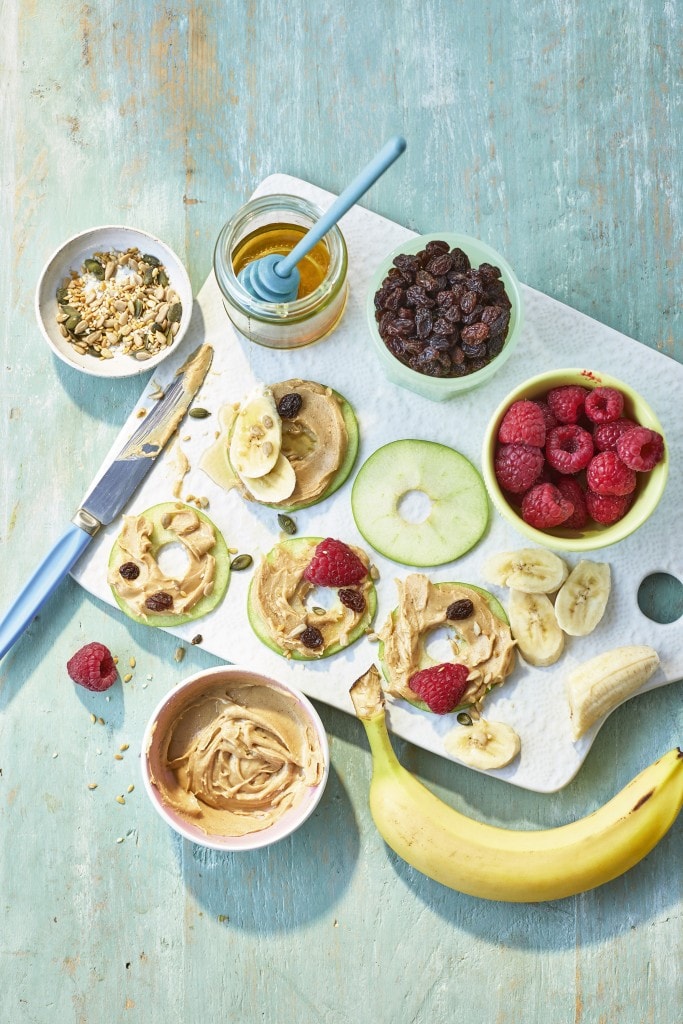 Get Your Kids To Eat Anything is packed with tasty dishes accompanied by beautiful photos that make you want to give them all a try. The idea is to work through the 5-phases gradually to make new the norm where your kids will have become used to gradually trying out new foods, flavours and textures.
One of our favourite dishes is Curried Fish Fingers with sweet potato chips which I thought was a great way to introduce some mild spices to a dish that is usually quite plain.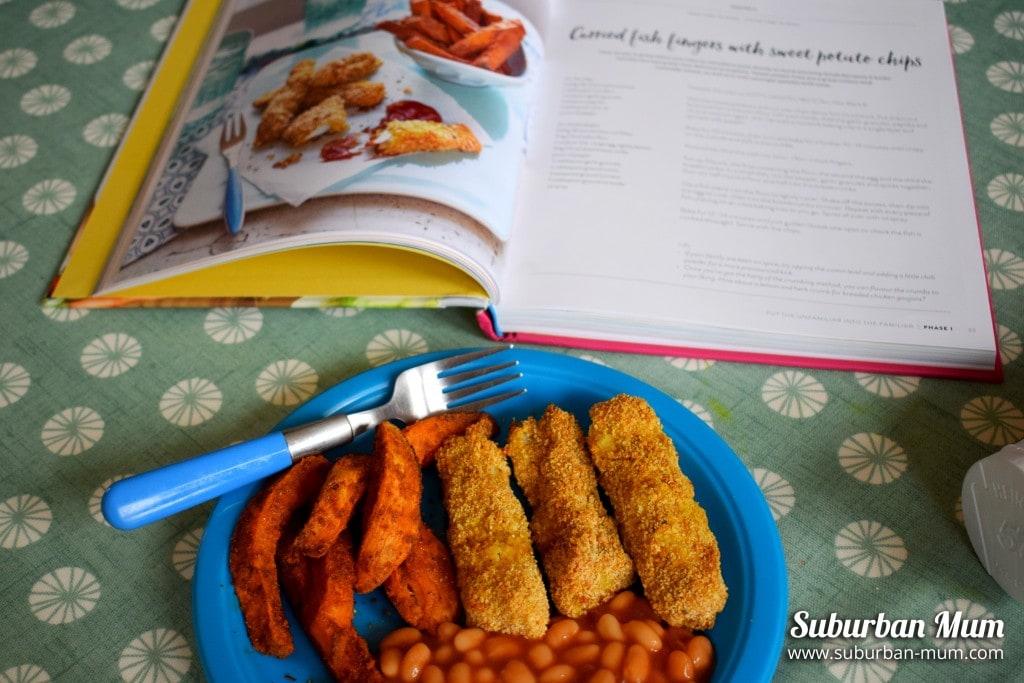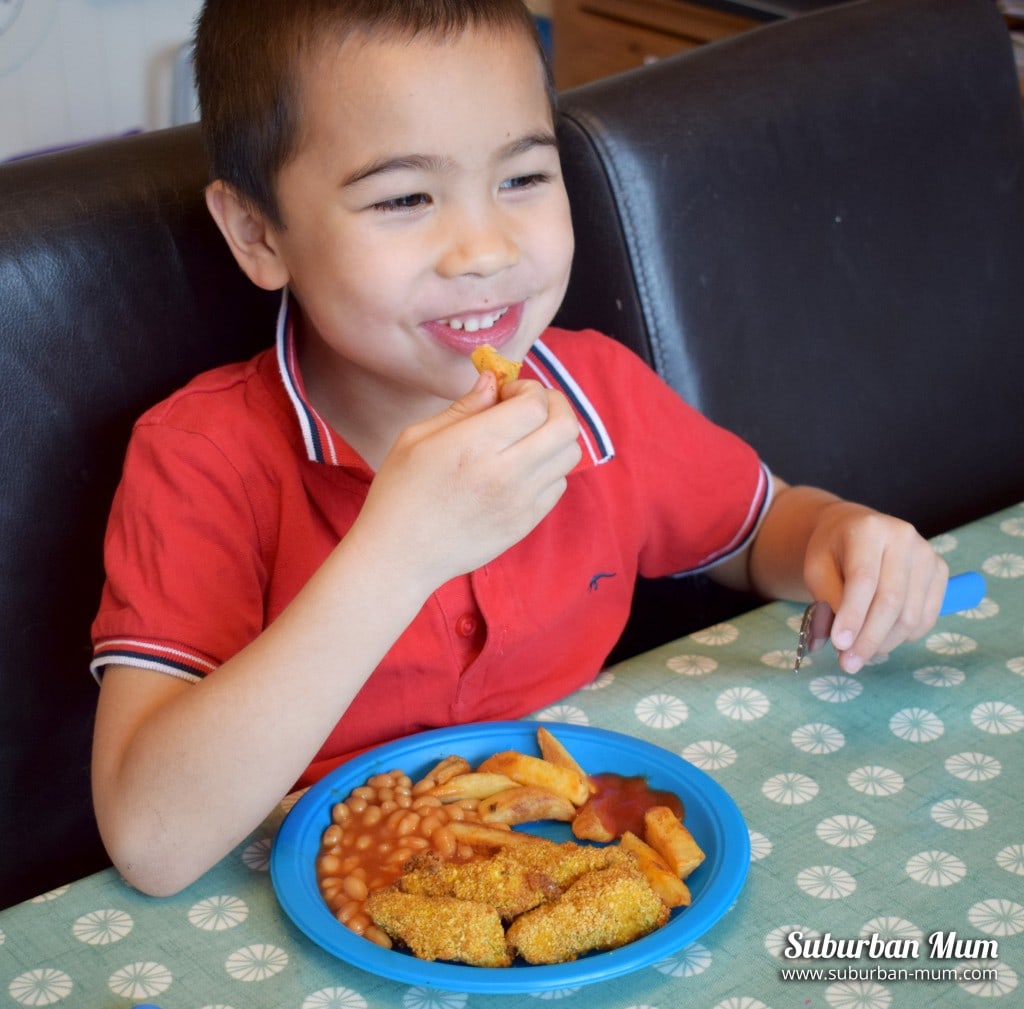 The boys have loved helping me out in the kitchen recently so I will be asking them to choose a dish to cook from Emily's book next.
If you would like to broaden your children's food palate or are looking for some new meal inspirations why not give Get Your Kids To Eat Anything a try?
The book is out now and is available to buy from Amazon.
Win a copy of Get Your Kids To Eat Anything
I have bought an extra copy of the book to give one my readers the chance to win their very own copy of Emily Leary's book – Get Your Kids To Eat Anything. To enter, simply use the Gleam widget below.
Terms & Conditions
The closing date is 23.59pm 19 May 2019
The prize is one copy of Emily Leary's Get Your Kids To Eat Anything recipe book
There is no cash alternative
This competition is open to residents of the UK only
Entrants must log in via Gleam widget
All entries will be verified
The winner will be chosen at random using the widget
Good luck!
Win a copy of Get Your Kids To Eat Anything

*I was sent a copy of Get Your Kids To Eat Anything for the purpose of this review. All thoughts and opinions are my own.