There is a lot of fun to be had when decorating your child's bedroom. The endless possibilities that come with choosing colours, patterns and decor makes it an entirely new experience. However, as your kids grow, their tastes and needs will change and you don't want to have to redesign all over again too soon.
As well as stylish, your kid's bedroom should also be functional. Here are a few tips on how you can design a stylish and functional bedroom for your kids that will grow with them.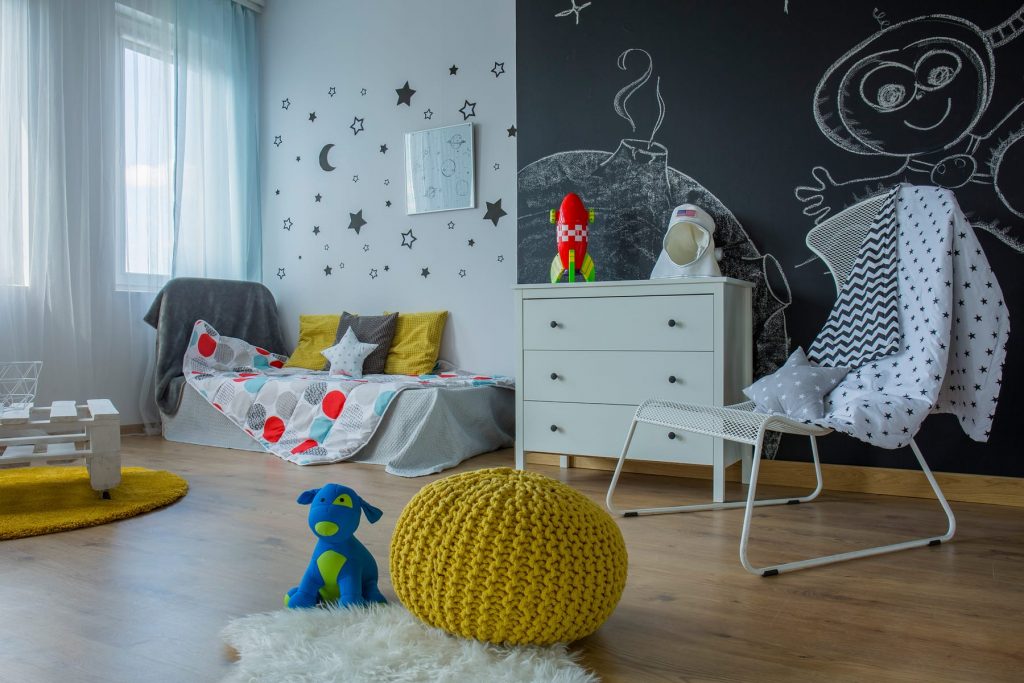 1. Choose a style
The first thing to do when designing your kid's bedroom is to decide what style to go with.
There are so many to choose from when it comes to bedroom designs. Your kiddo might love a superhero-themed room or a space designed after their favourite movie or TV show. Others might prefer a neutral palette that can easily shift and change with their interests as they get older.
Sit down and ask them what kind of things they love. Whether it's a certain colour or theme – a style will help guide you on what colours, furniture and accessories to buy.
2. Choose colours
Colours are the backbone of your kid's room design, regardless of how bright or neutral!
Painting is an obvious design choice. However, if you hate the thought of having to paint every wall in your kid's bedroom, there are plenty of alternatives. You could go with an accent wall where you can use one bold colour to give the bedroom a focal point, or something more decorative but temporary, like wallpaper or decals.
If you want to leave the walls untouched, colourful accessories will be your best friend. Think of decor items like rugs, curtains and artwork. You can also play with colours and patterns with pillows, or splash out on a fun bedding set.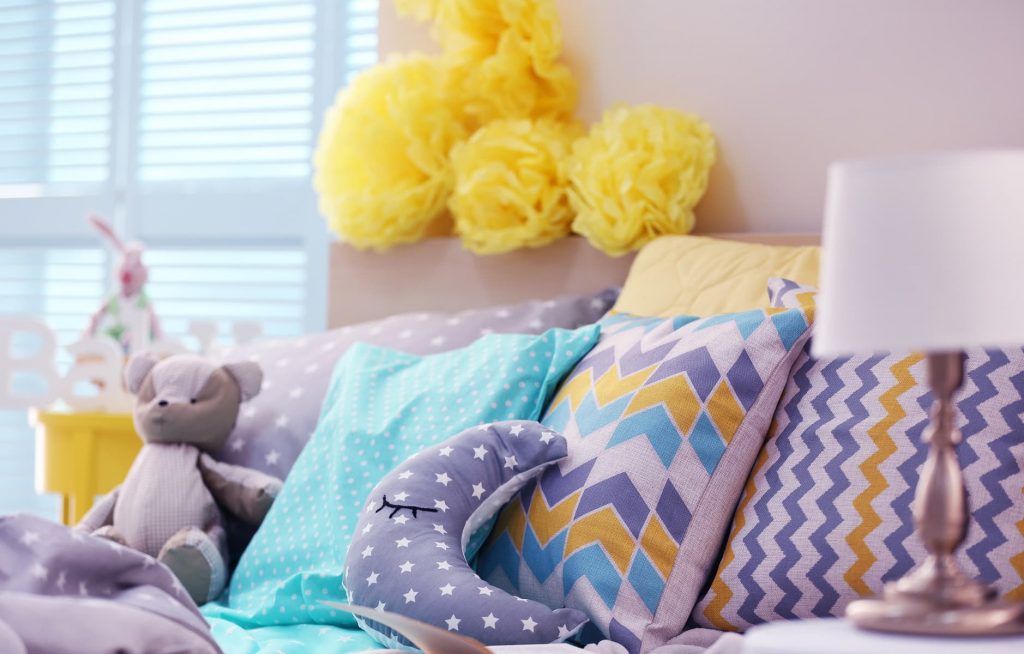 3. Choose storage options
Storage is a lifesaver for every room in the house, but even more so for your kid's bedroom. It's key to helping you create a practical space.
Kids love their toys and making messes, especially when they play. An easy way to organise their toys, keep their room tidy, and teach them how to be neat, is by having a variety of storage options in their bedroom.
You can easily add storage with simple items like a basket in the corner of their room, or storage tubs to hold all their precious toys. You might also want to opt for hidden storage, such as hanging closet organisers. If you really want to take your storage game to the next level, try and incorporate furniture with built-in storage options, like a bed with an underneath storage drawer!
4. Create a study area
Creating a dedicated study area in their bedroom can help your child work, as there are less distractions than a communal area like the lounge room or kitchen. It gives them the option to study in the peace and comfort of their own space.
A good study area will have a comfortable chair and a study desk that provides them with enough space for their books and stationery, but does not take up too much space in the room. While a separate chair and study desk in one corner of the room will do the job, another option to consider is a loft bed. This is a raised bed that provides enough space underneath it to be used for storage or study. With a loft bed, you can place a study desk and chair underneath it, which is handy if your kid's bedroom is small, or if you want to save space.
A study area should also be clutter-free and have a good amount of lighting so your kids can focus, as well as prevent eye strain.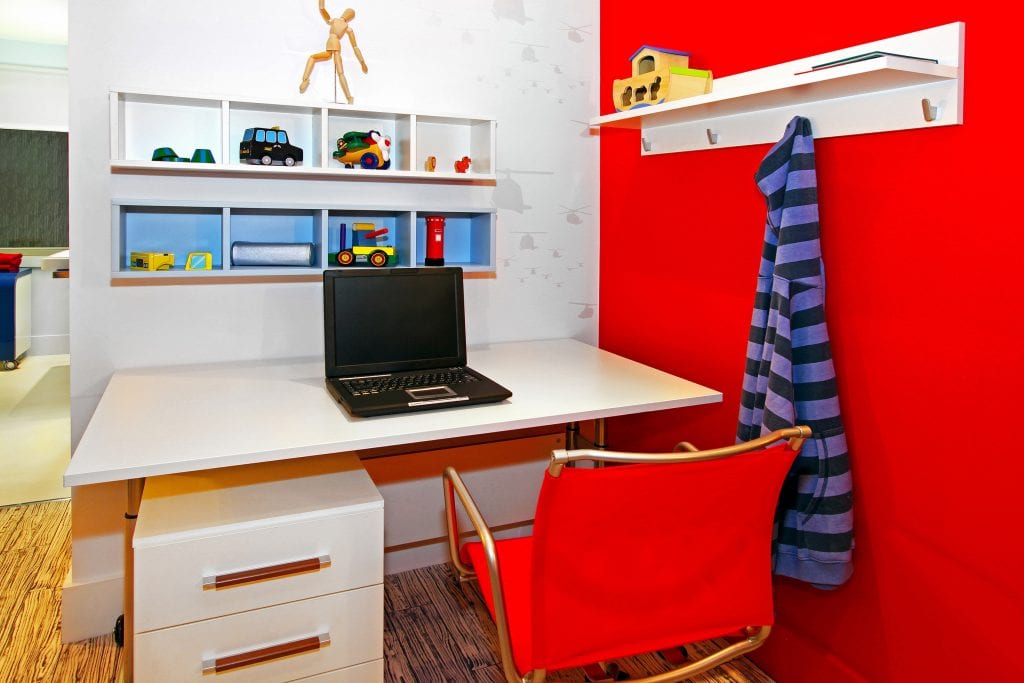 5. Create a play area
As well as study, kids need an area for play, too!
To set up a fun play area for your kids that will provide them with hours of entertainment, include the toys they love, as well as arts/crafts supplies so they can create to their heart's content. As they get older, the play area can be updated to a reading nook, creativity corner, or games area.
Plus, by creating these dedicated areas, it's a great way to make sure their space is functional for all their needs.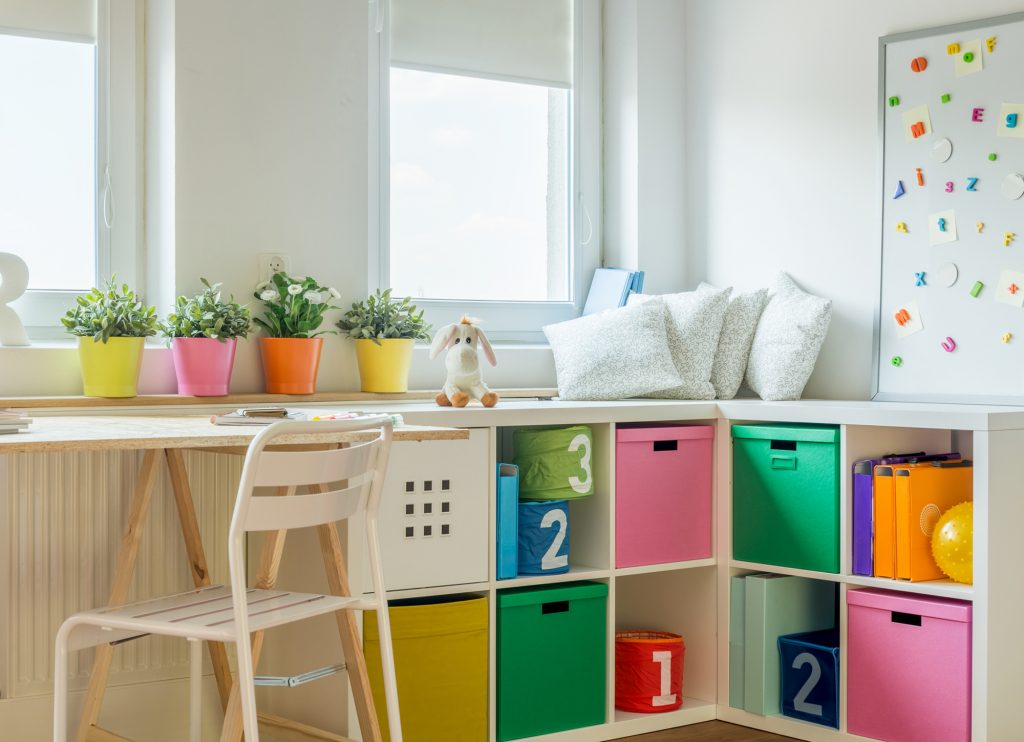 6. Give your kids the option of adding their own personal touch
While you'll be doing the heavy lifting in terms of design decisions and redecorating the bedroom itself, it's about what your kiddos love! One way to help them love their "new room" is to give them the option of adding their own personal touch. You can do this by letting them pick the colour of an accent wall, a quilt set or curtains, or choose an accessory to add, like a clock on the wall or a beanbag to sit on.
Decorating your kid's bedroom is a fun time for everyone! Plus, they'll come out of the process with a space that is entirely their own. With these tips, you can design a stylish and functional bedroom for your kids that they will love for years to come.