Last year, my eldest son had two spells in hospital due to constipation and tummy pains. It was horrendous and something we wish never to have to repeat. He'd been suffering from wind in his tummy, so to keep on top of it, we have to keep a close eye on his diet to make sure that it's well-balanced.
One of the two main changes we've made is to ensure that firstly, he is getting his daily fibre allowance and secondly, that he is drinking enough water. Both have to work hand-in-hand because increasing fibre intake alone can dehydrate you, causing constipation and gas.
We don't have enough fibre in our diets
According to the NHS website, both adults and children alike are not getting enough fibre in their diet. Adults have on average have 18g a day when they need closer to 30g. For children, they are getting 15g or less a day, yet their intake should be as follows.
Recommended fibre intake for children:
15g a day for 2-5 year-olds
20g a day for 5-11 year-olds
25g a day for 11-16 year-olds
I've put together just some of the ways we've introduced more fibre into our diets which I thought might be useful.
How to get your children to eat more fibre
Switch to Wholegrain
Switching to wholegrain for things like cereal, bread, rice and pasta is a really good starting point if you are wanting to slowly introduce more fibre into your child's diet. My boys didn't really notice much difference when we switched and happily ate brown rice and pasta with no complaints. Brown rice does have a slightly nuttier flavour though which may not be to everyone's taste. You could look to slowly introduce wholegrain rice (for example) by gradually adding this to white rice and increasing it slowly.
Baked Beans
This is a great source of fibre. Half a tin of beans has around 7.7g of fibre in it which my boys will share. This means they each get almost 4g from a portion of beans which will go towards their daily allowance. For meal ideas, include these with fish fingers and chips (sweet potato fries have a higher fibre content) for a tasty dinner, use as a filling with a jacket/sweet potato and get them to eat the potato skin if you can. You also can't beat beans on toast! (with wholegrain/brown bread of course!)
Raw veg
Although it's a great way to hide veggies in your meals, you tend to lose a lot of nutrients when you cook them. Not only that, they are also harder to digest too. Raw veg can also help balance the acidity in your stomach and preserve its fibre content (you lose some by cooking them). Cut up raw carrot, cucumber and pepper into sticks for snacking on. You could also add a hoummous dip (see below). Chopped salad is a big hit with my boys they have this alongside their dinner.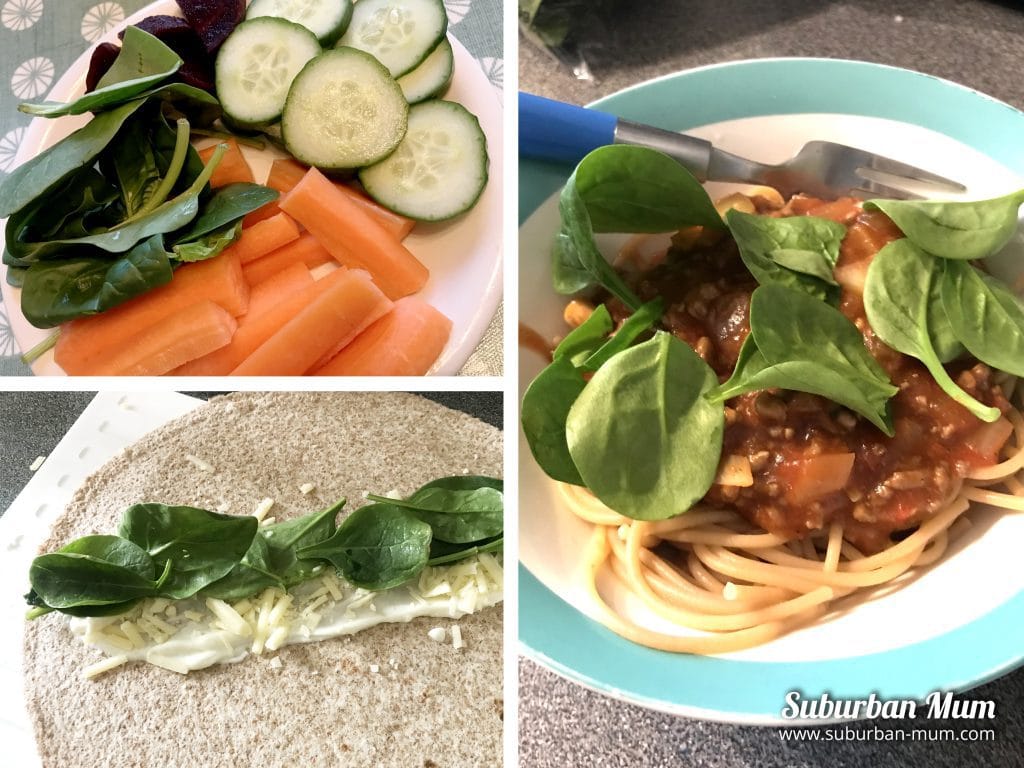 Fruit – with the skin on!
As above, we lose nutrients and fibre content by peeling fruit! As an example, 100 grams of Apple contains around 2.4g of fibre but when peeled this reduces it down to almost half at 1.3 grams – that's a big difference! If your children are used to having their fruit peeled, try cutting into segments and only peel half of the skin off of each segment so they will gradually get used to eating it with the skin on.
Hoummous
Combine this with wholemeal pitta (3.7 grams), cucumber and carrot sticks for a healthy lunch. On average, a 1/4 tub of hoummous contains just under 4 grams of fibre so this type of meal will already cover half of your child's daily allowance.
Wholemeal Wraps
One wholemeal wrap has just under 5 grams of fibre, my boys love chicken in theirs along with some mayo, cheese and spinach.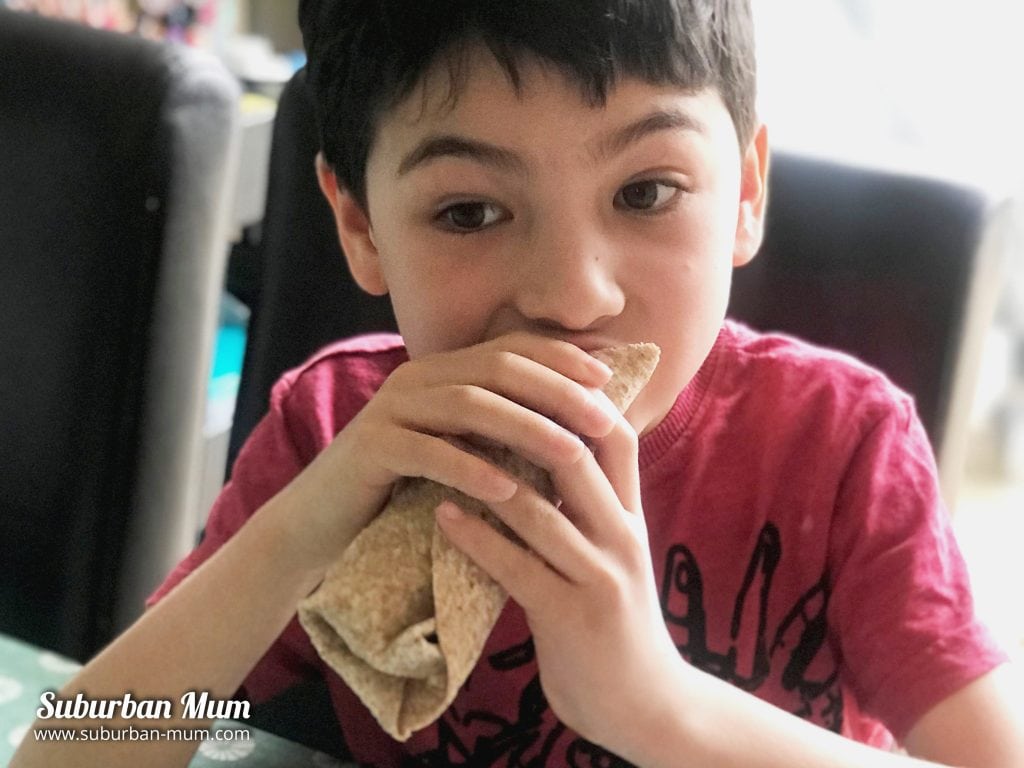 Spinach
We add this to everything we can for an extra fibre boost. We pop them into wraps, mix into curries, bolognese or eat alongside a chopped salad.
Dried fruit and nuts
Whilst they don't contain masses amount of fibre you can combine the two together and it will add on just over 2 grams to your fibre intake.
Popcorn
Everyone loves popcorn, right? This is probably the snack our boys have the most and a quarter pack of popcorn has 1.6 grams of fibre.
When we first started looking into high-fibre foods I have to admit we found it a little daunting but there are easy ways you can incorporate high-fibre foods into your daily routine without feeling like you have to make a drastic change. I hope this post has given you some ideas – if you have any other suggestions I'd love to hear them, just pop them in the comments below.
Pin it for later: