The boys have always enjoyed listening to music. Mr H bought me an Amazon Echo for Christmas one year, and so we can play any music we choose. Whenever we're on a journey in the car, we'll stream songs from my phone directly through to the car – thanks to modern-day technology. Recently, E has really gotten into listening to music. His tastes differ a little to M, so he has been creating and listening to music by himself on an old phone of mine. It's great, but it does mean that the sound quality coming out of a phone speaker isn't so good.
When we were offered the opportunity to review Jooki, smart music player for kids, I was keen to test it out to see if it would be something both boys (age 6 and 9) would enjoy using.
Jooki – the smart music player for kids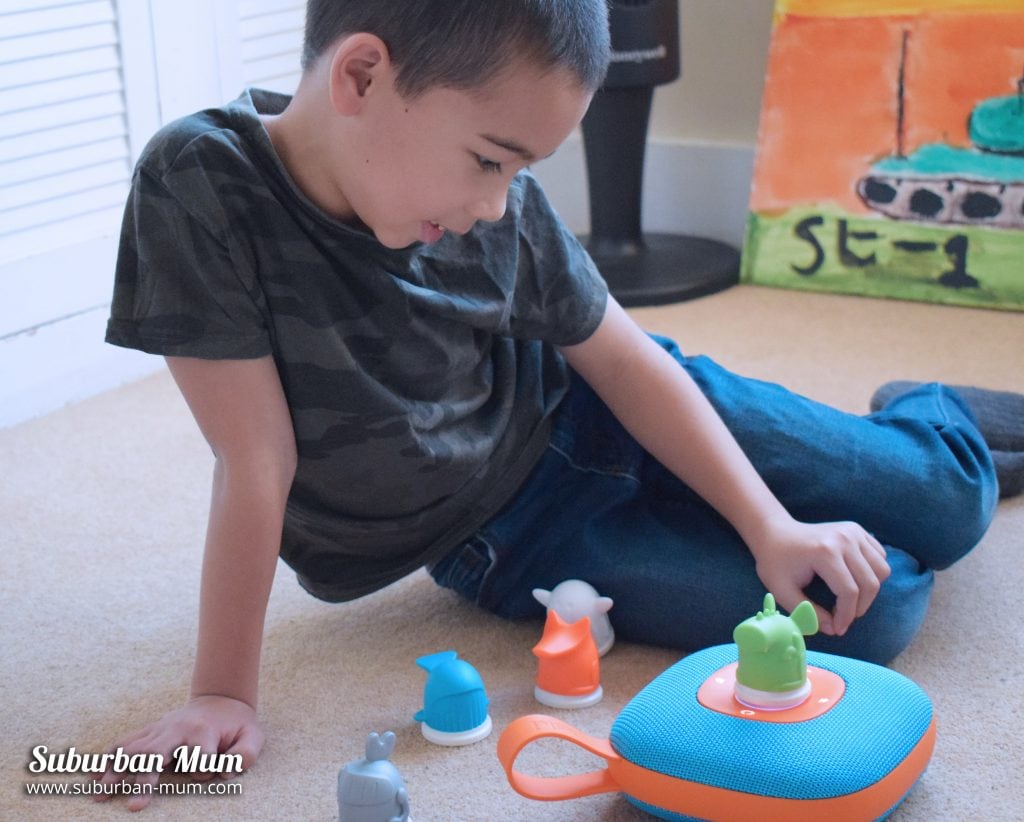 As mentioned above, Jooki is a music player that has been specially designed for kids aged 3+. The idea is that one of the five characters that it comes with is linked up to an individual playlist. To listen to one, you simply pop the character onto the top of the player.
The box contains the following:
Jooki Smart Music Player
Five characters with Toy Touch technology
USB charging cable
Setup guide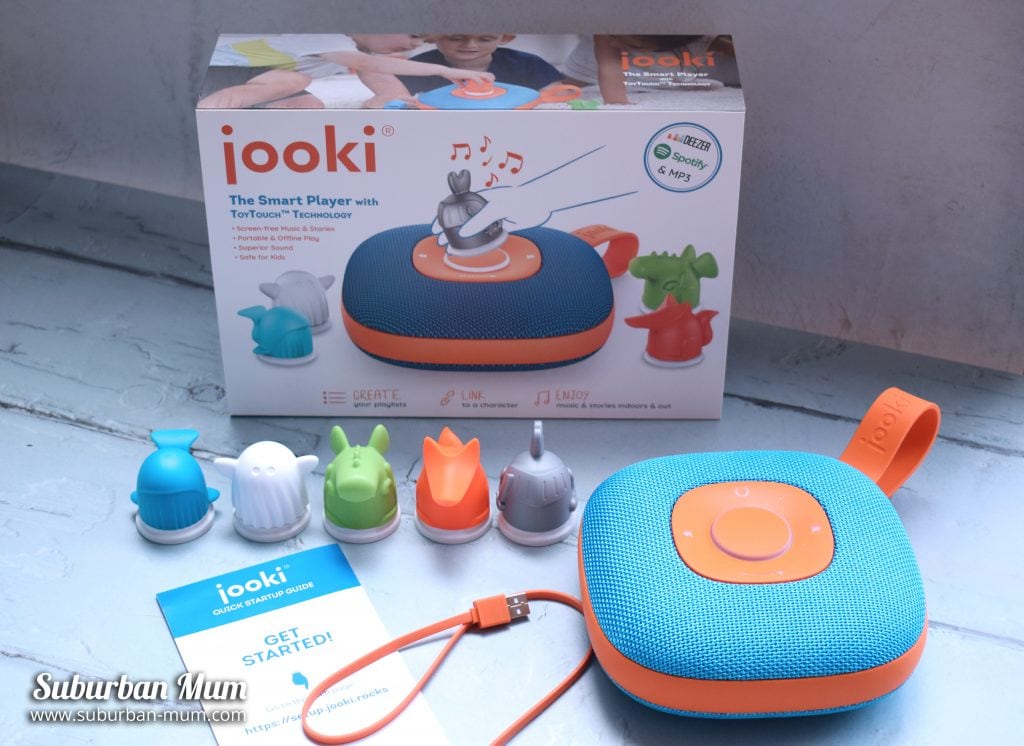 The player is a sturdy size and has durable rubber that goes around it, giving it extra protection in case it's dropped accidentally. There's also a durable rubber handle for kids to use, making it easy to transport around. The five characters are made out of good quality plastic. M particularly loved the bright colours of these.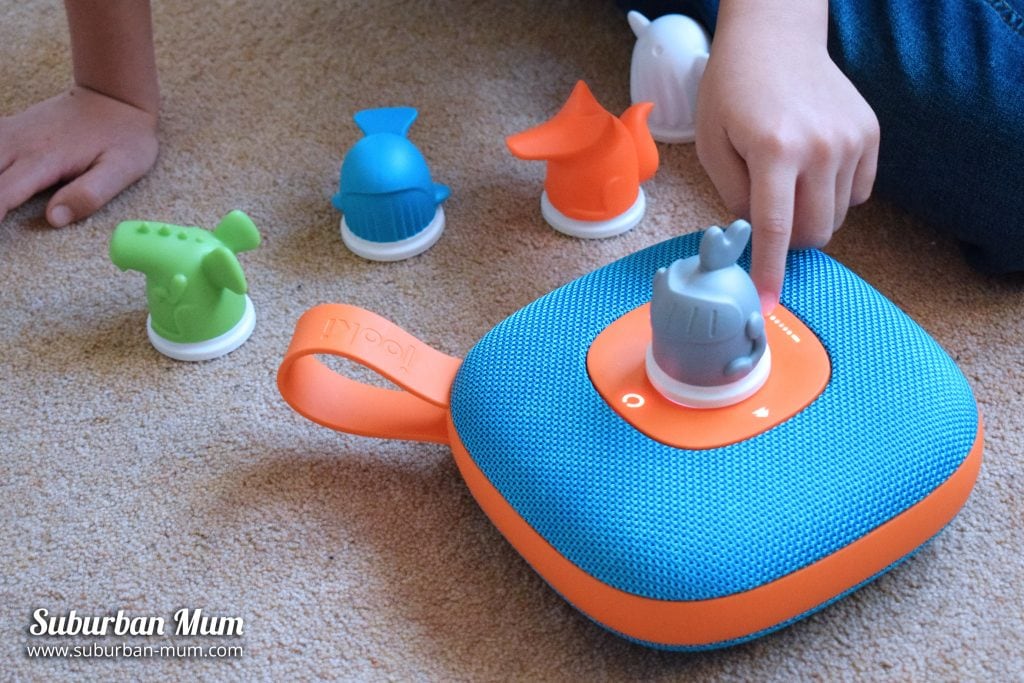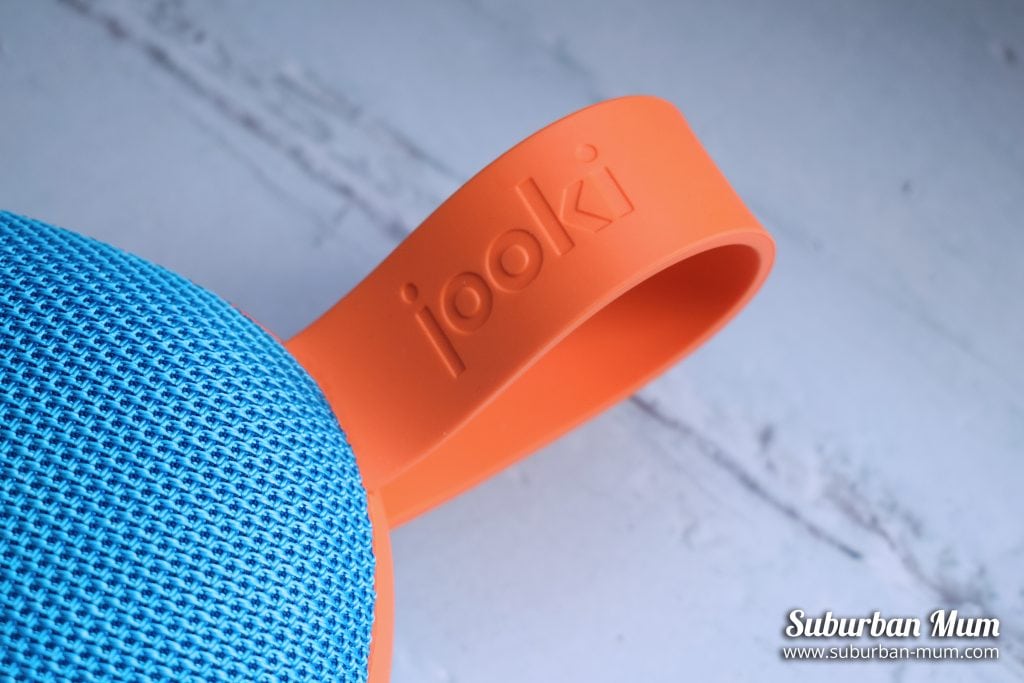 Setting up the Jooki
Before the boys could use the Jooki, I had to set it up for them which took less than 10 minutes. The quick start guide took me to a webpage that had step-by-step instructions complete with photos to follow. The Jooki characters are preloaded with some sample music but in order to add your own and to make use of audio streaming networks, you need to connect Jooki up to your wifi network. The Jooki player also has a memory card slot so that you can upload your own songs onto a micro SD card. This feature is really useful if you want to take Jooki on your travels.
Once setup was complete, I wanted to create a playlist for each of the boys so they could choose their own music to add to it. We're used to using Amazon Music to stream music in our house, unfortunately, you can only connect to either Spotify Premium or Deezer through Jooki at present. I decided to register with Deezer, which was easy enough to do. From there, I could then create playlists and add songs to them before linking them to the individual Jooki characters. I could assign the playlists to characters either through the Jooki website or the Jooki app. I just had to remember that in order to do this, the Jooki player needed to be switched on.
Features of Jooki
Lets children control the music
Children can play music or stories easily through the use of Jooki characters. Older children can control the player through the app without the use of the characters.
Portable and Durable
Jooki is splashproof and durable with a strong handle. It's designed to be portable so you can take it on your travels and comes with a headphone jack. Once charged it can give up to 8 hours of playtime.
Parental controls
Parents can control what their children are listening to, no need to worry about them listening to explicit music by accident. There's also a volume limiter function that you can switch on which is great for children under the age of 3.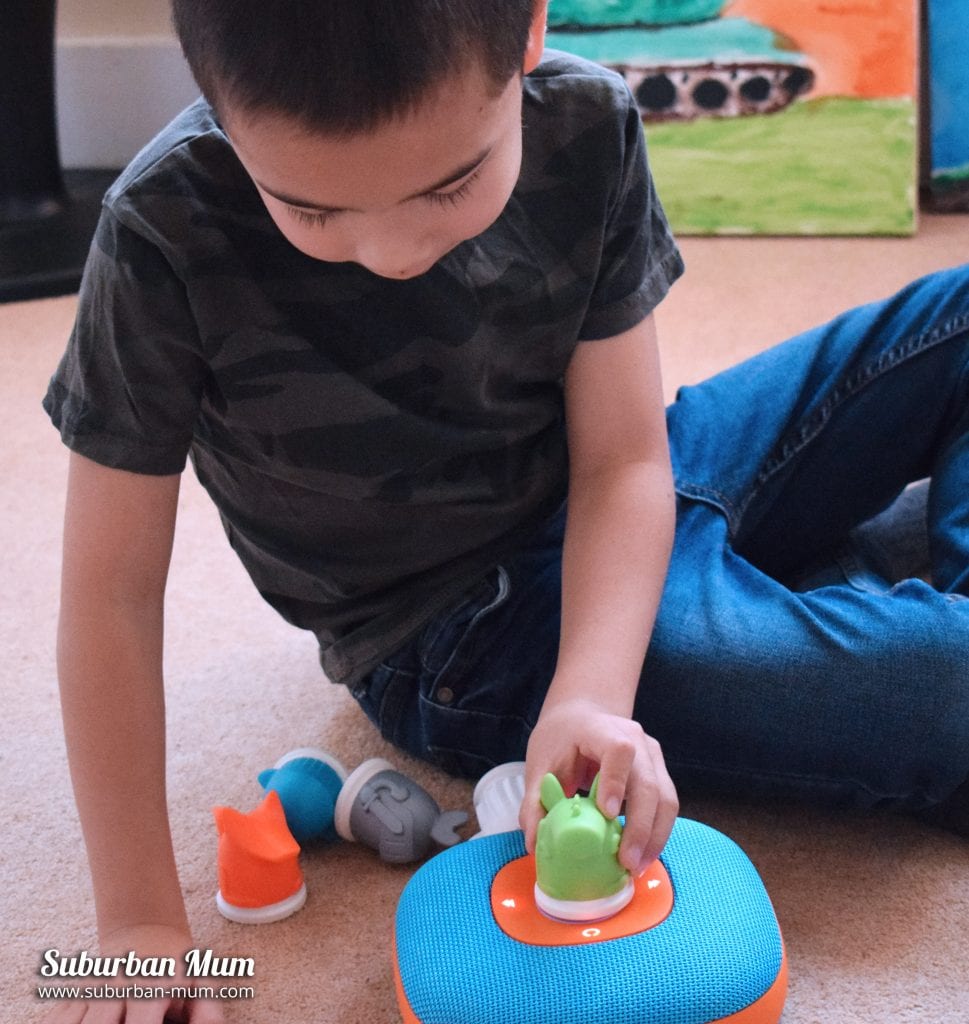 Our thoughts on Jooki
The boys have really loved using Jooki and have enjoyed being able to listen to their own playlists. It's a great way to enjoy music without being distracted by tech such as TV and tablets. I really like the fact that its portable and E can listen to music with headphones on without annoying his brother! I also like that I can control and manage what content goes on the playlists.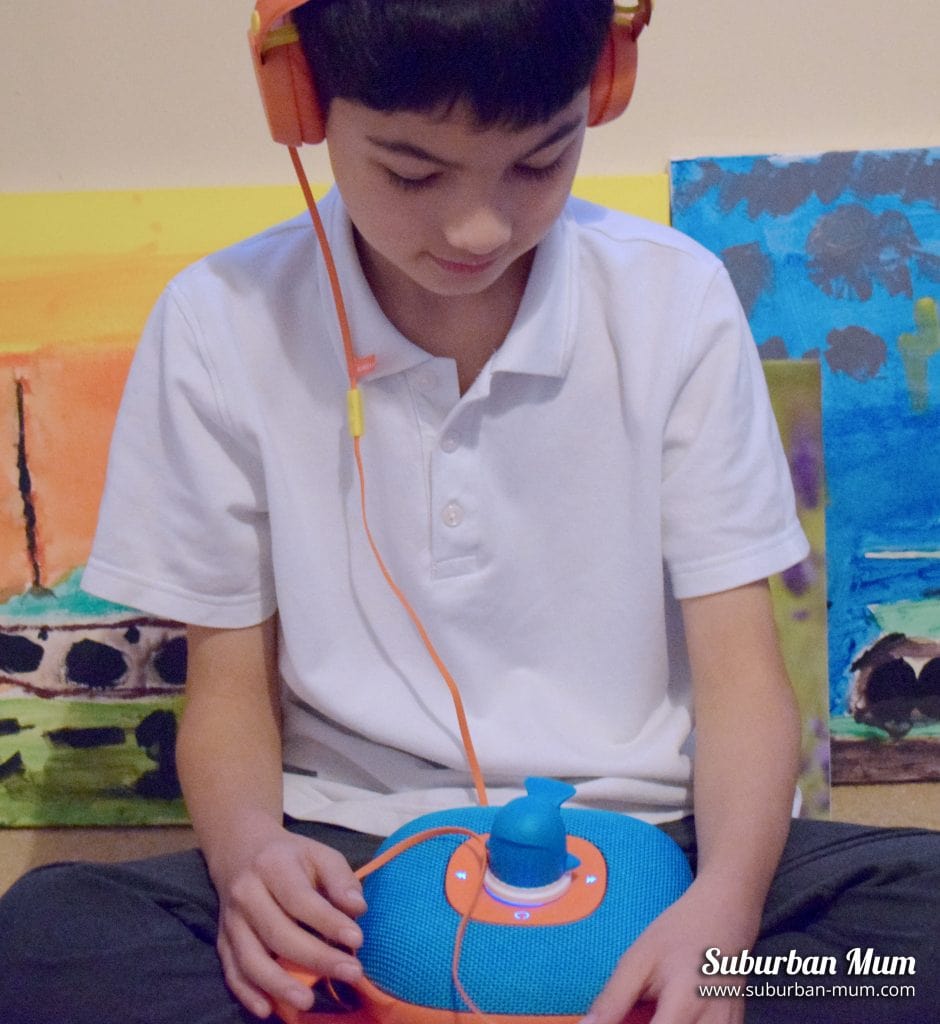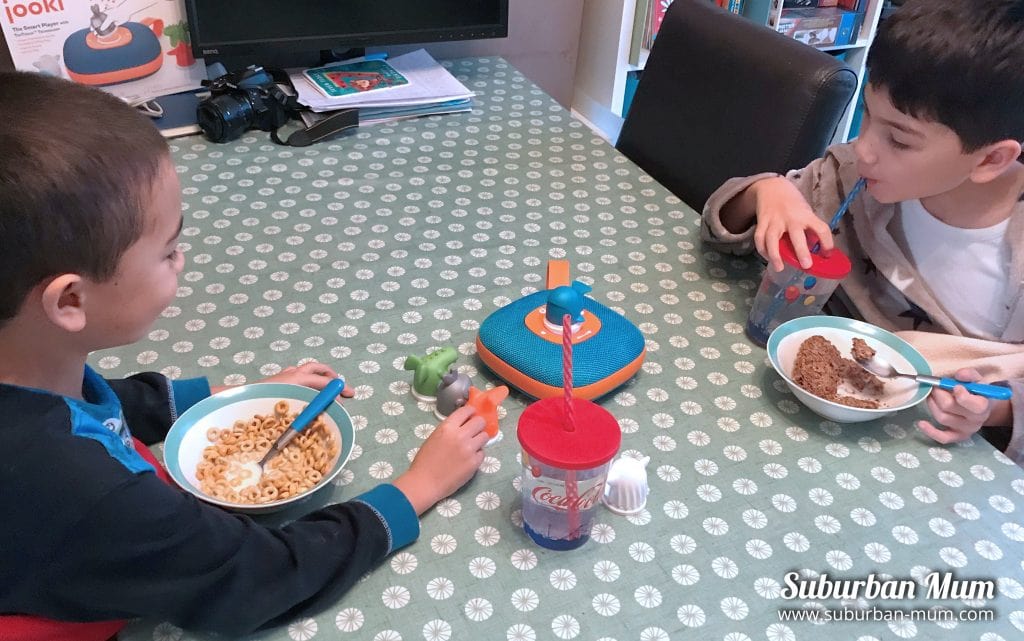 With its brightly coloured chunky characters, I can imagine Jooki being a fantastic introduction to music for younger children too. I can see ours lasting a good few years. Even when the boys have grown out of the characters, they can move onto tokens which you can buy online, or they can skip these altogether and control Jooki via the app.
If you're looking for a smart music player for kids, I would recommend Jooki. It's available to buy on their website and Amazon.
Pin it for later: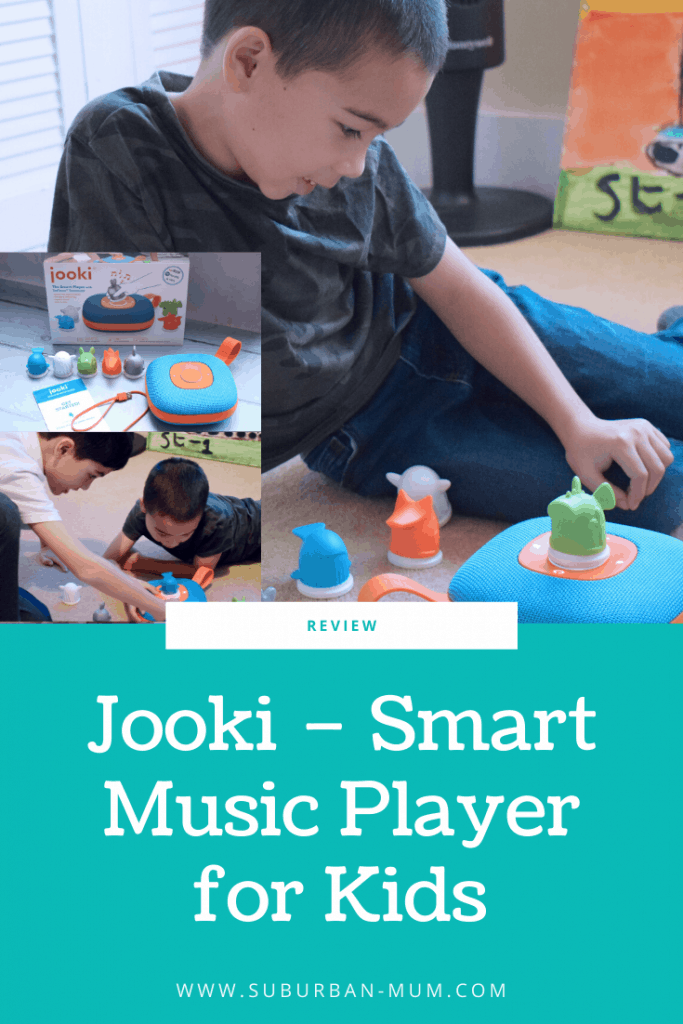 You might also like: