The boys have had an obsession with Racing Cars for a while now but that also extended to Monster Trucks after we went to StuntFest back in February (you can see our Instagram Stories on it here). So when we were sent a very generous collection of toys from Monster Jam, I knew it would be something they would be very excited to put to the test.
Monster Jam have partnered with Spin Master Toys to bring us a large collection of Monster Jam toys including Monster Jam die-cast vehicles, remote control Grave Digger and a Monster Dirt Deluxe set.
Their aim is for children to recreate the magic of the popular stadium show in their own homes with their realistic vehicles.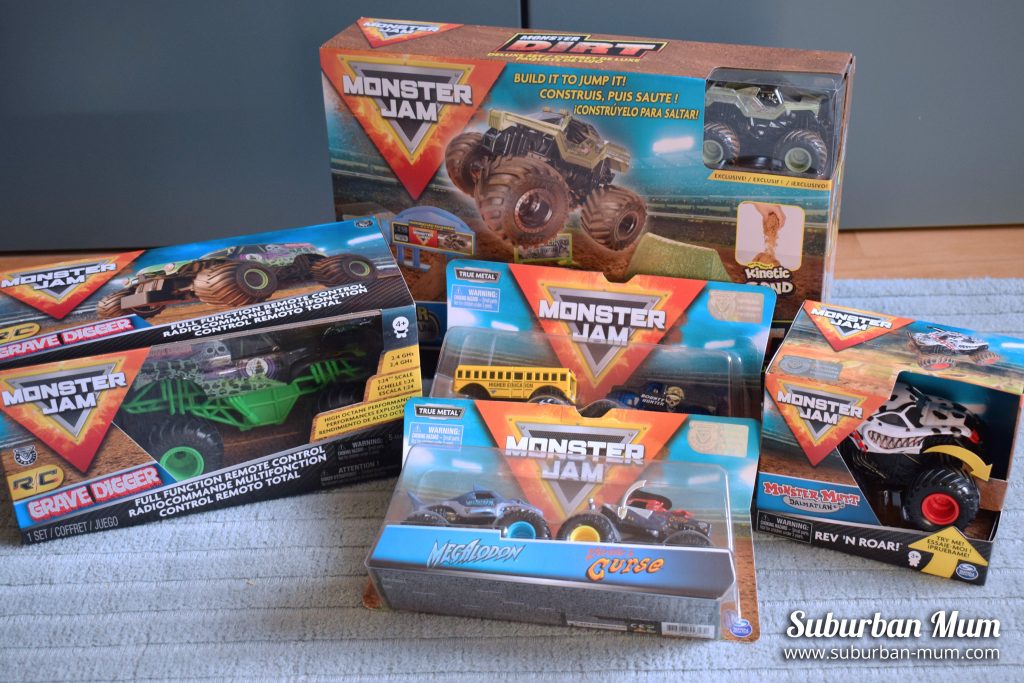 Monster Jam Toys review
Monster Jam Grave Digger Remote Control Monster Truck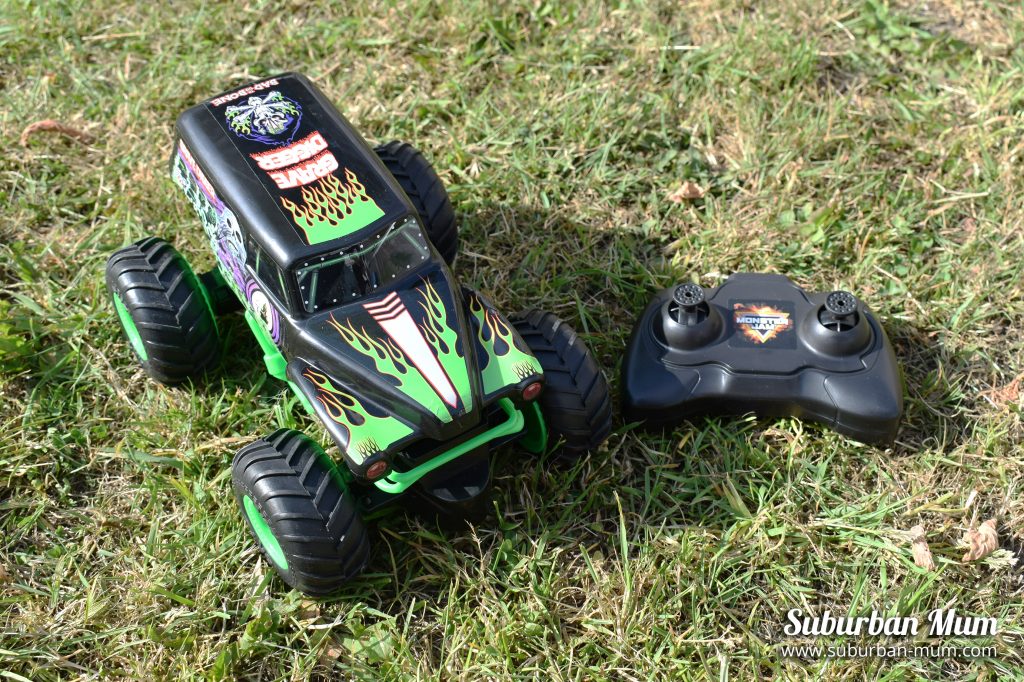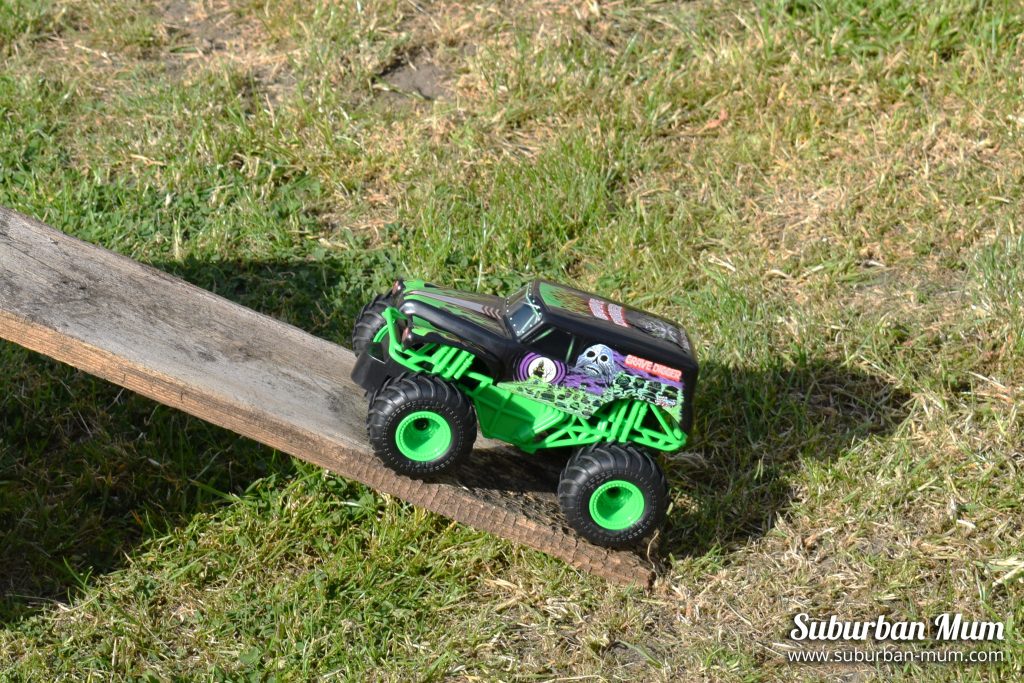 First up, we have the Grave Digger Remote Control 1:24 scale Monster Truck. This needs 5 AAA batteries to work (two for the remote control and three for the truck) which aren't included so make sure you have these to hand. Luckily for us, we are never short of batteries and they were easy to pop in with the use of a small screwdriver. The remote control has two buttons, one to control the truck going forwards and backwards and one to turn left to right.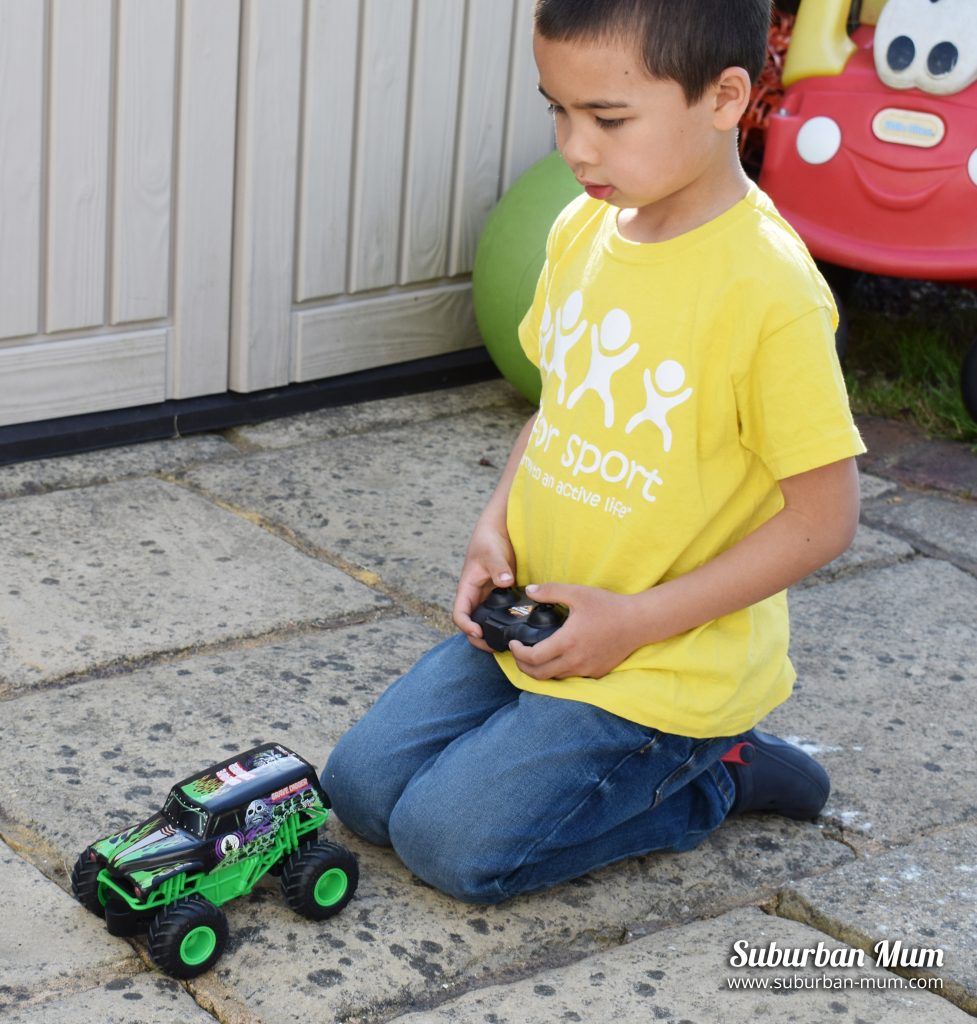 The first thing the boys wanted to do, was to see if it would go up their makeshift ramp. We found the truck was faster on a flat surface compared to grass (this didn't stop the boys from playing in the grass) and it was easy to manoeuvre around using the control.
As with real Monster Trucks, the Grave Digger has been decorated with a fab design. It's surprisingly lightweight and has official sponsor BKT tyres. There are other designs in this range allowing you to race up to 6 Monster Jam Trucks at a time.
Monster Jam Monster Dirt Deluxe Set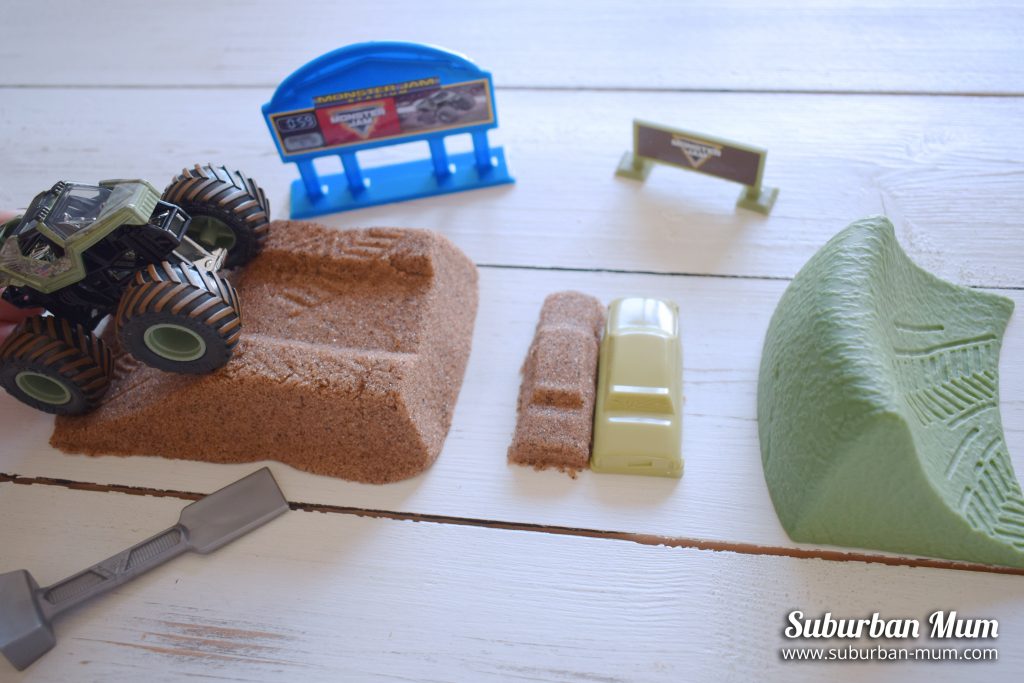 This Monster Dirt Deluxe Set comes with kinetic sand so that you can build your own ramps and create your own stunts. I was surprised to see how kinetic sand has moved on. We reviewed some Kinetic sand a few years back and found it was still rather messy and not easy to clean up. This is not the case here, the sand easily stays together with little mess and it was very easy to clean up. What I really loved was the fact there was a container to keep the sand in when not in use too.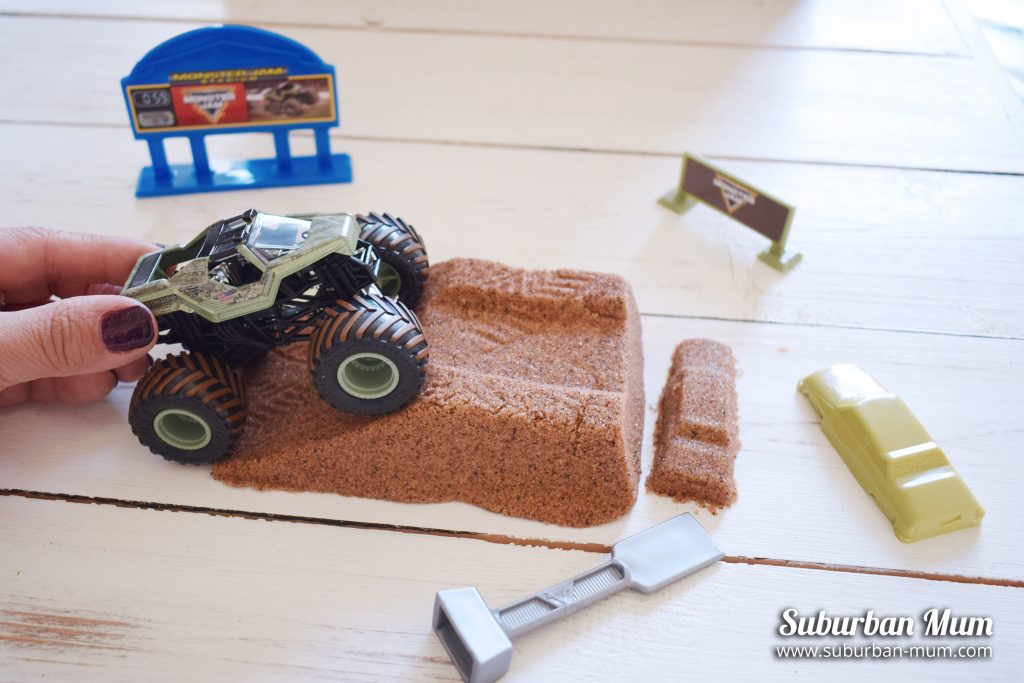 The set comes with a 1:64 scale die-cast vehicle with dirty wheels, accessories and the kinetic sand. It allows you to recreate the action from the arena, making your own ramps and creating your own stunts.
Monster Jam Monster Mutt Dalmatian Rev 'N Roar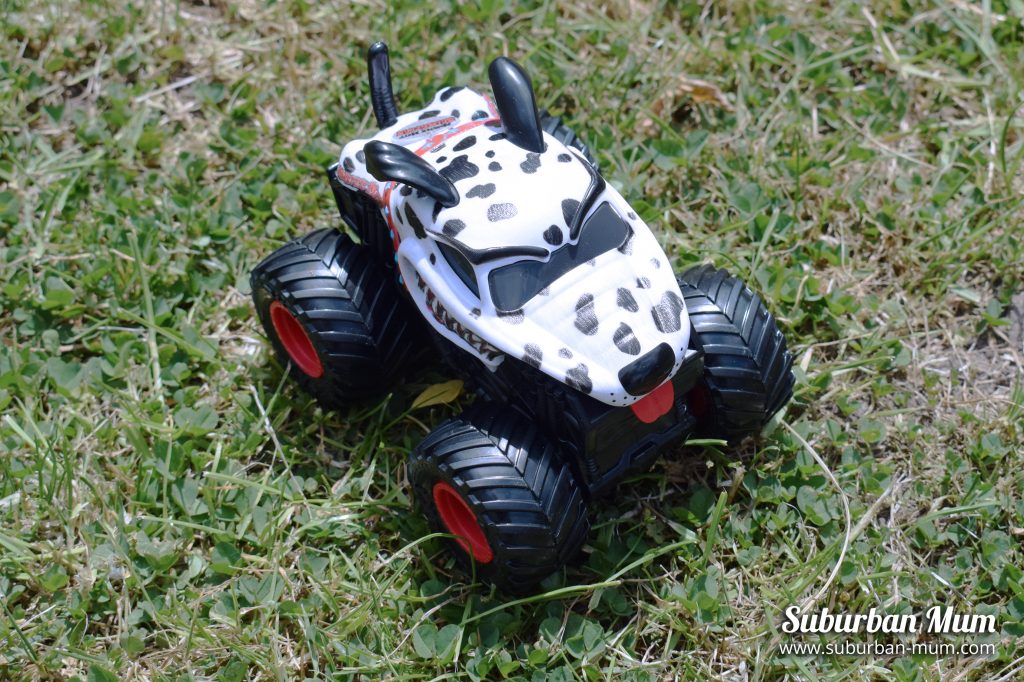 If you have younger children that love playing with vehicles then the Rev 'N Roar Monster Trucks is for them. They are 1:43 scale and are a good size for younger hands to grab hold of the trucks. Push it forwards continuously to build up speed, it clicks and revs up as you do this (be warned it is rather noisy!) and let it go to see it zoom across the room.
Monster Jam die-cast Vehicles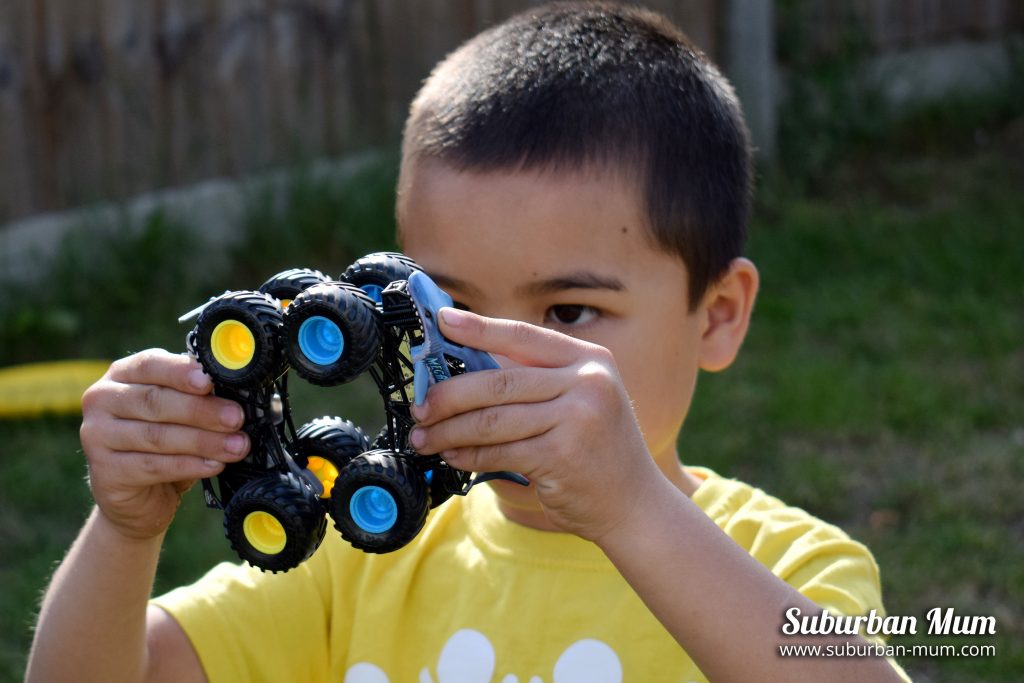 Last but not least, we have the double pack die-cast Monster Trucks. We were sent Megalodon vs Pirate's Cruise and Higher Education vs Bounty Hunter. I love the detail that has gone into these, they do look just like the real thing with chrome detailing and official BKT tyres. The boys loved the fact that they twist and turn when you push them forward. They've done numerous stunts with them so far and they've proved to be rather sturdy.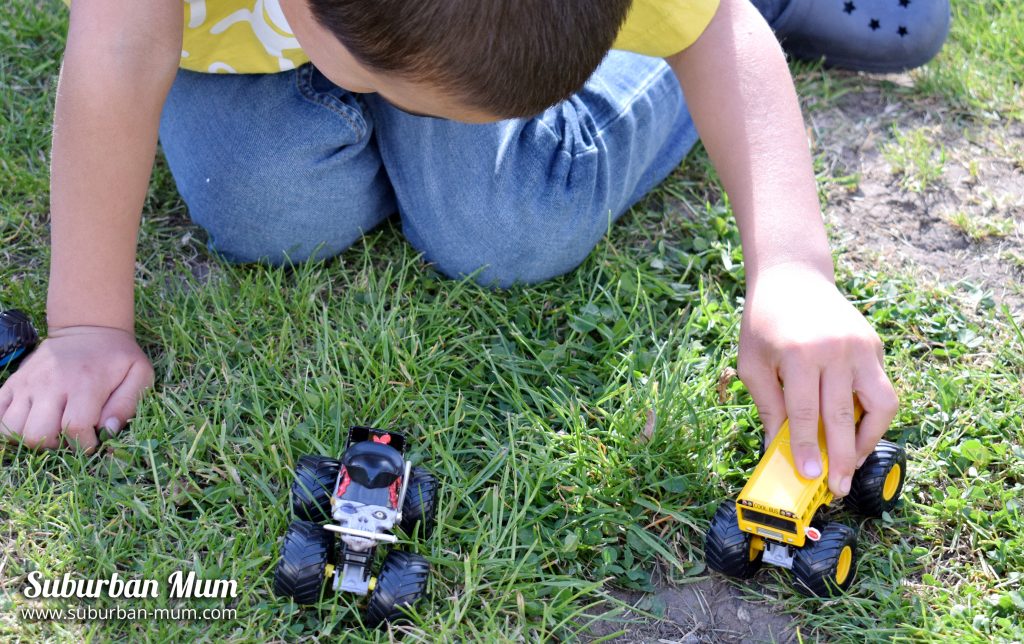 It's a thumbs up from us!
Needless to say, the boys have really enjoyed putting these Monster Jam toys to the test. They look just like the real thing and have enabled them to have hours of fun putting on their own stunt shows. The Monster Jam Toy range is suitable for children aged 3+ and available in your usual toy retailers and Amazon.
You might also like:
*We received the Monster Jam Toys for the purpose of this review. This post contains Amazon Affiliate links.